Last Hive Power Up day of the year and my last power up in this account too
I'm very glad to participate in the last Hive Power Up day of the year. We will also be starting everything fresh in the next year. I wish we have a better Hive price next year bringing lots of cool opportunities. If everything goes well, I should be able to double my stake in Hive by the end of next year. I hope all these articles and the value I see in these articles will be really helpful for me to compare next year.
On the occasion of Hive power-up day, I did power up 100 Hive today. Considering the price of Hive, 100 Hive is too much. These days it is hard to accumulate more Hive tokens but it is still a good opportunity to earn a decent value.
By this time when I'm writing an article next year, I want to be able to reach a value that would let me retire soon. But last month was amazing and it was good to see Hive pump over 2$ and setting a new all-time high. This made many old folks get back to Hive. This is a good thing. My account is also looking pretty good with a huge stake. I never imagined my account would be worth this much.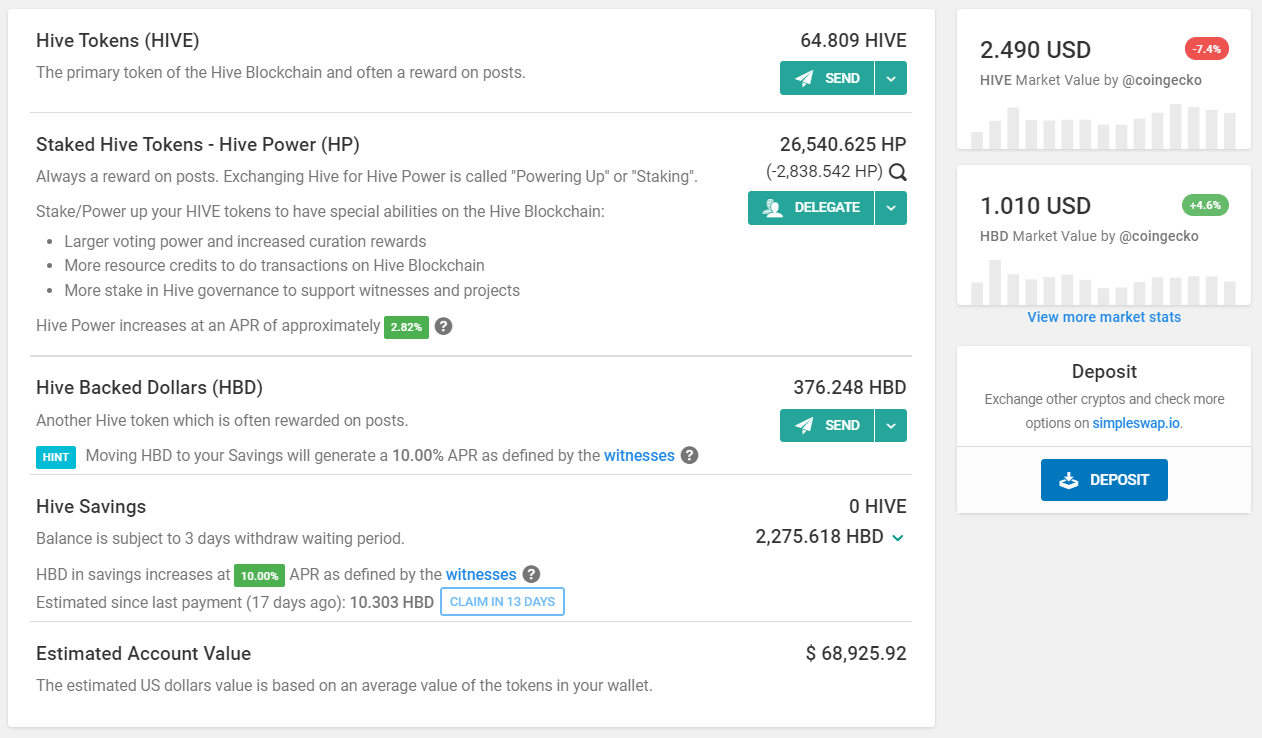 One sad thing about Hive's pump is that we will all start getting less quantity of Hive from payouts. Even though the payout value will still be the same. It can be considered a good idea to convert all the Hive to Swap.Hive as and when we get. I'm not sure how long this pump will last and I'm not even sure if this is going to be the all-time high value. From the looks of it, it appears that the price of Hive would pump even further.
Even though all other coins are in red, Hive is having a very nice time. I did book some profits but decided to hold a huge stake for at least a minimum of 5 years. I have also decided to take some Hive out and pay off my loans in the real world.
Changing my Hive account
Along with this post, I would also like to give a hint that I'm planning to change my Hive account in another 15 days. The main reason is that some people find it really hard to remember those OTP numbers behind my Hive handle. I was dumb enough to create an account like that. But I should have been a little smart to at least change it in the first few weeks or so but I missed it. I don't want to keep saying the same thing after another 1 year.
In another 15 days, I'm completing my 4 years on Hive and I wanted to take that opportunity to create a new account and start everything fresh. I don't know how far I can be successful with that effort but let me just give it a try. It will be hard to get my follower votes on my new account but still no harm in giving it a try.
---
---
Posted Using LeoFinance Beta
---
---