Started using Splinterlands Rental Service
Spliterlands is one of the best games inside the Hive ecosystem. Even outside Hive Ecosystem, I don't think there are any other competitive games with so much player base and with earning opportunities for the players. It is amazing to see many use cases emerging every single day. Yesterday I was introduced to a service called Splinterlands Rental. This is a paid service that people can use to increase the renting potential of their accounts.
The demand for rentals is very high in splinterlands. Especially after the new rewarding system, people have started playing the game a lot. I also hear from people that the rental income is also pretty good. I used to earn around 70k - 100k DEC every month from the rental market. When the price of DEC was at its peak and especially during the early days of renting, The rewards were excellent. That's how I was able to make lots of DEC from rentals. I did use my DEC earnings to purchase some cards back.

https://splinterlands.rentals/
Yeah, let's talk about this Splinterlands rental service. I signed up for this service yesterday. I was wondering how this can make any difference but trust me, the rental income has pumped by so much. They give a minimum estimate based on the cards I hold and that itself is crossing or way more than what I usually get from manual renting. All we have to do is just configure the bot by giving the private keys to them. They will then take care of everything.
I was wondering if it was okay to share the private keys with them. But it is only the Posting Key and we can give the posting authority to some of our alt accounts and give the private key of our alt account. I have also suggested they come up with a solution where they can create a bot account and we can all give the posting authority to the bot account instead of directly giving the private keys. I feel sorry for them because they already coded so much to handle the private keys. They say they are keeping it secure with encryption but yeah there is nothing as such in this world that is really secure.
Yesterday when I signed up for this service, I drained up all the DEC I had in my account. Just to keep a note of how much I would be earning with this bot. Initially, I did not know that it was a paid service. I did not read their service descriptions and FAQs. Honestly, there were too many things to read. But today morning when I received an invoice from them, that is when I realized it was a paid service. They charge 20% of our profits for providing this service. They promise an ROI way more than this. So it is okay to give 20% to them I guess. Yesterday Kanibot was giving me continuous rental notifications. I was able to make more than 4k in just one day. Hopefully, it sustains. Most of my cards are not sitting idle these days. Except for the GFL ones.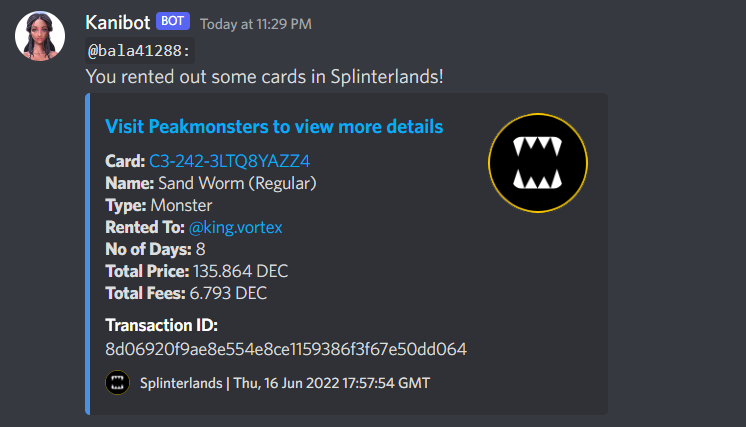 I was initially thinking that they would be giving the service for free because they anyway get a 5% market fee from splinterlands. But looks like they are not approved yet as a market provider to get the 5% fees. If they get approved 25% is what they would be getting in total for offering this service. I'm sure even otherwise it would be a good income for people who would be opting for this service. At least that is what I believe. I'm going to continue this for like one month and see how much I earn. Probably I'll also write a post on that afterward.
You can give this a try from the below link:
https://splinterlands.rentals/
---
If you like what I'm doing on Hive, you can vote me as a witness with the links below.

Vote @balaz as a Hive Witness
Vote @kanibot as a Hive Engine Witness
---
---
Posted Using LeoFinance Beta
---
---