CCC's Street Art Contest #117 - Street art and elementary particles (en/ua)

In 2016, a new mural appeared at Ihor Sikorsky Kyiv Polytechnic Institute (KPI). This is the work of the famous Canadian artist Aaron Lee Hill, who lives in the capital of street art, New York. The mural decorated the building of the Center of Culture and Arts.
В 2016 НТУУ "КПІ" з'явився новий мурал. Це робота відомого канадського художника Аарона Лі-Хілла, який живе в столиці стріт-арту Нью-Йорку. Мурал прикрасив будівлю Центру культури і мистецтв.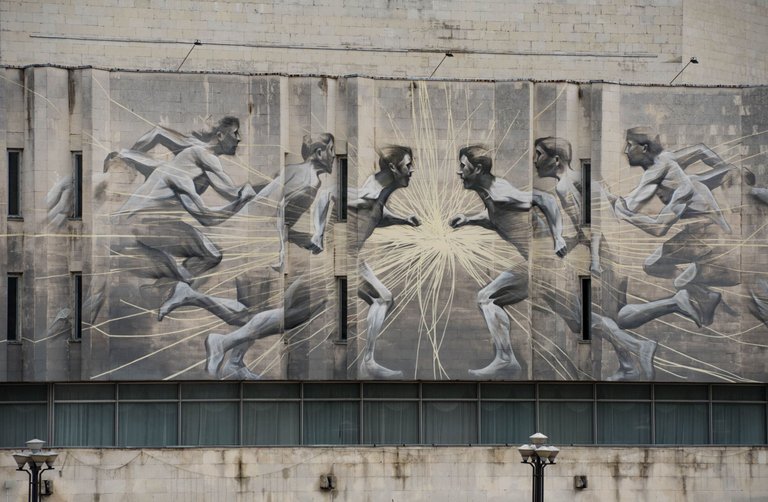 According to the author, "The mural depicts protons moving towards each other with great speed, and energy is released during their collision. The walls of the leading technical university of Ukraine were the best fit for realizing the idea."
The mural was created as part of the International Festival of Contemporary Art in the Mural Social Club public space.
За словами автора, "На муралі зображено протони, які рухаються назустріч один одному з величезною швидкістю, а під час їх зіткнення вивільнюється енергія. Стіни провідного технічного вишу України якнайкраще підійшли для втілення задуму."
Стінопис був створений у рамках Міжнародного фестивалю сучасного мистецтва у громадському просторі Mural Social Club.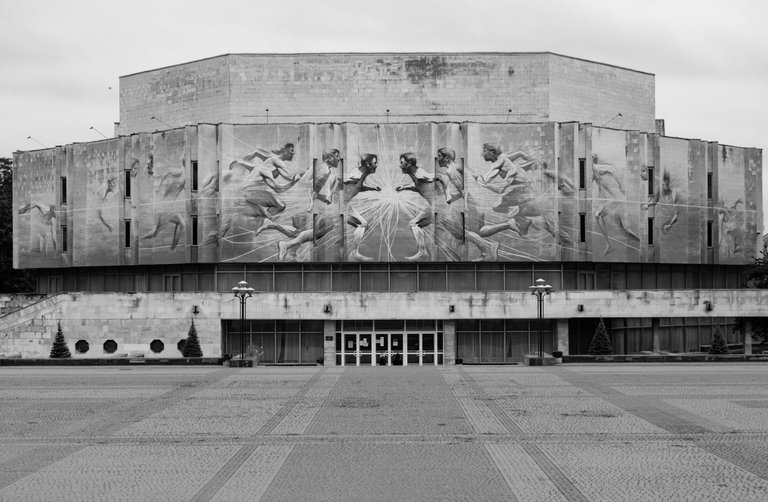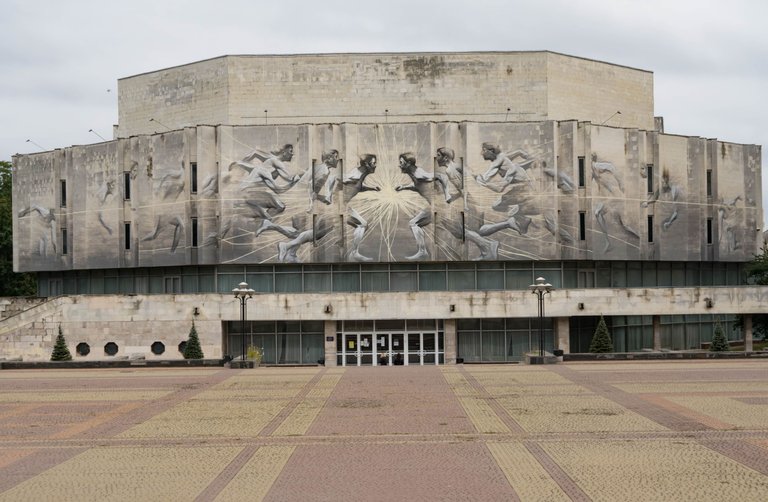 The author worked on street art for two weeks. This work is devoted to one of the most significant scientific discoveries of recent years, namely the Higgs boson. The painting combines a photograph of the beginning of the 19th century with people in motion and an image of the Large Hadron Collider. "The mural in Kyiv is probably one of the most challenging and incredible works I've ever had the honor of working on," said Aaron Lee Hill.
Автор працював над стріт-артом упродовж двох тижнів. Ця робота присвячена одному з найвизначніших наукових відкриттів останніх років, а саме – бозона Хіггса. У розписі поєдналися фотографія початку ХІХ століття з людьми у русі та образ великого адронного колайдера. "Мурал у Києві, мабуть, є однією з найскладніших та найнеймовірніших робіт, над якими я мав за честь працювати", – сказав Аарон Лі-Хілл.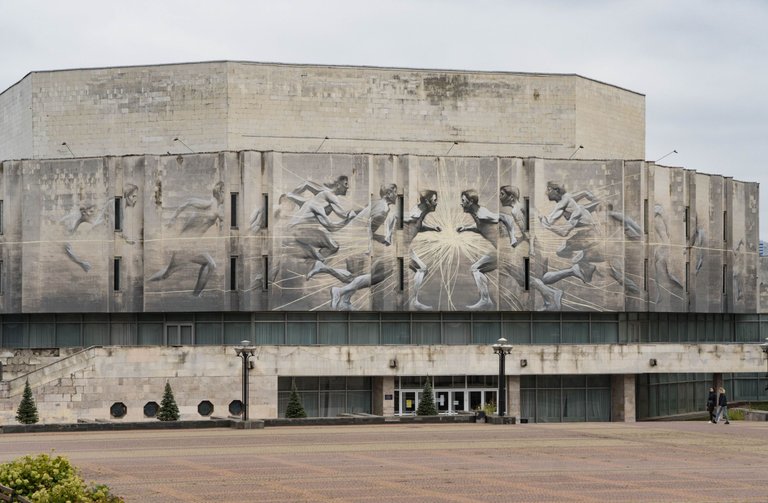 Lee-Hill's works organically combine graphic design, graffiti, painting, stencils and elements of sculpture. His paintings are voluminous, so one gets the impression that they are alive. The artist's creations decorate walls and facades in Australia, Thailand, Germany, Mexico, China, etc.
В роботах Лі-Хілла органічно поєднується графічний дизайн, графіті, живопис, трафарет та елементи скульптури. Його картини об'ємні, тому складається враження, що вони живі. Творіння художника прикрашають стіни і фасади в Австралії, Таїланді, Німеччині, Мексиці, Китаї тощо.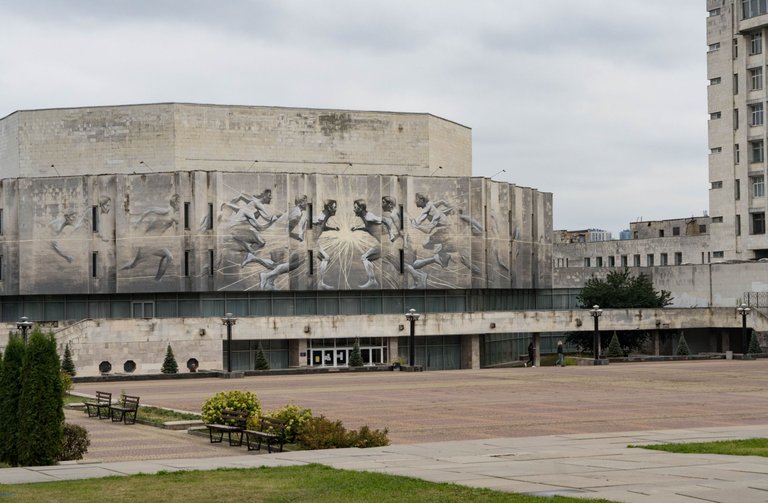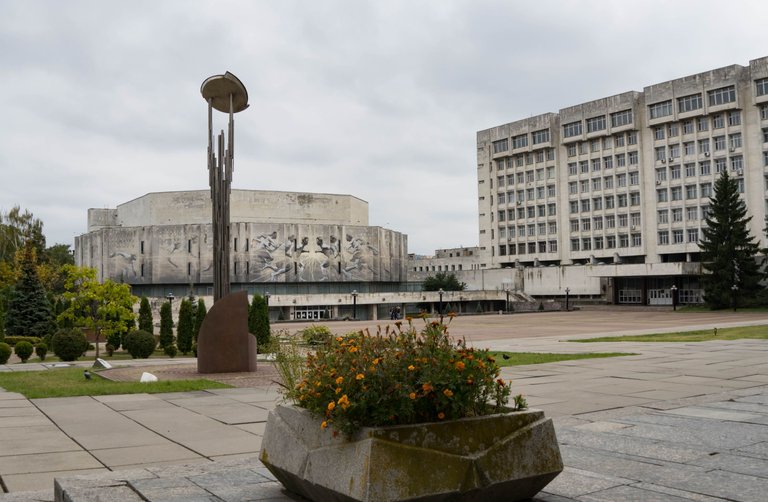 [//]:# (!pinmapple 50.44902 lat 30.45802 long Street art and elementary particles (en/ua) d3scr)
---
---