Dev Updates | Voting Power in Menu Bar Devlog 30 | 14 May 2022 | Tekraze
Voting Power Update
So, we added the voting power in the menubar. Now you all can see the power without going to the explorer.
For now, the power in menubar will be updated in 30 seconds interval.
Check the Image for reference.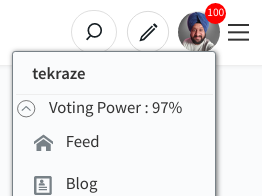 ---
We hope to bring more updates soon. We will keep posting updates.
---
@tekraze Witness Projects
---
Blurt Alternative Frontend - https://blurt.one
Blurt Wallet Alternative Frontend - https://wallet.blurt.one
Blurt RPC - https://rpc.blurt.one
Blurt witness Node - @tekraze
Blurt.one Witness Node @blurt.one
Techclub curation - @techclub
Blurt Dapps page
Blurt Recovery tool - https://recovery.blurtwallet.com
Blurtlatam Frontend - https://blurtlatam.com
Blurtlive Frontend - https://blurt.live
Serey Witness - Announcement
Digchain Validator - Validator Explorer Link
---

​You can support me by giving a vote to my Blurt Witness as I am doing dev work, Hosting an RPC, and now frontend.
If you really want me to be here on this platform, only your witness vote can help me, so feel free to do this by clicking on the below link

---
Follow me on my social networks
---
Tekraze Blog
Instagram Personal
Instagram Blog account
Instagram Gaming Account
Youtube Gaming
DTube
Tekraze on Medium
Dehazelabs on Medium
Dev.to
Hashnode
Noise
Hive
Steemit
Serey
Whaleshares
Cross Posted From https://blurt.blog/blurtdevelopment/@tekraze/dev-updates-or-voting-power-in-menu-bar-devlog-30-or-14-may-2022
---
---