New Athos - visual history - 3- Caves (18 photos)
Well, it's time to visit another cult site of New Athos. These are caves. But before getting there, we go up to the second floor of the building, which was specially built at the entrance to these caves. It is high enough to admire beautiful views of the city, mountains and sea. We will be sitting on the balcony of a small cafe, drinking red wine and getting ready to dive into the mountain.
I was there on a guided tour, limited time and no lighting equipment or tripod. For dark caves, this is a rather difficult shooting environment. I tried the built-in flash but it didn't help much. The only thing that saved me was that I shot in RAW format, and this allowed me to extract details when processing files.
But let's first bask in the sun, wine and southern views.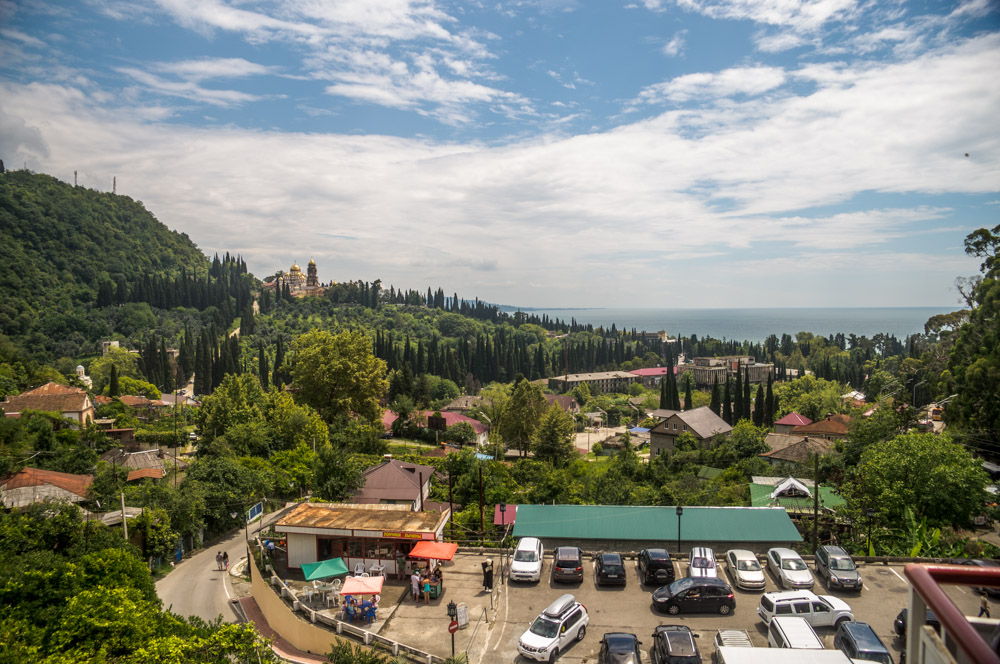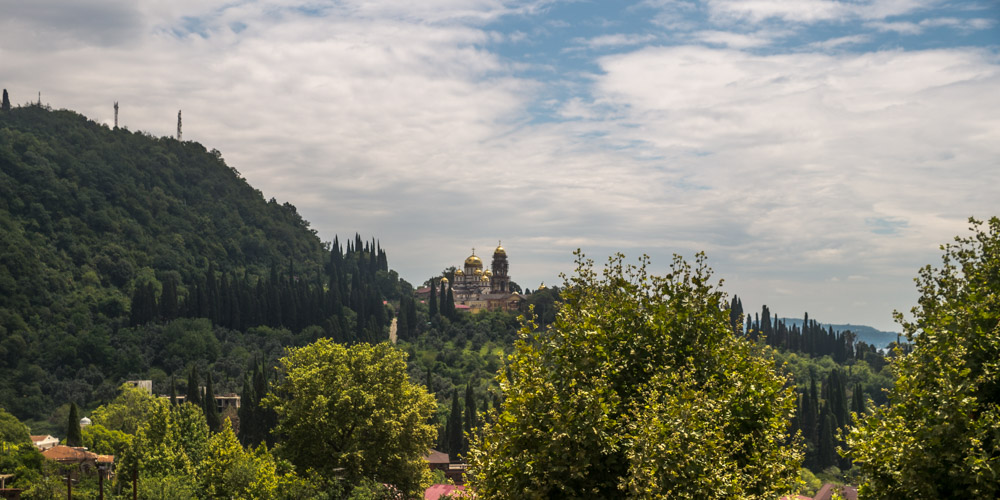 Ну что же, пришло время посетить ещё одно культовое место Нового Афона. Это пещеры. Но прежде, чем туда попасть, мы поднимемся на второй этаж здания, которе специально построено на входе в эти пещеры. Это достаточно высоко, чтобы полюбоваться красивыми видами города, гор и моря. Мы будем сидеть на балконе небольшого кафе, пить красное вино и готовиться к погружению внутрь горы.
Я был там с экскурсией, ограниченное время и без светового оборудования и штатива. Для тёмных пещер это довольно сложные условия съёмки. Я пробовал встроенную вспышку, но это не очень помогало. Спасло только то, что я снимал в формате RAW и это позволяло при обработке файлов извлекать детали.
Но давайте для начала погреемся солнцем, вином и южными видами.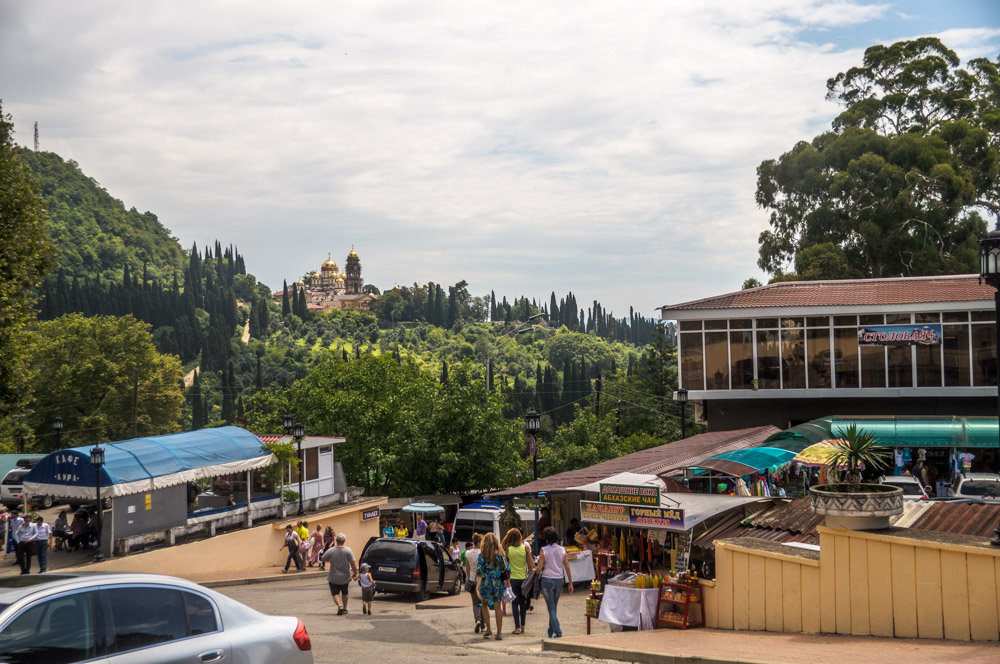 To get here, you need to climb a little uphill along a winding road. It is quite hot and a little tiring during the day, but your efforts will be rewarded in full.
Чтобы попасть сюда, надо подняться немного в гору по извилистой дороге. Днём это довольно жарко и немного утомительно, но ваши усилия будут вознаграждены сполна.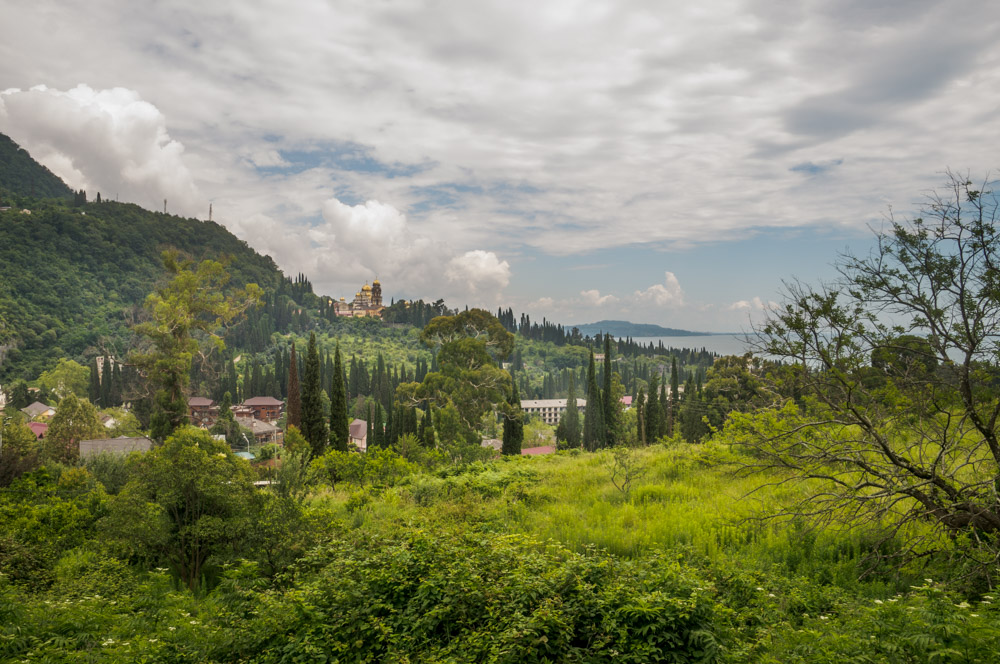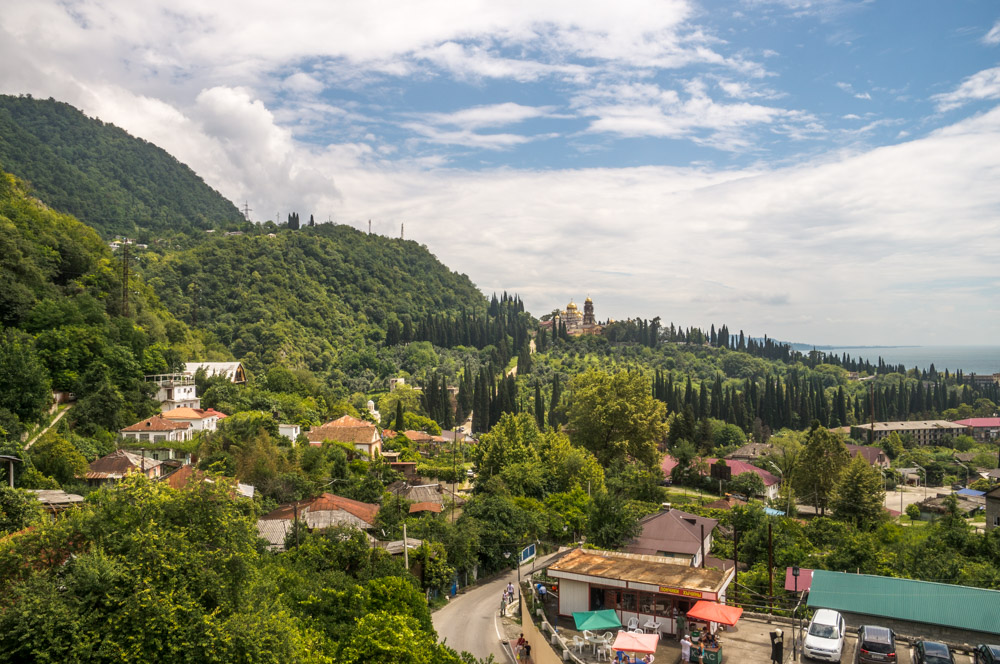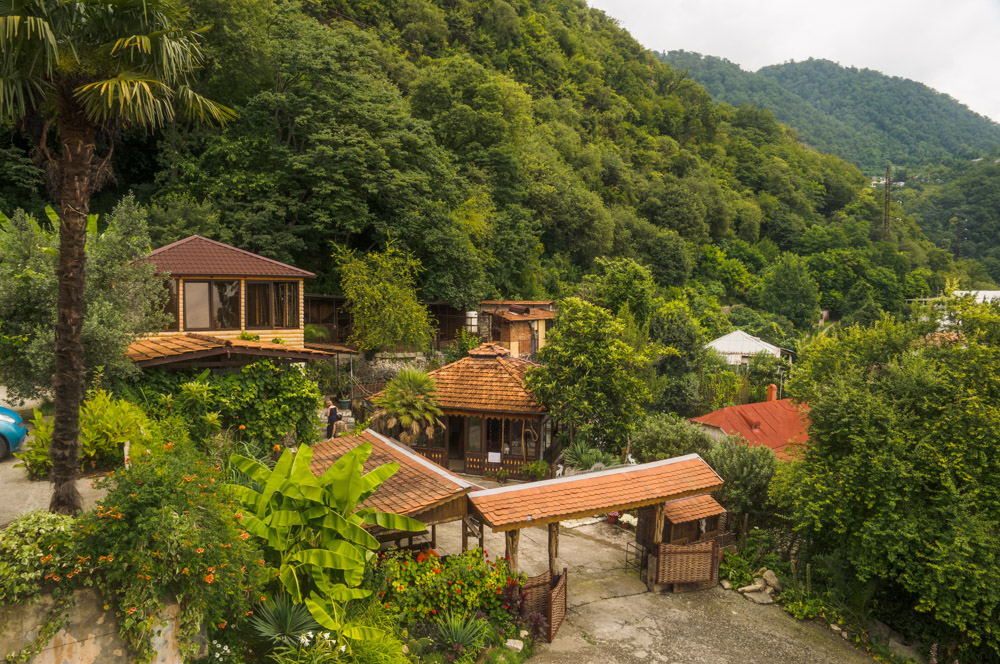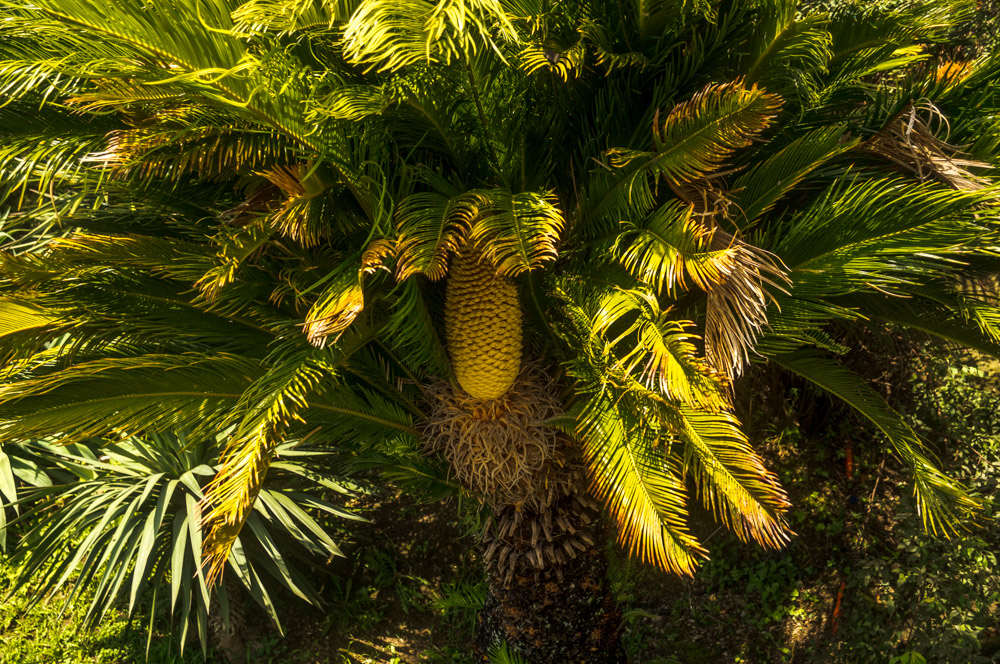 Well, I think everyone is ready? Then let's go to the metro station. Yes, you heard right. Maybe this is the smallest metro in the world, I have not tested it.
Ну что же, думаю, что все готовы? Тогда пройдёмте на станцию метро. Да, вы не ослышались. Может быть это самое маленькое метро в мире, я не проверял.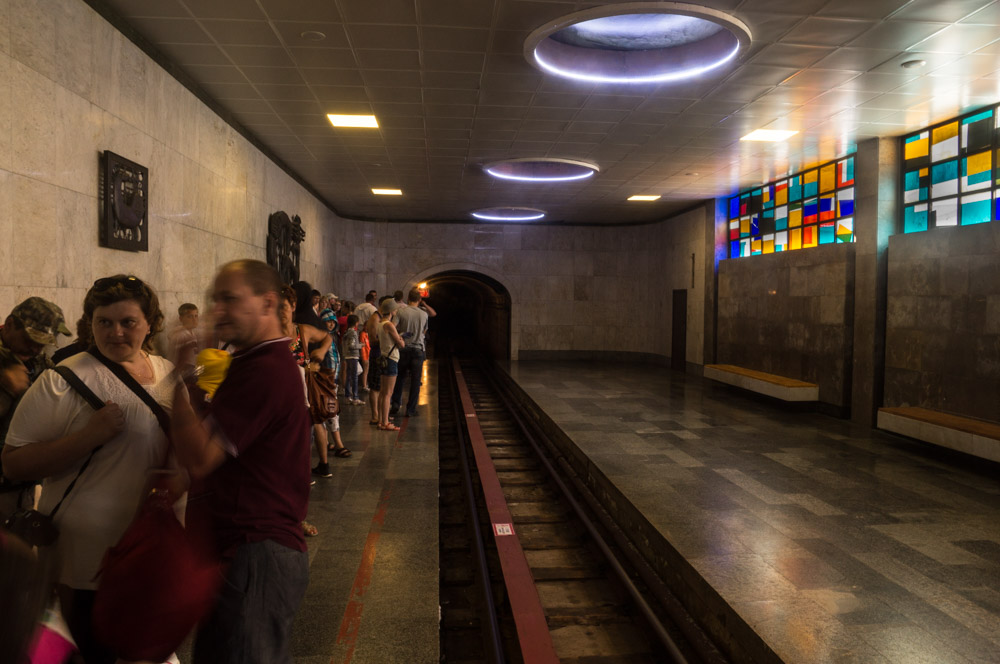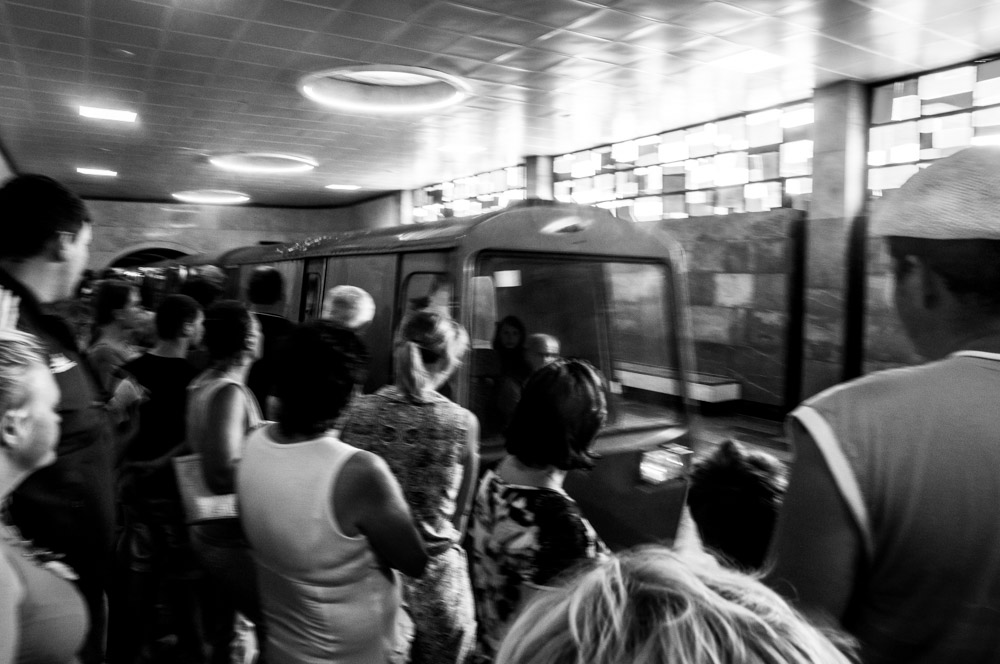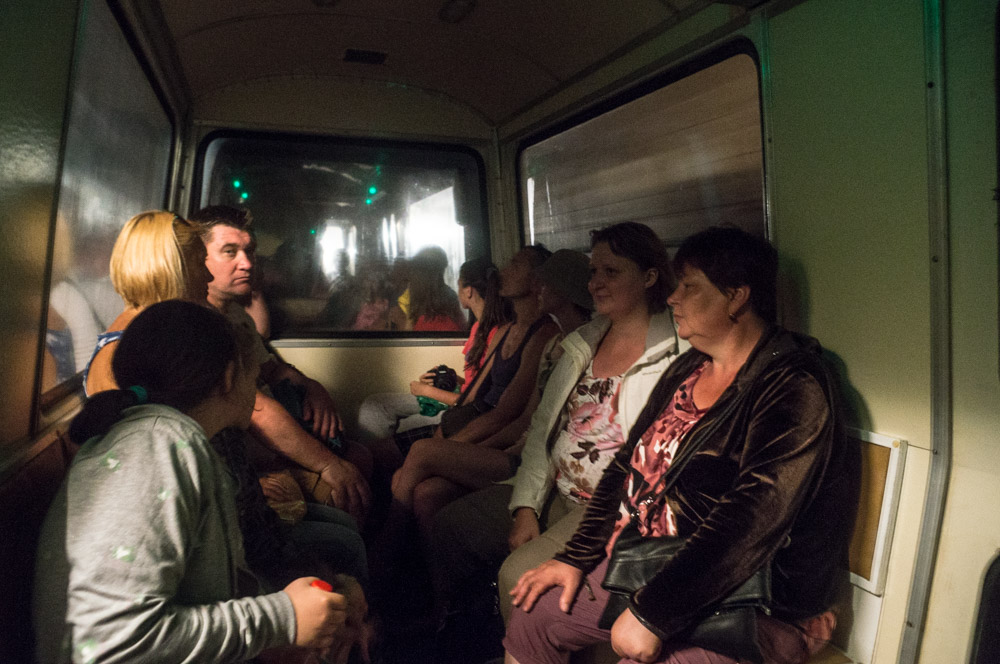 The black-and-white photograph got smudged, someone pushed me, but I didn't check. But I have no other photo for you to see the size of the locomotive. In this small trailer, the doors are simply closed by the hand of the last passenger. There is not even a latch (it was 2014, now something has most likely changed, but I'm not sure about that). And in this trailer after a while you will arrive at your destination.
Чёрно-белая фотография смалалась, кто-то меня толкнул, а я не проверил. Но у меня нет другой фотогрфии, чтобы вы увидели размер локомотива. В этом маленьком вагончике двери просто закрываются рукой последнего пассажира. Там нет даже защёлки (это был 2014 год, сейчас скорее всего что-то изменилось, но я в этом не уверен). И вот в этом вагончике через некоторое время вы прибудете на место назначения.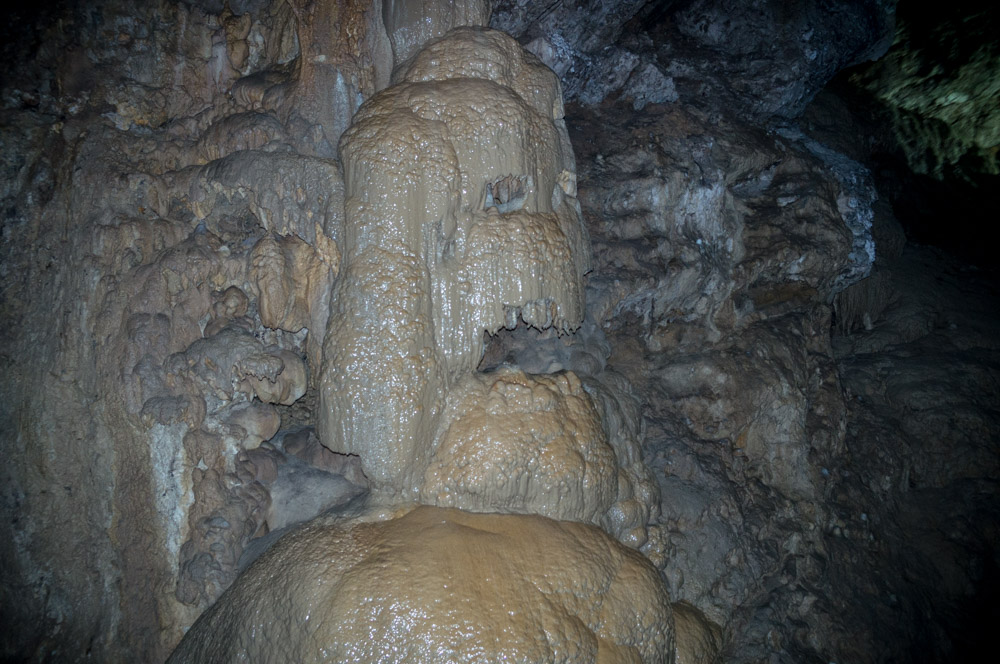 Meet, this is the owner of the cave. Now he will show us a small cave lake and ask us to take a break until next time. I cannot deny him this request.
Знакомьтесь, это хозяин пещеры. Сейчас он покажет нам маленькое пещерное озеро и попросит сделать перерыв до следующего раза. Я не могу отказать ему в этой просьбе.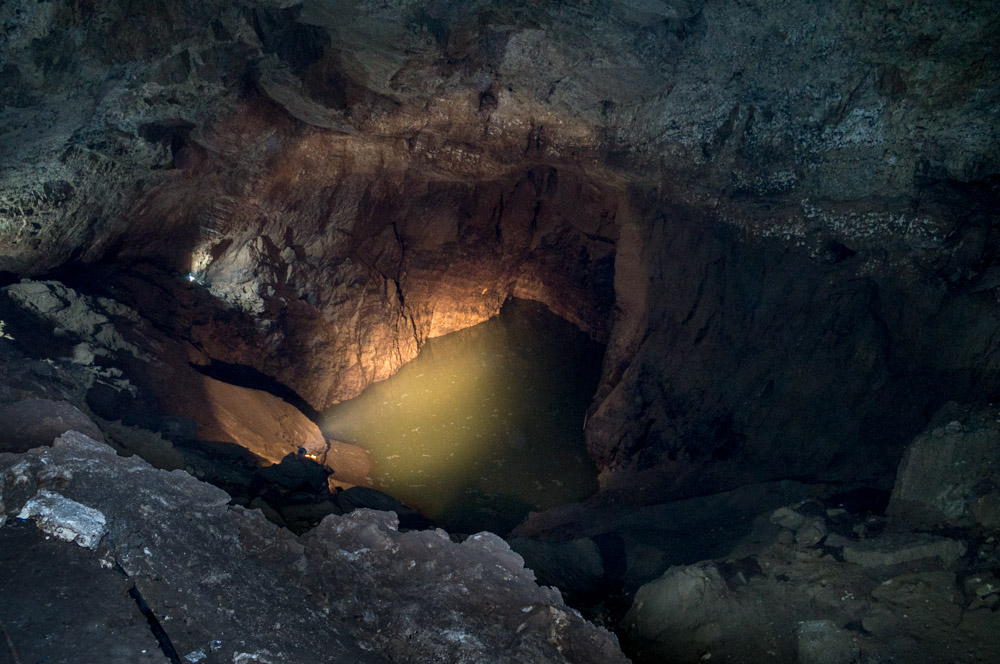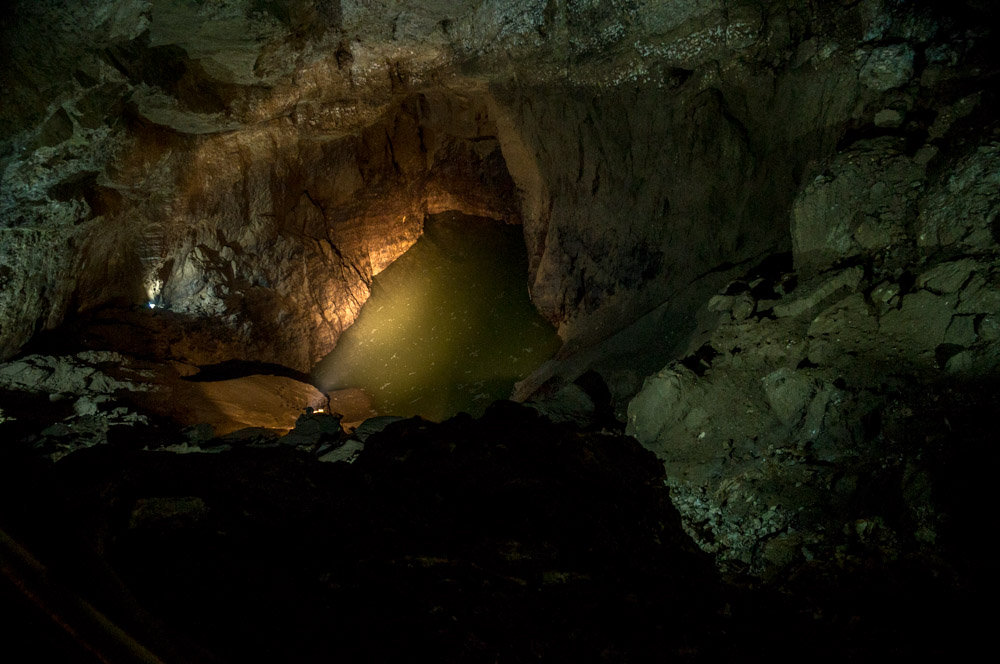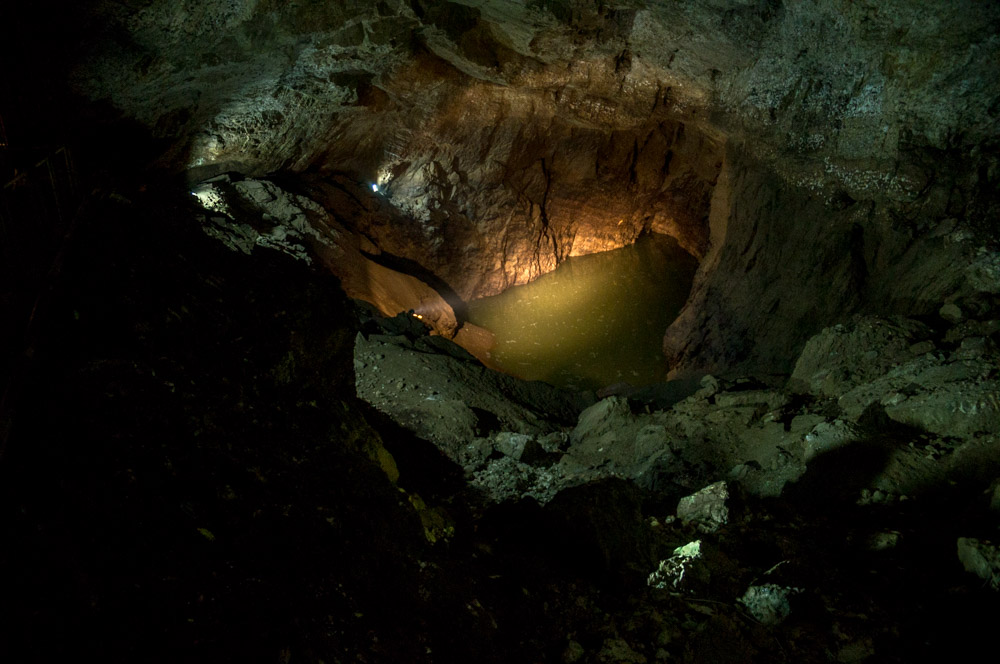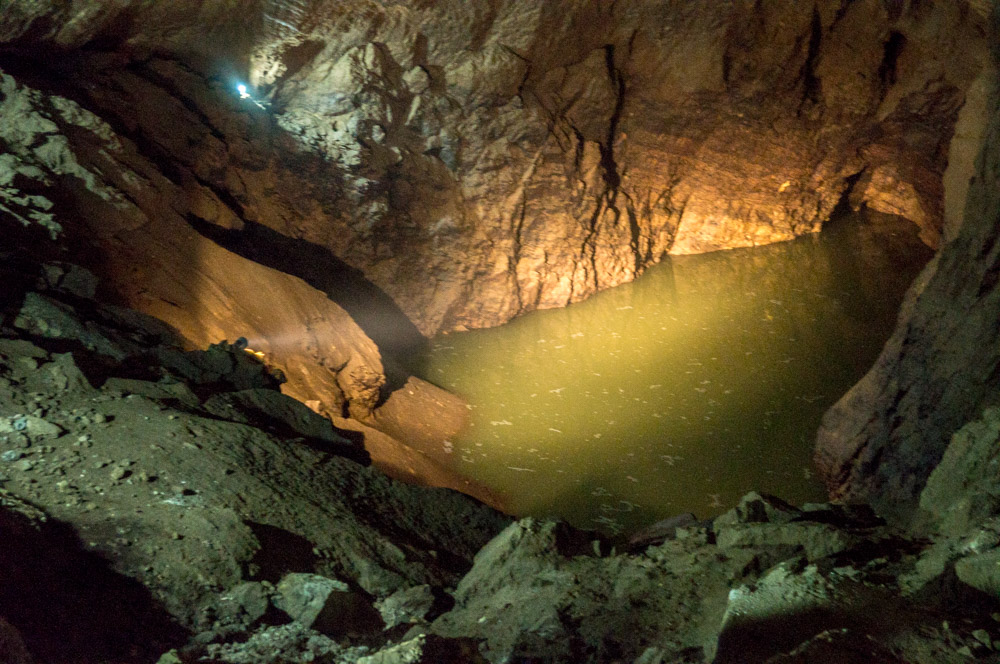 Of course, the guide said something about the peculiarities of the cave and lakes, but I was the last in the group and was preoccupied with photography. I tried to make more shots in the hope that at least some of them would turn out well.
I only remember that during the rainy season, the water level in these lakes rises. And in order to prevent most of the caves from being flooded, a special channel was punched through the thickness of the mountain to the outside. Later, when we visit the waterfall, I will show you the exit of this channel.
Конечно, гид что-то говорил про особенности пещеры и озёр, но я шёл последним в группе и был озабочен фотосъёмкой. Старался сделать побольше кадров в надежде, что хоть некоторые из них получатся неплохо.
Помню только, что в период дождей уровень воды в этих озёрах поднимается. И для того, чтобы большая часть пещер не оказалась затопленной, пробит специальный канал через толщу горы наружу. Позже, когда мы будем посещать водопад, я покажу вам выход этого канала.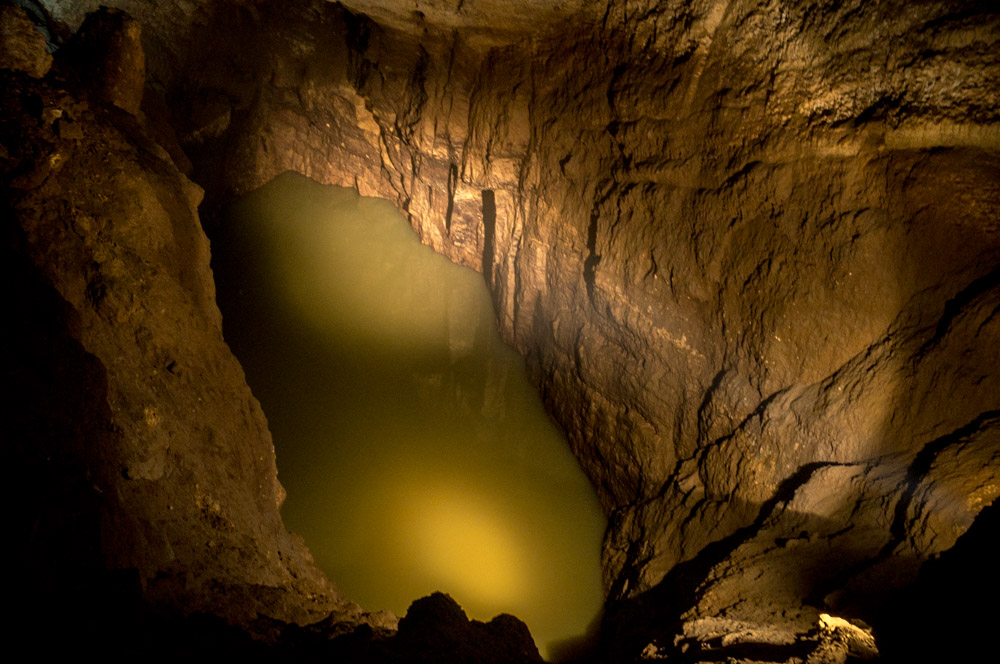 And now the promised break. We will continue next time and wander through the halls of this cave. But if someone is impatient ...
If you have a desire to make a 3D tour of the halls of these caves, you can follow this link
А теперь обещанный перерыв. Мы продолжим в следующий раз и будем бродить по залам этой пещеры. Но если кому-то не терпится...
link

| ▽ | ▽ |
| --- | --- |
| Camera | Sony A57 |
| Lens | Sony 16-105 |
| Location | Russia |
| Post-production | in LR |
Manual processing in Lightroom
Unless otherwise specified, text and photos are copyright
From Russia with Love


---
---