Time Machine -3 #MarketFriday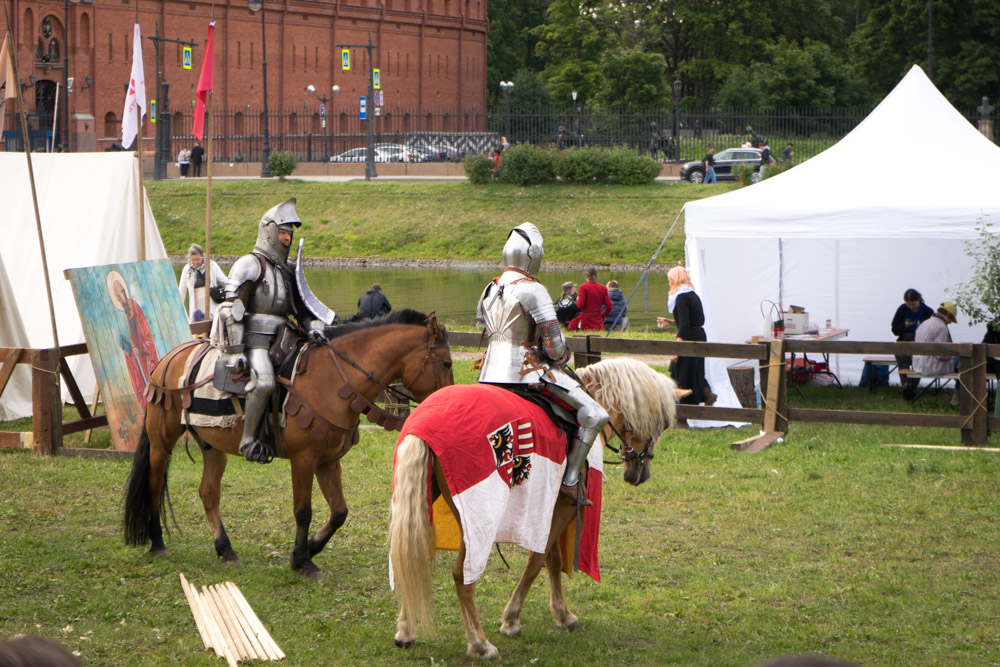 People love to dream. It is not harmful at all. It's bad not to dream. You can dream of a beautiful and rich life, you can dream of great love ... you can dream about anything ... too often I have mentioned the word "dream", it means that the time has come.
Today is a winter day, Friday, but why am I thinking about a time machine? I would venture to suggest that every person at least once in his life dreamed of going back in time ... to the past. Someone needs to fix something, someone would like to know something, and someone is just curious from childhood.
Yes, today is Friday, and I remembered #MarketFriday by @dswigle and decided to combine the two topics in one post. However, this is one topic. To get to where we are going now, you don't have to buy an entrance ticket. The time machine is free. But to try to do something ... yes, both before and now everything was bought and sold, nothing new.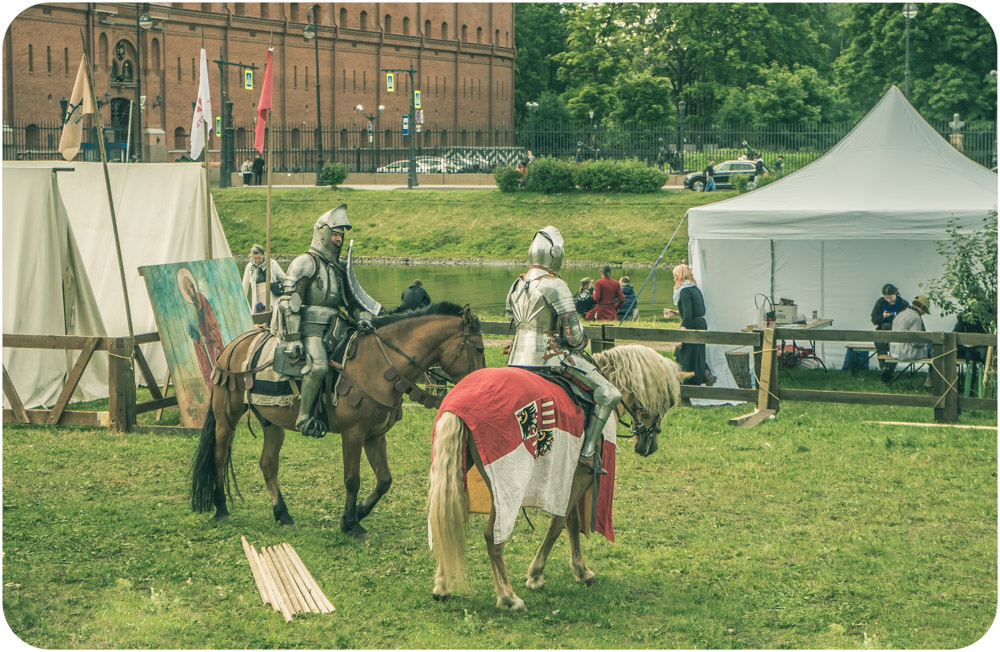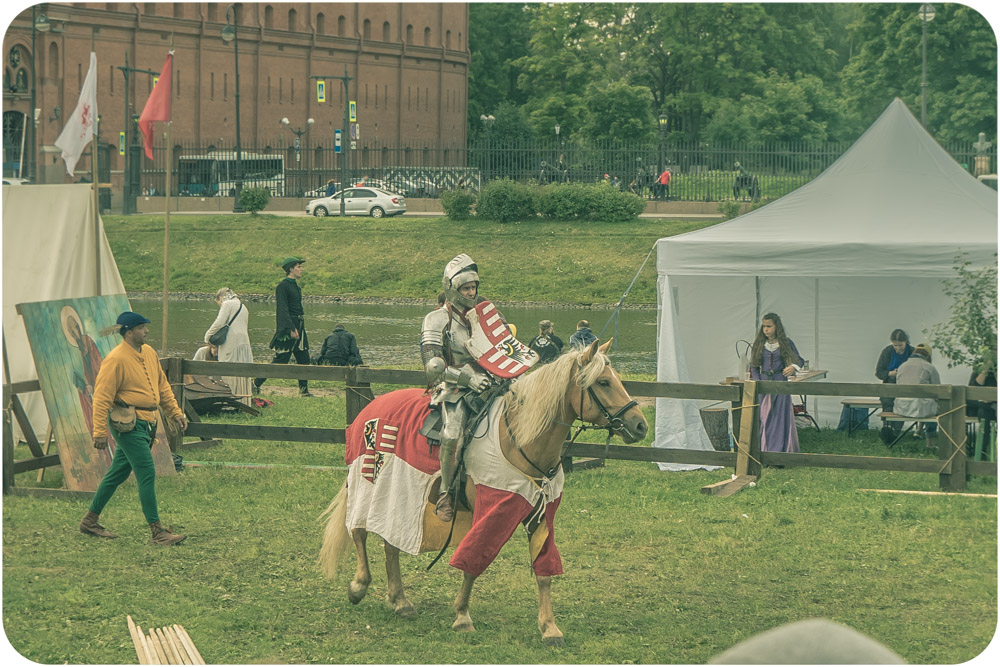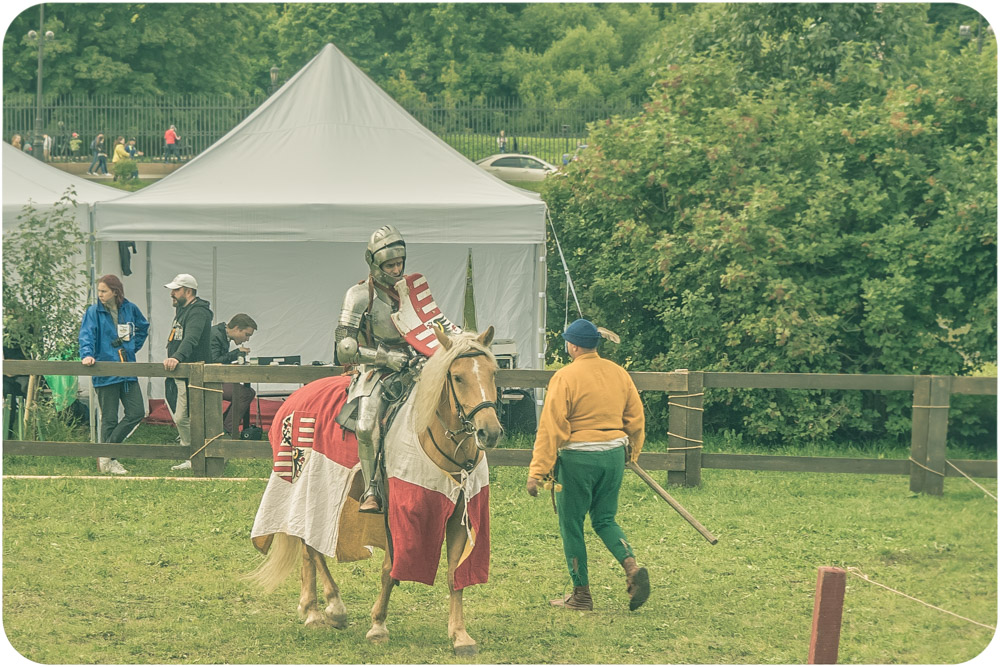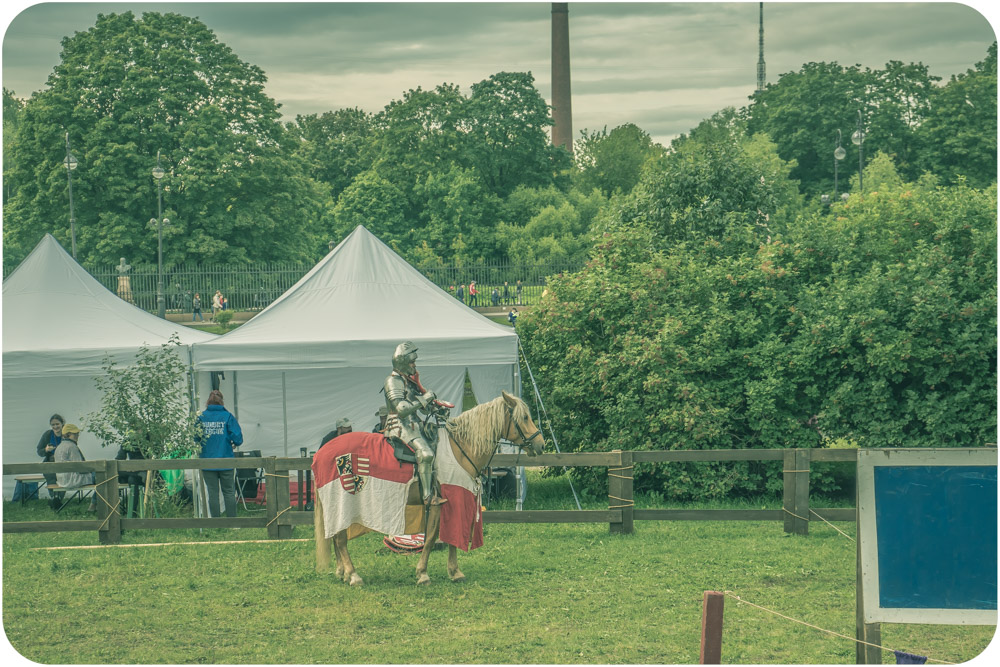 Yes, this is a continuation of a report from one event organized by the so-called reenactors. These are enthusiastic and one might say, a little crazy people. They spend a lot of money and a lot of time on their hobby. For some, it even becomes a matter of life. But thanks to these madmen, we can briefly and shallowly dive into the times they represent to us. It's like theater and thanks to these people.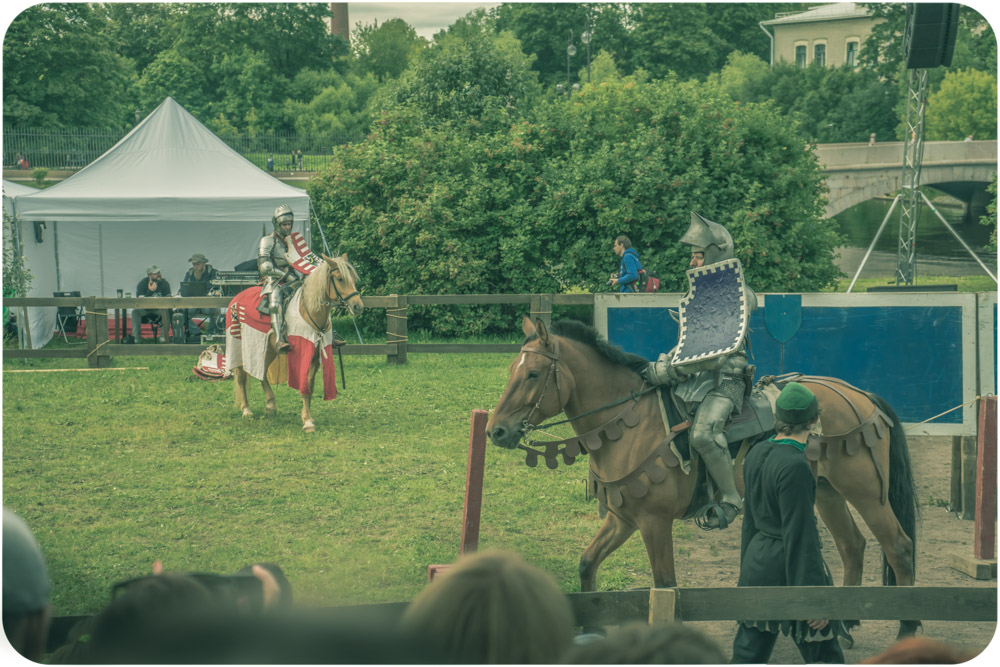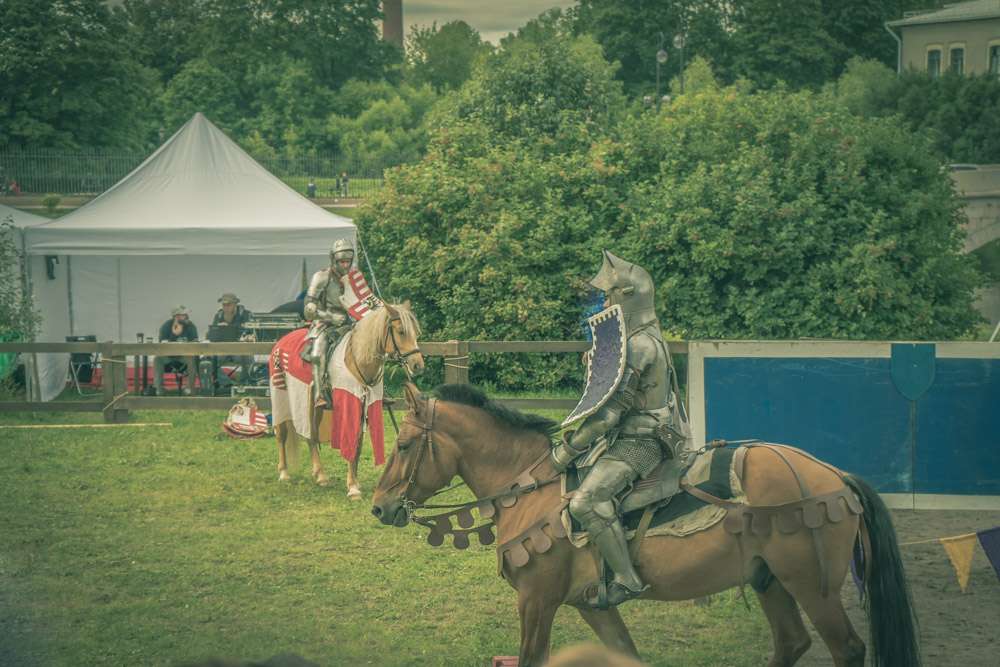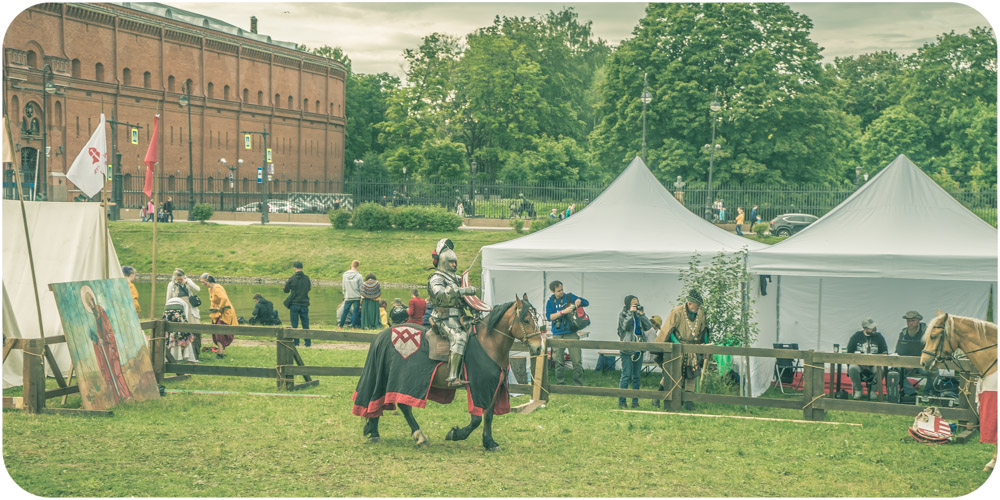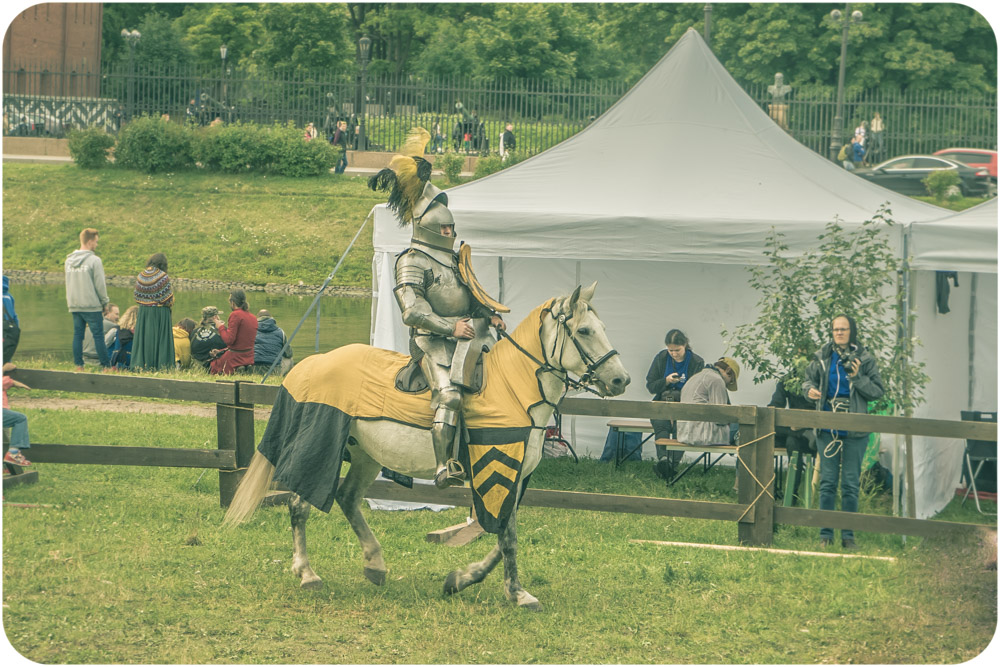 They came here from many countries of the world. They are united by a common cause, a common passion. In addition to simply restoring past life scenes, objects, clothes, crafts, they arrange real fights. It's close to sports. These knights in steel armor (on the street about + 20C) sitting on horseback, after a while will gallop towards each other with wooden spears at the ready.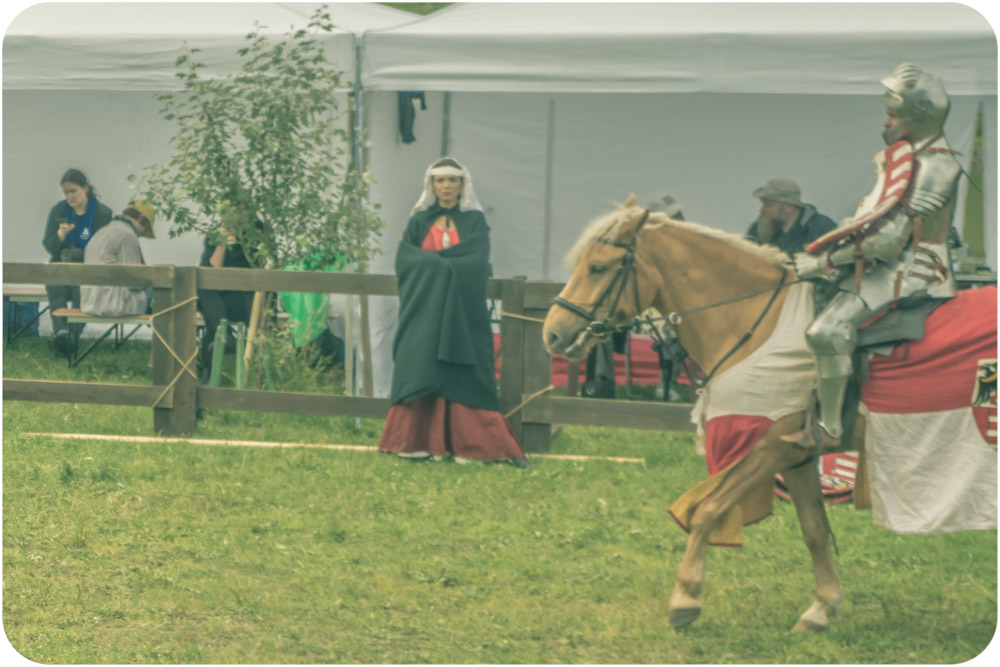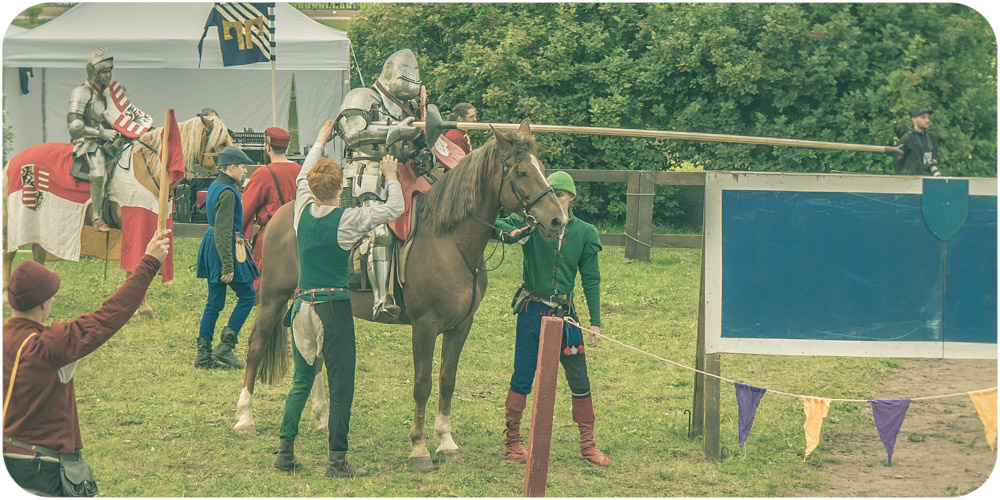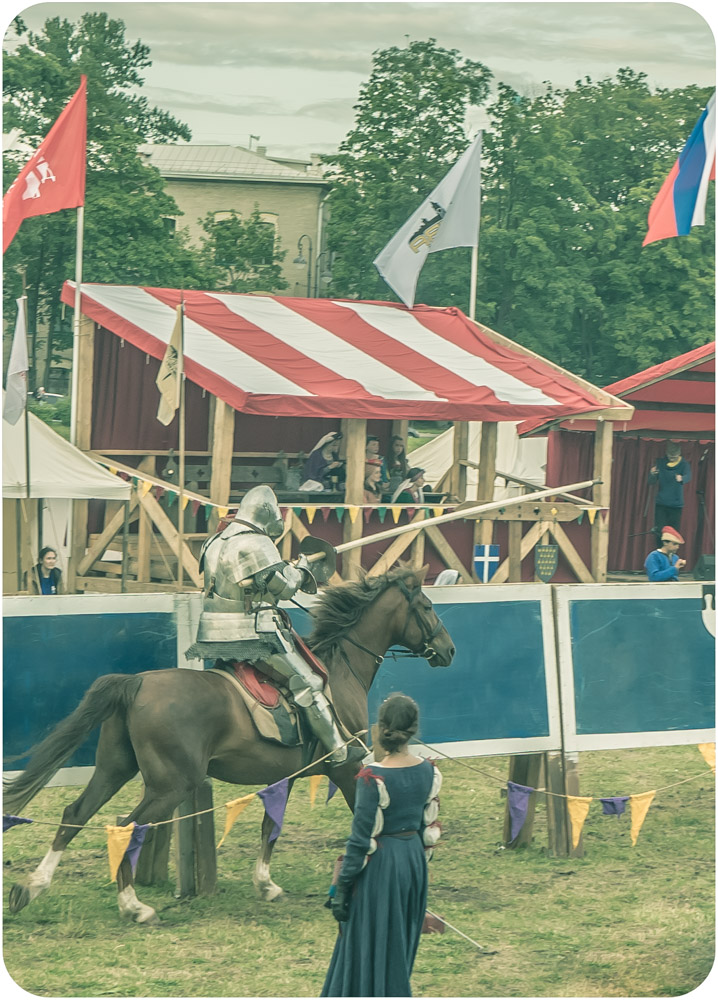 Between them there will be a blank wooden fence for security. Its height does not allow hitting the horse's body with a spear (possibly only in the head by negligence).
But at the same time, the task of each is to knock the enemy out of the saddle or break his spear from a blow to the enemy's body. I saw them break several copies. Despite the armor, this is a pretty strong blow.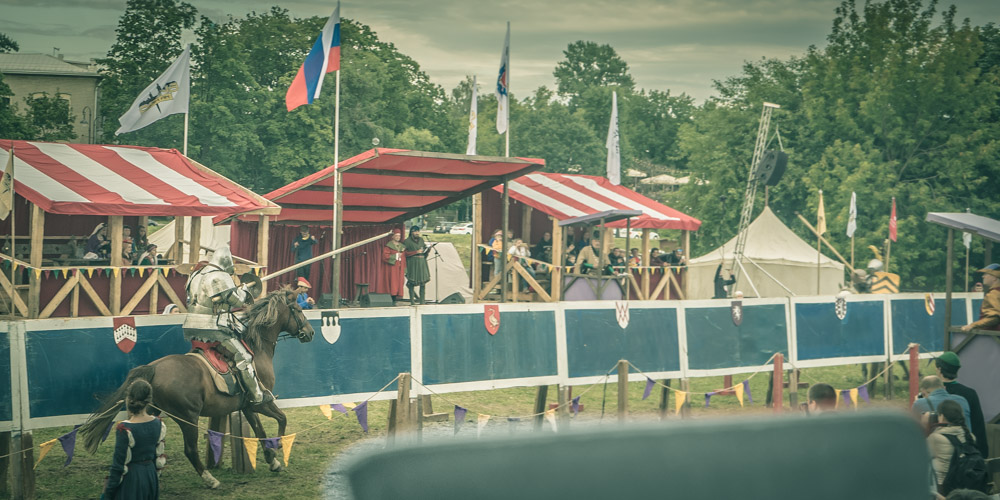 There were a lot of spectators and I was standing in a very uncomfortable location for filming the fight itself. I watched the preparations well, but not the fight itself. In this photo, you can see two approaching knights at once. The second one is far to the right.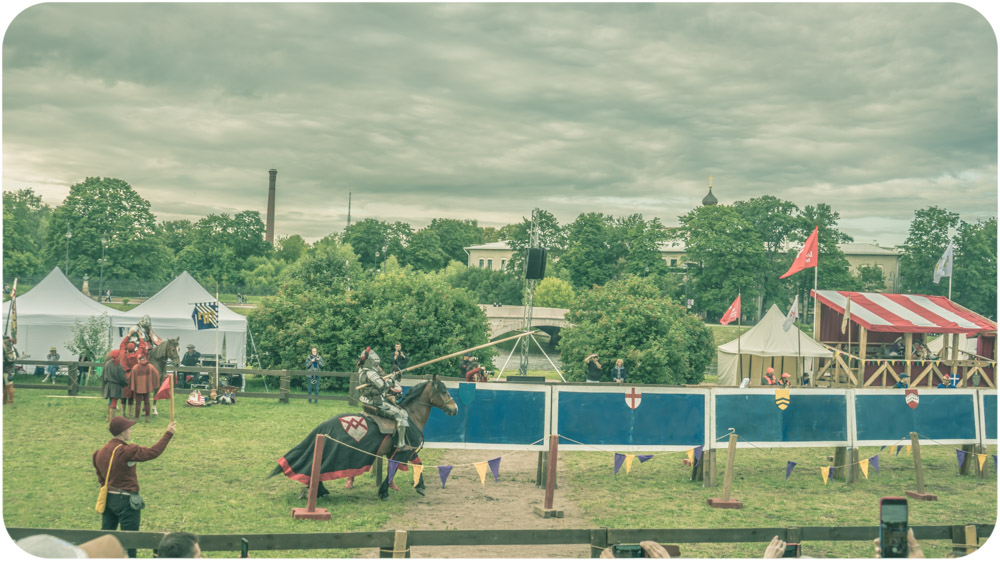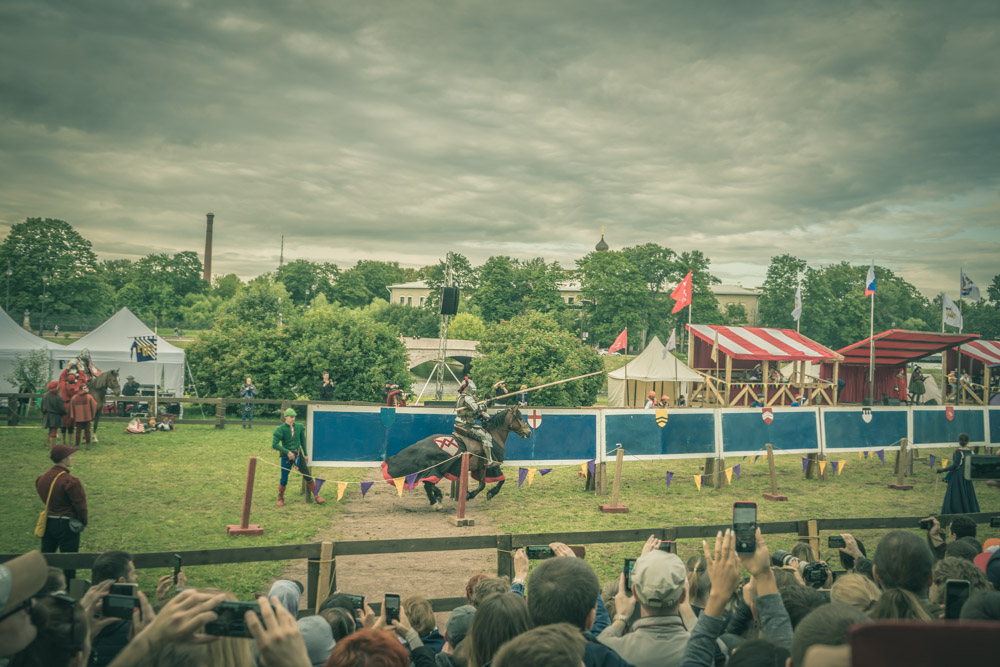 That's how beautifully they start ...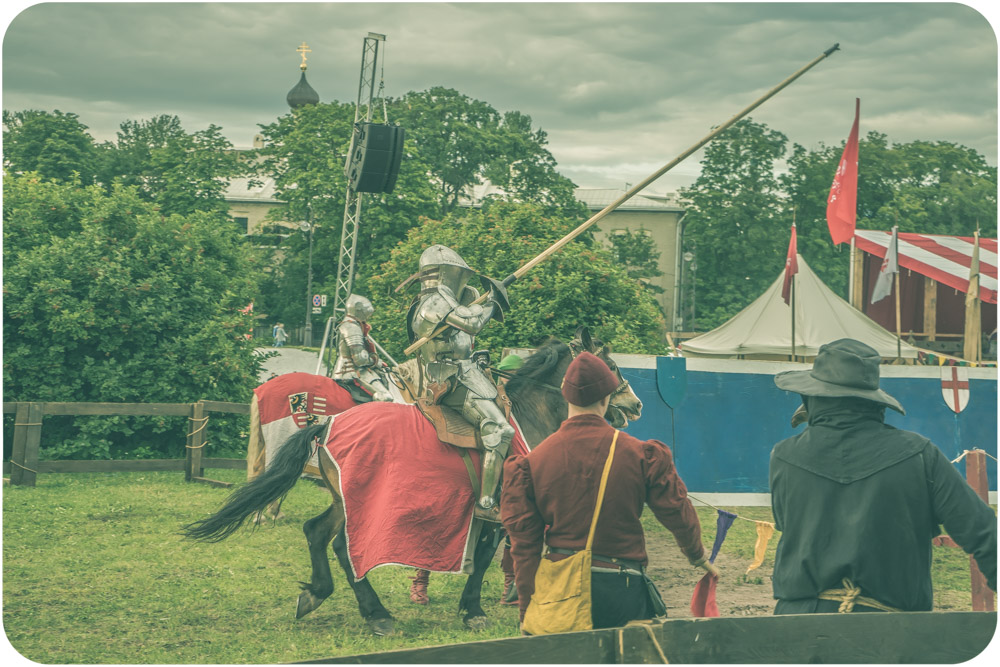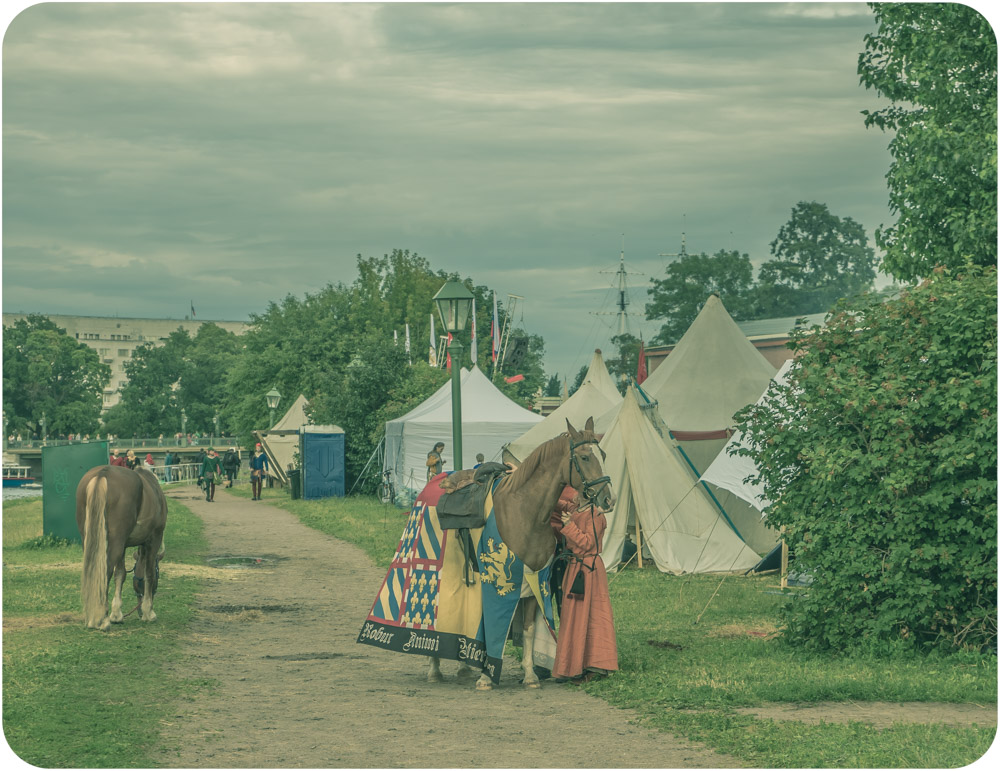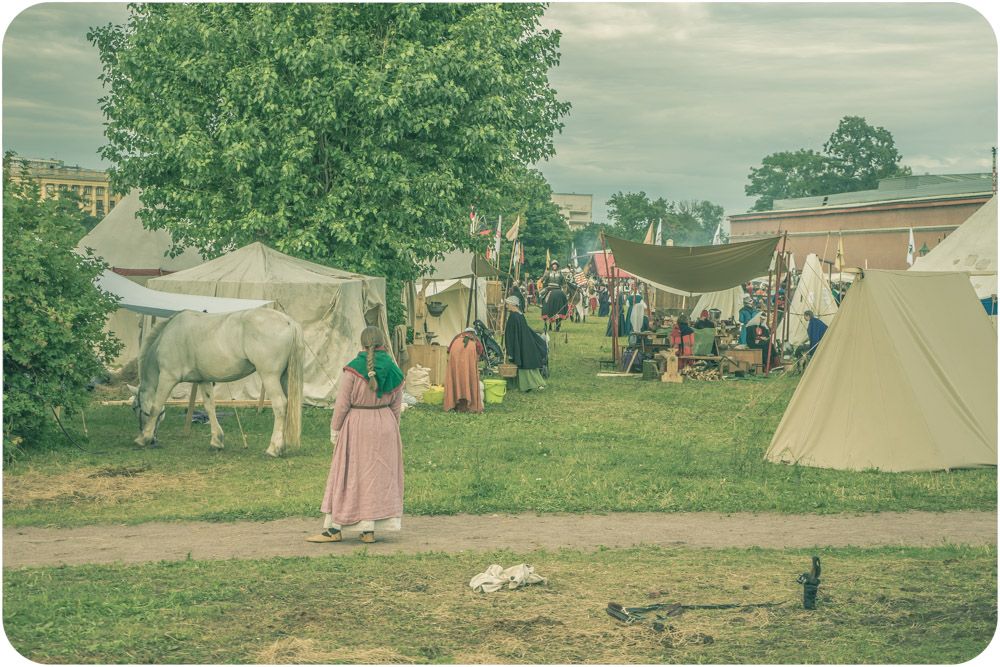 And this is their camp. Even here they managed to bring in the spirit of the Middle Ages, although the canvas tents are quite modern.
And now some brighter pictures. Yes, there were also fights between knights on foot with swords. And I didn't have a good location to shoot either. But something was captured.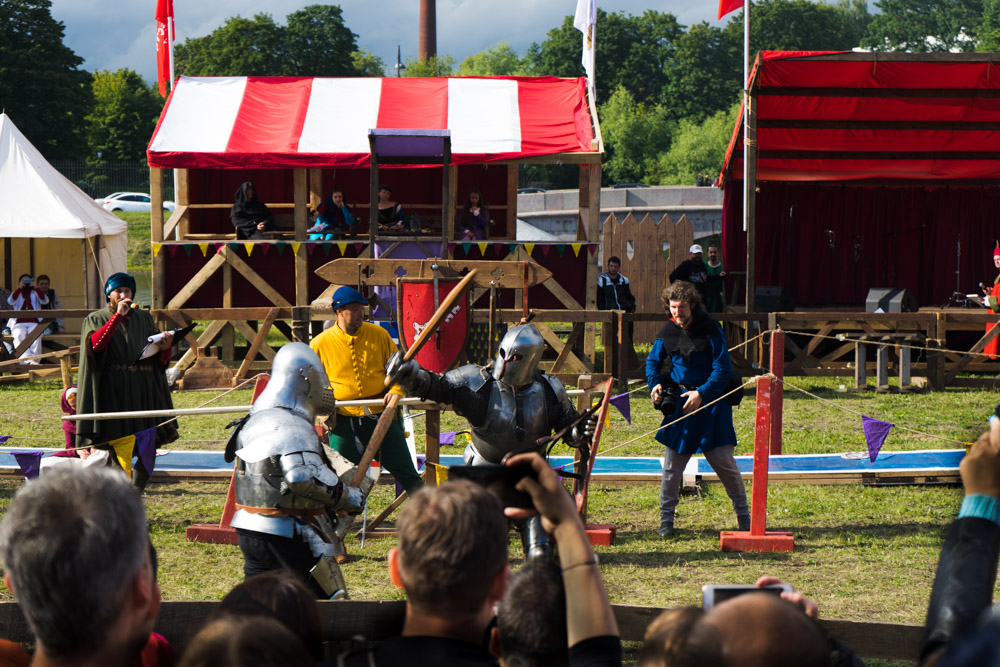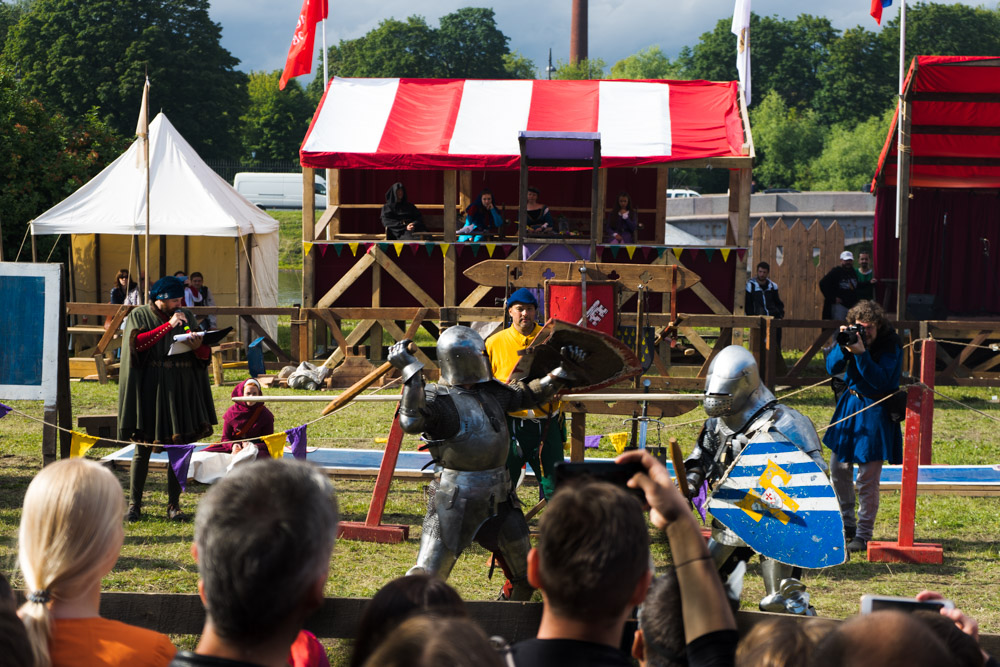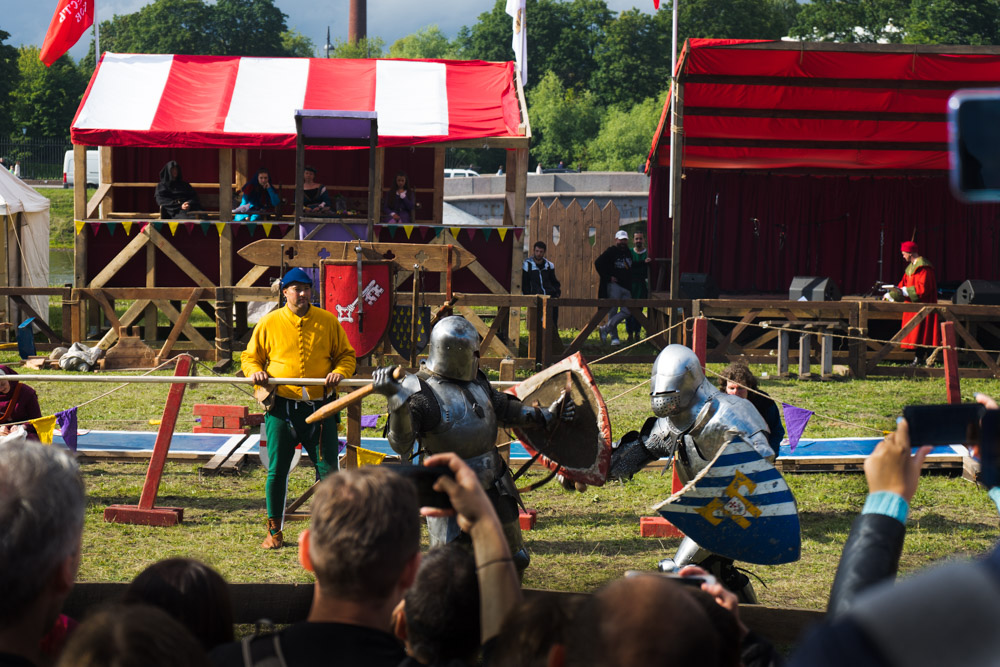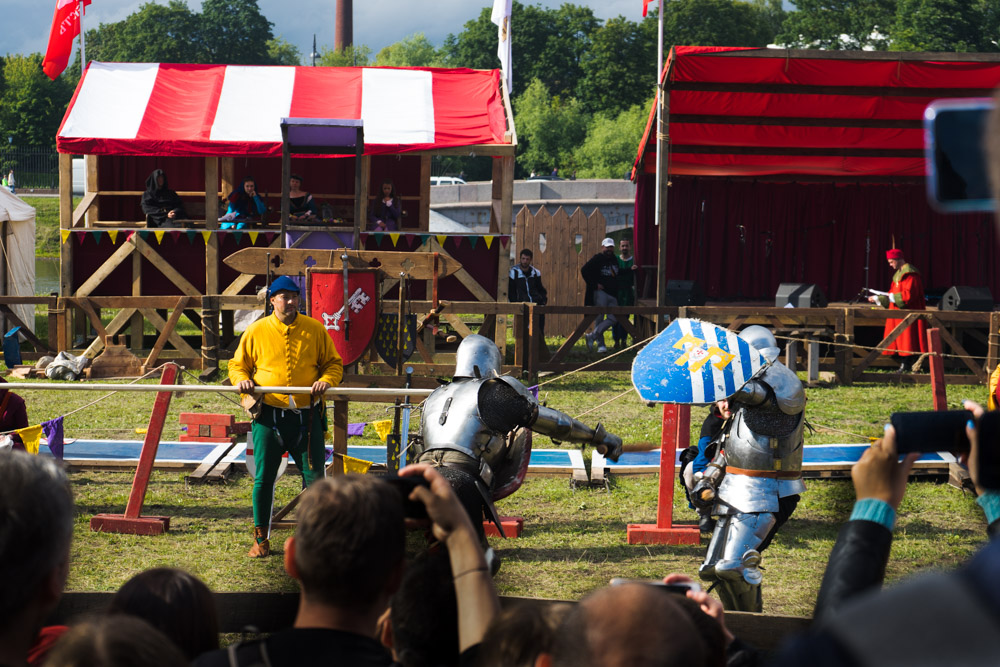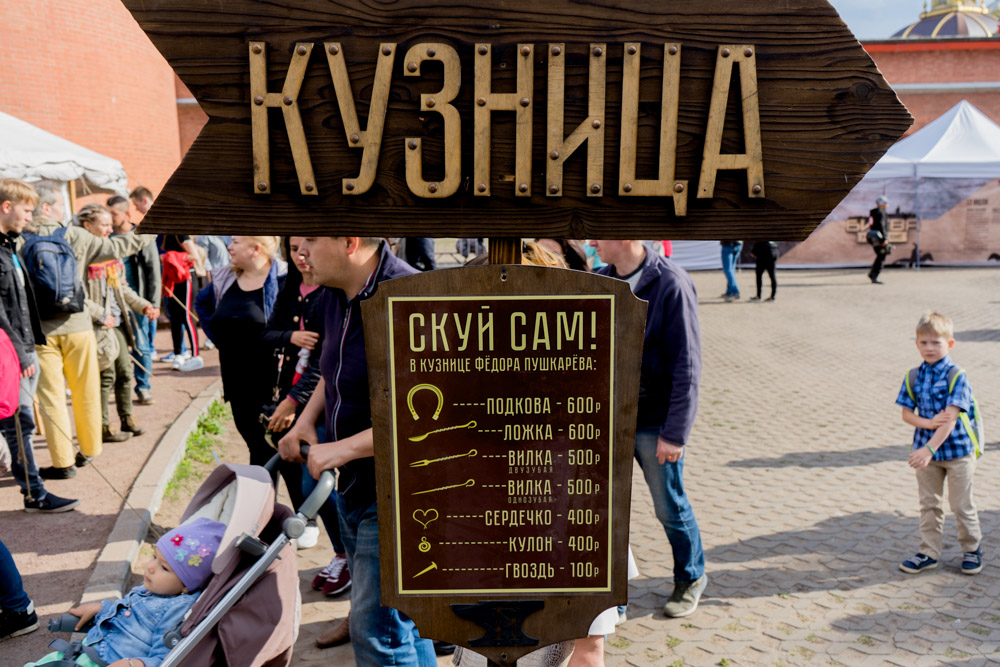 And remembering about blacksmithing from the last post.
The inscription on the plate.
"Forge it yourself in the forge of Fyodor Pushkarev: a horseshoe - 600 rubles; a spoon - 600 rubles; a fork - 500 rubles; a heart - 400 rubles; a pendant - 400 rubles; a nail - 100 rubles."

| ▽ | ▽ |
| --- | --- |
| Camera | Sony A57 |
| Lens | Sony 16-105 |
| Location | Russia |
| Post-production | in LR |
Manual processing in Lightroom
Unless otherwise specified, text and photos are copyright
From Russia with Love


---
---