Jars and Jugs like you've never seen before 😊 [ENG-FR]
| As part of the letter J week of our alphabetical hunt, I came across these magnificent specimens of jars and jugs | Dans le cadre de la semaine du J de notre chasse alphabétique, je suis tombée sur ces magnifiques spécimens de carafes et pots |
| --- | --- |
| and they are so beautiful that I decided to present them to you separately, as a precious and pleasant collection to look at ... | et ils sont tellement beaux que j'ai decidé de vous les présenter à part, comme une collection précieuse et agréable à regarder... |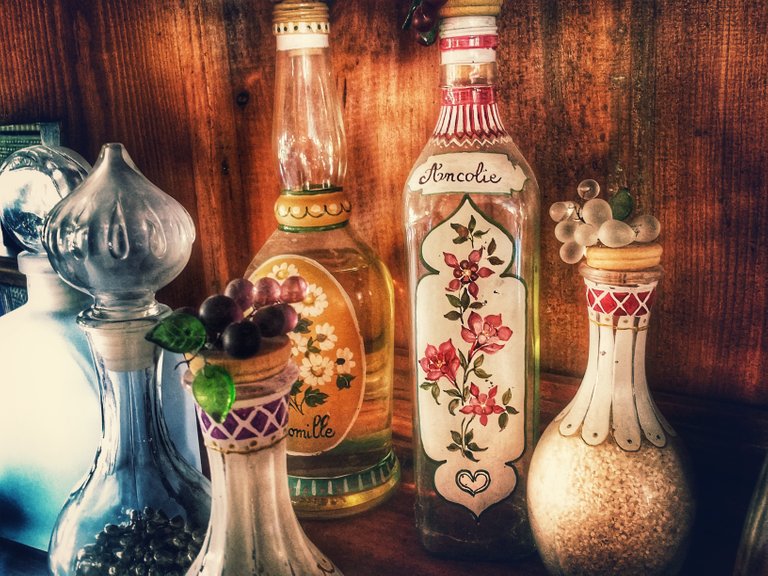 | for those who still don't know the #alphabethunt, you can learn in my post of this week | pour ceux qui ne connaissent pas encore la chasse à l'alphabet, vous pouvez consulter mon post de cette semaine |
| --- | --- |
| where you will understand how much fun it is to search for words with only one constraint: its initial 😊 | où vous comprendrez combien il est amusant de se mettre en quète de mots avec une seule contrainte : son initiale 😊 |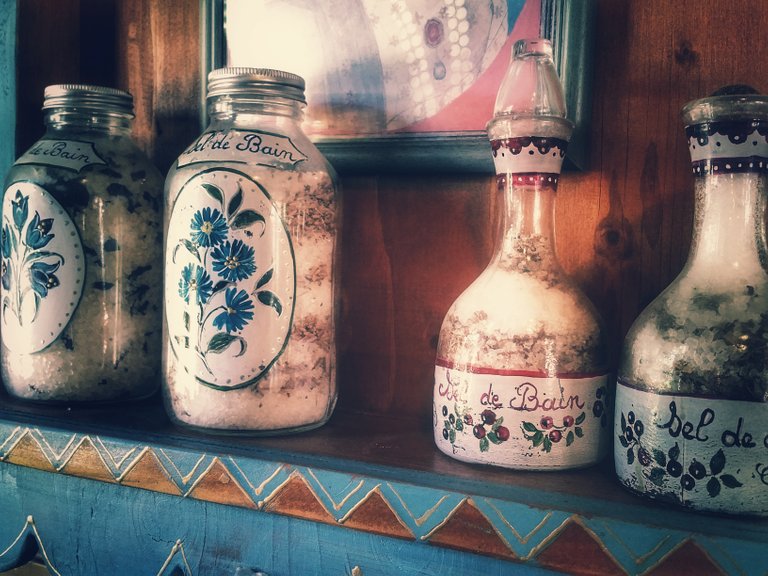 | But for now make way for these wonderful specimens that I brought back (in photo only 😉) from the Secret Gardens in Vaulx, near Annecy, France | Mais pour l'instant place à ces merveilleux spécimens que j'ai ramené (en photo seulement 😉 ) des Jardins Secrets à Vaulx, près d'Annecy |
| --- | --- |
| it is a place I go to every year and which I have already told you about several times, sharing either the flowers or the architecture of the place ... | c'est un endroit dans lequel je me rends chaque année et dont je vous ai déjà parlé plusieurs fois, partageant soit les fleurs, soit l'architecture du lieu... |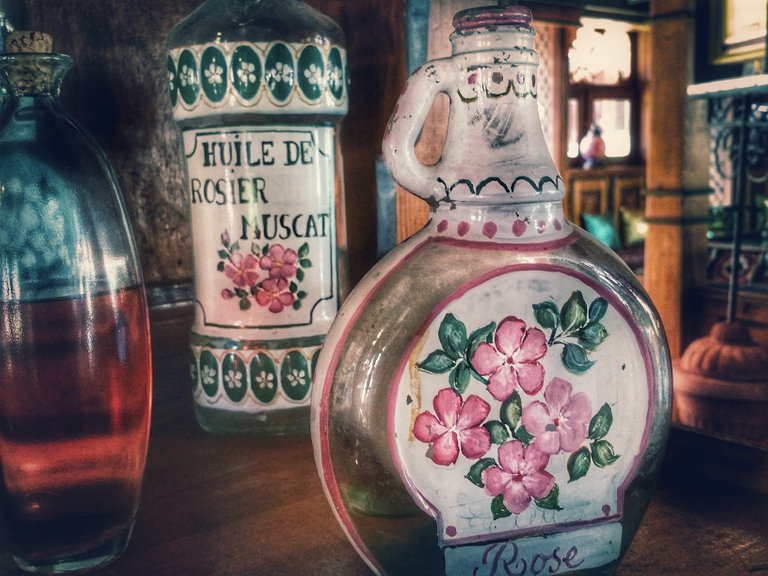 | and today I have gathered their treasures of jugs, bottles of bath salts or plant potions ... | et aujourd'hui j'ai regroupé leur trésors de carafes, flacons de sels de bains ou de potions de plantes... |
| --- | --- |
| and where we no longer know what is more precious, the container or the content ... 😊 | et où l'on ne sait plus ce qui est plus précieux, du contenant ou du contenu... 😊 |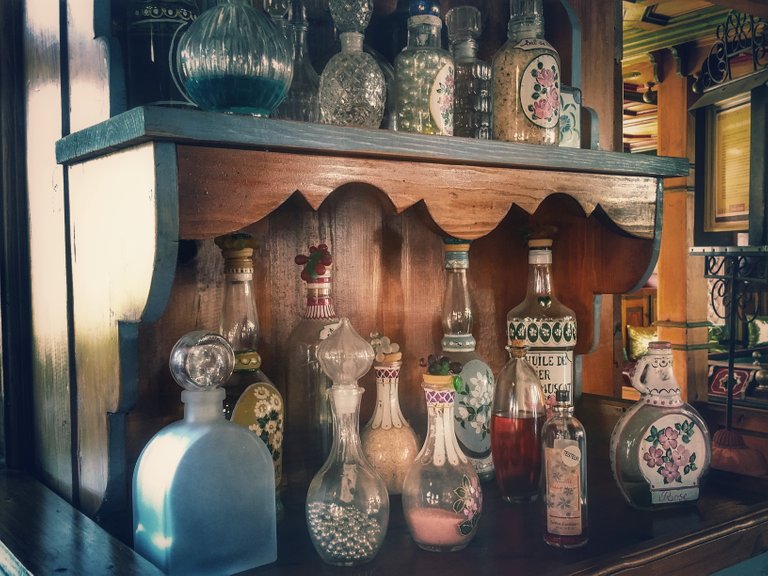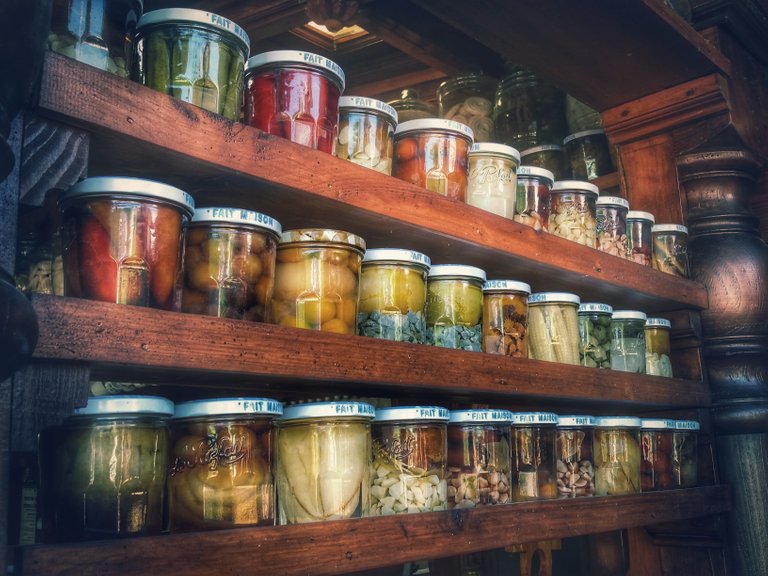 | And now here is their incredible collection of jars with various contents ... | Et voici maintenant leur incroyable collections de bocaux aux divers contenus... |
| --- | --- |
| ...vegetables, fruits, preserved in vinegars or alcohol ... an unexpected and colorful decoration that captivates the pupils 😍 | ... légumes, fruits, conservés dans des vinaigres ou de l'alcool...une décoration inattendue et colorée qui captive les pupilles 😍 |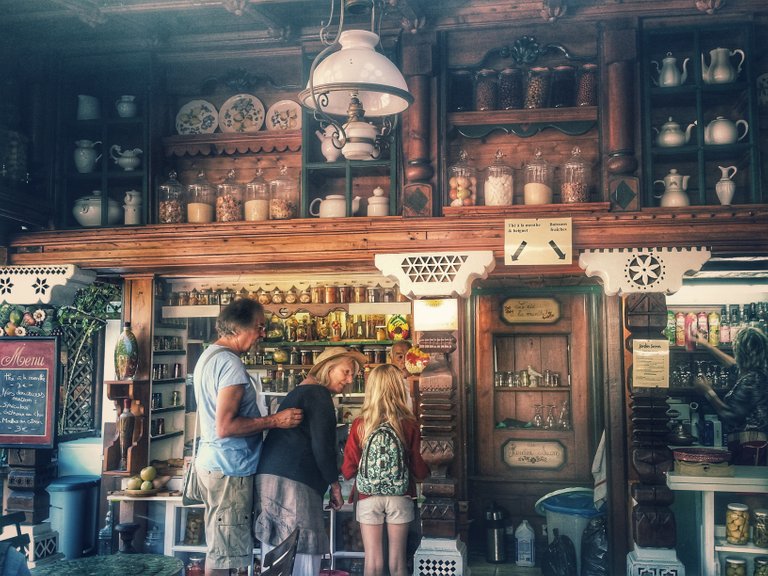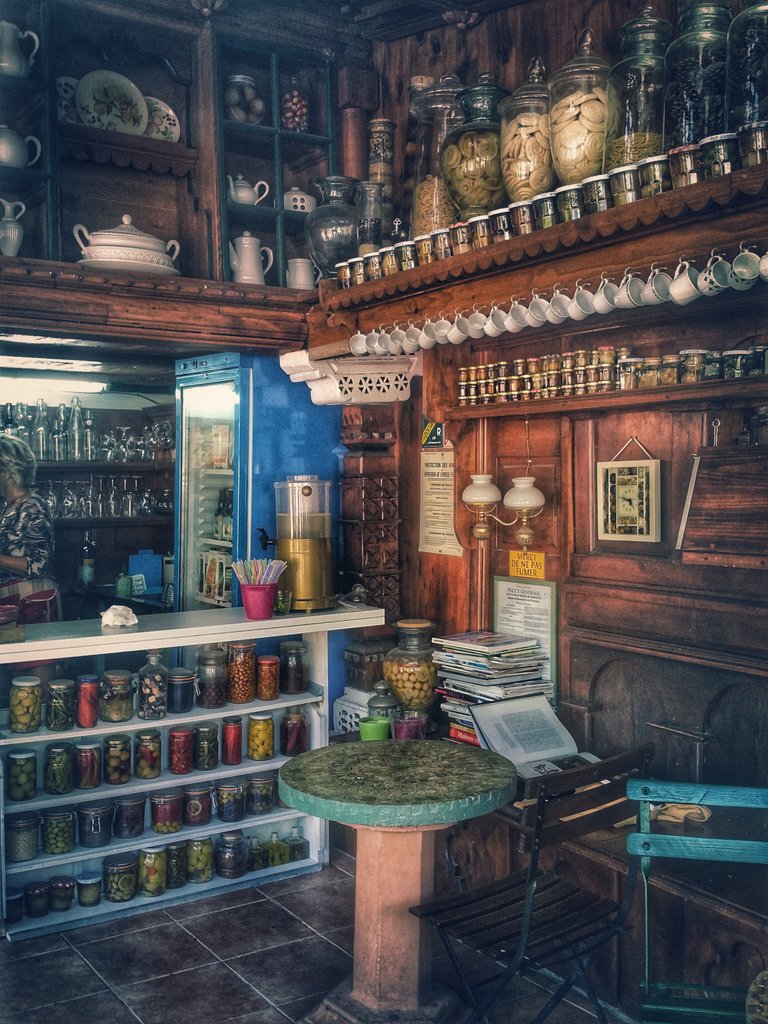 | I also let you enjoy the splendor of the wooden furniture which was all created by the owner of the place ... | Je vous laisse également profiter de la splendeur des meubles en bois qui ont tous été créés par le propriétaire des lieux... |
| --- | --- |
| rosettes, festoons, everything is a feast for the eyes! | les rosaces, les festons, tout est un festin pour les yeux ! |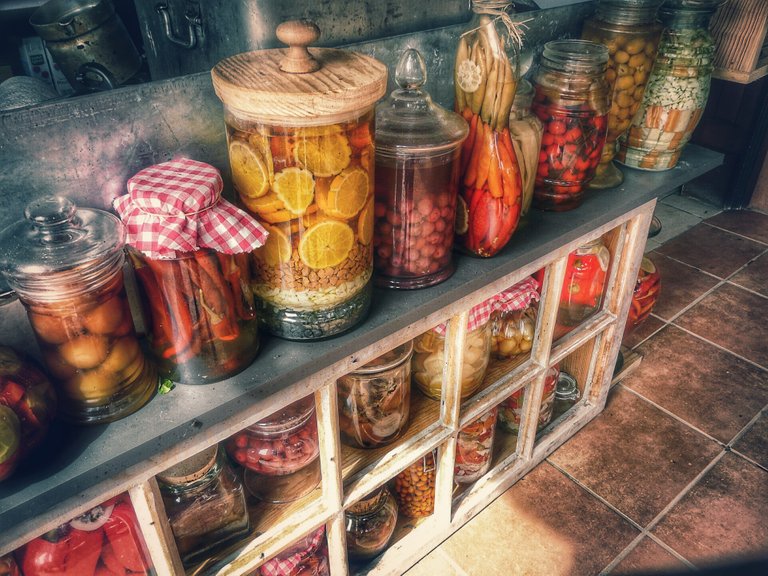 | and I kept this huge and imposing glass jar for the end | et j'ai gardé cette énorme et imposante pièce en verre pour la fin |
| --- | --- |
| filled with confit lemon from Morocco ... I think that here, you really don't regret to have taken the visit, am I right ..? 🤭 | remplie de citron confits du Maroc...Je crois que là, vous ne regrettez vraiment pas la visite, je me trompe ..? 🤭 |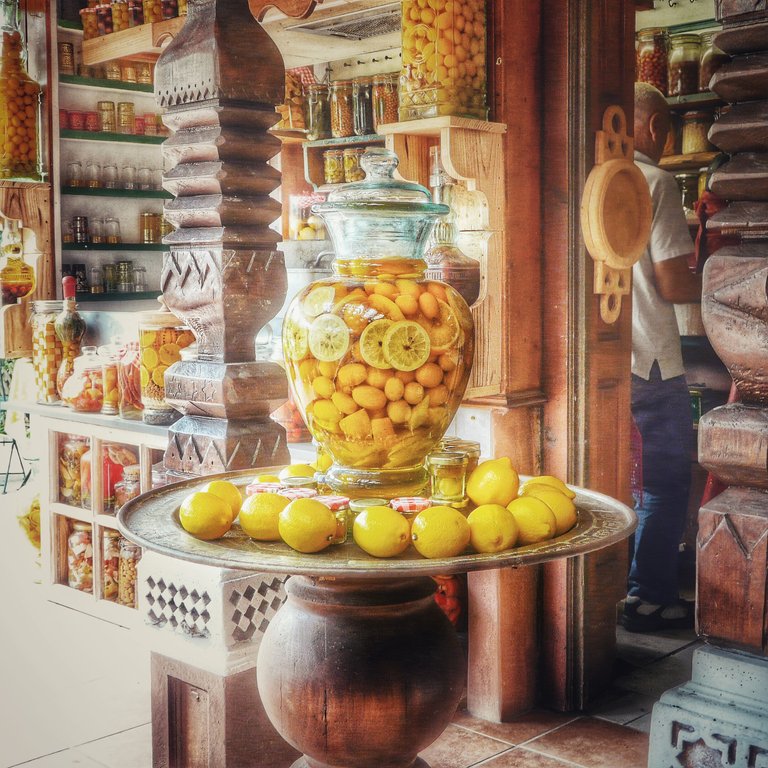 I wish you a wonderful afternoon Lovelies !

My previous posts
#AlphabetHunt letter J - and the winners of the lucky draw for the #I week [ENG-FR]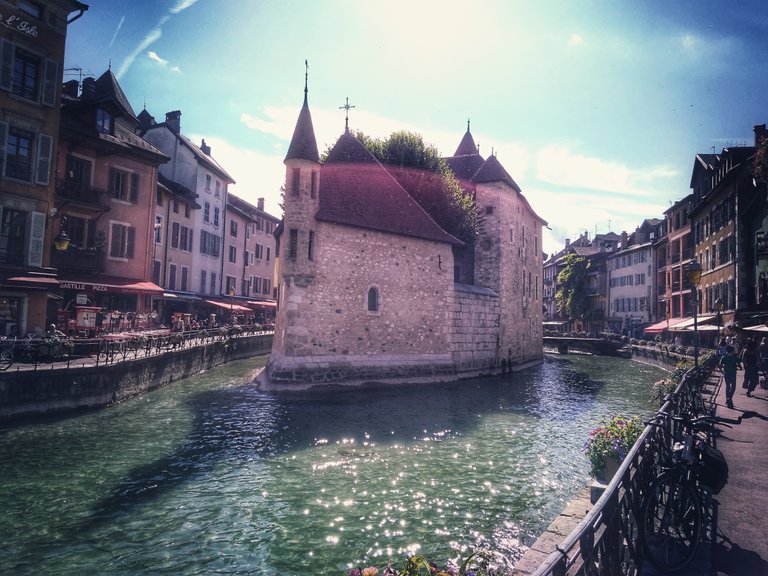 ---
Picking photos in the courtyard of beautiful hydrangeas [ENG-FR]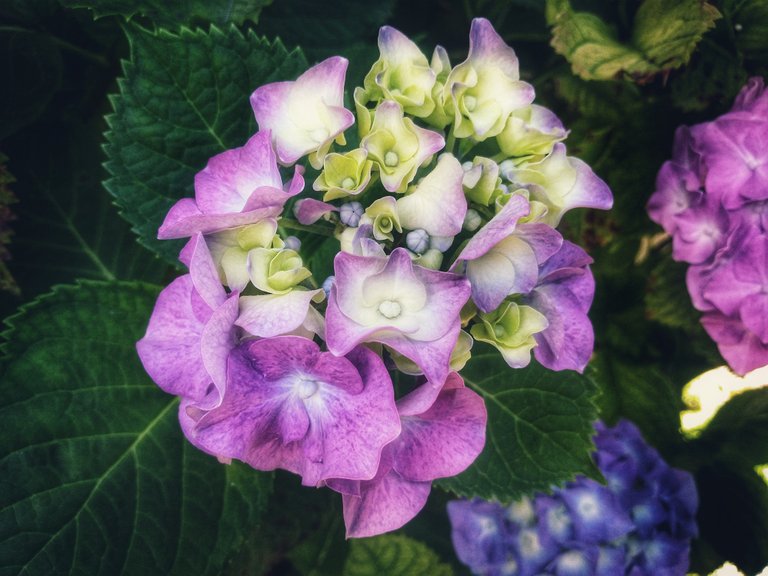 ---
A collection of beautiful wooden doors [ENG-FR]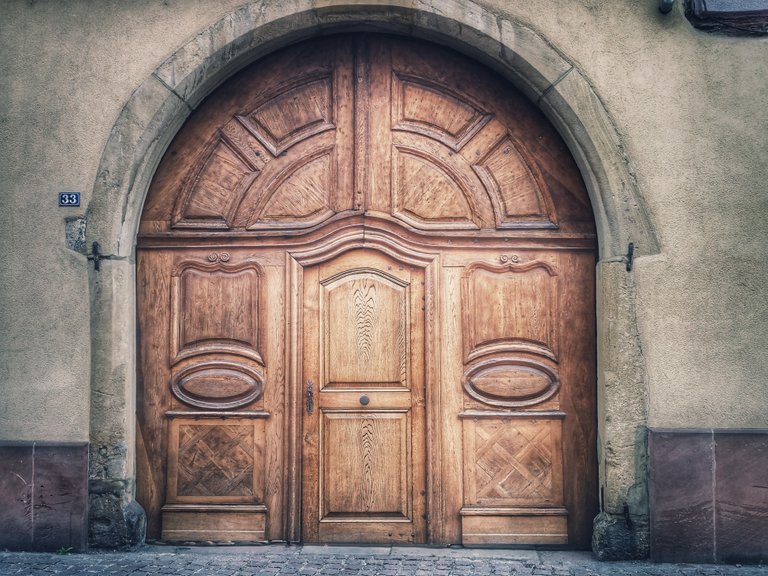 ---
An animated Alien illustration [ENG-FR]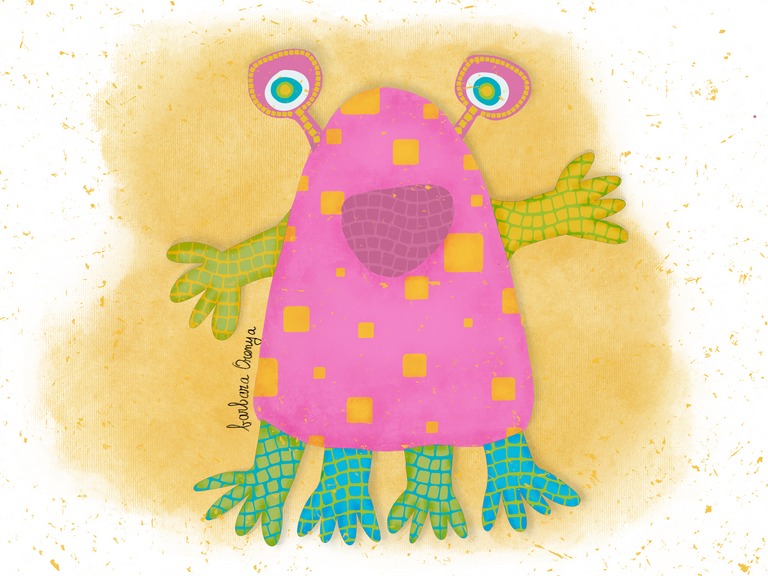 ---
Photos of the "Pont de la Caille" [ENG-FR]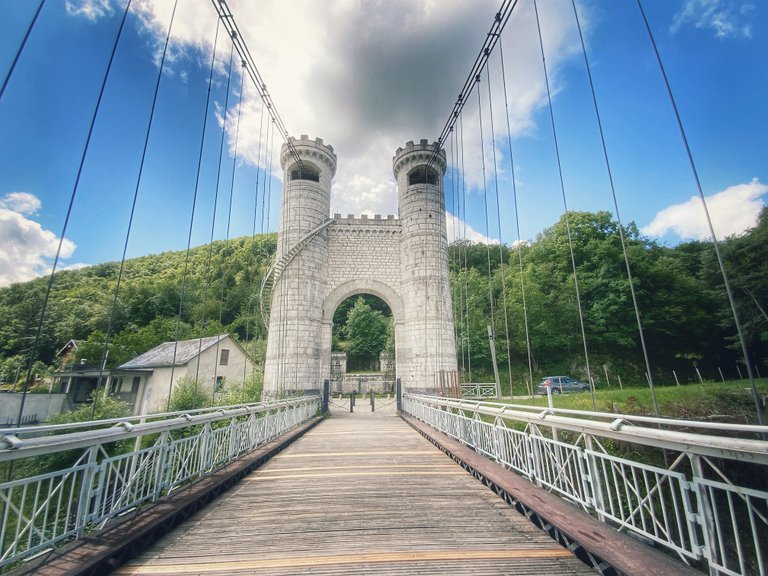 And find also my paintings on my website !!


As always BlueWonkies are supporting communities ! 👇
Amazing Nature community by @adalger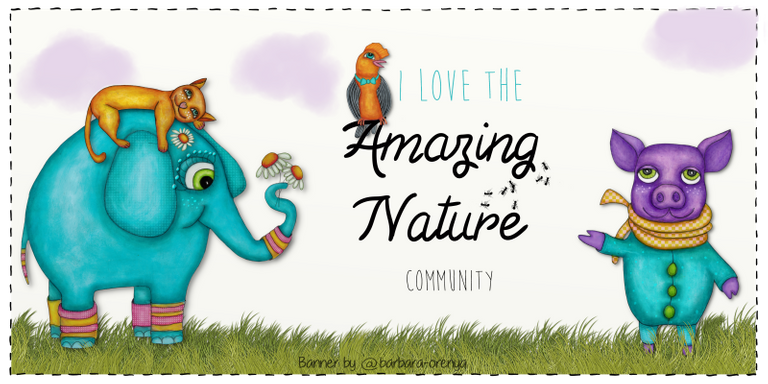 hive-127788

Feathered Friends community by @melinda010100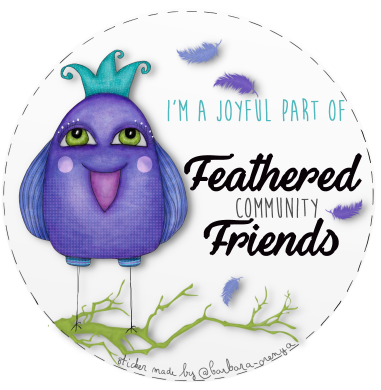 hive-106444

Always a Flower community by @dswigle

hive-154065

Market Friday by @dswigle

hive-196308

Feel Good community by @barbara-orenya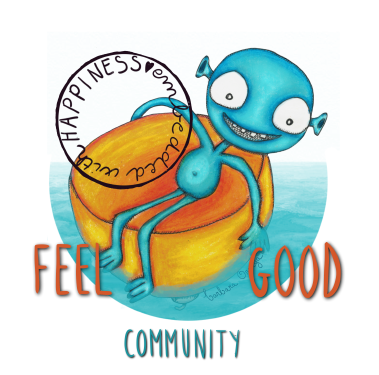 hive-190931
---
---