Hive direct sales - Hive Sound fx for video editing (Copyrighted) - Noise Riser - 3 х 4 = 9 Hive
Hi all!
Some time ago, when I started devoting more time to the Leofinance platform, I thought that it would be of little use to me if I only talk about other people's successes and financial failures, I need to try to create something that I I can praise with a clear conscience, or scold, lol, if it deserves it and it should be directly related to finance, or rather, to crypto finance and the ability to combine my activities in the Hive and YouTube.
As you know, many YouTube vloggers have lost the opportunity to receive income from published videos, due to the draconian requirements that the administrators, or the owner of YouTube, have set.
The fact that the Hive exists allows you to earn income from videos that weigh dead weight on YouTube channels.
Our family has four YouTube channels, some of them have already overcome the threshold of 1000 subscribers, but 5000 hours of views per year, that's for now. an impregnable mountain for us.
I recently created youtube channel https://www.youtube.com/channel/UCyx7Q6hLwhtfBCgEQQ5P5pA.
His idea is to set the stage for the sale of audio tracks using the Hive coin and other Hive Engine coins, very flexible system lol.
You can learn more from our introductory post.
https://leofinance.io/@barski/hive-direct-sales-sound-fx-for-video-editing-copyrighted-grandma-s-laugh-2-12-hive.
I do not argue that there are stores whose owners invest a lot of money and offer customers a huge assortment from the first day, but when it comes to creativity, and inspiration comes gradually, our store is filled with goods gradually.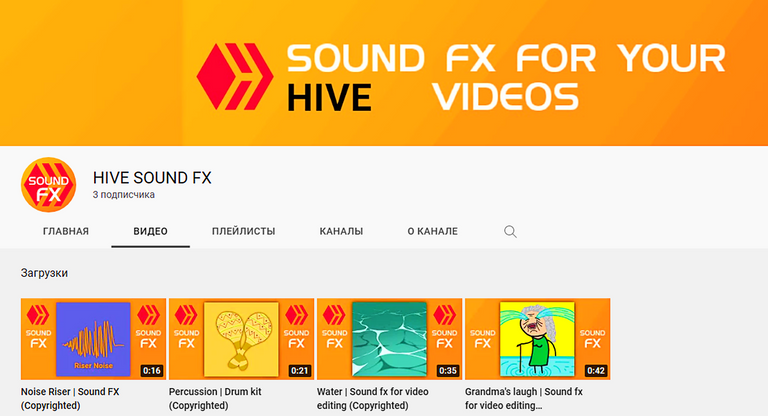 Another audio clip is called Noise Riser and consists of four parts.

These are the waxing and waning sounds of compressed air that can be used to create both video and music beats.
When ordering audio tracks, please specify the following data for each audio track.
00:00 - 00:04 - noise riser 1
00:05 - 00:08 - noise riser 2
00:08 - 00:11 - noise riser 3
00:12 - 00:15 - noise riser 4
Each audio track is valued at 3 Hive coins. but if you buy all four lanes, then you save 3 Hive by paying only 9 Hive.
All questions about purchasing sound packs and tracks can be discussed in the comments and:
Discord - barski#9075
I invite you to subscribe to our YouTube channel, this will allow you to promote it in the ranking and show the way to Ulya for more people.
Author @barski
Posted Using LeoFinance Beta
---
---