Honey and tar
There is a saying that says that one small fly in the ointment can ruin a whole barrel of honey.
In some cases, I agree with this wise saying.
We must pay tribute to the attentiveness of the one who invented it. Lol, I hope that this wise person did not experiment with honey and tar and, experimentally, came to this conclusion, gradually increasing the amount of honey, adding it to a spoonful of tar, a very strange experiment.
Probably, this applies to many incompatible things, let's not say that a crooked word can ruin friendships, or a wrong deed towards someone you value.
Everything is clear with this, but there are times when honey and tar are quite compatible.
I figuratively mentioned honey and tar, I want to talk about the possibility of combining such incompatible things. like dirt and light.
Looking at this photograph, you will see streams of dirty water in which, it is very difficult to see something attractive, it is a kind of tar.
And the sunlight sparkles like honey, but it cannot be called spoiled because it touched the dirt. No, on the contrary, light and dirt. created a very interesting picture, which, in monochrome, looks wonderful and very abstract, even surreal.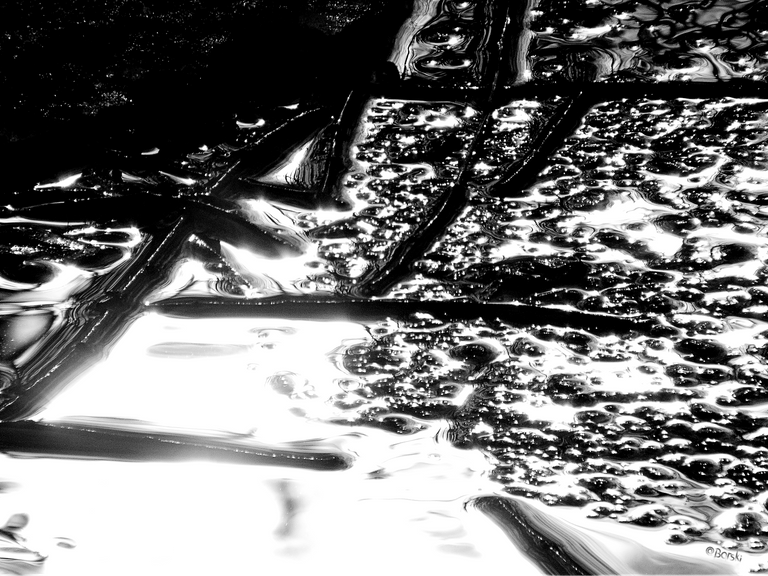 Photos taken with a Sony Cyber-shot DSC-HX300 camera.
Author @barski
---
---