PHOTO of the DAY - Turn upside down.
Sometimes, it's good to turn the world upside down so that you can look at it from a different angle.
Often, this opens up new impressions from the contemplation of familiar objects.
In such a revolution there is something that can be called the word freedom and it leaves no heaviness on the heart.
You can see such action in this photograph, taken immediately after a heavy rain, when the sky turned crystal clear and blue, like a chicory flower.
The slow Bogdan bus has turned into a manned taxi from the Fifth Element, flying over our heads, and the paving stones on the roadway, similar to futuristic honeycombs, take us to alien planets.
Perhaps. unchanged, only the electrical wires and their supports remained, but they do not spoil the overall picture that I saw in the puddle.
I see an imitation of such a revolution upside down when I read the latest news in Telegram.
There are things that cannot be turned over, you can spill all the contents.
For example, it seems to me that it is impossible to turn over such basics as personal information and, moreover, information about a person's DNA.
Yes, DNA is a very personal thing that cannot be trusted to anyone, but lately, more and more often, there are calls at the level of laws for the creation of DNA banks, where information about each person should be stored.
I do not want to exaggerate, but it is very likely that people will soon be kidnapped for transplantation, which will be very easy to do with great accuracy, avoiding mistakes and rejections, because the entire DNA database will be in the same hands.
I hope that those who are planning such a coup will break their necks.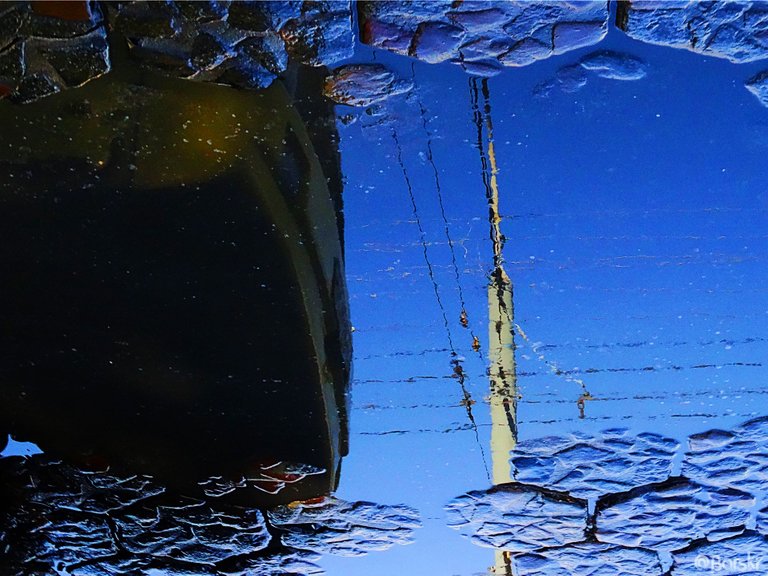 Photos taken with a Sony Cyber-shot DSC-HX300 camera.
Author @barski.
Ukraine.
---
---