A Long Overdue Orchid Update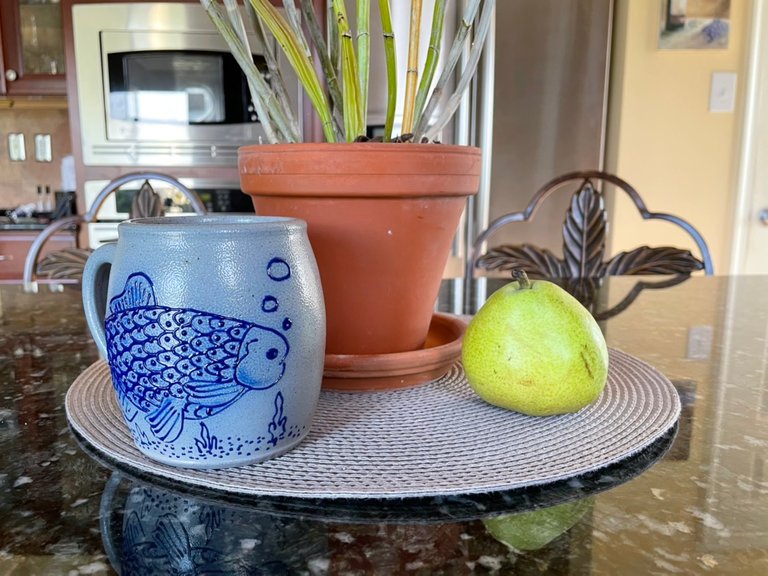 It's Been A While ..
I think it's been way too long since my last orchid update. I've just been busy doing this and that, and the summer is definitely in full swing. My wife and I have been preoccupied with a new patio we recently had installed in our backyard. We have been busy looking for, testing, and purchasing patio furniture and miscellaneous other accessories to go with. It's been an enjoyable process but one that has taken a bit of our time and it seems like the summer is flying by already.
It hasn't left much time for posting and writing about my life, so one occasion I have to remember to take some time for myself and jot a few things down on the Hive blog. I don't want everyone to think that I have up and vanished. So today I decided it's a quiet Sunday morning, Molly is still asleep along with my wife, and the time seems right for an orchid update!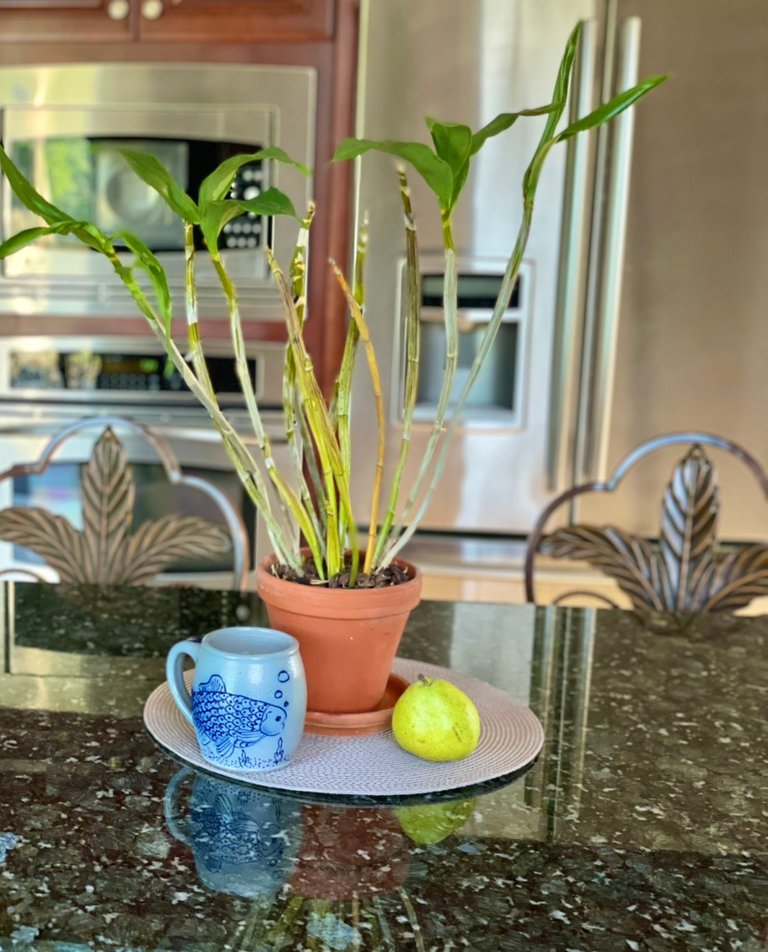 Since I led in on a photograph of my morning Sunday coffee, in my new fish mug donated by my mom and dad (they felt bad about the one I had broke a while back), so I figured I would start with the Dendrobium orchid. She's been doing fairly well. Her leaves look healthy along with the stocks that sort of appear sparse. That's just her look! Nothing to be worried about, some dendrobium orchids just look that way.
And yes that's a pear sitting there. I don't just have a single pear lying around on my kitchen counter next to my orchids for any reason other than that I was supposed to eat it for lunch on Friday. I didn't get around to it so there at sits. On Monday it's a goner. Lol.
What is new is some growth. I do see a new shoot coming up out of the mulch around the plant face. This is a great sign and tells me the orchid is happy in its location and we are feeding it well and supplying the right amounts of water. It must be enjoying its new terra-cotta pot was placed in, not all that long ago.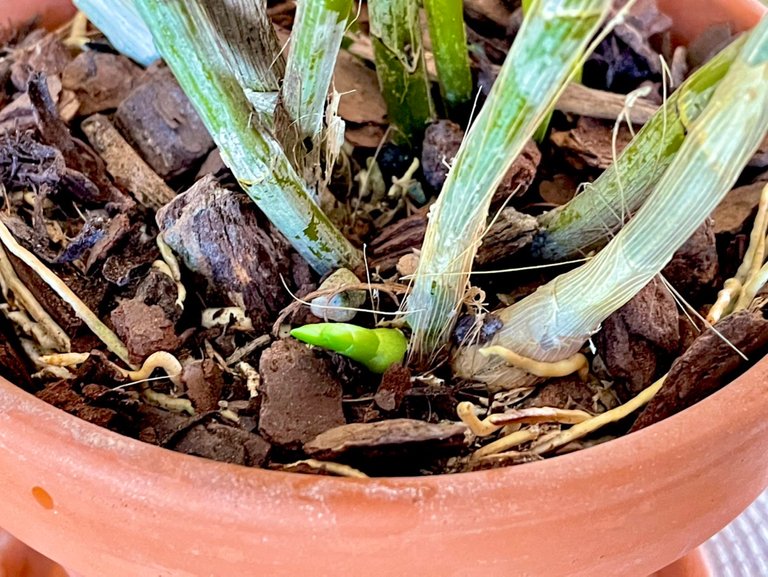 Let's shift our attention over to Pepper sympathy orchid. We happened to just recently get together with the good friends that gave us this orchid when Pepper passed away. It was a nice visit but it's now time to clip off the flower stems and allow this poor plant to recoup some of it spent energy. It has spent quite a long time, approximately six months or so, producing and blooming. The plant is stressed and needs repotted ASAP. I plan on doing that either today or next weekend. All of those air roots need to go back into the pot so they can absorb some humidity, while the plant tries to recoup some of its turgor pressure and leaf health.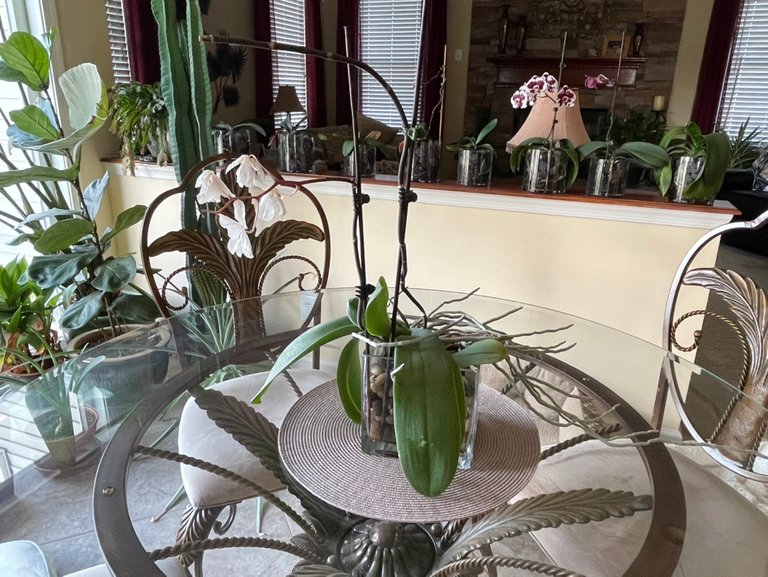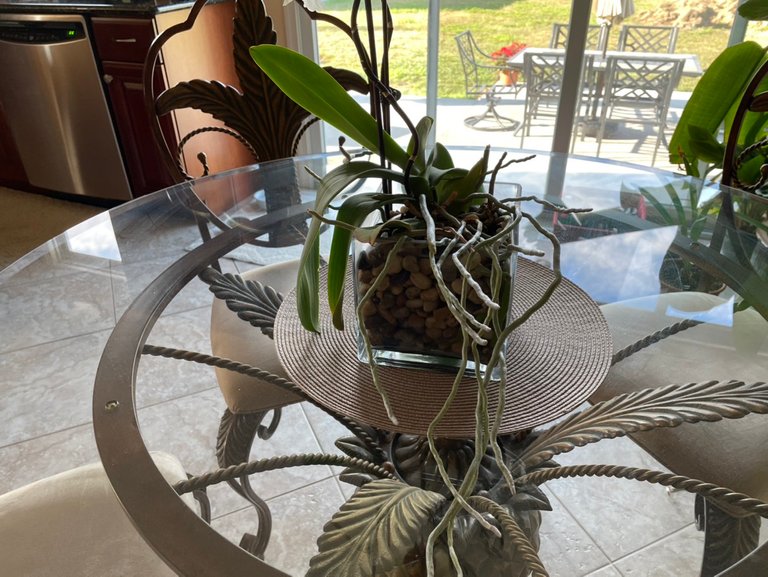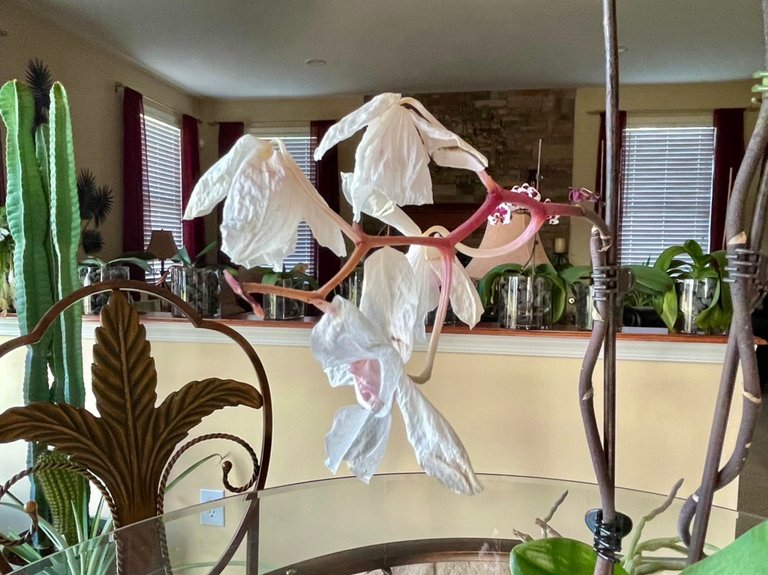 I see a new flower shoot starting to form at the end of the old stem. I would love nothing other than allowing this to keep blooming, but I'm afraid the plant will become too stressed out and it will cause permanent damage. I don't want anything to happen to this orchid, because it does hold a special spot in my heart. So unfortunately the stem hast to come off. I'm not worried, this work it has been a prolific bloomer and I am sure it will bloom for us plenty in the future.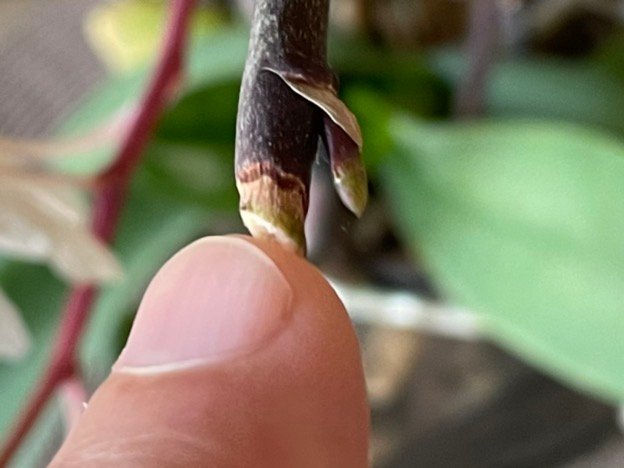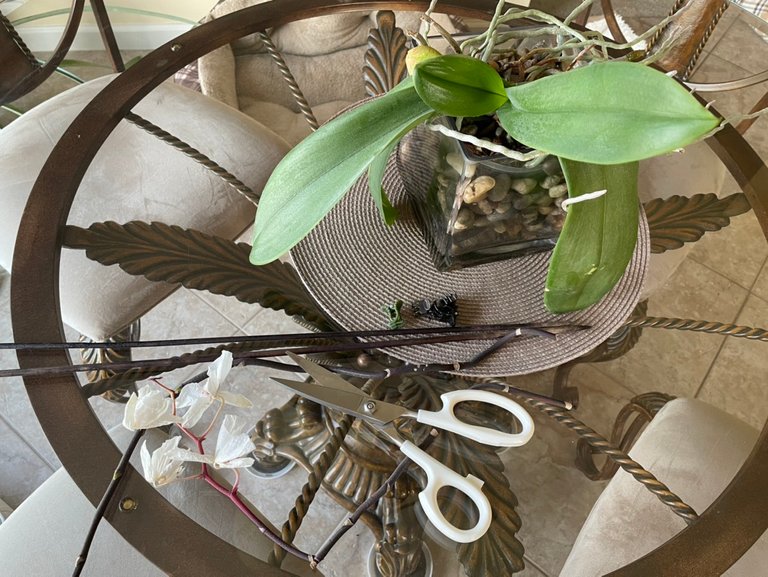 Now it's time to take a look at the other Phalaenopsis orchids that set along what I called the orchid wall. Earlier in the spring my wife and I repotted these orchids into some new glass pots that we purchased online. I had been searching for several glass pots to match the ones we already had, and found some. So it wasn't long after that the ones that weren't repotted last year got repotted this spring.
All but one are done blooming. Again we can't be sad about this because we had so much color for such a long time. It wasn't but late winter when they started to form their blooms, or at least the stems, then the flowers soon followed and gave us great joy for a long long time. One of our favorites still has her blooms and they don't appear to be too wilted yet. I am sure it's only a matter of time but we will enjoy these speckled purple and white blooms for as long as she plans on holding them.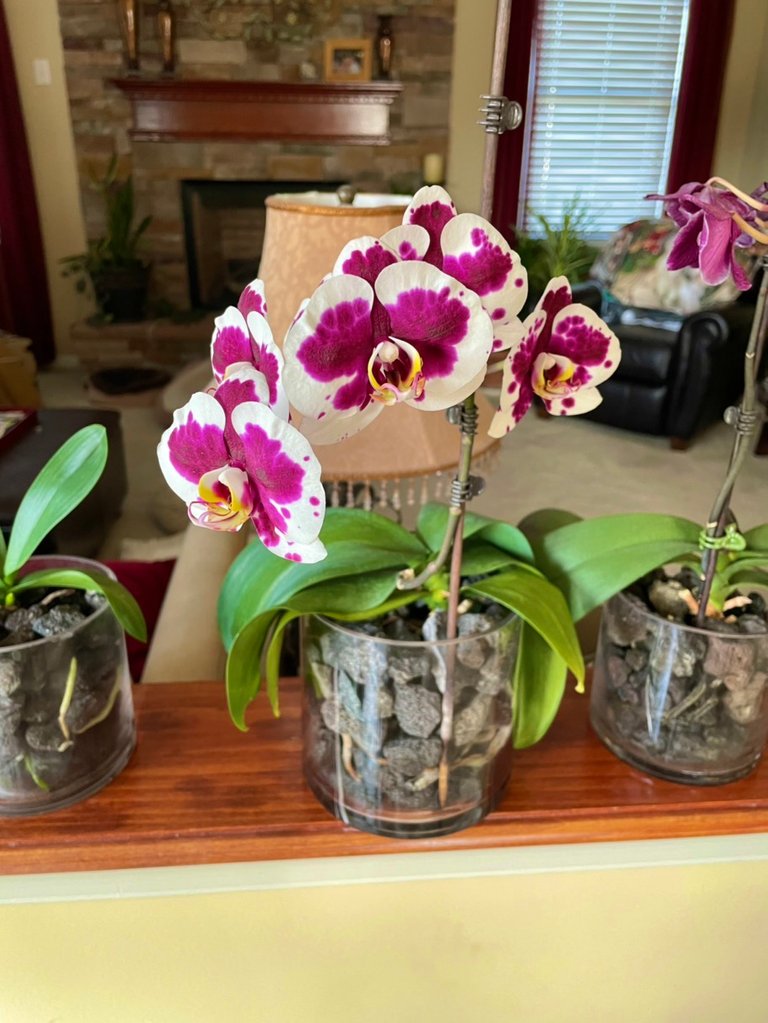 Here are the other two Phalaenopsis orchids that are just at the end of their Bloom cycle. Shortly after this photo was taken I clipped off the stems in hopes they will push new balloon spikes out in a matter of time. I'm hoping we will have some new flowers by Christmas.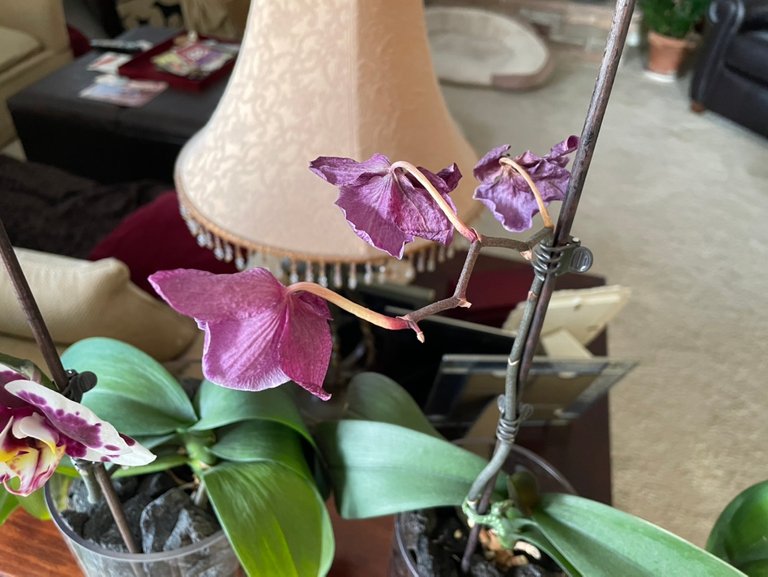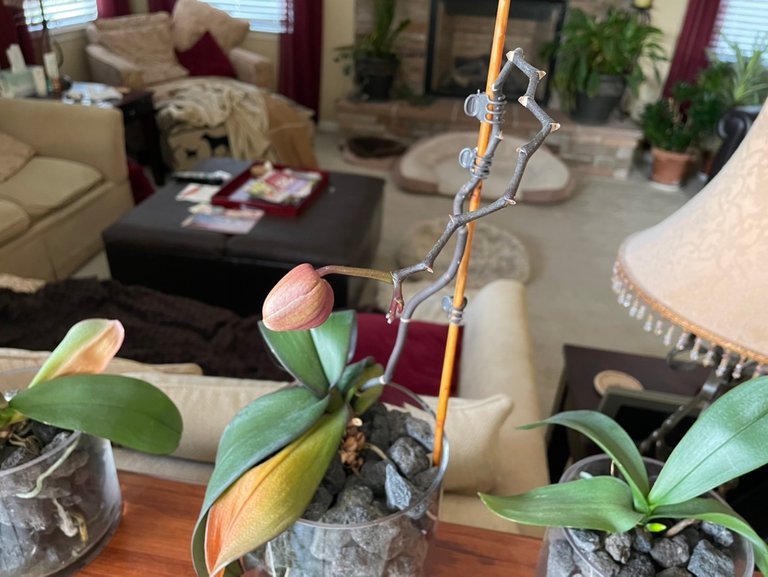 Whenever orchids are repotted, cleaned up and prepared for new pots, they go through a period of stress. Sometimes plants bounce right back while other times they need a period of recuperation. I think that's what's going on with most of our other Phalaenopsis orchids. They do have some new growth that looks quite healthy, while the older parts of the plant do appear to be wilted and stressed. These plants have also lost a few leaves over the course of the last month or so. I sort of expected this knowing what we went through the last time we re-potted our orchids.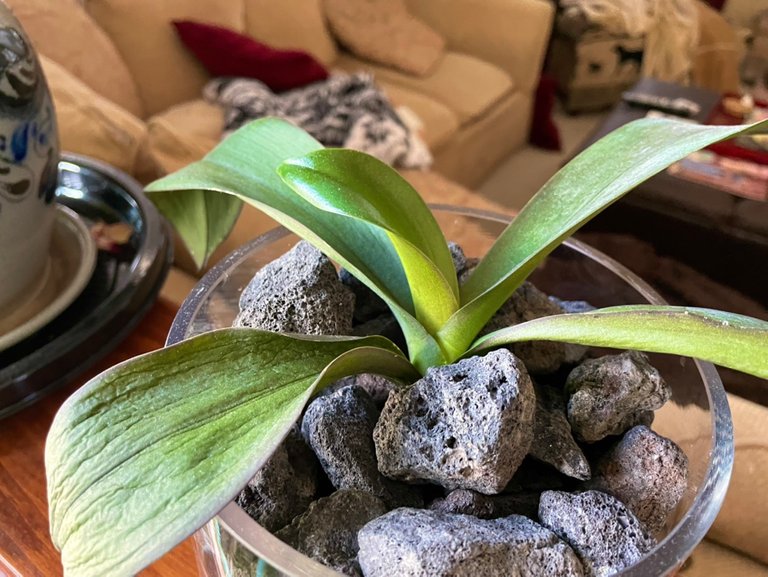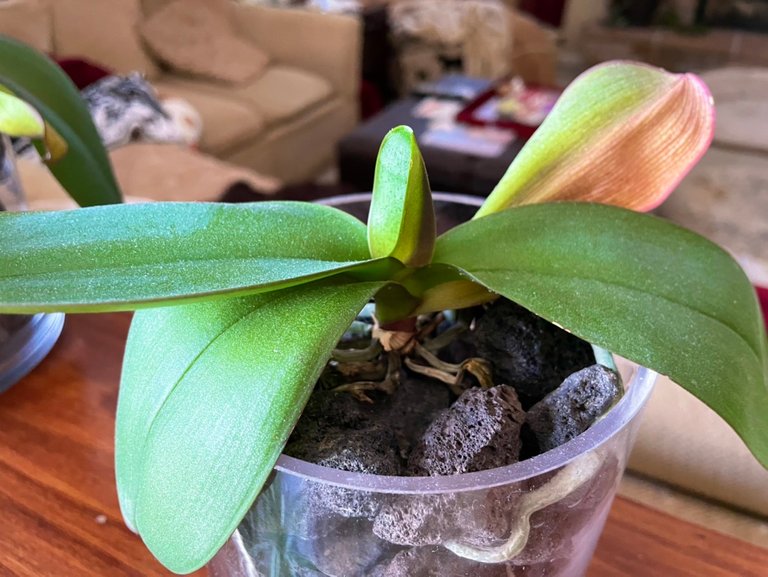 I'll keep my eye out for any new developments and keep you posted when those occur. I'm hoping to see a new bloom spike form because I think that will give us something to look forward to. There's so much going on anymore that it's nice to just have something constant and fun to look forward to. We all like having things that we can look forward to. It makes the anticipation of the future more tolerable in the world that doesn't always feel like it is.
With that being said I am looking forward to new bloom spikes, flowers and pictures of Molly sitting next to them!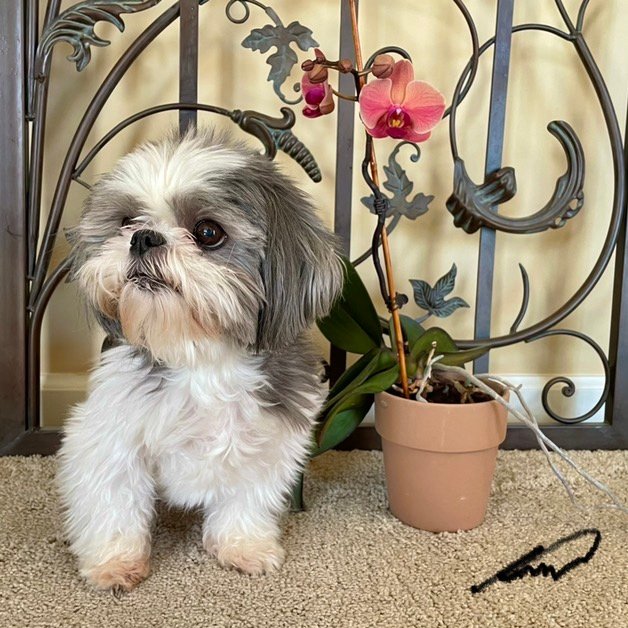 Who doesn't like a great picture of Molly sitting next to a blooming orchid???
Don't answer that question it was rhetorical. Lol.


Thank you for swinging by my blog and checking out the post. Have a great day!

All words, pictures and art pieces are the sole property of B D Miller Gallery, unless otherwise noted and credited, and are not to be reproduced or copied without the prior written consent of B D Miller Gallery.


The Orchid Lovers Community!
Love Orchids? Consider joining our community. We look forward to seeing you there!!!
A place for people who Love Orchids!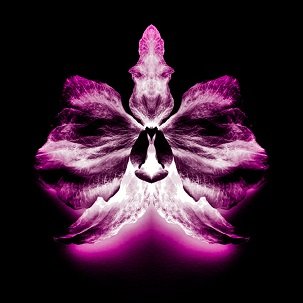 My NFT Art Pieces Can Be Found on NFT Showroom
---
---