Another Taste Of The Caribbean .. Both In Art And The Weekend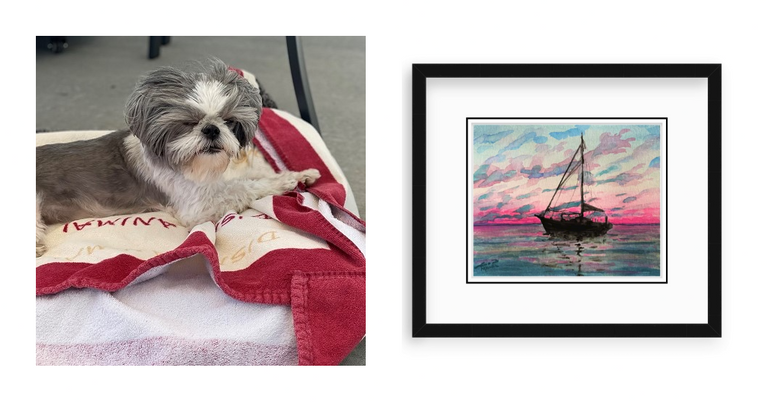 Along With The Weekend, Came The Heat!
It was in the 90's (F) all weekend, and we tried to escape it the best we could. For part of the weekend we retreated into the indoor air conditioning, and then took a small trip to Cape May (the beach), where it is usually 10 degrees cooler. When Sunday came, we set up a small inflatable pool on the back patio, and enjoyed the shade, water, drinks and each other's company.. OH YEAH.. And it would be wrong of me not to mention the reggae tropical vibes being spewed from our speaker (it really felt like the tropics). I suppose we did our best in trying to make the best of a hot situation.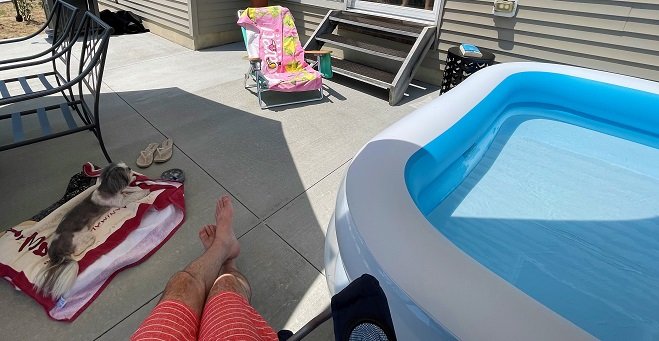 Don't Judge Us.. We needed a little something to cool off in, and didn't want to invest thousands and thousands into a full sized legit backyard pool, nor does either of us feel like taking the time maintaining one. So this little guy is just perfect. Takes a few minutes to fill and then when we are done we just empty it out and store it away for the next time. Big pools are like boats; It's better to enjoy one when it's not yours to maintain. hahaha.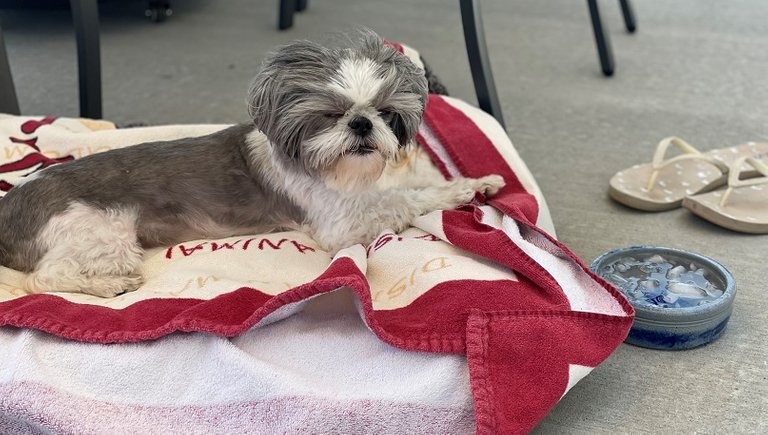 Molly before the plunge. Sort of chill and happy with her ice water at hand.
Molly also enjoys (Not Really).. taking a dip to cool off. She likes hanging out with us, rather than being stuck inside looking out the door at us, but would more like it if we didn't put her into the water. Oh well.. She needed a little cool down! Every time she begins to pant, we just give her a quick dip. After the traumatic event, she'll just sort of chill on her outdoor bed. She's got her ice water and we keep a close eye on her the whole time. We don't want her getting over heated or sunburnt.
Now for her after the plunge into the pool...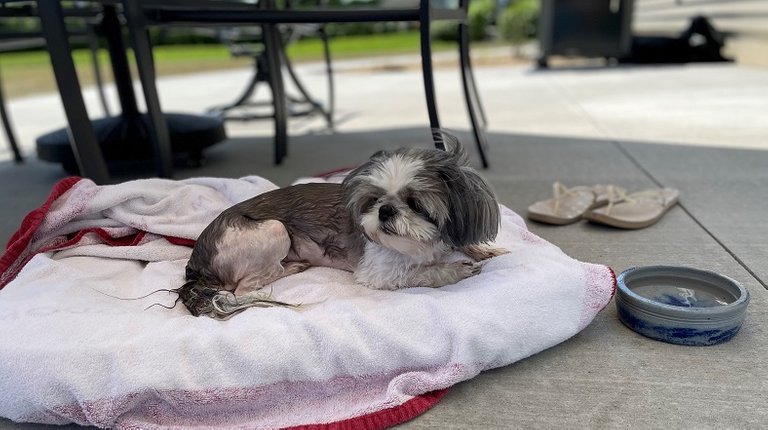 Yeah..... NOT as happy now.
---
Now For The Art!!!
My Inspiration ..
I would like to think that my inspiration for the piece came as recently as this past weekend, when we met a pair of good friends in Cape May, NJ. But it was not. The breeze was cool and the air heavy with humidity. It's what we have grown to expect out of these early summer nights. Regardless of the humidity, it still felt good to be out of the inland heat. It's amazing, but one only has to drive about 1 or 2 miles inland before they feel the temperature change.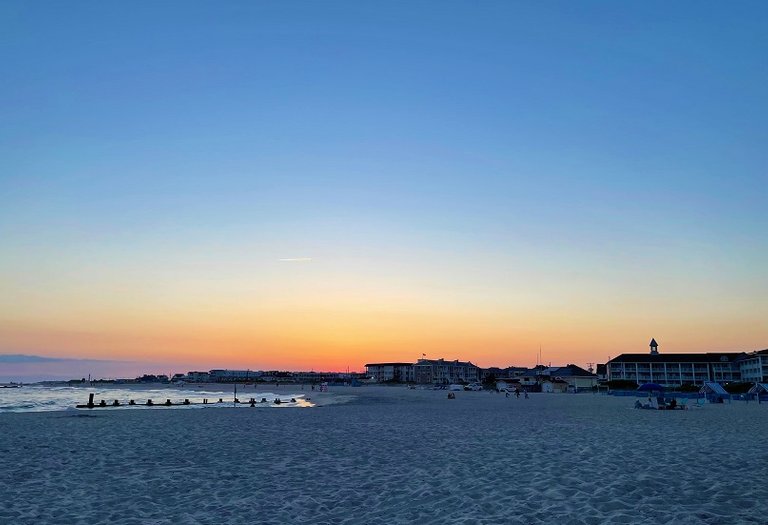 Although the sunset was a pretty one.. My inspiration for the piece came from a more tropical location; Bloody Bay, Negril, Jamaica. We have taken several trips to this particular area of Negril, and I have gathered inspiration from these trips many times. It's nice to be able to browse photos and gather the inspiration needed for ones art.
Not long ago.. or maybe longer than I think.. I painted this watercolor below, given the inspiration gathered from a trip to the same area of Negril.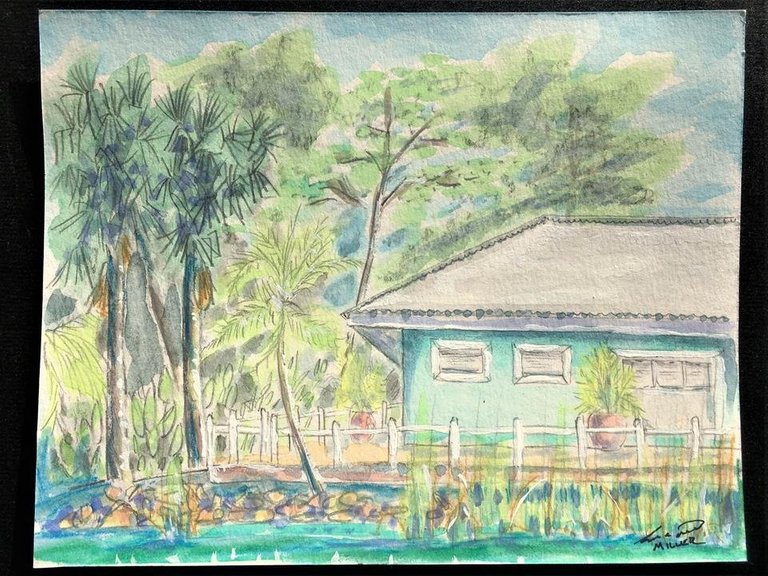 This Newer Piece Is A Little Different ..
It's a watercolor of a boat at sunset. The sun has set and the colors of the night sky are rich with shades of pink. The overall tone of the piece is quite dark, but the lighter touches of pink and blue help balance everything out. I set out to paint it just as it came out to appear. I wanted to paint a silhouette of something against a rich colorful Caribbean sunset. But what kind of silhouette??
I came across this photo below, which became my inspiration for the painting.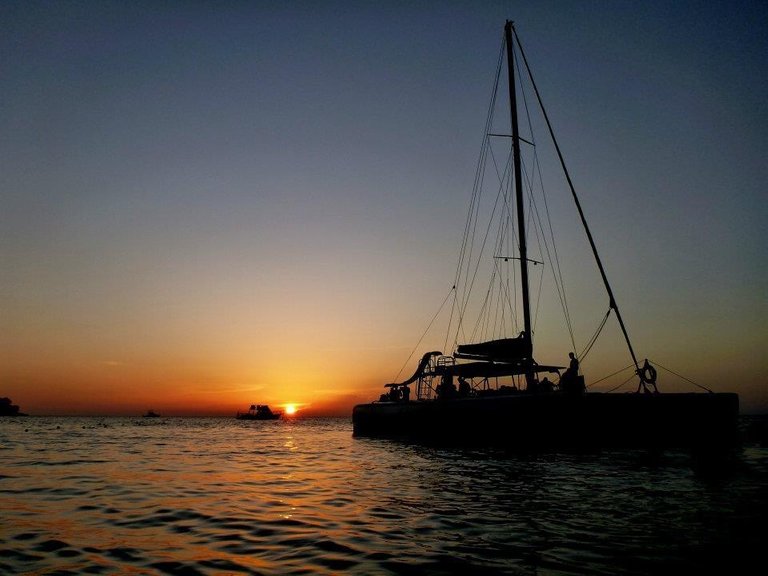 I decided to change up the look of the boat, the color of the sunset, and a few other things, but hey.. The photo was only inspiration, not used to paint an exact replica.
Here is the finished watercolor painting, which I have still not named. I painted this a few months ago, and still have no name. Is that a bad thing?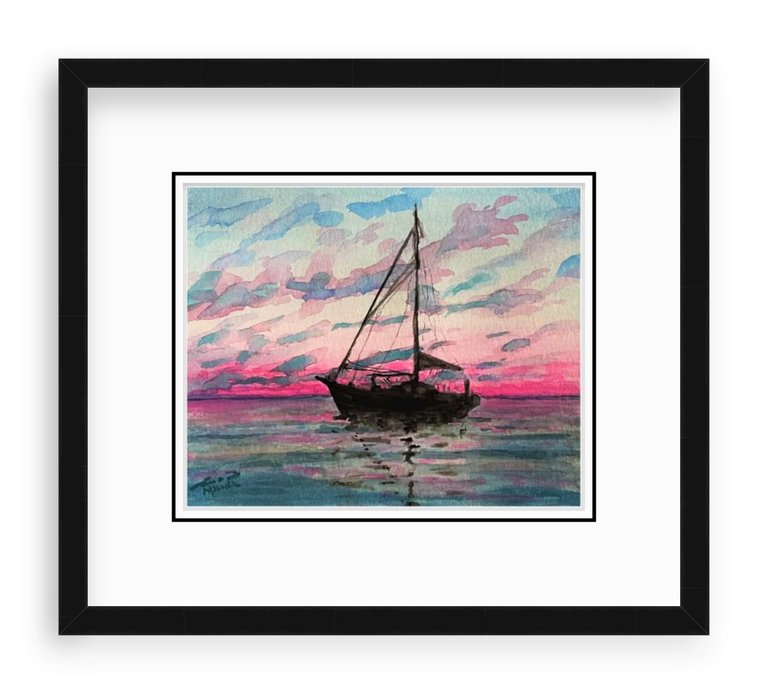 I took a few process photos, but not as many as I usually do. I'm sorry :( I sort of got caught up in the creative flow and forgot to pause. Next time! hehe. I still managed to get a few. You'll see the overall progression from dark to light. I took my time and let the layers of paint dry before trying to apply more. What I didn't want, using such dark colors, was a muddy brown mess of paint. Luckily I managed to avoid that.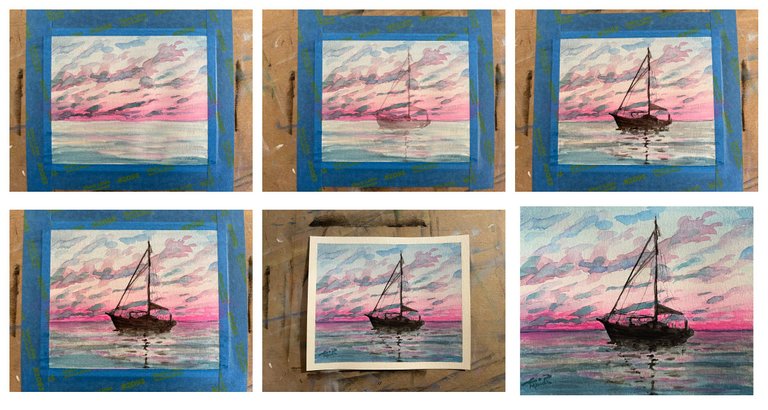 ---
So The We Have It!
A painting inspired by the beautiful sights of Negril, Jamaica, and a brief glimpse into our HOT weekend.. Which really was inspiration in itself. Without it, I may not have felt the need to share this one with everyone. I suppose you could say it reminded me that life is short and we need to take the time to just chill once in a while.
Just a few more sunset photo's from that trip. Enjoy and thanks for taking the time to read my blog post!!!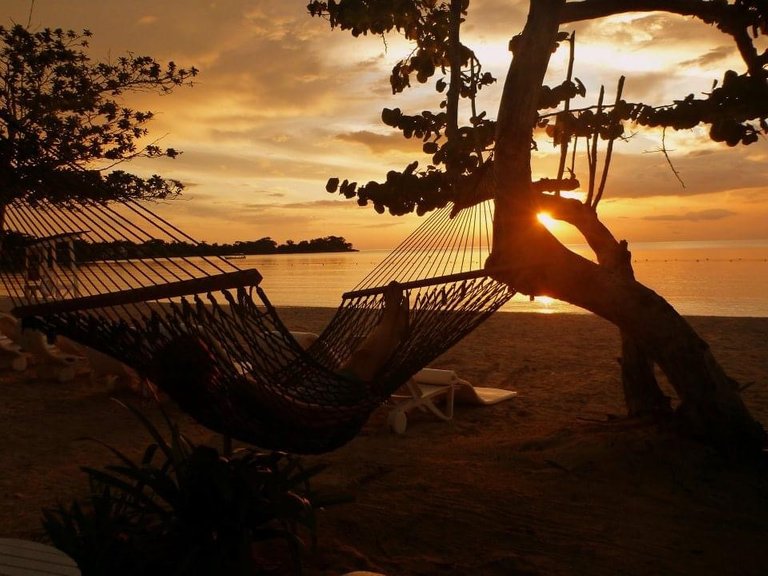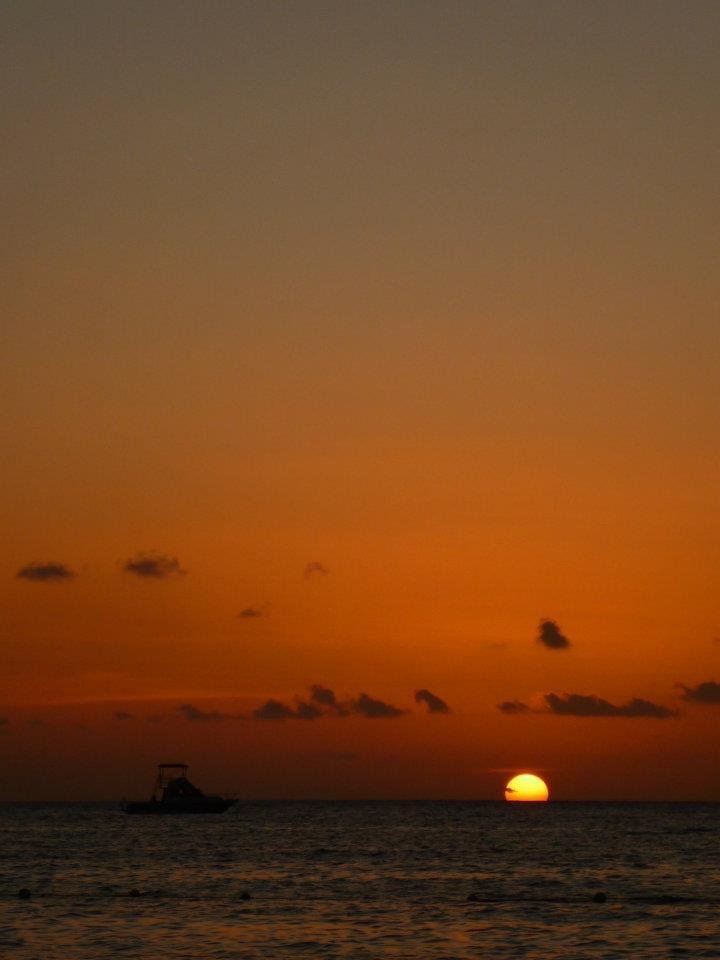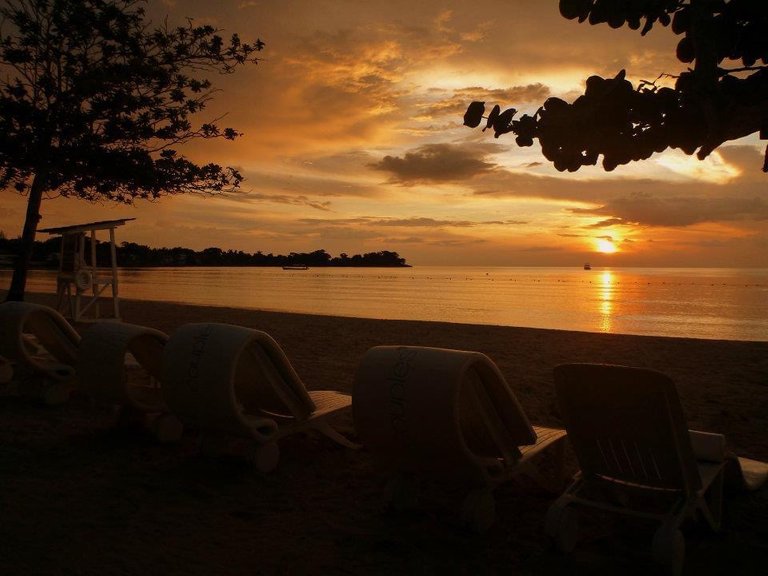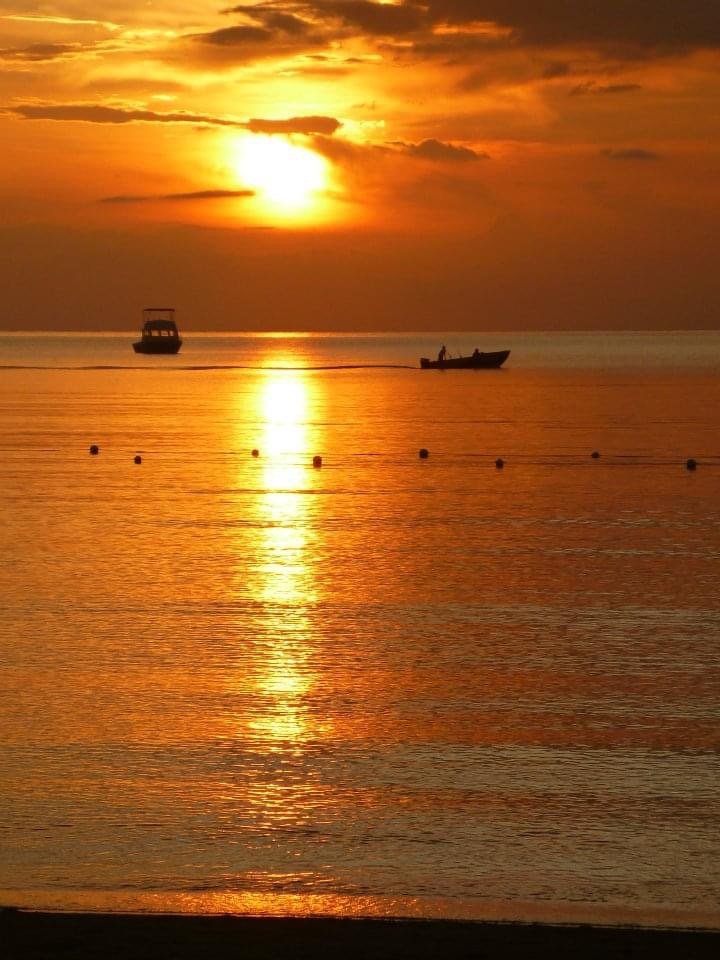 "I call it the Margarita Road. It's the course your heart sets when you want to leave the past behind and start over someplace new and warm. Usually the path heads south to blue water and white sand, with any bumps along the way smoothed over by rum and tequila. It's not for everyone. This is a highway traveled mostly by runaways and drifters. I know, because I'm one of them."
― Anthony Lee Head, Driftwood: Stories from the Margarita Road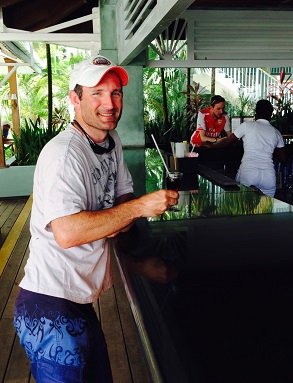 Thank you for swinging by my blog and checking out the post. Have a great day!

All words, pictures and art pieces are the sole property of B D Miller Gallery, unless otherwise noted and credited, and are not to be reproduced or copied without the prior written consent of B D Miller Gallery.


The Orchid Lovers Community!
Love Orchids? Consider joining our community. We look forward to seeing you there!!!
A place for people who Love Orchids!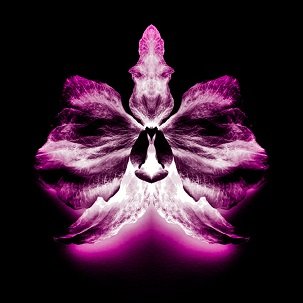 My NFT Art Pieces Can Be Found on NFT Showroom
---
---