It's About Time For An Update .. Orchids & Pineapple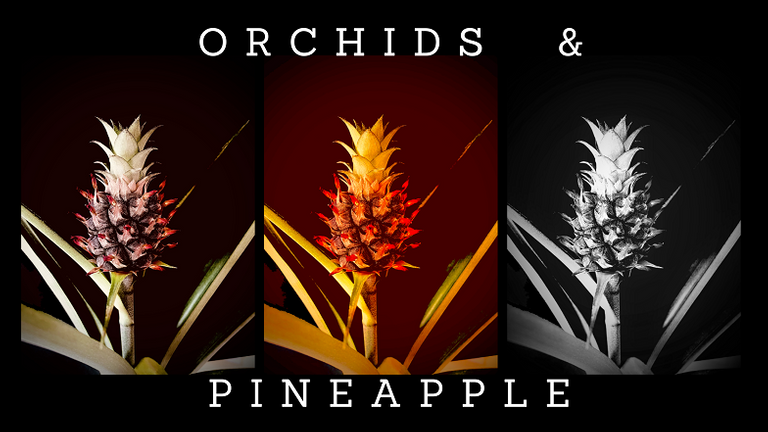 It's About Time For An Update ..
But first I have to admit something.. I complain that I have no time to write, but just spent the last hour and 20 minutes doing the following; Collect a few items, set up and then take a good photo of pineapple. Edit photo and then create additional variations of photo. Combine photos and enlarge black boarder. Add text layer, combine and crop. Then lastly (so I don't take up too much blockchain space) shrink file to ensure quicker upload. Time time time.. Plain and simple, it takes a lot of time to put a few visuals together.
And Now I Can Write..
---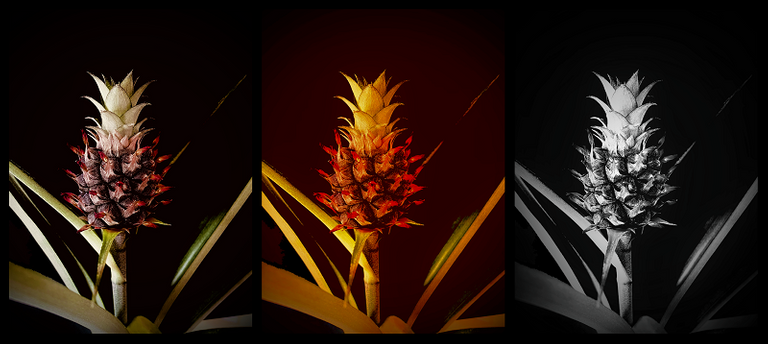 Orchid and Pineapple Update ..
First The Pineapple.. Primarily because I have neglected to include any Orchid photos into the introduction. The tiny pineapple is slowly growing bigger. It has tripled in size over the last 30 days. It doesn't feel like it has, but when I look back of photos from 30 days ago, it definitely has put on some size.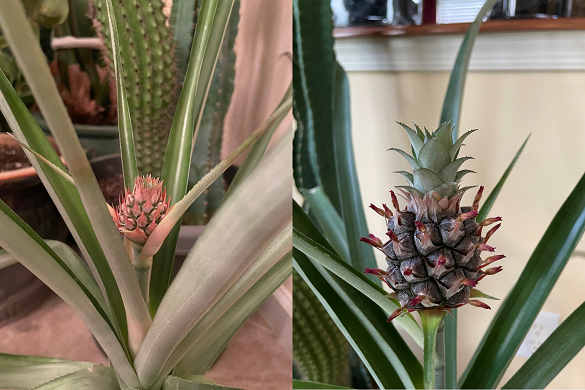 The flowers have begun to dry up now. They were not as showy as they have been in the past, on other pineapples we have grown. I still was able to capture a few of them opening up. They begin by opening as a light purple, then darken to a deep purple, and finish a deep reddish color. They are not big and flashy, but they are still pretty in their own way.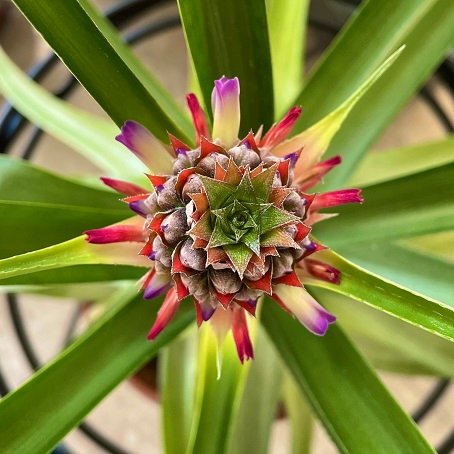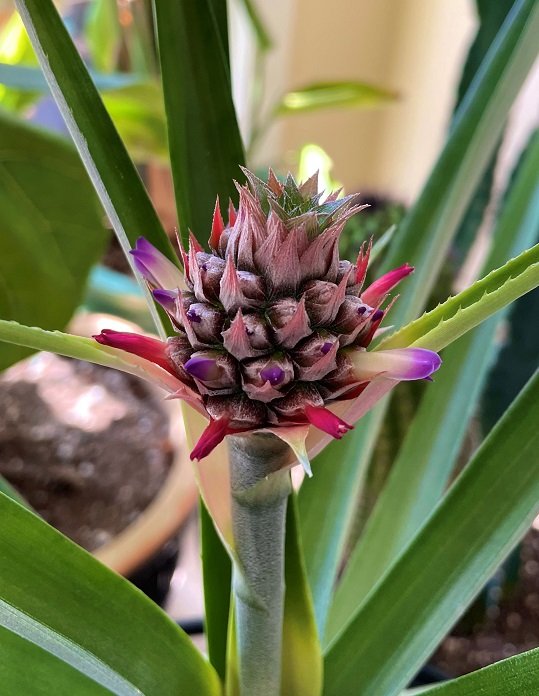 Maybe some of you have never seen a pineapple flower or even given it much thought while you are carving up the delicious delight. So I am happy to be of assistance in providing the visuals on the topic.. unless you don't care. In that case carry on and enjoy that sweet treat all the same. You're not missing anything spectacular. lol. All jokes aside, it is sort of neat seeing something you never put much thought into.
I put my hand in this shot to give you a better idea on current size..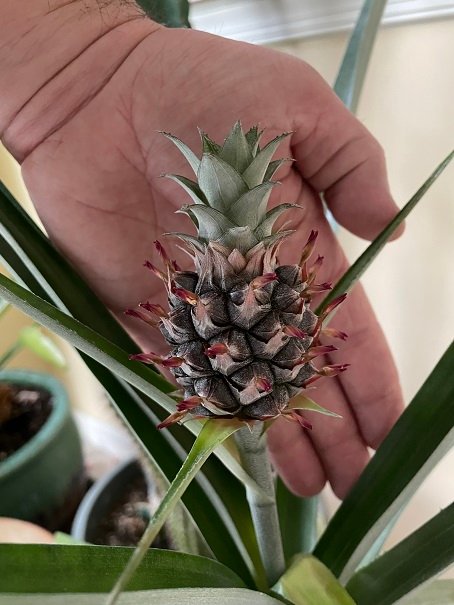 And here you can see that those flowers have dried up and will fall off soon..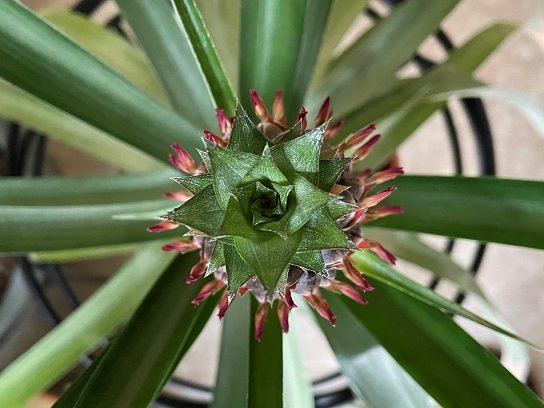 Maybe it is due to the stress of producing the fruit, but every time one of our pineapple plants has produced a fruit, their leaves tend to fall downward. It is almost like they are losing strength within those leaves. Let's just say the plant starts to look kind of rough. I have been feeding it and giving it plenty of water, so who knows.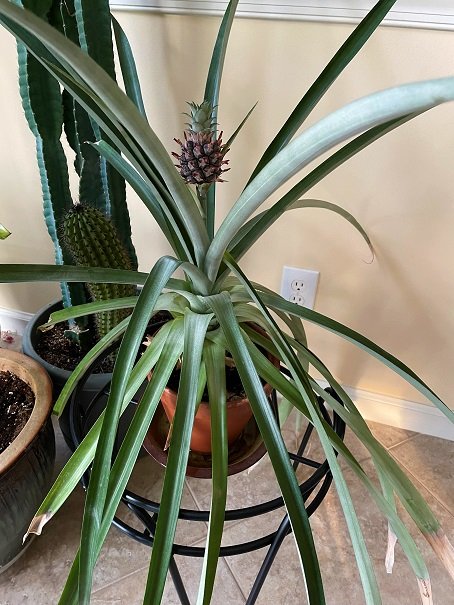 ---
Let's Move On To The Orchids! ..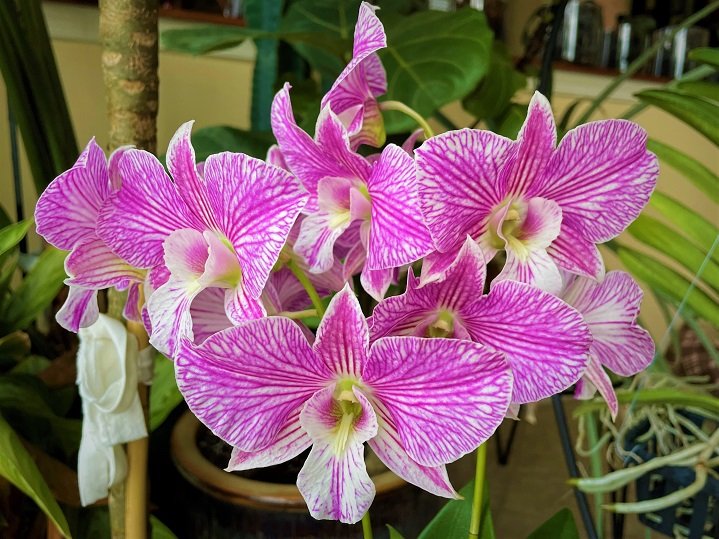 And Yes We Do Have Some Blooms ..
I have also neglected to give you some other good news .. We have added to our collection! Now it is really old news, but new to all of you. A few months ago my cousins came to visit and we took them to an Orchid farm not far from our home, in a costal town called Linwood. We didn't have any intentions of coming home with any plants, but.. well... we were weak. lol.
---
We added the following to the collection:
Vanda ~ Pachara Delight
Cattleya ~ Jewel Box
Dendrobium ~ Hawaii Stripes
---
Vanda ~ Pachara Delight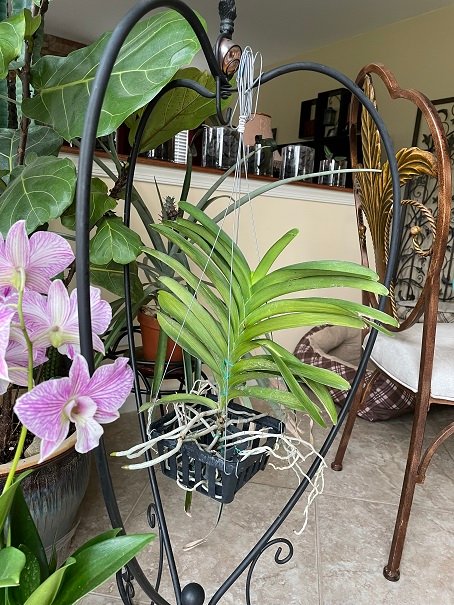 This was our splurge purchase.. We paid a bit more than I would have if I wasn't in a self induced Orchid Euphoria, from being immersed in Orchid Farm Beauty. The plant is unique to our collection given that it is the only one growing media-less (No Soil/growing material). Basically the roots are just hanging out there free. The Orchid expert at the farm ensured us that we could handle this gal at home. He just said to spray her roots everyday with water, place her in the full sun, and she'll love us for a long time. We have her hanging in the basket she came in, and from one of those outdoor hanging basket stands.
The flowers (if she ever decides to bloom) will be large and purple. I am also loving it's alternating, upright, linear leaf pattern. It looks completely different from the Phalaenopsis Orchids we have a bunch of. It's a nice change. Let's hope we keep it alive and well.
---
Cattleya ~ Jewel Box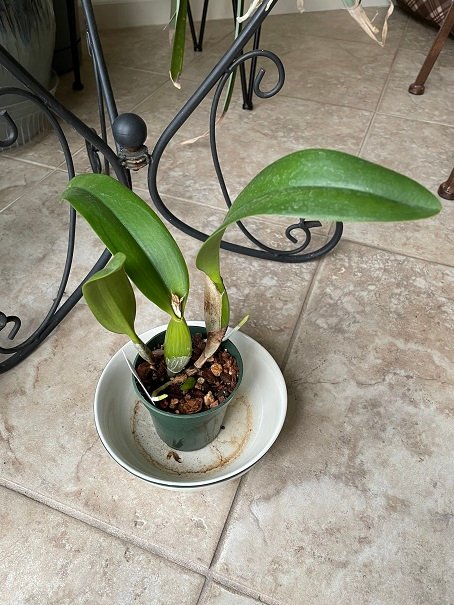 Cattleya Orchids remind me of Dendrobium in a way.. I suppose it's their stalky bases with the leaves forming at the top. This is a small plant that was cut from a much larger one. We saw the 'Mother' plant growing in the back of the green house and asked if they had any we could purchase. The owner was nice enough to cut us a start from the mom. If and when this one blooms, she'll display a beautiful red flower.
The Orchid farm owner cut us a few Jewel Box flowers to take home with us. We made them last as long as we could. They sat in a water filled vase that was displayed on our kitchen windowsill. They looked nice sitting there for a little while at least. I took a few photos of them before they wilted away.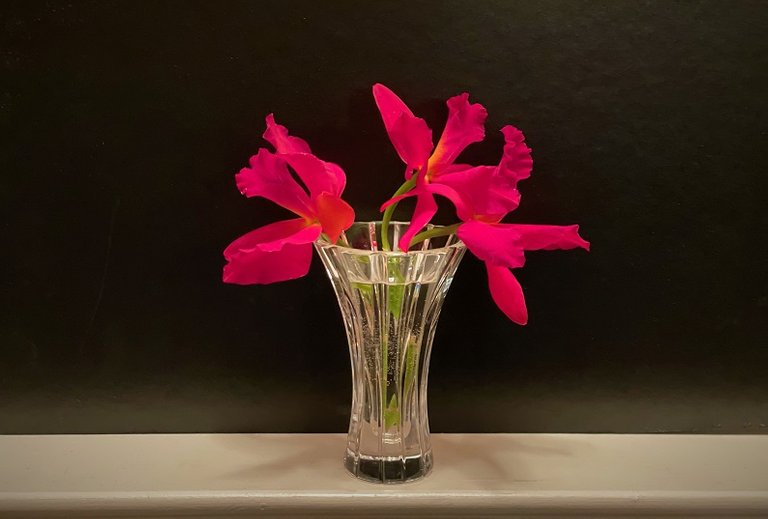 ---
Dendrobium ~ Hawaii Stripes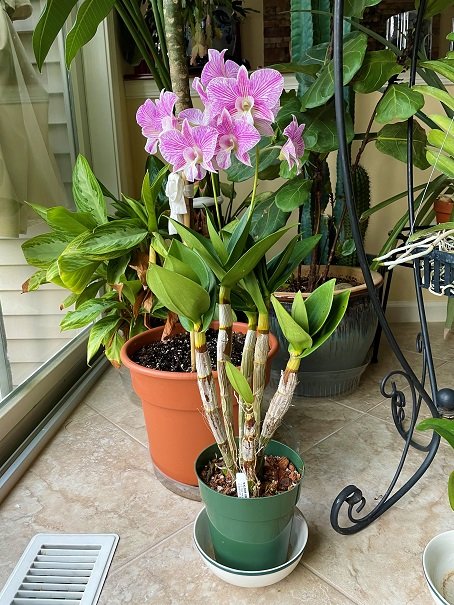 And Now For Our Bloomer .. The flower buds were just about to open when we brought this one home. This is now our second Dendrobium Orchid. Very easy to care for. We were told by the expert to keep this one in full sun, a tight pot, and water regularly. I think we can handle theat. So far so good! The plant loves her spot by the door and flowers are fully open. They have lasted quite a long time too. I spray the flowers and the foliage with water every day or so to keep her happy and humid.
This is our other Dendrobium Orchid. She keeps me company when I am working from home at the kitchen island. A slightly different variety that has a slightly thinner look to it.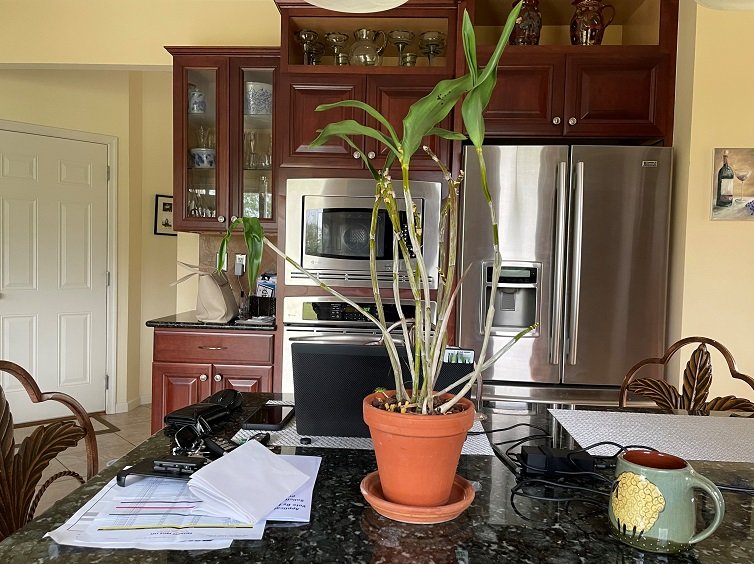 ---
I Think I'll Wrap This One Up ..
We have some weekend relaxing to do .. That may include a trip to the local hardware store to pick up some pots and mix to repot Orchids. It's not work, so it still qualifies as relaxing.
Enjoy the rest of your weekend!!!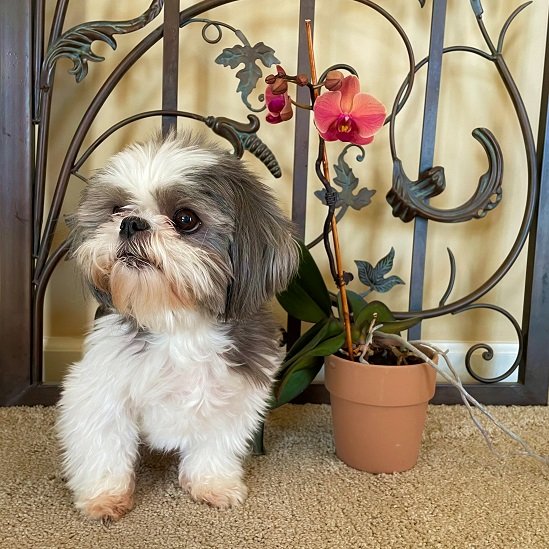 "I sit beside the fire and think
Of all that I have seen
Of meadow flowers and butterflies
In summers that have been
Of yellow leaves and gossamer
In autumns that there were
With morning mist and silver sun
And wind upon my hair
I sit beside the fire and think
Of how the world will be
When winter comes without a spring
That I shall ever see
For still there are so many things
That I have never seen
In every wood in every spring
There is a different green
I sit beside the fire and think
Of people long ago
And people that will see a world
That I shall never know
But all the while I sit and think
Of times there were before
I listen for returning feet
And voices at the door"
― J.R.R. Tolkien

Thank you for swinging by my blog and checking out the post. Have a great day!

All words, pictures and art pieces are the sole property of B D Miller Gallery, unless otherwise noted and credited, and are not to be reproduced or copied without the prior written consent of B D Miller Gallery.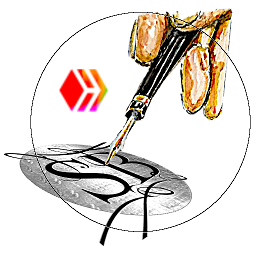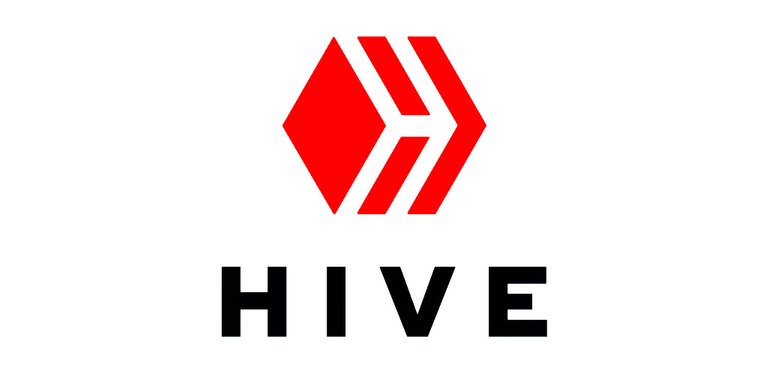 ---
---