NO TODAS LAS MADRES SON DULCES: LA CASA DE BERNARDA ALBA/NOT ALL MOTHERS ARE SWEET: BERNARDA ALBA'S HOUSE (spanish/english)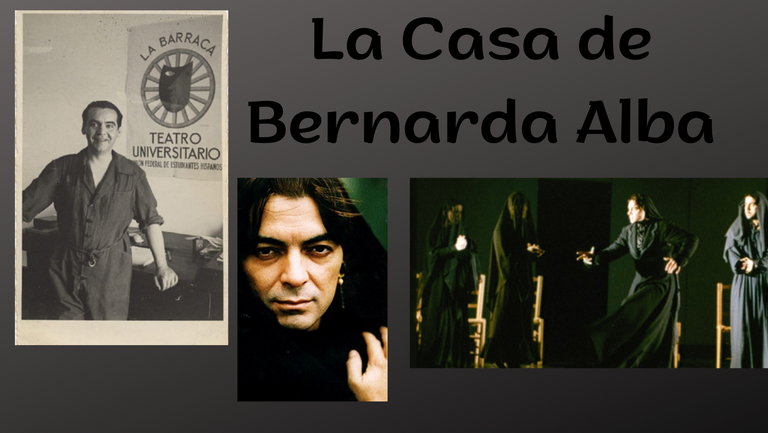 Banners diseñado por mí en canva.com
Banners designed by me in canva.com
Cuando pensamos en las madres, por lo general las imaginamos protectoras, dulces, amorosas, entregadas a sus hijos y sus hogares. Esa es la visión tradicional que tenemos de las madres, que nos remite a la diosa Deméter, de la mitología griega, para quien la maternidad es su rol fundamental, o dentro de la tradición cristiana podemos imaginar a la virgen María, en sus diversas advocaciones siempre sosteniendo al niño entre sus brazos. Pero en realidad, entre los millones de mujeres que ejercen el rol de madres, no siempre esa dulce y abnegada madre, es el modelo real. Cada madre tiene su personalidad, su genética, su historia, su contexto social y cultural.

Por ser hoy Día de la Madre en muchos países, amanecí pensando en personajes literarios que fuesen madres. Y el primer personaje que vino a mi mente fue Bernarda Alba, personaje protagónico de "La casa de Bernarda Alba", obra teatral salida de la imaginación y la creatividad del poeta y dramaturgo español Federico García Lorca, escrita en 1936. Esta madre lorquiana, es una figura altiva, que impone su voluntad férrea sobre sus hijas, sin darles la oportunidad de decidir, de buscar su propio camino. Lo que ella ordena, debe cumplirse. Tras la muerte de su segundo esposo guarda luto riguroso durante ocho años y prohíbe a sus cinco hijas que vayan a fiestas.
Pero su hija primogénita, Angustias, única hija de su primer marido, hereda una fortuna y atrae por ello a Pepe el Romano. El joven se compromete con Angustias, pero enamora también a Adela, la hija menor de Bernarda. El amor no entiende razones, especialmente en la juventud, cuando el amor es pasión, es entrega y se siente eterno, y de algún modo lo es. La hija menor de Bernarda Alba se enamora locamente de Pepe el Romano y está incluso dispuesta a ser su amante.
Bernarda Alba al enterarse de los amores de Pepe el Romano y su hija menor, tiene una fuerte discusión con el joven y le dispara, pero este se escapa. Adela al escuchar el disparo cree que su madre ha matado a Pepe y se ahorca.

He visto varios montajes de esta obra de Garcia Lorca y siempre me conmueve, aunque ya sé el trágico desenlace. Fue además la última obra que escribe García Lorca, antes de ser asesinado en 1936, cuando se inicia la Guerra Civil Española. El escritor nos presenta en sus grandes personajes femeninos mujeres que al igual que los personajes de las antiguas tragedias, no pueden escapar de la fatalidad de su destino. Porque igual le ocurre al personaje de su obra "Yerma" (1934), una mujer infeliz por su imposibilidad de ser madre, o "Mariana Pineda" (1925), la viuda, madre de dos hijos, entregada a defender una causa que la llevará a la muerte.

Curiosamente, me doy cuenta de que en algunos de los montajes que he visto que más me gustaron, quienes realizaron el papel protagónico de Bernarda Alba, no eran mujeres, eran hombres. Hace algunos años, en 2009, el bailaor español Antonio Canales, uno de los bailaores de flamenco más importantes de España, presentó en el teatro Teresa Carreño de Caracas, su versión de "La Casa de Bernarda Alba". Canales es un bailarín imponente, es alto, guapo, transmite una gran energía, pero en el montaje de Bernarda Alba, además, transmitió un gran dramatismo, que en aquel momento me emocionó mucho. Al terminar la función, esperé que saliera para verlo de cerca, para felicitarlo. Y mi admiración creció cuando lo saludé y vi a un hombre que además era amable, sencillo, no tenía ninguna pose de divo.
En 2016 conocí en Hacienda La Trinidad a José Augusto Paradisi, actor y artista plástico, quien me invitó a ver un montaje que estaba presentando de Bernarda Alba. En la obra él tenía el papel protagónico de Bernarda Alba, pero en su versión del personaje de la viuda lorquiana, a diferencia de los otros montajes que había visto, el personaje no vestía de negro, tenía un turbante y un llamativo traje militar rojo. La trama era la misma, no cambiaba, lo que cambiaba era la manera de personificarla.

Este personaje de García Lorca, nos muestra otra faceta del rol materno, la de la madre que se queda sola y al tener que asumir la tutela de la familia, especialmente si son mujeres, puede terminar transformándose en una figura tiránica, que no deja crecer a sus hijas y puede hacerles mucho daño, al querer protegerlas.
Beatriz Alicia García
english version
NOT ALL MOTHERS ARE SWEET: LA CASA DE BERNARDA ALBA
When we think of mothers, we usually imagine them as protective, sweet, loving, devoted to their children and their homes. This is the traditional vision we have of mothers, which takes us back to the goddess Demeter, from Greek mythology, for whom motherhood is her fundamental role, or within the Christian tradition we can imagine the Virgin Mary, in her various invocations, always holding the child in her arms. But in reality, among the millions of women who exercise the role of mothers, not always that sweet and self-sacrificing mother is the real model. Every mother has her personality, her genetics, her history, her social and cultural context.

Today being Mother's Day in many countries, I woke up thinking about literary characters who were mothers. And the first character that came to my mind was Bernarda Alba, the main character of "The House of Bernarda Alba", a play from the imagination and creativity of the Spanish poet and playwright Federico García Lorca, written in 1936. This Lorca's mother is a haughty figure, who imposes her iron will on her daughters, without giving them the opportunity to decide, to find their own way. What she orders, must be carried out. After the death of her second husband, she keeps rigorous mourning for eight years and forbids her five daughters to go to parties.
But her first-born daughter, Angustias, the only daughter of her first husband, inherits a fortune and therefore attracts Pepe el Romano. The young man becomes engaged to Angustias, but also falls in love with Adela, Bernarda's youngest daughter. Love does not understand reasons, especially in youth, when love is passion, is surrender and feels eternal, and somehow it is. Bernarda Alba's youngest daughter falls madly in love with Pepe el Romano and is even willing to be his lover.
Bernarda Alba upon learning of Pepe el Romano's love affair with her youngest daughter, has a strong argument with the young man and shoots him, but he escapes. Adela, hearing the shot, believes that her mother has killed Pepe and hangs herself.

I have seen several stagings of this play by Garcia Lorca and it always moves me, even though I already know the tragic outcome. It was also the last play written by Garcia Lorca, before he was assassinated in 1936, when the Spanish Civil War began. The writer presents us in his great female characters women who, like the characters of the old tragedies, cannot escape the fatality of their destiny. Because the same happens to the character in his play "Yerma" (1934), an unhappy woman because of her impossibility to be a mother, or "Mariana Pineda" (1925), the widow, mother of two children, devoted to defend a cause that will lead her to death.

Curiously, I realize that in some of the productions I have seen that I liked the most, those who played the leading role of Bernarda Alba were not women, they were men. A few years ago, in 2009, the Spanish dancer Antonio Canales, one of the most important flamenco dancers in Spain, presented his version of "La Casa de Bernarda Alba" at the Teresa Carreño theater in Caracas. Canales is an imposing dancer, he is tall, handsome, transmits great energy, but in the staging of Bernarda Alba, he also transmitted a great drama, which at the time moved me very much. At the end of the performance, I waited for him to come out to see him up close, to congratulate him. And my admiration grew when I greeted him and saw a man who was also kind, simple, he had no divo pose.
#
In 2016 I met José Augusto Paradisi, actor and plastic artist, at Hacienda La Trinidad, who invited me to see a staging he was presenting of Bernarda Alba. In the play he had the leading role of Bernarda Alba, but in his version of the character of the Lorca widow, unlike the other stagings I had seen, the character was not dressed in black, she had a turban and a striking red military costume. The plot was the same, it did not change, what changed was the way it was personified.

This character by García Lorca, shows us another facet of the maternal role, that of the mother who is left alone and having to assume the guardianship of the family, especially if they are women, can end up becoming a tyrannical figure, who does not let her daughters grow and can do them a lot of harm, wanting to protect them.
Beatriz Alicia García
Translated with www.DeepL.com/Translator (free version)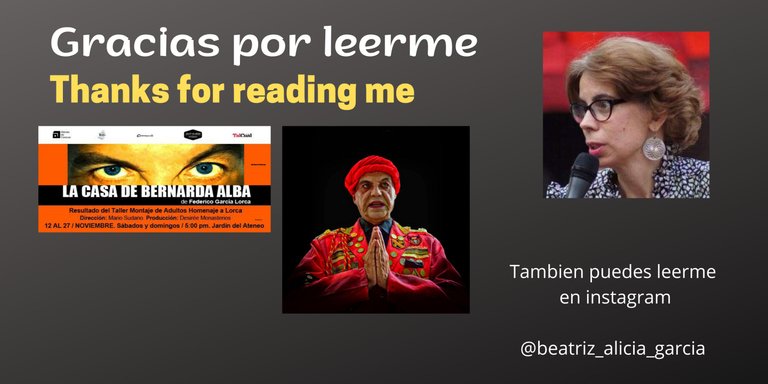 ---
---