A New Star was Born and Found New Music
My new journey with the Rising Star Game has just begun.
( EN / DE ) I've been told several times, especially by @freedomprepper, that I should finally take a look at the Rising Star Game. But I've always avoided it, because my time on Hive is limited and I blog very regularly, mostly daily, and I'm also very active in the Ecency Discord.
Well, yesterday it happened that the @stickupboys dropped by again and invited everyone to a live streaming.
The streaming was from @tdctunes and I really liked it. Normally I'm not a fan of electronic music, but exceptions prove the rule, and I really liked what I got to hear, a sound with addictive potential for me (listen to it and watch on https://www.twitch.tv/tdctunes on twitch if you're interested).
Today I saw a post from Freedomprepper ( https://ecency.com/hive-140217/@freedomprepper/rising-star-explained-1-faq ), in which the FAQ of the Rising Star Game was translated into German, which I found very helpful, because some things are still easier for me when I read them in German.
In addition, the dear Stick Up Boys and TDCtunes showed up again in Discord and @chrischaosmagic23 also raved about the game.
So, long story short, I decided to take a look at the game after all. Music is one of my great passions anyway. And with the help of all these nice people around me it was really easy.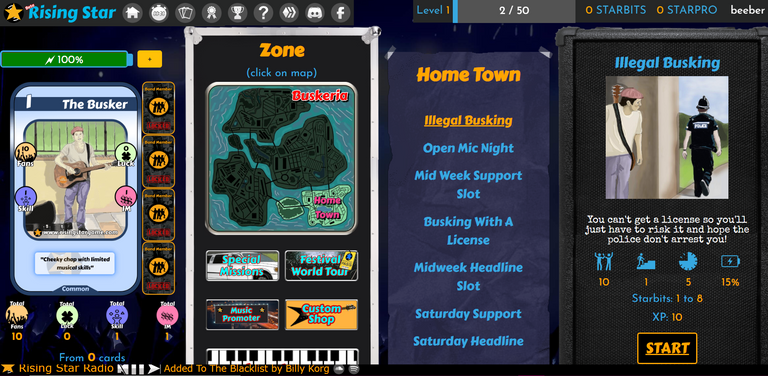 I did a few of the street musician missions and finally even an open mic gig!
My credit has already increased from 0 Starbits to 217 Starbits. Now I have no more energy, I want to save the pizza for another time, so I bought a pizza box for 0.89 HIVE and now I have time to write this post ;-)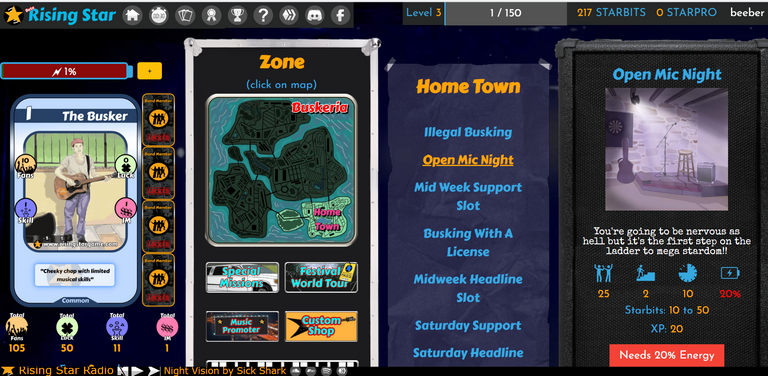 A very nice feature of this game is the integrated radio station, where you can listen to music other than the usual. I have also heard some nice music, I link the Youtube links at the end of this post.
---
---
DEUTSCH / GERMAN
Ein neuer Star wurde geboren und hat neue Musik gefunden
Meine neue Reise mit dem Rising Star Game hat gerade begonnen.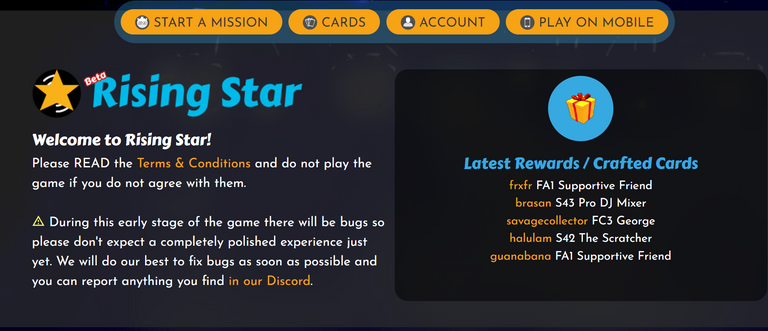 Ich wurde ja schon öfters darauf hingewiesen, vor allem von @freedomprepper, dass ich mir doch endlich einmal das Rising Star Game ansehen soll. Habe mich aber immer davor gedrückt, weil ja nun mal auch meine Zeit auf Hive begrenzt ist und ich doch sehr regelmässig, meist täglich blogge, ausserdem sehr aktiv im Ecency Discord bin.
Nun genau dort hat es sich gestern so ergeben, dass die @stickupboys mal wieder vorbei schauten und alle zu einem Live Streaming einluden.
Das Streaming war von @tdctunes und hat mir total gut gefallen. Normalerweise bin ich nicht so sehr ein Fan von elektronischer Musik, aber Ausnahmen bestätigen ja die Regel, und das was ich da zu hören bekam hat mir echt gut gefallen, ein Sound mit Suchtpotential für mich (nachzuhören übrigens auf https://www.twitch.tv/tdctunes auf twitch falls es interessiert)
Heute sah ich dann einen Post von Freedomprepper, in dem die FAQ des Rising Star Games auf deutsch übersetzt wurden, was ich sehr hilfreich fand, da manche Dinge immer noch einfacher für mich sind, wenn ich sie in Deutsch lese.
Dazu kam, dass wieder die lieben Stick Up Boys und TDCtunes im Discord auftauchten und auch @chrischaosmagic23 von dem Spiel so schwärmten.
Somit, langer Rede kurzer Sinn, habe ich mich also entschlossen nun doch einen Blick auf das Spiel zu werfen. Musik ist ja ohnehin eine meiner großen Leidenschaften. Und mit der Hilfe von all diesen netten Menschen rundherum um mich war es dann auch wirklich sehr einfach.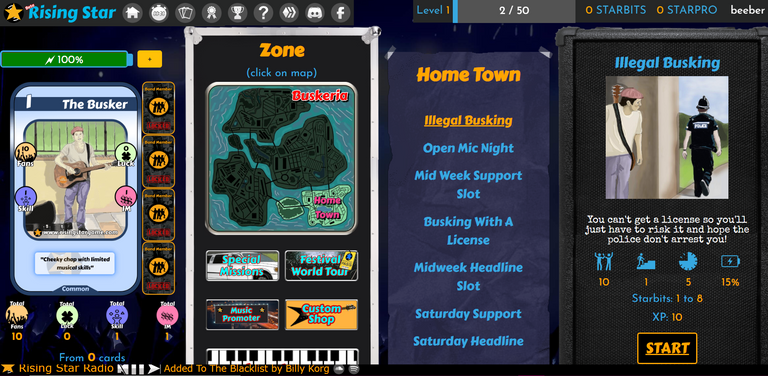 Ich habe ein paar von den Straßenmusiker Missionen gemacht und schließlich sogar schon einen Open Mic Auftritt !
Mein Guthaben hat sich von 0 Starbits immerhin schon auf 217 Starbits erhöht. Jetzt habe ich keine Energie mehr, die Pizza will ich mir für ein ander mal aufsparen, also habe ich mit eine Pizza Schachtel für 0,89 HIVE gekauft und jetzt Zeit, diesen Post zu schreiben ;-)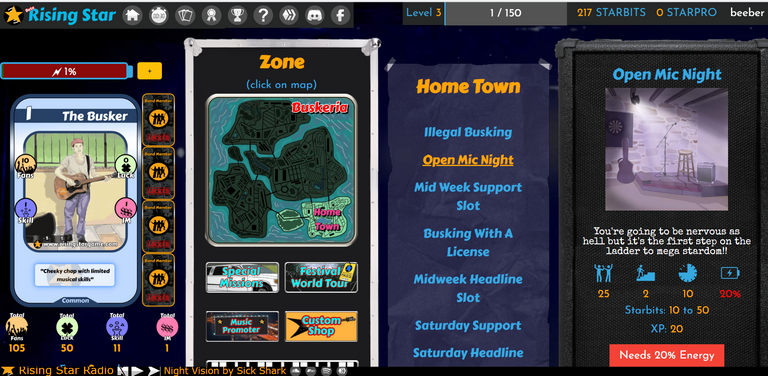 Ein sehr nettes Feature dieses Spiels ist der integrierte Radiosender, wo man mal auch andere Musik als die übliche hören kann. Dabei habe ich auch schon nette Musik gehört, ich verlinke die Youtube Links am Ende dieses Postings.
Das ist jetzt normalerweise nicht die Art von Musik, die ich höre, dennoch gefällt sie mir sehr gut, lasst mal hören, was ihr davon haltet!
---
---
You Say To Me by Raven feat. Elena K

Of course, for me old green seaturtle, the following music was just perfect:
Can Ya Feel It ? - The Turtle Project

The Turtle Project - Beyond My Control (Lyric Video)

For the Turtle Project, I am not sure if it were exactly these songs I heard in Rising Star Radio, but anyway they seem all to be very fine and I wouldnt have discovered them without RS. So this is not usually the kind of music I listen to, yet I like it a lot, let's hear what you think about!
If you wanna have a look at Rising Star Game, my refferal link: https://www.risingstargame.com?referrer=beeber
Screenshots by me out of Rising Star Game
Videos YouTube
mostly Translated with www.DeepL.com/Translator (free version)
---
---