Claire Lynch - My Greatest Live Music Event Ever
Music as a theme? There is no question for me whether I am in this round of Galen's Weekend Engagement or not!
"What was the best live concert you have been to and tell us what made it so special?"
Bluegrass music has been at the top of my favorite music list for a long time. Since my Ex in Munich has made music himself in this direction at that time, we were (even after our separation) on countless very nice concerts and sessions in and around Munich.
These Concerts were mostly rather in a familiar setting and thus you are much closer to the music and the musicians, a mood that I totally love.
But, one particular concert has remained as very special in my memory. It must have been sometimes around 2013. Two hours before the concert, my ex called "Hey, Claire Lynch is performing, are we going?"
And sure enough, I was there in a heartbeat. Claire Lynch had been one of the voices that first got me excited about bluegrass and there's just something about her voice that always touches me deep in my soul.
Don't know if you experianced that too? With some singers voices, it just feels totally right for you to hear them? As if your soul would be singing with them?
So we went there. It was a small basement cave-like bar in Munich with dark vaults, really nice, unfortunately I do not remember the name of this bar.
Well, and the big surprise was, there were hardly any visitors! Something had gone wrong with the promoting and we were a maximum of 20 people included the staff of the bar who were present to listen to the music!
Now one or the other might think, wow that was surely boring? No! Quite the opposite! Claire Lynch and band played their hearts out and obviously had a lot of fun making music in a small group, responding to the people and the music requests.
Also something I love at Bluegrass Life concerts. All of these bands are so used to play sessions with others that they can play an incredible number of songs off the cuff or improvise.
There was enough time and room to really talk to the artists and so this autograph you see here is very special, because while Claire signed it we sat together at one table: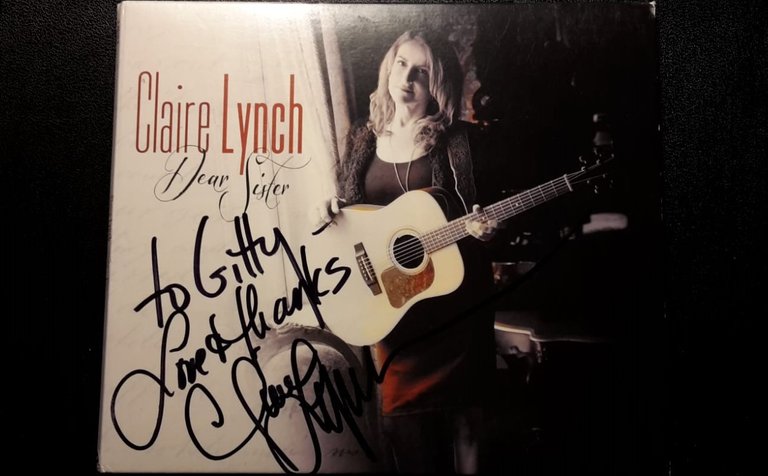 Such a beautiful memory. Unfortunately I didn't have a smartphone at that time, otherwise I would have been able to add photos. So the only thing I can do is to show you some Youtube songs of Claire Lynch and band.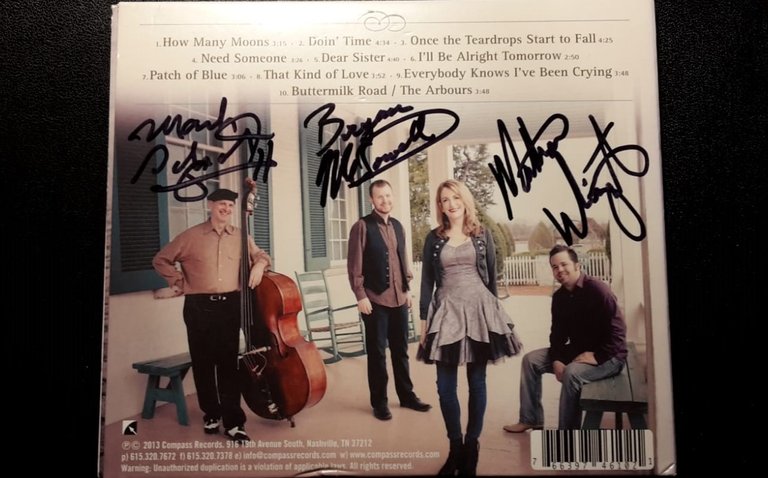 To make the post not too confusing you will find the videos after the german text part.
---
---
DEUTSCH / GERMAN
Claire Lynch - Mein bestes Live Event aller Zeiten
Musik als Thema? Da stellt sich für mich die Frage definitiv nicht, ob ich in dieser Runde von Galen's Weekend Engagement #84 dabei bin!
"Was war das beste Live-Konzert, das Du besucht hast und was hat es so besonders gemacht?"
Bluegrass Musik steht schon seit langem ganz oben auf meiner Lieblings Musik Liste. Da mein Ex in München seinerzeit selbst Musik in dieser Richtung gemacht hat, waren wir (auch nach unserer Trennung) auf unzähligen sehr schönen Konzerten und Sessions in und um München.
Die waren immer eher im familiären Rahmen und dadurch ist man viel näher an der Musik und den Musikern, eine Stimmung die ich total liebe.
Aber, ein spezielles Konzert ist mir dabei in besonderer Erinnerung geblieben. Es muss irgendwann um 2013 gewesen sein. Zwei Stunden vor dem Konzert rief mein Ex an "Hey, Claire Lynch tritt auf, gehen wir hin?"
Und klar, natürlich war ich kurz entschlossen mit dabei. Claire Lynch war eine der Stimmen gewesen, die mich als erste für Bluegrass begeistert hatten und ihre Stimme hat einfach etwas, das mich immer wieder tief in meiner Seele berührt.
Weiß nicht ob ihr das auch kennt? Bei manchen Sängern, da fühlt es sich einfach total richtig für euch an, ihre Stimmen zu hören? Als ob eure Seele mit singen würde?
Jedenfalls fuhren wir hin. Es war ein kleine Keller Bar in München mit dunklem Gewölbe, echt schön, leider weiß ich nicht mehr wie diese Bar heißt.
Tja und die große Überraschung war, es waren kaum Besucher da! Irgendwas war mit dem Promoting falsch gelaufen und wir waren maximal 20 Leute inklusive des Personals der Bar die anwesend waren um die Musik zu hören.
Nun könnte der ein oder andere denken, wow das war doch sicherlich langweilig? Nein! Ganz im Gegenteil! Claire Lynch und Band haben sich die Seele aus dem Leibe gespielt und hatten offensichtlich selbst riesen Spaß daran in kleiner Runde zu musizieren, auf die Leute und die Musikwünsche einzugehen.
Auch so ein Punkt bei Bluegrass Life Konzerten. Alle diese Bands sind es so gewöhnt auch einfach Sessions mit anderen zu spielen, dass sie unglaublich viele Songs einfach aus dem Stehgreif spielen oder improvisieren können.
Es war genügend Zeit und Raum um sich auch wirklich mit den Künstlern zu unterhalten und somit ist dieses Autogramm das ihr hier seht etwas ganz besonderes, denn während Claire es unterschrieben hat saßen wir gemeinsam am Tisch: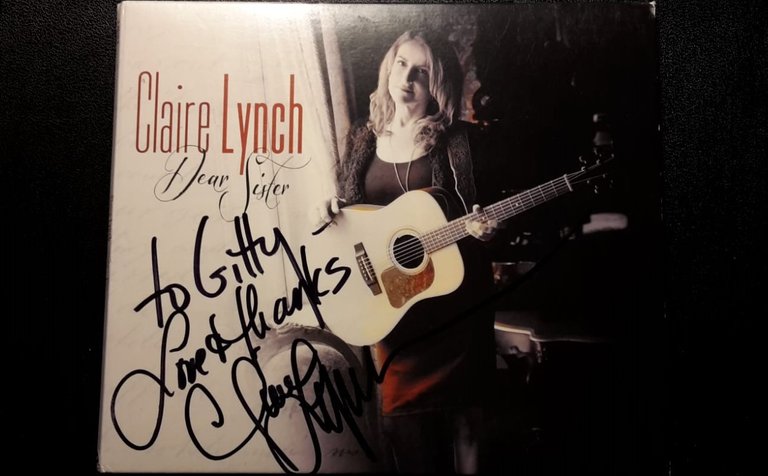 Eine so schöne Erinnerung! Leider hatte ich damals noch kein Smartphone, sonst hätte ich bestimmt auch Fotos zufügen können. So bleibt das einzige, was ich noch tun kann euch ein paar Youtube Songs von Claire Lynch und Band zu zeigen.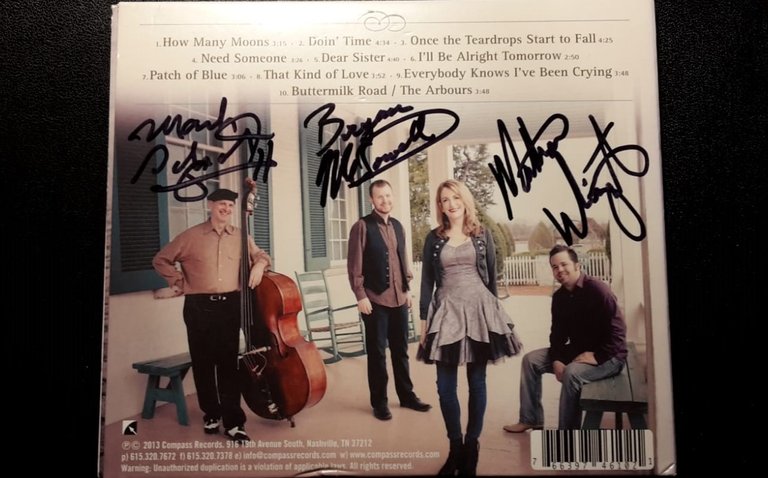 Bluegrass ist nicht jedermanns Sache, entweder man liebt es oder man hasst es ;-) ich hoffe ihr liebt es und euch gefallen auch die Songs!
---
---
Bluegrass is not for everyone, either you love it or you hate it ;-) I hope you love it and you also like the songs!
How Many Moons

Children Of Abraham, this song I heard first time back there on this concert and it was amazing in its live version.
Further In The Hole - Live

Finaly three songs, wich are personal flash back music for me, because I heard them a thousend times on my driving between Munich and Graz. Haha, I can see the streets, fields and mountains pass by the car window when I hear it!
Isnt it crazy, how music can suddenly bring you back to a point somewhere far away gone in your life?
Love Will Find A Way:

---
---