My Fantasy Ecency Presentation for HIVE FEST
PLUS IMPORTANT INFORMATION ABOUT THE CONTEST
( EN / DE ) Before I get to my presentation idea, a note:
Unfortunately there were some misunderstandings with my contest announcment post, which I would like to clarify here:
ECENCY - WIN a ticket to HIVE FEST
It's not about you actually giving this presentation at Hive Fest!
It's about your imagination and your ideas!
How do you imagine this presentation slot reserved for Ecency?
What would you talk about, what would you like to highlight?
Do you have any merchandise ideas?
A brilliant idea for the screen presentation?
Whatever you can imagine in your imagination is possible and should be well presented in a post with at least 200 words.
You lovely too shy people ;-) As I said before, it is NOT about you actually having to give this presentation in Amsterdam.
If you win the ticket, you'll just be there as a visitor.
The best, most creative, most beautiful post has the chance to win a ticket. The winners will not be chosen by me, but by official Ecency. The Hive Fest ticket to be won includes: Admission to Hive Fest (events, food, drink and activities, see here as announced in @roelandp 's post: https://ecency.com/hivefest/@roelandp/hivefest-on-a-shoestring-tips-n-hacks-for-event-tickets-travelling-and-staying-in-amsterdam )
I hope this clears up the important stuff, if not please just ask!
And now we come to my presentation idea: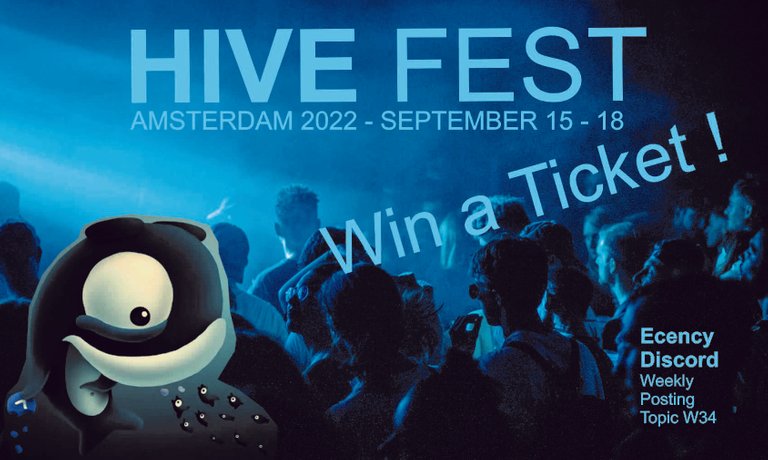 Please don't count me among those who want to win a ticket to Hive Fest, since I can't be in Amsterdam in September.
Nevertheless, since I heard this contest idea from @good-karma, this image of an ecency presentation has been ghosting around in my head, which I would like to share with you here:
SEPTEMBER 2022 - AMSTERDAM - HIVE FEST:
The lights on stage go out. Blue white spotlights illuminate the audience space. Nice ladies and gentlemen walk through the rows of the audience and distribute optional coffee or tea in to go cups. These are blue and white and have the Ecency logo printed on them.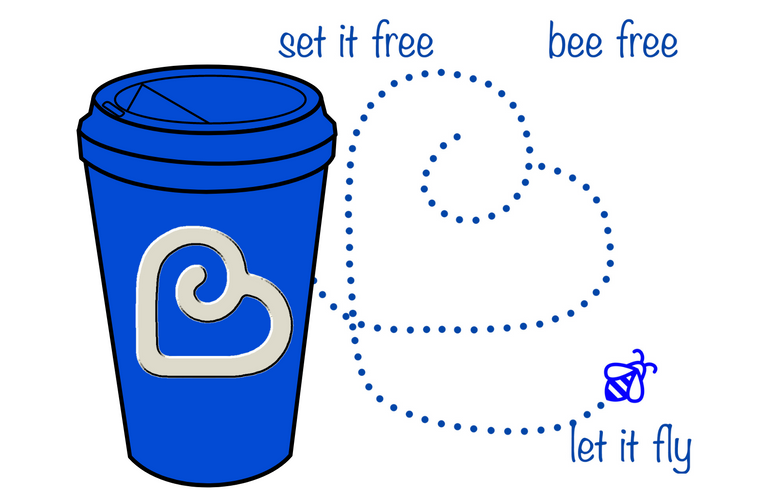 When the spotlights now illuminate the stage again, the picture there has changed. There are now several bistro tables and chairs (blue and white, of course!), in the background on the screen hundreds of small windows pop up like a zoom call, showing all the Ecency users worldwide who cannot be present.
I welcome everyone on behalf of Ecency and ask people from the audience to come up on stage and sit with me. Yes, we are not standing, but we are all sitting comfortably together. The mirkophone goes from one to the other and everyone gets to briefly say what they like about Ecency.
Now how did I come up with this idea, you may ask?!
Quite simply because I see ecency as a community in which everyone is equally valuable. There are newbies who have a lot to learn and there are older bees who still have a lot to learn. Everyone is welcome and no one is above the other. This is reflected for example in the Ecency votes, which are admittedly not as fantastic as some other voting trail, but uses much more smaller amounts to support as many members as possible.
Hence this coffeehouse presentation idea of community. Each unique, but connected in friendly togetherness.
---
---
DEUTSCH / GERMAN
Meine Fantasie Ecency Präsentation fürs HIVE FEST
WICHTIGE INFORMATIONEN ZUM CONTEST
Bevor ich zu meiner Präsentations Idee komme, ein Hinweis:
Leider gab es mit meinem Contest Ankündigungs Post einige Missverständnisse, die ich hier sehr gerne klar stellen würde:
ECENCY - WIN a ticket to HIVE FEST
Es geht nicht darum, dass ihr diese Präsentation auf dem Hive Fest wirklich abhalten sollt! Es geht um eure Fantasie und um eure Ideen!
Wie stellt ihr euch diesen Präsentations Slot vor, der für Ecency reserviert ist?
Worüber würdet ihr reden, was würdet ihr gerne hervorheben?
Habt ihr Merchandise Ideen?
Eine geniale Idee für die Bildschirm Präsentation?
Was auch immer ihr euch in eurer Fantasie vorstellen könnt ist möglich und sollte in einem Post mit zumindest 200 Worten gut vorgestellt werden.
Ihr lieben zu schüchternen Leute ;-) Wie schon gesagt, es geht NICHT darum, dass ihr diese Präsentation dann wirklich in Amsterdam halten müsst. Falls ihr gewinnt, seid ihr einfach als Besucher mit dabei.
Der beste, kreativste, schönste Post hat die Chance ein Ticket zu gewinnen. Die Gewinner werden nicht von mir ausgewählt, sondern von den offiziellen Ecency Leuten. Das offizielle Hive Fest Ticket, das es zu gewinnen gibt beinhaltet: Den Eintritt zum Hive Fest (Events, Essen, Trinken und Aktivitäten, siehe hier wie in RoelandP Post angedkündigt: https://ecency.com/hivefest/@roelandp/hivefest-on-a-shoestring-tips-n-hacks-for-event-tickets-travelling-and-staying-in-amsterdam )
Ich hoffe, dass das Wichtigste hiermit geklärt ist? Falls nicht bitte gerne fragen!
Und jetzt kommen wir zu meiner Präsentations Idee: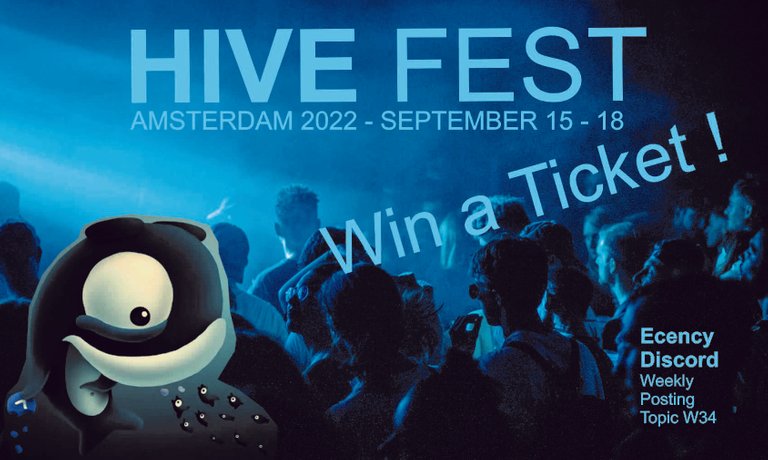 Bitte zählt mich nicht zu denen, die ein Ticket zum Hive Fest gewinnen wollen, da ich im September nicht in Amsterdam sein kann.
Dennoch, seit ich diese Contest Idee von @good-karma gehört habe, geistert dieses Bild von einer ecency Präsentation in meinem Kopf herum, das ich hier gerne mit euch teilen möchte:
SEPTEMBER 2022 - AMSTERDAM - HIVE FEST:
Das Licht auf der Bühne geht aus. Blau Weiße Scheinwerfer erleuchten den Publikumsraum. Nette Damen und Herren gehen durch die Reihen der Zuschauer und verteilen wahlweise Kaffee oder Tee in Coffee to Go Bechern. Diese sind blau/weiß und haben das Ecency Logo aufgedruckt.
Als die Scheinwerfer nun wieder die Bühne erhellen, hat sich das Bild dort geändert. Es stehen jetzt mehrere Bistro Tische und Stühle (blau weiß, klar!), im Hintergrund auf der Leinwand poppen wie bei einem Zoom Call hunderte kleine Fenster auf, die all die Ecency User weltweit zeigen, die nicht anwesend sein können.
Ich begrüße alle im Namen von Ecency und bitte Leute aus dem Publikum, auf die Bühne zu kommen und sich zu mir zu setzen. Ja, wir stehen nicht, sondern wir sitzen alle gemütlich beisammen. Das Mikrofon geht von einem zum anderen und jeder darf kurz sagen, was ihm an Ecency gefällt.
Wie bin ich jetzt auf diese Idee gekommen, werdet ihr fragen?!
Ganz einfach, weil ich ecency als Gemeinschaft sehe, in der jeder gleich viel wert ist. Es gibt newbies, die viel zu lernen haben und es gibt olderbies, die auch immer noch viel zu lernen haben. Jeder ist willkommen und keiner steht über dem anderen. Das spiegelt sich zum Beispiel auch in den Ecency Votes wider, die zugegeben, nicht so fantastisch sind wie manch anderer Voting Trail, aber dafür eben auch viel mehr kleinere Beträge nutzt um möglichst viele Mitglieder zu unterstützen.
Daher diese Kaffeehaus Präsentations Idee der Gemeinschaft. Jeder einzigartig, aber in freundlichem Miteinander verbunden.
Den Ankündigungs Post zu diesem Contest mit den genauen Regeln findet ihr hier: https://ecency.com/hive-125125/@beeber/ecency-discord-post-topic-w34
Viel Glück allen Teilnehmern :-) Eure B.
---
---
The announcement post for this contest with the exact rules can be found here: https://ecency.com/hive-125125/@beeber/ecency-discord-post-topic-w34
Good luck to all participants :-) Your B.
---
I am a blogger from Austria, founder of the Hive Memorial Forest Community and admin of the Introduce Your City Community, active in ecency discord and here and there all around this beautiful blockchain.
coffecup picture made by @beeber with canva.com free version with free ecency assets
Contest picture Contest Picture by Baptiste MG unsplash edited by me with corel draw.
mostly translated with www.deepl.com (free version)
---
---