This Weeks Ecency Discord Posting Topic: CONTESTS
Whats this? Ecency Discord Weekly Posting Topic?
Never heard of it? No wonder, because it's a very new action that came out of the conversations in our Ecency Discord chat group.
Every week I pick a topic from whole Ecency Discord that has caught my eye and introduce it as a posting idea. This should be helpful especially for our newbies, but also for the oldbies who are not so active on the Chain ;-) @weone
Without further ado, here's this week's topic: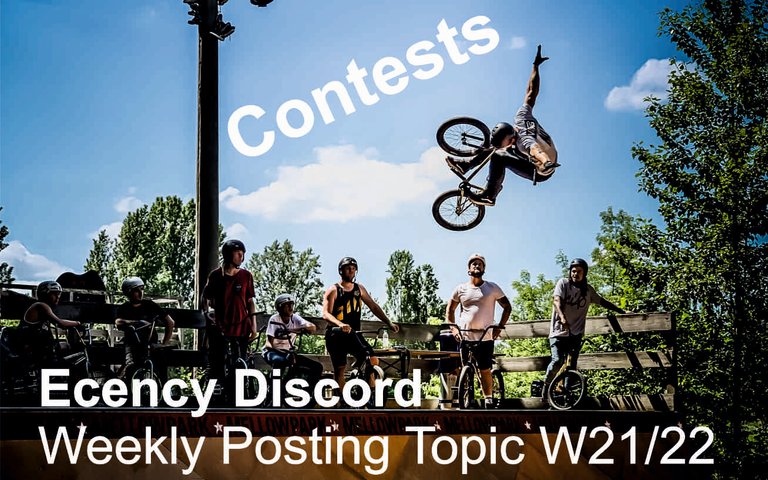 picture from unsplash , text edited with corel draw
" C O N T E S T S "
Again a topic with a lot of possibilities to write something, choose one of the following or find your own point of view:
What is your favorite contest on the Chain?
What do you love so much about contests?
Which contests are recommended for newbies?
What are the advantages of contests?
These are just examples! Dive into the topic from what you think about and let your imagination run wild. There are also not many rules, because we want to keep it simple:
>>> RULES
Use the tag #ecencydiscord
Write at least 200 words and make a good content post out of the topic
Why use the #ecencydiscord? First, so we can find you, second, because we want our Discord members to interact more with each other on Chain as well, and this is a possibility to find each other and leaving a nice comment.
>>> GOOD NEWS
Thank you @good-karma for 500 ecency points, wich will be devided under all those who join in!
---
So you know how you can join, now lets go to what I have to tell you about the topic and where this weeks idea came from:
In the discord we have one channel called "contests awarding points".
This is a channel, where Melinda inserts actual Contests on the Hive Chain, wich are giving away Ecency Points for their contestants.
This week we got aware of a real great and brandnew contest idea: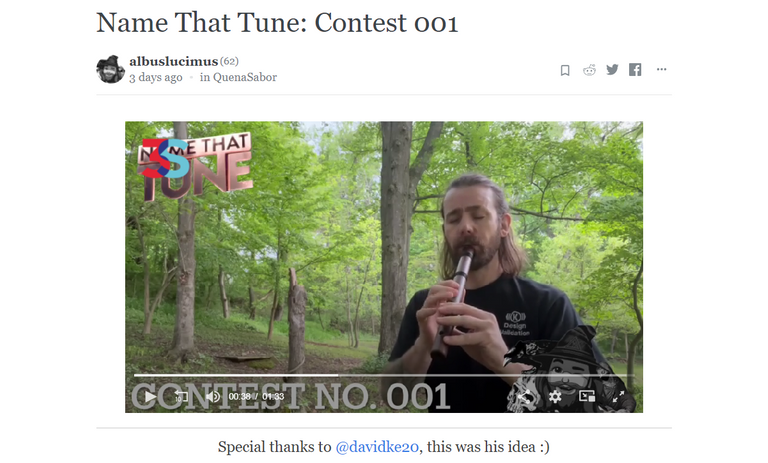 A wonderful idea, set up by @albuslucimus and @davidke20
There is a song to hear in this video and the first one who guesses the song right will get 500 Ececy points from him! If this is not solved, it will go on to another round, adding more points. While I write this lines, there was no right guess there, so WATCH OUT FOR IT!
So far I understood, @albuslucimus intends to make this weekly and he also looks for musicians, to be part of his contest with their songs. (Please correct me, if there is a fault in my understanding?)
---
Contests - my thoughts in general:
Who follows me, knows ;-) I AM A CONTEST QUEEN ;-)
Why? Hm, first of all it has been @melinda010100 and her Shadow Hunters, who picked me up as a newbie and were very friendly, so suddenly I became Shadow Hunting addicted LOL
Another favorite is the "Let Our Picture Tell Your Story" by the feathered friends and @wrestlingdesires this one is a small but fine commenting contest!
And then, of course, there are the "big" contests, which I love because they are usually a challenge to get deep involved with interesting themes, such as Weekend Engagement , The Ladies of Hive or Ecotrains Question of the Week and many many more, sorry fot those I didnt mention!
For posting I love to have a theme I can rely on, but I also like it to be in kind of competition with others, this gives the posting another dimension where one can learn a lot concerning how to write a post I think.
---
So far about me, but now it's your turn:
Come and join in to the Ecency Discord Weekly Posting Topic 21/22 !
Make a great post on the topic "Contests", dont forget the tag #ecencydiscord, thats it!
This posting topic is open to everyone! But of course we are happy if you like to join us on: https://discord.gg/pwyqTZkUUh
Have fun posting and take the chance to be seen in a quiet chain time :-) Yours, B.
Each 10% beneficiairies for the inspiration will go to @albuslucimus and @davidke20
Picture by unsplash.com edited by me with corel draw
---
---