Why and How to Vote on Proposals?
How to vote proposals with ecency frontend. For the occasion, because two proposals are running right now, which are important to me personally, I would like to go a little bit into the topic here for our new users.
Proposals - "suggestions" can be made if someone needs financial support for a good hive project. There is often a lot of work behind the developments that we all use here every day.
In the background there is always a lot of development going on, which we users only notice when something doesn't work. But if you consider that the entire HIVE ecosystem is decentralized, it is simply gigantic how many projects work very well and without disruptions.
If a proposal gets enough votes, it will be accepted and funded out of an HBD pool that is set aside for it. The impact of an upvote depends on the hive power of the person who votes. Now my small vote probably won't make much difference! Still, even many small fish make crap. And it's just also important to do something for the things you think are good.
Decentralization and self-determination are very desirable. Everyone desires them. But, these also come with some ownership and so it's up to each and every one of us to also look at things like Proposals and Witness Votes a little bit. Because these are two elements where we can all have a voice with our votes on how the blockchain we like to stay on will develop.
On ecency.com in your profile you will find the Proposals in the lower left corner: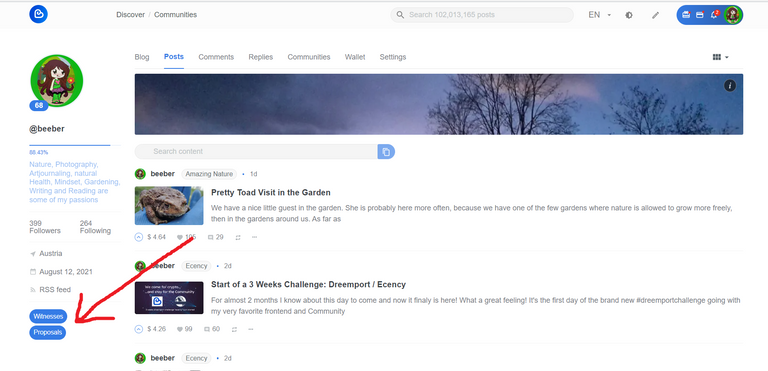 On the proposal page you can now look through all open proposals, or paste the one you are looking for into the field above to search for it. You can and should read the text of the proposal, if you agree and want to support it.
If you like it, just click on the little upvote arrow: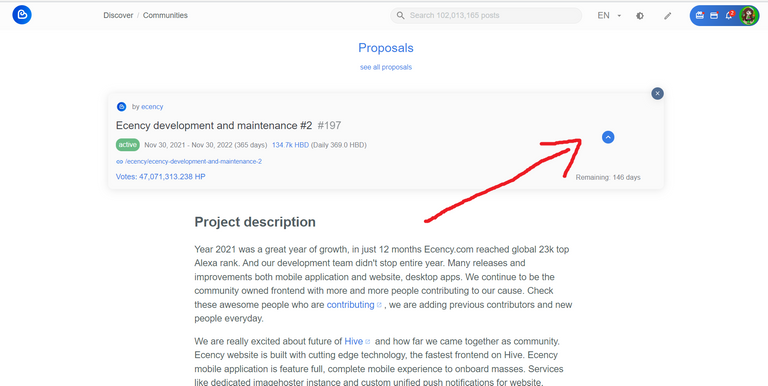 In my case a Propsal for Ecency. As you know, Ecency was my entry into the Hive world, so of course I'm happy if it gets as much support as possible to become even better!
The reason, why I came up with this topic today, was a message by @hivebuzz I received today:

5000 comments! Isnt that crazy? So I said thank you to hivebuzz, and got a nice answer, that I am welcome. Added a link to a hivebuzz proposal.
I looked at it, and thought, oh I love all those badges! They also do the Hive PUD day, wich helps newbies to grow. I think they should be suported for their work.

These are my favorite badges :-) Valentines day was overfloating with LOVE :-)
On hivebuzz.me/ @ yourusername you will find your progress and badges: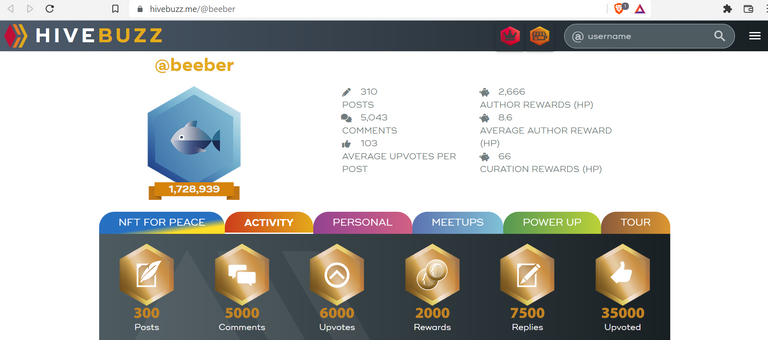 The proposal voting process is the same as before, just look for the hivebuzz proposal, and consider if you like it or not:
Mostly you will find proposals suggested to you within a comment oder within a posting, explaining the purpose. So just go and look, if the topic mentioned is from interest for you.
This was a very simple explanation on how proposals work, but I hope it was helpful for all our new ecency users :-) Yours, B.
screenshots made by me from ecency.com and hivebuzz.me
---
---