THORYield - A Liquidity Provider tracking tool that anyone should use
ThorSwap is the leading multi-chain, decentralized exchange (DEX) dApp powered by THORChain which allows users to swap Layer 1 assets without wrapping and earning yield and bonding nodes on it. Simple to use, you just need to connect your wallet, have or convert RUNE to being native if it came from another blockchain (like BSC), and pair it with other cryptocurrencies in order to provide liquidity. You start earning right away based on the chosen pool and you can use THORYield in order to track your earnings or check any impermanent loss that you might face.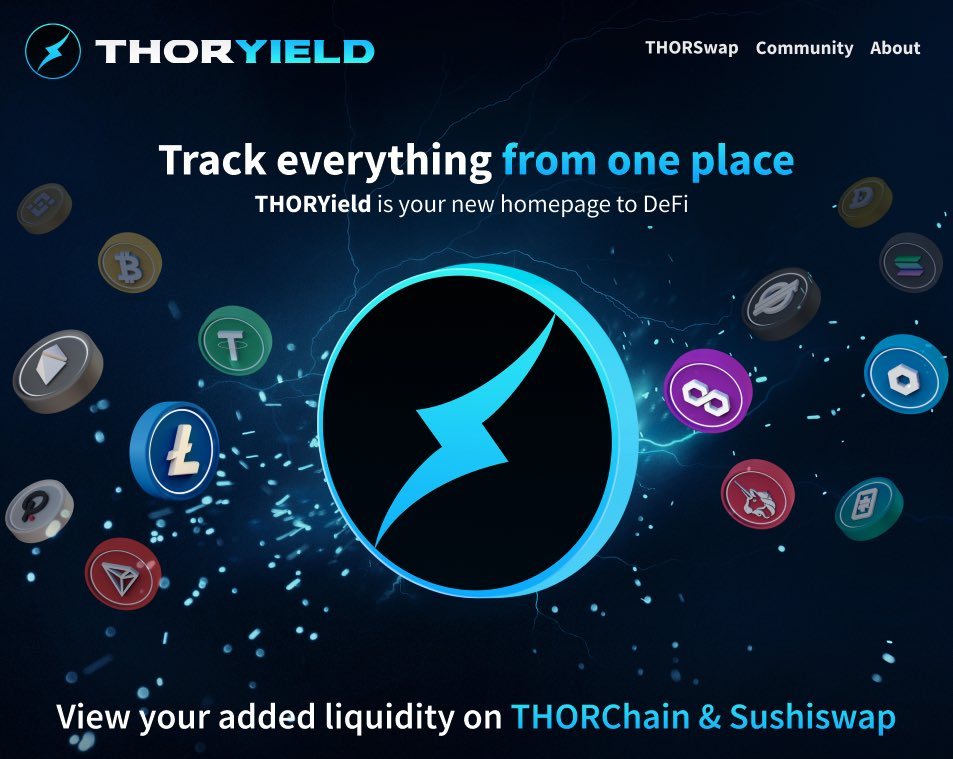 The Dashboard welcomes us with some aggregated stats where you can see the Total Added Value vs the Total Current Value which includes also the earned Fees. Comparing this we obtain the Total Gain/Loss and at the same time, we have a calculation for the Total LP returns vs HODL, which makes the difference for why we are providing liquidity. The LP Asset Allocation shows us the distribution of the RUNE:AVA (paired token of my choosing) for an overview of the participation.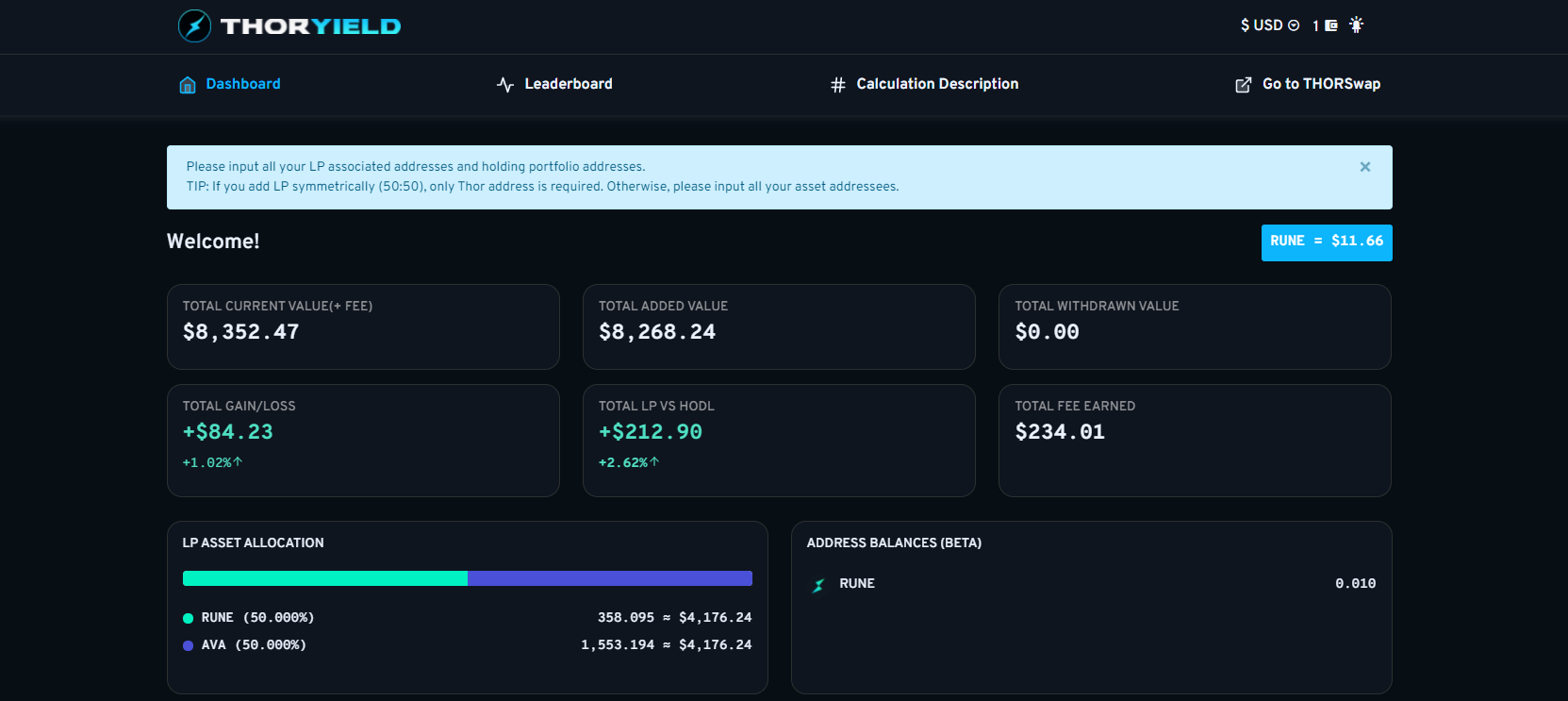 The LP Details bring more insight into the participation and returns in the pools that we have. I only am providing liquidity in the RUNE:AVA pool, but I assume that if you are into multiple pools you will see multiple detailed sections in here. While there are many stats in here, I am interested merely in some of them like Fee Earn (in each paired cryptocurrency), Liquidity Added and Reedeamble that includes the fees as well. The LP vs HODL information is also of interest, while the LP vs HODL APY is available only after 7 days in the pool.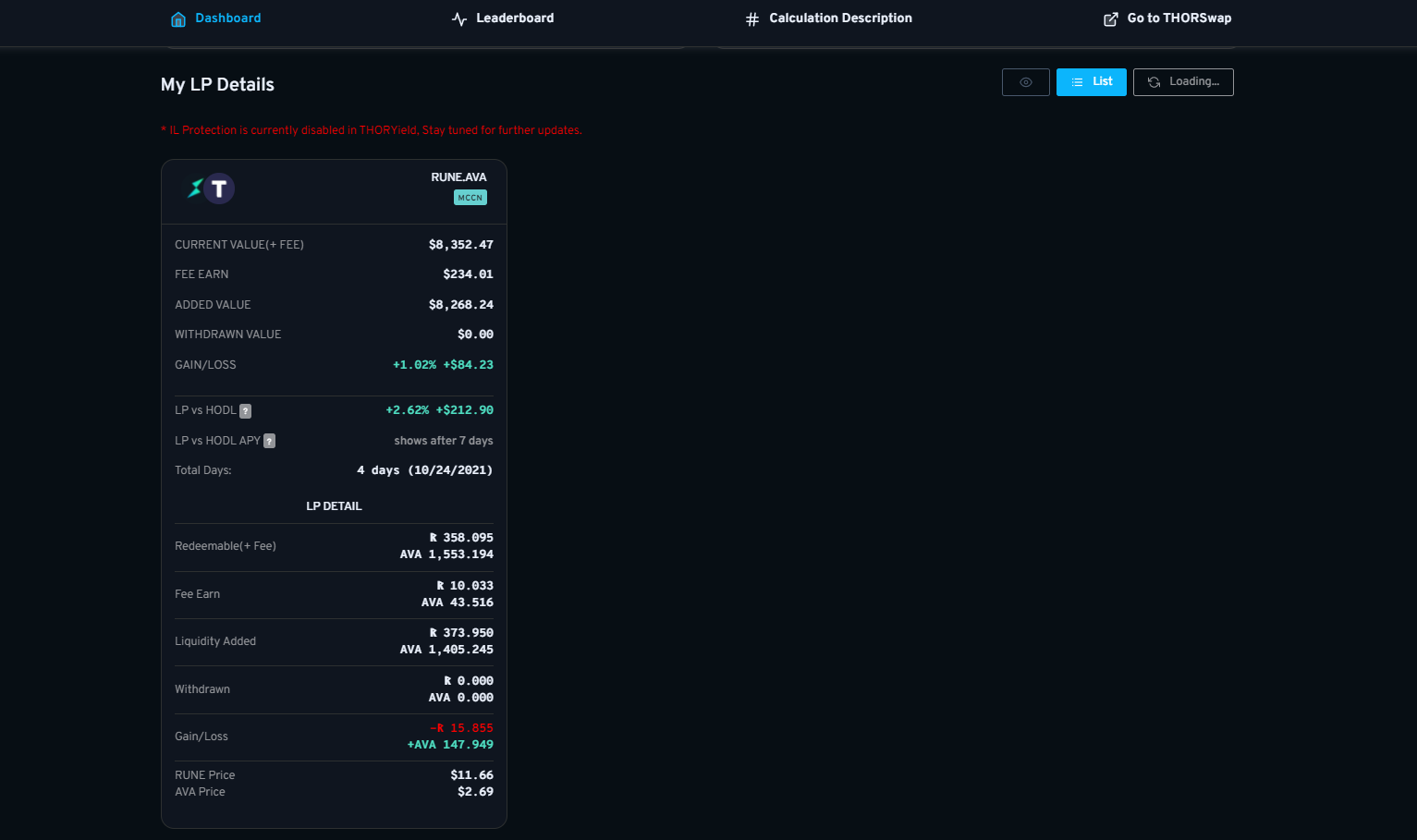 Besides the information from the Dashboard what I like about THORYield is that they have also a Calculation Description section where they explain all the formulas used for the most important fields. This helps anyone understand better the mathematics behind the numbers. In addition to these views, there are also two other quick navigation sections like Leaderboard which navigates to runeyield.info but for some reason, the page data is not loading at the moment and Go to THORSwap link to provide liquidity and see the available pools.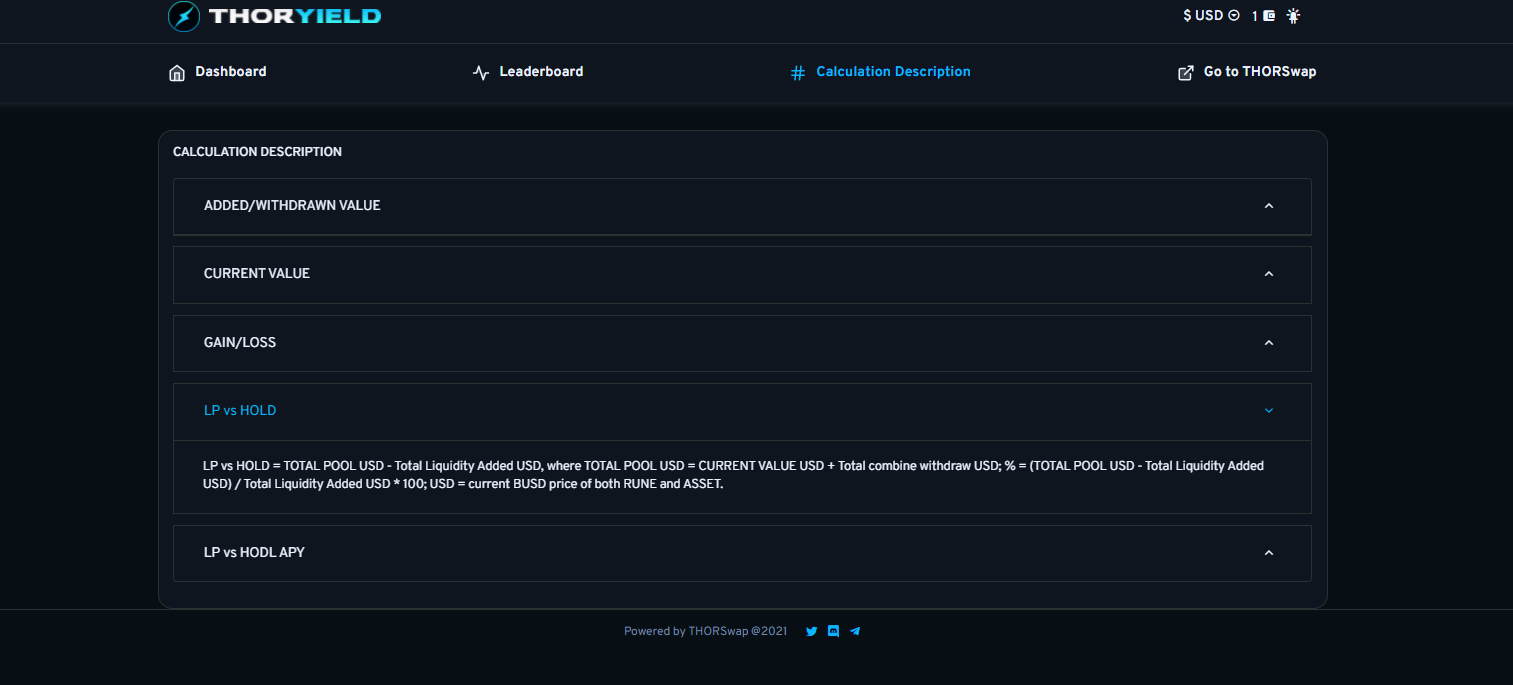 Overall the THORYield tracking website is a tool that any Liquidity Provider should use and it offers enough information on the positions taken in the LP, the gains, or distribution of the assets. Using it builds more trust in being a Liquidity Provider and also helps when deciding to remove liquidity or add. I wish just that all LPs out there, regardless of the blockchain they were into they would have a similar LP tracking tool, simple and with enough information to see any Impermanent Loss, Yields, or other stats around these.
Posted Using LeoFinance Beta
---
---