6k SPS staked, Powering down and more scheming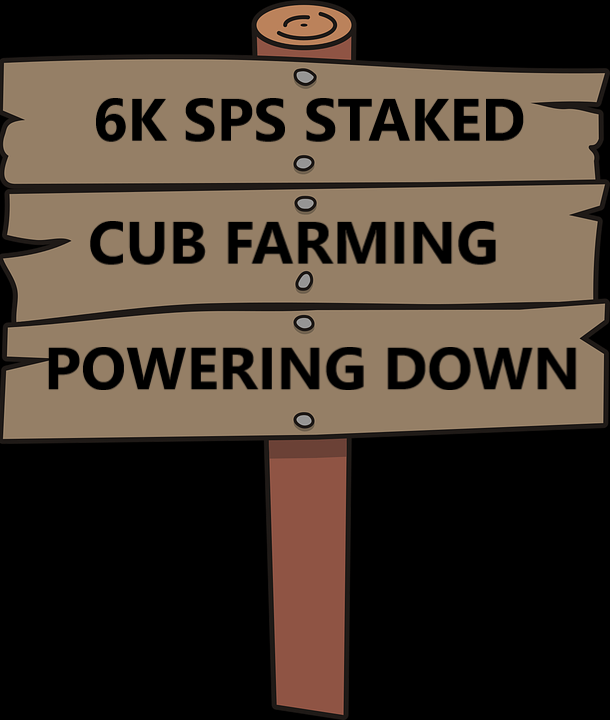 I've been focused on growing my SPS stake to my target. I originally wanted to surpass 10k but due to being robbed, I don't think I'll be able to.
Anyway, getting to 6K SPS tokens is a pretty big deal. Especially in this period where I'm raising funds to get back into cub farming.
The voucher airdrop has stopped for now but in the near future, we'll be back for a double bill airdrop. So, in essence, this is a good time to stack SPS tokens, especially considering how cheap the tokens are these days.
Other than the future voucher airdrop, it's widely expected that SPS tokens will enable investors to participate in Splinterlands governance. This points to a sustainable and more decentralized path for Splinterlands.
As Splinterlands continues to evolve, we'll see the game operate even more autonomously and a side chain might not be out of the question. This will lighten the load on Hive blockchain and will also enable the game to create its own suite of applications for the metaverse expansion.
I'm also fairly confident in the price of SPS tokens going on a massive bullrun in the future. It won't be a flash in the pan type stuff, it will be sustainable and could turn your SPS staking reward into passive income.
There are many reasons to hold and stake SPS tokens now and in the future. I believe that as long as the token trades below $1, then you're getting it super cheap because It's going to be a double-digit asset in the near future.
Powering down but not out
Speaking of staking, I've also been powering down my Hive. Hive is on the cusp of something huge and I'd like to benefit from it, so I'm trying to hold a decent chunk of the asset.
I've had some Cub in Kingdoms for a while but my intention has always been to dip my toe back into the Cub/BUSD liquidity pool again because it has the highest multiplier.
The only problem is that move involves selling some of my Hive and while selling at this price isn't such a bad thing, I can't help but feel like I'd be missing out on something huge on the horizon.
In any case, I intend to take profit around $3-5 range and then reinvest part of the proceeds into Cub farming. The rest will be moved to savings.
Looking at the price of Hive now, it's easy to see why there's a lot of enthusiasm. The number of developments, airdrops, and all that good stuff coming to the community is reflecting on the price.
The Cubnondrum
Looking at the price of Cub, I'm not sure how to approach the market. The price of Cub went up to about 80 cents for a while and dropped to 60 cents range.
I'm on the cusp of getting into the Cub/BUSD pool but I don't know if I should just enter now or wait for it to drop a little more.
Contact & Support

Posted Using LeoFinance Beta
---
---