I'm on the wait list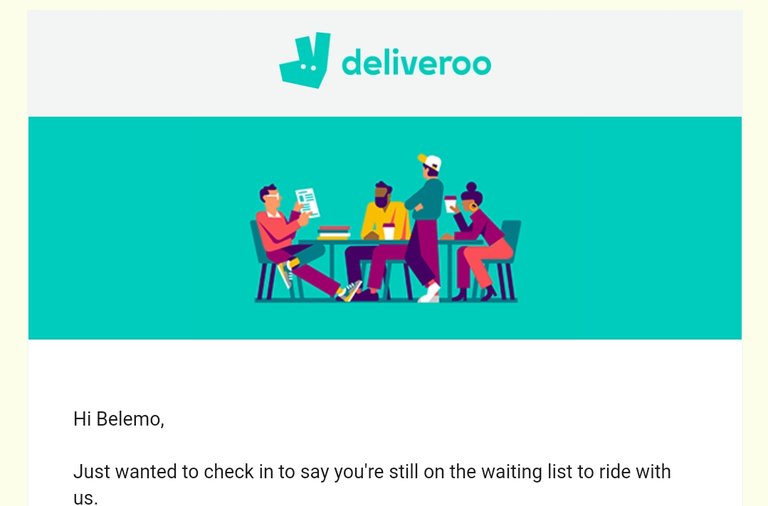 I'm grateful that I have a job and I've gotten paid so far. We're in a position that I never imagined we'd be in right now, so all I have is gratitude but at the same time, I always look out for more opportunities and that brought me to deliveroo.
Deliveroo is basically like Uber for food. Okay, Uber Eats is the Uber for food, so let's say Deliveroo is kinda similar.
I applied to be a rider for deliveroo and now I'm on the waitlist. I applied to be a bicycle dispatcher and now, I'm keeping my fingers crossed.
I've been getting reminders from Deliveroo that I'm on the waitlist for a couple of days now. There's nothing I can do to speed up the process, so it's just a waiting game.
My own thing
For me, the opportunity to technically work for myself and at my own pace is the most attractive feature of the role. Of course, it'll be tedious riding around the city, particularly because I don't really know my way around but Google map makes it easier.
I have been moving around quite a bit lately, so I sort of have a vague idea about the road networks. In any case, I will be giving it a shot and seeing what comes out of it.
I like the idea of being able to switch on and off, grind for cash at my own pace. It'll offer me a supplementary source of income that will definitely come in handy.
I expect the initial period to be very difficult but over time, I'll adjust to the physical requirements of riding around. I reckon my calf muscles will be very toned after a couple of trips.
In this city, you really can't rely on one source of income and you also can't put too much trust into whatever job you have. So, the best bit is to constantly be on guard and always be ready to pivot.
---
---