Staking the new year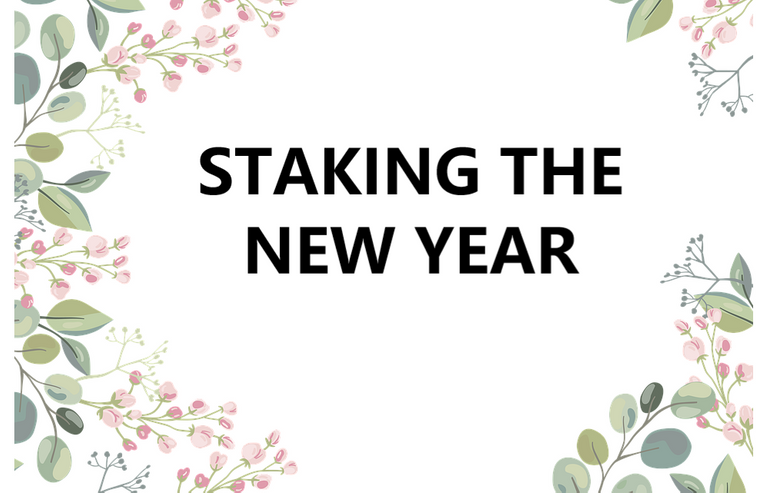 The new year is here and with it comes pretty much everything we were doing yesterday. Yesterday was last year, today is this year and the calendar says we're all getting older.
There are opportunities spread out on the internet, lots of opportunities for everyone to grab. It's the same way it was last year and it continues this year.
Is your eye on the sparrow? Are you staying frosty and watching for opportunities? There's so much you can find this year and so much you can do as well.
I'm always hopeful, I always like to see the positive side of things. I know it's not entirely healthy but I need it for my mental health.
Ironically, while being hopeful, I'm also cautious and observant. I don't respond to the market based on my feelings, I respond based on reality.
Reality is all we have, and if I could, I would stake reality in a smart contract. The smart contract is life as we know it, and the APR varies based on the amount of information at your disposal.
I'm searching for information, I need a lot of it. I want to increase my life's APR and the only way to do that is with knowledge gained from a thousand scholars, nay, make it a million.
The wealth in the trees is there for everyone to pluck but it takes a brave soul to reach the heights required to reach the fruits.
No repeats
I don't know what the future holds, but I know I want to be a part of it. I don't want to be a passenger, I want to be an investor, one of the owners.
I don't want to sit on the sidelines while other men make decisions for me, I want to make them myself.
To ensure I have a place in leadership, I'll stake reality, increase my APR but at the same time, and be involved in the decision-making process.
Life is a gift and a gamble at the same time, If you're not taking risks with the gift, then you're not using it right.
I'm risking it and relishing the experience. It's new every day, and the journey never gives me a repeat of the previous day.
My Circle
On this journey, I have made new friends, connections, and met people who all have perfect timing. They came with the promise of friendship, career, and everything in between.
My message is gratitude and I channel it towards all the people I have met over the years. Without my circle, I would be nothing, and every day, my circle grows bigger and I also appreciate that.
I have followers who listen to me, they interact with me and we rub minds through comments. I would be nothing without your input, thank you for everything.
Making it count
I'm ready for the new year, in the same way, I'm ready for a new day. There's no difference between both.
The new year heralds a journey that spans 365 days. In reality, all you ever have is one day at a time.
You can't plan for a whole year but you can speculate. However, if you work hard to ensure that every day is better than the previous day, you're certain to have a glorious life.
My target for this day, like every other day, is to make sure that I make it count. I want to be happy and feel fulfilled.
I want to stretch my potential and battle test it for future challenges. I want to put my money where my mouth is and know if my mouth tells the truth.
Counting Crypto
The industry is unlike anything I've ever done before. Then again, I've not done much in life, so that list isn't so long.
I was indoctrinated into this life some years ago and right now, this industry is all I know. I know enough to know that I don't know and you know what? That's okay by me.
Every day, I try to know more than I did yesterday. For better or for worse, like a marriage, I persist through this experience, garnering information along the way that will increase my life's APR.
Staking the new year
So what else is there to do than to stake life away. Lock it up in reality's infinite smart contract and reap dividends from all the information you have staked.
Your bank account might be smiling but in reality, this is truly all you have. Information is the key.
So welcome to a new day, just like the previous day. It's a brand new day and opportunity to be a better human. It's yet another opportunity to take time, fuse it with information, melt it into a blob of hope, and stake it in reality's infinite smart contract. I sincerely hope the odds will be in your favour.
Happy new year.
Contact & Support

Posted Using LeoFinance Beta
---
---