A gift with lots of love for the new member of the family. // Un regalo con mucho amor para el nuevo miembro de la familia [ENG_ESP]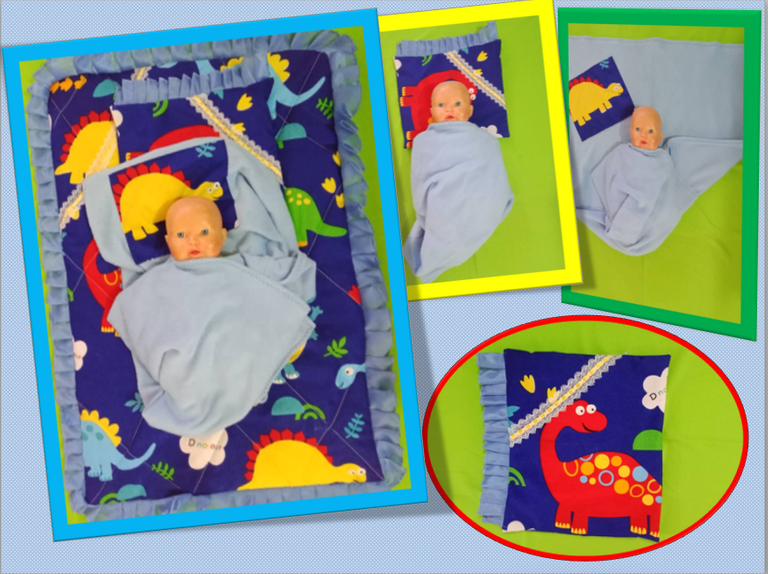 ---
Hello, hello dear yarn and sewing loving community, have a happy and blessed Monday together with family and friends; we are in the Christmas season where we remember the birth of Jesus, sharing with family and decorating the houses for this important celebration.
This year for the month of December, God willing a new member arrives to the family my nephew Aaron, in the family we are very happy and happy for his arrival and helping my sister in the preparations and decoration of the baby's room, when my sister told me she was pregnant I was very happy for such beautiful and tender news, my mind went to the fabric store imagining what drawings should have the fabrics to sew the lingerie of my nephew, after some thinking and doing I told my sister that I was going to sew some sheets and quilts for my nephew, I asked her what drawings or designs on the fabric she would like and she told me that the cars and firemen motifs would be perfect, when I went to the fabric store, one of my favorite places, there were no fabrics in the store, one of my favorite places, there was no firemen design but I saw one with dinosaur motifs that I liked a lot, I called my sister to tell her that there was no firemen design but we could use a dinosaur one very beautiful and colorful, she was fine with that and I continued with the shopping. When I got home I rested a little and got down to work.
Hola, hola estimada comunidad amante de los hilos y la costura, que tengan un feliz y bendecido lunes en unión de familiares y amigos; estamos en la época de Navidad donde recordamos el Nacimiento de Jesús, compartiendo en familia y adornando las casas para esta importante celebración.
Este año para el mes de diciembre, Dios mediante llega a la familia un nuevo miembro mi sobrino Aarón, en la familia estamos muy felices y contentos por su llegada y ayudando a mi hermana en los preparativos y decoración de la habitación del bebé, cuando mi hermana me dijo que estaba embarazada me alegré mucho por tan hermosa y tierna noticia, mi mente se trasladó a la tienda de telas imaginando que dibujos debían tener las telas para coser la lencería de mi sobrino, luego de pensar un poco y hacer le dije a mi hermana que le iba a coser unas sábanas y acolchados a mi sobrino, le pregunté que dibujos o diseños en la tela le gustarían y me dijo que los motivos de carros y bomberos serían perfectos, cuando fui a la tienda de telas, uno de mis lugares favoritos, no había diseño de bomberos pero vi una con motivos de dinosaurios que me gustó mucho, llamé a mi hermana para decirle que no había diseño de bomberos pero se podía usar una de dinosaurios muy hermosa y colorida, a ella le pareció bien y seguí con las compras. Al llegar a casa descansé un poco y me puse manos a la obra.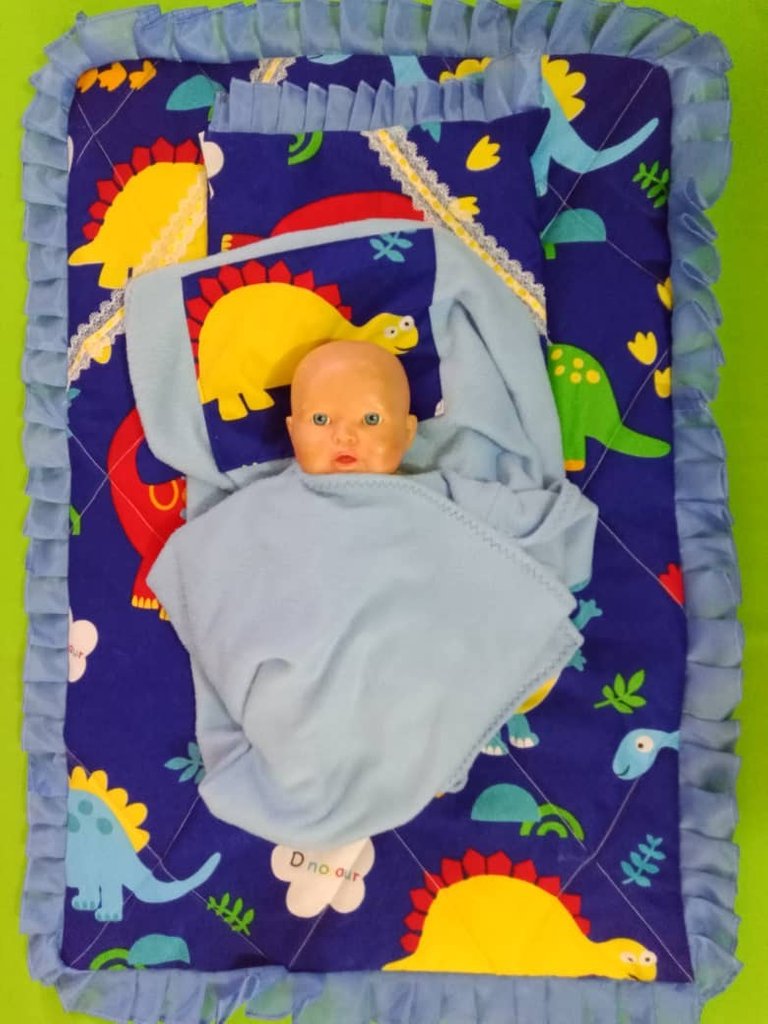 ---

Miami cotton
Taffeta lining
Yellow ribbon
Tape pass
Thread
Scissors
Chalk
Polar blanket
Wadding

Algodón miami
Forro tafeta
Cinta amarilla
Pasa cinta
Hilo
Tijera
Tiza
Manta polar
Guata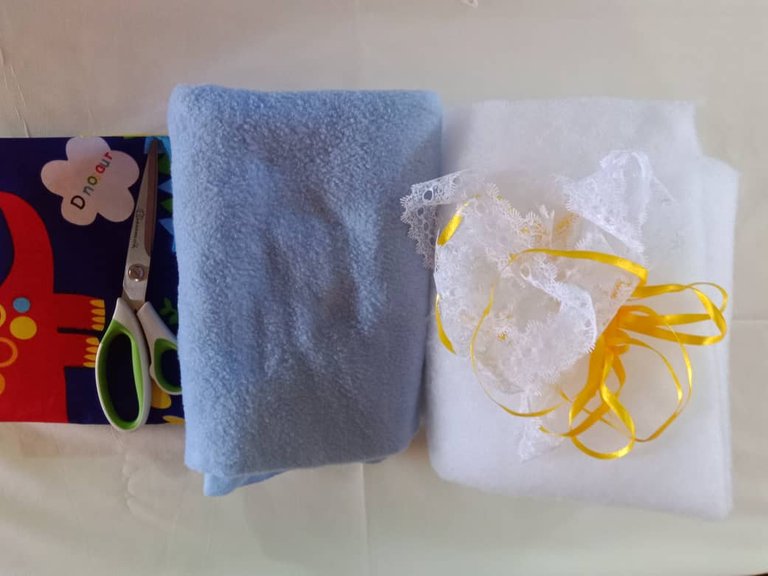 ---

I cut 2 rectangles of 70 * 50 cm (in printed fabric and wadding) to make the quilt, plus 2 rectangles of 20 * 25 cm for the back of the cover and 1 of 45 * 25 cm for the front.


Corté 2 rectángulos de 70 * 50 cm (en tela estampada y guata) para hacer el acolchado, además 2 rectángulos de 20 * 25 cm para la parte trasera de la funda y 1 de 45 * 25 cm para la parte delantera.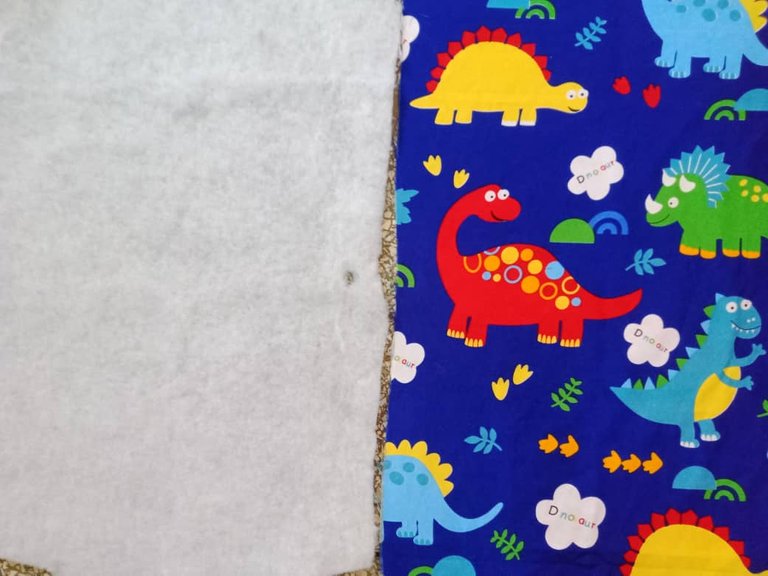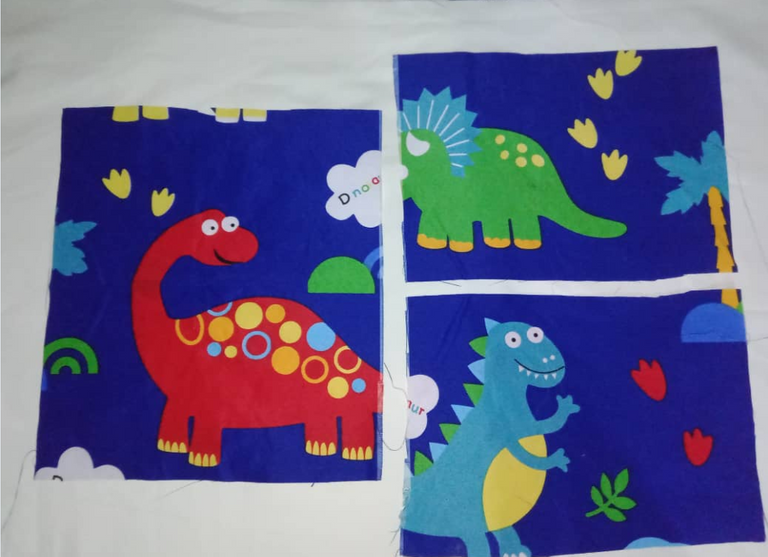 ---
To make the ruffles I cut 6 meters of taffeta lining strip and sewed a hem at the top.
Para hacer los volados corté 6 metros de tira en forro tafeta y cosí un dobladillo en la parte superior. También corté el forro para el acolchado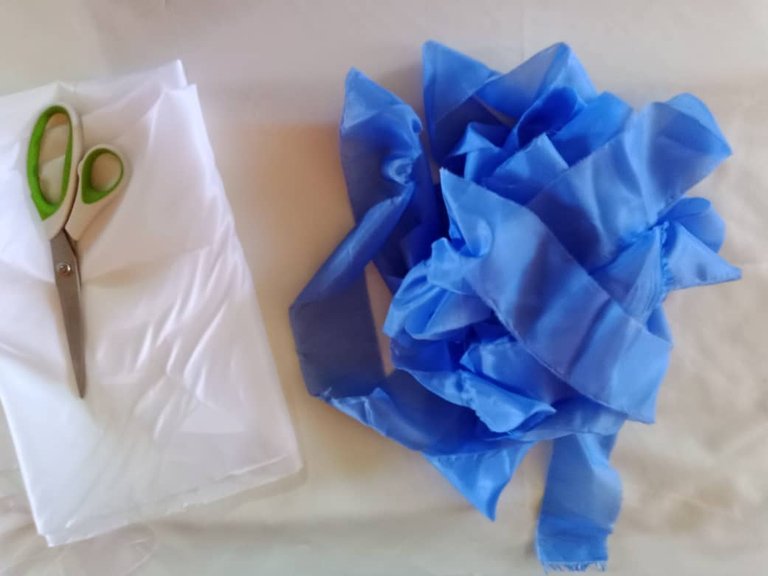 ---
I traced lines on the quilt rectangle, placed the wadding underneath and sewed with a straight stitch to add some design and secure the wadding.
Tracé líneas en el rectángulo del acolchado , puse la guata debajo y cosí con puntada recta para agregar un poco de diseño y asegurar la guata.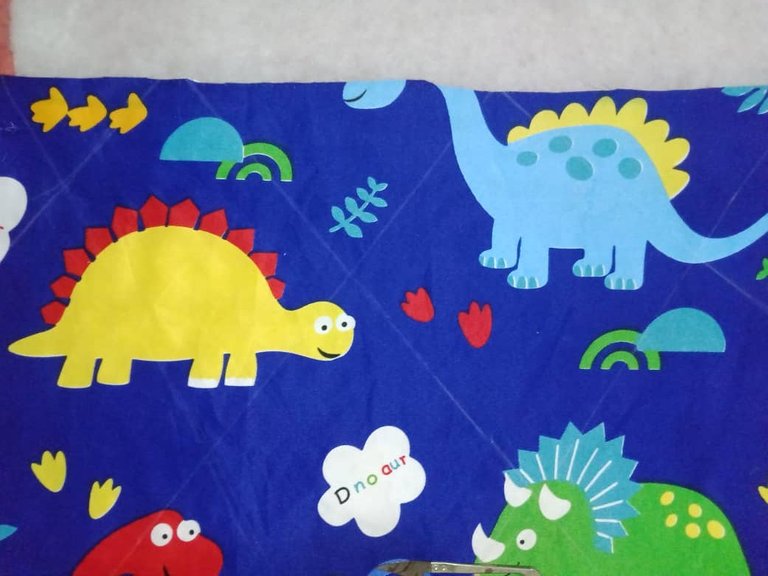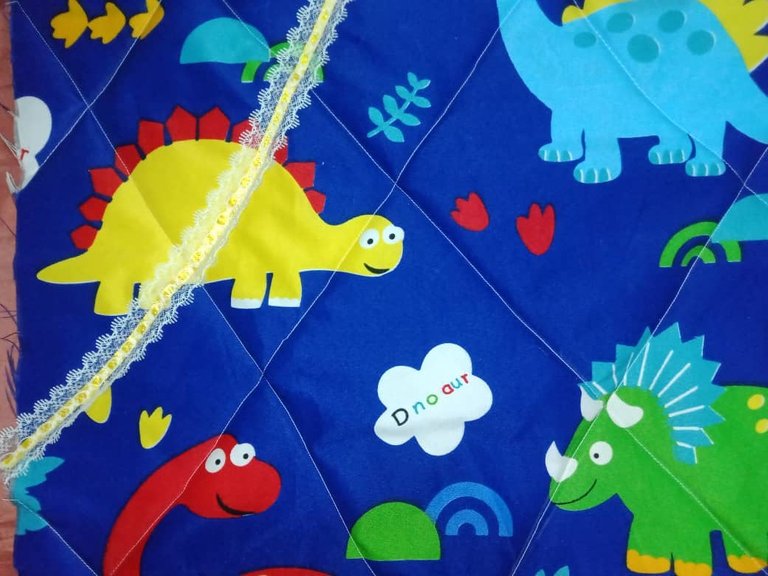 ---
I glued the ruffle all around the quilt and on the top of the cover, also yellow ribbon and ribbon trim.
Pegué el volado por todo el contorno del acolchado y en parte superior de la funda, también cinta amarilla y pasa cinta para decorar.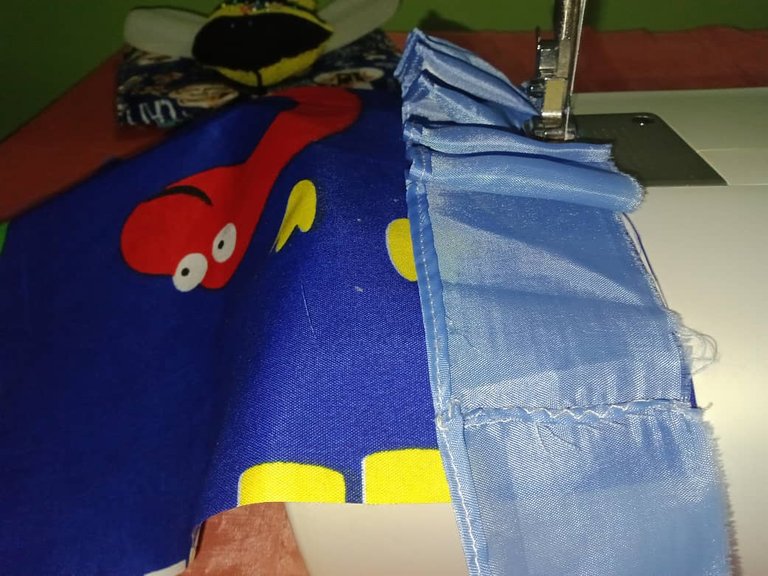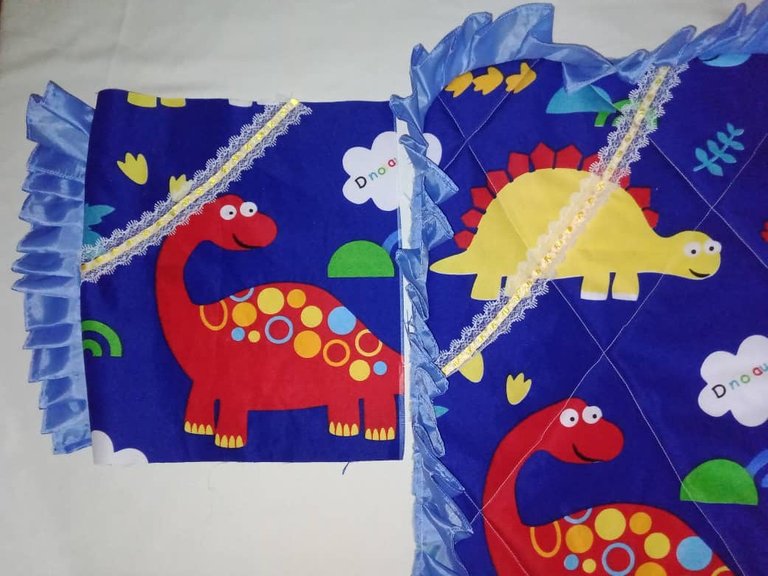 ---
I sewed a hem on the top of the rectangles that form the back of the cover.
Cosí un dobladillo en la parte superior de los rectángulos que forman la parte trasera de la funda.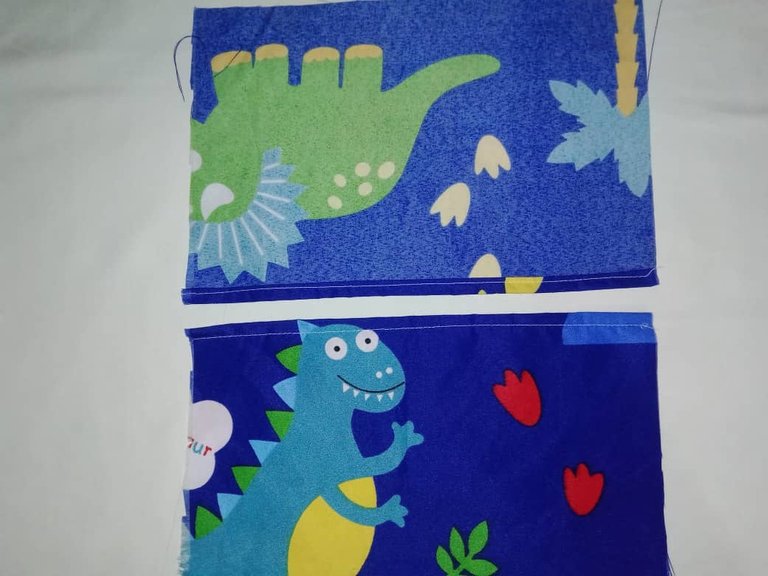 ---
I faced the back and front of the cover right sides together, pinned and straight stitched all around; I also faced the lining and right side of the quilt and stitched leaving an opening for turning.
Enfrenté derecho con derecho la parte trasera y delantera de la funda, sujeté con alfileres y pasé costura recta por todo el contorno; también enfrenté el forro y derecho del acolchado y cosí dejando una abertura para voltear.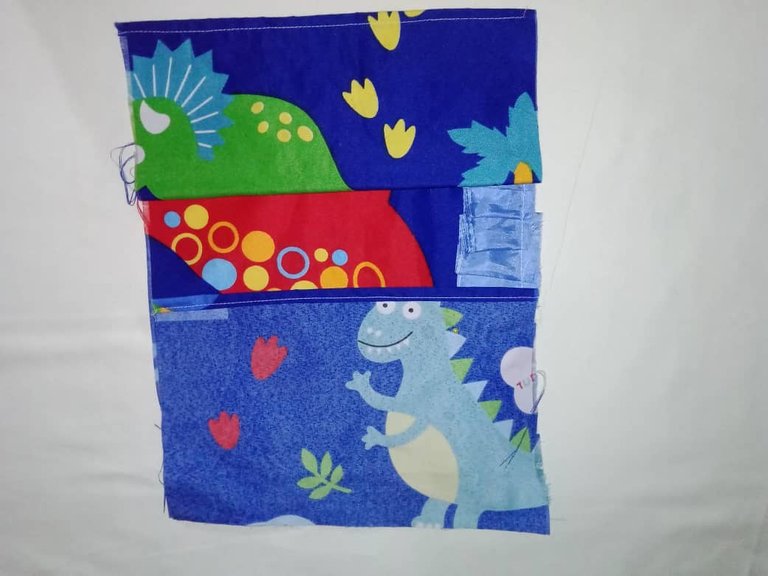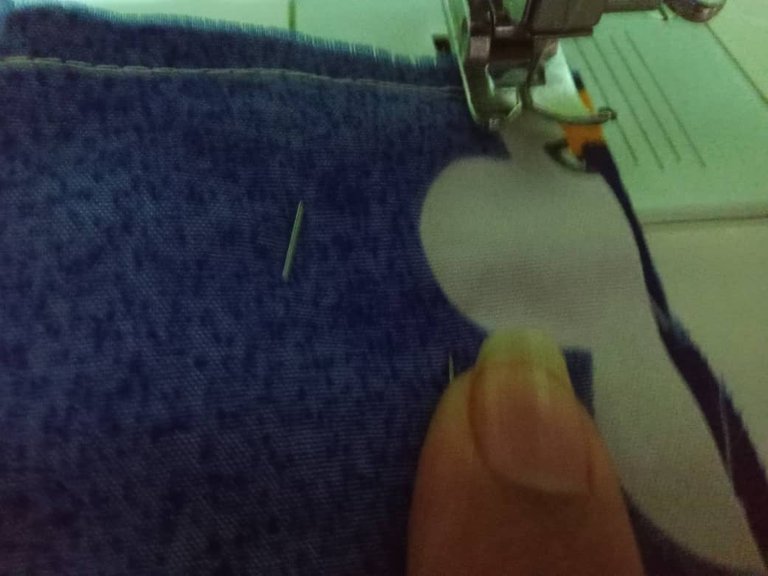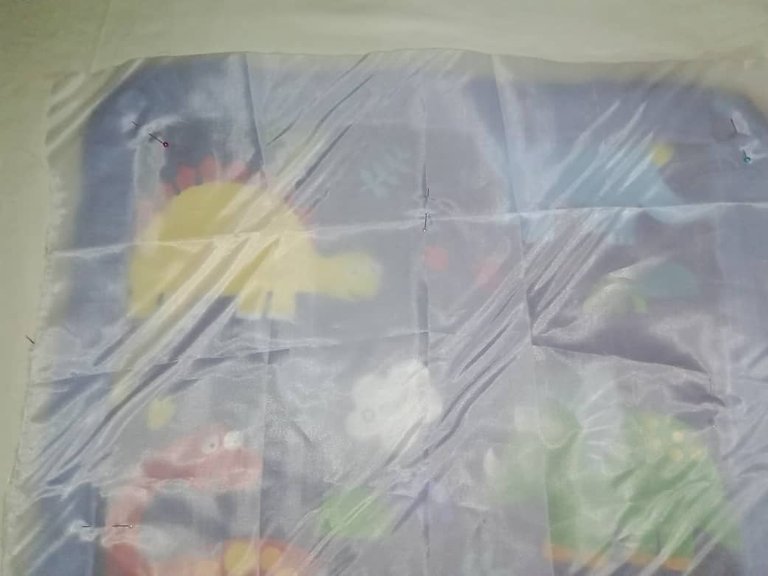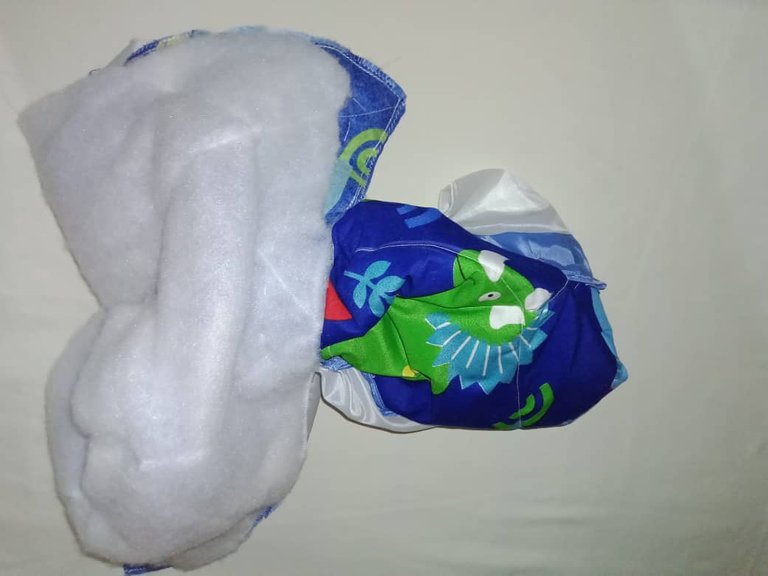 ---
To make the blanket I had a small inconvenience, the fabric was too narrow to keep the baby warm so I joined it widthwise with straight stitch and sewed a hem with decorative stitch using a navy blue thread to highlight the stitch, at the top I pinned and sewed a rectangle with the figure of a dinosaur.
Para hacer la manta tuve un pequeño inconveniente , la tela era muy angosta para abrigar al bebé así que la uní a lo ancho con puntada recta y cosí un dobladillo con puntada decorativa usando un hilo azul marino para resaltar la puntada, en la parte superior sujeté con alfileres y cosí un rectángulo con la figura de un dinosaurio.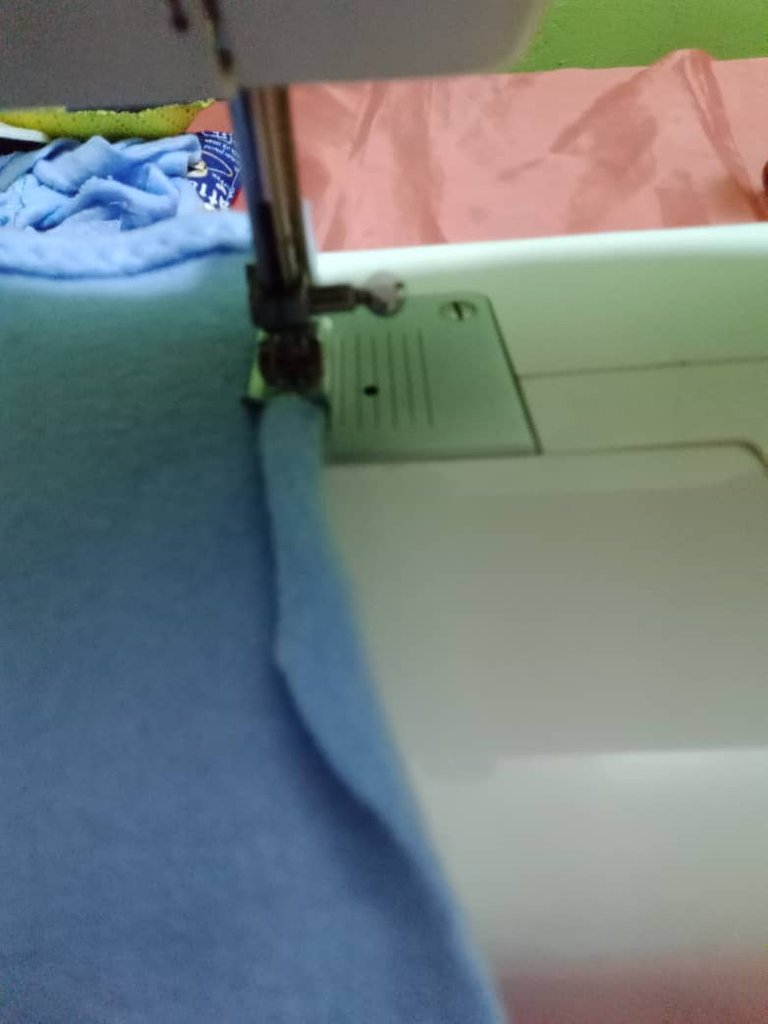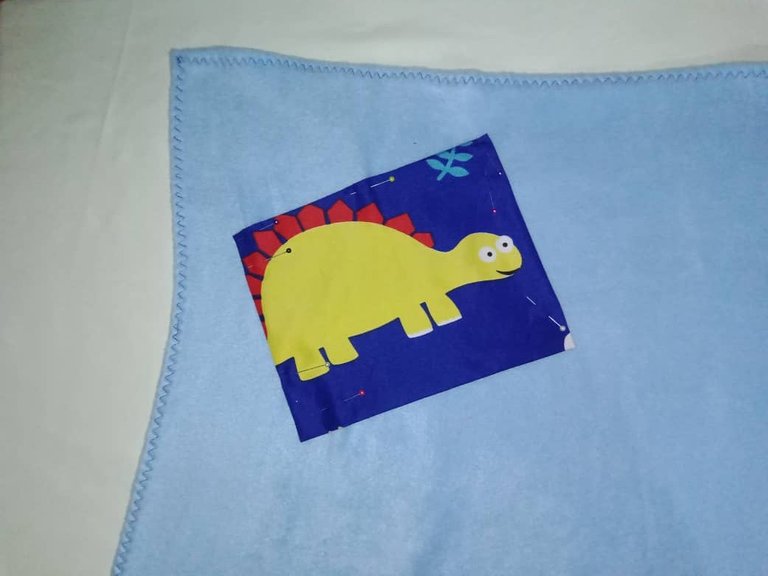 ---
I love sewing lingerie for babies, I love to make every detail and ornament for these beautiful people that God sends us, I concentrate and try to give the best of me, if I have to unpick several times I do it with love and patience until I get what I have in mind, this kind of projects relaxes me a lot and it is rewarding to see the result.
Coser lencería para bebés me encanta, amo hacer cada detalle y adornos para estas personitas hermosas que Dios nos envía, me concentro y trato de dar lo mejor de mí, si me toca descoser varias veces lo hago con amor y paciencia hasta obtener lo que tengo en mente, este tipo de proyectos me relaja mucho y es gratificante ver el resultado.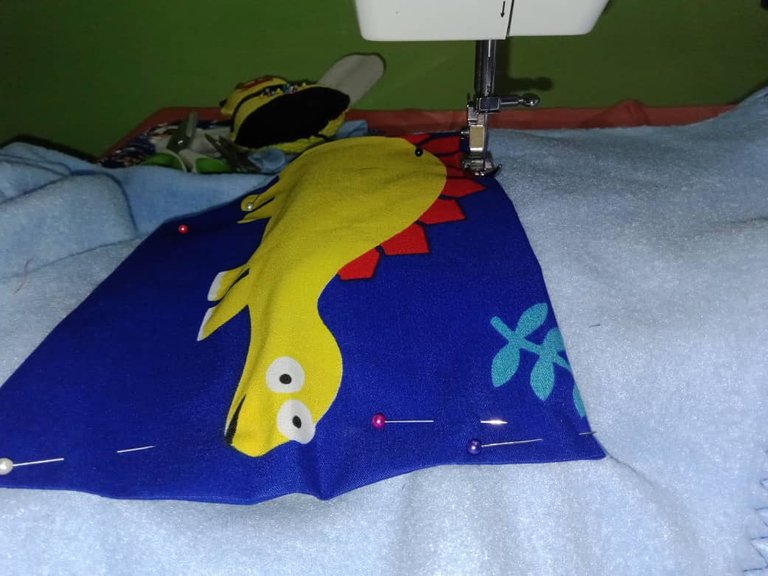 ---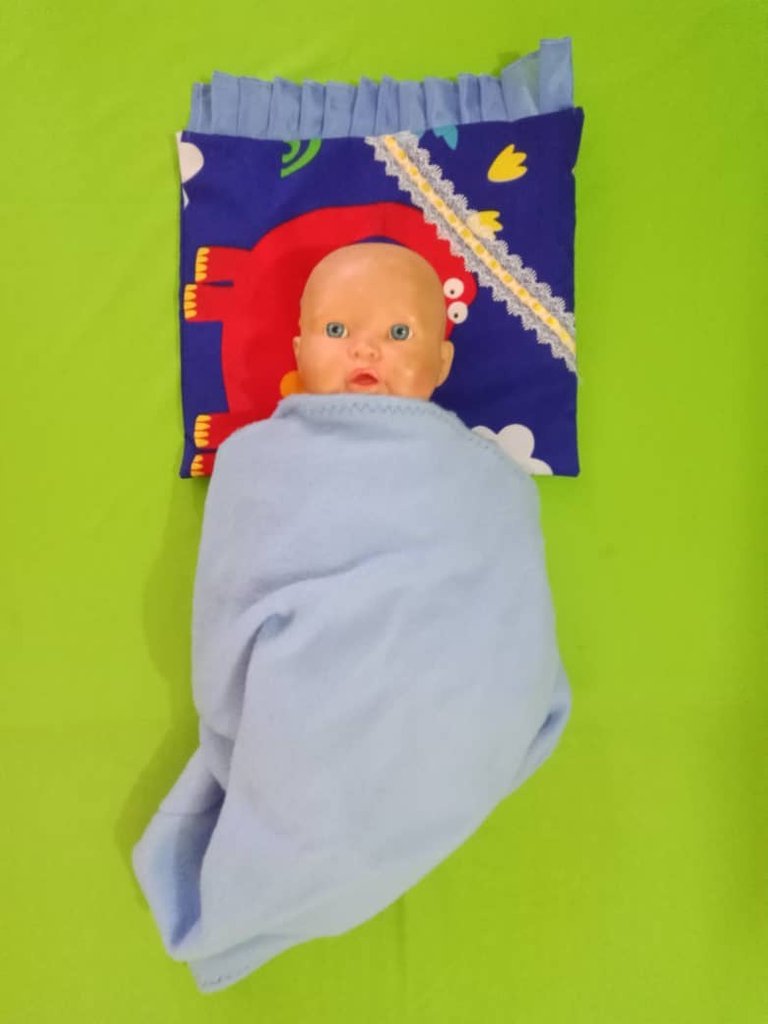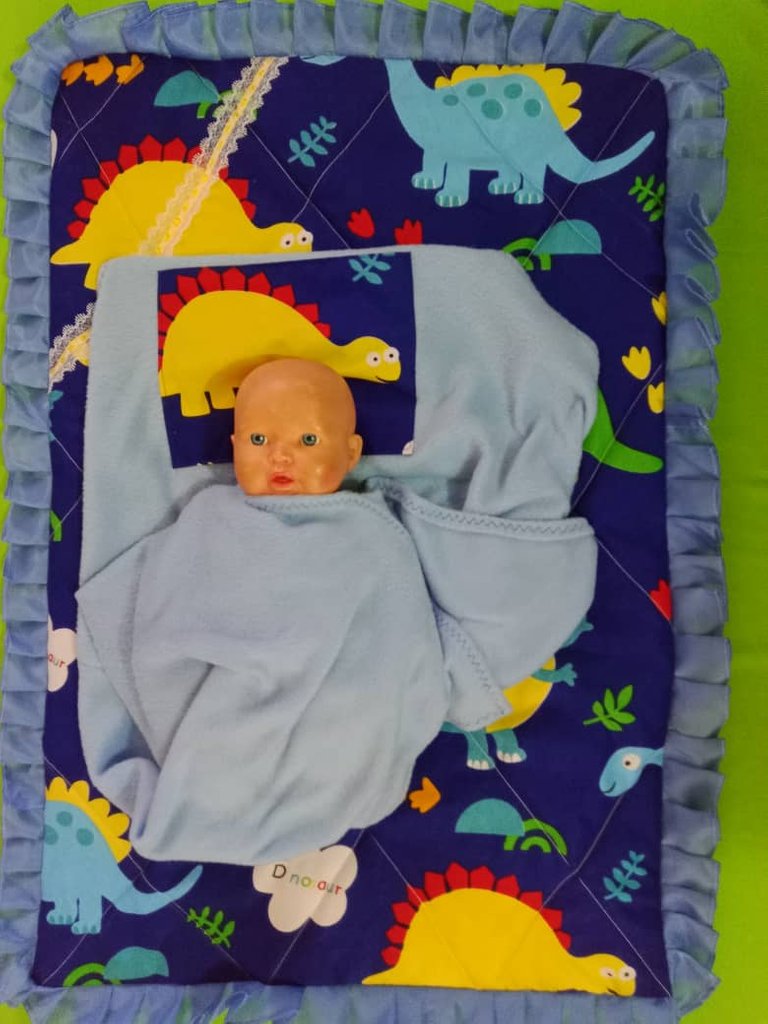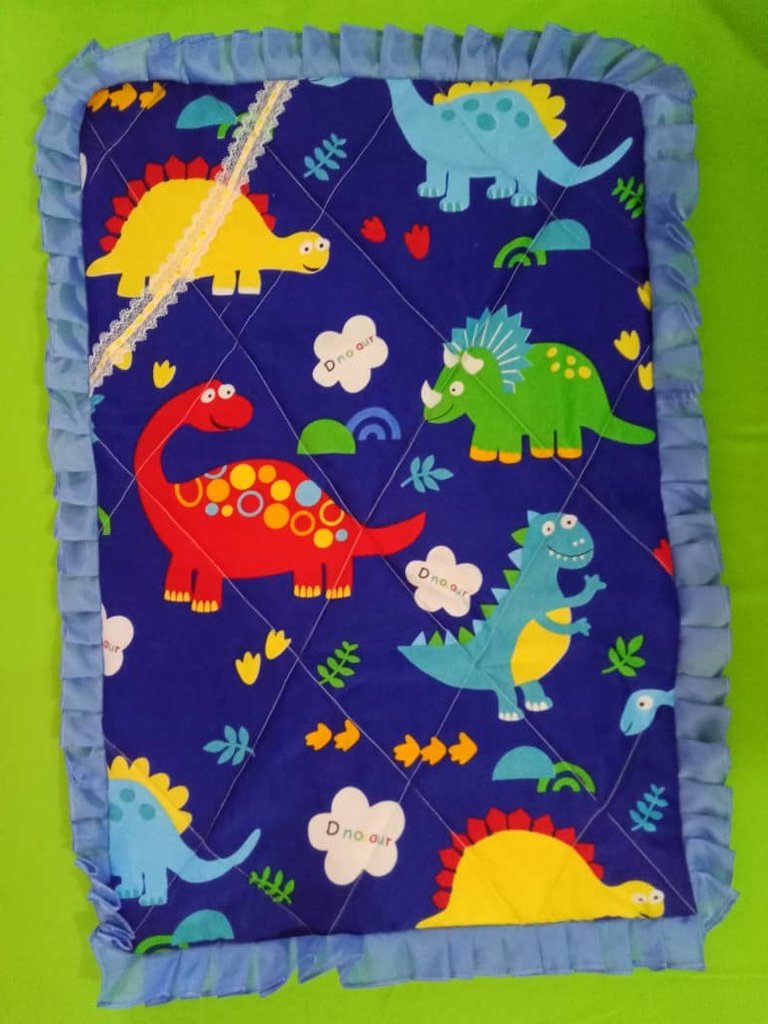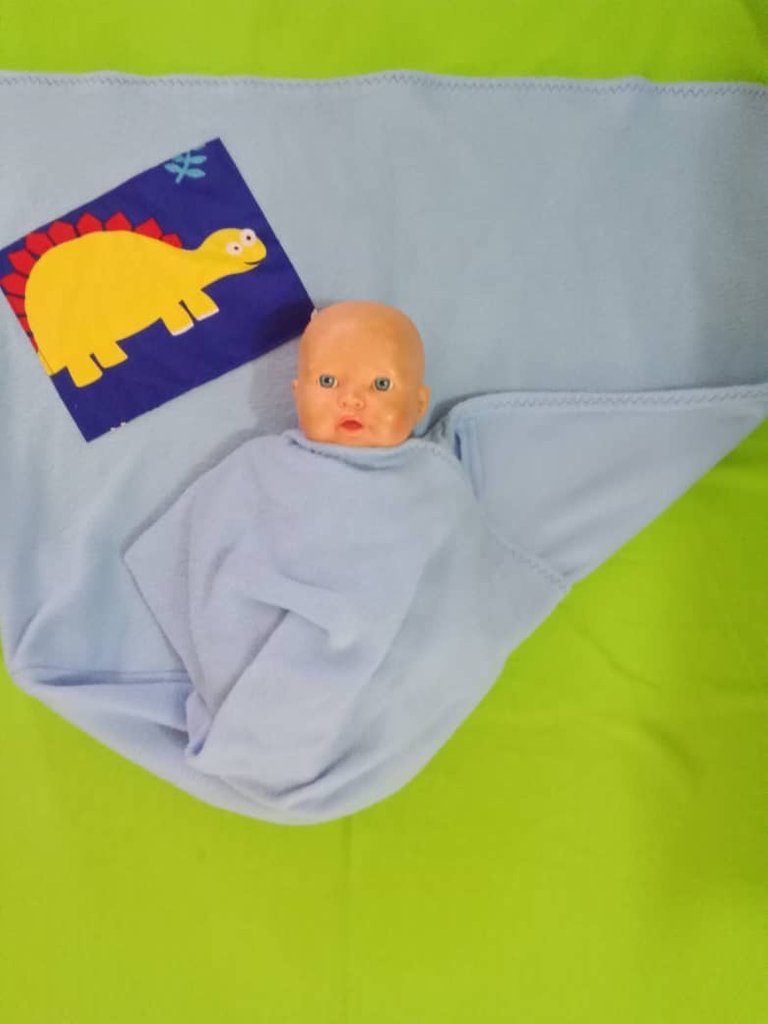 ---
Blessings!
Bendiciones!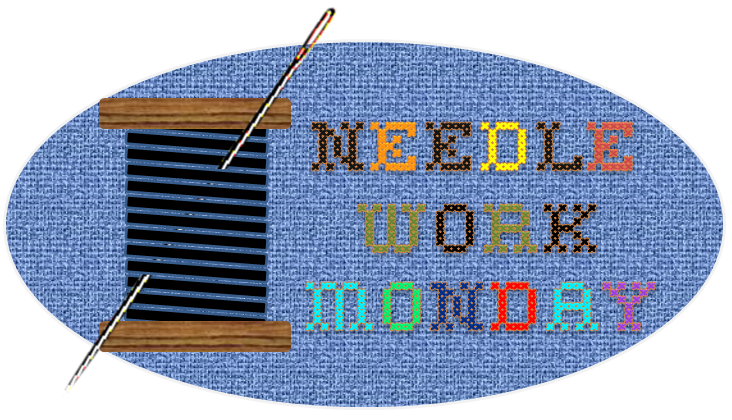 ---
See you later!
Hasta luego!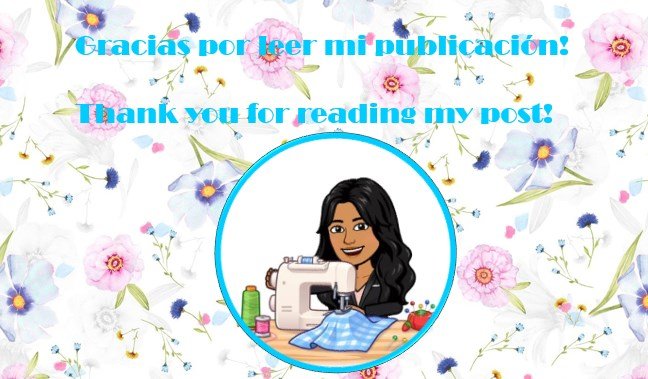 ---
Translated with
https://www.deepl.com/translator
              All images are my own, captured by a Síragon LC-3000 camera. Dividers courtesy of @kattycrochet.

                                                               
   Todas las imágenes son de mi autoría, capturadas por una cámara Síragon LC-3000. Divisores cortesía de @kattycrochet.
---
---