Josefina Residential Complex: A striking architectural design (Eng - Esp)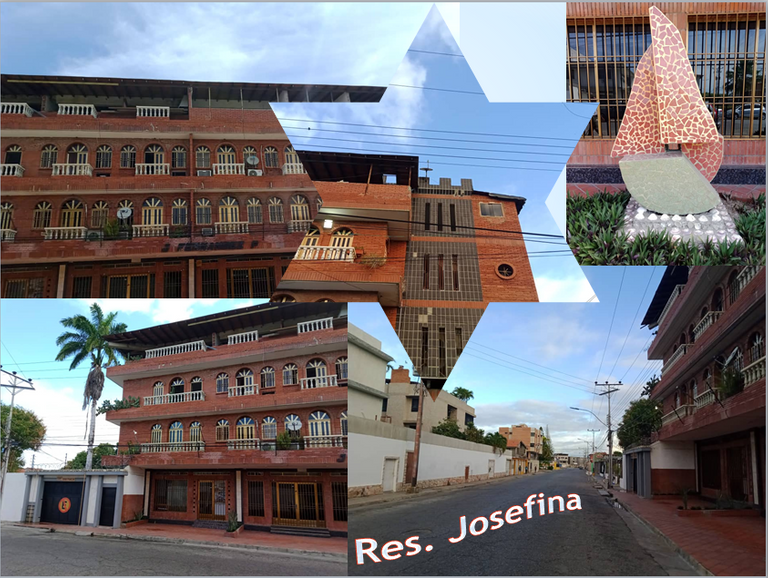 ---
INGLÉS
Greetings and blessings friends lovers of architecture and design around the world, I wish you are enjoying good health with your family and friends, today I share with you my visit to a sector of the city, which I went to do personal errands, in one of the avenues I saw a building that caught my attention, I did not have the camera at the time and then returned to take pictures of this imposing building; Because of the structure I thought it was a shopping mall and it turned out to be a residential complex called Josefina Fernandez, I asked permission to a young employee and she explained to me that for security reasons I could only photograph the outside, without wasting time I made several captures and questions about this striking architectural work.
ESPAÑOL
Saludos y bendiciones amigos amantes de la arquitectura y el diseño en todo el mundo, deseo se encuentren disfrutando de buena salud en unión de sus familiares y amigos, hoy comparto con ustedes mi visita a un sector de la ciudad, al cual me dirigí para hacer diligencias personales, en una de las avenidas vi un edificio que llamó mi atención, no tenía la cámara en ese momento y volví luego a tomarle fotos a este imponente edificio; por la estructura pensé que era un centro comercial y resultó ser un conjunto residencial llamado Josefina Fernández, le pedí permiso a una joven empleada y me explicó que por motivos de seguridad solo podía fotografiar la parte externa, sin perder tiempo hice varios captures y preguntas sobre esta llamativa obra arquitectónica.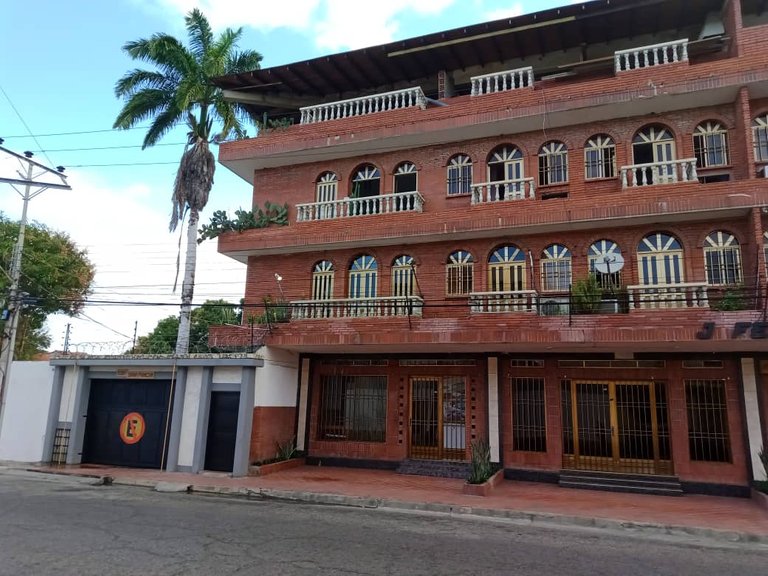 ---
This residential complex is made of reinforced concrete and the exterior walls are covered with caico, the upper windows are arched and have small balconies of chaguaramos, consists of two floors and a mezzanine where they hold parties and meetings, on the right side is one of the parking lots and a large palm tree, The residences or apartments are located on the first and second floor, in the front part of the building the floor is covered with terracotta, the doors and windows are made of golden aluminum, according to the young woman approximately 20 families live in this area.
Este conjunto residencial está hecho de concreto armado y las paredes exteriores están cubiertas con caico, las ventanas superiores tienen forma de arco y pequeños balcones de chaguaramos, consta de dos plantas y una mezzanina donde realizan festejos y reuniones, en la parte derecha está uno de los estacionamientos y una gran palmera, en esta zona han hecho remodelaciones construyendo una especie de anexo al edificio, las residencias o departamentos se ubican en el primer y segundo piso, en la parte del frente el piso esta cubierto con terracota, las puertas y ventanas son de aluminio dorado, según la joven aproximadamente 20 familias habitan este llamativo conjunto residencial.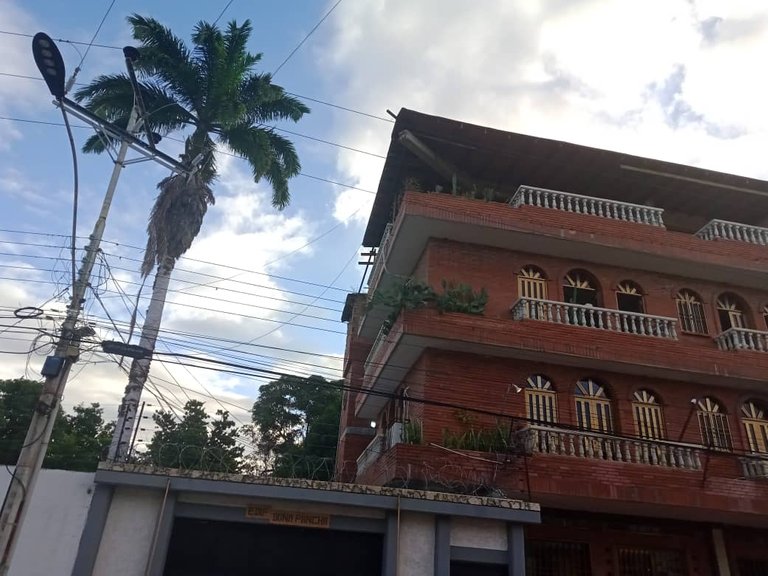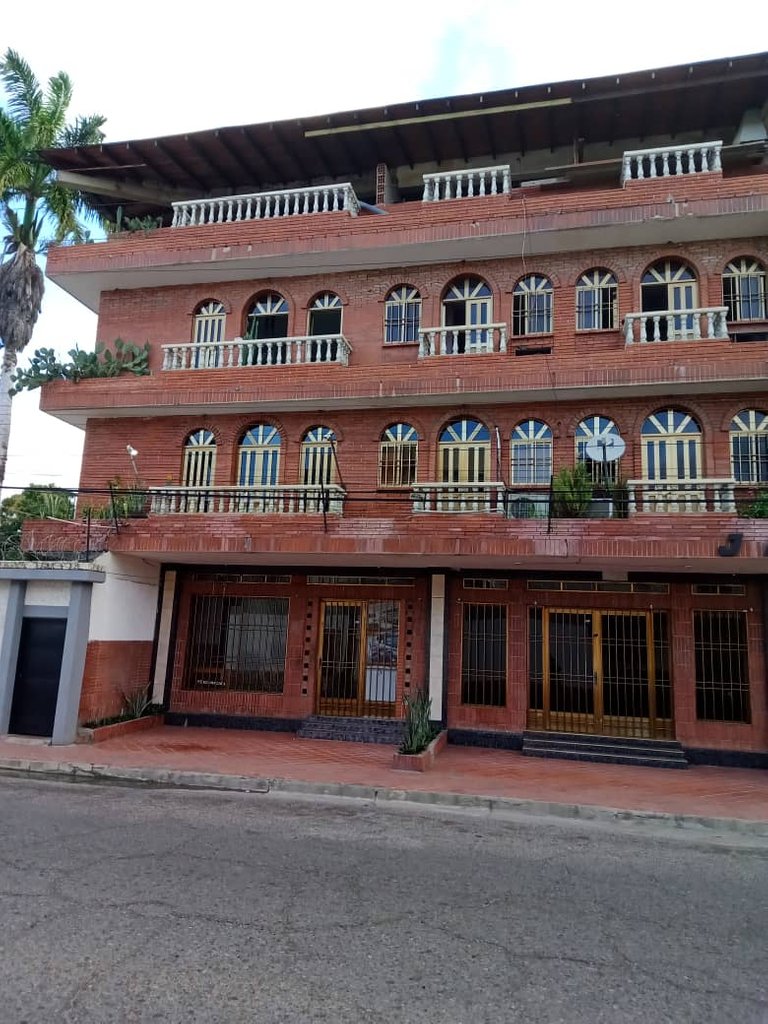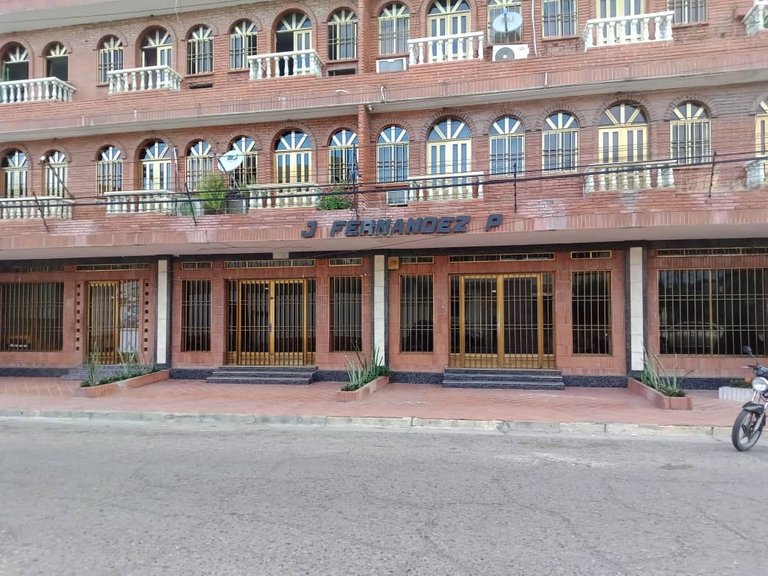 ---
This building is located in a transversal of Santa Rosa Avenue, this area is characterized by being economically active, there converge different commercial establishments that offer different services such as health, parcels, spa, groceries, banks, among others; It has an excellent location, also very close is the city hospital and the renowned Farmatodo pharmacy, a very complete commercial establishment that apart from selling medicines offers hygiene and personal care products, baby skin care products, non-perishable food and accessories according to the season, for this date it is common to see life jackets, bathing suits, hats and everything related to the beach and Easter, when I visit this pharmacy I spend many hours looking at the stock of products, plus the atmosphere is nice; Returning to the subject of the residential complex I must say that it was very exciting to take pictures and observe every detail of the construction, I think the architects in each work they do leave their mark or personal style, are buildings with special attention and care in the details.
Este edificio se ubica en una transversal de la avenida Santa Rosa, esta zona se caracteriza por ser económicamente activa allí convergen diferentes establecimientos comerciales que ofrecen diferentes servicios como salud, encomiendas, spa, víveres, entidades bancarias, entre otros; cuenta con una excelente ubicación, además muy cerca se encuentra el hospital de la ciudad y la reconocida farmacia Farmatodo, un establecimiento comercial muy completo que aparte de vende medicinas ofrece productos de higiene y cuidado personal, productos para cuidar la piel del bebé, víveres no perecederos y accesorios de acuerdo a la temporada, para esta fecha es común ver los salvavidas, trajes de de baño, sombreros y todo lo relacionado a la playa y Semana Santa, cuando visito esta farmacia paso mucha horas viendo el stock de productos, además el ambiente es agradable; retomando el tema del conjunto residencial debo decir que fue muy emocionante tomar las fotografías y observar cada detalle de la construcción, creo que los arquitectos en cada obra que realizan dejan su marca o estilo personal, son construcciones con especial atención y cuidado en los detalle.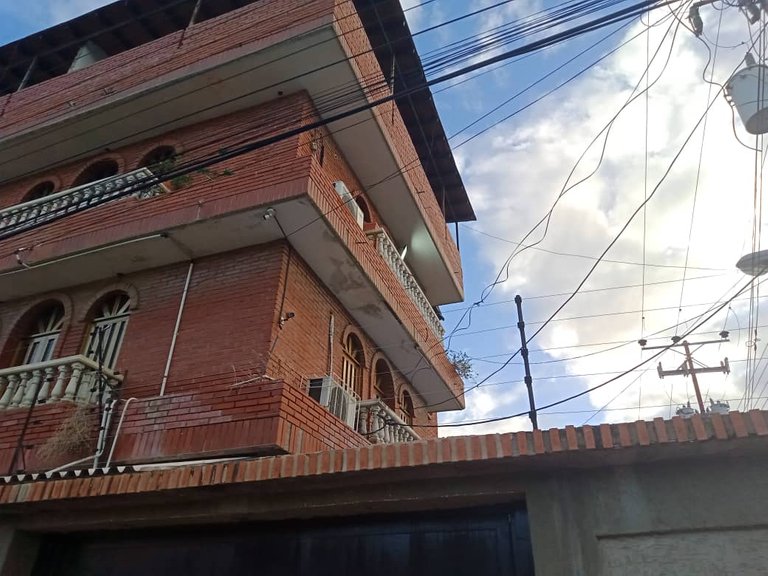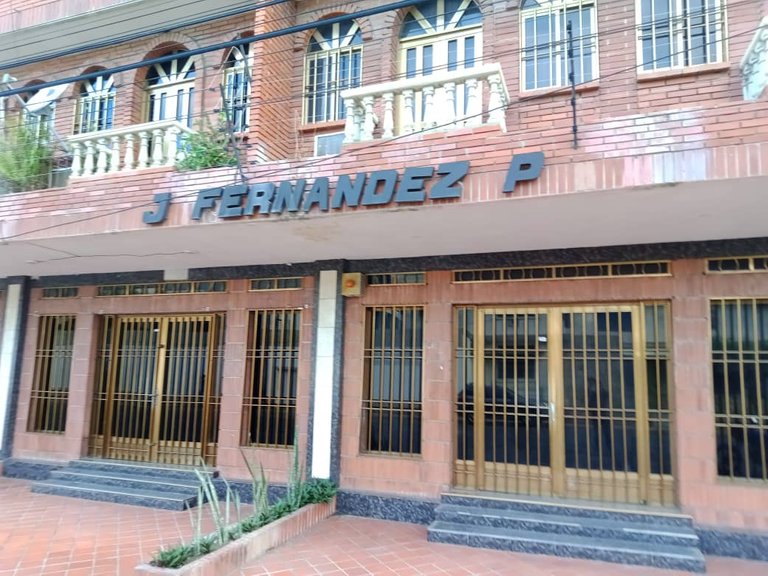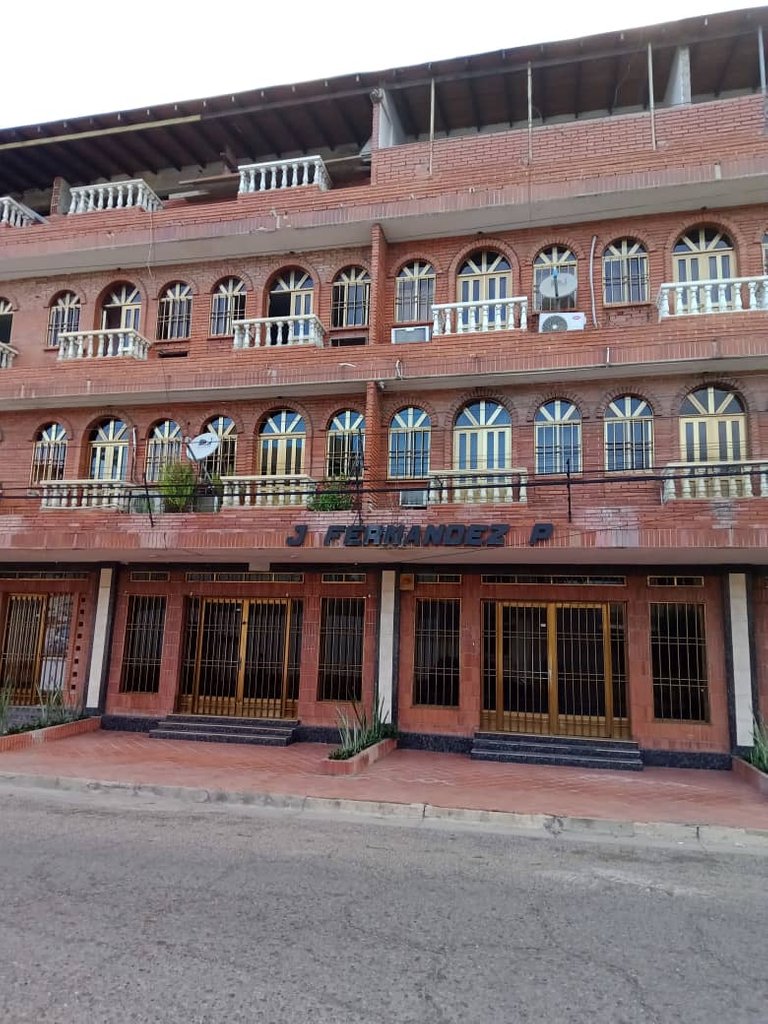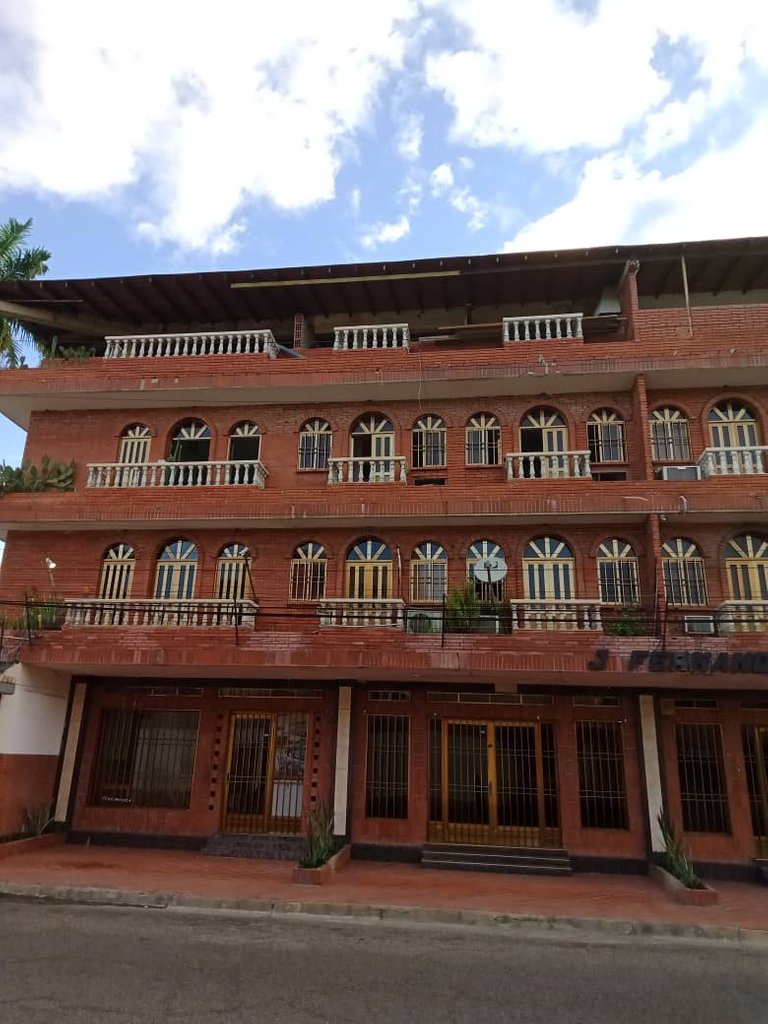 ---
Since I joined this community my perception of architectural works has changed. I try to see the subjective, the intention of the architect to give a certain form to the construction which I consider goes beyond creating a space with a commercial or residential purpose, his intention is a work that stands out and is consistent with the location, also the use of materials is essential to obtain excellent results in construction; talking with the guard of a clinical center he explained to me that some constructions depending on the area where they are located require a special coating to protect the walls, in the case of this building although it is located a few kilometers from the beach or coastal strip of the city, I can not say that it is covered with caico to protect it from the saltpeter, but it is a possibility given the proximity to the beach, in this sense if the intention of the architect was to protect the walls or highlight the building achieved both objectives, the building stands out for its terracotta color and combination with gold doors and windows, personally I really like to combine the wine color very similar to terracotta with gold and if you add white much better.
Desde que ingresé a esta comunidad mi percepción con respecto a las obras arquitectónicas ha cambiado; trato de ver lo subjetivo, la intención del arquitecto al dar una determinada forma a la construcción la cual considero va más allá de crear un espacio con un fin comercial o residencial, su intención es una obra que resalte y esté acorde con la ubicación, además el uso de materiales es esencial para obtener excelentes resultados en la construcción; conversando con el guardia de un centro clínico me explicó que algunas construcciones dependiendo el área done estén ubicadas requieren un recubrimiento especial para proteger las paredes, en el caso de este edificio aunque esta ubicado pocos kilómetros de la playa o cinta costera de la ciudad, no puedo afirmar que esté cubierto de caico para protegerlo del salitre, pero es una posibilidad dada la cercanía a la playa, en este sentido si la intención del arquitecto era proteger las paredes o resaltar la construcción logró ambos objetivos, el edificio sobresale por su color terracota y combinación con dorado de las puertas y ventanas, en lo personal me gusta mucho combinar el color vino muy parecido al terracota con el dorado y si se le añade blanco mucho mejor.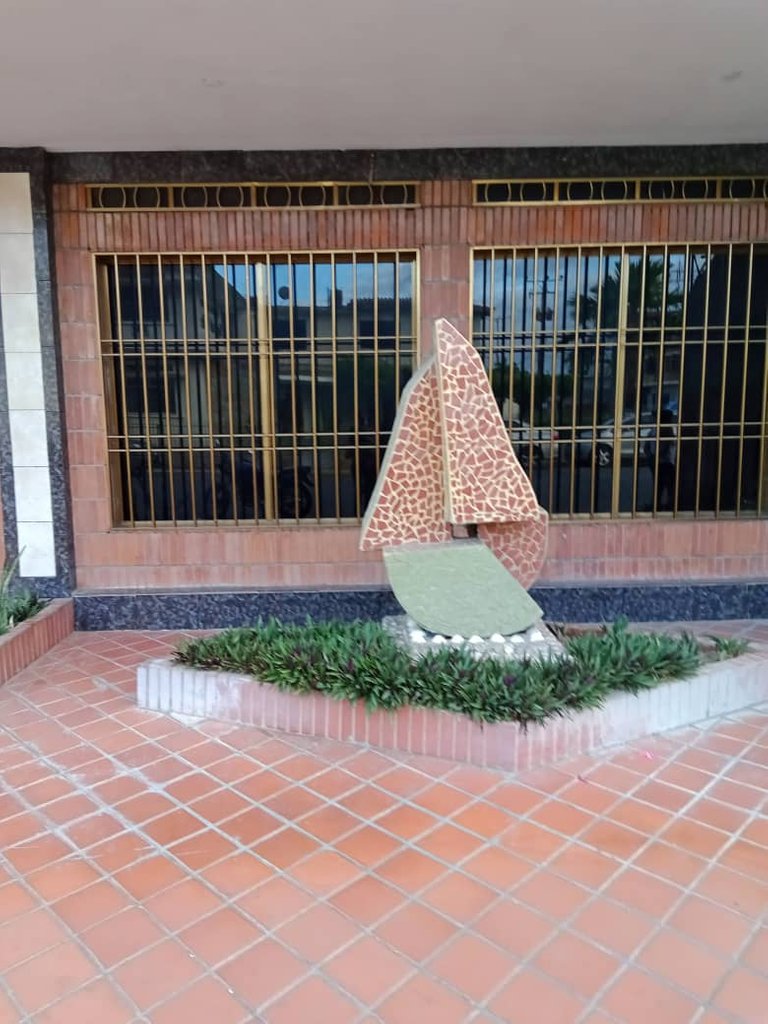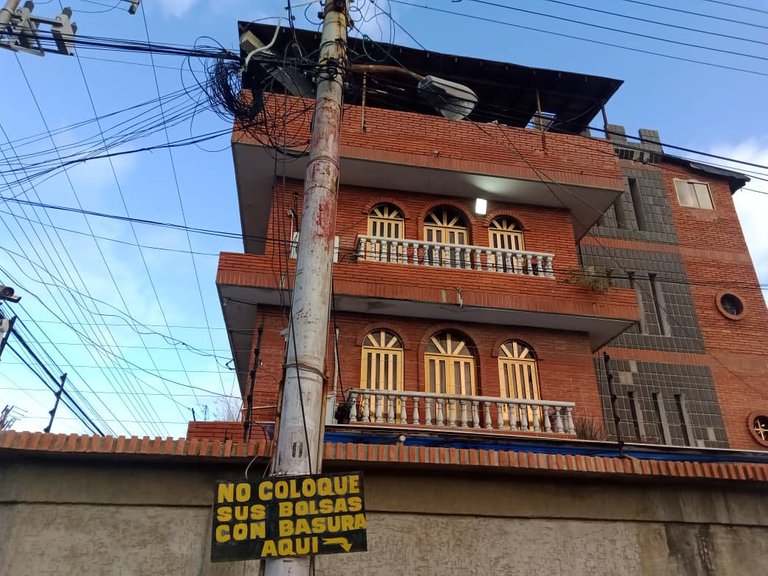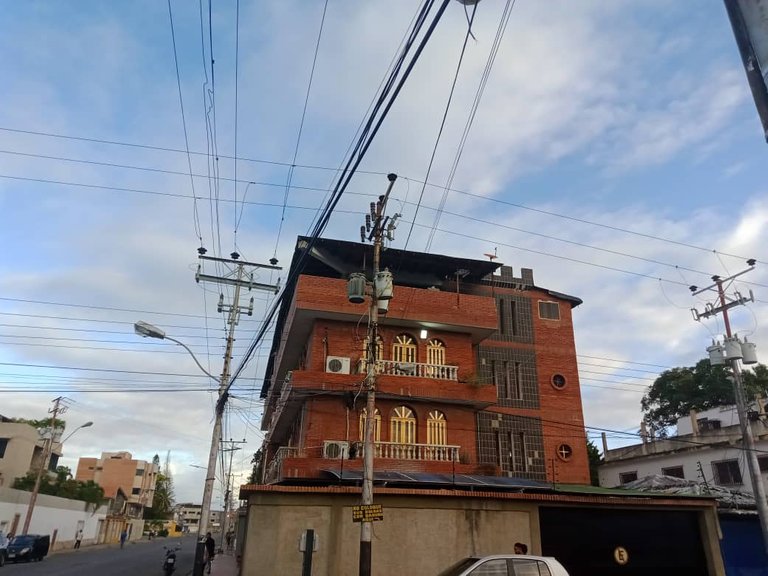 ---
The front of the building has a sculpture that at first I thought it was a kind of orchid, when I approached I noticed that it has nothing to do with this flower, the young woman told me that she does not know the name and only calls it a sculpture of "strange shape" she says that it could be the concrete that remained of the construction and to not lose it they made that sculpture and lined it with ceramic remains, it has two parking lots (right and left side), an aspect that caught my attention is the shape that has the left side tower, it reminded me of a pirate ship that I saw in a book several years ago, the circular windows are very similar and the termination at the top resembles this ship, another detail that stands out in this tower are the ceramics or golden tiles forming a rectangle that covers much of the tower, this element is definitely very striking in this construction, it also has a perimeter fence for the safety and tranquility of the residents, I would have liked to see the interior but they are private spaces for residential use that for security reasons do not allow to be photographed.
La parte delantera del edificio tiene una escultura que en principio pensé que era una especie de orquídea, al acercarme noté que no tiene nada que ver con esta flor, la joven me comento que desconoce el nombre y solo le dice escultura de "forma extraña" señala que pudo ser el concreto que quedó de la construcción y para no perderlo hicieron esa escultura y la forraron con restos de cerámica, cuenta con dos estacionamientos (lado derecho e izquierdo), un aspecto que llamó mi atención es la forma que tiene la torre lateral izquierda, me recordó un barco pirata que vi en un libro hace varios años, las ventanas circulares son muy similares y la terminación en la parte superior se asemeja a este barco, otro detalle que resalta en esta torre son las cerámicas o baldosas de color dorado formando un rectángulo que cubre gran parte de la torre, este elemento definitivamente es muy llamativo en esta construcción, cuenta además con un cercado perimetral para la seguridad y tranquilidad de los residentes, me hubiese gustado ver el interior pero son espacios privados de uso residencial que por seguridad no permiten ser fotografiados.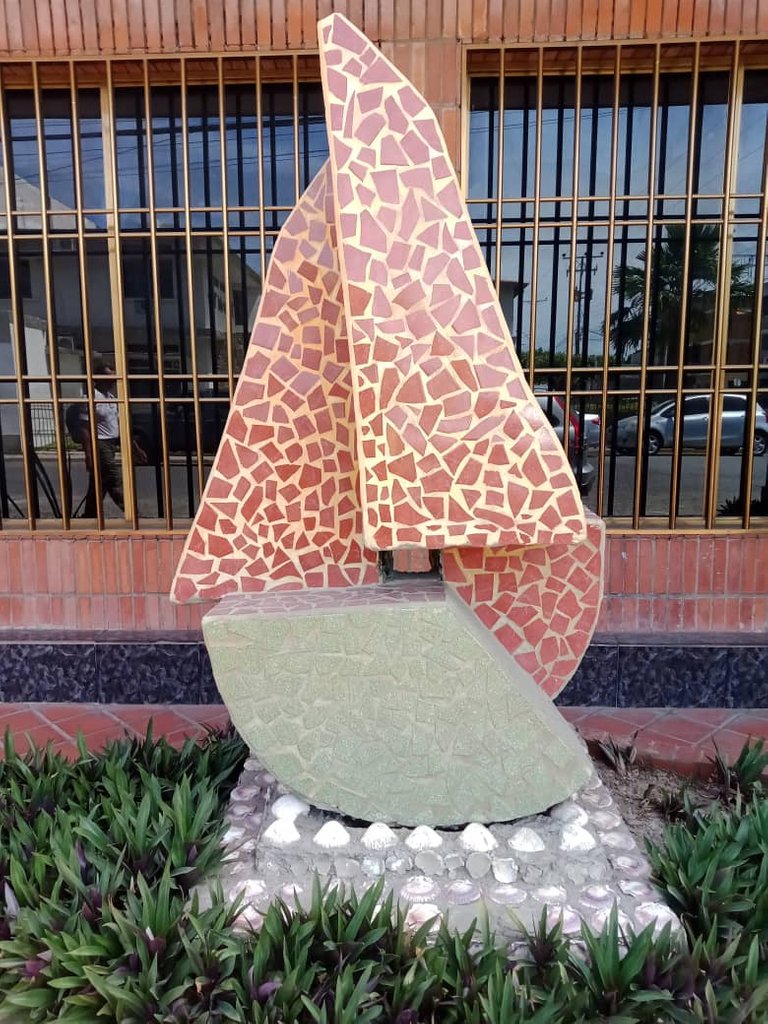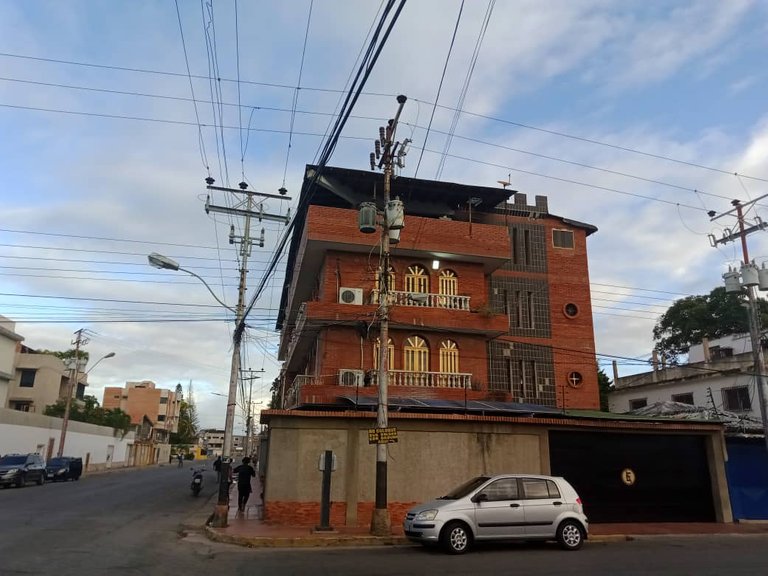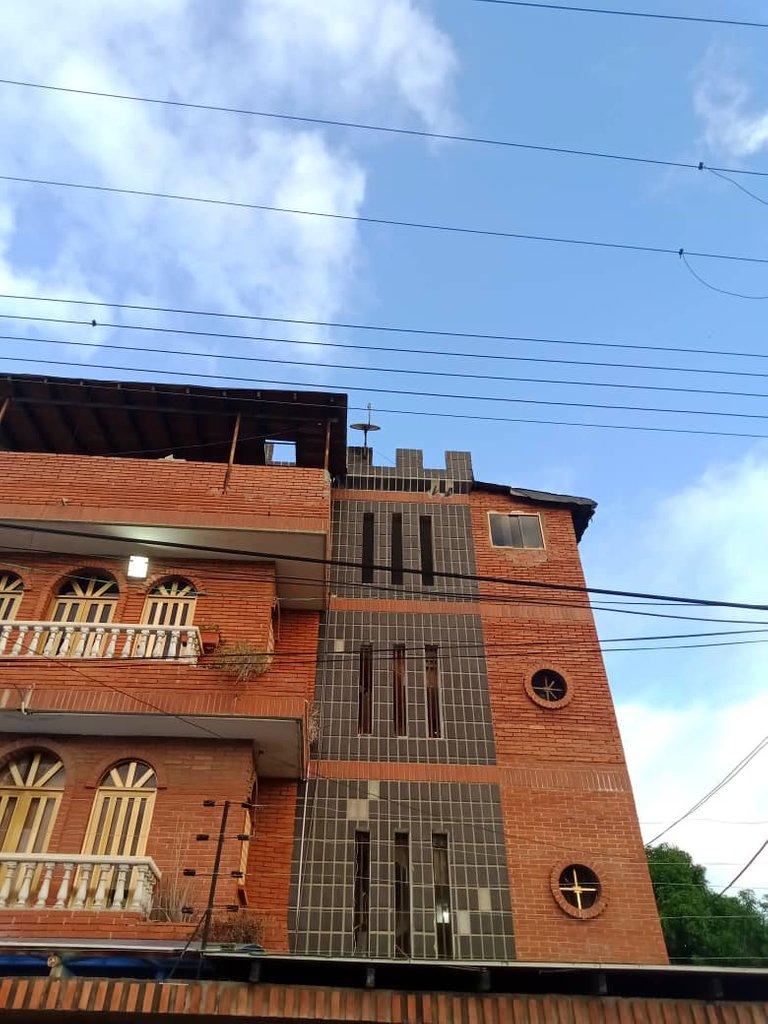 ---
t was fun to take pictures of this work of art of architecture and talk with the young lady who kindly gave me the information about this residential complex, observing every detail in the constructions allows to have a wide vision about them and an incredible connection as you detail you understand better the reason of this construction, I take my time to observe taking pictures, although the shots are not well framed I enjoy taking pictures and when I go out to do errands I see the buildings and their potential, I try to always take my camera with me because I never know where I will find a building that calls my attention and I must be ready for action, so far my visit to the Josefina residence, which allowed me to know an important area of the city that I have rarely visited, only in passing without paying attention to the details, this time this beautiful building served as a guide to tour this side of the city and admire its buildings.
Fue divertido tomar fotos de esta obra de arte de la arquitectura y conversar con la joven que amablemente me brindó la información sobre este conjunto residencial, observar cada detalle en las construcciones permite tener una amplia visión sobre las mismas y una conexión increíble a medida que detallas comprendes mejor el por qué de esta construcción, me tomo mi tiempo para observar tomar fotos, aunque las tomas no me quedan bien encuadradas disfruto hacer fotografías y cuando salgo a hacer diligencias veo las edificaciones y su potencial, trato de llevar siempre la cámara porque no se sabe donde encontraré una construcción que llame mi atención y debo estar lista para la acción, hasta aquí mi visita a la residencia Josefina, que permitió conocer una importante zona de la ciudad que en pocas ocasiones he visitado, solo de pasada sin prestar atención a los detalles, en esta oportunidad este hermoso edificio sirvió de guía para recorrer este lado de la ciudad y admirar sus construcciones.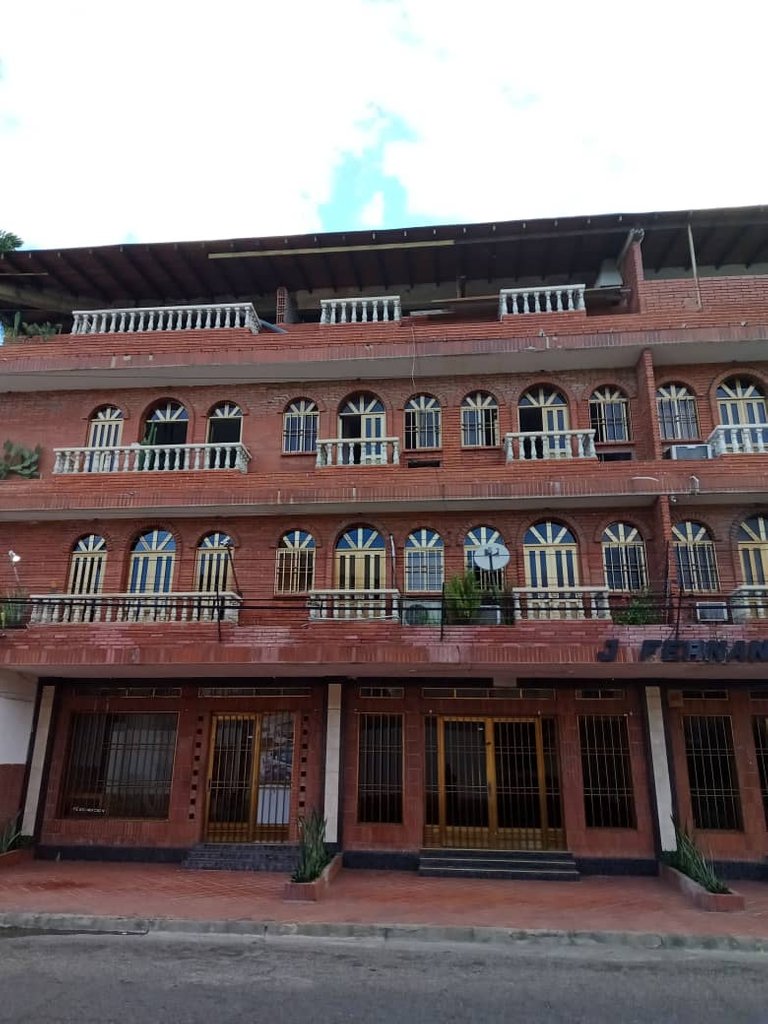 ---

Blessings!

¡Bendiciones!
---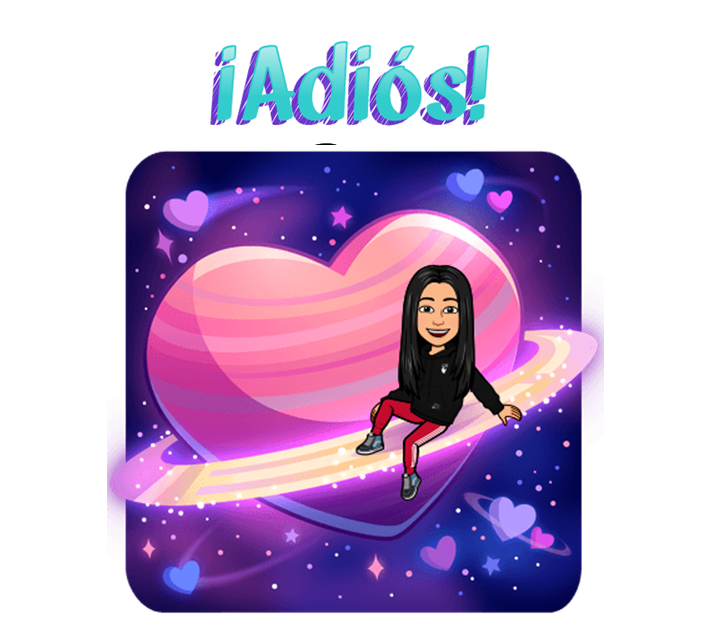 ---
Translated with
https://www.deepl.com/translator
          All images are my own, captured by a Síragon LC-3000 camera. 
                                                               
   Todas las imágenes son de mi autoría, capturadas por una cámara Síragon LC-3000.
---
---