Museum of Contemporary Art of Cumaná: Exhibition Rag Dolls [ESP- ENG]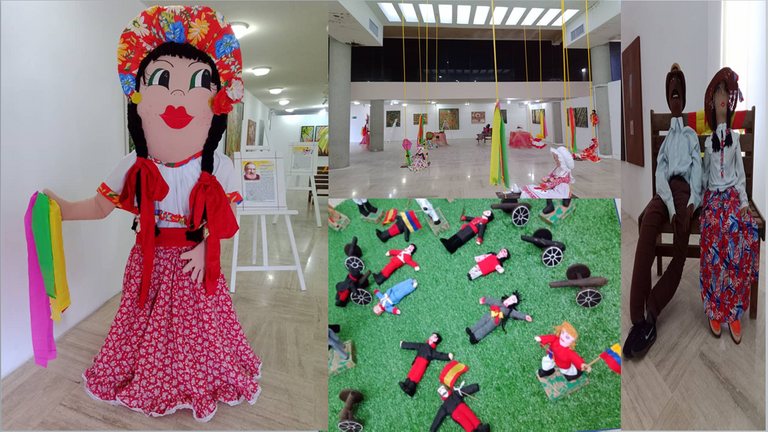 ---
INGLÉS
Hello hello world, I hope you are enjoying good health together with your loved ones, today I share with you my visit to the Museum of Contemporary Art in the city of Cumana, which was created in 1998 with the aim of promoting the work of regional and national artisans, attends the public from Tuesday to Friday from 9 am to 4 pm, and on special occasions on Saturdays and Sundays.
Inside it has several offices and a large hall where exhibitions and displays of the works of different artists are held, this has large windows on the top located so that the sun's rays pass and illuminate the area also LED bulbs to give more clarity.
ESPAÑOL
Hola hola mundo, espero se encuentren disfrutando de buena salud en unión de sus seres queridos, hoy comparto con ustedes mi visita al Museo de Arte Contemporáneo de la ciudad de Cumaná, el cual se creó el año 1998 con el objetivo de promover el trabajo de los artesanos regionales y nacionales, atiende al publico de martes a viernes desde las 9 am hasta las 4 pm, y en ocasiones especiales los días sábado y domingo.
En su interior cuenta con varias oficinas y un amplio salón donde se realizan exposiciones y exhibiciones de las obras de diferentes artistas, este tiene grandes ventanas en la parte de arriba ubicadas de tal forma para que pasen los rayos solares e iluminen el área además bombillos led para dar más claridad.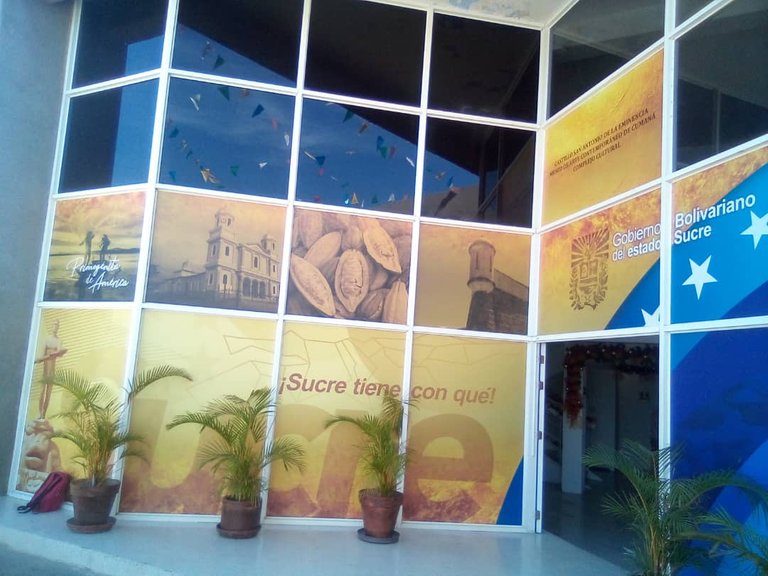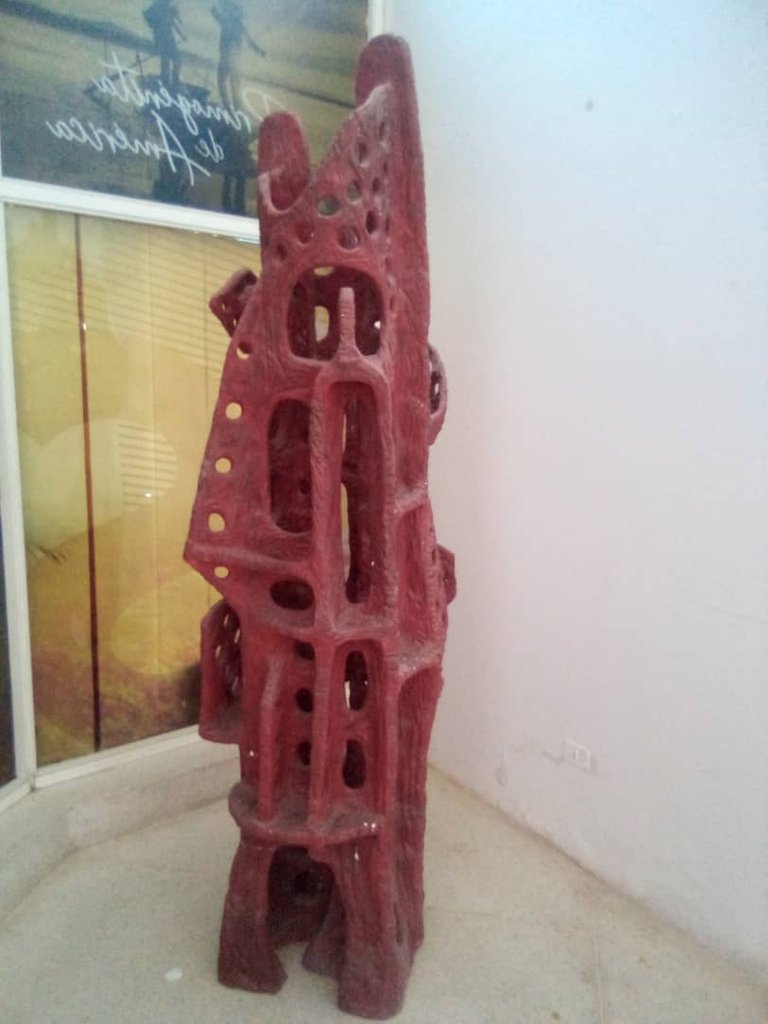 ---
Its structure is formed by concrete rectangles placed side by side, each one higher than the previous one, with glass windows on the sides to make the most of the sunlight. It also has a concrete floor on the sides and front decorated with terracotta rhombuses, carved rock walls and iron sculptures.
Su estructura está formada por rectángulos de hormigón sobre puestos uno al lado del otro, cada uno más alto que el anterior, con ventanas de vidrio a los lados para aprovechar al máximo la luz solar, cuenta además con piso de concreto en los laterales y parte frontal decorados con rombos de terracota, paredones de roca labrada y esculturas de hierro.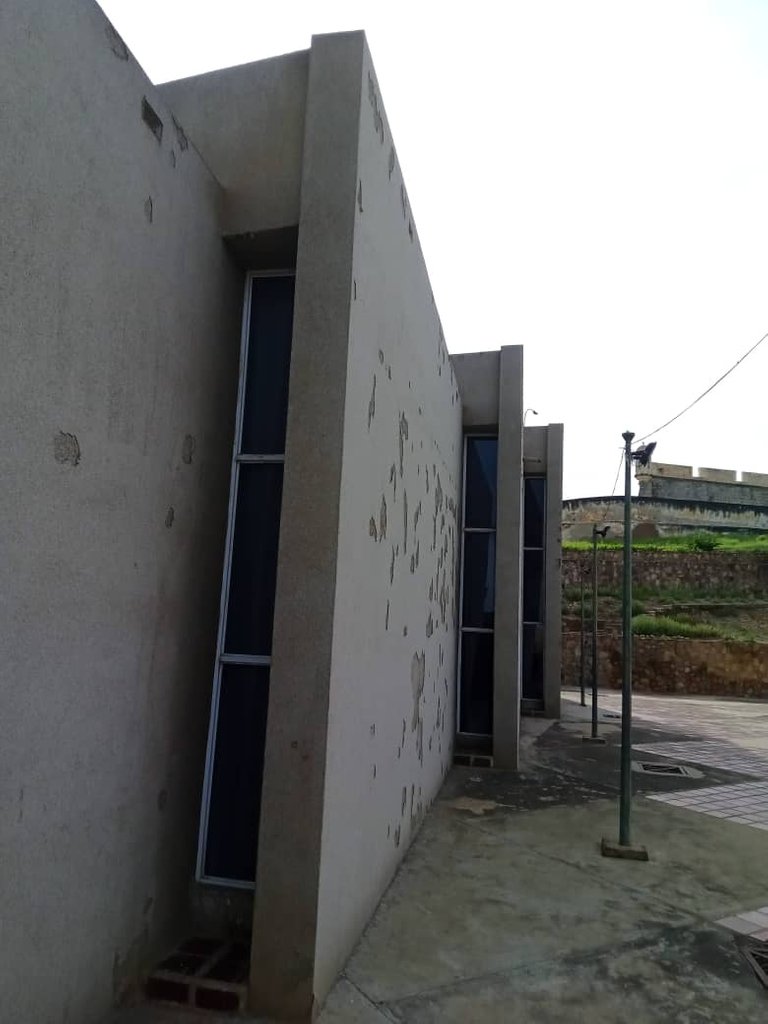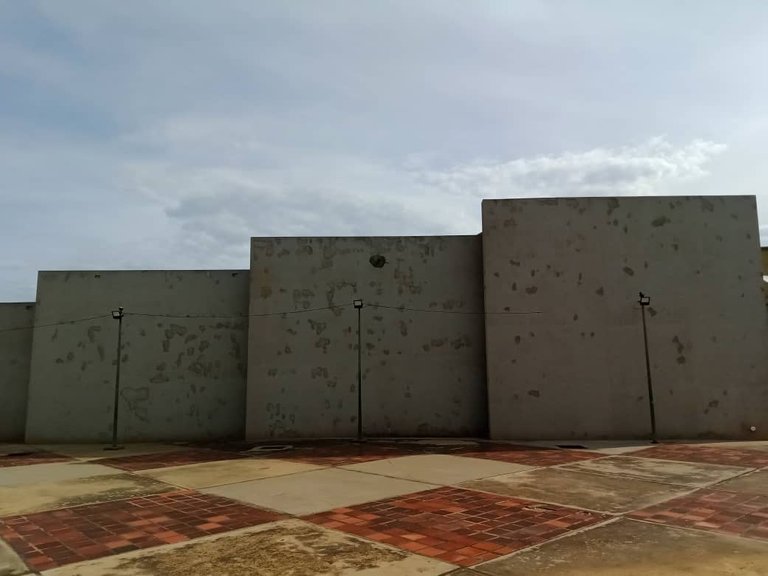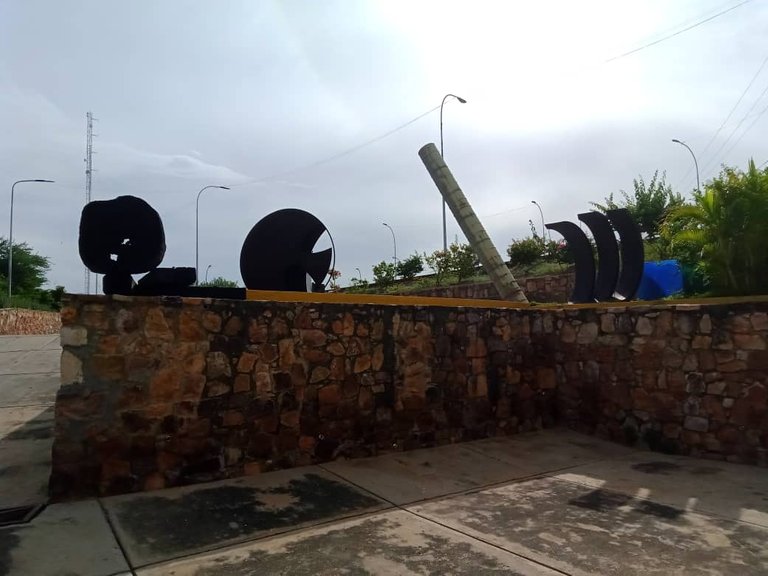 ---
The day of my visit there was a beautiful exhibition of rag dolls, showing the beautiful work of several artisans of the region, is an exhibition with a variety of dolls and historical figures of the state and the country, upon arrival you receive the museum guide, they give you a diptych with information about the artisans and their works, each one has a space and a poster where part of its history and journey as artisans is outlined, the tour begins and the guide explains the work of each one of them.
El día de mi visita había una hermosa exposición de muñecas de trapo, dando a conocer el bello trabajo de varios artesanos de la región, es una exposición con mucha variedad de muñecas y personajes históricos del estado y el país, al llegar te recibe la guía del museo, te entregan un díptico con información de los artesanos y sus obras, cada uno dispone de un espacio y un cartel donde se reseña parte de su historia y trayecto como artesanos, se inicia el recorrido y la guía va explicando el trabajo de cada uno de ellos.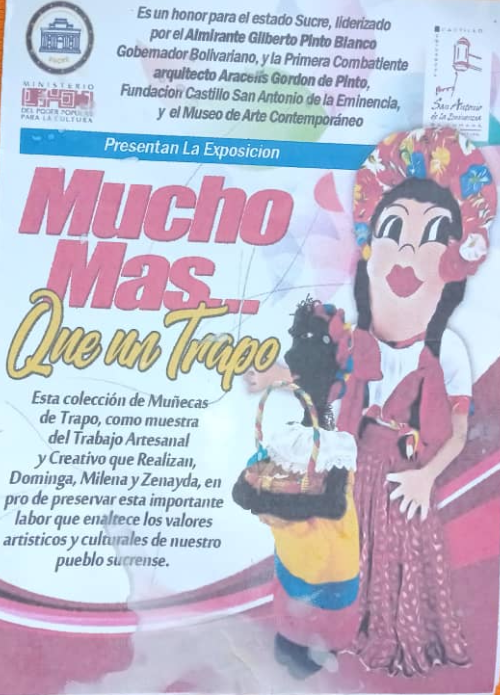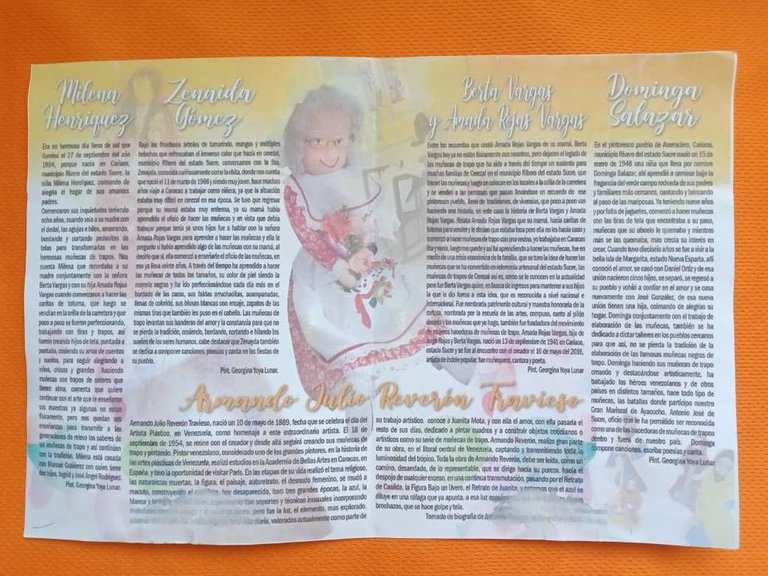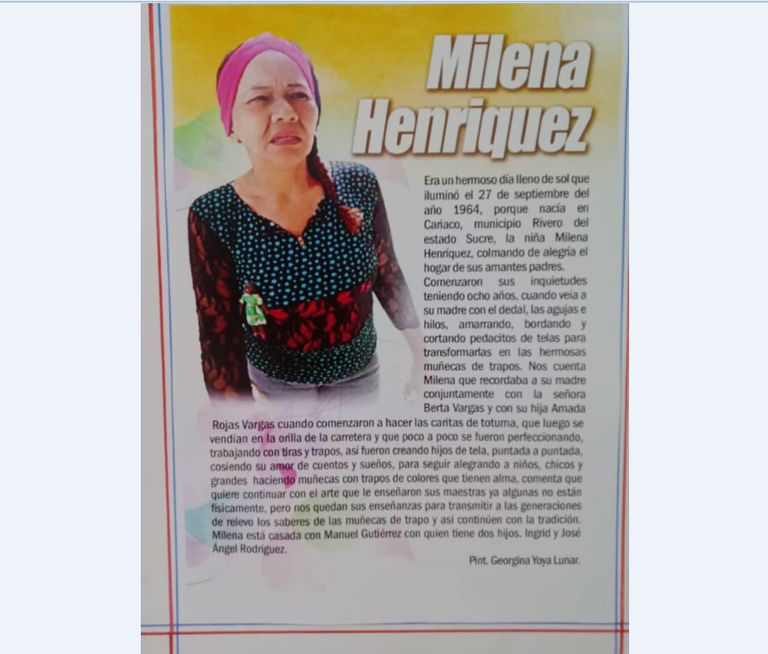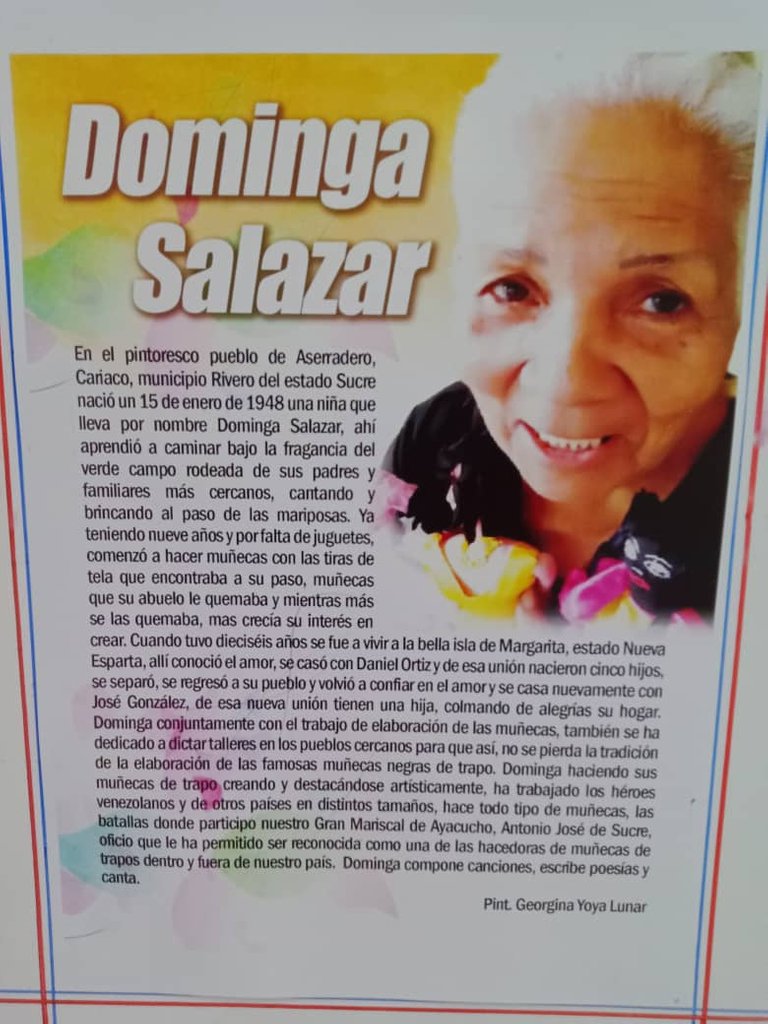 ---
Upon entering the exhibition hall, there is a very colorful and striking life-size doll, plus posters of each artisan, different dolls, there are some very beautiful ones in a chest, another sitting pretending to be a housewife preparing for daily chores.
Al entrar a la sala de exhibiciones, está una muñeca muy colorida y llamativa de tamaño real, además carteles de cada artesano, diferente muñecas, hay unas muy hermosas en un cofre, otra sentada simulando ser una ama de casa preparándose para las labores diarias.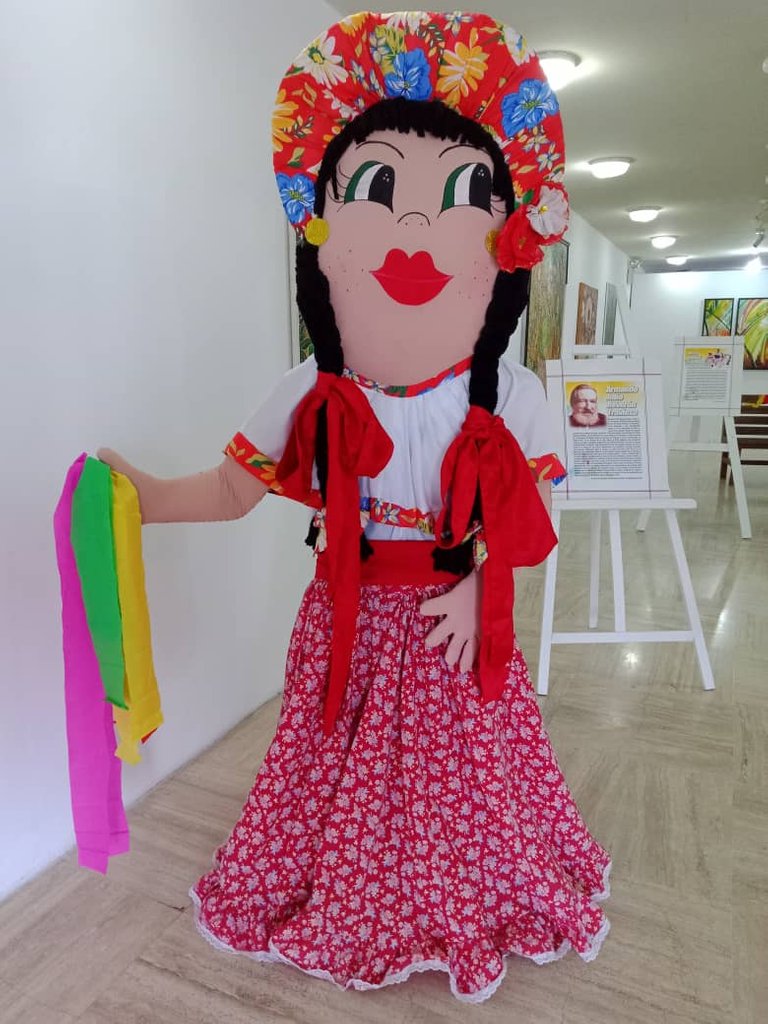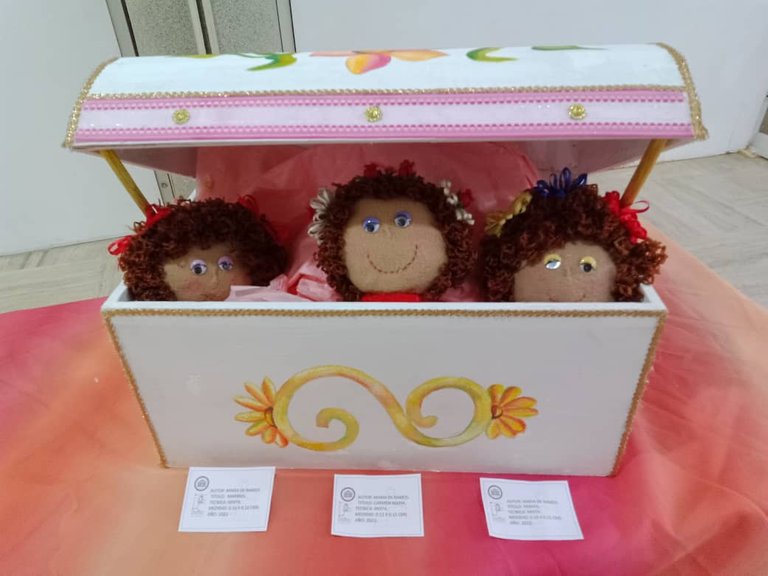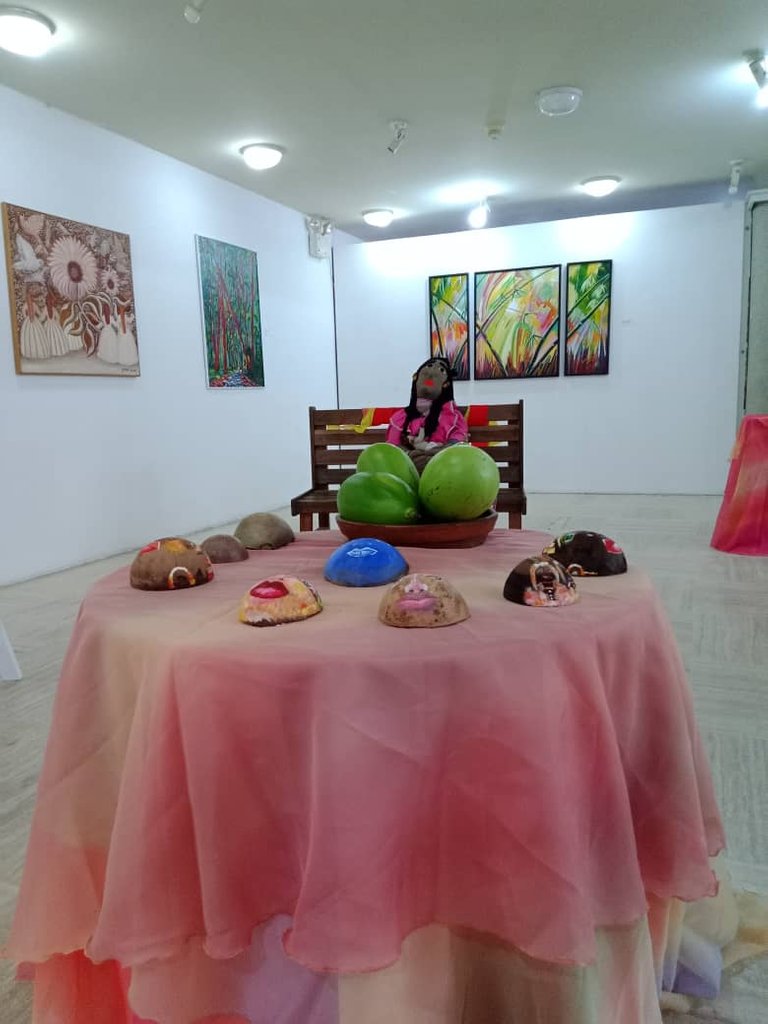 ---
The exhibition hall is decorated with paintings by various national and international artists, in the central part sitting on swings you can see several dolls.
La sala de exhibiciones está decorada con cuadros de varios artistas nacionales e e internacionales, en la parte central sentadas en columpios se pueden observar varias muñecas.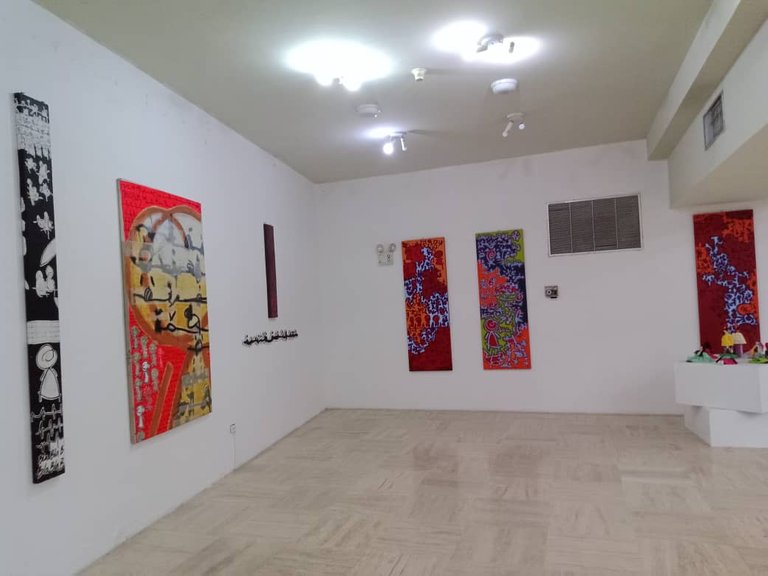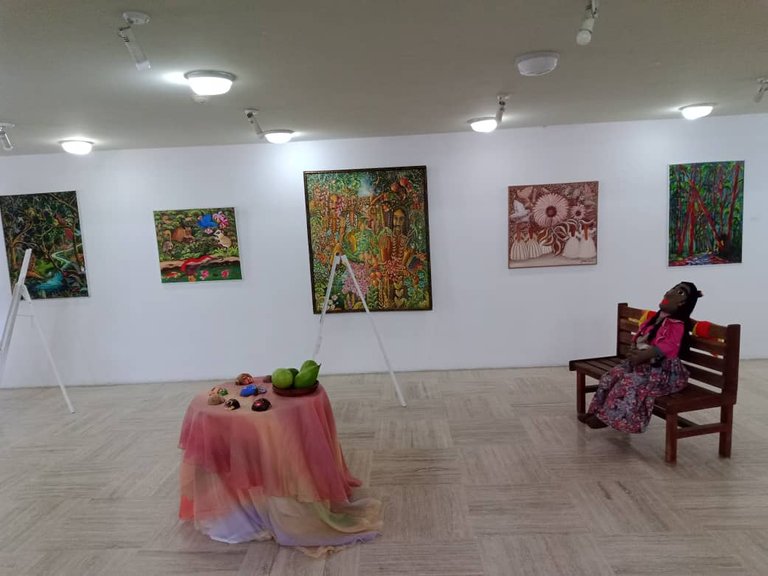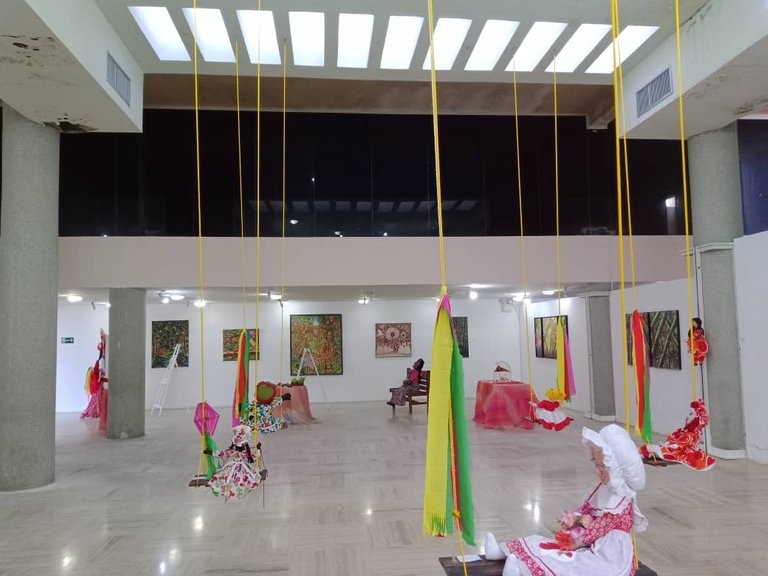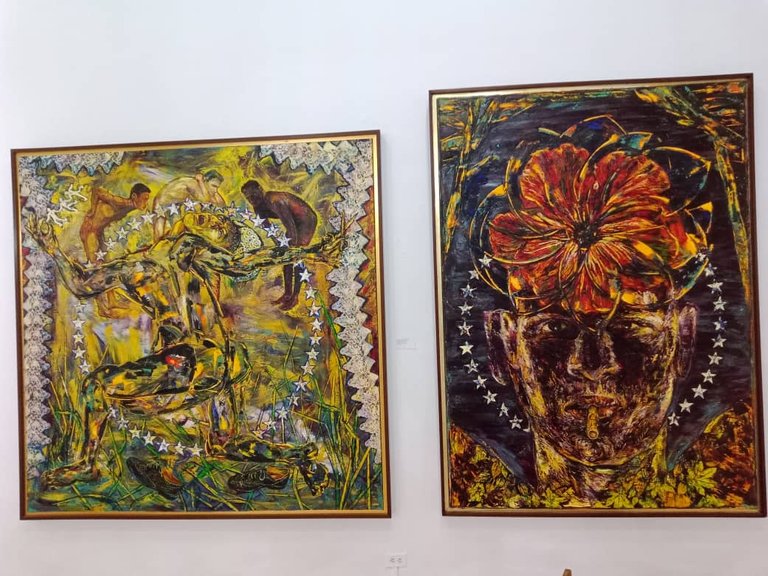 ---
Of all the dolls I saw in this exhibition, I was very struck by a life-size couple who are sitting in fact, when I was approaching from the back I thought I saw two people talking and it turned out to be two dolls, the dress of this doll in a swing is very beautiful, the print is very colorful, I really liked this fabric is ideal for various sewing work. Seeing this exhibition was very exciting, it reminded me of my childhood and the rag doll I had for many years, decorating my room; they are very beautiful and you can change their wardrobe.
De todas la muñecas que observé en esta exhibición, me llamó mucho la atención una pareja tamaño real que están sentados de hecho, cuando me iba acercando por la parte de atrás me pareció ver a dos personas hablando y resultaron ser dos muñecos, el vestido de esta muñeca en columpio es muy hermoso el estampado es muy colorido, esta tela me gustó mucho está ideal para hacer varias labores de costura. Ver esta exposición fue muy emocionante, me recordó mi infancia y la muñeca de trapo que tuve por muchos años, decorando mi habitación; son muy hermosas y puedes cambiar su vestuario.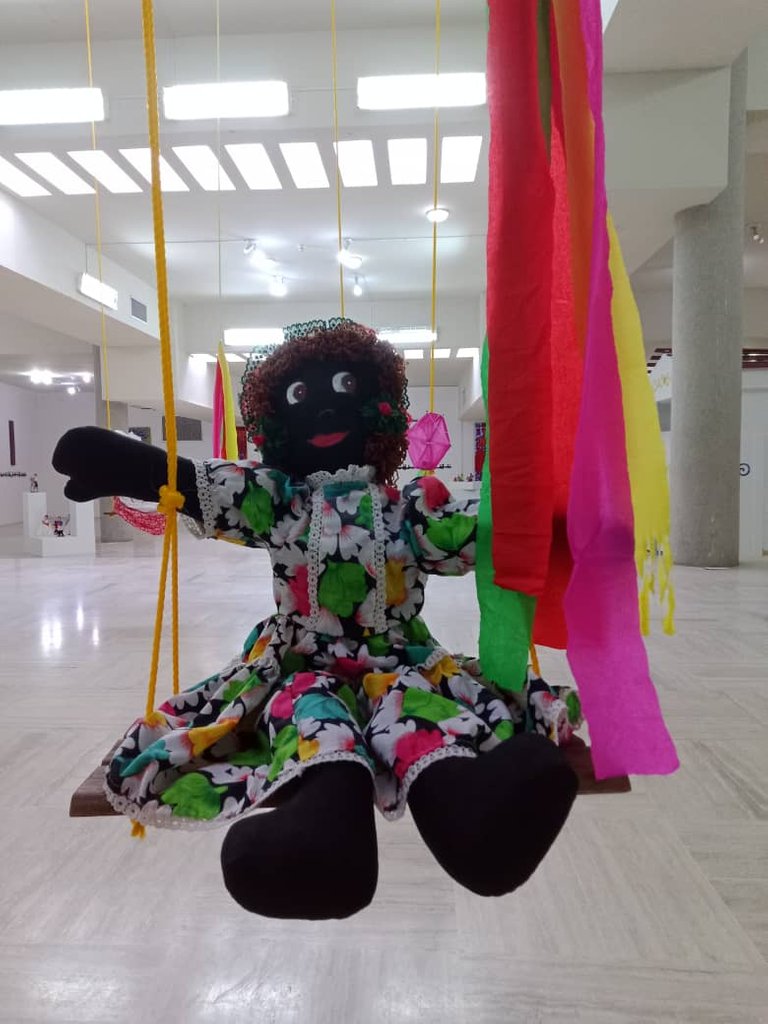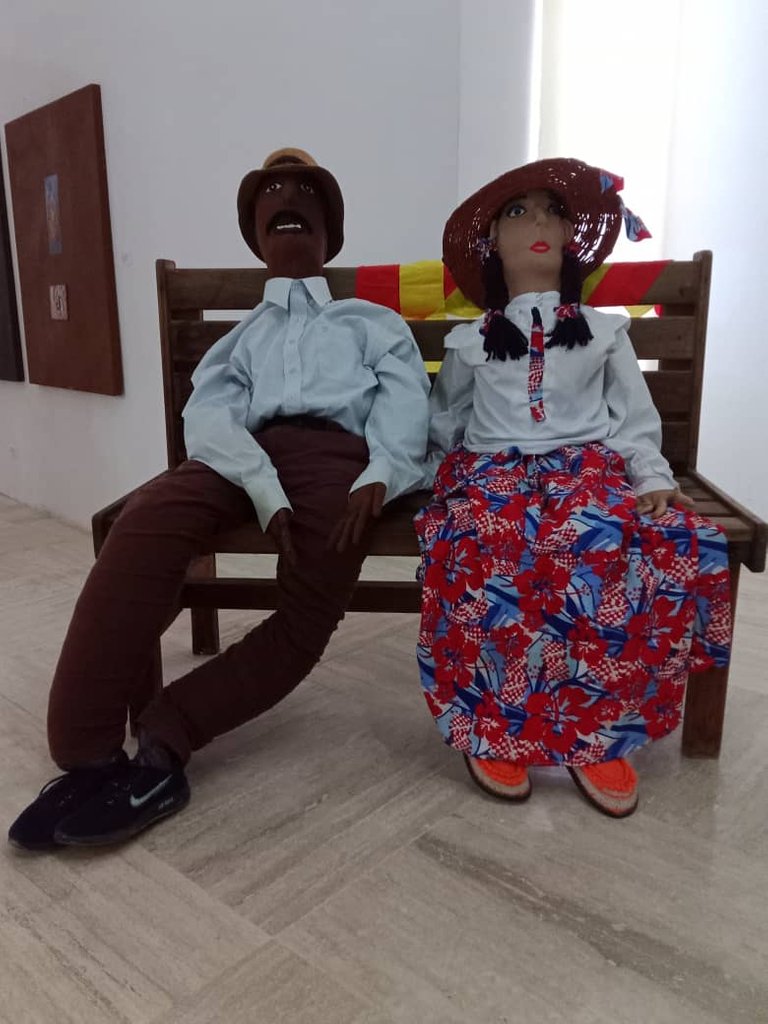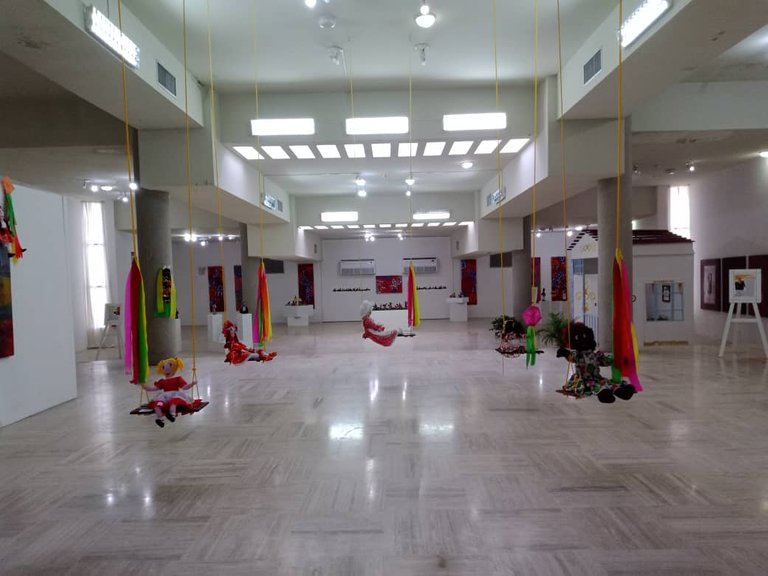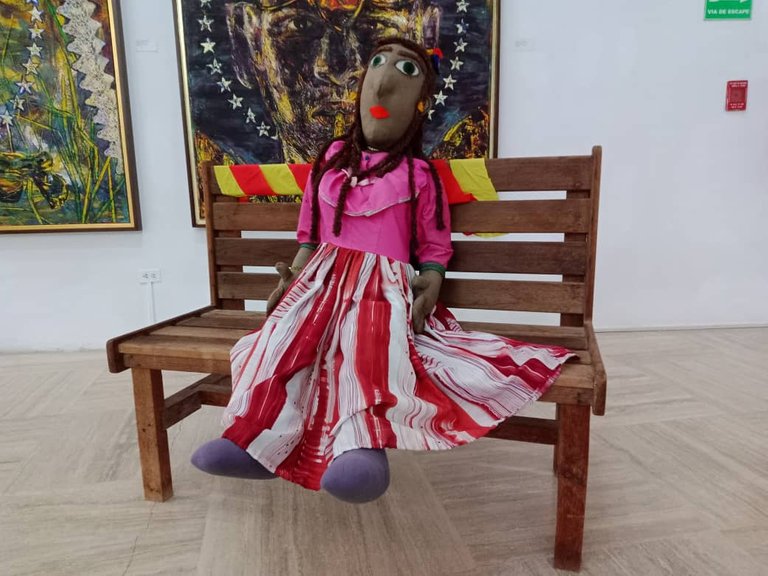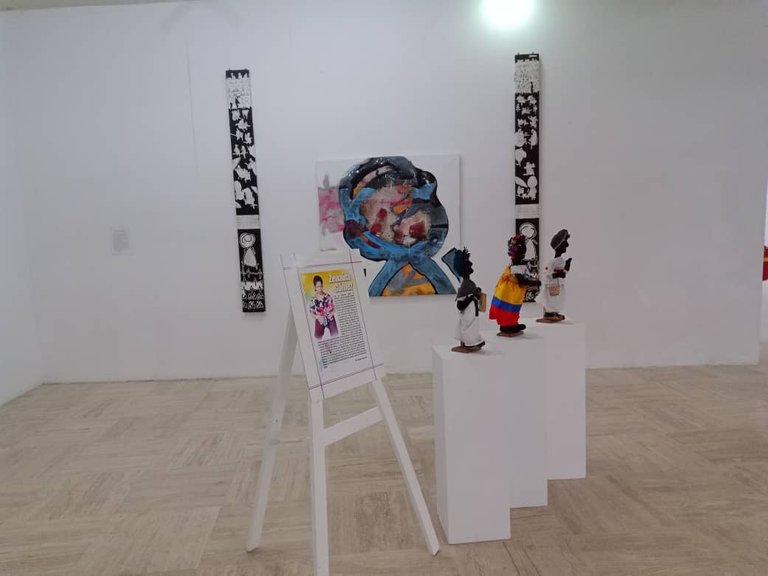 ---
My favorite part of this visit was the representation of the Battle of Pichincha and several characters that were part of the process of emancipation of the country, in this battle stood out among others Antonio José de Sucre, a great strategist and distinguished Venezuelan military, born in the city of Cumaná on February 3, 1795; to see these figures so small and yet so striking, shows the talent of the craftswoman Dominga Salazar who is characterized by recreating historical events in their creations, the details of the battle are very well captured and organized in this excellent work, I was for a long time watching this representation and thinking about the time it took Dominga to develop every detail of the characters and elements of the battle in fabric, she has received several awards for her beautiful work and was recognized as a popular culture of the country.
Mi parte favorita en esta visita fue la representación de la Batalla de Pichincha y varios personajes que formaron parte del proceso de emancipación del país, en esta batalla se destacó entre otros Próceres Antonio José de Sucre, un gran estratega e insigne militar Venezolano, nacido en la ciudad de Cumaná el 3 de febrero de 1795; ver estas figuras tan pequeñas y a vez tan llamativas, demuestra que el talento de la artesana Dominga Salazar quien se caracteriza por recrear eventos históricos en sus creaciones, los detalles de la batalla están muy bien plasmados y organizados en esta excelente obra, estuve por largo rato observando esta representación y pensando en el tiempo que le tomó a la señora Dominga elaborar cada detalle de los personajes y elementos de la batalla en tela, ella ha recibido varios premios por su bellos trabajos y fue reconocida como cultora popular del país.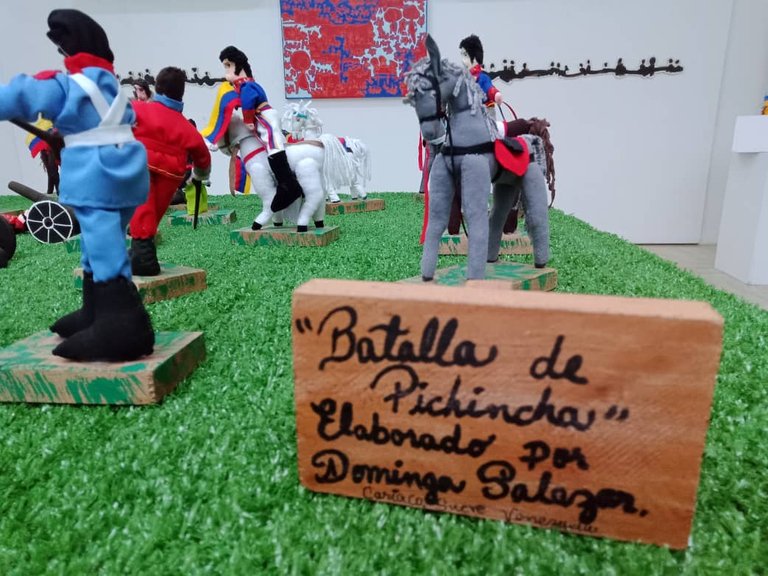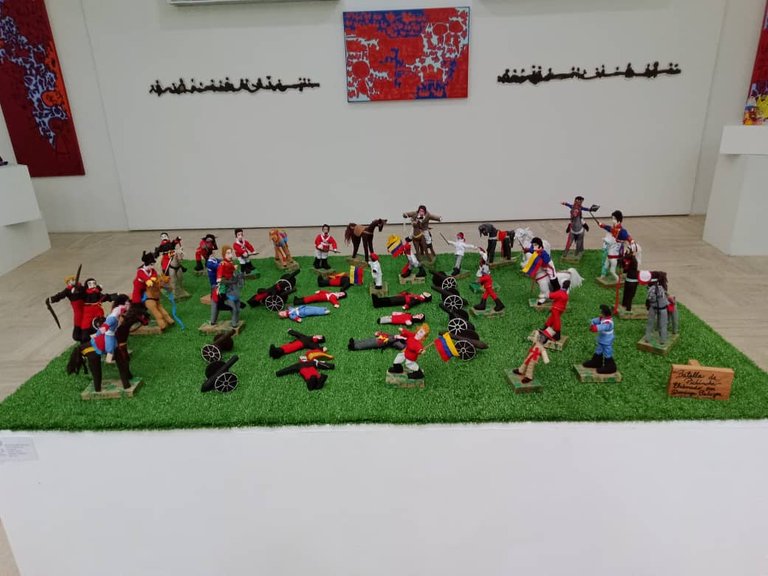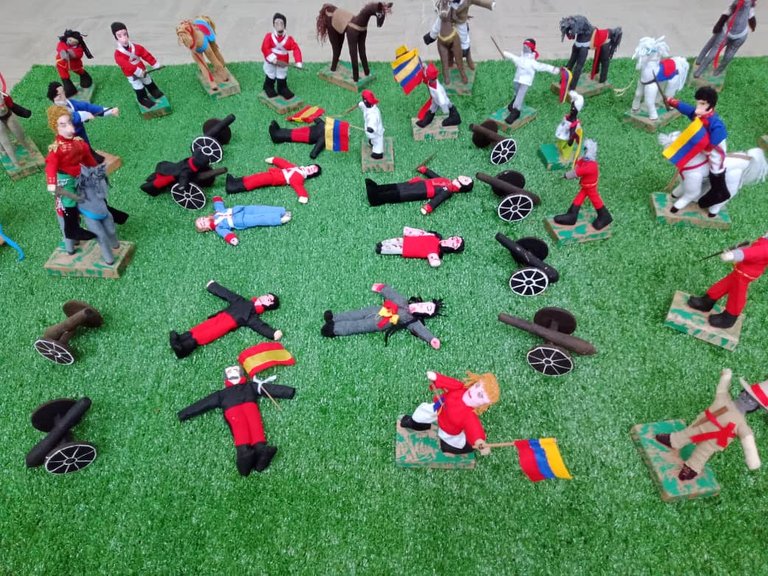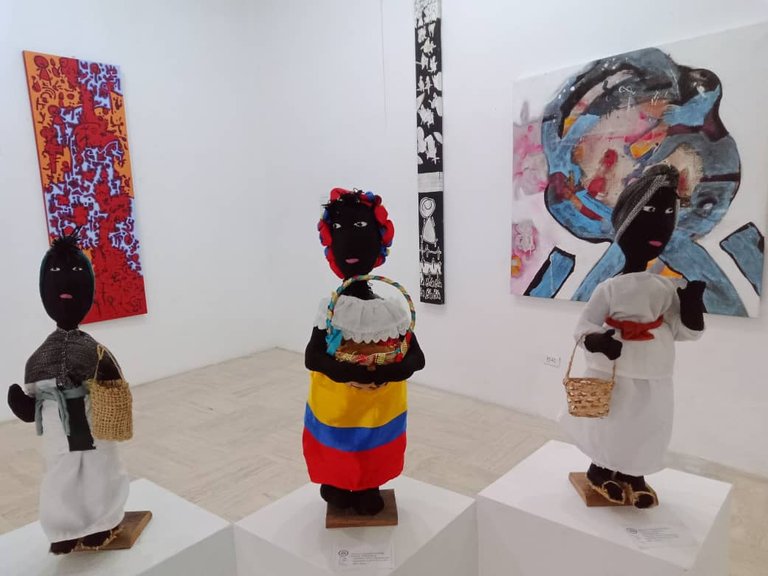 ---
To finish the tour I visited the tea house, an element that can not miss in the dolls house, it is very well decorated, with their respective tables, chairs and the teapot waiting for the dolls to meet the place to share a beautiful afternoon enjoying a delicious tea; in addition to the dolls mentioned above there are also in the exhibition small cribs that can be used to decorate the house at Christmas, several of the dolls are for sale and is a beautiful souvenir that takes home from the visit to the museum and the exhibition of rag dolls.
At the end of the tour I signed the guest book, I really enjoyed visiting this exhibition and observing the beautiful creations of the artisans of the state and their great talents to make beautiful works of art with cloth.
Para finalizar el recorrido visité la casa del té, un elemento que no puede faltar en la casa de las muñecas, está muy bien decorado, con sus respectivas mesas, sillas y la tetera esperando que las muñecas se den cita al lugar para compartir una hermosa tarde disfrutando un delicioso té; además de las muñecas anteriormente mencionadas también hay en la exhibición pequeños pesebres que pueden usarse para decorar la casa en Navidad, varias de las muñecas están en venta y es un hermoso recuerdo que lleva a casa de la visita al museo y la exposición de muñecas de trapo.
Al terminar el recorrido firmas el libro de visitas, me gustó mucho visitar esta exposición y observar hermosas creaciones de los artesanos del estado y sus grandes talentos para hacer con tela bellas obras de arte.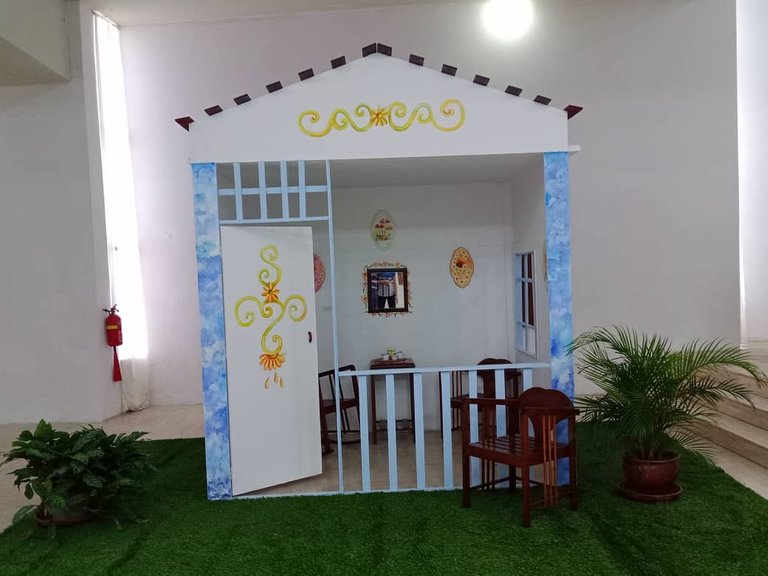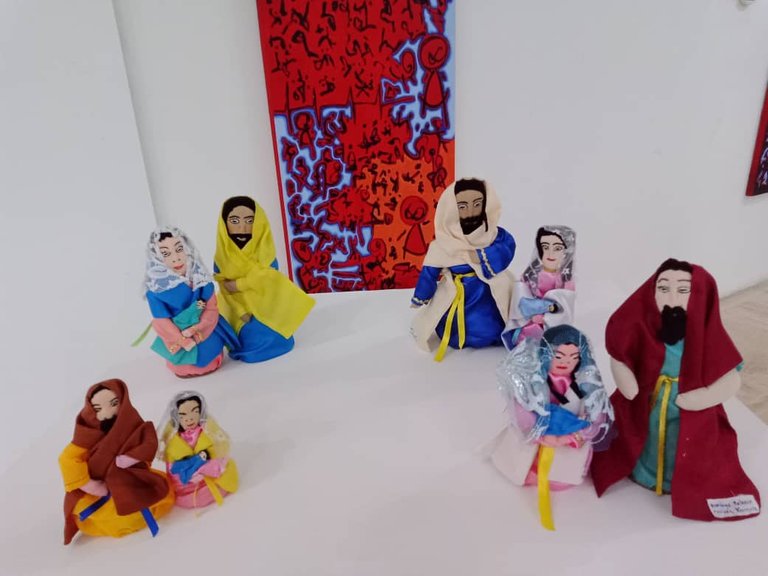 ---


---
---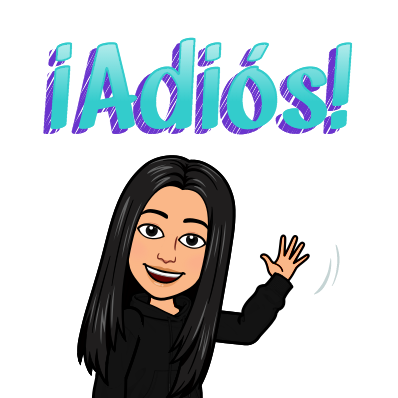 ---
Translated with
https://www.deepl.com/translator
          All images are my own, captured by a Síragon LC-3000 camera. 
                                                               
   Todas las imágenes son de mi autoría, capturadas por una cámara Síragon LC-3000.
---
---