Chronicles of a fiery sunset [Eng - Esp]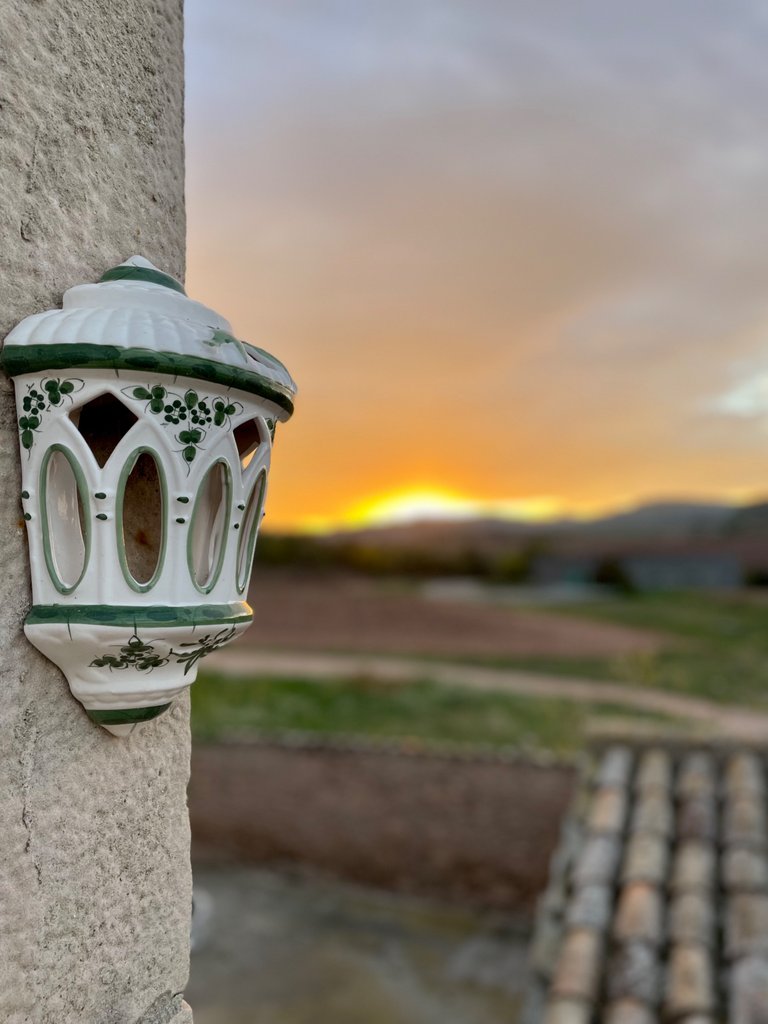 English
---
Chronicles of a fiery sunset
---
A surprise in the field
---
Hello my dear Hive friends! It's a pleasure to be here for another day.
Today's post will be totally focused on a sunset I found in Spain, when I was volunteering at Can Mussol, located near the urbanization of Canet de Fals.
I never imagined that I would encounter what I saw: an orange sun was tinting the landscape.
I remember that I went out onto the balcony of the farmhouse where I was staying and what first caught my attention were some cows grazing. They looked calm and in total harmony with nature.
Español
---
Crónicas de un atardecer de fuego
---
Una sorpresa en el campo
---
Hola mis queridos amigos de Hive! Es un placer estar un día más por aquí.
La publicación de hoy estará totalmente enfocada en un atardecer que encontré en España, cuando estaba haciendo un voluntariado en Can Mussol, ubicado cerca de la urbanización de Canet de Fals.
Jamás me imaginé que fuera a encontrarme con lo que vi: un sol anaranjado téñía el paisaje.
Recuerdo que salí al balcón de la masía donde me encontraba y lo que primero me llamó la atención fueron unas vacas pastando. Se veían calmas y en total sintonía con la naturaleza.
---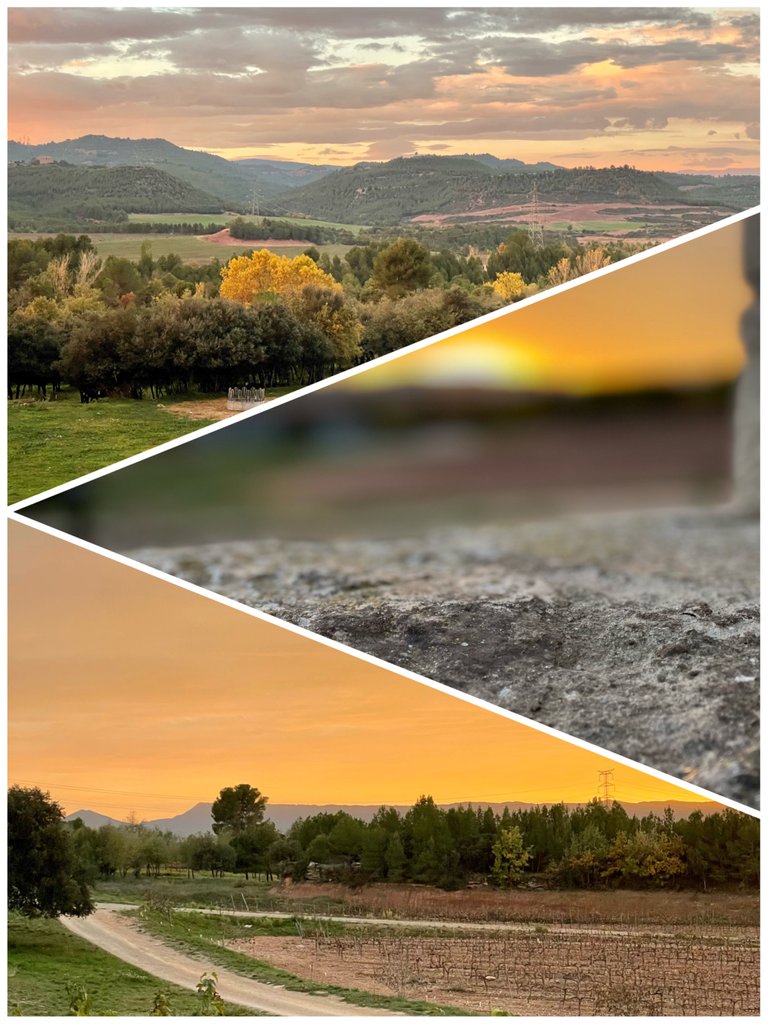 ---
But suddenly I started to walk along the terrace, which was quite large, and a pink orange began to call me. It took seconds, but it felt like my head was spinning in slow motion.
I stayed contemplating and photographing that sunset for almost the entirety of it. In fact, I had to leave early because I had to set the table for the guests.
For me, it was a moment of absolute connection with that natural environment. And although I insist that neither photos nor videos can represent what we felt in those moments, this is one of the series of photos that most successfully transports me to the experience.
Today, I want to share it with you.
Pero de pronto empecé a caminar por la terraza, que era bastante grande, y un naranja rosa me empezó a llamar. Fueron segundos, pero sentí que mi cabeza giraba en cámara lenta.
Me quedé contemplando y fotografiando aquel atardecer casi durante la totalidad del mismo. De hecho, tuve que irme antes porque tenía que poner la mesa para los huéspedes.
Para mi, fue un momento de absoluta conexión con aquel entorno natural. Y aunque insisto en que ni fotos ni videos pueden representar lo que sentimos en esos momentos, esta es una de las series de fotos que más logra trasladarme a la experiencia.
Hoy, quiero compartirla con ustedes.
---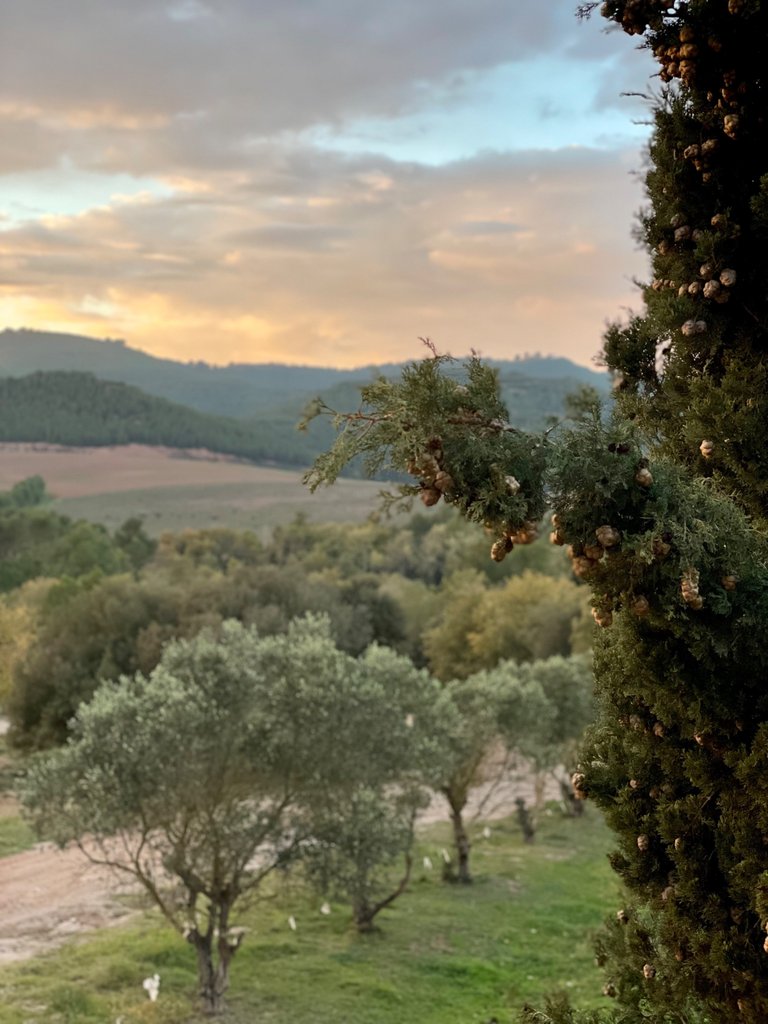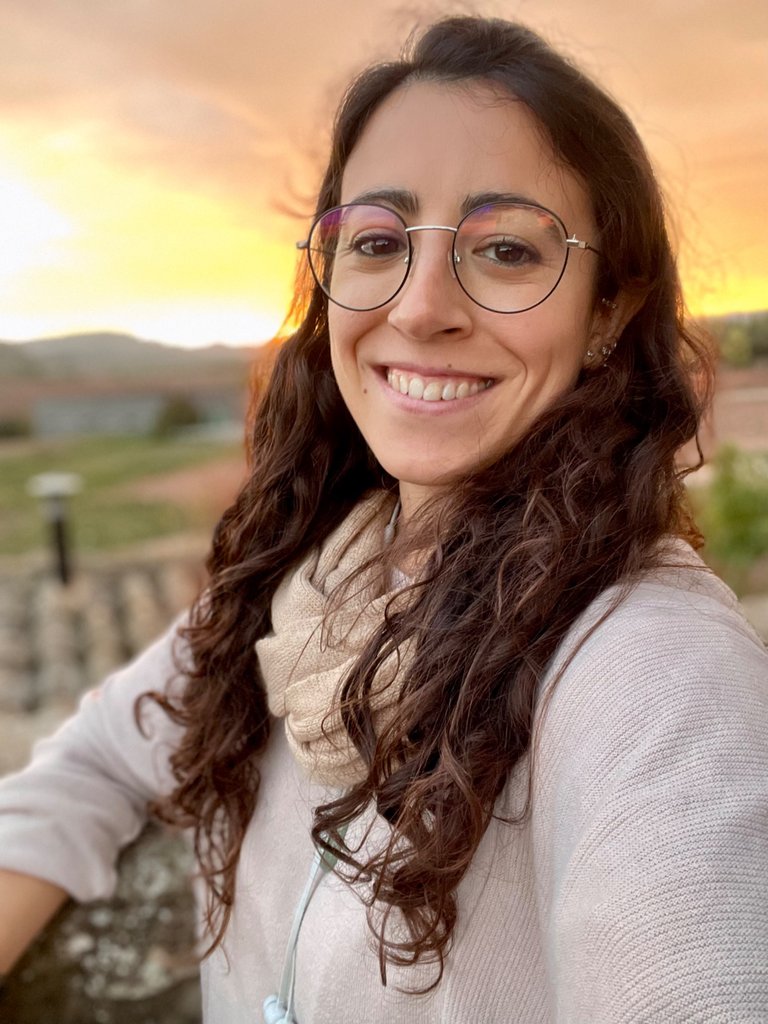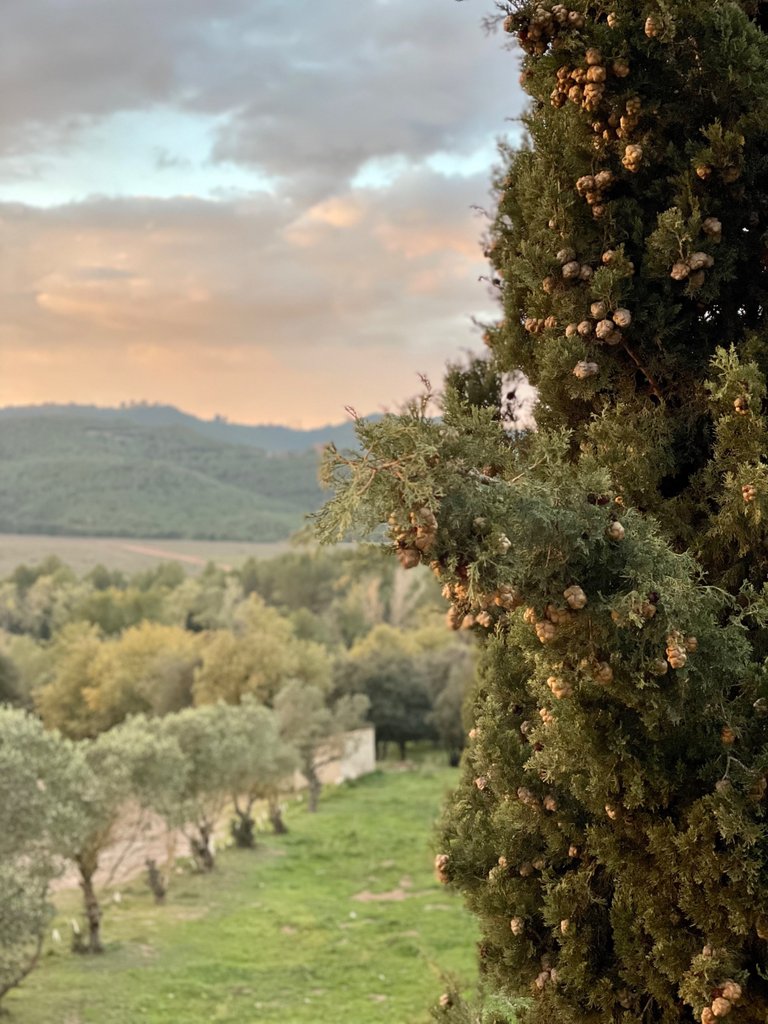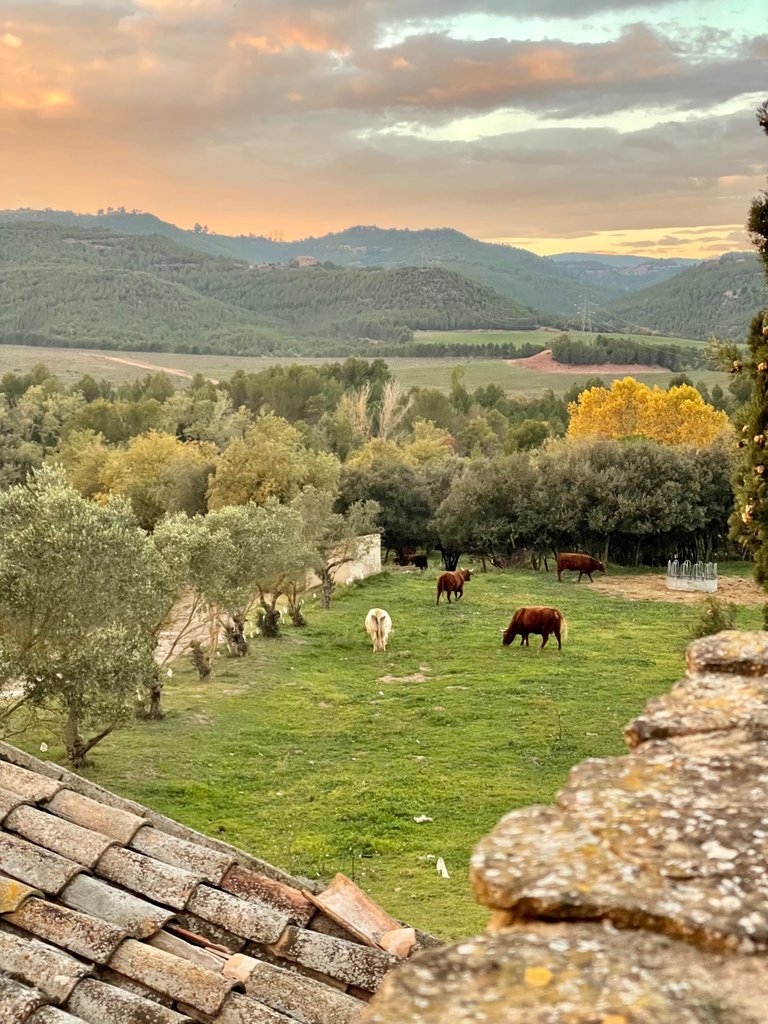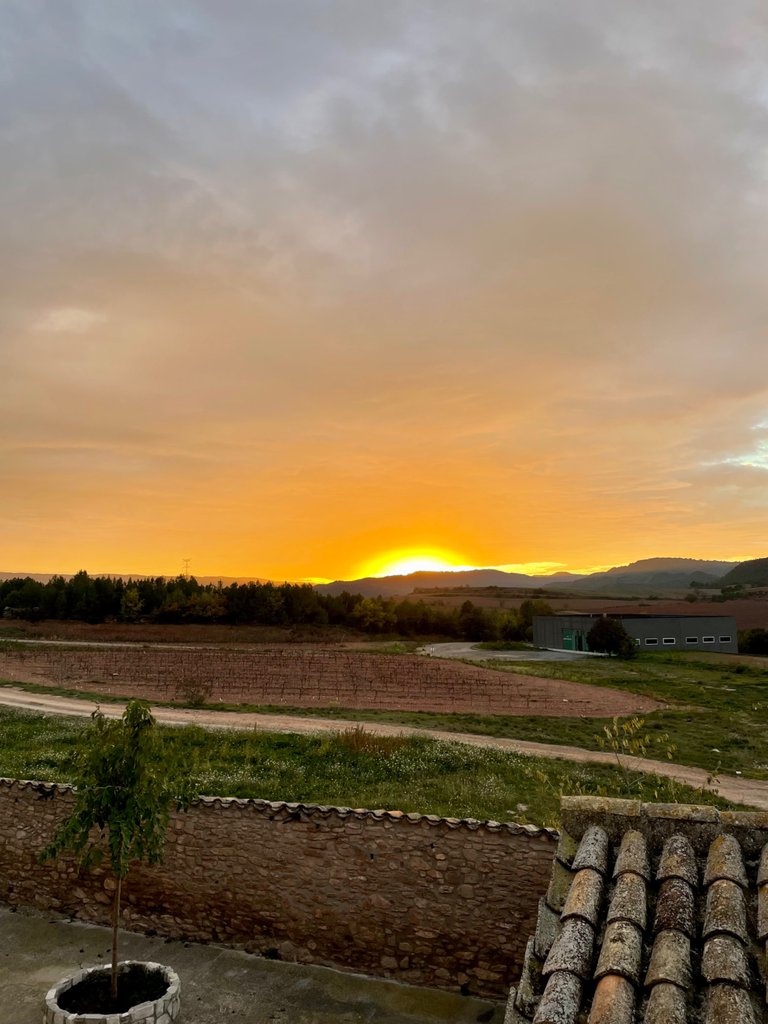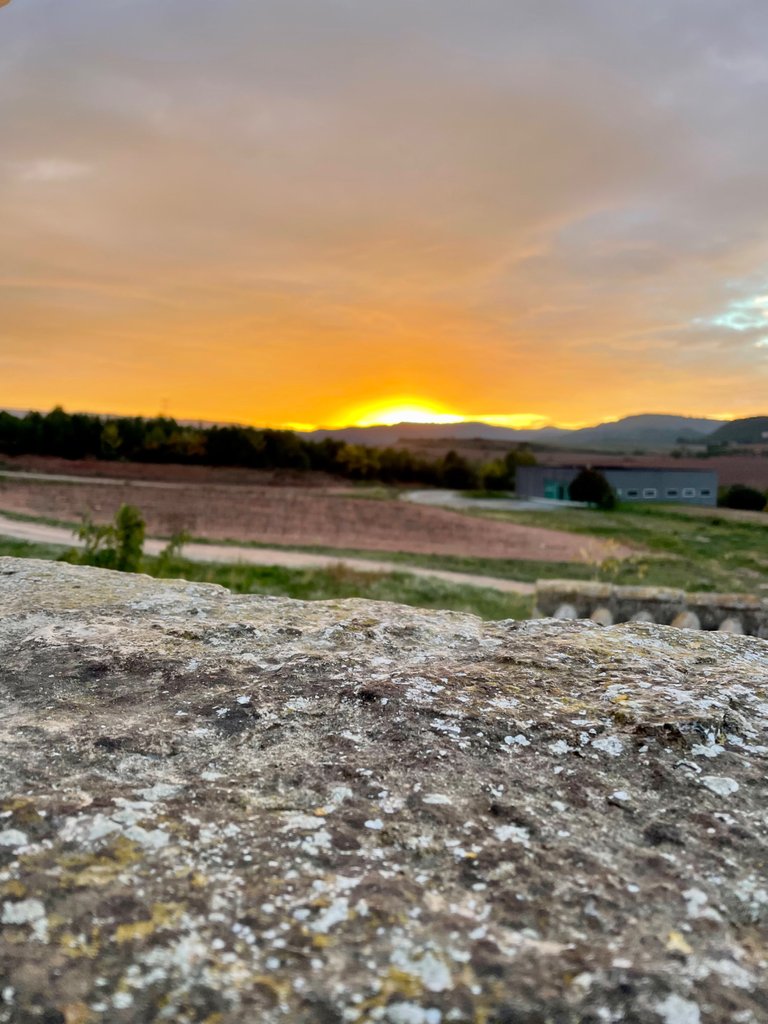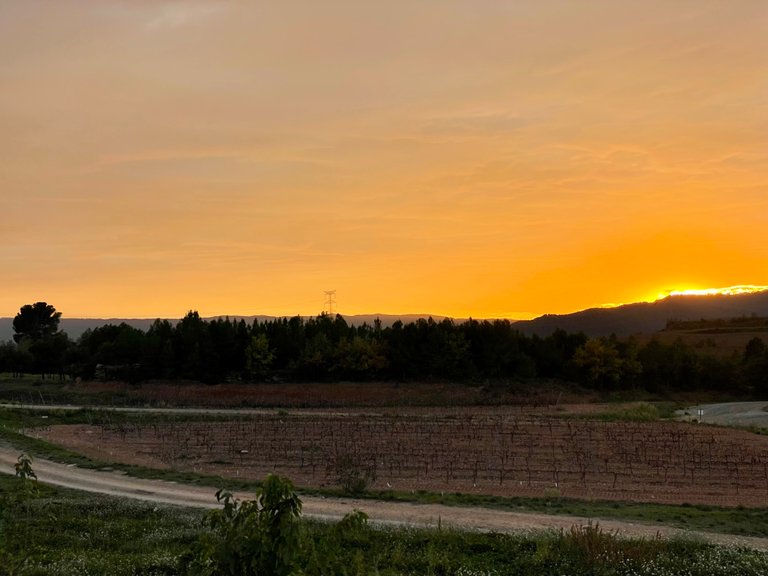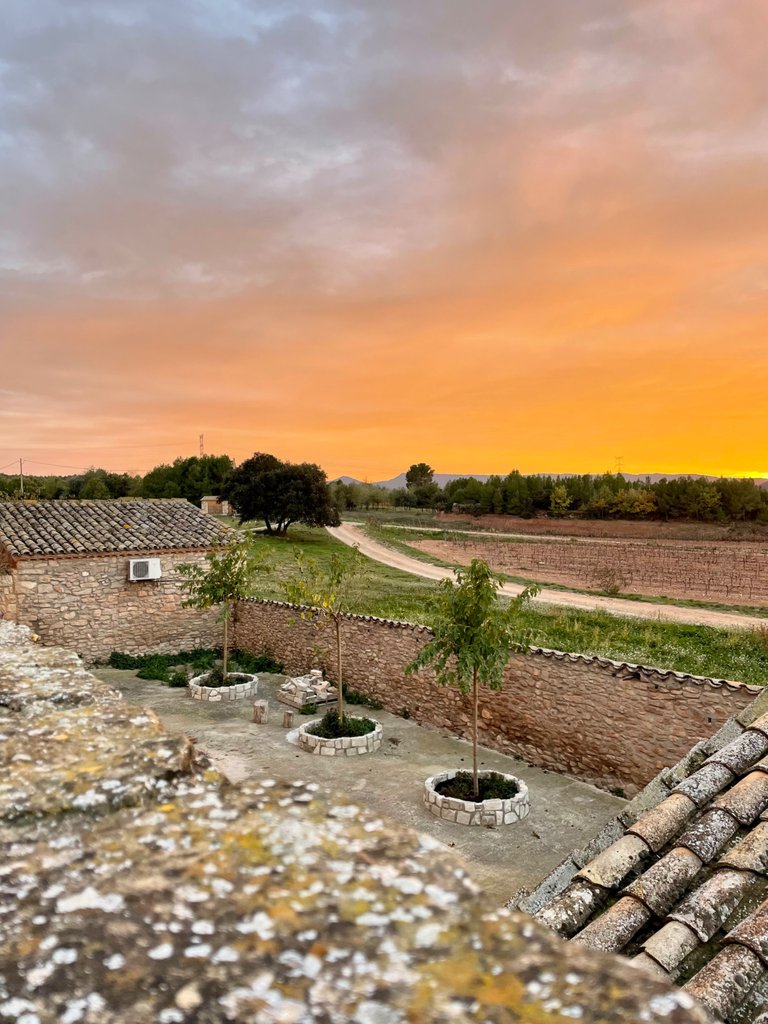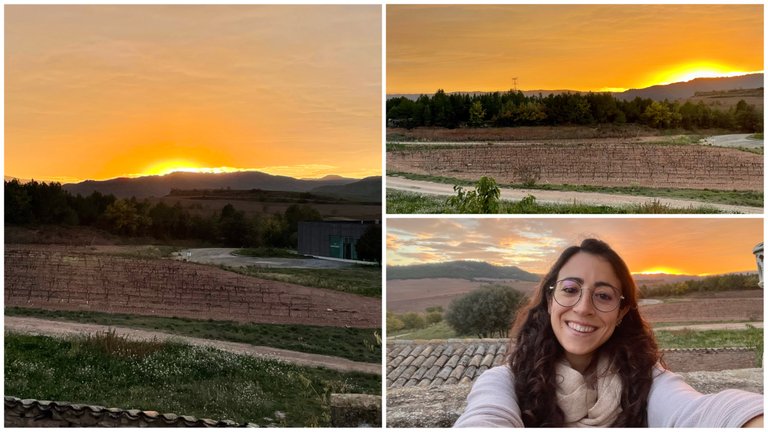 ---
About the shots on the terrace
---
However, even though I was connected to nature, you can see how many pictures I took.
I really found that quiet moment where a natural event was taking place and I had the silence and solitude to play a little with the camera.
I actually used my cell phone, an iPhone 12 Pro, but I was able to take several shots in "portrait" mode, which is something I often don't get because I'm in a hurry, or there are too many people, or what I want to photograph is too far away.
In this case, although the game was between very simple elements of the farmhouse, such as a lantern, the same wall of the terrace, a table, the fact that tremendous landscape was in the background, made of a simple object a beautiful photo.
Sobre las tomas en la terraza
---
Sin embargo, aunque estaba conectada con la naturaleza, podrán ver la cantidad de fotos que saqué.
Es que realmente encontré ese momento calmo en donde un evento natural estaba teniendo lugar y yo tenía el silencio y la soledad necesarios para jugar un poco con la cámara.
En verdad usé mi celular, un iPhone 12 Pro, pero pude hacer varias tomas en el modo "retrato", que es algo que muchas veces no consigo porque estoy apurada, o hay mucha gente, o lo que quiero fotografiar está muy lejos.
En este caso, aunque el juego fue entre elementos de la masía muy sencillos, como un farol, la misma pared de la terraza, una mesa, el hecho de que tremendo paisaje estuviera de fondo, hacía de con simple objeto una foto preciosa.
---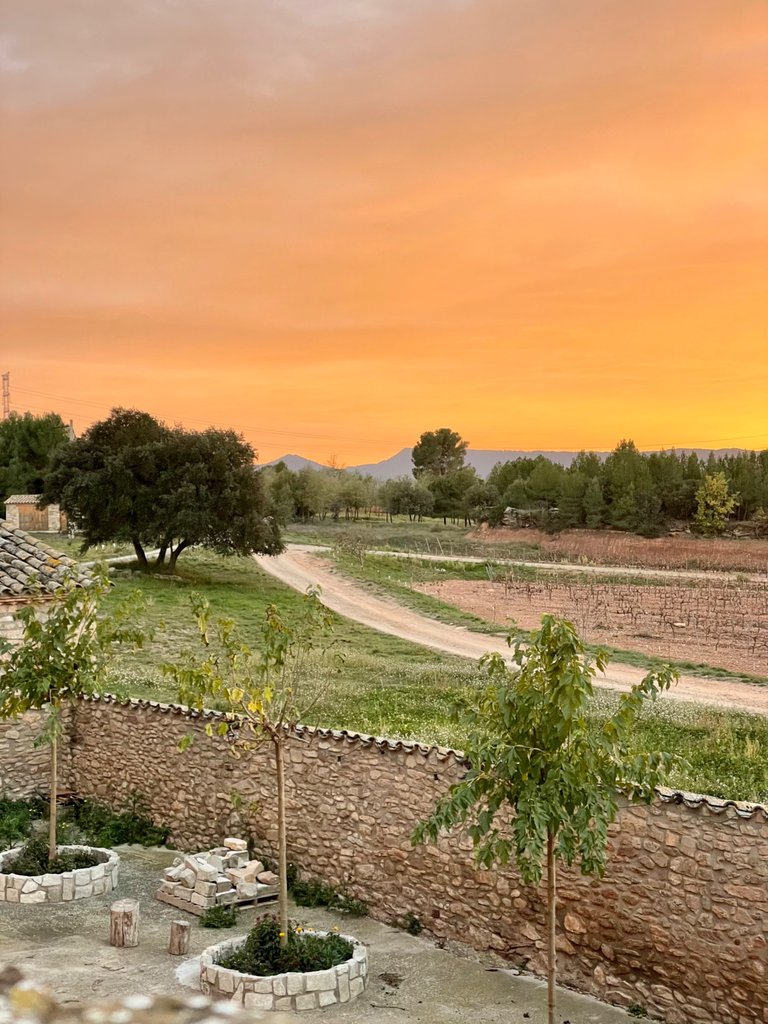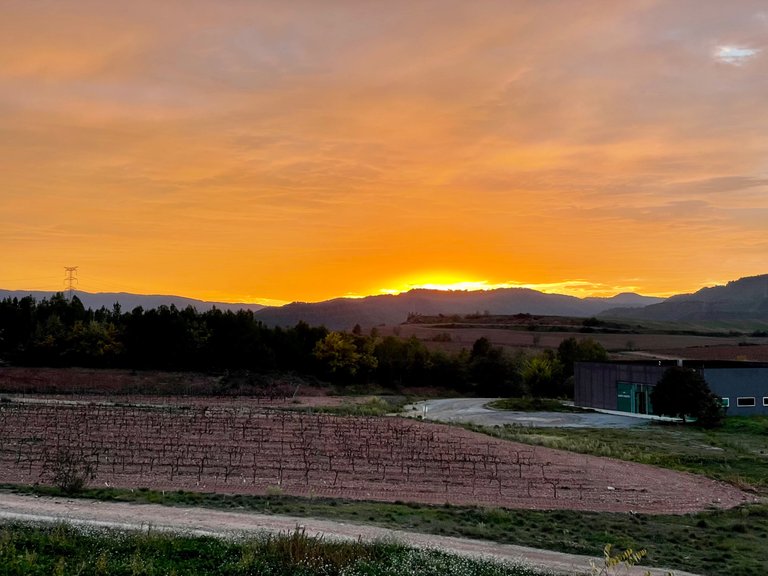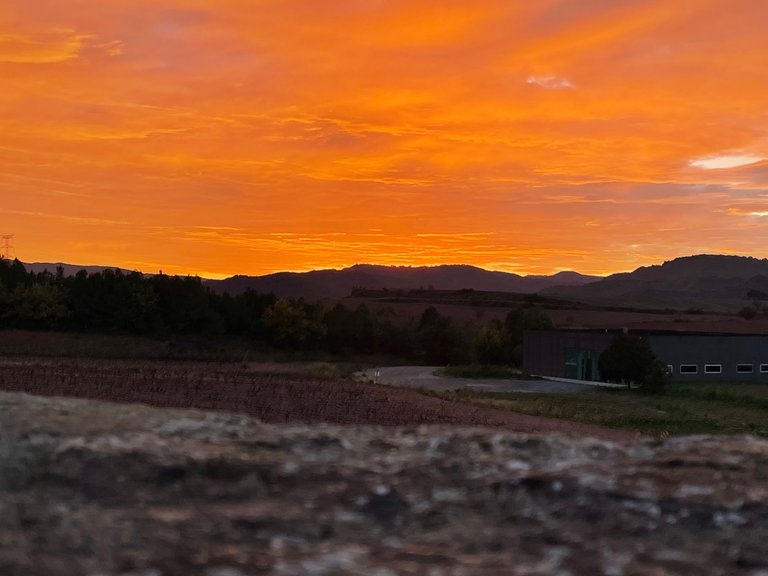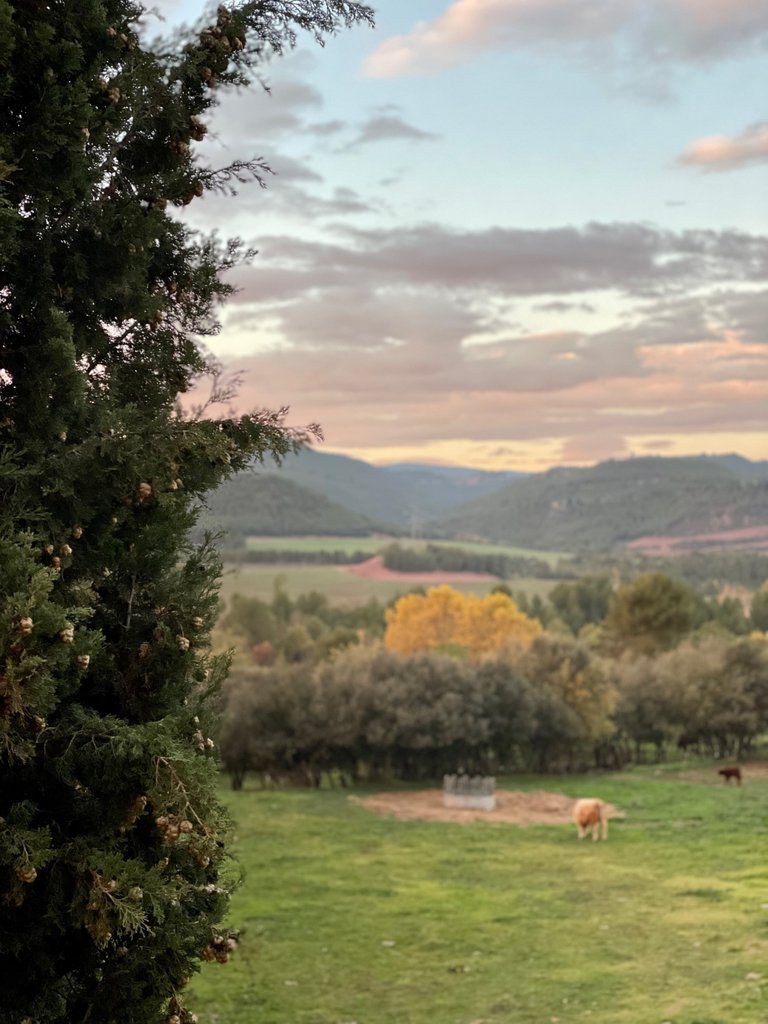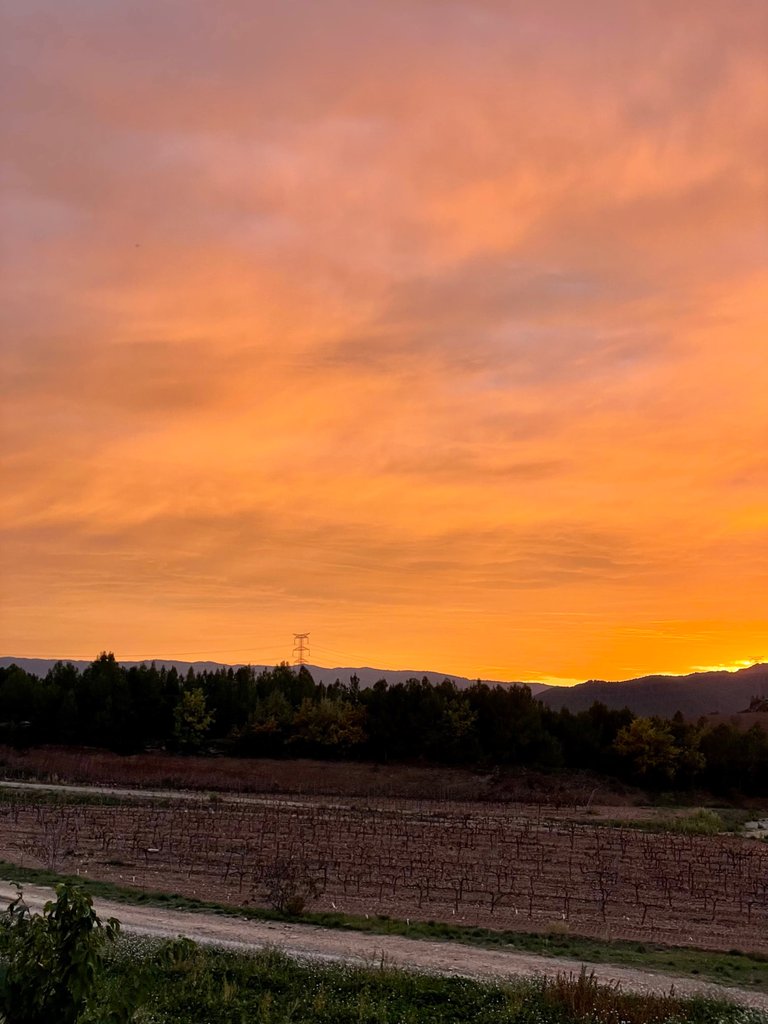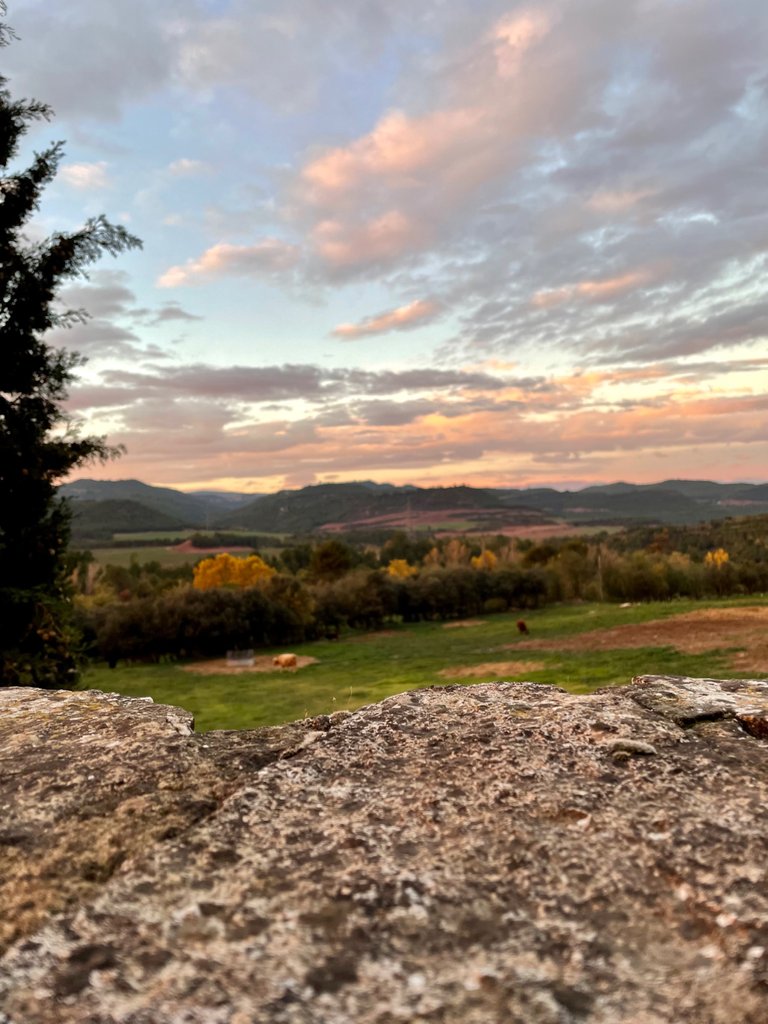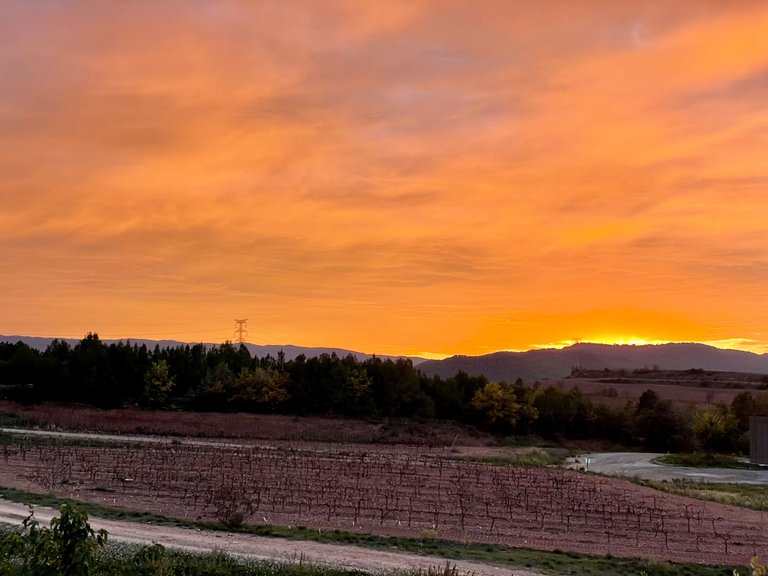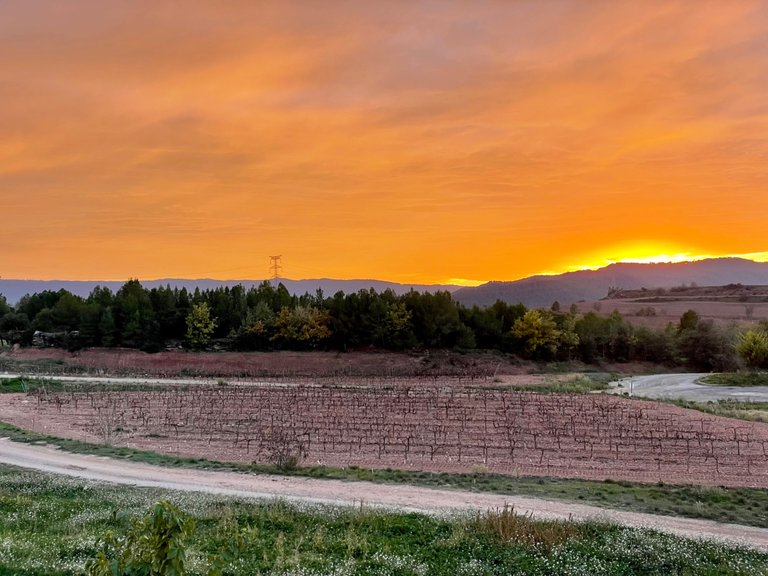 ---
The dualities of Can Mussol
---
Yes, there were some selfies in the process, as I was so happy, I wanted to record the moment. And today I am grateful that I did, because even though I remember it, seeing that face of peace and joy, helps me much more to move in my mind and heart to that beautiful experience.
The countryside of Catalonia, as you can see in the photos, is beautiful, and although it was a challenging volunteering because there I got COVID and I had to be isolated for 10 days, it is the most beautiful landscape I have ever seen.
Las dualidades de Can Mussol
---
Sí, hubo algunas selfies en el proceso, ya que yo estaba tan feliz, que quería dejar registrado el momento. Y hoy agradezco que así haya sido, ya que aunque lo recuerdo, verme esa cara de paz y alegría, me ayuda mucho más a trasladarme en mi mente y corazón a aquella hermosa experiencia.
El campo de Cataluña, como pueden verlo en las fotos, es precioso, y aunque se trató de un voluntariado desafiante porque allí me dio COVID y tuve que estar aislada durante 10 días, es el paisaje más bello que he visto.
---
---
So I could say that those pictures, for me hide the duality of life itself. Can Mussol represents for me the good and the bad, love and hate, day and night, health and sickness, abundance and scarcity.
There was manifested the same thing that life offers us, and although in the day to day we are exposed to dualities, the fact of being a little more than 30 days there, isolated from urban areas, without a vehicle and with a bus that passed sporadically at a stop far away from the farmhouse, with only 4 other people, somehow made me live these dualities more intensely.
Así que podría decir que esas fotos, para mi esconden la dualidad de la vida misma. Can Mussol representa para mí lo bueno y lo malo, el amor y el odio, el día y la noche, la salud y la enfermedad, la abundancia y la escasez.
Allí se manifestó eso mismo que nos ofrece la vida, y aunque en el día a día nos exponemos a las dualidades, el hecho de estar poco más de 30 días ahí, aislada de las zonas urbanas, sin vehículo y con un bus que pasaba esporádicamente en una parada muy alejada de la Masía, con tan solo 4 personas más, de alguna manera me hizo vivir esas dualidades con mayor intensidad.
---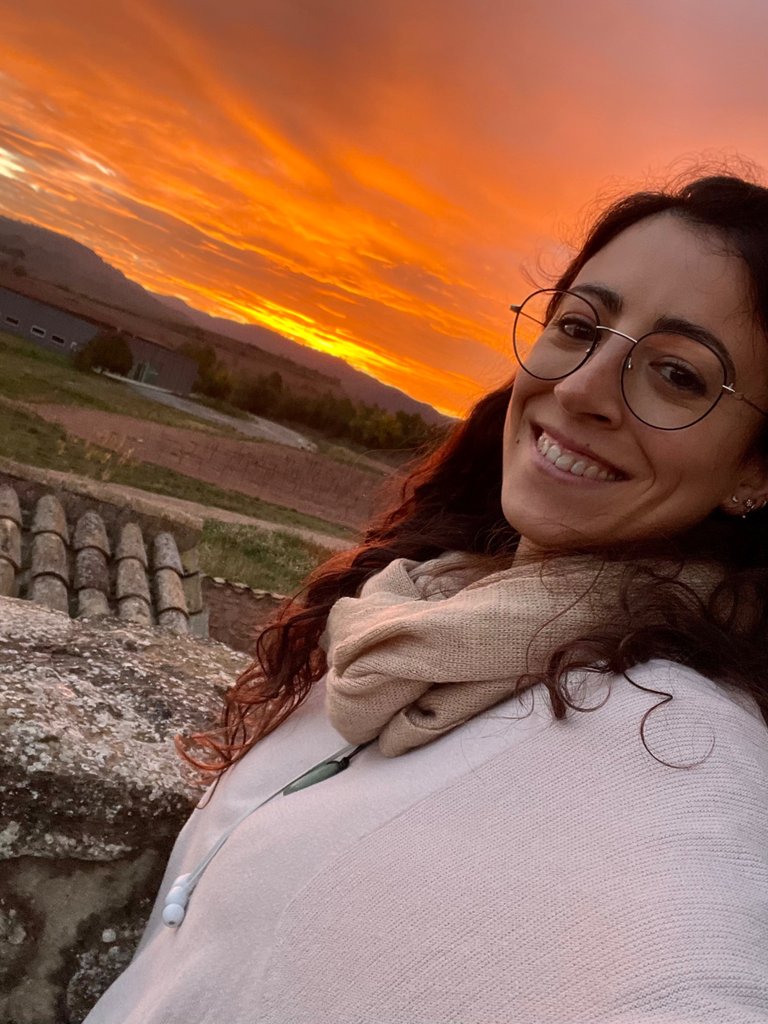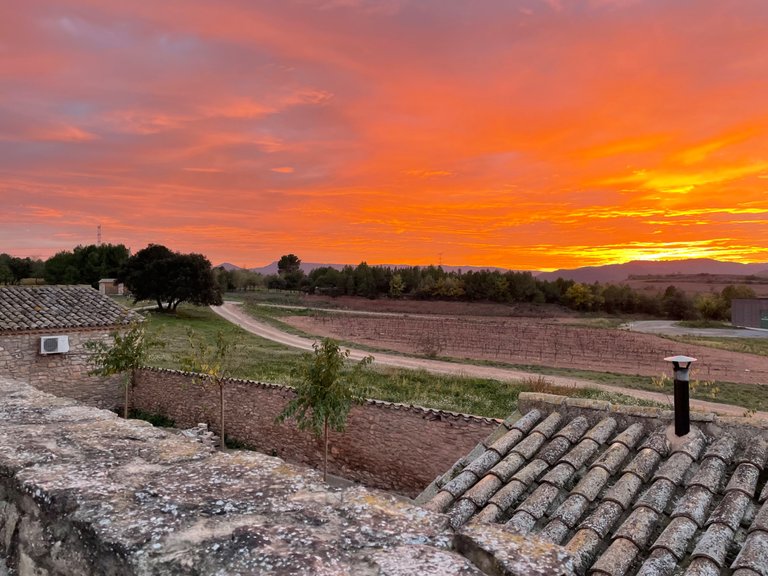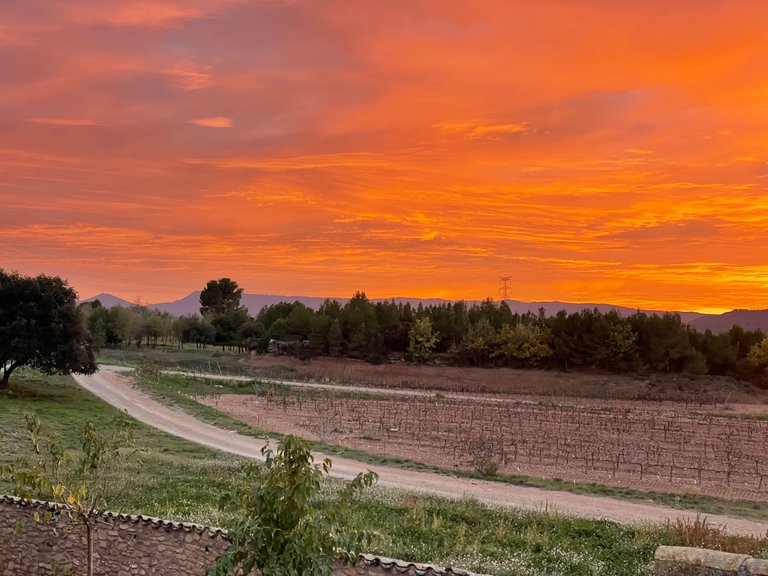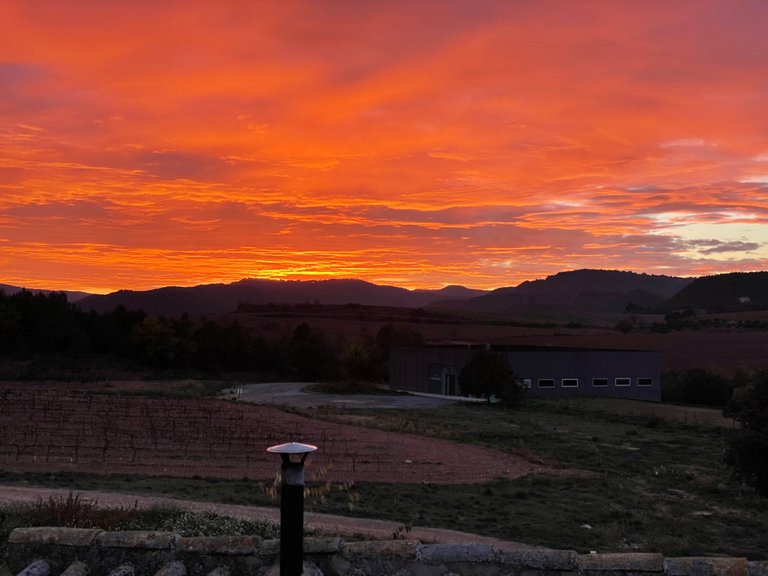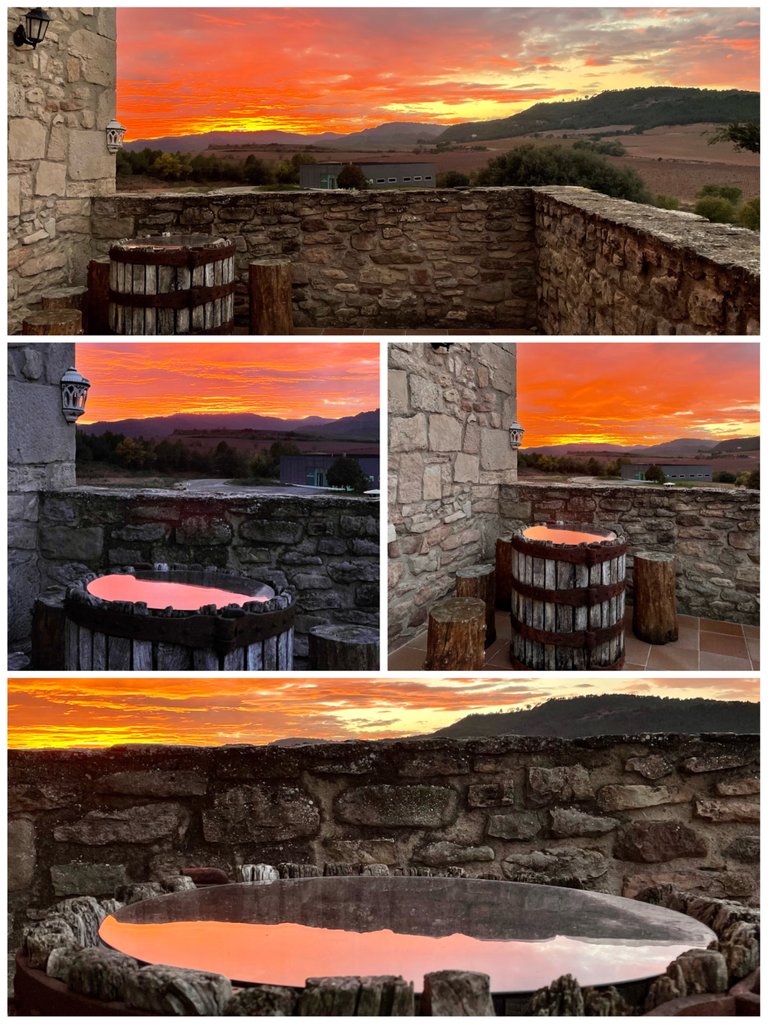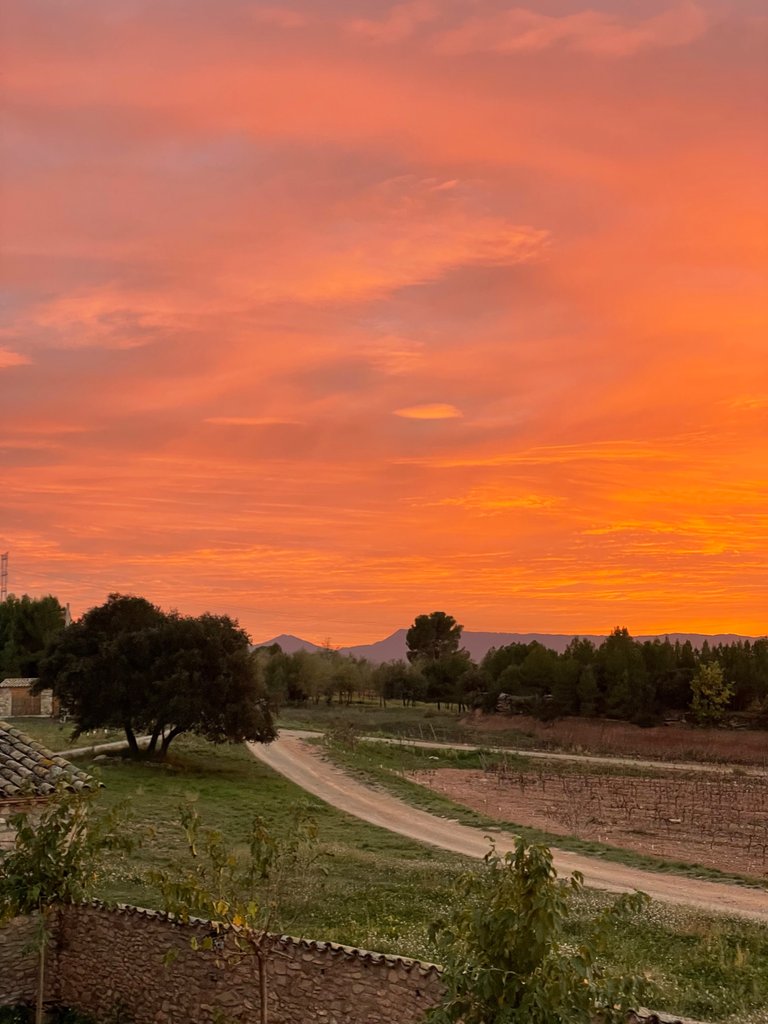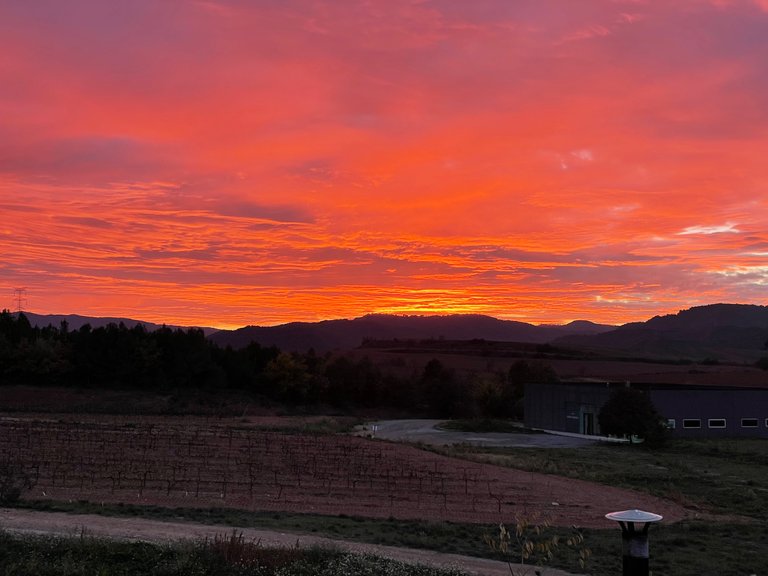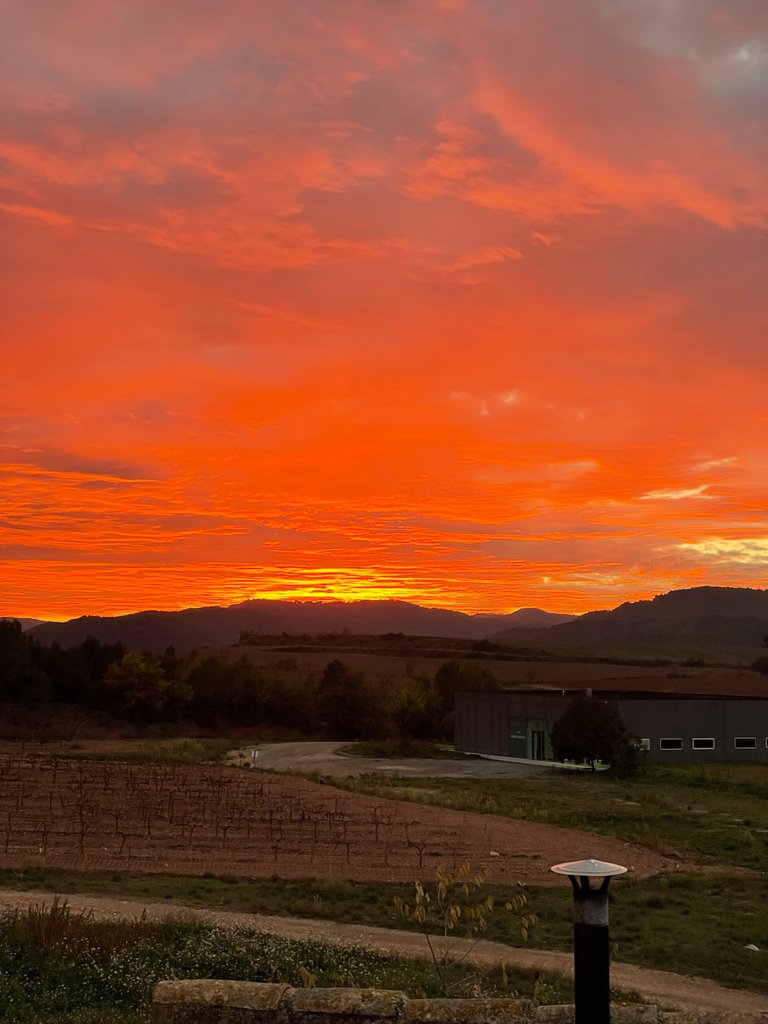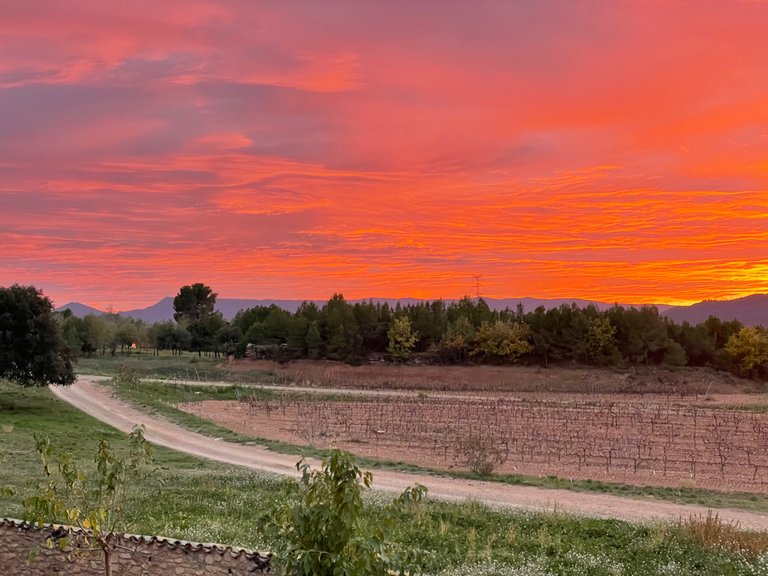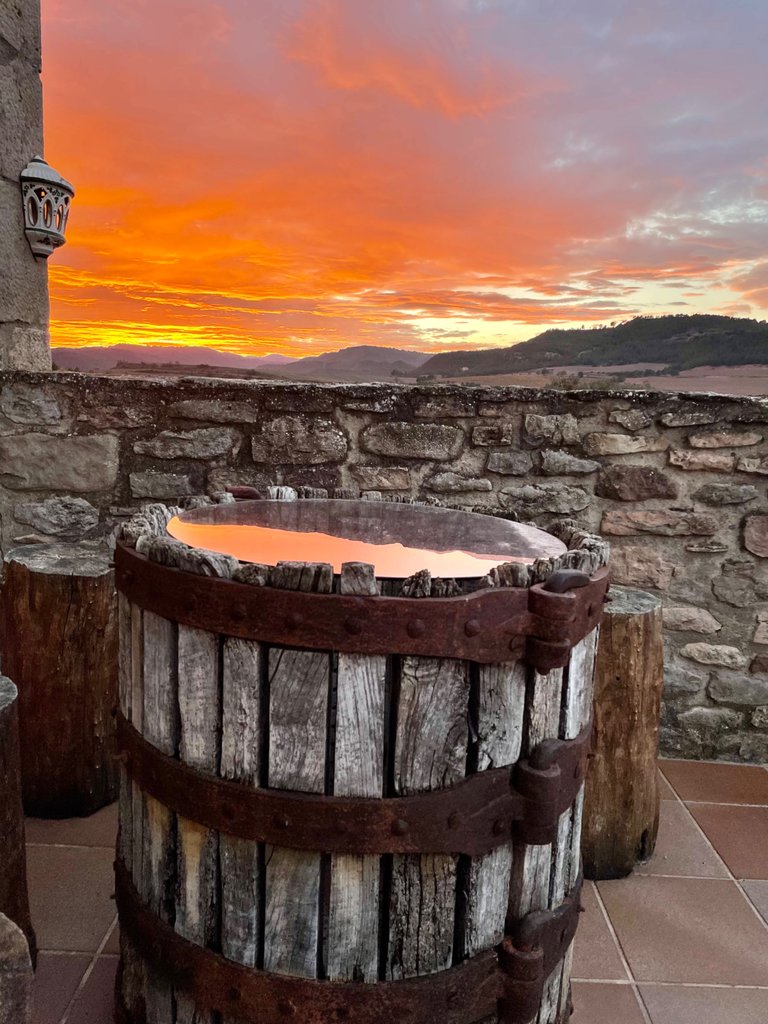 ---
Thank you for being here!
Have a great day and weekend!
With love,
Gracias por estar aquí!!
Que tengas un hermoso día y fin de semana!
Con cariño,
---
I used the app PicsArt for the grids.
Pinmapple code: [//]:# (!pinmapple 41.772120 lat 1.754335 long Chronicles of a fiery sunset, Cataluña, Spain d3scr)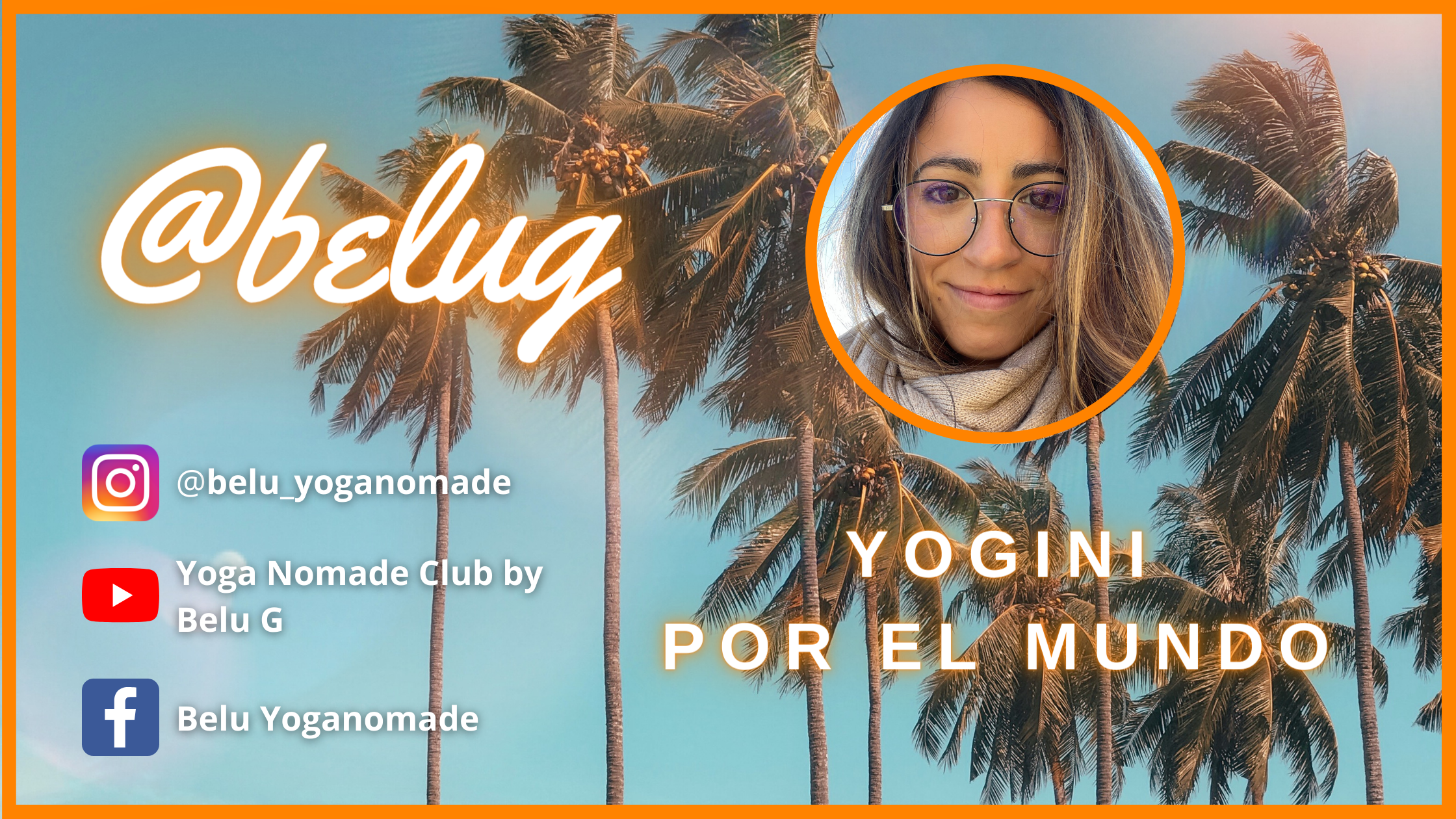 ---
---