MONOMAD PARIS: Bordering the Seine from the Alexander III Bridge [Eng - Esp]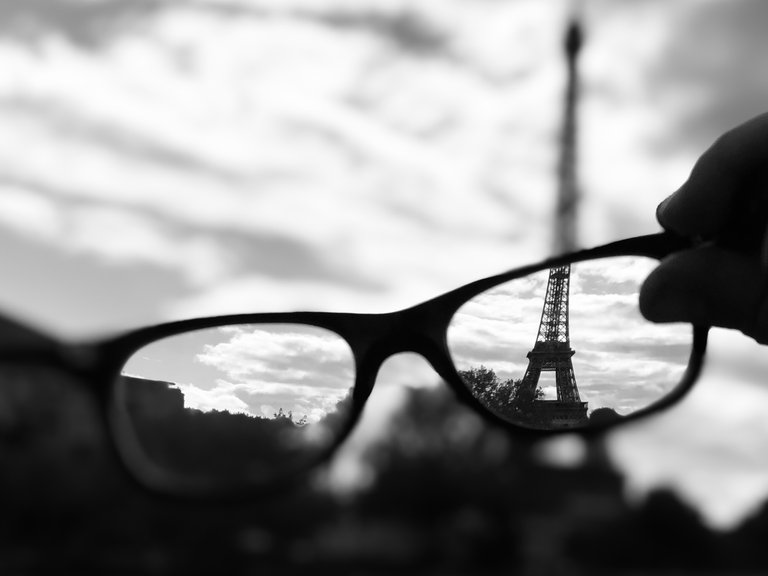 English
---
MONOMAD PARIS: Bordering the Seine from the Alexander III Bridge
---
Hello my dear friends of Black and White! This time I will take you for a little walk along the Seine, on a walk that gave me a privileged view of the Eiffel Tower. This is my entry to the #monomad challenge today!
Being a Paris lover at the time when I went to visit the city of lights, I was amazed when I saw the Tower, internationally recognized and acclaimed by tourists. The truth is that I did not expect that image in front of me, as I was indeed on my way to the Tower, but I thought I would have to walk a little further to see it. However, the impressive structure of the Eiffel Tower appeared before me in all its grandeur.
At that time, I was wearing glasses that were different from the ones I have now, and I had been on that trip for several days trying to take artistcas pictures with them, taking advantage of the black frame they had. That's how I came to this series of photos that I present in this publication.
Español
---
MONOMAD PARIS: Bordeando el Sena desde el Puente Alejandro III
---
Hola mis queridos amigos de Black and White!! En esta ocasión los llevaré a pasear un poco al lado del Sena, en una caminata que me regaló una vista privilegiada de la Torre Eiffel. Esta es mi entrada para el desafío #monomad del día!
Siendo una amante de París en aquel momento cuando fui a visitar la ciudad de las luces, quedé maravillada cuando vi la Torre, reconocida a nivel internacional y aclamada por los turistas. La verdad es que no me esperaba aquella imagen frente a mí, pues sí que iba camino a la Torre, pero pensé que tendría que caminar un poco más para verla. Sin embargo, se presentó ante mí con toda su imponencia, la impresionante estructura de la Torre Eiffel.
En ese momento, usaba unos anteojos diferentes a los de ahora, y llevaba varios días en aquel viaje intentando tomar fotos artistcas con ellos, aprovechando el marco negro que tenían. Es así como llegué a esta serie de fotos que les presento en esta publicación.
---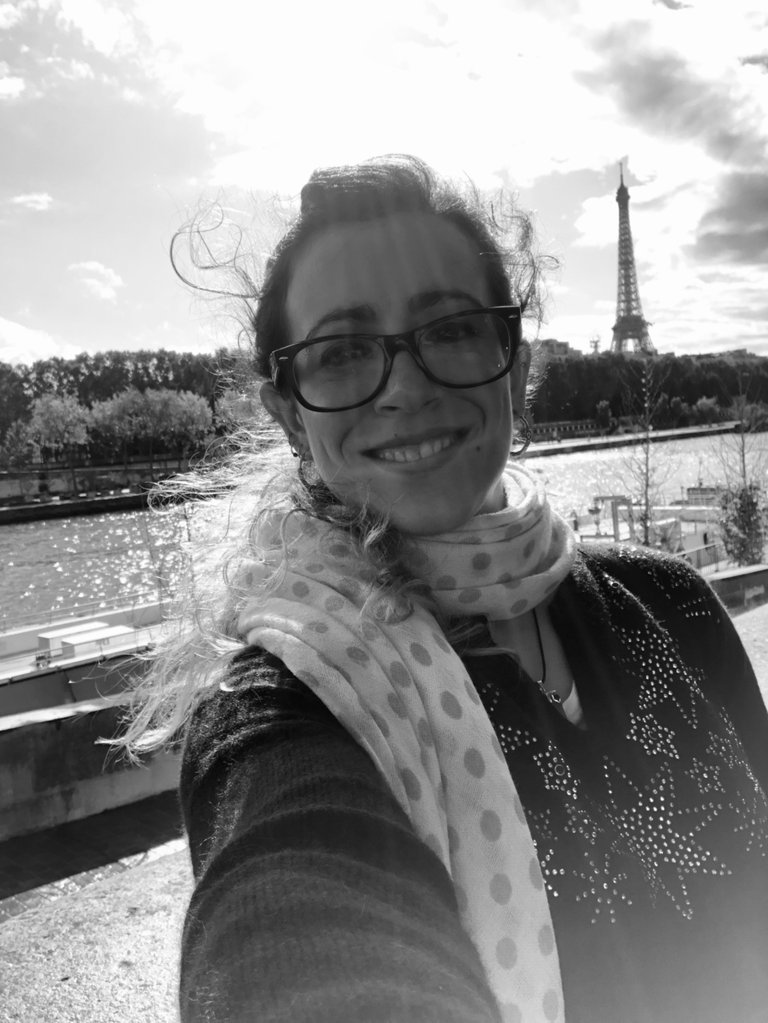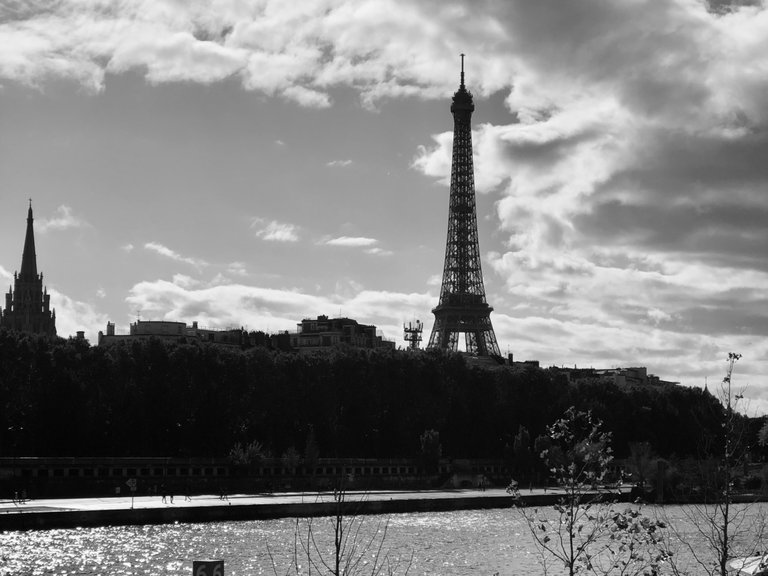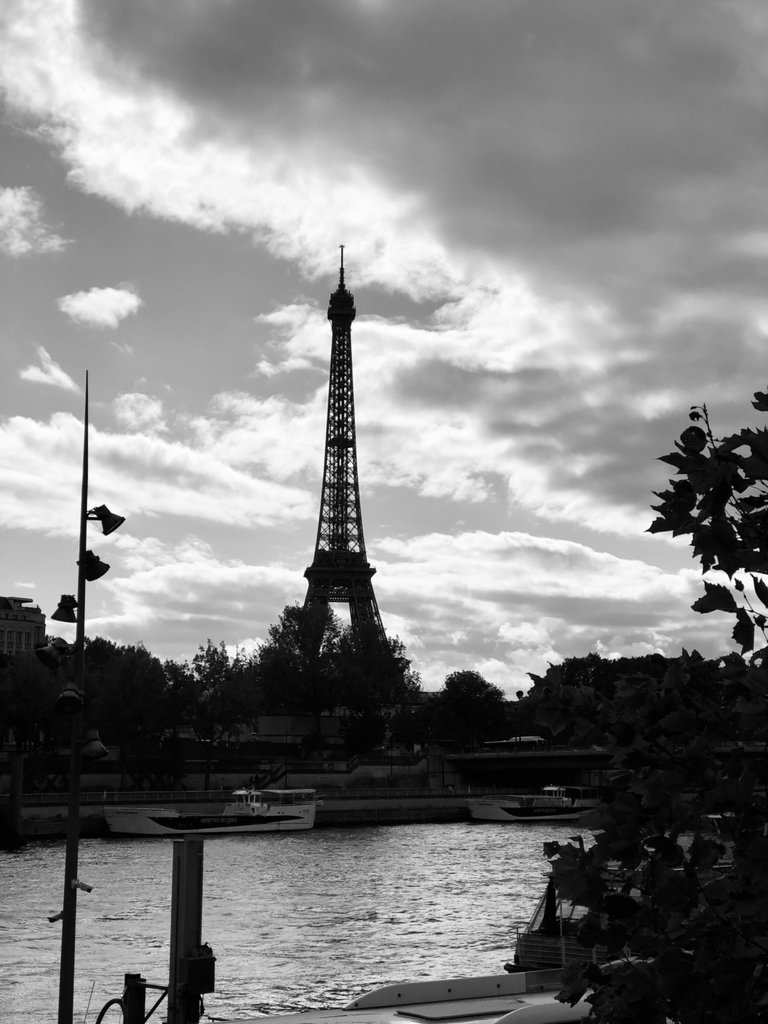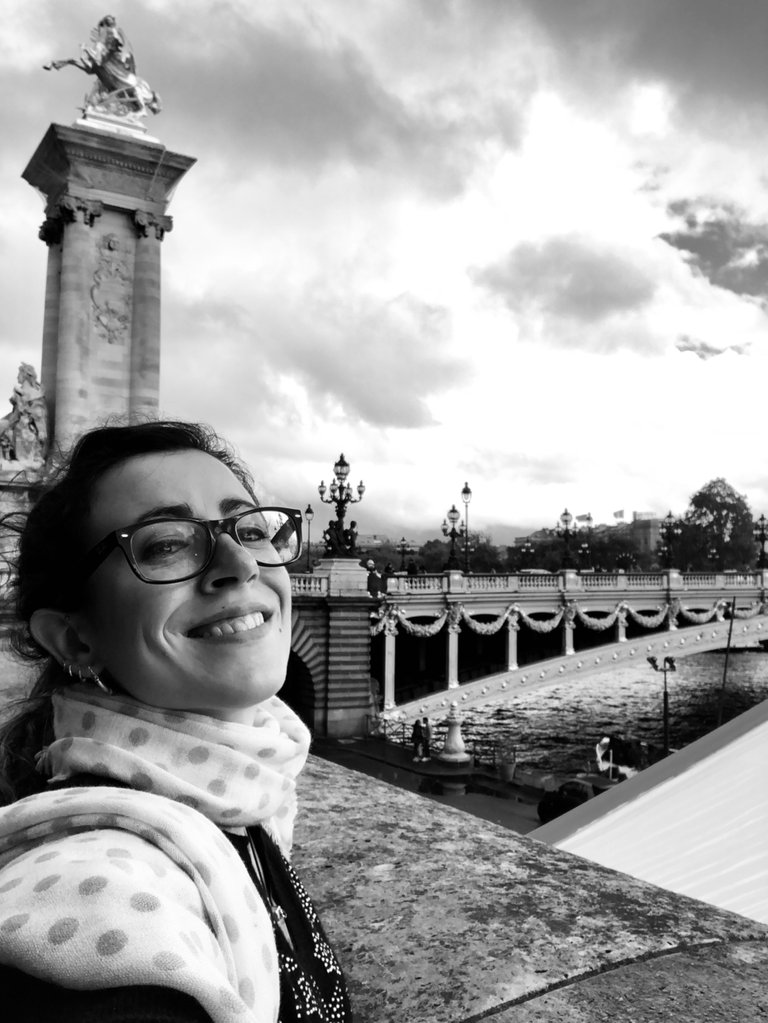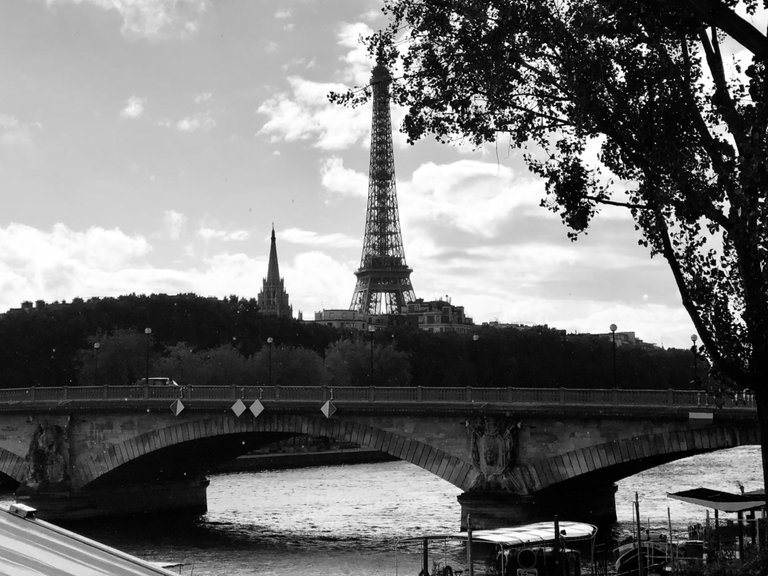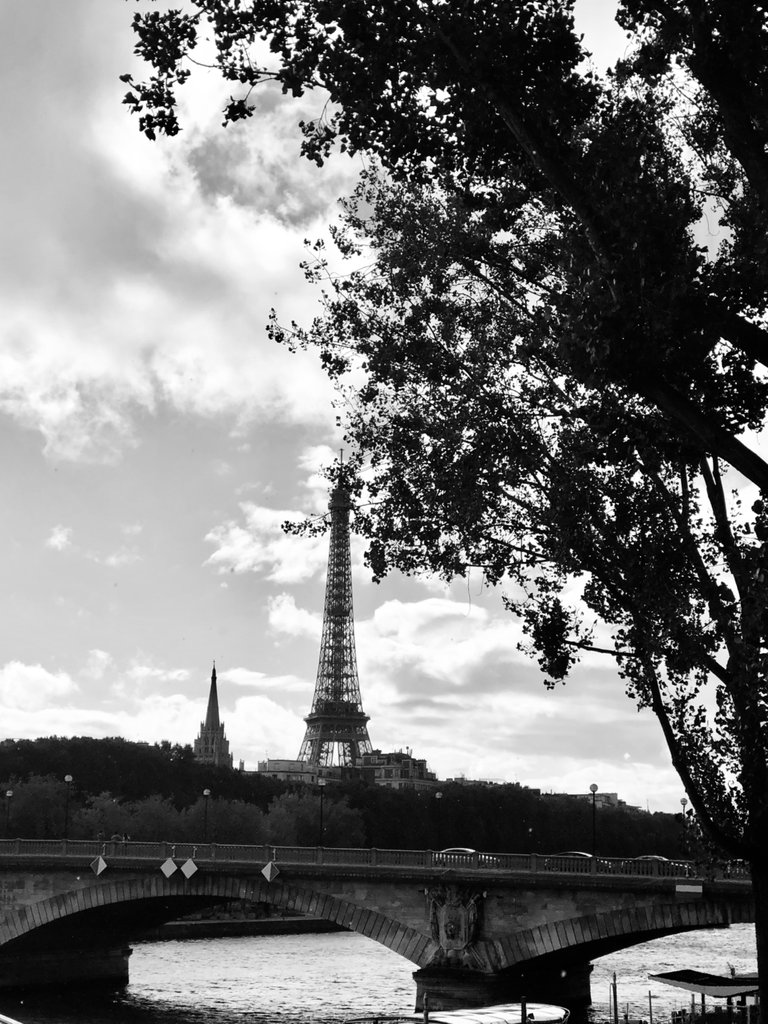 ---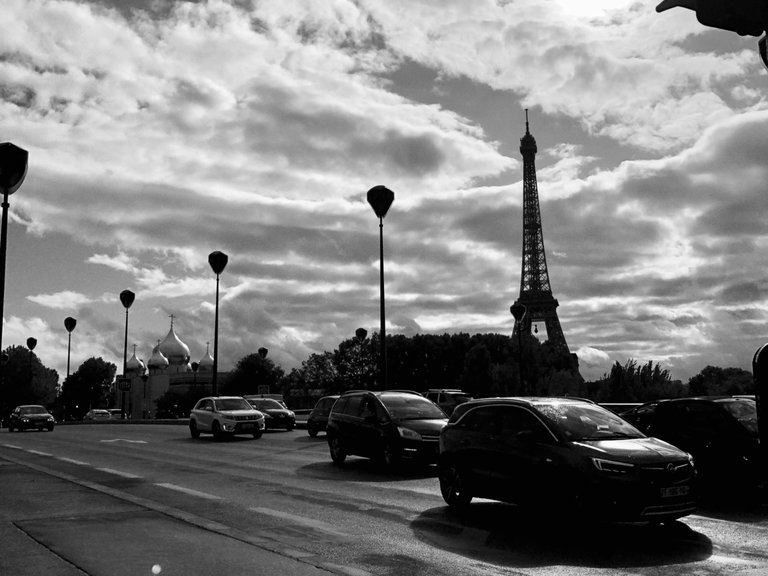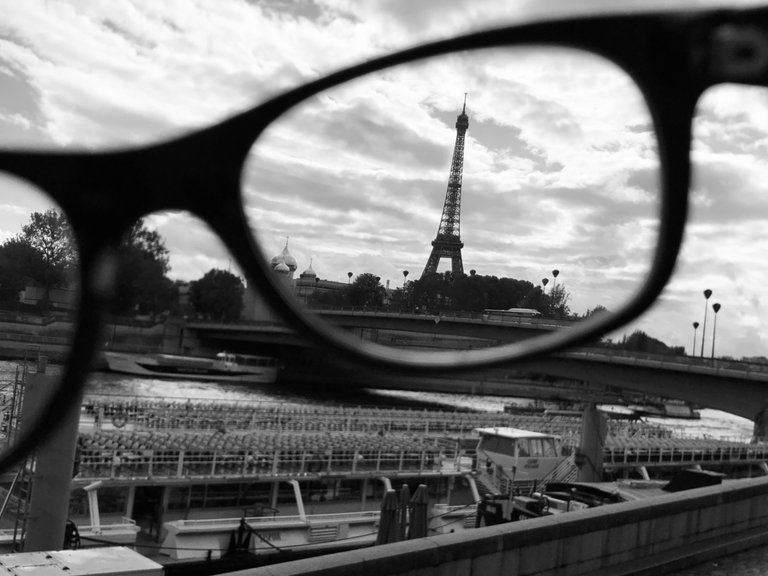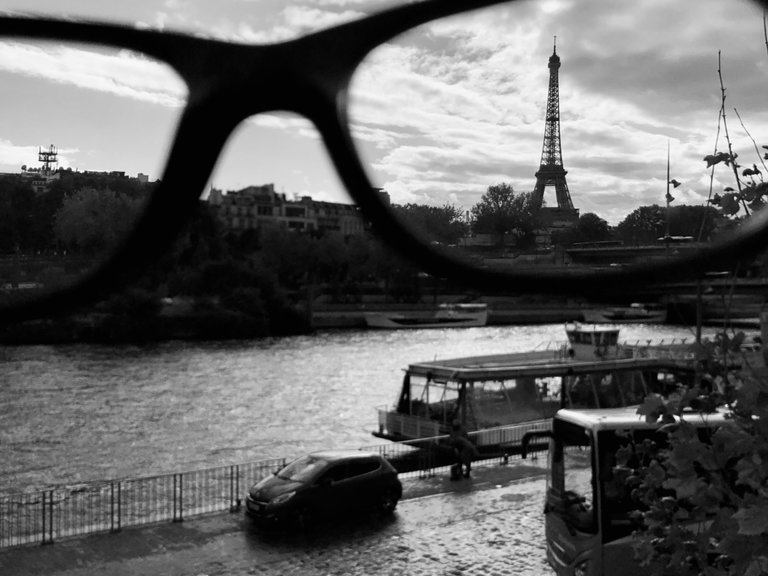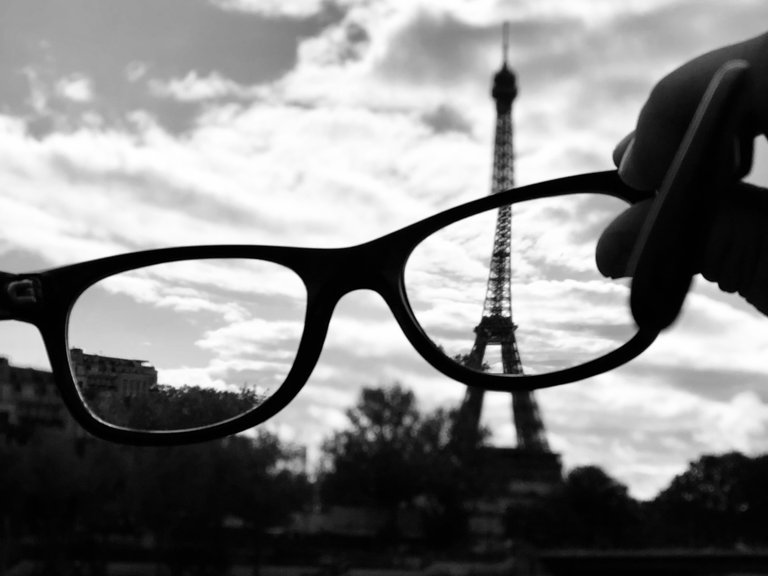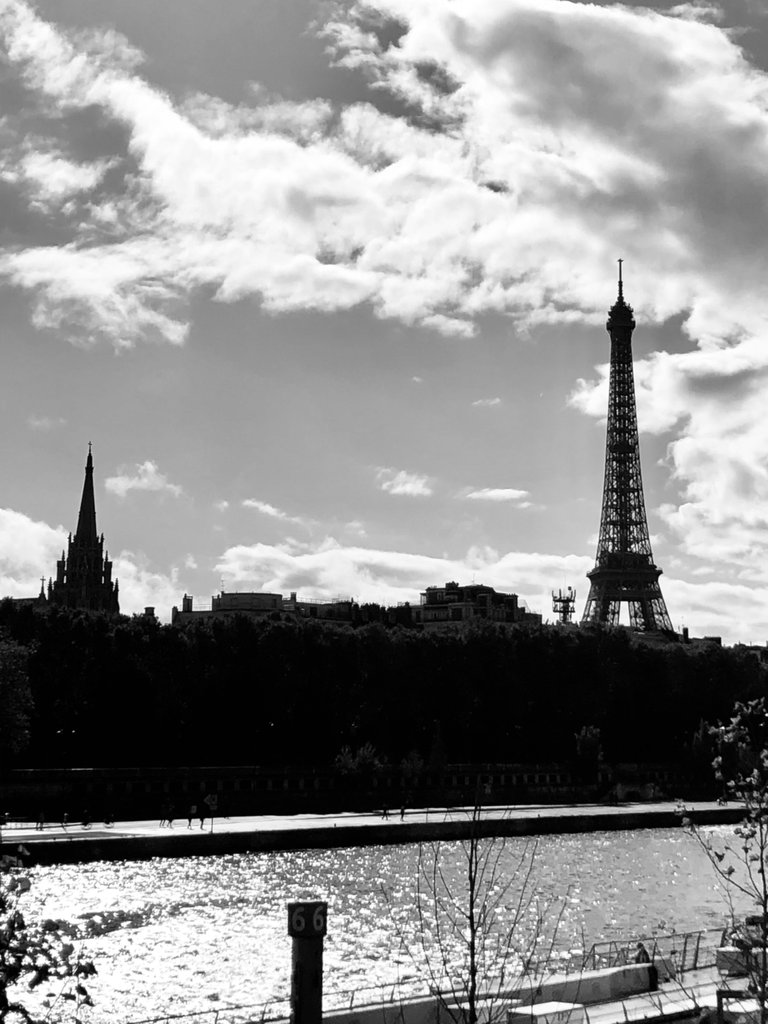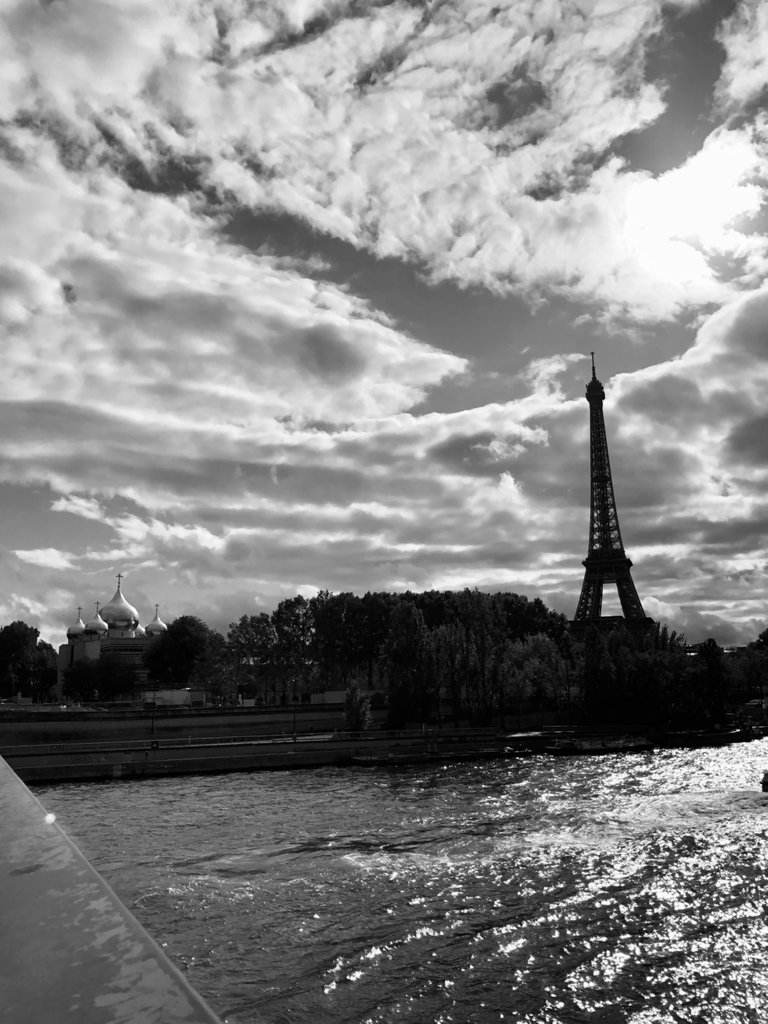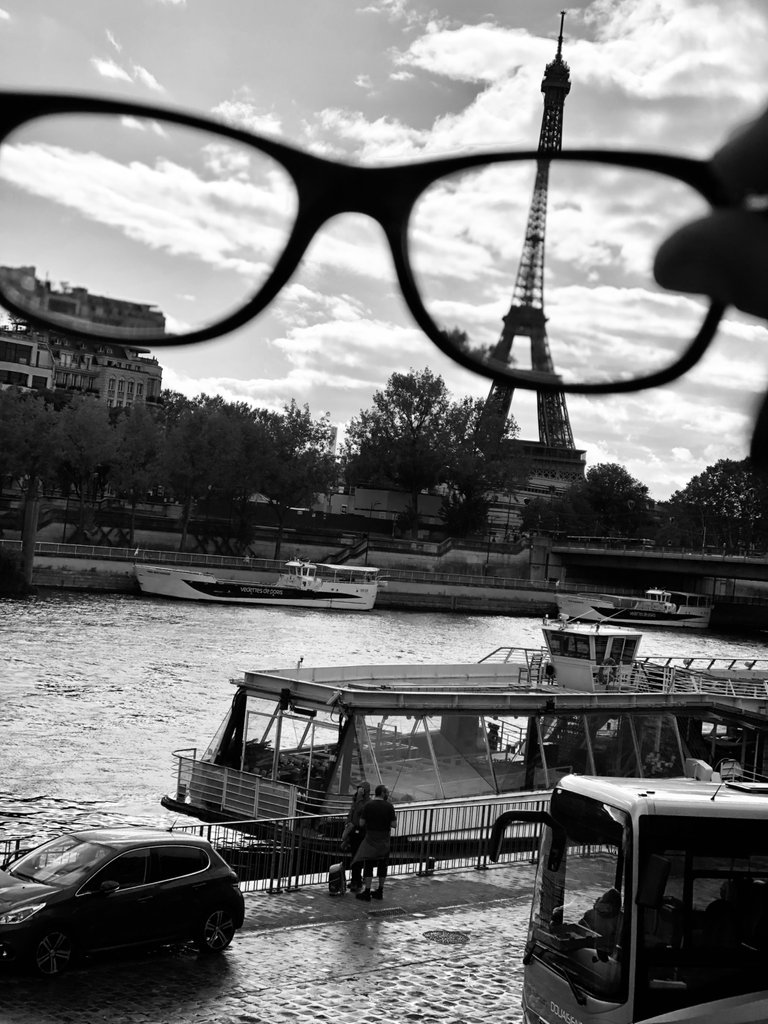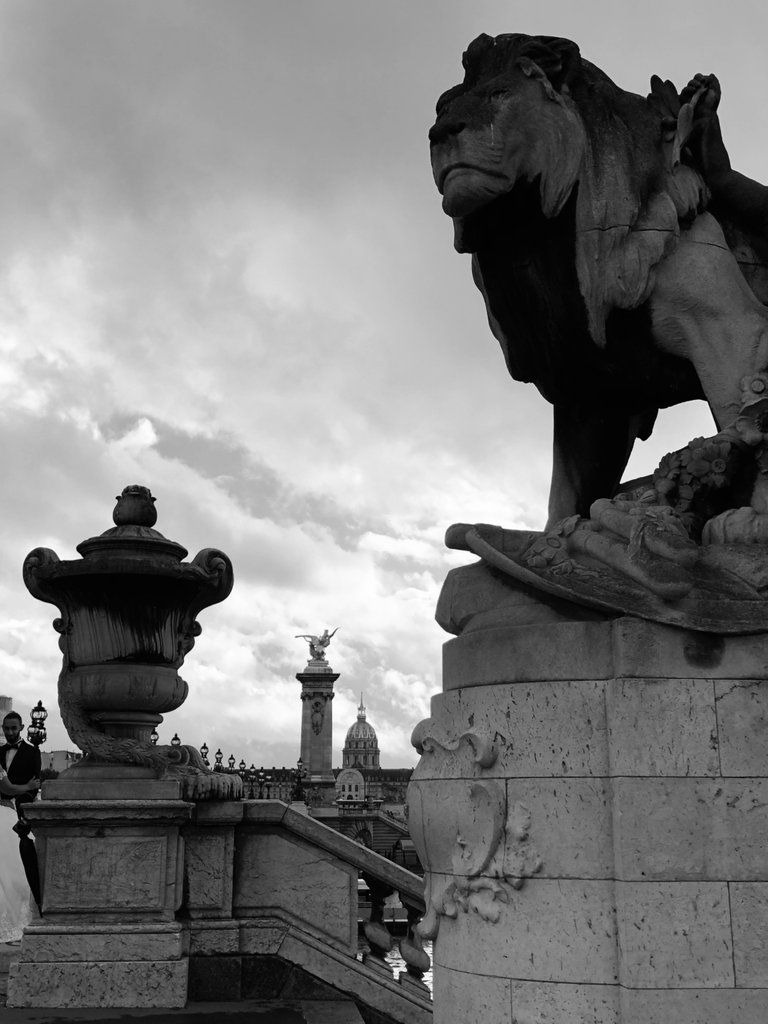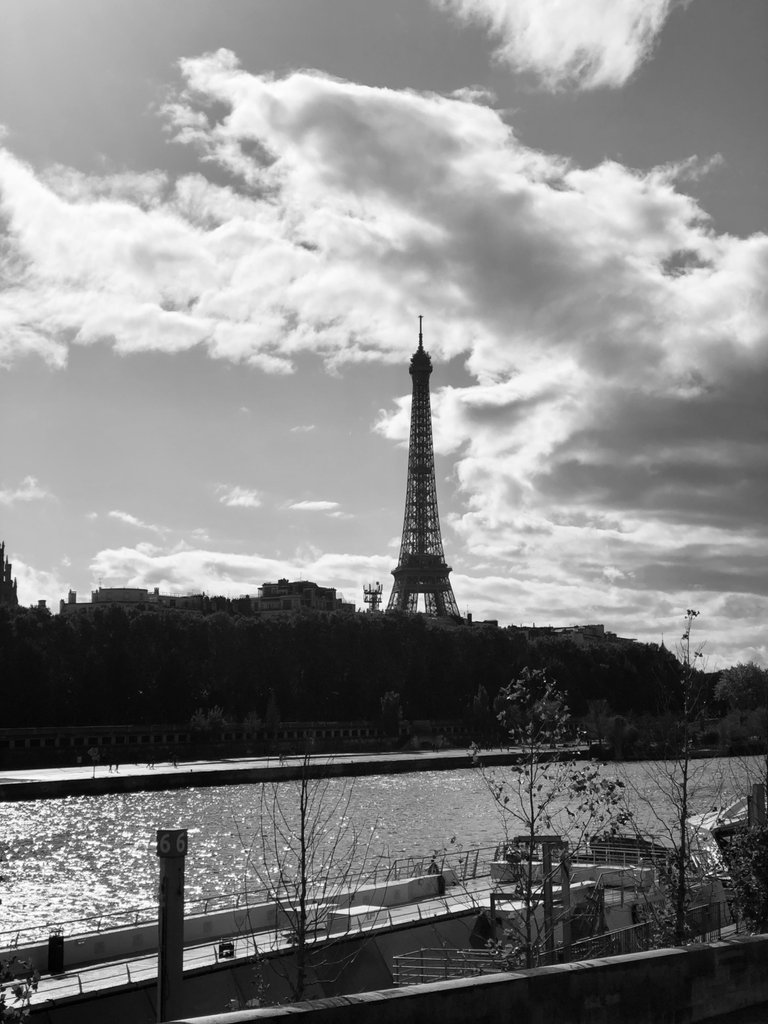 ---
As you can see in the images, what I was looking for was a play between the focus and blur of my glasses, which have a glass for myopia. Although the magnification is -1.75 on the right eye which is the one I used, it still generated that interesting effect of sharpness from the lens and blur around the lens.
I hope you liked the photos, friends!
Como pueden ver en las imágenes, lo que buscaba era un juego entre el enfoque y el desenfoque de mis anteojos, que tienen un vidrio para la miopía. Aunque el aumento es de -1,75 en el ojo derecho que es el que utilicé, igualmente se generaba ese interesante efecto de nitidez desde el lente y borrosidad alrededor del mismo.
¡¡Espero que les hayan gustado las fotos amigos!!
---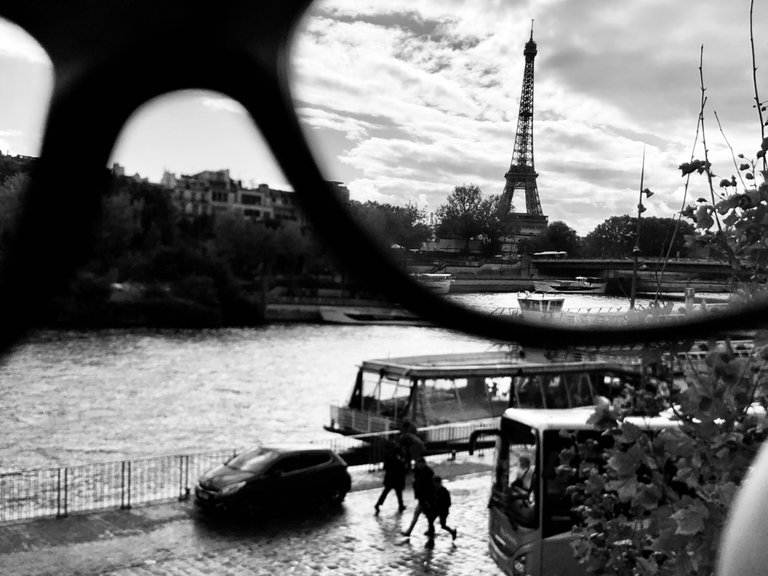 ---
Pinmapple code: [//]:# (!pinmapple 48.86440 lat 2.31204 long MONOMAD PARIS: Bordering the Seine from the Alexander III Bridge d3scr)
---
I hope you've enjoy the post!
Thanks a lot for being here!
With love,
Espero quehayas disfrutado el post!!
Muchas gracias por estar aquí!
Con cariño,
---
Device: iPhone 8 Plus
Translation: DeepL
Dispositivo: iPhone 8 Plus
Traducción: DeepL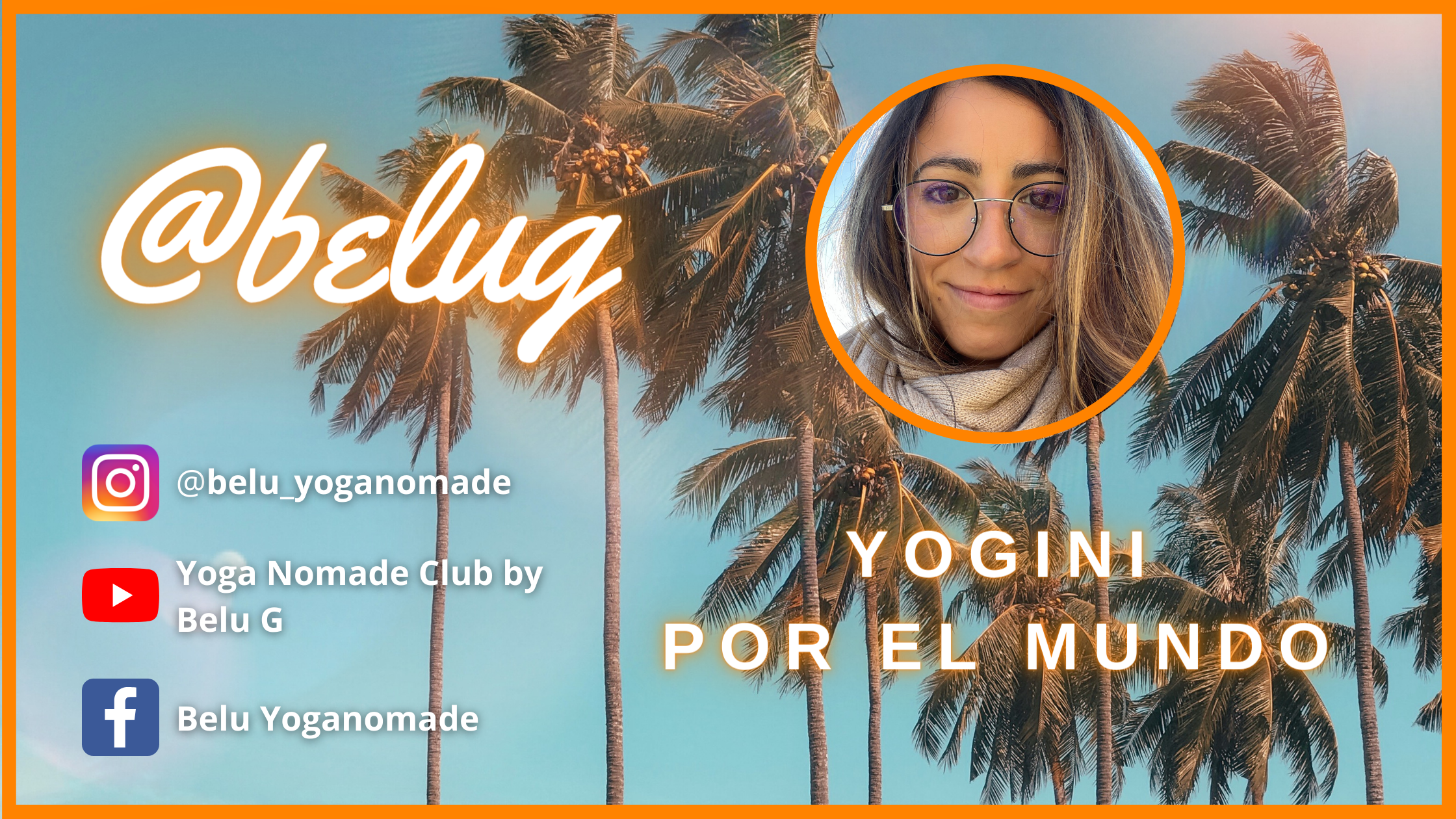 ---
---