Courage beyond all in a must-see series: Cable Girls [Eng - Esp]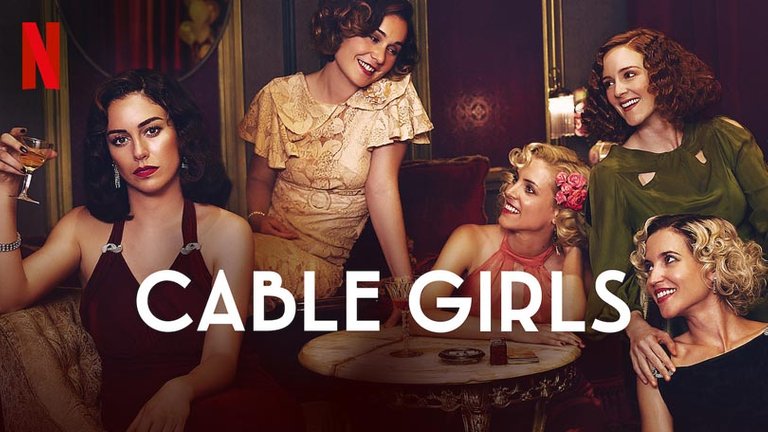 Courage beyond all in a must-see series: Cable Girls
---
I know that Las Chicas del Cable is a series that for today's times, it could be already "old", however, no matter when it premiered, this series will always be a source of inspiration for women and men, especially for the first ones, because it speaks of courage, beyond everything.
Two days ago I finished watching this series for the second time, and I enjoyed it as much as the first time I sat in front of the screen to follow the stories of Lidia, Carlota, Marga, Ángeles and Sara, and this is the first Spanish series of Netflix, once again, came to transmit me a pleasant message of the possibility of change.
This series has 6 seasons and each of them is quite complex, especially the last one, where the plot goes beyond the lives of the protagonists, and their experiences are intertwined with the harsh reality of the Spanish Civil War. The original idea is by Ramón Campos and Gema R. Neira.
Coraje más allá de todo en una serie imperdible: Las Chicas del Cable
---
Sé que Las Chicas del Cable es una serie que para los tiempos que corren, podría resultar ya "vieja", sin embargo, no importa cuándo estrenó, esta serie va a ser siempre una fuente de inspiración para mujeres y hombres, en especial para las primeras, ya que nos habla del valor, más allá de todo.
Hace dos días terminé de ver esta serie por segunda vez, y la disfruté tanto como la primera vez que me senté frente a la pantalla a seguir las historias de Lidia, Carlota, Marga, Ángeles y Sara, y es que esta. la primera serie española de Netflix, una vez más, venía a transmitirme un grato mensaje de posibilidad de cambio.
Esta serie cuenta con 6 temporadas y cada una de ella es bastante compleja, sobre todo la última, en donde la trama va más allá de la vida de las protagonistas, y sus experiencias se entrelazan con la cruda realidad de la Guerra Civil española. La idea original es de Ramón Campos y Gema R. Neira.
---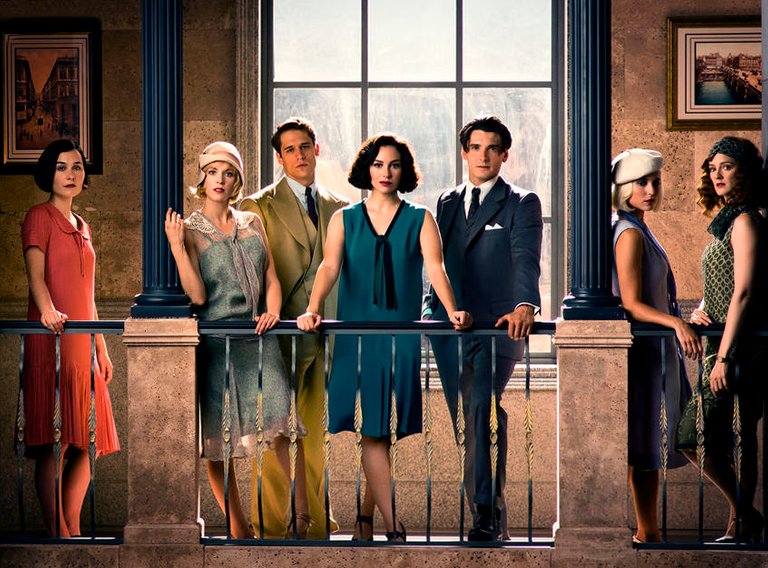 ---
In addition, each character in itself, especially of the four, then five girls that this series brings us closer to, presents very particular personality traits, many of which could be considered controversial for the time of history in which the series takes place. This is what I liked the most.
To fall into a general description of this series and its characters would be to talk too much and provide empty content. For that reason I will tell the general plot and I will go into, even if only briefly, these five women, so that you can have a clearer idea of this story.
Además, cada personaje en sí mismo, en especial de las cuatro, luego cinco chicas que nos acerca esta serie, presenta características muy particulares de la personalidad, muchas de las cuales podrían considerarse polémicas para el tiempo de la historia en que transcurre la serie. Esto es lo que a mí más me gustó.
Caer en una descripción general de esta serie y de sus personajes sería hablar mucho y bridar un contenido vacío. Por ese motivo contaré la trama general y me adentraré, aunque sea brevemente en estas cinco mujeres, para que puedan tener una idea más clara de esta historia.
---

---
General plot
---
As I commented, Las Chicas del Cable is set in 1929, a time when in Madrid the telephonists were beginning to be implemented in the telephone exchange. It was a time when it was still debatable whether women should work, so many men refused this, asking their wives to take care of their children at home. But it was also a time when women were seeking a place in society.
Thus, there were very conservative "sides" that even saw women as an inferior being and others that were more liberal. From there came these women, some more timid and submissive, who, although they wanted to develop their working life in addition to feeding a husband and children, kept quite submissive; and others more rebellious and courageous, who went out to fight for their rights.
In the series there is also an interesting development of the male characters, as "different types of men" are observed, I will talk a little more about them shortly.
To all this, in the series, we also observe the important gap that existed between owners and workers (well, it still exists), but this is shown very clearly, added to the fact that these owners are, in addition, the villains of the story.
What I commented previously, is perfectly hooked to a love story between Lidia, who narrates the story, and Francisco.
Trama general
---
Como comenté, Las Chicas del Cable está situada en 1929, momento en el que en Madrid empezaban a implementarse las telefonistas en la central de teléfono. Era un momento en el que todavía resultaba discutible el hecho de que la mujer trabajara, por lo que muchos hombres se negaban a esto, pidiendo a sus mujeres que cuidaran de sus hijos en casa. Pero también era una época en que la mujer buscaba darse un lugar en la sociedad.
De esta manera, habían "bandos" muy conservadores que incluso veían a la mujer como un ser inferior y otros más liberales. De allí salían estas mujeres, algunas más tímidas y sumisas, que, aunque querían desarrollar su vida laboral además de alimentar a un marido e hijos, mantenían bastante sumisión; y otras más rebeldes y valientes, que salían a luchar por sus derechos.
En la serie también hay un interesante desarrollo de los personajes masculinos, ya que se observan "distintos tipos de hombre", en breve hablaré un poco más de ellos.
A todo esto, en la serie, también se observa la importante brecha que existía entre propietarios y trabajadores (bueno, sigue existiendo), pero esto se muestra muy claro, sumado a que estos propietarios son, además, los villanos de la historia.
Lo que comenté previamente, está enganchado perfectamente a una historia de amor entre Lidia, quien narra la historia, y Francisco.
---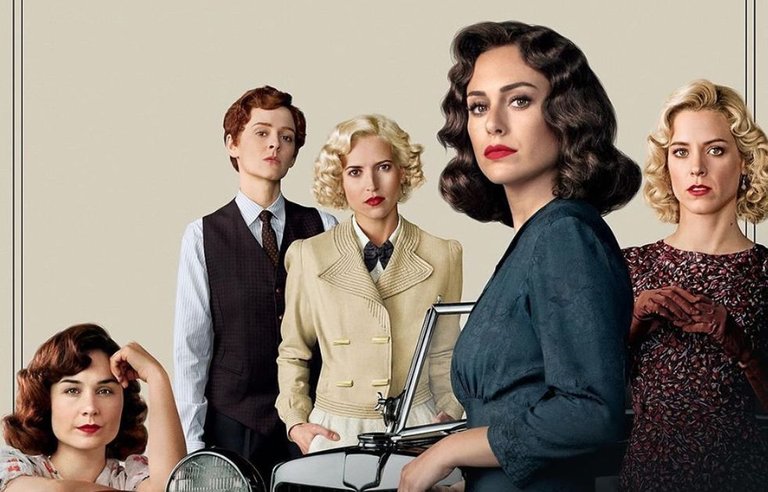 ---
The characters
---
I can't do this review without describing these women. Let's go one at a time:
---
Lidia Aguilar
---
This woman is THE protagonist, played by Blanca Suarez. Although the series is initially about four and then five girls, the whole story is narrated by Lidia, formerly called Alba. Well, in truth, at one point in the story it seems that Lidia has a double life, but little by little it becomes clear that she has become Lidia Aguilar. A character who reinvents herself from a very young age and ends up as a telephone operator because of threats, as a consequence of the world in which she had had to grow up and as a result of the unfortunate events to which she had been exposed, almost accidentally.
Lidia is the strong woman, capable of anything, invincible, the one who will do the impossible to achieve a goal because her self-confidence is powerful enough to know that she will succeed.
As I mentioned, her love story with Francisco becomes a kind of thread that runs through this plot and shows us two little lovers who are separated by an unfortunate chance and meet again as adults, when life has already made them adults with delicate and intense stories.
Francisco is the hard-working, loyal, respectful man, who plays fair, but who can really go beyond his limits because he is faithful to his principles and feelings.
But Lidia also meets Carlos, the son of the company's owner, an arrogant man who, because of his position, believes he can get what he wants.
Los personajes
---
No puedo hacer esta reseña sin describir a estas mujeres. Vamos de a una:
---
Lidia Aguilar
---
Esta mujer es LA protagonista, es interpretada por Blanca Suárez. Si bien la serie es en principio sobre cuatro y luego sobre cinco chicas, la historia completa está narrada por Lidia, antes llamada Alba, bueno, en verdad es como que en un momento de la historia pareciera que Lidia tiene una doble vida, sin embargo poco a poco deja ver que ella se ha convertido en Lidia Aguilar. Un personaje que se reinventa desde muy pequeña y termina como telefonista por amenazas, como consecuencia del mundo en el que había tenido que crecer y a raíz de los desafortunados eventos a los que había estado expuesta, casi de modo accidental.
Lidia es la mujer fuerte, capaz de todo, invencible, aquella que hará lo imposible por alcanzar un objetivo porque su confianza en sí misma es lo suficientemente poderosa como para saber que lo logrará.
Como mencioné, su historia de amor con Francisco se convierte en una especie de hilo que atraviesa toda esta trama y que nos muestra a dos pequeños enamorados que se ven separados por una lamentable casualidad y se reencuentran de adultos, cuando ya la vida hizo de ellos adultos con historias delicadas e intensas.
Francisco es el hombre trabajador, leal, respetuoso, que juega limpio, pero que en verdad puede ir más allá de sus límites por ser fiel a sus principios y sentimientos.
Pero además Lidia conoce a Carlos, el hijo del dueño de la compañía, un hombre soberbio, que por su posición, cree que puede conseguir lo que quiere.
---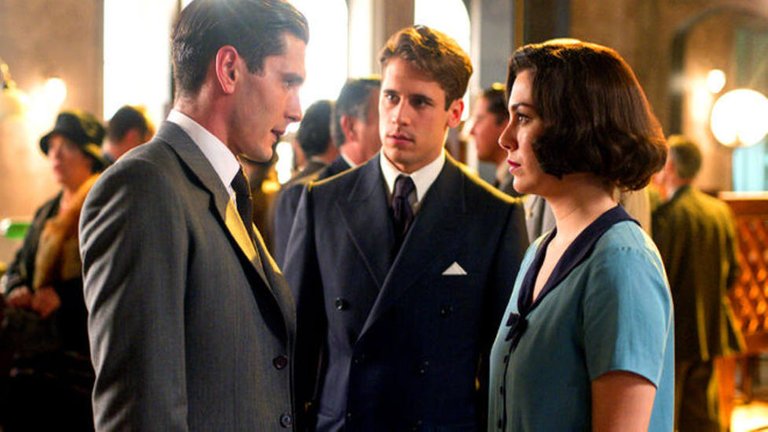 ---
Ángeles Vidal
---
She is an extremely intelligent and responsible woman both with her work and her family, who is given life by Maggie Civantos. She has an aggressive husband and a little girl. Her husband shows the profile of the violent man who mistreats women, and Ángeles is the submissive who must resign herself to the life she has because at that time divorce was forbidden.
Her character started like that, but throughout the story she transforms herself, until she becomes someone I would never have imagined as a spectator.
I thought this transformation was fantastic, because it makes it clear how life and experiences can mold a person.
Ángeles Vidal
---
Es una mujer extremadamente inteligente y responsable tanto con su trabajo como con su familia, a quien le da vida Maggie Civantos, Tiene un esposo agresivo y una niña. Su marido muestra el perfil del hombre violento que maltrata a la mujer, y Ángeles es la sumisa que debe resignarse a la vida que tiene porque en aquel momento el divorcio estaba prohibido.
Su personaje empezó así, pero a lo largo de la historia se va transformando, hasta llegar a ser alguien que jamás hubiese imaginado como espectadora.
Esta transformación me pareció fantástica, porque deja en claro cómo la vida y las vivencias, pueden ir moldeando a una persona.
---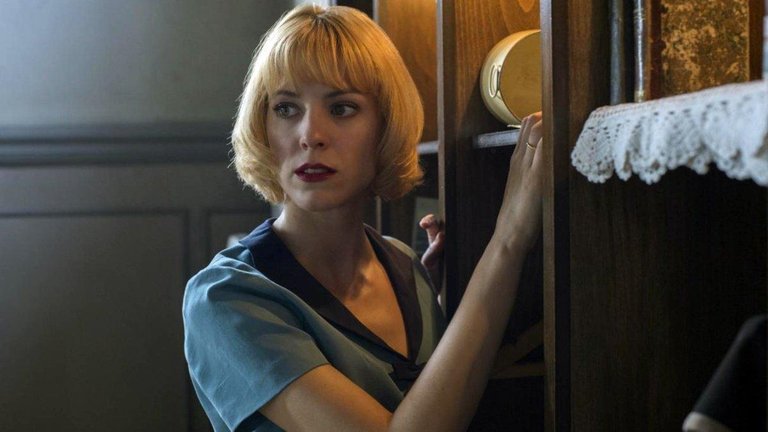 ---
Marga Suarez
---
She is the shy, innocent woman. She goes from a village to Madrid and her social experience is practically null. In the city she encounters a certain "wildness" for which she is not prepared, but she soon realizes that this is life, and learns to find the tasty side of taking risks and being encouraged.
This is an exquisite character played by Nadia de Santiago, who also presents a transformation, not as contrasting as that of Ángeles, but Marga could be said to be "the common denominator", I think many women have lived this, and I find it excellent that the series shows an ordinary woman.
Her story is simple, but just as powerful, as Marga leaves her skin of absolute innocence and little by little cultivates courage. In this way, she realizes that she is also a girl who can give up everything in order to be true to her principles and act from justice.
She falls in love with Pablo, a boy with her exact characteristics. He is the shy and inexperienced boy, who still keeps the game of conquest and respect.
Marga Suárez
---
Es la mujer tímida, inocente. Ella va de un pueblo hacia Madrid y su experiencia social es prácticamente nula. En la ciudad se encuentra con cierto "salvajismo" para el que no está preparada, pero pronto se da cuenta de que esa es la vida, y aprende a encontrar el lado sabroso de tomar riesgos y animarse.
Este es un personaje exquisito interpretado por Nadia de Santiago, que también presenta una transformación, no tan contrastante como la de Ángeles, pero Marga podría decirse que es "el común denominador", creo que muchas mujeres han vivido esto, y me parece excelente que la serie muestre a una mujer común y corriente.
Su historia es sencilla, pero igual de poderosa, ya que Marga deja su piel de absoluta inocencia y poco a poco cultiva el coraje. De este modo, se da cuenta que ella también es una chica que puede renunciar a todo con tal de ser fiel a sus principios y actuar desde la justicia.
Ella se enamora de Pablo, un chico con sus mismas exactas características. Es el chico tímido y sin experiencia, que guarda todavía el juego de la conquista y el respeto.
---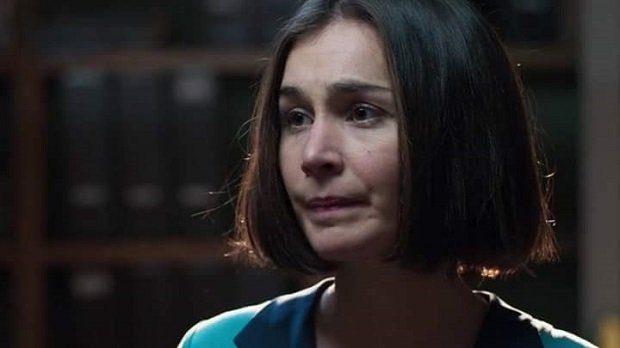 ---
Carlota Rodriguez de Senillosa
---
This character is very particular, and is played by Ana Fernandez. I like very much that they have placed this story, because it really allows us to see how those pioneering and visionary women existed, who took all their lives a step ahead, and if not ahead, at the side of where everyone was walking.
Daughter of an excellently positioned military man with very high purchasing power, Carlota decides to look for a job to achieve her independence. She is paired with a liberal, understanding, companionable man, who also values independence and freedom above all else. Shortly after the beginning of the series, their relationship takes other tones, as Carlota falls in love with Sara, and soon they have a three-way relationship.
I really like to see these stories from so many years ago, there are already several series or movies that make reference to this in the early twentieth century. I like it, because today this has become naturalized, but back then, people with different tastes were discriminated against, considered freaks and so on (in the next character I will delve into this).
Carlota already has a very strong and determined personality. She is not afraid of anything and in that she is very similar to Lidia. Because of this, starting from this already innate base it could be said, Carlota expands and explores her sexuality and her profession, even daring to take her steps in politics.
Carlota Rodriguez de Senillosa
---
Este personaje es muy particular, y es interpretado por Ana Fernandez. Me gusta mucho que hayan colocado esta historia, ya que realmente nos permite ver cómo existían aquellas mujeres pioneras y visionarias que llevaban toda su vida un paso más adelante, y sino adelante, al costado de donde todos iban caminando.
Hija de un militar excelentemente posicionado y con altísimo poder adquisitivo, Carlota decide buscar un trabajo para lograr su independencia. En pareja con un hombre liberal, comprensivo, compañero, que también valora la independencia y la libertad por, sobre todo.
A poco de empezar la serie, su relación va tomando otros tonos, ya que Carlota se enamora de Sara, y pronto pasan a tener una relación de tres.
Me gusta mucho ver estas historias de hace tantos años, ya son varias las serie s o películas que hacen referencia a esto en los inicios del siglo XX. Me gusta, porque hoy en día esto se ha naturalizado, pero en aquel entonces, las personas con gustos diferentes eran discriminadas, consideradas engendros y demás (en el próximo personaje ahondaré en esto).
Carlota ya tiene una personalidad muy fuerte y decidida. No tiene miedo a nada y en eso se parece mucho a Lidia. Por esto, partiendo de esta base ya innata podría decirse, Carlota se expande y explora su sexualidad y su profesión, atreviéndose incluso a dar sus pasos en la política.
---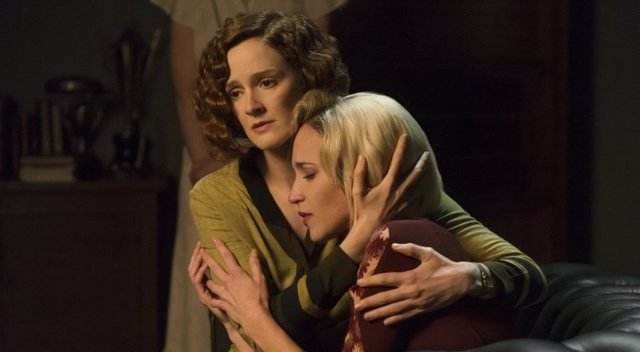 ---
Sara / Oscar
---
How not to talk about Sara. Played by Ana Polvorosa, this character starts out as an extremely responsible woman, in fact, she is in charge of the telephone operators, and at headquarters she is extremely straight. But soon the series shows us a woman who really fights for women's rights and, moreover, is a lesbian.
Still, the series never mentions categories such as lesbian, bisexual, but that's what it seems to me.
However, as the story progresses, Sara lets out a part of her that had been left behind, and when she starts her relationship with Carlota, Sara begins to feel again that she is a man enclosed in a woman's body.
Shocking to see this in that series, but I really liked it, because they also show how people who felt that way were discriminated against and what "treatments" were available. That lasts quite short in the series, but not the transformation of Sara, who has to hide behind a dress again, after having tasted the taste of a little freedom.
Sara / Óscar
---
Cómo no hablar de Sara. Interpretada por Ana Polvorosa, este personaje empieza como una mujer extremadamente responsable, de hecho, es la encargada de las telefonistas, y en la central se muestra sumamente recta. Pero pronto la serie nos muestra a una mujer que realmente lucha por los derechos de la mujer y, además, es lesbiana.
Igual, nunca en la serie se mencionan categorías como lesbiana, bisexual, pero eso es lo que me parece a mí.
Sin embargo, avanzada la historia, Sara deja salir una parte de ella que había quedado atrás, y es que cuando empieza su relación con Carlota, Sara comienza a sentir nuevamente, que ella es un hombre encerrado en el cuerpo de una mujer.
Impresionante ver esto en esa serie, pero me gustó muchísimo, porque también presentan cómo eran discriminadas las personas que sentían de ese modo y qué "tratamientos" estaban disponibles. Eso dura bastante poco en la serie, pero no la transformación de Sara, quien tiene que volver a esconderse tras un vestido, después de haber probado el sabor de un poco de libertad.
---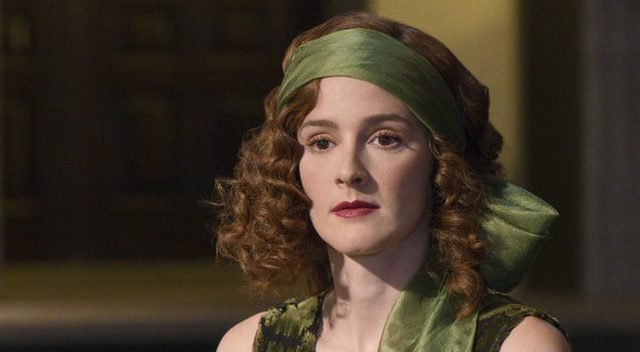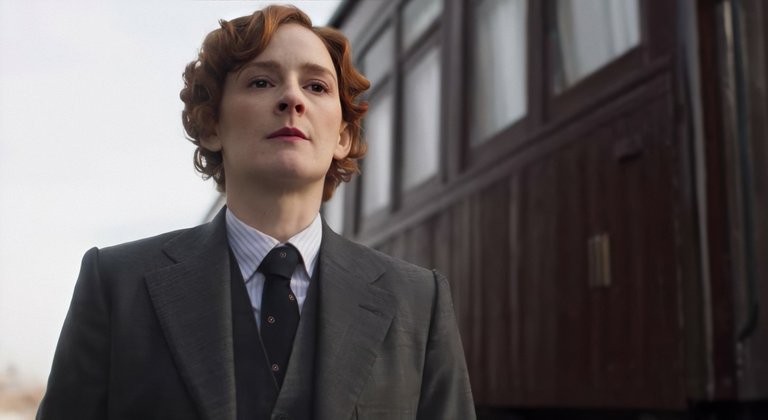 ---
Well, in truth this has been a fairly general review, but it gives the idea of what this series is. It is one of those productions that deserves a development per season and sometimes per episode, in case the viewer or critic wants to delve into the psychology behind the characters, the political context of the moment and the plot of the fiction itself. There is "a lot of material to cut", as we would say in Argentina.
100% recommended!!
Bueno, en verdad esto ha sido una reseña bastante general, pero da la idea de lo que es esta serie. Es una de esas producciones que amerita un desarrollo por temporada y en ocasiones por episodio, en caso de que el espectador o el crítico quiera adentrarse en lapsicología detrás de los personajes, el contexto político del momento y la misma trama de la ficción. Hay "mucha tela para cortar", como diríamos en Argentina.
100% recomendada!!
---
Tráiler
---
---
---