Abdul's Restaurant: Sydney (AUSTRALIA)
Read this post on TravelFeed.io for the best experience
---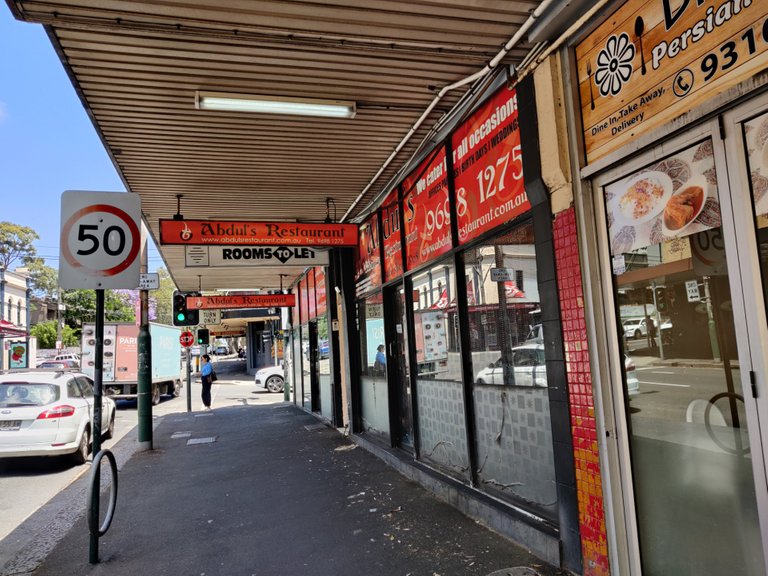 As usual, I'm always looking for fast and decent places to sit down and eat or to get takeaway for the days when I'm working. In between rehearsals in the day, you will generally have around an hour maximum for the lunch break... and some of that will be already taken up with packing up (and unpacking) the instruments before and after the rehearsal... and then walking to get to place to eat.
So, when you find a place that is decent, fast, and nearby to the rehearsal venue... it is hard to change places!
Abdul's Restaurant is a pretty decent place that is it very close to the Opera Australia rehearsal venue... and so, as soon as the lunch break is called... I'm off like a shot to get to this family-run takeaway/restaurant before the rest of the ensemble dawdles down!

The Space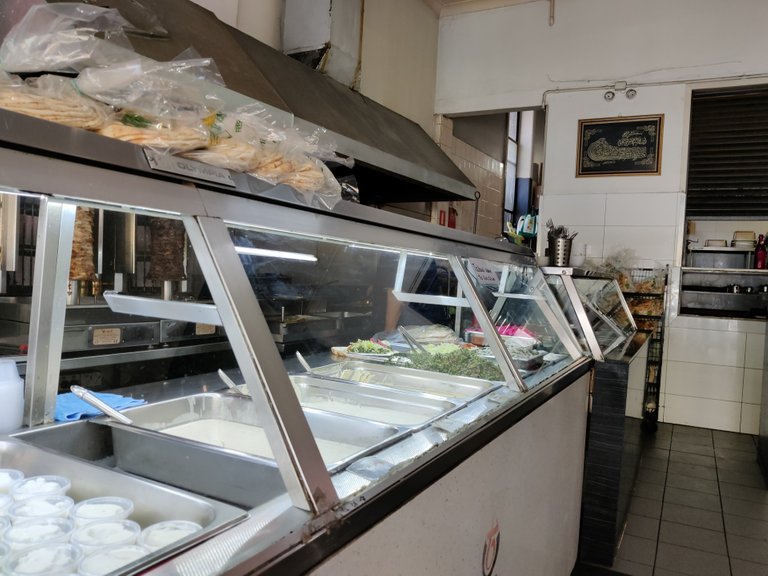 Everything is prepared (well, put together) right in front of you... there is a seating area if you want to sit and eat... but I've never had the time to manage that! So, you will be in this takeaway queue... just make sure you have your order ready... and your answers to the sauces/extras questions ready to go.. don't screw up your order, or anyone else's! The gruff and to-the-point server (Abdul?) can get a touch cranky when things don't run smoothly! Even more so when there is a crowd!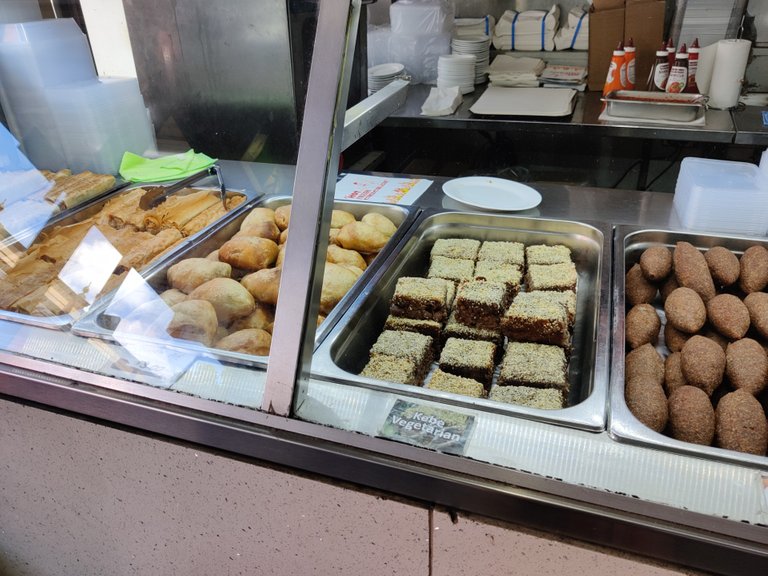 Lots of nice sweets and various other things are also on display in the counters... but most of the people will be here for the grill or the wraps.

The Menu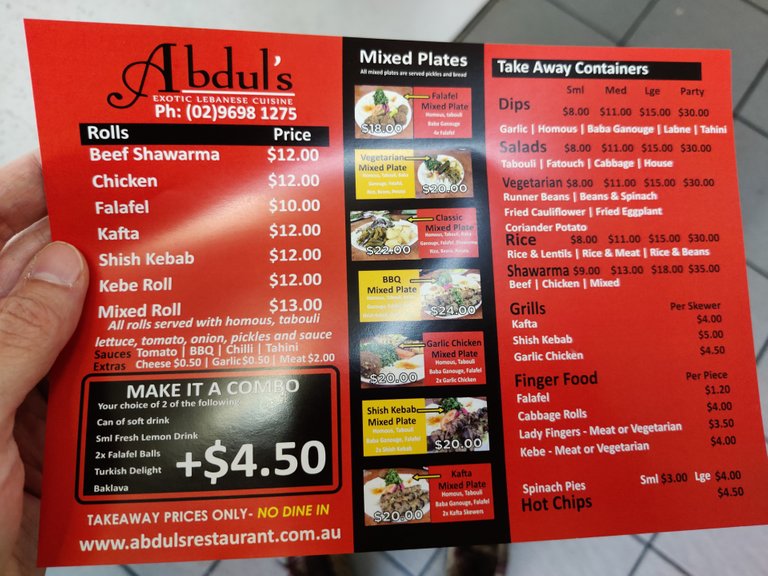 So, lots of Lebanese offerrings on teh menu... and all of it so far has been really quite decent! I've been mainly getting the rolls (chicken and falafel)... and I'm working my way through the list to see which one is the best!
Honestly, I wouldn't skip on anything... the Tabouli is an extra two dollars, but it is really well worth it. The Hommous is great, and the pickles are really nice addition to the rest of the vegetables. Your roll will be fat and stuffed to breaking point... but oh, so good! Just don't eat it in the car... you will need space to drop things!

The Food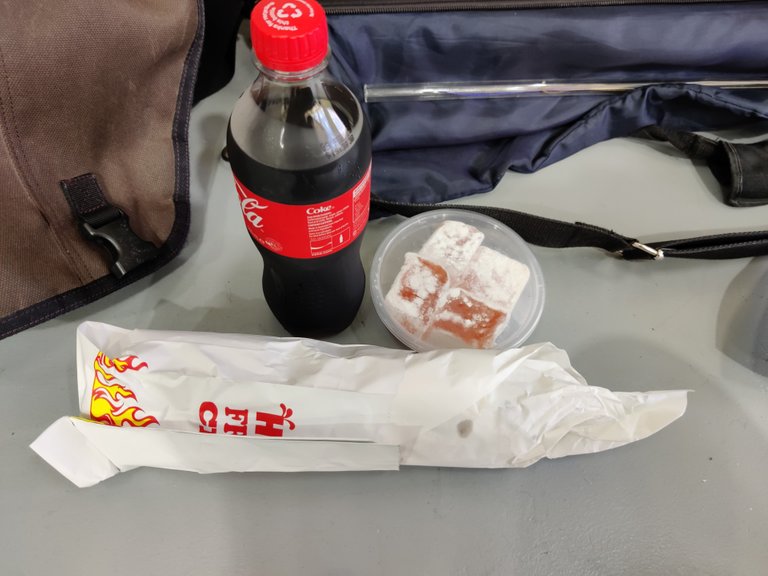 So, as I mentioned... rolls, and then other stuff. In this particular round... I picked up some Turkish delight. Top stuff, not at all too sweet... which is often the case with the commercially made stuff.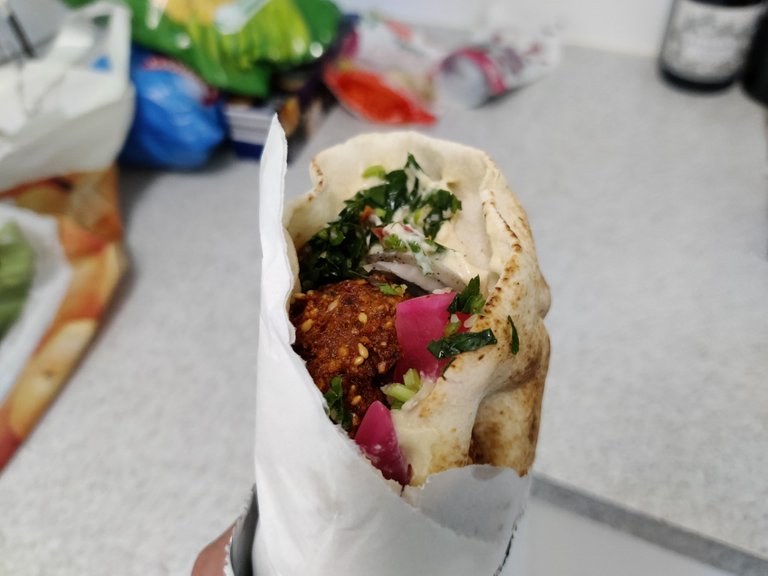 ... and a sneak peak of the Felafal roll before I chomped in. Of course, it wouldn't be practical to show a photo of the roll unwrapped... it was messy enough to eat already!
So far, I think that the felafal version is by far and way the best... but I will have to say that the chicken was okay, just not worth the extra money. I will have a go at the kofta and other meat versions in the coming days... perhaps those will be better than the chicken. Still... no complaints about the felafa... and it was a hell of a lot better than the version that I found in the inner CBD area which was salty as all hell!

The Experience
Love the place... definitely a fast favourite for me, a good combination of cheap-enough, decent food, and fast... which fits the criteria that I have for trying to cram in a quick lunch that will get me through the afternoon rehearsal session!
The server is quite funny... well, it is more funny to see him crank out at the other people who mess up their orders! Although, I have to say that I'm in sheer terror at messing up my order!
Still... food made decently... and at some point, I wouldn't mind coming in to sit down and eat. My kids do love felafal... and we haven't found a decent place yet as a family. Sydney is a touch far, but we might give this place a go together if we are in the area!

Opening Times
Monday 10am–10pm
Tuesday 10am–10pm
Wednesday 10am–10pm
Thursday 10am–10pm
Friday 10am–12am
Saturday 10am–12am
Sunday 10am–10pm

Contact Details
Address: 563 Elizabeth St, Surry Hills NSW 2010
Phone: (02) 9698 1275
Website: http://www.abdulrestaurant.com.au/
Instagram
---
View this post on TravelFeed for the best experience.
---
---