The Move Part 10: NOOOOO, Steam Deck Delay!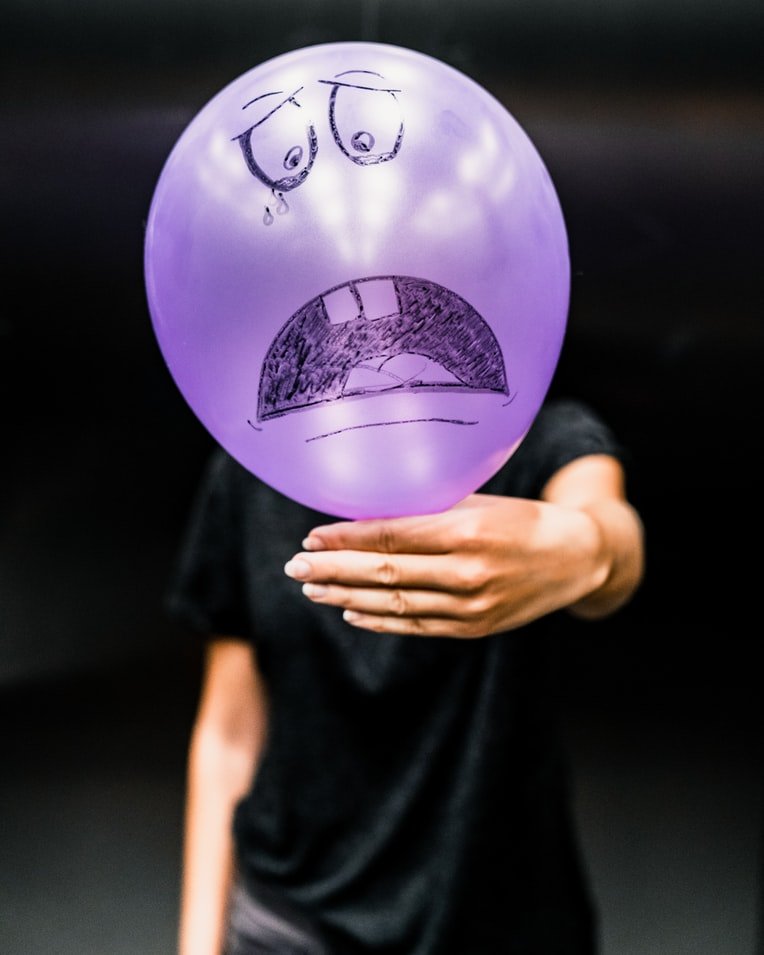 Unsplash
This is my little series on the big move back to Australia. Perhaps I will look back in the future and laugh... or cry!
Part 1: Finding a Moving Company
Past 2: A Slight Travel Panic
Part 3: Comparing Crypto Tax Accounting platforms (Cointracking vs Rotki)
Part 4: A Week in Involuntary Stasis
Part 5: The Last Harvest
Part 6: Letting Go...
Part 7: Putting the name out there!
Part 8: Prohibited Materials:
Part 9: Liquidity Freeze!
---
I'm sure that many PC gamers have been eagerly awaiting the launch of the much hyped Steam Deck that was slated to be the end of 2021 or beginning of 2022. Many of us hardcore gamers rushed straight out claimed a spot on the reservation list for one of the three tiers of Deck. I mean, the ability to play games from your own Steam library on the go? That is just too awesome! Of course, I do it with my XMG gaming laptop... but there are times that it would be just nicer to whip out a handheld sized gadget and get some gaming done on the go.
Of course, I have always had some sort of handheld console to scratch that mobile gaming itch (mobile games on phones just don't do it for me), but the releases on the consoles just have lacked depth for my taste... and more to the point, they are often quite a bit more expensive than the comparable types of games on PC! Plus, they just lack the depth and quality that PC gamers are used to.
Plus... in recent times, my Nintendo Switch has been hijacked by my two girls to play Mario and Animal Crossing. So, although it is technically MY Switch... in practice, it is the family's Switch. And more to the point, it is the shared console of the two girls. Any time that I am going away for an extended period of travel in which the Switch would be the perfect travel companion, I get a nasty look from my wife if I float the idea of taking MY Switch! Thankfully, that problem will soon be solved with a second Switch Lite that will officially be the console for the children...
... however, my heart has been more set on the launch of the Steam Deck! This would be my dream console, with my entire PC gaming library at my fingertips! Sure, I will still have to deal with the let-down of console control sticks instead of my beloved Keyboard and Mouse, but I have quite a few games in my library that won't need to have the full accuracy or flexibility of the proper PC setup. As a bonus, those are the sorts of games that get put on the long shamelist as I get attracted to the more involved games! So, a chance to also clear my Steam backlog?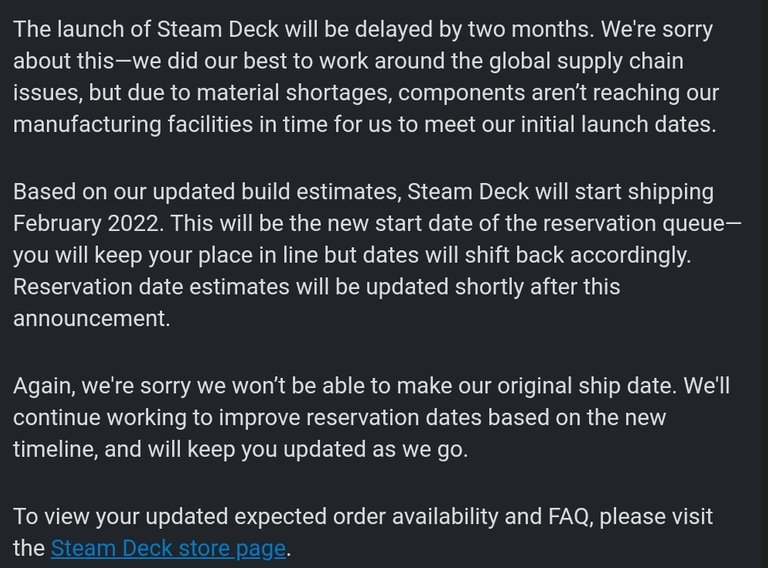 So, it was with great sadness that I received this email and the news that the Steam Deck was being delayed for another few months or so. Normally, that wouldn't be a problem... however, in my case, it means that the Deck won't be launched until I'm out of Netherlands and back in Australia! Which is a poop, as it isn't officially being launched in Australia until much later.
So, it looks like I might need to ship it to a friend in Netherlands who will be able to bounce it out to me. I think I can trust him... as he has already pre-ordered his own Steam Deck. Actually, I know I can trust him!
... or maybe there could be an option to have it sent to Australia?
Anyway... apparently the delay is due to... surprise surprise, the delays in supply chains due to the Coronavirus downstream effects. Sigh... Oh well, I guess it could be much much worse! But this would have been an awesome gadget to have on that incredibly long flight to the other side of the world!

I can also be found cross-posting at:
Hive
Steem
Publish0x
Handy Crypto Tools
Ledger Nano S/X: Keep your crypto safe and offline with the leading hardware wallet provider. Not your keys, not your crypto!
Binance: My first choice of centralised exchange, featuring a wide variety of crypto and savings products.
Kucoin: My second choice in exchanges, many tokens listed here that you can't get on Binance!
FTX: Regulated US-based exchange with some pretty interesting and useful discounts on trading and withdrawal fees for FTT holders. Decent fiat on-ramp as well!
MXC: Listings of lots of interesting tokens that are usually only available on DEXs. Avoid high gas prices!
Huobi: One of the largest exchanges in the world, some very interesting listings and early access sales through Primelist.
Gate.io: If you are after some of the weirdest and strangest tokens, this is one of the easiest off-chain places to get them!
Coinbase: If you need a regulated and safe environment to trade, this is the first exchange for most newcomers!
Crypto.com: Mixed feelings, but they have the BEST looking VISA debit card in existence! Seriously, it is beautiful!
CoinList: Access to early investor and crowdsale of vetted and reserached projects.
Cointracking: Automated or manual tracking of crypto for accounting and taxation reports.
Stoic: A USD maximisation bot trading on Binance using long-term long strategies, powered by the AI/human system of Cindicator.
StakeDAO: Decentralised pooled staking of PoS assets.
Poloniex: One of the older regulated exchanges that has come into new ownership. I used to use it quite a lot, but have since stopped.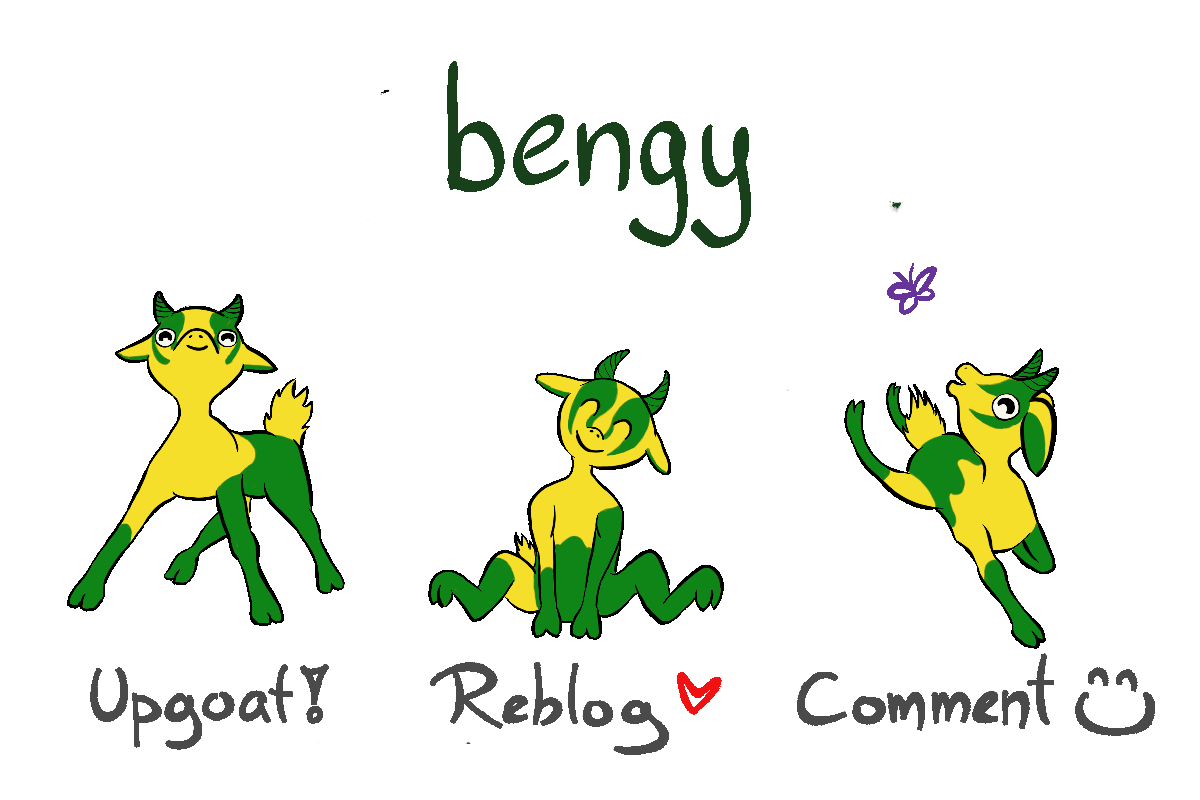 Upgoats by ryivhnn
Account banner by jimramones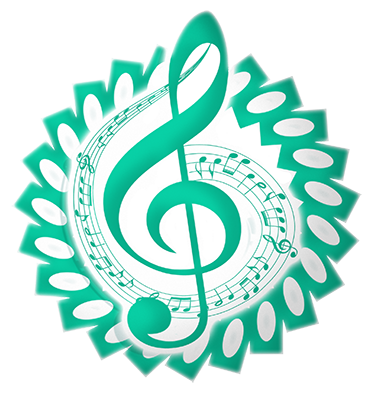 The classical music community (Subscribe at Steempeak and Peakd) at #classical-music and Discord. Follow our community accounts @classical-music and @classical-radio. Community Logo by ivan.atman
---
---