Tom's Burger (Prague: CZECH REPUBLIC)
Read this post on TravelFeed.io for the best experience
---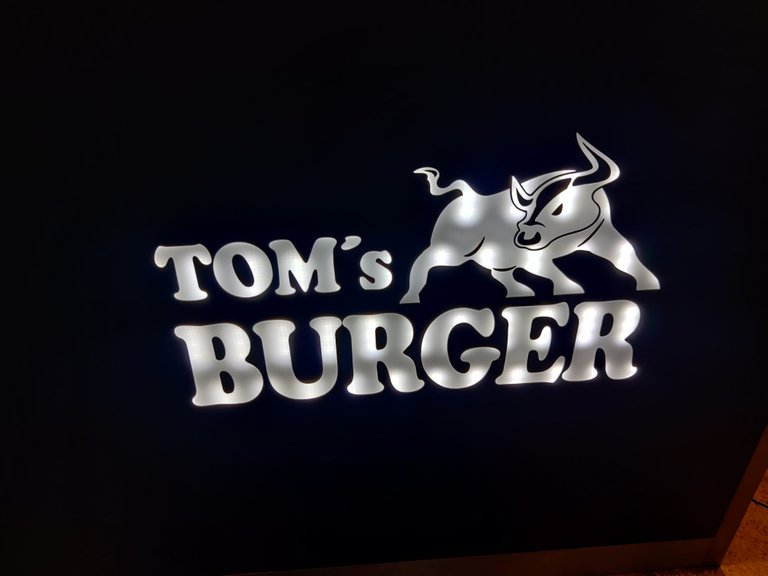 As usual for musicians, in between seating rehearsals and the actual concert, there is always that horrible couple of hours to try and find something to eat. If there isn't an in-house cafeteria in the concert hall, then you are left running out try find something to eat that serves fast enough during the busy hours of the evening rush. Trust me... there is nothing more frustrating than watching the minutes tick away until concert time... and your food hasn't yet arrived, and it doesn't look like it will ever!
This has been made even worse with Corona, as the other option would have been to eat after the concert... but most places are now required to close earlier... leaving musicians hungry!
So, for this particular evening... the in-house cafeteria for the Rudolfinium was closed. Which meant that I had a quick couple of hours to find something to eat. The previous time that this had happened, I opted to just pick up some station pizza on the way back... the last dregs of pizza, that at best lukewarm. Bad idea... something that I regretted in the morning!
Anyway, this time... I figured I would let Google give me some hints as to what might be lurking around that I could eat. Not a great neighbourhood to be looking for something to eat, as it is most definitely a tourist type area... so, expensive and not that great quality was more likely than not!
However, I did run across this little burger shopfront... and it intrigued me enough to walk in and try it out!

The Space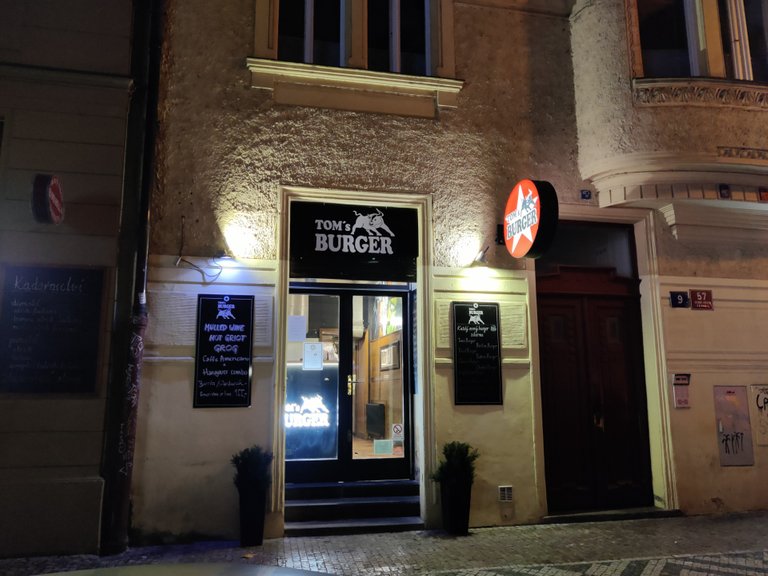 Now, when I say that it was small... really, you could quite easily walk past the shopfront and not even realise that it was there. Even when I stopped in front of it... I thought that it was more like a takeaway stand with no place to sit down.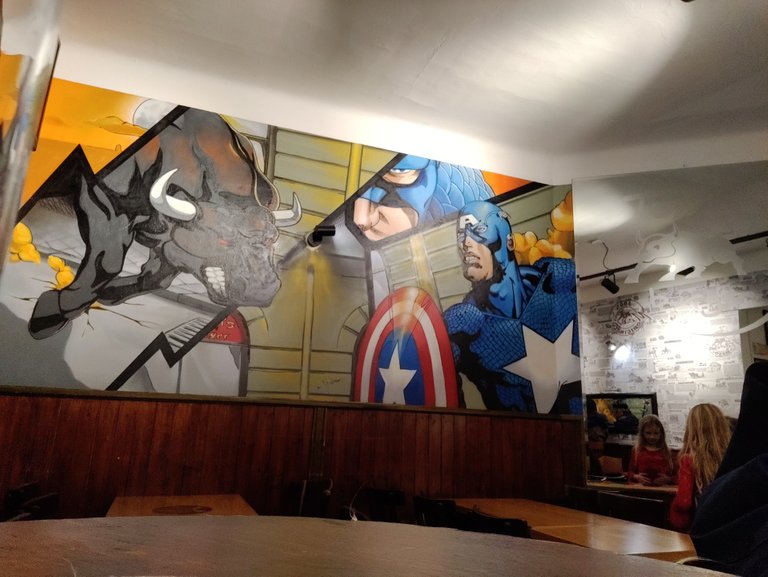 However, upon entry... the shop is narrow (with the burger grill at the front of the shop), but it opens out to a small seated area. Not huge... there are perhaps a maximum of about places for about 30 people, but good enough! Plus, I love the decor!

The Menu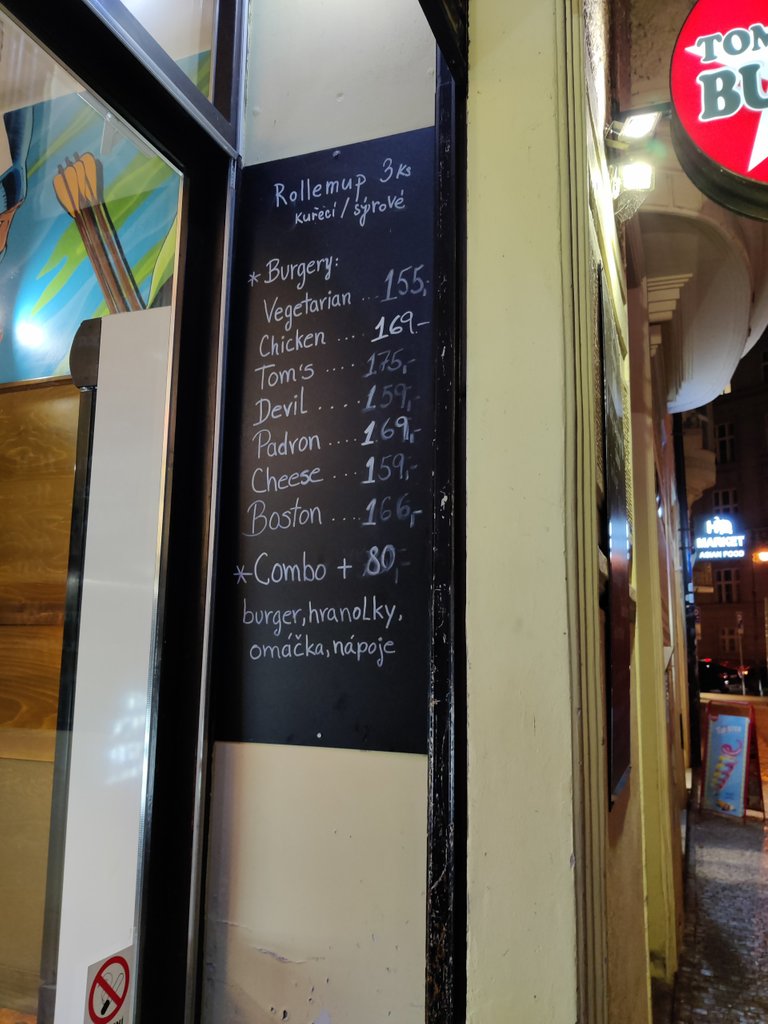 Stupidly enough, I completely forgot to photograph the menu when I was seated. I was in a bit of a hurry, so I had just quickly scanned the menu and ordered straight away. However, upon exit... I made sure to photograph the menu that was on the outside. Not quite a detailed but good enough.
A wide selection of burgers, made from chicken, beef or vegetarian. Plus a nicely priced combo that would give you a burger, frites and a beer/drink from an extra 80 koruna. The prices are pretty decent, a bit more expensive than other places in the Czech Republic, but nothing compared to Western Europe!

The Food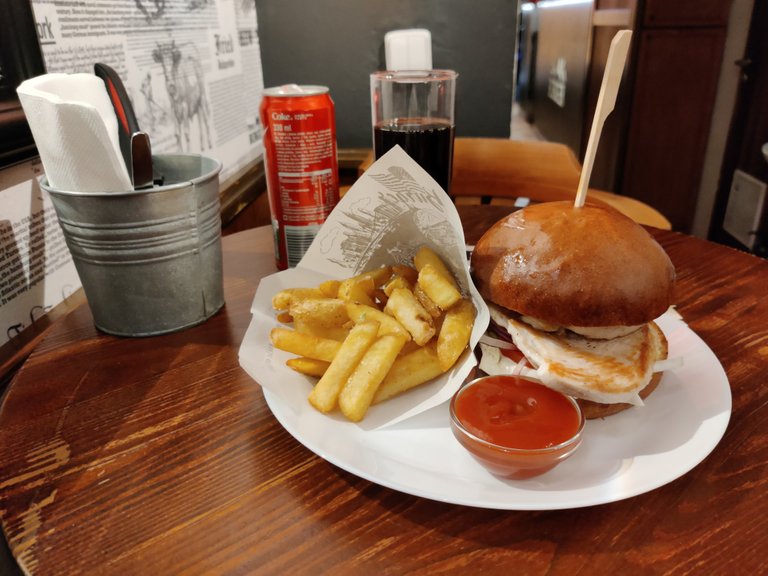 ... and the food. I had order just a chicken burger. Just before a concert, I didn't want anything too heavy... and I figured that a chicken burger would be less heavy than a beef one. Nice chicken fillets on a toasted bun with mayonnaise and salad.... very tasty, and very tall!
Perfectly done chips as well... as always, I'm pretty particular about the chips that are served as sides. I really hate it when they are neglected and are just mushy or oily. But these were nice a crisp with a soft centre. Well done!
No beer this time... right before work, probably not the best idea! Besides, I needed to have a little caffeine hit as I was awake in the small hours of the morning trying to catch a CoinList crowdsale.

The Experience
Well... this was a perfect experience! The staff were really friendly and fast... they seemed to be Spanish, but I'm not 100 percent sure. Great food at an affordable price. I think I could have eaten a little bit more... but I was satisfied, and there is no point eating until you can't roll out of your chair!
I will definitely be coming back here if I ever need a quick feed with some decent burgers! I'm keen to try out the other burgers on the menu! Even the veggie version...

Opening Times
Monday 11am–11pm
Tuesday 11am–11pm
Wednesday11am–11pm
Thursday 11am–11pm
Friday 11am–11pm
Saturday 11am–11pm
Sunday 11am–11pm

Contact Details
Address: Valentinská 9, 110 00 Staré Město, Czechia
Phone: +420 774 274 477
Website: https://www.tomsburger.cz/
---
View this post on TravelFeed for the best experience.
---
---