How Music Healed Me In A Concert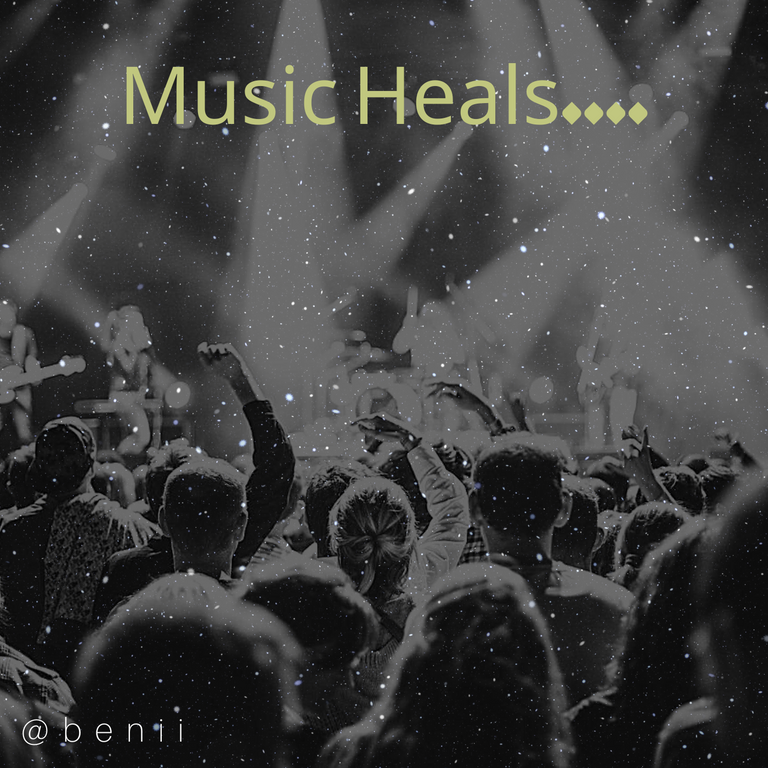 "Music brings us pleasure and releases our suffering. It can calm us down and pump us up. It helps us manage pain, run faster, sleep better and be more productive."
– Alex Doman

Do you believe in the saying "music heals?"
Have you ever been so down in the dumps, and music is what helped you get back up?
Here's a story of how music healed me at a Worship music concert.

Some months ago, my music mentor who is also the head of the music team I belong to, talked about organising a concert. He told us (the team members) that he would love for us to hold one where we could invite others, sing for hours, and just have a fantastic time.
Even though I thought it would be impossible owing to financial constraints, time constraints, and other issues, many of my team members were enthusiastic about the proposal.
After weeks of deliberation, everyone came to an agreement, a date was set, and the planning for the concert began .
The day of the concert finally arrived, after weeks of preparation and It was truly a lovely day. The music was fantastic, and the turnout was enormous; we had more than enough finance, and everything went off without a hitch, even better than we had anticipated.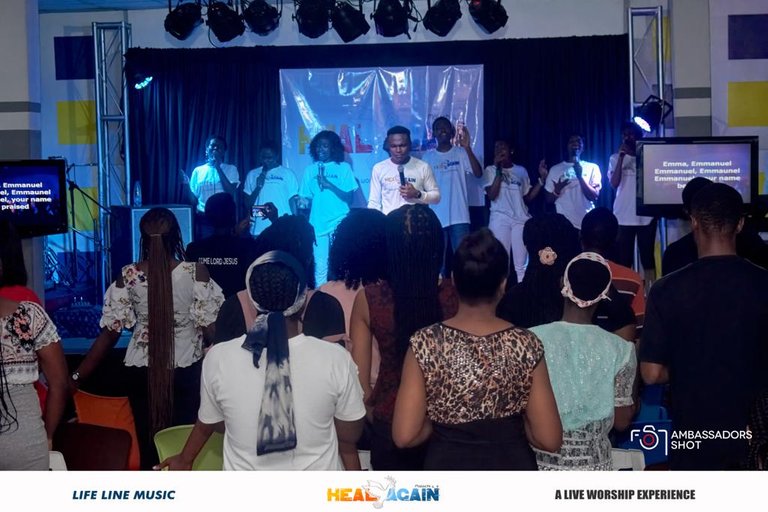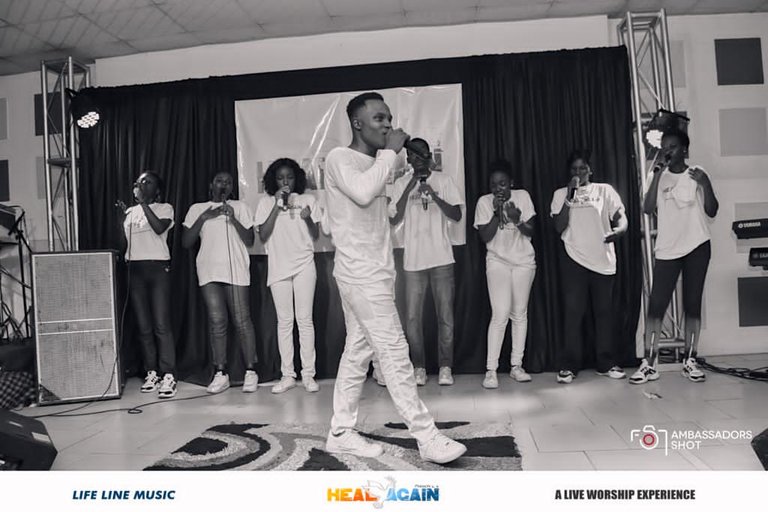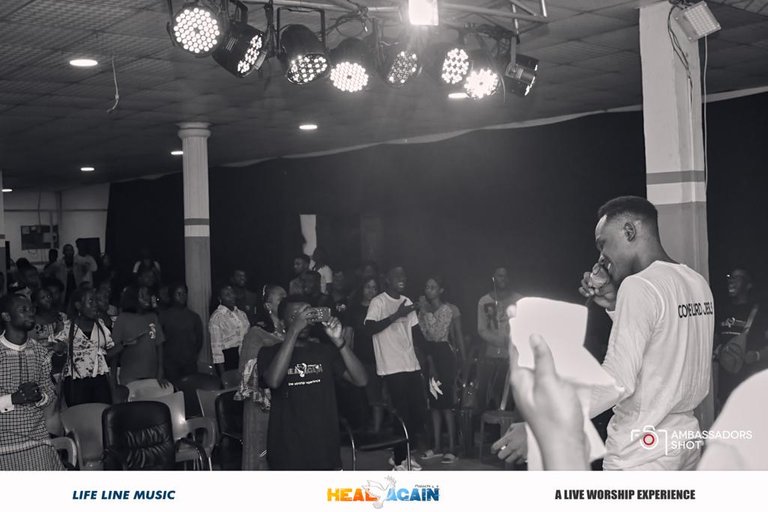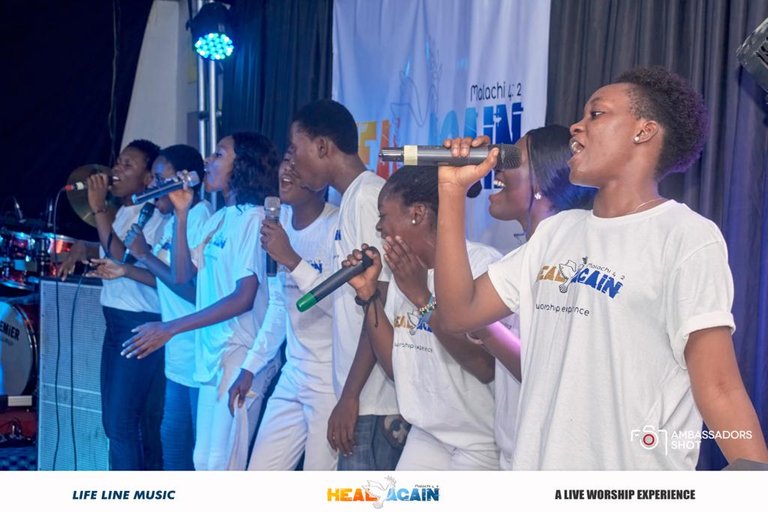 Pictures from the concert

Prior to the event, I had been to the hospital many times because of a severe back pain, which the doctor diagnosed as Spondylolysis.
Although I dismissed it and told myself that it couldn't be me, the pain was so intense that standing or even walking for long was difficult. Most of my typical daily activities were disrupted by the discomfort, even to the extent that I was unable to attend most of my lectures.
Image from pixabay
I was also unable to attend most of the concert rehearsals because of the pain, and I felt there was no way I would be able to perform on stage with the rest of my team members, even though I knew most of the songs.

Surprisingly, my team leader called me on the day of the event and informed me that I had to perform with them. I honestly wanted to say no, but I couldn't. So I accepted to sing with them, but there was a catch; My team leader told me that we would all sing for three hours straight, with no breaks, and that no vocalist would be allowed to leave the stage until the three hours were exhausted, at that point, I had no idea what to do or say but I still could not refuse.
When the concert started, I and the rest of the crew took to the stage and began singing.
I anticipated the discomfort,But guess what?
We sang for over three hours and I was completely pain-free.
I guess I was so engrossed in the music that I forgot about the pains; I was overwhelmed and caught up in the worship and my spirit, soul and body were uplifted.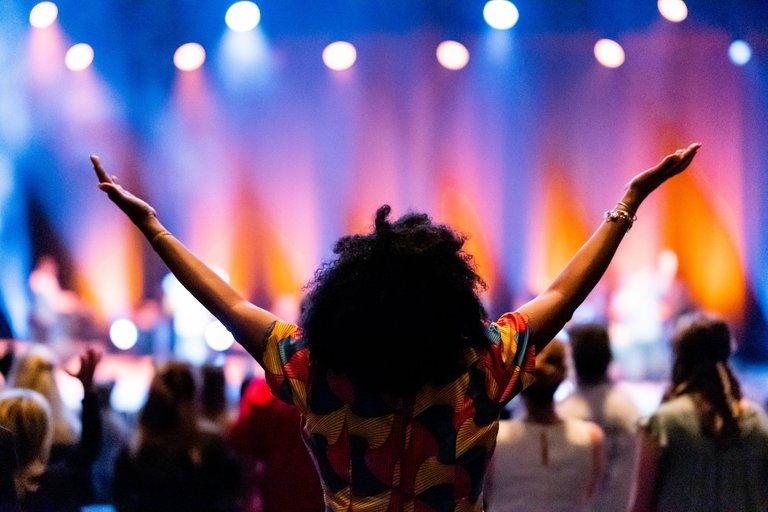 Image from Pexels
I let the music in and it healed me.
To be honest, I didn't remember the pain until it was all over.
So did I still have pains the next day?
Yes, I did but up till this moment, I'm still baffled as to how I was able to sing for more than three hours without experiencing any discomfort. Truly, Music is therapeutic.

Music and pains

"One good thing about music when it hits you, you feel no pain"
~Bob Marley

Pain Is unavoidable; it is simply a part of life, and as humans, we experience various types of pain, whether psychologically, emotionally, or physically, and we have always sought out things or methods to help us escape those pains.
I normally resort to music for solace when I'm dealing with a painful situation. Music, in my opinion, is a natural pain reliever that lessens the severity of pain and, in some cases, removes the need for analgesics, medications or painkillers.
Distracting myself from the discomfort(pain) is also made easier by listening to calming, pleasant, and self-selected music.
Music has a unique effect on physical, mental, emotional and spiritual levels, which makes it an important component of overall pain management.

Music as a solution
The problem we have most times is that we see music only as a form of entertainment,
and while this is true, music can also be used to help with a variety of issues.
Since the beginning of time, music has been utilized therapeutically to help people with emotional and physical problems.
Music has the power to heal our hearts and bodies in many significant ways, just like the story i've shared today.
And this happens most times because music is inviting, fun, famaliar and clear to us all, It is just a part of our lives.
As for me, music is one of my favorite ways to find comfort, relaxation, and motivation on a daily basis.
I wake up sometimes gloomy, angry depressed, and even unmotivated, but listening to a pleasant and good music instantly lifts my spirit.


My experience that day have made me realize that music, without a doubt, serve as an escape route for a variety of life's issues, including the pains we face.
So, the next time you hear a musician perform or play an instrument, don't dismiss it as only a sort of entertainment, because the entertainment that music provides is merely a magical by product of what music is. Music is way more than that.
Music heals.




"Music is a great healer. Begin and end your day with music."
— Lailah Gifty Akita




Top image: pixabay and designed on canva.
Thank you so much for reading,
Until next time
Much Love ❤️
---
---