Mis 3 opening de anime favoritos / My 3 favorite anime openings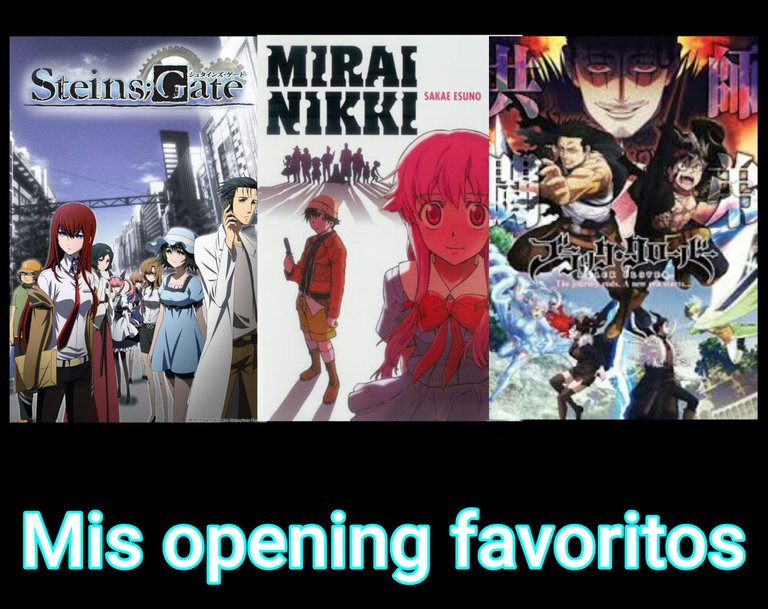 Mi hermano menor es Otaku y paso mucho tiempo convenciéndome de ver un anime con él, pero mi respuesta era siempre la misma NO. Un día me pidió que lo acompañara a comprar unos animes, al llegar a la tienda le dijo a la empleada que nos atendía: que anime me recomendarías para que ella se digne a ver un anime conmigo, ella es una chica muy racional, ama la psicología, pero también es muy sensible, le gusta la acción, el suspenso y el misterio.
La empleada lo pensó por unos instantes y sacó Tokyo Ghoul, al llegar a casa me dispuse a complacer a mi hermano y nos sentamos a ver Tokyo Ghoul. Quede fascinada la historia era increíble, con todos los componentes que amo ver en una película o serie de TV sinceramente me dije a mi misma ¿por qué no había visto un anime antes? Quedé tan enamorada del animé qué desde ese momento empecé a ver animes.
Por eso al ver la iniciativa de @lqch sobre mis 3 opening favoritos de anime quise participar. No es fácil escoger mis 3 opening favoritos ya que tengo muchos pero me decidí por algunos que tengo en mi teléfono y siempre los escucho.
My younger brother is an Otaku and spent a lot of time convincing me to watch anime with him, but my answer was always the same NO. One day he asked me to go with him to buy some anime, when we got to the store he said to the employee that was attending us: what anime would you recommend me so that she deigns to watch an anime with me, she is a very rational girl, she loves psychology, but she is also very sensitive, she likes action, suspense and mystery.
The employee thought about it for a while and brought out Tokyo Ghoul, when I got home I decided to please my brother and we sat down to watch Tokyo Ghoul. I was fascinated, the story was amazing, with all the components that I love to see in a movie or TV series, I honestly said to myself, why hadn't I seen an anime before? I was so in love with anime that from that moment on I started watching anime.
That's why when I saw @lqch's initiative about my 3 favorite anime openings I wanted to participate. It's not easy to choose my 3 favorite openings since I have a lot of them but I decided to choose some that I have in my phone and I always listen to them.
Empezare con Steins Gate este opening me traslada a otro mundo amo cada nota musical de él, Steins Gate es un anime del año 2011 la trama consiste en un grupo de amigos que crean una máquina del tiempo utilizando diferentes recursos que tienen a la mano como un horno microondas y un teléfono celular, sin darse cuenta que han fabricado una máquina del tiempo ellos envían mensajes de textos al pasado sin tener presente que con cada mensaje de texto que envían al pasado alteran la línea del tiempo, crean líneas de tiempo paralelas, paradojas temporales formando un gran embrollo que no es nada fácil de resolver, solo con el ingenio de un Joven científico loco y muy inteligente Rintaro Okabe junto con la chica de quien se enamoran la prodigiosa Kurisu Makise, una joven científica brillante descubren la verdad tras una conspiración mundial llevada por una organización secreta llamada SERN haciendo todo para detener a esta organización y resolver el caos que han creado y las consecuencias terribles del futuro. El anime empieza un poco lento durante los primeros capítulos sin embargo a medida que se desarrolla la trama te atrapa por completo.
I will start with Steins Gate this opening takes me to another world I love every musical note of it, Steins Gate is an anime of the year 2011 the plot consists of a group of friends who create a time machine using different resources they have at hand as a microwave oven and a cell phone, without realizing that they have made a time machine they send text messages to the past without being aware that with each text message they send to the past alter the timeline, They create parallel timelines, time paradoxes forming a big mess that is not easy to solve, only with the ingenuity of a young mad scientist and very intelligent Rintaro Okabe along with the girl they fall in love with the prodigious Kurisu Makise, a brilliant young scientist discover the truth behind a global conspiracy led by a secret organization called SERN doing everything to stop this organization and solve the chaos they have created and the terrible consequences of the future. The anime starts off a little slow during the first few chapters however as the plot unfolds it completely grips you.
El segundo opening que incluiré en mi lista es el de Mirai Nikki. La trama comienza cuando el Dios del tiempo está buscando reemplazo ya que pronto morirá y para escoger el reemplazo crea un juego donde 10 personas cada uno con ciertas peculiaridades lleva un diario que según de lo que sea el diario predice el futuro, estas 10 personas deben competir entre si, para ganar el juego deben destruir el diario de los demás adversarios al hacerlo le causarían la muerte inmediata de esa persona, la historia tiene de personajes centrales a Yukiteru Amano un joven tímido y solitario que escribe un diario sobre todo lo que sucede a su alrededor haciendo que su diario sea el del observador y esta Yuno Gasai una compañera de clases con una vida familiar un poco compleja a quien Yuki en algún momento le presto un poco de atención durante una clase causando que a partir de ese instante ella quede enamorada de él al grado de convertirse en una obsesión enfermiza, una acosadora, trayendo como consecuencia que Yuno tome un comportamiento psicópata asesinando a todo aquel que trate de acercarse a Yuki o alejarlo de ella, ella se convierte en su protectora durante este juego macabro. Ella es poseedora del diario del amor.
The second opening I will include in my list is Mirai Nikki. The plot begins when the God of time is looking for a replacement since he will soon die and to choose the replacement he creates a game where 10 people each one with certain peculiarities carries a diary that according to what is the diary predicts the future, these 10 people must compete against each other, to win the game they must destroy the diary of the other opponents by doing so would cause the immediate death of that person, The story has as central characters Yukiteru Amano a shy and lonely young man who writes a diary about everything that happens around him making his diary the observer and Yuno Gasai a classmate with a family life a little complex to whom Yuki at some point paid a little attention during a class causing that from that moment she is in love with him to the point of becoming an unhealthy obsession, a stalker, resulting in Yuno's psychopathic behavior, murdering anyone who tries to get close to Yuki or take him away from her, she becomes his protector during this macabre game. She is in possession of the diary of love.
Es un anime bastante emotivo y complejo ya que tiene muchos matices psicológicos. Particularmente quede enamorada no solo de la historia sino también de los opening y los ending incluso algunas escenas me inspiraron para crear algunas piezas de arte.
It is a very emotional and complex anime because it has many psychological nuances. I particularly fell in love not only with the story but also with the opening and ending, and some scenes even inspired me to create some pieces of art.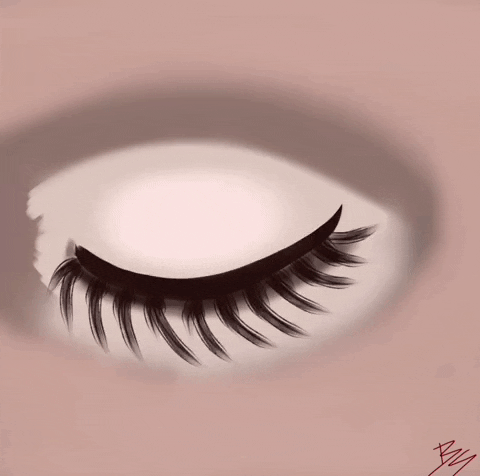 En el opening se muestra un ojo llorando sangre me fascinó tanto la escena que realicé un pequeño fotograma emulando la imagen.
The opening shows an eye crying blood. I was so fascinated by the scene that I made a small photogram emulating the image.
Me gustan mucho el opening 1 y 2 así como el ending 2 y se que estamos hablando solo de opening sin embargo lo incluiré en esta publicación ya que lo considero realmente una pieza musical fantástica y hermosa.😍
I really like the opening 1 and 2 as well as the ending 2 and I know we are only talking about opening but I will include it in this publication because I consider it a really fantastic and beautiful piece of music.😍
Finalmente incluiré el opening 10 de Black Clover me encanta, podría escucharlo durante horas sin aburrirme 🤭 este anime me gusta mucho aparte de los animes psicológico con algo de Gore, misterio también soy fanática de la magia y la fantasía así que este anime es perfecto, la historia se centra en Asta y su hermano de crianza Yuno, ambos son huérfanos y crecieron en un orfanato, la historia se desarrolla en un mundo donde todos los habitantes tienen poder mágico menos Asta mientras que Yuno es un prodigio de la magia, al cumplir 15 años ambos asisten a una escuela donde serán aspirantes a caballeros, recibiendo un grimorio en el caso de Yuno el grimorio que pertenecía al legendario rey mago lo escoge a él es un grimorio de un trébol de 4 pétalos mientras que Asta es escogido por un extraño y desconocido grimorio un trebol negro de 5 pétalos que posee la anti-magia. Ambos jóvenes son escogidos por diferentes órdenes donde Asta al no poseer ningún poder mágico debe esforzarse físicamente más de lo normal, mientras la amistad y rivalidad sigue creciendo entre los hermanos en su meta por convertirse en el nuevo rey mago.
Finally I will include the opening 10 of Black Clover I love it, I could listen to it for hours without getting bored 🤭 this anime I like a lot apart from the psychological anime with some Gore, mystery I am also a fan of magic and fantasy so this anime is perfect, the story focuses on Asta and his foster brother Yuno, both are orphans and grew up in an orphanage, the story takes place in a world where all the inhabitants have magical power except Asta while Yuno is a prodigy of magic, when they turn 15 they both attend a school where they will be aspiring knights, receiving a grimoire in the case of Yuno the grimoire that belonged to the legendary magician king chooses him is a grimoire of a 4 petal clover while Asta is chosen by a strange and unknown grimoire a 5 petal black clover that possesses anti-magic. Both young men are chosen by different orders where Asta, not possessing any magical power, must physically exert himself more than usual, while the friendship and rivalry continues to grow between the brothers in their goal to become the new wizard king.
En mi lista musical realmente hay más opening o ending pero por ahora solo mencionaré estos 3 me puedes dejar cuales son tus favoritos en los comentarios, espero que te haya gustado mi selección y nos vemos en un próximo post. Gracias por visitar mi blog nos vemos pronto.💋
In my musical list there are really more opening or ending but for now I will only mention these 3 you can leave me which are your favorites in the comments, I hope you liked my selection and see you in a next post. Thanks for visiting my blog see you soon.💋

---
---