[ENG] Modern and small church in "La Boyera", Caracas [ESP] Moderna y pequeña iglesia en la Boyera, Caracas
[ENG] Modern and small church in "La Boyera", Caracas [ESP] Moderna y pequeña iglesia en la Boyera, Caracas
Modern and small church in "La Boyera", Caracas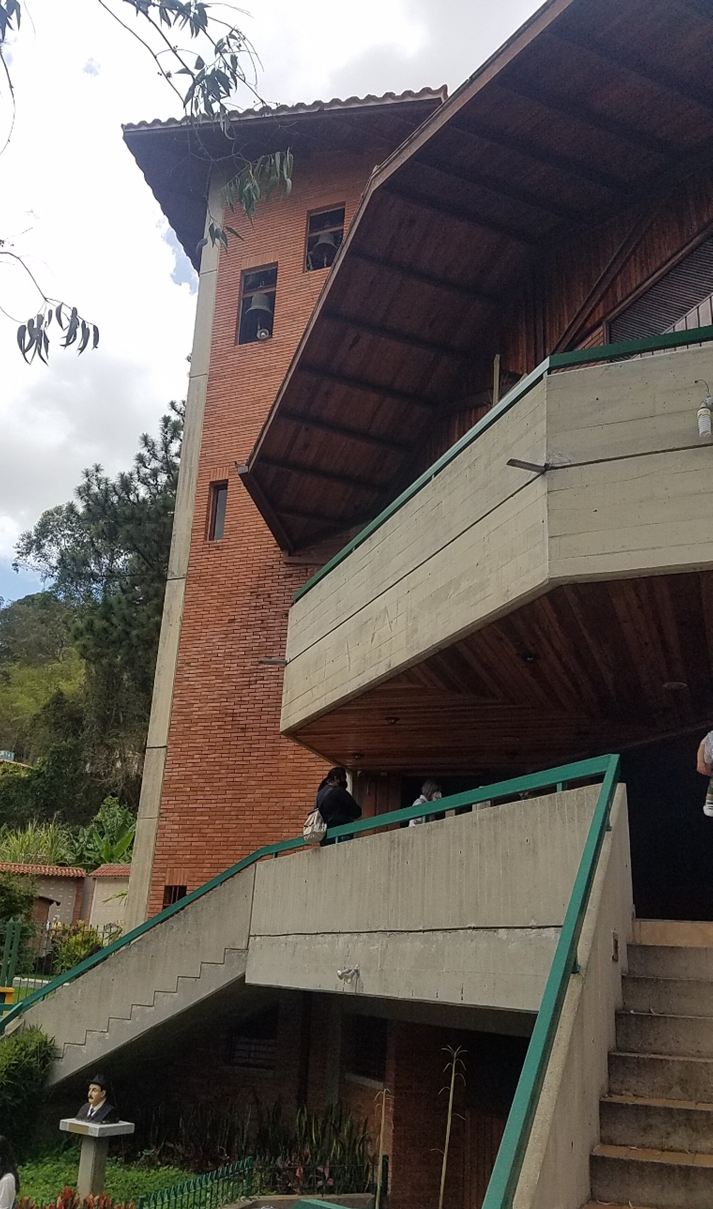 Modernist structure of the Boyera Church (Modernista estructura de la
Iglesia de la Boyera)
     Good afternoon, from Caracas-Venezuela, have all my reader friends in this community. Walking through the south-east of the city of Caracas I have come across some Catholic churches that are worth being known by the international community through this wonderful communication platform. It is a pleasure and an honor for me, on this occasion, to give you some information accompanied by photos of the "La Anunciación del Señor" Parish.
---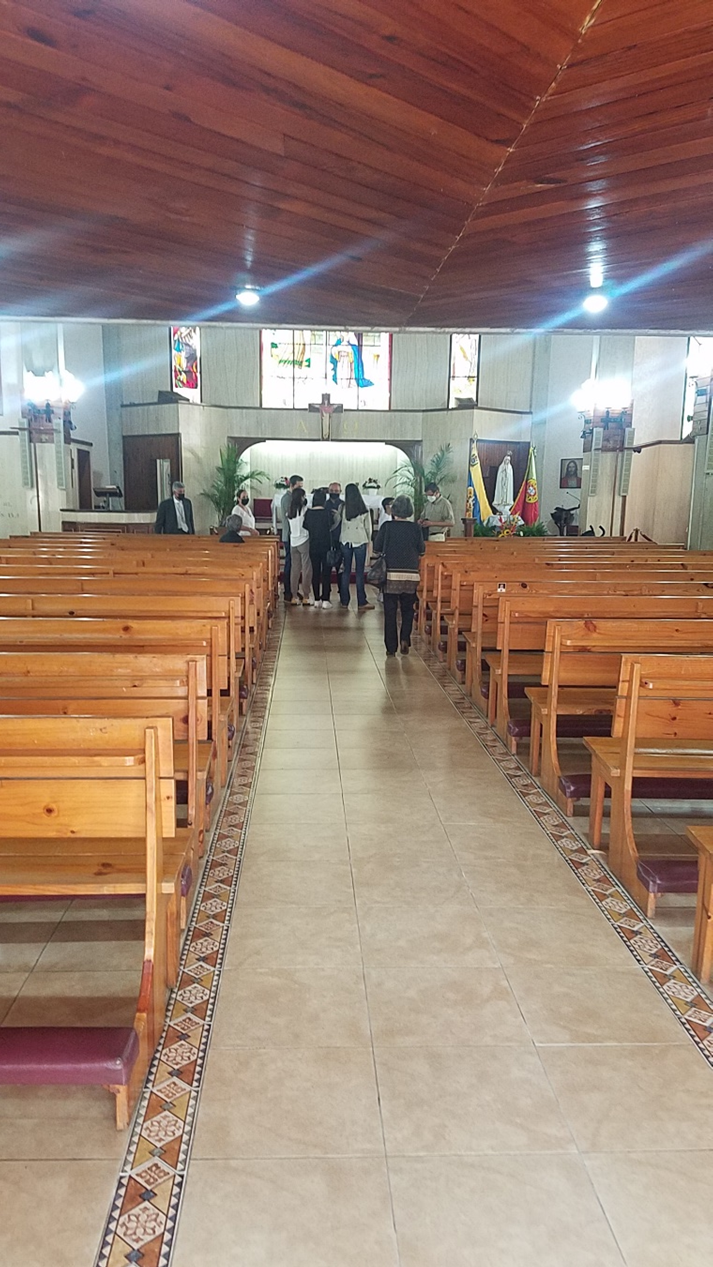 View of the single nave of the church (Vista de la única nave de la iglesia)
     The church is located in the "La Boyera" urbanization, Avenida 1 con Calle 4, in the state of Miranda, which is part of the Greater Caracas. It is not a large church, it only has a capacity for 300 seated faithful, although it is very popular, due, in part, to the fact that a place to bury the ashes has been annexed to it, where the relatives, of those who received a sacred burial there, go to pray for their souls.
---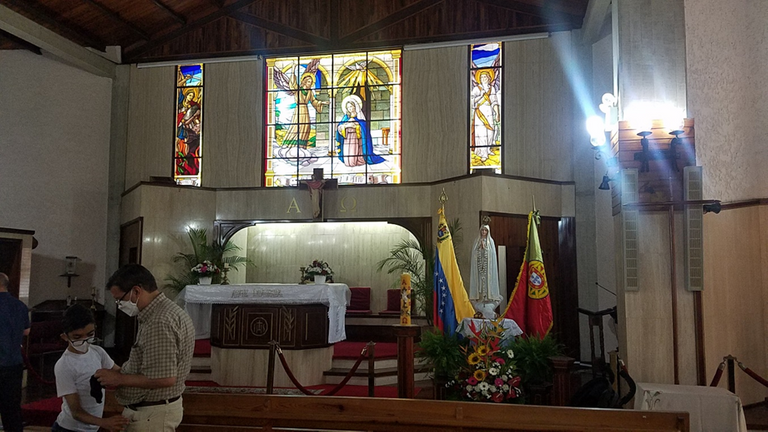 Simple altar of the church, with beautiful stained-glass windows behind it (Sencillo altar de la iglesia, con bellísimos vitrales a sus espaldas)
     The church was founded by Father Policarpo Krautle, of the Society of the Divine Savior, known as Salvatorians, and inaugurated in April 1984 by Cardinal José Alí Lebrún of Caracas.
---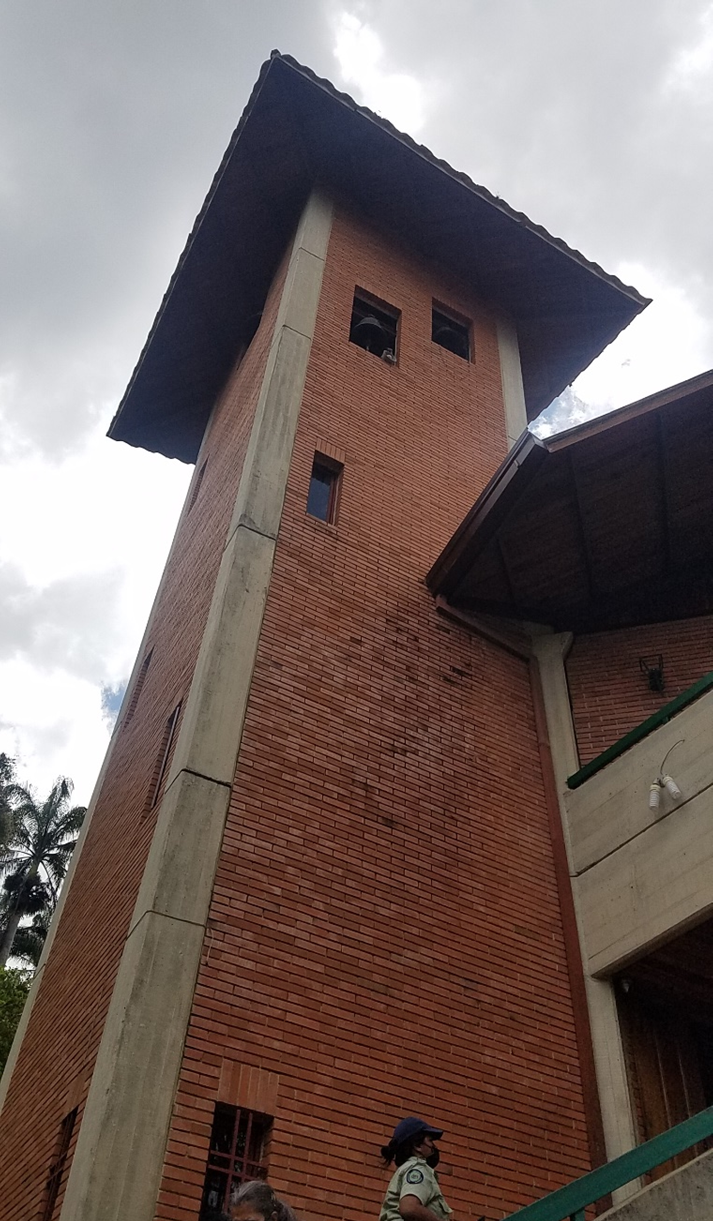 On the left side of the church is this bell tower (En la parte izquierda de la iglesia se encuentra esta torre-campanario)
     The building is a modernist work that consists of a single nave with a gabled roof and on the left side there is a tower, it also has a basement where the parish office and a beautiful garden are located.
---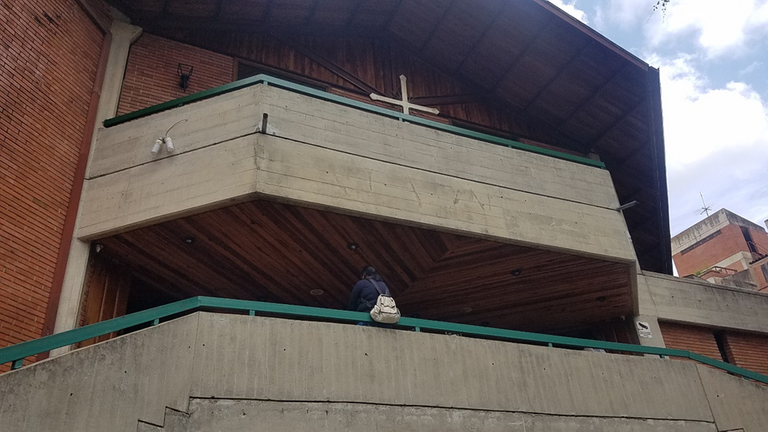 Main facade where you can see a kind of concrete balconies (Fachada principal donde se aprecian una especie de balcones de concreto)
     Some parishes in Greater Caracas have built spaces where the faithful can bury the ashes of their deceased loved ones. Initiative arose from the need for the Catholic congregation to bury their deceased after a document published by the Vatican indicated that it is not acceptable to have ashes in homes or spread them in natural spaces. Likewise, it urged to deposit them in sacred places such as cemeteries and parishes.
---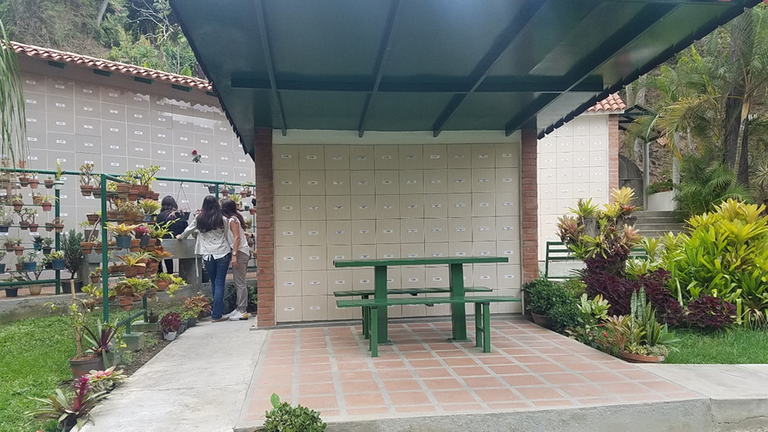 Central part of the columbarium (Parte central del columbario)
     For this reason, when leaving the Church, a little higher, where a church garden used to be columbariums or niches called "Garden of Hope" has been built, with a modern and refined design.
---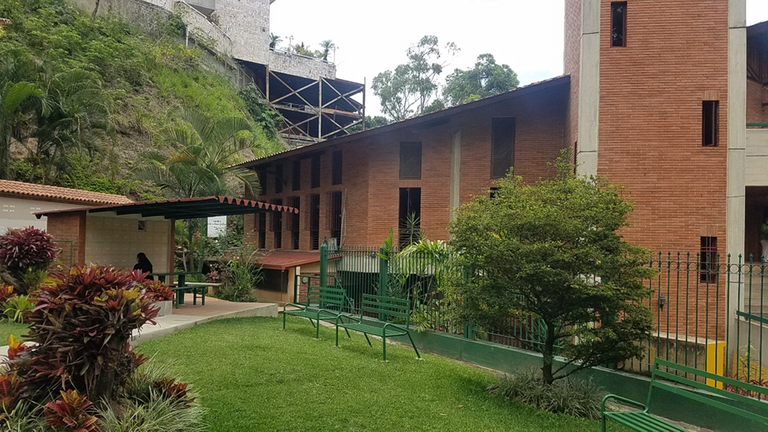 Next door, on the church grounds, is the Columbarium (Al lado, en terrenos de la iglesia, se encuentra el cenizario)
---
Moderna y pequeña iglesia en la Boyera, Caracas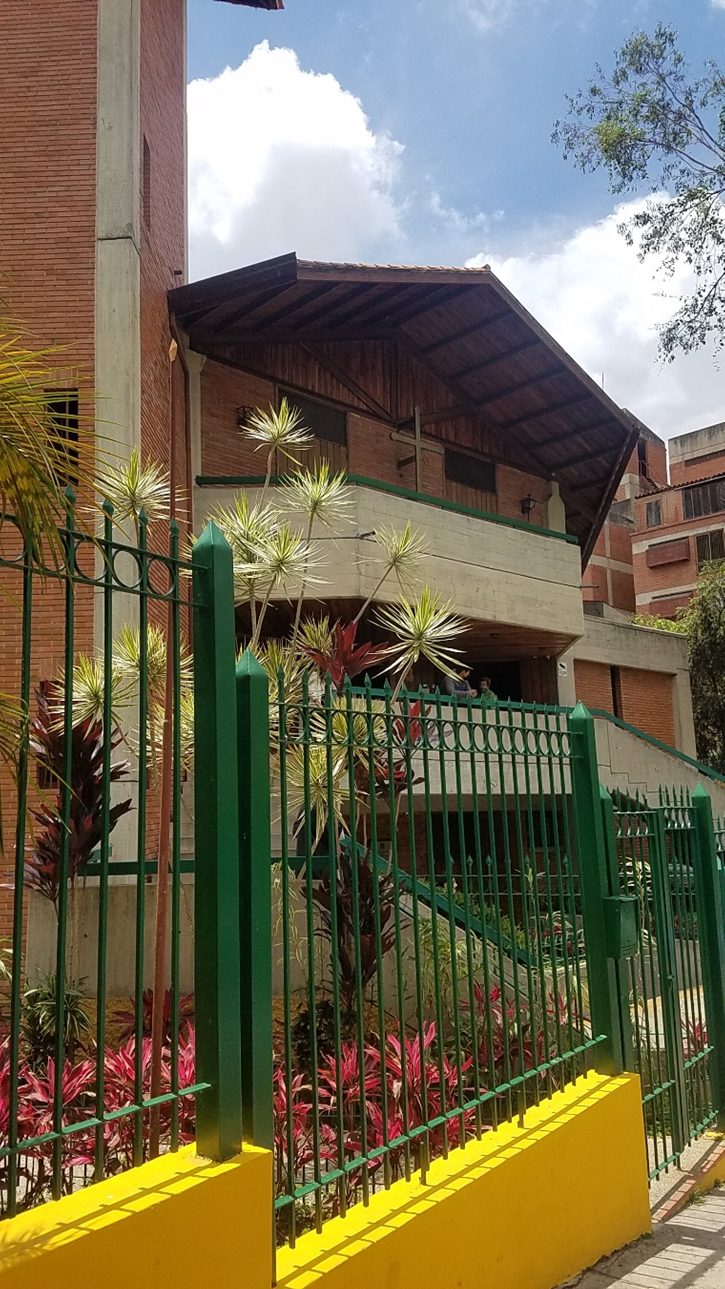 View of the church from the Columbarium (Vista de la iglesia desde el Cenizario)
     Buenas tardes, desde Caracas-Venezuela, tengan todos mis amigos lectores de esta comunidad. Paseando por el sur-este de la ciudad de Caracas me he encontrado con algunas iglesias católicas que merecen la pena ser conocidas por la comunidad internacional a través de esta maravillosa plataforma comunicativa. Es para mí un placer y un honor, en esta oportunidad, entregarles alguna información acompañada de fotos de la Parroquia "La Anunciación del Señor".
---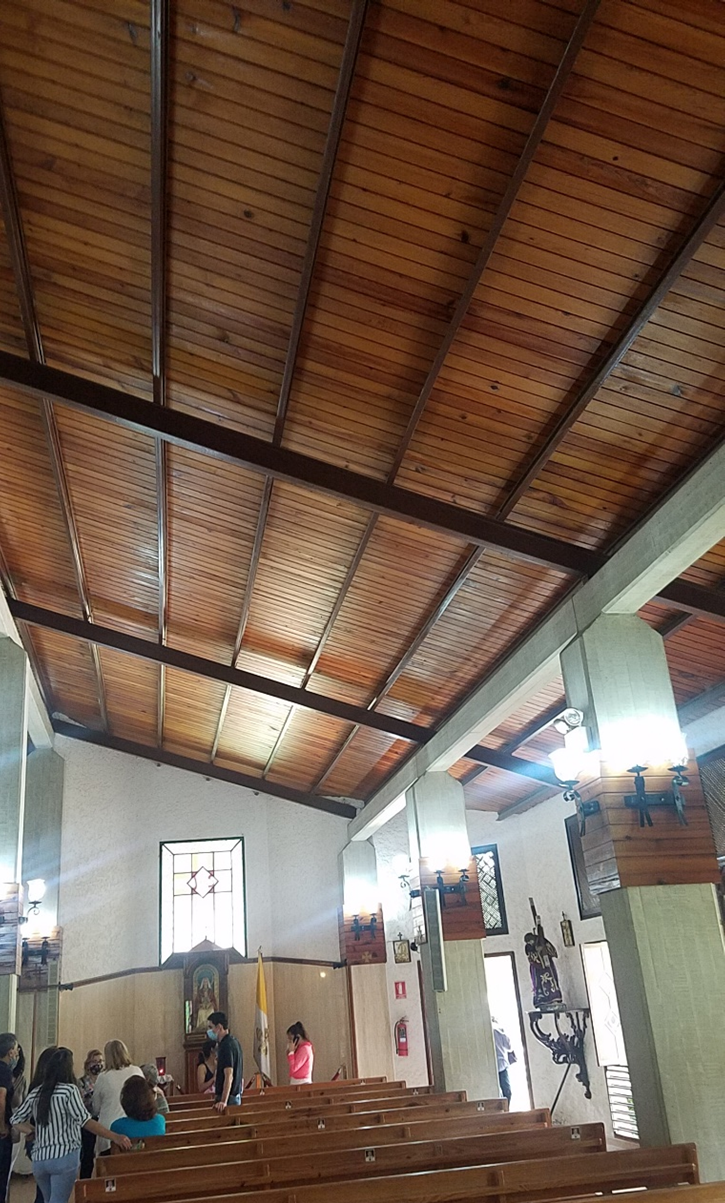 An excellent gabled roof, made of wood and supported on metal, provides freshness to the temple (Un excelente techo a dos aguas, de madera y apoyado sobre metal, procura frescura al templo)
     La iglesia está localizada en la urbanización La Boyera, avenida 1 con calle 4, en el Estado Miranda, que conforma parte de la Gran Caracas. No es una iglesia grande, solo tiene capacidad para 300 fieles sentados, aunque es muy visitada, debido, en parte, a que se le ha anexado un cenizario a donde los familiares, de los que allí recibieron sagrada sepultura, van a rezar por sus almas.
---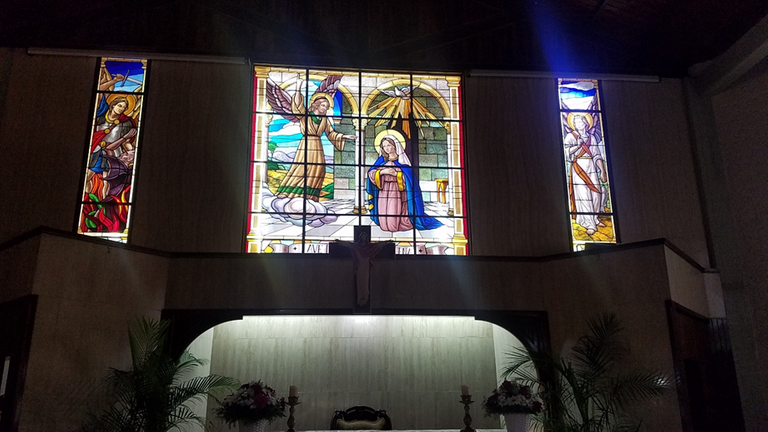 Stained-glass windows in the altar, in addition to its religious character, provide light to the same (Vitrales en el altar, además de su carácter religioso, proveen luz al mismo)
     La iglesia fue fundada por el padre Policarpo Krautle, de la Sociedad del Divino Salvador, conocidos como salvatorianos, e inaugurada en abril de 1984 por el Cardenal de Caracas José Alí Lebrún.
---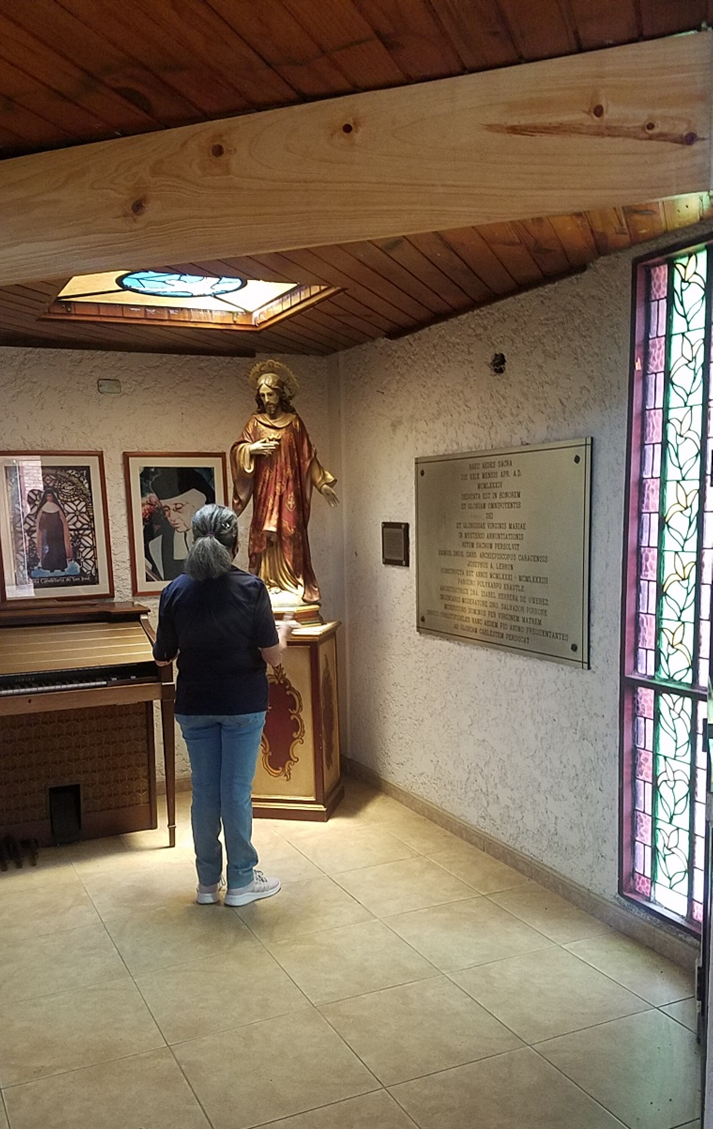 The church is well lit thanks to a series of windows and stained glass (La iglesia está muy iluminada gracias a una serie de ventanas y vitrales)
     La edificación es una obra modernista que consta de una sola nave con techo a dos aguas y en la parte izquierda se encuentra una torre, además posee un sótano donde está el despacho parroquial y un bello jardín.
---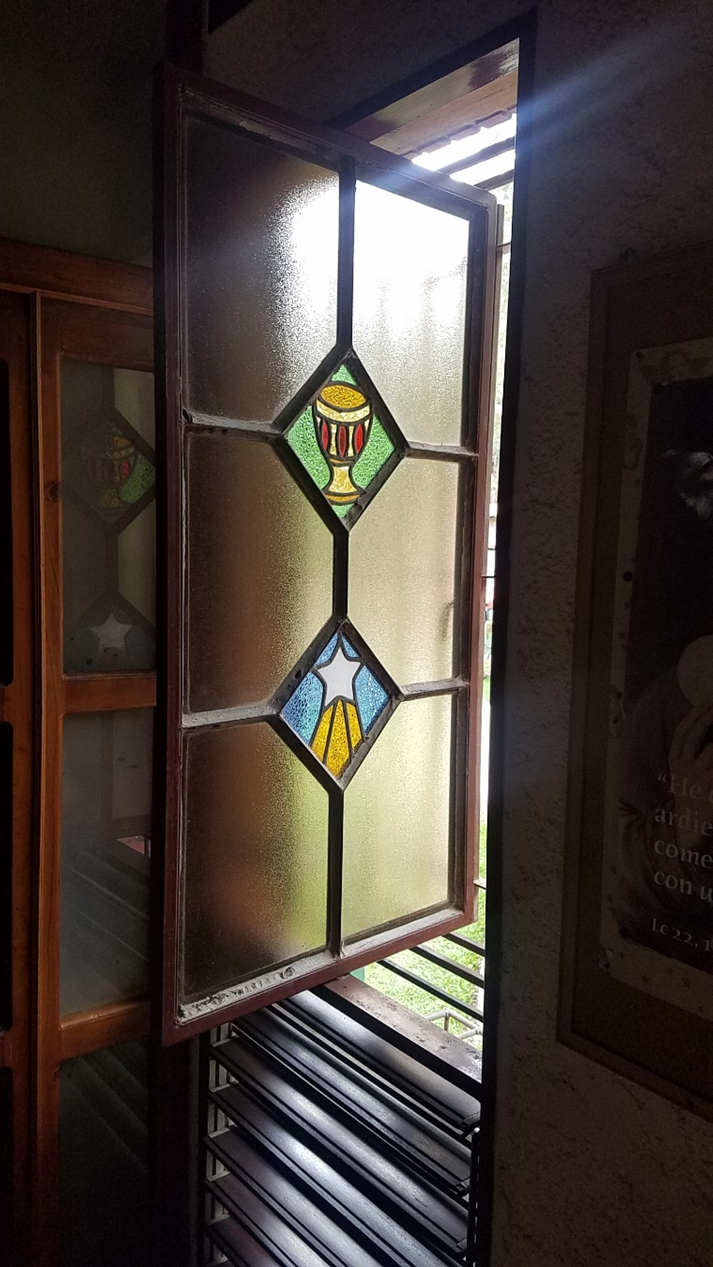 Casement windows with stained glass (Ventanas batientes con vitrales)
     Algunas parroquias de la Gran Caracas han construido espacios donde los fieles puedan enterrar las cenizas de sus seres queridos fallecidos. Iniciativa surgida por la necesidad que tiene la feligresía católica de darle sepultura a sus difuntos, luego que un documento publicado por el Vaticano indicara que no es aceptable tener las cenizas en las viviendas ni esparcirlas en espacios naturales. Asimismo, instaba a depositarlas en lugares sagrados como cementerios y parroquias.
---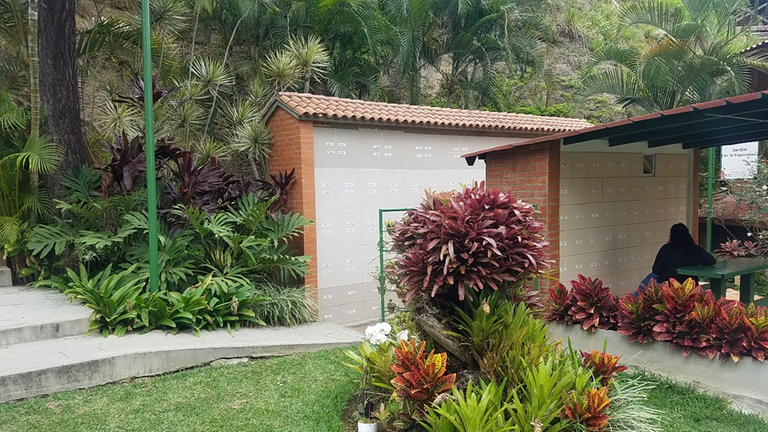 The Columbarium is surrounded by vegetation which makes the place look like a garden (El cenizario está rodeado de vegetación lo que hace que el lugar parezca un jardín)
     Por ello, al salir de la Iglesia, un poco más arriba, donde antes se encontraba un jardín de la iglesia, ha sido construido un cenizario (columbarios o nichos) llamado "Jardín de la Esperanza", con un moderno y refinado diseño.
---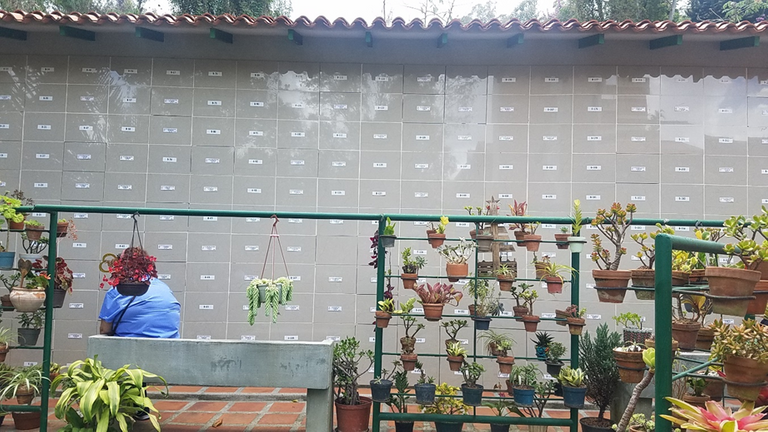 View of the Columbarium with its niches (Vista del cenizario con sus nichos)
---
Photo gallery (Galería de fotos)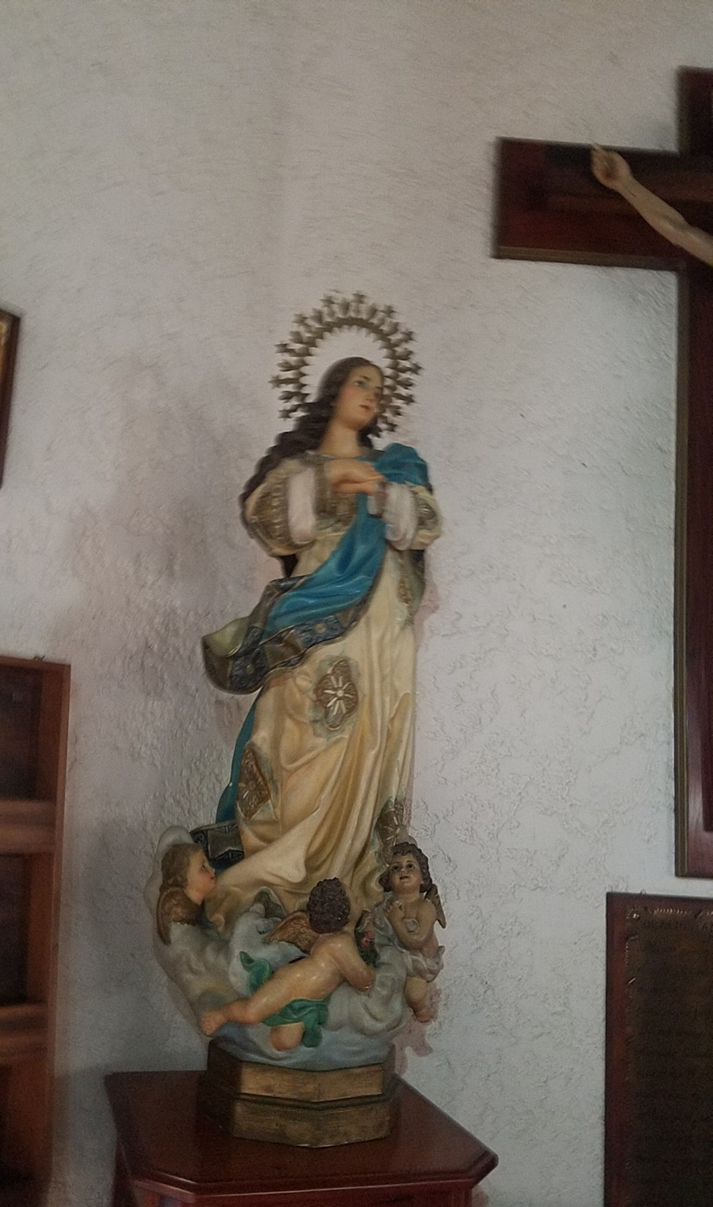 The church has delicate images of virgins and saints on its sides (La iglesia tiene
delicadas imágenes de vírgenes y santos en sus costados)
---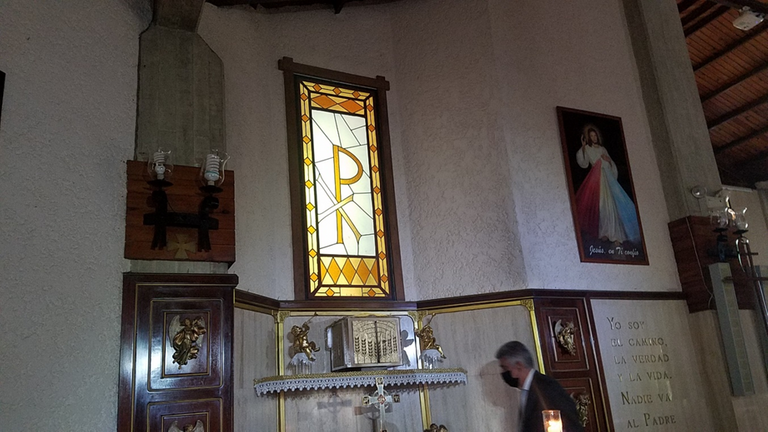 A small altar accompanies the main altar of the church (Un pequeño altar acompaña al altar mayor de la iglesia)
---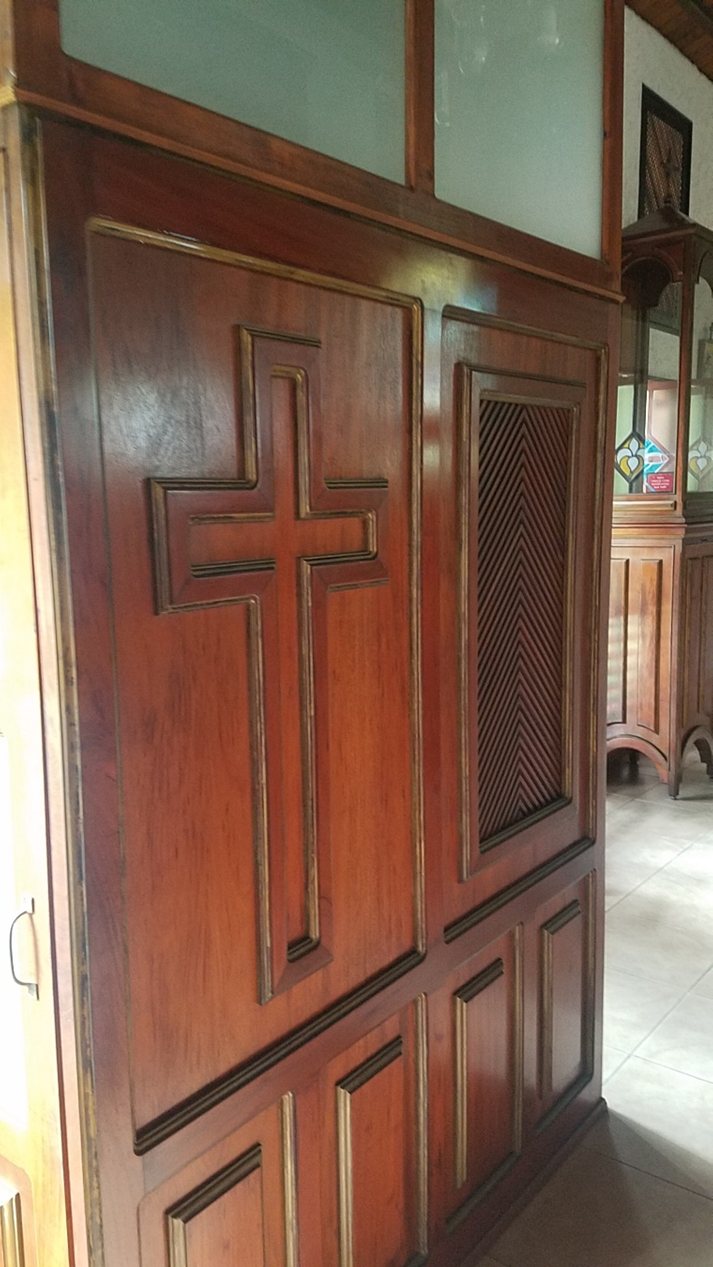 The confessional (El confesionario)
---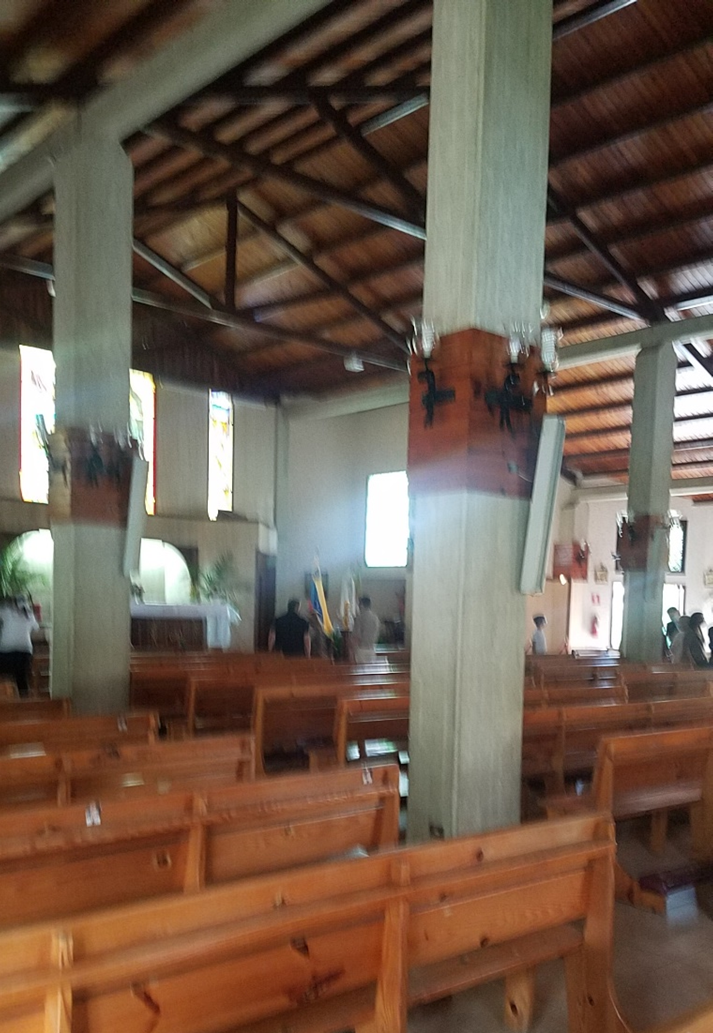 The structure of the church is supported by these tall columns (La estructura de la iglesia está soportada por estas altas columnas)
---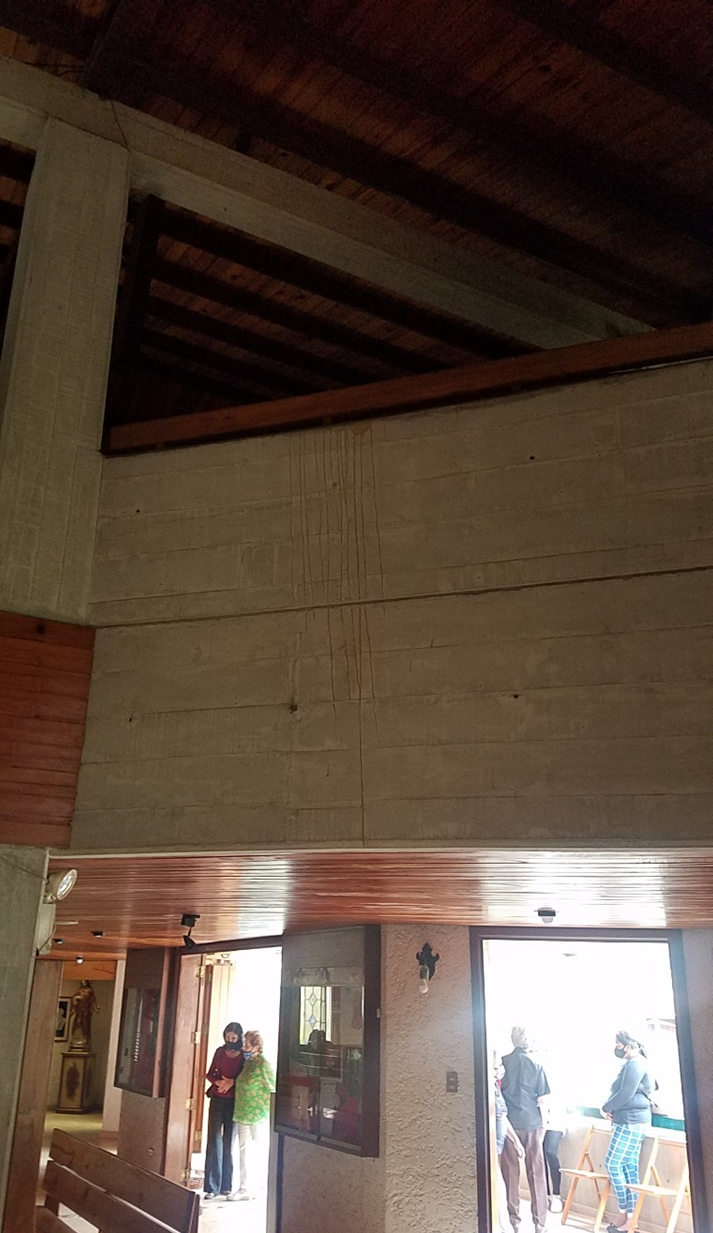 Main entrance to the church, you can see a second floor and thick concrete walls
(Entrada principal a la iglesia, puede apreciarse un segundo piso y unas gruesas
paredes de concreto)
---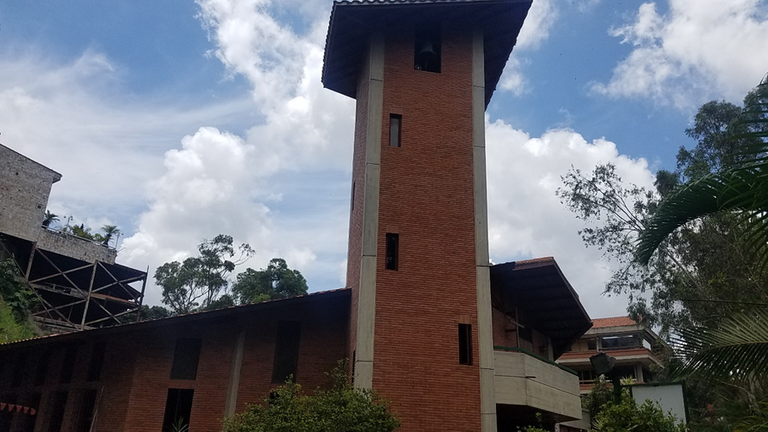 Partial view of the bell tower of the church (Vista parcial de la torre-campanario de la iglesia)
---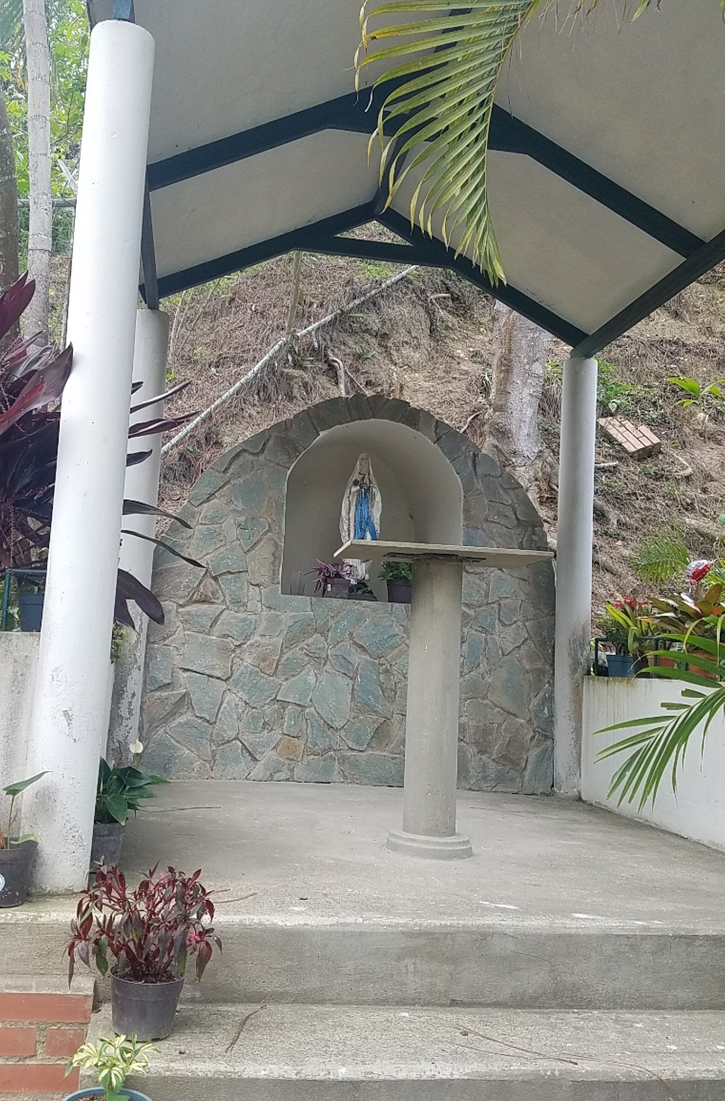 Small chapel with the virgin, place of prayer in the Holy Field (Pequeña capilla con la virgen, sitio de oración en el Campo Santo)
---
Identification of the Columbarium as "Garden of Hope" (Identificación del cenizario
como "Jardín de la Esperanza")
---
---
---