My First Year on Hive.
Today, I was greeted with a message from @HiveBuzz.

So I went immediately to see my new badge.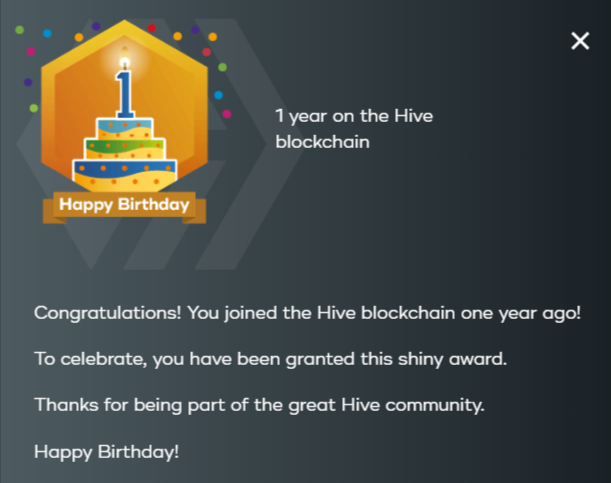 I came to Hive because of the relaunch of ListNerds.
I have been doing affiliate marketing for a number of years. I had stepped away from it a few years ago, but I saw the relaunch of Listnerds as a way to get back into marketing.
That was my plan anyway.
After working on rebuilding my marketing list I became more and more involved with Hive.
I started off just commenting on posts and getting to know many new people.
I wrote several posts about list building, which was my original intent with Hive.
I had never written a blog post before and was unsure how to start.
I finally took the plunge and put up my first post on February 11, 2022.
It was nothing fancy and was very short.

I wrote several posts about list building and as I got deeper into hive and learning more about the block chain, I slowly moved my focus from list building to content creator.
I have posted about a number of various topics and continued to read and comment on others' posts.



When I first joined Hive, the Hive token was trading around $1 USD.
Shortly after this the bear market hit and I saw the opportunity to invest in more Hive.
I also started to study the many layer 2 tokens and found a number of excellent projects, many of which I invested in as well.


My first year has gone by rather quickly and I am grateful for the CTP team to help me understand more and more about the Hive Block Chain.
@jongolson, @blainjones and @elianaicgomes.
I have learned from many people on Hive and I am grateful for the relationships that I have developed.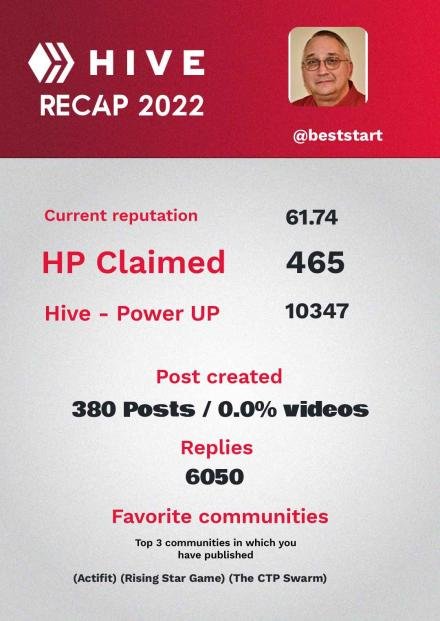 I feel that I have finished 2022 pretty strong.
Around mid year, I began changing my focus from list-building marketing to investor of hive and hive engine tokens.
I will continue with this path going forward into 2023. I am excited about the upcoming projects and new enhancements to our Hive world.
Thanks to all of you who have been along for this ride.
I look forward to many more years working the Hive Blockchain.
I have not only been working on my Hive investing but I have also started with a little gaming.
I have been playing Rising Star Game for around six months and I recently started playing Rollercoin. This is another crypto game that is not on the Hive blockchain.
I earn by playing these games and I also use Actifit to track my activity and I get paid for that as well.
There are many ways to earn crypto on the Hive block chain and things are only getting started.

Until next time,
John Novak
Programs I Endorse
Click Track Profit
ListNerds
Rising Star Game

---
---