Rising Star buying cards or packs.


I have been playing the Rising Star Game for a few months now, and I have discovered several pearls of information along the way.
I have decided to start writing about my experience at RSG.

Buying cards vs Buying Packs
You already know that owning cards is a large part of the ranking score in Rising Star Game.
I have written about different ways to purchase cards in previous posts. These are listed at the bottom of this post.
Today, I want to share what you can get for 100,000 starbits.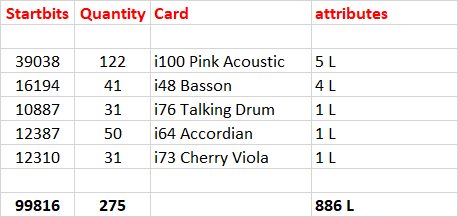 These cards cost 99,816 startbits
total cards 275, Total Luck 886
These cards were purchased off of NFT Mart
Now, let's see what we can get for people cards.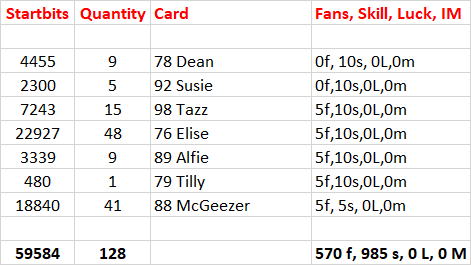 These cards cost 59,584 starbits.
total cards 128, Total Fans 570, Skill 985,luck 0, IM 0.
These cards were purchased off of NFT Mart


Okay, Now let's buy a pack off of Rising Star Game.
100,000 starbits will get you 12 packs of 3 cards. You are guaranteed to get a rare or higher card in each pack.
My 12 packs contained these cards.













These 12 packs were not all bad. There are several rare cards but no epic or legendary cards.
These packs produced 36 cards at a cost of 100,000 startbits.
I gained 1345 fans,1621 skill,128 luck,38 IM
So, What does this prove?
Not much really. I depends on what you are looking to increase.
If you want to increase your total cards, then Buying individual cards is the best choice hands down.
If you are looking to increase your skill, then it is a bit of a draw.
Looking for luck, then your best bet is buying off the market.
If you are trying to increase your IM then you will not do bad with buying the packs, but you can certainly buy exactly what you want off the market.
Another added benefit to buying packs is you have a chance at getting epic or legendary cards that sell for over 75000 starbits or more on the market.
Decisions, Decisions...
I hope this help you to decide.

If I have confused you or failed to explain something, please make a note in the comments.

Please remember that when making purchases with Starbits, the Starbits need to be in your Hive Engine and not in the game.
Moving your Starbits from the game to your Hive Engine wallet is simple. You just move your cursor over your Starbits total on the right upper side, and you will get a dropdown list that starts with "Withdraw/Deposit."
Click the Withdraw/deposit tab, and you will see your choices for moving Starbits to your Hive Engine wallet.

If you are NOT yet playing Rising Star Game, You can click on the link to start playing now!
Rising Star game.
The information in this post is my opinion and is correct to the best of my knowledge. There are always other options to consider. Be sure to D.Y.O.R
Until next time,
John Novak

All game images used in this post have come from the Rising Star Game and NFTMart.
Divider by @doze

Here are other posts that I have done about Rising Star Game
https://peakd.com/hive-195370/@beststart/rising-star-new-feature
https://peakd.com/hive-195370/@beststart/rising-star-accumulating-cards
https://peakd.com/hive-195370/@beststart/rising-star-unique-cards
https://peakd.com/hive-195370/@beststart/rising-star-boosters
https://peakd.com/hive-195370/@beststart/rising-star-boosters-part-2
https://peakd.com/hive-195370/@beststart/who-wants-to-be-a-millionaire
Programs I Endorse
Click Track Profit
ListNerds
Rising Star Game

---
---