Beauty and the Beast Remake (Disney's only success) (ENG/SPA)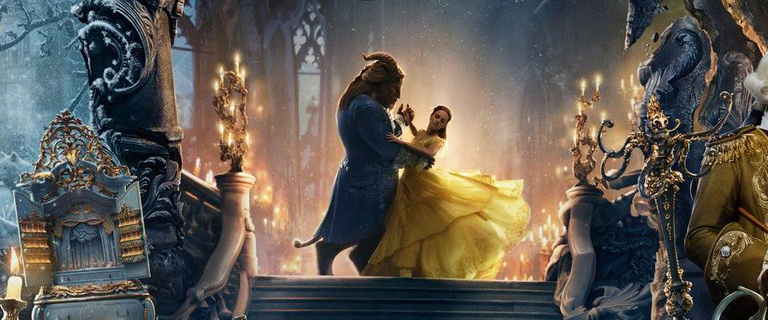 Fuente
Hello, internet people, I hope you are well, today I want to talk to you about what for me is the only well done Remake of the Disney classics and that's a good thing because it's my favourite movie 🙂 so for those who waited for it like @jazmin89 here's the review of Beauty and the Beast:
Hola, gente de internet, espero que estén bien, hoy quiero hablarles del que para mi es el único Remake bien hecho de los clásicos de Disney y menos mal porque es mi película preferida 🙂 así que para quienes lo esperaron como @jazmin89 aquí esta la review de La Bella y la Bestia:
We're all clear that romanticising Stockholm Syndrome isn't the right thing to do, but due to that both films are based on a 1740s tale, we'll let it go and enjoy the nostalgia that this remake left us with. That aside and the few plot holes aside, everything about it is perfect.
Todos estamos claros que romantizar el sindrome de Estocolmo no es lo correcto pero dado a que ambas películas se basan en un cuento de 1740, lo dejaremos pasar y disfrutaremos de la nostalgia que este Remake nos dejó. Dejando eso de lado y los pocos agujeros de guion que tiene, todo en ella es perfecto.
I went with @mairene1 to see it at the cinema and the film brought tears to my eyes because it was inevitable to take me back to my childhood. I'll start by talking about the cinematography of the film which is simply beautiful and that goes hand in hand with the musicals (the only thing I didn't like is that they rewrote the songs far from using the previous versions, but nothing serious, the message was still the same) So we'll start by talking about the first piece of the film to also understand the cinematography and what I mean when I say "beautiful".
Fui con @mairene1 a verla en el cine y pasé toda la película con los ojos cristalizados ya que era inevitable remontarme a mi niñez. Empezaré hablando de la fotografía de la película que simplemente es preciosa y eso va de la mano con los musicales (lo único que no me gustó es que reescribieron las canciones lejos de usar las versiones anteriores, pero nada grave, el mensaje seguía siendo el mismo) Entonces empezaremos hablando de la primera pieza de la película para también entender la fotografía, y a qué me refiero al decir "preciosa"
I have left both versions to note the differences as well as the similarities. On this occasion, Disney didn't want to make a carbon copy of the shots or colour palette, but to take the general idea of the musical and make it better. The shots in this part are open, aerial and also have movement to give that sense of hustle and bustle, once the whole town wakes up. The lyrics of the song as well as the staging tell us about two different points of view, that of the people who think that Bell is an "strange" for being a girl ahead of her time, and we also have the point of view of Belle who think they are ordinary for following stupid conventions instead of being themselves, plus a little later the point of view of Gaston (Disney villain who is by far not the best of all, but I am fond of him for being charismatic) who bases his opinion on what he believes is the most valuable thing that Belle has, her beauty. The colour palette keeps many bright colours and an amber filter to give prominence to the rising sun and that gives warmth to the scenes and when we reach the bridge of the song, where Belle tells us about her story and the love that the protagonist of this one feels, where the music and the tonality of the song becomes soft and relaxing, the colour palette becomes pastel (reflected in the flowers around Belle) and then, of course, the filter (logically present in the whole scene) brings together the bright colours and pastel tones as all the performers join in the song. It is a beauty
He dejado ambas versiones para notar tanto las diferencias como las similitudes. En esta ocasión, Disney no quiso hacer una calca de planos ni paleta de colores sino tomar la idea general de la pieza musical y hacerla mejor. Los planos de esta parte son abiertos, aéreos y también tienen movimiento para dar esa sensación de ajetreo, una vez que todo el pueblo despierta. En la letra de la canción como las puestas en escena nos hablan de dos puntos de vistas diferentes, el del pueblo que tratan a Bella como "rara" por ser una muchacha adelantada para su época, y el de Bella que los trata de ordinarios por seguir convencionalismos estúpidos en vez de ser ellos mismos, además poco luego se suma el punto de vista de Gastón (villano de Disney que ni de lejos es el mejor pero que le guardo cariño por carismático) quién basa su opinión en lo que cree que es lo más valioso que tiene Bella, su belleza. La paleta de colores guarda muchos colores vivos y un filtro ambarino para darle protagonismo al sol saliente y que da calidez a las escenas. Cuando llegamos al puente de la canción, donde Bella nos habla de su cuento y del amor que siente la protagonista de este, donde la música y la tonalidad de la canción se vuelve suave y relajante, la paleta de colores pasa a ser pastel (reflejada en las flores alrededor de Bella) para posteriormente juntar, por supuesto, el filtro (presente por lógica en toda la escena) los colores vivos y los pasteles a medida que todos los interpretes se unen en la canción, es una belleza
Ver Nuestro Huesped sea usted link
I couldn't find the Spanish version of the Remake on youtube, so I left a link below the original. Be our guest", is by far the best piece of music from the film and one of the most remembered classics, the Remake takes this piece and improves it by a thousand, showing off the beautiful photography it handles. The scene transitions, the colour palette, the lighting and shadows of this whole staging are done from an artistic point of view, after all, Lumière (like any good host and butler) wants to impress his first guest after so many years, so he transforms the dinner (without Bella's permission it should be noted), I loved the addition of Lumière prioritising his big show over feeding Belle, which is what they were supposed to do, since for one reason or another the girl doesn't get to eat until the end of the show when the host finally offers her Pudding.
No encontré la versión del Remake en español en youtube, así que les dejé un link debajo del original. Nuestro Huésped sea Usted, es de lejos la mejor pieza musical de la película y uno de los más recordados en cuanto a clásicos, el Remake toma esta pieza y la mejora por mil, haciendo alarde de la preciosa fotografía que maneja. Las transiciones de escenas, la paleta de colores, la iluminación y sombras de toda esta puesta escénica están hechas desde un punto de vista artístico, después de todo, Lumière (como todo buen anfitrión y mayordomo) quiere impresionar a su primer huésped después de tantos años, así que transforma la cena (sin permiso de Bella cabe destacar), en todo un espectáculo en el que Ding Dong intenta no participar por miedo a que la Bestia los descubra, sin embargo poco puede lograr ante tal espectáculo, y me encantó el añadido de que Lumière priorice su gran espectáculo por encima de alimentar a Bella que era lo que se suponía que tenían que hacer, ya que por una razón u otra la muchacha no alcanza a probar bocado sino hasta el final del show cuando el anfitrión al fin le ofrece Pudding.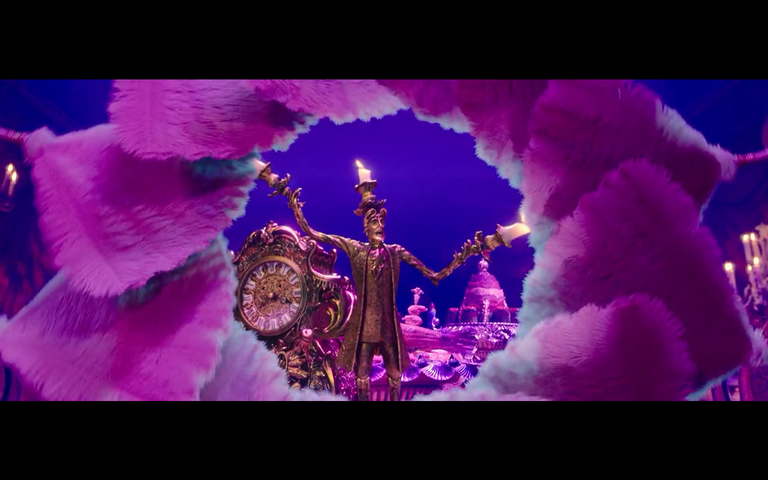 Fuente
The harpsichord arrangement in the song was beautiful because at that time it was one of the most played instruments, in addition to the lighting and shadows taking on greater prominence. Let's say that in this piece they took all the cinematographic resources to put them together in perfect transitions and enrich what was already well done, giving us as a result a piece of an unprecedented level.
El arreglo de clave en la canción quedó precioso, dado a que por aquella época era uno de los instrumentos más tocados, además de que la iluminación y las sombras toman mayor protagonismo. Digamos que en esta pieza tomaron todos los recursos cinematográficos para juntarlos en transiciones perfectas y enriquecer lo que ya estaba bien hecho, dandonos como resultado una pieza de un nivel sin precedentes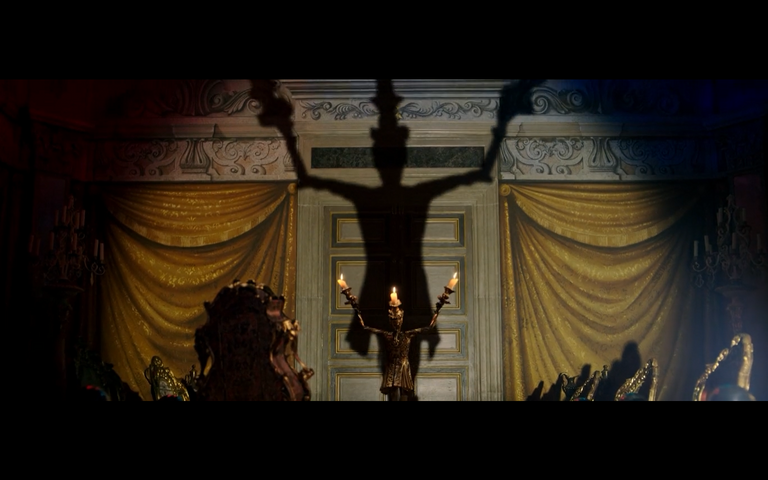 Fuente
Since I'm starting with the musical pieces and going in chronological order, yes, I'll talk about the one you've all been waiting for: Tale As Old As Time is the world famous song from Beauty and the Beast and portrays the feelings of both characters as seen from the point of view of Mrs. Potts who has realised that something is going on between those two.
Ya que estoy empezando por las piezas musicales y voy por orden cronológico, sí, hablaré del que todos estaban esperando: Fabula Ancestral es la mundialmente famosa canción de La Bella y la Bestia y retrata los sentimientos de ambos personajes vistos desde el punto de vista de la Sra. Potts quien se ha dado cuenta de que algo sucede entre esos dos.
What more can I say? Once again in the music, in this arrangement for the remake, the harpsichord is present and also, I loved the idea that the ornaments of the room were the interpreters of the music, it gives realism and context, the music does not come out of nowhere. The setting of the scene is beautiful, if this scene in the original was already beautiful because of the 3d aerial shots (an immense invasion for the time) let alone the improvement of the remake. The lighting is beautiful, thousands of candles illuminate the room, and the filter they used to help this was a golden one, quite warm, the camera shots are aerial and rotate around the protagonists, giving us a 360 degree view of the room (which is beautiful by the way) and after a musical bridge (which is not in the original song) The beast lifts Bella and in the shot we can see a darkening plus thousands of small lights illuminating the room behind, They are small details but they enrich a scene and they did it perfectly, they literally set a fairy tale scene, a waltz, an extremely romantic scene that doesn't become cheesy, they made us want to be in that room, the chemistry between both characters helps the whole visual part of this beautiful piece of music to make sense and make our heads explode.
¿Qué más puedo decir? Una vez más en la música, en este arreglo para el remake, está presente el clave y además, me encantó la idea de que los adornos del salón fuesen los interpretes de la música, le da realismo y contexto, la música no sale de la nada. La ambientación de la escena es preciosa, si ya esta escena en el original era preciosa por los planos aéreos en 3d (una invasión inmensa para la época) ni hablar de la mejora del remake. La iluminación es hermosa, miles de velas alumbran el salón, y el filtro que emplearon para ayudar a esto fue uno dorado, bastante cálido, los planos de cámaras son aéreos y rotan alrededor de los protagonistas, dándonos un vistazo de 360 grados del salón (que es precioso por cierto) y tras un puente musical (que no está en la canción original) La bestia alza a Bella y en el plano podemos ver un oscurecimiento además de miles de luces pequeñas iluminando la estancia detrás, dándole aspecto de cielo cuajado de estrellas, son pequeños detalles pero que enriquecen una escena y lo cumplieron a la perfección, literalmente ambientaron una escena de cuento, un vals, una escena en extremo romántica que no se torna cursi, nos hicieron querer estar en esa estancia, la química entre ambos personajes ayuda a que toda la parte visual de esta hermosa pieza musical tome sentido y nos explote la cabeza.
To talk about this piece of music, I will also talk about the main characters in it. In the remake, Gaston is exactly the same (even not exaggerating how "macho" he is (which in the animation is exaggerated for obvious reasons) but Lefou had an excellent character development (and the fact that he turned out to be gay in the film in the end didn't matter to me, in fact it was quite hilarious this scene) so this piece shows the very different personalities of one and the other, on the one hand Gaston whose beauty, strength and rudeness makes him believe he is worthy of his whims and Lefou who admires Gaston very much for being the most popular in the village.
Para hablar de esta pieza musical, también hablaré de los personajes protagonistas de esta. En el Remake, Gastón es exactamente igual (aun no exagerando "lo macho" que es (que en la animación es exagerado por obvias razones) pero Lefou tuvo un excelente desarrollo de personaje (y el hecho de que resultase Gay en la película al final me dio igual, de hecho fue bastante hilarante esta escena) entonces esta pieza muestra las personalidades tan diferentes de uno y otro, por un lado Gastón cuya belleza, fuerza y rudeza le hace creer que es merecedor de sus caprichos, y a Lefou que admira mucho a Gastón por ser el más popular de la aldea
What sets this one apart from the other pieces is that here there is more acting by the actors, more exaggeration and hilarity, as well as choreography. The musical arrangement is charming and adds to the festive atmosphere in the bar around Gaston. The camera shots are incredible, one of my favourites being when Gaston holds a sword with a mural behind him doing exactly the same thing.
Lo que diferencia esta de las demás piezas es que aquí hay más actuación por parte de los actores, más exageración e hilarancia, además de una coreografía. El arreglo musical es encantador y ayuda a la ambientación festiva que hay en el bar en torno a Gastón. Los planos de cámaras son increíbles, siendo uno de mis preferidos cuando Gastón sostiene una espada con un mural detrás que hace exactamente lo mismo.
In this last piece of music, we can see a darker palette of lights that nevertheless looks "warm" due to the use of fire, despite this, the performances of the actors, the lyrics of the song and, of course, the melody and the music make the atmosphere of the scenes dark and sinister. In it we are presented with the point of view of the villagers who, manipulated by Gaston, want to get rid of the Beast for fear that he will harm them, while they do not realise that they are the real Beast, and in the Remake, Lefou also realises that Gaston really is a monster and has very bad intentions. The shots are what in my personal opinion shine here, a marvel.
En esta última pieza musical, podemos ver una paleta de luces más oscura que sin embargo luce "cálida" por el empleo del fuego, a pesar de esto, las actuaciones de los actores, la letra de la canción y como no, la melodía y la música hacen que la ambientación de las escenas se torne obscura y siniestra. En ella se nos plantea el punto de vista de los aldeanos quienes, manipulados por Gastón, quieren deshacerse de la Bestia por temor a que les haga daño, mientras que no se dan cuenta de que ellos son la verdadera Bestia, y en el Remake, también Lefou se da cuenta de que Gastón realmente es un monstruo y tiene muy malas intenciones. Los planos son lo que en mi opinión personal relucen aquí, una maravilla.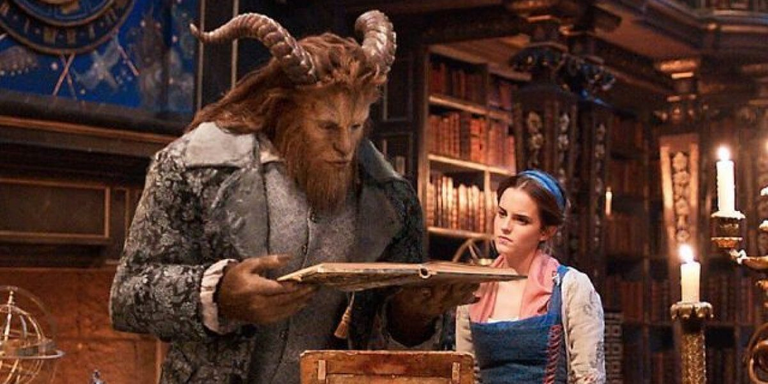 Fuente
Let's talk about the characterisation and acting: Everyone without exception looks pretty similar to the original characters, of course the CGI characters have a more realistic redesign which however subtracts expressions, I think that if they put faces on objects anyway, they should have at least made them more expressive, but far from that, the voice acting was phenomenal, as well as the rest of the cast.
Hablemos ahora de la caracterización y actuación: Todos sin excepciones lucen bastante similares a los personajes originales, claro está que los personajes CGI tienen un rediseño más realista que sin embargo les resta expresiones, y es que pienso, ya que estamos, si igual vas a ponerle rostro a objetos, al menos hazlos más expresivos, pero lejos de eso, las actuaciones de voces fueron fenomenales, así como el resto del elenco.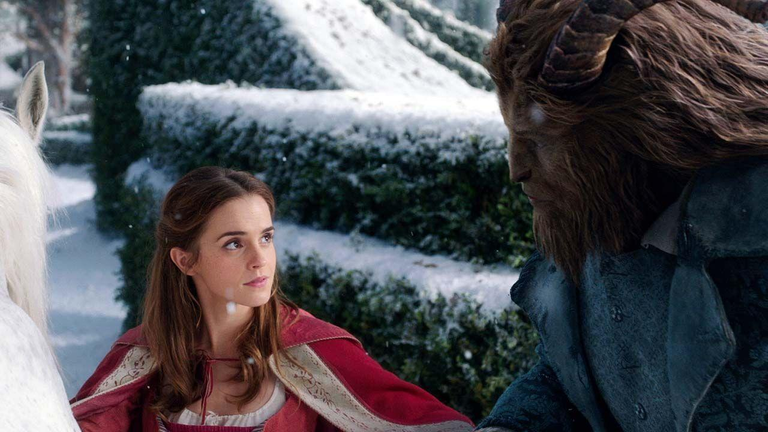 Fuente
The character development is one of the things to give this film a standing ovation. In the remake we even have new songs, in which we explore Beast's past and how his father was a fundamental part of his petty and arrogant personality that was responsible for his punishment. Of Belle we learn that she comes from Paris and that her mother died of the plague, her father fleeing the disease decided to move to the village where they now live. Also the interactions between these two characters become more and more enjoyable, having more casual conversations that allow them to get to know each other's personalities and in turn, this allows them to fall in love.
El desarrollo de personajes es una de las cosa que hay que aplaudirles de pie a esta cinta. En el remake incluso tenemos canciones nuevas, en las cuáles exploramos el pasado de Bestia y como su progenitor fue pieza fundamental de su personalidad mezquina y arrogante que fue la responsable del castigo que tuvo. De Bella sabemos que viene de Paris y que su madre murió por la peste, su padre huyendo de la enfermedad decidió mudarse al pueblo en el que ahora viven. También las interacciones entre estos dos personajes se va volviendo cada vez más amenas, teniendo conversaciones más casuales y que les permiten conocer las personalidades de cada uno y a su vez, esto les permite enamorarse.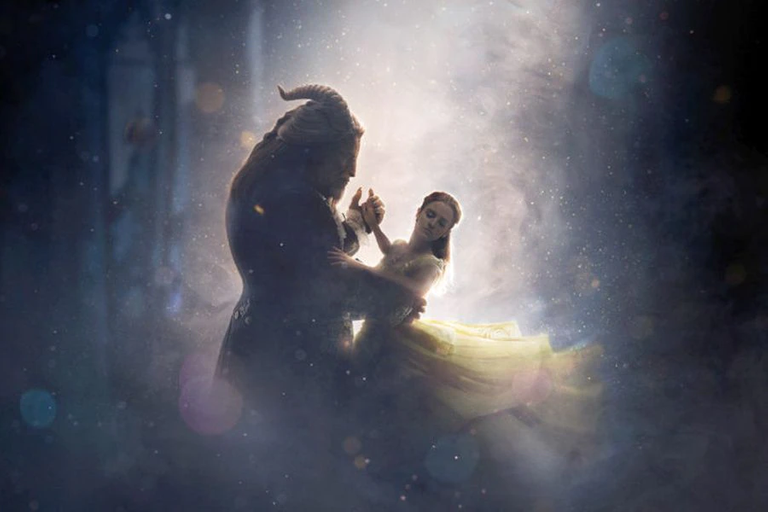 Fuente
On the other hand we have Gaston, a villain who in his original version is quite simple and yet here he is better worked. Gaston like his counterpart is self-centred and capricious, however, he proves to be quite opportunistic and evil, when Belle's father starts asking for help saying that a Beast has kidnapped his daughter, Gaston is the only one who "believes him" and although he will try to help him, he really wants to look like a hero to his "future father-in-law" and although Belle is in danger for another situation, he wants her to see him as her saviour, however he loses patience when Belle's father is unable to find his way back, and as there is no Bella to save and he is no longer going to take advantage of the situation, he prefers to leave his "future father-in-law" abandoned in the forest, which now leads me to talk about Lefou, who as I mentioned before, now has more protagonism and also has a development, after going after Gaston because of the admiration he feels for him, little by little he realises that Gaston is not only a self-centred and capricious braggart, but a very bad person, manipulative and calculating, both improved quite a lot in this film.
Por otro lado tenemos Gastón, villano que en su versión original es bastante simple y que sin embargo aquí está mejor trabajado. Gastón al igual que su contraparte es egocéntrico y caprichoso, sin embargo, demuestra ser bastante oportunista y malvado, cuando el padre de Bella empieza a pedir ayuda diciendo que una Bestia tiene secuestrada a su hija, Gastón es el único que "le cree" y aunque va a intentar ayudarle, realmente quiere quedar como un héroe ante su "futuro suegro" y aunque Bella está en peligro por otra situación, él quiere que ella lo vea como su salvador, sin embargo pierde la paciencia cuando el padre de Bella es incapaz de hallar el camino de vuelta, y como no hay Bella que salvar y ya no va a sacar ventaja de la situación, prefiere dejar a su "futuro suegro" abandonado en el bosque, lo que ahora me lleva a hablar de Lefou, que como mencioné antes, ahora tiene más protagonismo y además tiene un desarrollo, después de ir detrás de Gastón por la admiración que siente por él, poco a poco se va dando cuenta de que Gastón no solo es un fanfarrón egocéntrico y caprichoso, sino una muy mala persona, manipuladora y calculadora, ambos mejoraron bastante en este film.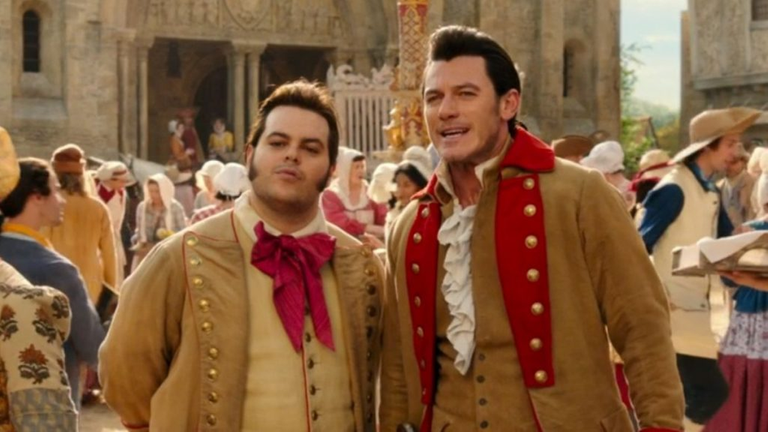 Fuente
Another thing I loved about the remake was the fact that the curse was not only based on leaving everyone with furniture shapes if the last petal fell, but they went a step further and they were all going to die to finally become ordinary objects condemning Bestia (who loved them after all) not only to stay with that shape but to see how all his servants and friends disappeared, adding more guilt to him since after all, he was the one who caused the curse to hang over the castle. Narratively it was quite sad to see them leave one by one as Bestia died as well. That scene was quite sad and the build up was the scene of Belle sobbing over Beast who as expected, thanks to her confession of her feelings, ended up reviving and taking his human form.
Otra cosa que me encantó del Remake fue el hecho de que la maldición no solo se basaba en dejar a todos con formas de mobiliarios si el último pétalo caía, sino que fueron un paso más allá y todos iban a morir para convertirse finalmente en objetos comunes y corrientes, condenando a Bestia (que al fin y al cabo los quería) no solo a quedarse con esa forma, sino a ver como todos sus sirvientes y amigos desaparecían, agregándole más culpa ya que después de todo, él fue el causante de que esa maldición se cerniera sobre el castillo. Narrativamente era bastante triste ver como se iban yendo uno a uno a medida que Bestia moría también. Esa escena fue bastante triste y el incremento fue la escena de Bella sollozando sobre Bestia que como era de esperarse, gracias a la confesión de los sentimientos de ella, terminó reviviendo y adoptando su forma humana.
The film also rewards us with scenes of the curse being broken and everyone not only coming back to life but also returning to their human form, and we understand that the townspeople forgot their king as part of the spell and that when the spell was broken, they remembered everything immediately.
Asimismo el film nos recompensa con las escenas de la maldición rompiéndose, y de todos no solo volviendo a la vida sino también regresando a su forma humana, además entendemos que la gente del pueblo olvidó a su rey como parte del hechizo, y que al romperse, recordaron todo de inmediato.
I couldn't find the prologue in English, I put it in Spanish. The prologue of the Remake is not made in stained glass (as in the original) they did it in live action scenes and I found it much better because it gives much strength to the main engine of the story, the scenes, the narration, I liked much more that way.
No encontré el prólogo en inglés, lo puse en español. El prologo del Remake no está hecho en vitral (como en la original) lo hicieron en escenas live action y me pareció mucho mejor ya que le da mucha fuerza al motor principal de la historia, las escenas, la narración, me gustó mucho más esa apuesta.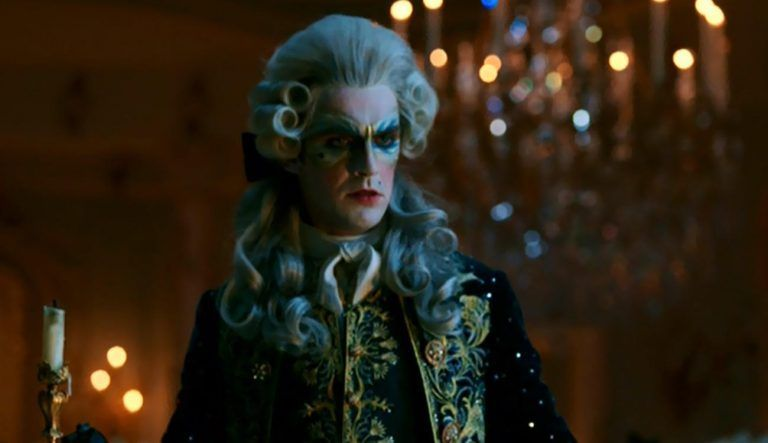 Fuente
And yes, we will now talk about Emma Watson. She was perfect for the role both physically and in terms of personality, a beautiful brunette, literary, feminist and witty as well as outgoing and unique. Because of these similarities Emma decided to accept the role and she put a lot of heart into it, as Belle is her favourite princess because in addition to the qualities I have already mentioned, she is also the one who saves the prince from his tragic end, she is the heroine and is a good representation of girl power without being over the top or out of time. She was perfect in the role and I must also applaud how hard she worked on her singing voice, her voice is beautiful and very well crafted. Emma Watson never disappoints, no matter if she plays a young witch, a wife in the middle of a dictatorship like in "The Colony" or a princess by affinity haha, she does everything great.
Y claro que sí, ahora hablaremos de Emma Watson. Era perfecta para el papel tanto físicamente como en cuanto a personalidad, una castaña hermosa, una literatos, feminista e ingeniosa además de extrovertida y singular. Dado a estas semejanzas Emma decidió aceptar el papel y le puso bastante corazón, ya que Bella es su princesa preferida ya que además de las cualidades que ya mencioné, también es quien salva al príncipe de su trágico final, es ella la heroína y es una buena representación del poder femenino sin hacer una exageración fuera de lugar o tiempo. Fue perfecta en el papel y también debo aplaudir lo duro que trabajó su voz para cantar, su voz es preciosa y muy bien trabajada. Emma Watson nunca decepciona, no importa si interpreta a una joven bruja, a una esposa en medio de un dictadura como en "The Colony" o a una princesa por afinidad haha, ella todo lo hace genial.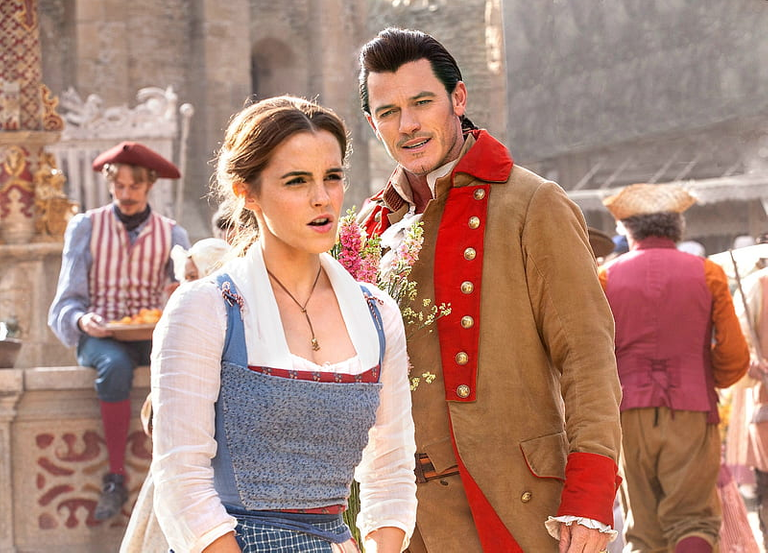 Fuente
The Sountrack is spectacular, the new songs enriched the film without a doubt and the original songs with their masterful arrangements made us feel nostalgic.
El Sountrack es espectacular, las canciones nuevas enriquecieron la cinta sin lugar a dudas, y las originales con sus arreglos magistrales nos hicieron sentir nostálgicos.
Nothing is perfect and as I mentioned before, the film is not exempt of mistakes, however, it is more its successes than its mistakes, it is the only Remake of the Disney classics that is not only decent but also very good, in short, the story is beautiful like the Disney original, but it is enriched, it has more context and depth as well as the characters, the soundtrack is beautiful, the performances are 10 out of 10... It's a work of art everywhere you look.
Nada es perfecto y como mencioné antes, la cinta no está exenta de errores, sin embargo, son más sus aciertos que sus errores, es el único Remake de los clásicos de Disney que no solo es decente sino buenísimo, en resumen, la historia es preciosa igual a la original de Disney, pero está enriquecida, tiene más contexto y profundidad igual que los personajes, el soundtrack es precioso, las actuaciones 10 de 10... Es una obra de arte por donde sea que se mire.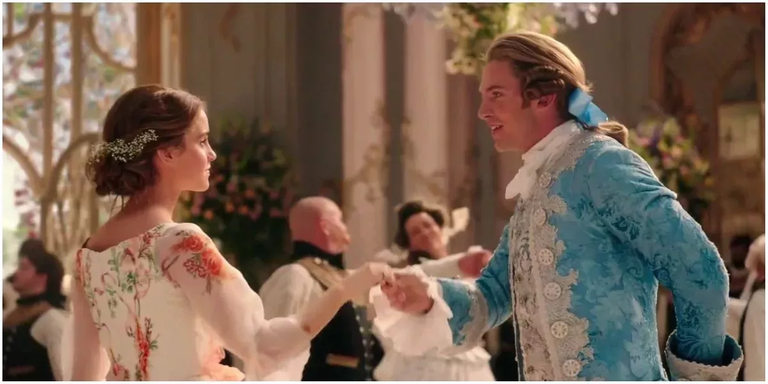 Fuente
And well, people, that's all for today's post, I hope you liked it. Thank you very much as always for supporting my work, I welcome new readers, I love you all very much, I send you a hug and I'll see you in another post.
Y bueno, gente, esto ha sido todo por el post de hoy, espero que les haya gustado. Muchas gracias como siempre por apoyar mi trabajo, le doy la bienvenida a los nuevos lectores, les quiero mucho a todos, les envío un abrazo y ya nos encontraremos en otro post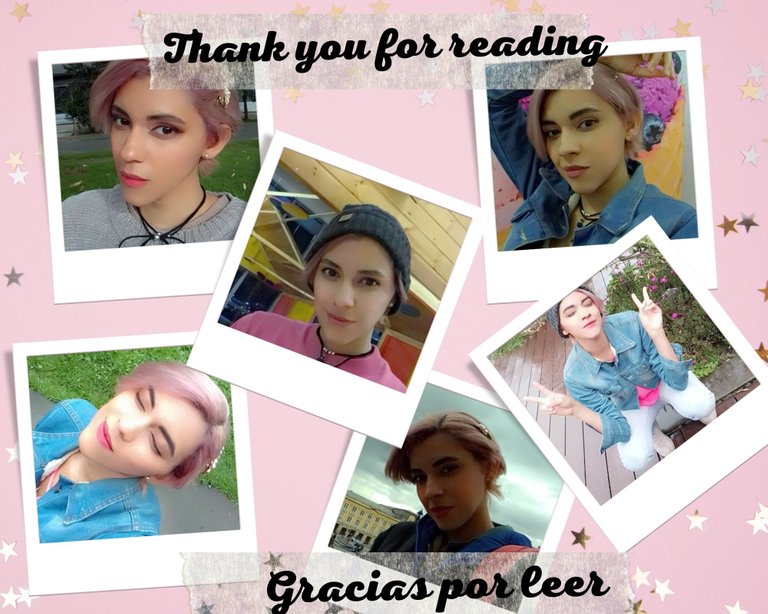 I made the farewell image in Canva.
La imagen de despedida la realice en Canva
---
---