OUTLAST TRIALS (My Opinion) (ENG/SPA) (NO SPOILERS)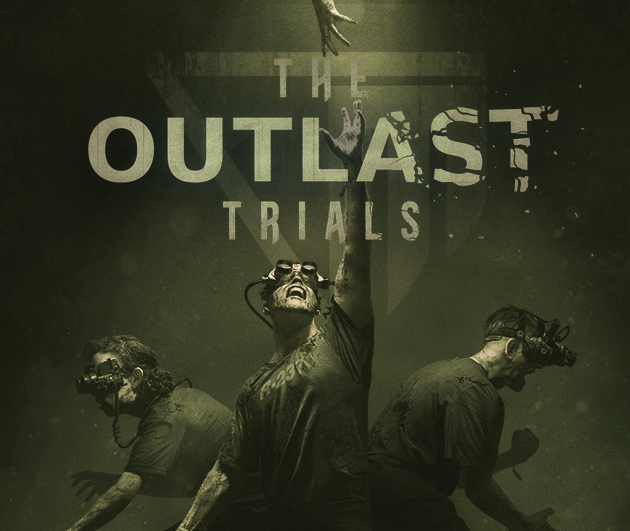 Fuente
Hi gamers, everything ok? I know it took me a while to bring the review but I had to see the details of the game to be able to give my opinion, and if I forget something to mention, you can post it in the comments.
¡Hola, gamers! ¿Todo bien? Se que me tardé para traer la review pero tenía que ver los pormenores del juego para poder opinar, además si igual se me pasa algo por mencionar, pueden en los comentarios ponerlo ustedes.

Outlast is a new school Survival Horror and psychological horror saga, developed by the geniuses at Red Barrels. It has 2 installments and a DLC just released its third non-numerical installment that takes place during the tests of the MK Ultra experiment (which specialized in mind control).
Outlast es una saga de Survival Horror de la nueva escuela y terror psicológico, desarrollado por los genios de Red Barrels. Posee 2 entregas y un DLC, y recién acaban de estrenar su tercera entrega no numérica que toma lugar durante las pruebas del experimento MK Ultra (que se especializaba en control mental)
This game makes a before and after in the saga because from coming to two games with a linear story, we went to a game in stages whose history is not very clear and that leaves us more questions than answers (but we'll delve into that later) and although the changes in part of its gameplay I do not dislike, there are others that I did not like so much.
Este juego hace un antes y un después en la saga ya que luego de venir de dos juegos con una historia lineal, pasamos a un juego por etapas cuya historia no está muy esclarecida, y que nos deja más preguntas que respuestas (pero en eso profundizaremos más adelante) y aunque los cambios en parte de su jugabilidad no me desagradan, hay otros que no me gustaron tanto.
🎮Ⱨł₴₮ØⱤł₳ / ₴₮ØⱤɎ🎮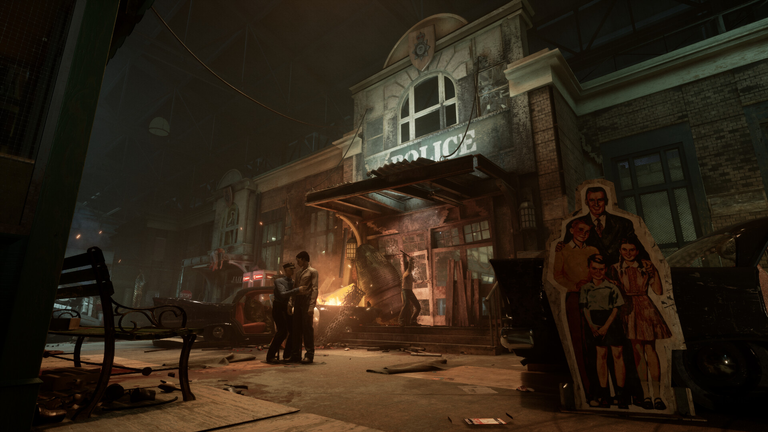 Fuente
Let's start with the problem I have with the game: its story, and that is that it is practically non-existent. We know from the developers that the game is based on the MK Ultra tests (they took what was known from these tests and filled in what their imagination allowed them) and the intro of the game makes it clear to us very graphically and assertively that once the individuals showed up where they were asked to in the pamphlets, they were kidnapped and taken to a new location where to top it off they had night vision goggles screwed to their heads and were subsequently released in some initial tests (tutorial in the game) other than that, we know nothing else, we don't know who we are, we don't know about our pursuers, absolutely nothing.
Empecemos por el problema que tengo del juego: su historia, y es que prácticamente es inexistente. Sabemos por los desarrolladores que el juego se basa en las pruebas del MK Ultra (tomaron lo que se supo de estas pruebas y rellenaron con lo que su imaginación les permitió) y la intro del juego nos deja claro muy gráfica y asertivamente que una vez que los individuos se presentaron donde se les pedía en los panfletos, fueron secuestrados y llevados a un lugar nuevo donde para colmo les atornillaron lentes de visón nocturna a la cabeza y posteriormente los soltaron en unas pruebas iniciales (tutorial en el juego) a parte de eso, no sabemos nada más, no sabemos quienes somos, no sabemos acerca de nuestros perseguidores, absolutamente nada.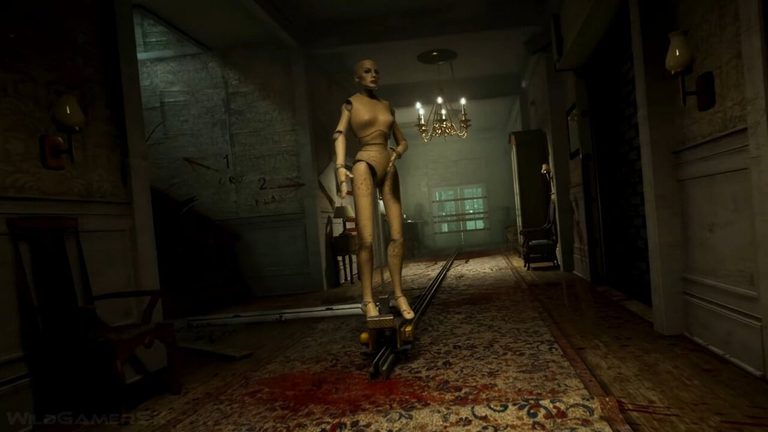 Fuente
And we can say "If they are tests it is logical that when they are kidnapped they do not even know where they are standing" and it is logical but if they give us documents about conversations between scientists responsible for the test (which the truth is not fully understood) they could have left documents of the origin of the variants of the tests. If they are mental patients brought from hospitals for this purpose, if they are psychopaths who came to make our lives impossible in the tests voluntarily, to know why each one is the way he is... At least in the previous games we were left documents with the medical history and psychological profile of the enemies and that satisfied our curiosity.
Y podemos decir "Si son pruebas es lógico que al ser secuestrados no sepan ni donde están parados" y tiene lógica, pero si nos dan documentos acerca de conversaciones entre científicos responsables de la prueba (que la verdad no se entienden del todo) han podido dejar documentos del origen de las variantes de las pruebas. Sin son pacientes mentales que trajeron desde hospitales para este fin, si son psicópatas que se presentaron para hacernos la vida imposible en las pruebas voluntariamente, saber porqué cada uno es como es... Al menos en los juegos anteriores nos dejaban documentos con el historial médico y perfil psicológico de los enemigos, y eso satisfacía nuestra curiosidad.
On the other hand, the ending is quite bitter but it is to be expected due to the purpose of the experiment, so even though you are left with a horrible feeling, it is justifiable.
Por otro lado, el final es bastante amargo pero es algo que se esperaba debido al propósito del experimento, así que aunque te quedas con una sensación horrible, es justificable.
🎮ĴỮǤΔβƗŁƗĐΔĐ / ǤΔΜ€ƤŁΔ¥🎮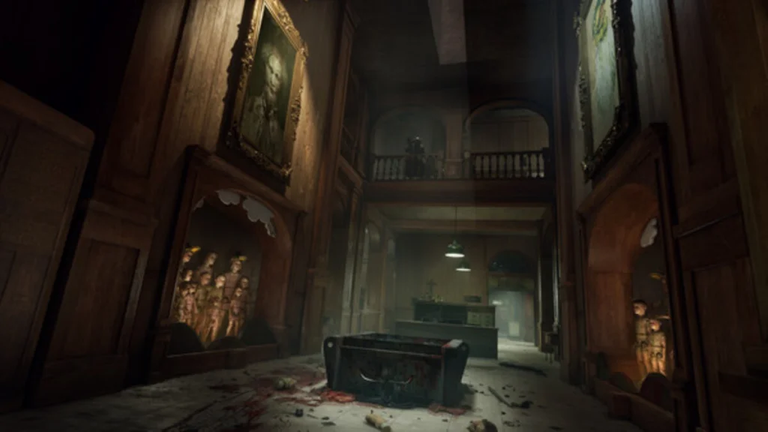 Fuente
In response to complaints about the camera in the game (which I have already said many times that I thought it was stupid since the camera and night vision are the hallmark of the saga) Red Barrels changed the camera for night vision goggles to maintain its characteristic gameplay but giving it a fresher touch. This time we have a game by stages, that is to say we have a main menu from where we choose the tests we have to do and which once completed will unlock the others.
Atendiendo a las quejas de la cámara en el juego (cosa que ya he dicho muchas veces que me parecía estúpido ya que la cámara y la visión nocturna son el sello de la saga) Red Barrels cambió la cámara por gafas de visión nocturna para mantener su jugabilidad característica, pero dándole un toque más fresco. Esta vez tenemos un juego por etapas, es decir tenemos un menú principal desde donde escogemos las pruebas que tenemos que hacer y las cuales una vez completadas nos desbloquean las demás.
But with this I also have a problem and that is that when we start at the police station, we have the main enemy policeman, in the next test (the fair) we have Goosberry, my problem starts in the third test (the orphanage) because instead of having a new enemy we repeat Goosberry and so is almost all the rest of the game, enemies and scenarios repeated, in short: the game ends up being extremely repetitive. I understand that it is an online game whose purpose is to keep adding updates, but for its premiere it was honestly poor in resources and it is disappointing.
Pero con esto también tengo un problema, y es que cuando iniciamos en la comisaría, tenemos al policía de enemigo principal, en la siguiente prueba (la feria) tenemos a Goosberry, mi problema empieza en la tercera prueba (la del orfanato) ya que en vez de tener un enemigo nuevo repetimos a Goosberry, y así es casi todo lo que resta del juego, los enemigos y los escenarios repetidos, en resumen: el juego termina siendo tremendamente repetitivo. Entiendo que es un juego online cuyo propósito es ir poniéndole actualizaciones, pero para su estreno salió pobre de recursos honestamente y es decepcionante.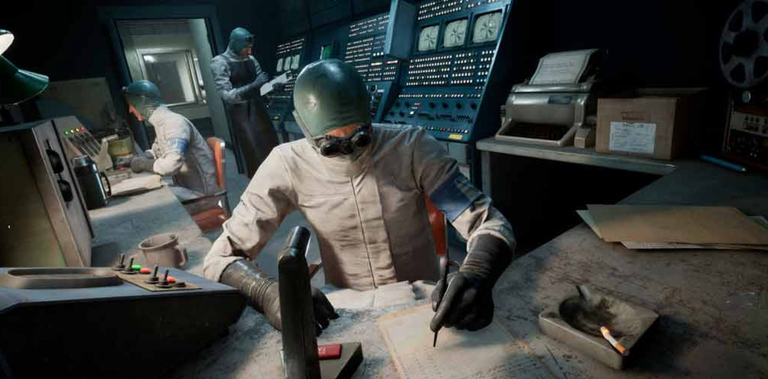 Fuente
There were enemies or scenarios that were seen in the teasers that were not in the final result and that we are likely to see in an upcoming update but as I said, it is disappointing that the version that was released is so incomplete and was filled with more of the same, in the end it is boring and you end up completing it just to know if in the end if they will give you the freedom or not.
Hubo enemigos o escenarios que se vieron en los teasers que no estuvieron en el resultado final, y que es probable que veamos en una próxima actualización pero como dije, es decepcionante que la versión que fue lanzada esté tan incompleta y fuese rellenada con más de lo mismo, al final es aburrido y terminas completándolo solo para saber si al final si te darán la libertad o no.
On the other hand we have two ways to play, online and offline which is summarized to play with friends or play alone (something that is very good) as it expands the possibility of playing for those who don't have good internet or simply is not their thing to play with other people. We now have a kind of items and traps all never seen before and that we can easily learn to use and avoid within the tutorial.
Por otro lado tenemos dos maneras de jugar, online y offline, lo que se resume a jugar con amigos o jugar en solitario (algo que está muy bien) ya que amplia la posibilidad de jugar para los que no tienen buen internet o que simplemente no es lo suyo jugar con otras personas. Tenemos ahora una especie de items y trampas, todo nunca antes visto y que fácilmente podemos aprender a usar y evitar dentro del tutorial.
🎮₳₥฿łɆ₦₮₳₵łó₦ / ₳₮₥Ø₴₱ⱧɆⱤɆ🎮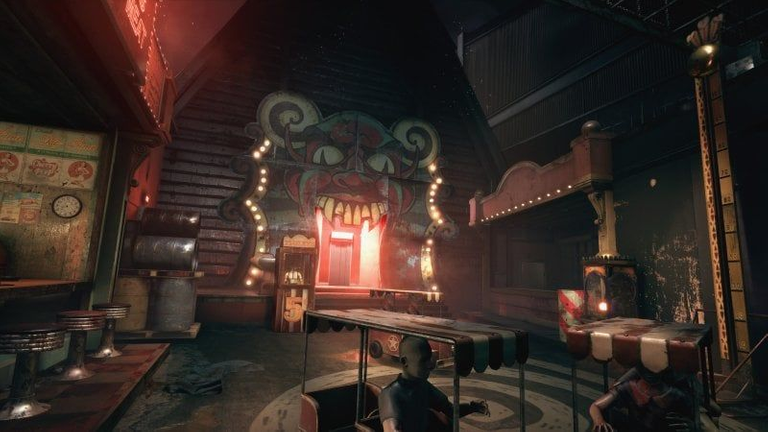 Fuente
The setting is amazingly good (it doesn't disappoint) you feel immersed in what the game wants to convey, you feel like a subject of experiment stalked by ruthless and creepy killers and in this plays an important role the fact that the enemies are only controlled by the AI and not by other players and I feel that it would lose the perfect atmosphere that the game has been managing. Personally, I lose my fear of enemies when I know they are controlled by another player.
La ambientación es asombrosamente buena (no decepciona) te sientes inmerso en lo que quiere transmitir el juego, te sientes como sujeto de experimento asechado por asesinos despiadados y espeluznantes, y en esto juega un papel importante el hecho de que los enemigos solo son controlados por la IA y no por otros jugadores, y es que siento que perdería la atmosfera perfecta que viene manejando el juego. En lo personal le pierdo el miedo a los enemigos cuando sé que son controlados por otro jugador.
The controls are identified with Outlast right away, it is another point in favor because they are controls that are comfortable and that regular players to the saga will identify therefore it becomes easier to learn the new things in the tutorial if you have already learned the basic controls.
Los controles se identifican con Outlast en seguida, es otro punto a favor ya que son controles que son cómodos y que los jugadores asiduos a la saga van a identificar, por tanto se hace más fácil aprender las cosas nuevas del tutorial si los controles básicos ya los tienes aprendidos.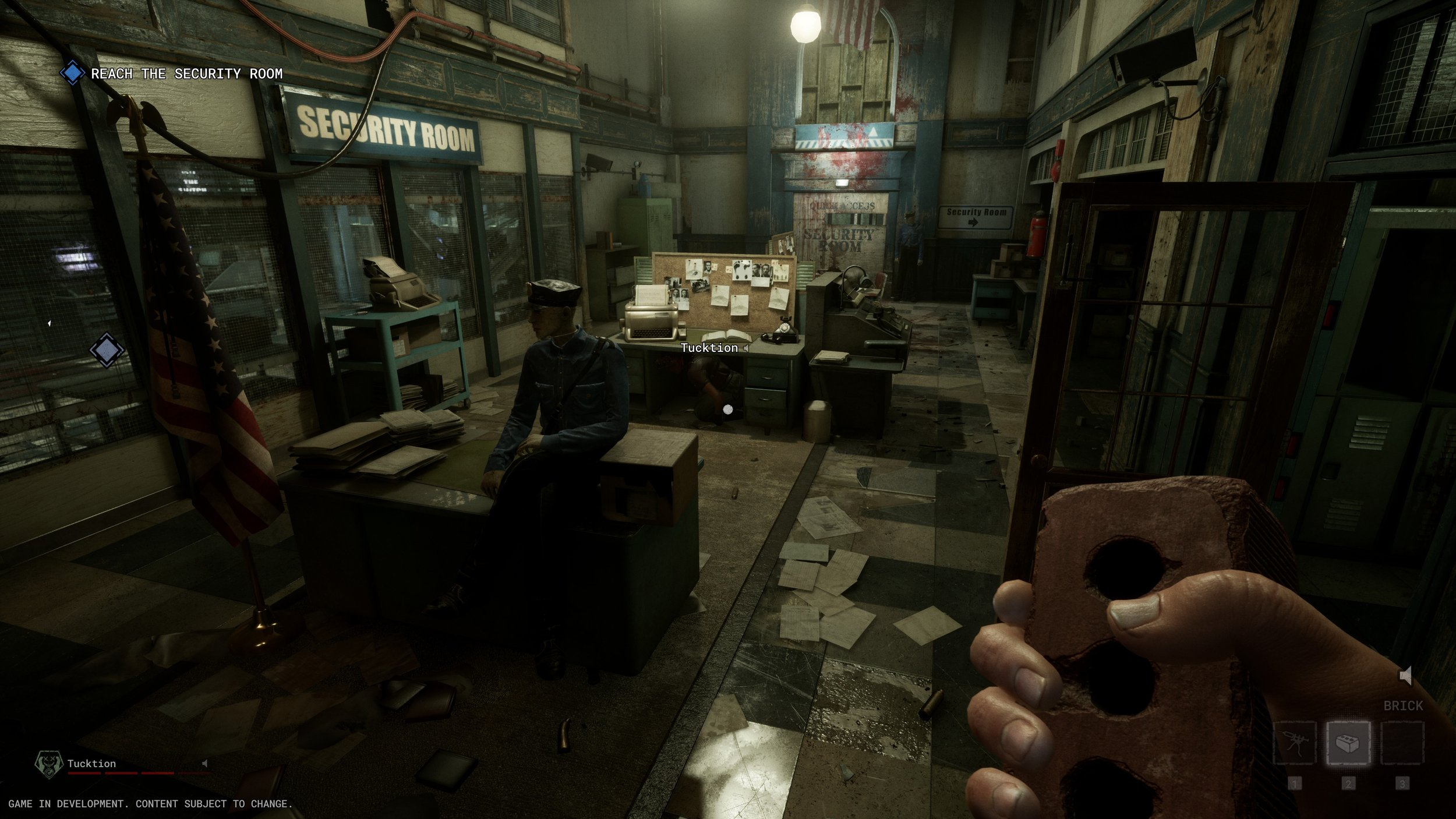 Fuente
Another thing I noticed is that there are problems with hiding in the game is that sometimes you hide and although the enemy does not see you do it, but still finds you, it is something that also happens in the sewer area in Outlast 1, but it's kind of a joke by the developers because something similar is not repeated throughout the game, however in this game is something recurrent, it is not so frequent that does not allow you to play, but if it is annoying want to not.
Otra cosa que observé es que hay problemas con los escondites en el juego se trata de que a veces te escondes y aunque el enemigo no te ve hacerlo, aun así te encuentra, es algo que también pasa en la zona de las alcantarillas en Outlast 1, pero es una especie de broma por parte de los desarrolladores ya que no se repite algo similar en todo el juego, sin embargo en este juego es algo recurrente, tampoco es tan frecuente que no te permita jugar, pero si es molesto quiera que no.
And well, people, that's all for today's post, I hope you liked it. Thank you very much as always for supporting my work, I welcome new readers, I love you all very much, I send you a hug and we'll meet again in another post.
Del resto no nos queda más que esperar a que el juego sea actualizado para ver si mejora. Y bueno, gente, esto ha sido todo por el post de hoy, espero que les haya gustado. Muchas gracias como siempre por apoyar mi trabajo, le doy la bienvenida a los nuevos lectores, les quiero mucho a todos, les envío un abrazo y ya nos encontraremos en otro post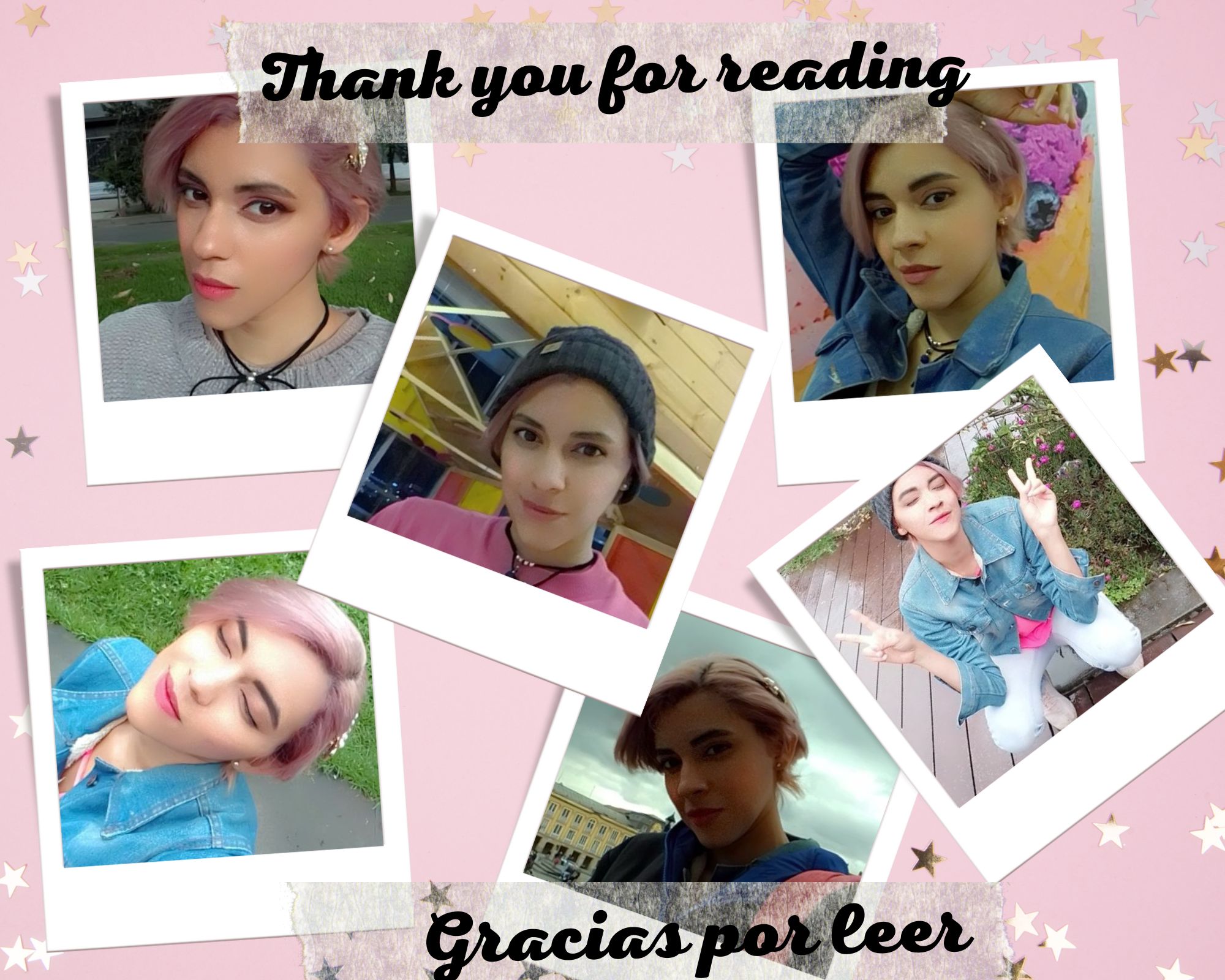 I made the cover and farewell image in Canva
La imagen de despedida la realice en Canva
---
---