Super Junior: The Last Man Standing, Review (ENG/SPA)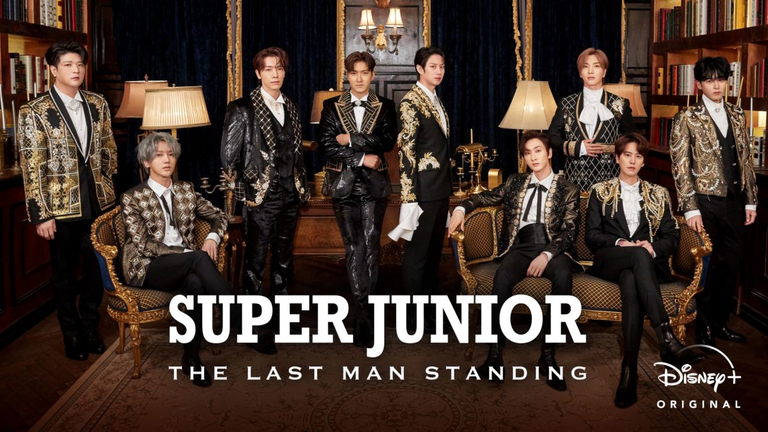 Fuente
Hello, people of the internet! Today I want to talk to you about Super Junior: The last man standing, an audiovisual project by SM Entertainment and Disney Korea, distributed through Disney+. The documentary series has two 50-minute episodes, and while it was a good documentary, it wasn't exactly well executed. So below, as always, we'll talk about the series by breaking it down.
¡Hola, gente de internet! Hoy quiero hablarles de Super Junior: The last man standing, proyecto audiovisual de SM Entertaiment y Disney Corea, distribuido a través de Disney+. La serie documental cuenta con dos episodios de 50 minutos de duración, y aunque fue un buen documental, no tuvo precisamente una buena ejecución. Así que a continuación, como siempre, hablaremos de la serie desglosándola.
The composition of the documentary was good, the remasterings of the files that are more than 16 years old are great, also the series has files never seen before on Google and that western fans although we had knowledge about them we had not seen, and is that they were only exhibited in Korea when Super Junior was only famous there and these files are still going around in Naver (the "Korean google" so for westerners was a pleasant surprise to see them.
La composición del documental estuvo bien, las remasterizaciones de los archivos que tienen más de 16 años están genial, además la serie cuenta con archivos nunca antes vistos en Google y que las fans occidentales, si bien teníamos conocimiento sobre ellos no habíamos visto, y es que solo se exhibieron en Corea cuando Super Junior solo era famoso ahí y estos archivos siguen dando vueltas en Naver (el "google" coreano) así que para las occidentales fue una grata sorpresa poder verlos.
They were also supposed to appeal to the nostalgia of those of us who didn't even accompany the band from the beginning, it's clear that they had to start telling the story from the auditions (I expected it) but the way they did it was the real magic. The images of the teenage members as they themselves tell of their auditions and their life before they became idols, how many entered because of fulfilling their dreams, others to prove themselves and others because of financial problems, it was all quite touching.
También supusieron como apelar a la nostalgia de las que incluso no acompañamos a la agrupación desde el inicio, está claro que tenían que empezar a contar la historia desde las audiciones (yo lo esperaba) pero la forma en la que lo hicieron fue la verdadera magia. Las imágenes de los miembros adolescentes mientras ellos mismos cuentan como fueron sus audiciones y su vida antes de ser idols, como muchos entraron por cumplir sus sueños, otros por probarse a sí mismos y otros por problemas económicos, todo eso fue bastante conmovedor.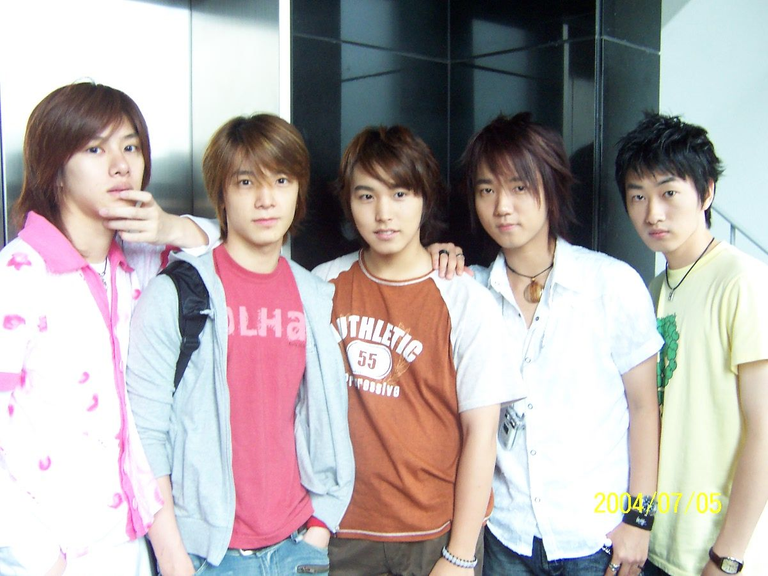 Fuente
As not everything is rosy, there was clearly bound to be drama, and with 11 members at the beginning (now 9) it was common for there to be several members who had bad things happen to them or had tragic pasts. As they had little space to work with, Disney took the four strongest tragedies of Super Junior and showed them briefly, the death of Donghae's father, Heechul's accident, Donghae's dad's funeral day, the double murder of Leeteuk's grandparents and his dad's suicide (his dad was responsible for the murders) and Kyuhyun's near fatal accident, it was impossible not to cry when watching them tell their stories, sharing them in such a personal way.
Como no todo es color de rosas, claramente tenía que haber drama, y es que al ser 11 miembros en un inicio (ahora son 9) era común que hubiese a varios miembros que le pasaran cosas malas o que tuvieran pasados trágicos. Como tenían poco espacio para trabajar, Disney tomó las cuatro tragedias más fuertes de Super Junior y las mostró someramente, el fallecimiento del padre de Donghae, el accidente de Heechul, el día del entierro del papá de Donghae, el doble asesinato de los abuelos de Leeteuk y el suicidio de su papá (el papá fue el responsable de los homicidios) y el accidente casi mortal de Kyuhyun, era imposible no llorar al verlos contar sus historias, compartiéndolas de forma tan personal.
But, my problem with the documentary is that it is too much, too compressed, to put 16 years of artistic career (or more if we count the pre-debut) could not be done in two miserable chapters of 50 minutes, it is too little, maybe this was a test by Disney to see how much repercussion the series had to extend it maybe if the ELF (fans) asked for it (that without a doubt is something that has to be done) and is that Super Junior is famous for being the only second generation male group in uninterrupted form, the only one to have a member who falls outside the stereotypical Korean beauty (Shindong, he's chubby) the first to have sub-units, the first to tour Latin America, the first to make a nod to Latin America with their song "Mamacita" the first to collaborate with Latin artists (Leslie Grace and Reik) the first to sing entirely in Spanish (with a cover of Luis Miguel's "Ahora te Puedes Marchar") and many of these details were not explored in the series.
Ahora bien, mi problema con el documental es que está demasiado, demasiado comprimido, meter 16 años de carrera artística (o más si contamos el pre-debut) no podía hacerse en dos míseros capítulos de 50 minutos, es muy poco, quizá esta fue una prueba de Disney a ver que tanta repercusión tenía la serie para ampliarla tal vez si los ELF (fans) lo pedían (que sin dudas es algo que hay que hacer) y es que Super Junior es famoso por ser el único grupo masculino de segunda generación en pie de forma ininterrumpida, el único por tener un miembro que se sale del estereotipo de belleza coreana (Shindong, es gordito) son los primeros en tener subunidades, los primeros en visitar Latinoamérica en gira, en hacer un guiño a Latinoamérica con su canción "Mamacita" los primeros en colaborar con artistas latinos (Leslie Grace y Reik) los primeros en cantar completamente en español (con un Cover del tema "Ahora te Puedes Marchar" de Luis Miguel) y muchos de esos detalles no lo exploraron en la serie.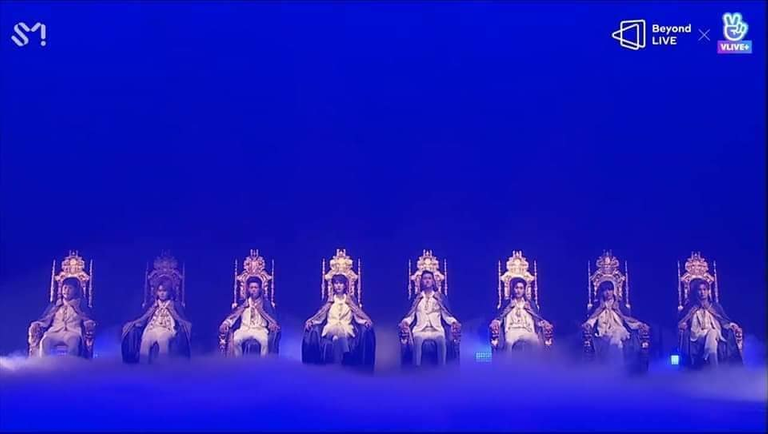 Fuente
As I have already seen all the Super Junior documentaries, in this one I expected to see some backstage of the concerts, especially those in Latin America, but it is something that Disney did not consider important 😣 as well as I wanted to see the collaborations with Reik and Leslie, that far from explaining the process (as they did in the interviews) they would show it to us, also the process of choosing "Ahora te Puedes Marchar", the choice of the artist, the song, the process of diction and pronunciation and also the meetings in which they decided to recreate the original video.
Como ya he visto todos los documentales habidos y por haber de Super Junior, en este esperaba ver algunos backstage de los conciertos, sobre todo los de Latinoamérica, pero es algo que Disney no consideró importante 😣 así como también quería ver las colaboraciones con Reik y Leslie, que lejos de explicarnos el proceso (como lo hicieron en las entrevistas) nos lo mostraran, también el proceso de la elección de Ahora te Puedes Marchar, la elección del artista, de la canción, el proceso de dicción y pronunciación y también las reuniones en las cuales decidieron recrear el video original.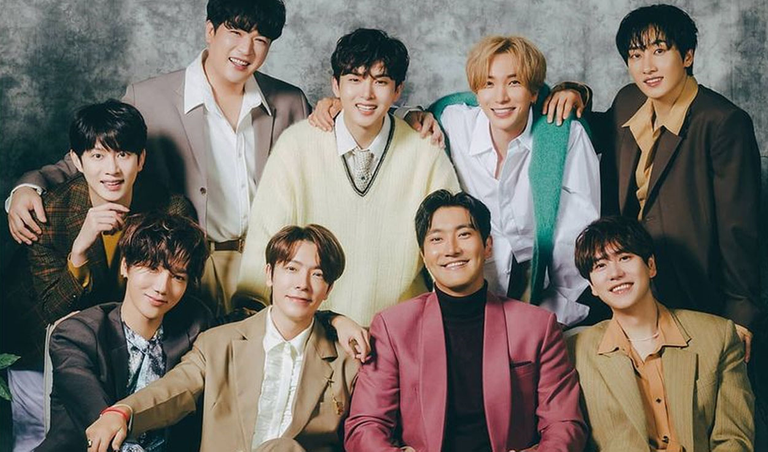 Fuente
I also wanted them to talk about their musical evolution, how they became somewhat independent from the company and managed to get their own record label, how now they are their own creative team and also the individual works of each one 😖, but it is something that despite being important They didn't put it in the series either (the SJ Label thing, the record label, they only mentioned it) They also didn't talk about the pandemic and the impact on the band members, how it affected them not being able to do "Super Show 9" (that's the name of their tours) at that time. There were too many things left out that were just as important to the band and the ELFs.
También quería que hablaran de su evolución musical, como se independizaron un poco de la compañía y lograron obtener su propio sello discográfico, como ahora son su propio equipo creativo y también los trabajos individuales de cada uno 😖, pero es algo que pese a ser importante tampoco lo pusieron en la serie (lo de SJ Label, el sello discográfico, solo lo mencionaron) Tampoco hablaron de la pandemia y el impacto en los miembros de la banda, como les afectó no poder hacer el "Super Show 9" (sus giran se llaman así) en esa época. Hubo demasiadas cosas que quedaron por fuera y que eran igual de importantes para la agrupación y las ELF.
In short, the documentary was good and I loved it, I just feel that it lacked too much content and it is logical talking about a Senior Idol group with more than 18 years together and whose artistic career has existed for 16 years, I hope Disney will consider the idea of making more episodes of the series in order to get what we expected.
En resumen, estuvo bueno el documental y me encantó, simplemente que siento que le faltó demasiado contenido, y es lógico hablando de un grupo Senior de Idol con más de 18 años juntos y cuya carrera artística existe desde hace 16 años, espero que Disney considere la idea de hacer más episodios de la serie para poder obtener lo que esperábamos.

Fuente
And well, people, that's all for today's post, I hope you liked it. Thank you very much as always for supporting my work, I welcome new readers, I love you all very much, I send you a hug and I'll see you in another post.
Y bueno, gente, esto ha sido todo por el post de hoy, espero que les haya gustado. Muchas gracias como siempre por apoyar mi trabajo, le doy la bienvenida a los nuevos lectores, les quiero mucho a todos, les envío un abrazo y ya nos encontraremos en otro post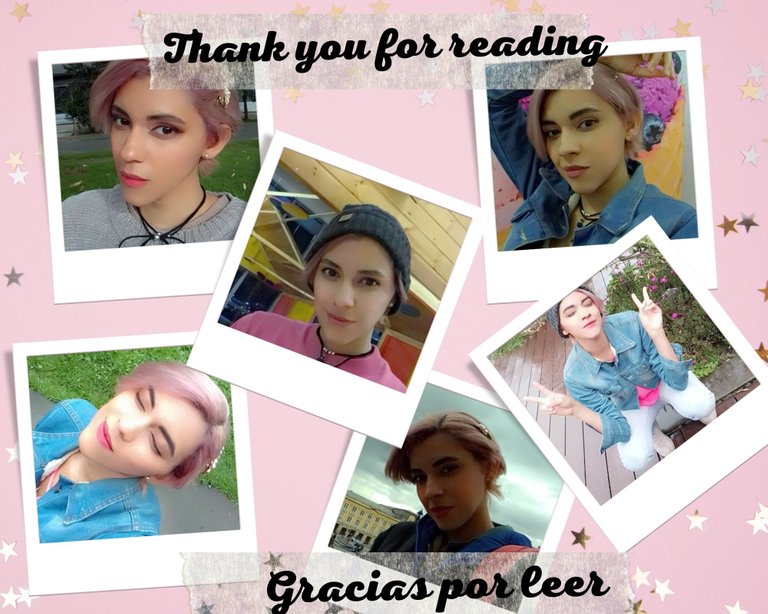 I made the farewell image in Canva.
La imagen de despedida la realice en Canva
---
---