My Wedding in The Legend of Neverland (ENG/ESP)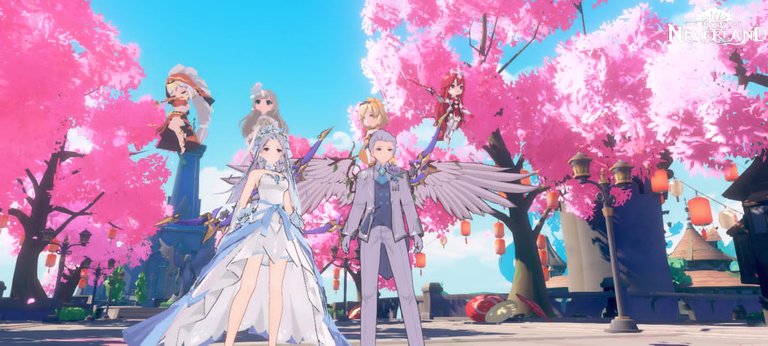 Hello, gamers, we return to The Lengend of Nerverland this time (and as I mentioned in my last post about this game) with the wedding section, so I will explain the process and benefits of the union.
Hola, gamers, volvemos a The Lengend of Nerverland en esta ocasión (y como mencioné en mi post pasado de este juego) con el apartado de bodas, así que les explicaré el proceso y los beneficios de la unión.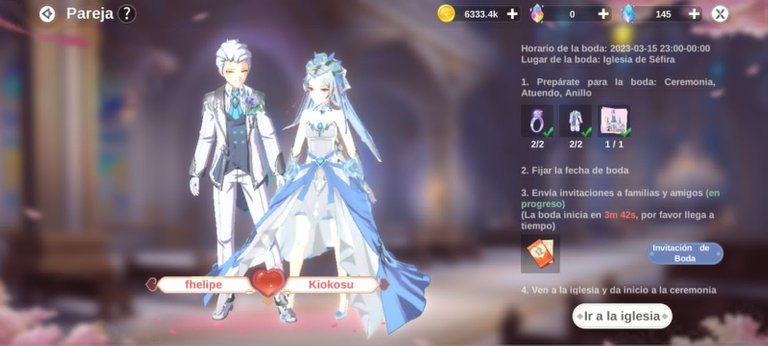 Once you are engaged, in the "couple" section there are three requirements to be fulfilled: wedding rings, the suit and a date for the ceremony. As I think I mentioned earlier, I got engaged to my tutor, as a wedding present, he bought both rings which was a lovely surprise.
Una vez que se está comprometido, en la sección de "pareja" hay tres requisitos que se deben cumplir: anillos de boda, el traje y poner fecha a la ceremonia. Como creo que les mencioné anteriormente, yo me comprometí con mi tutor, como regalo de bodas, él compró ambos anillos lo que fue una sorpresa adorable.
As there is a range of time between the planning of the wedding and the start of the ceremony (so that invited friends have time to be able to attend the ceremony) my tutor and I decided to take some photographs in our suits to commemorate the moment.
Como hay un rango de tiempo entre la planificación de la boda y el inicio de la ceremonia (esto con el fin de que lo amigos invitados tengan tiempo de poder asistir a la ceremonia) mi tutor y yo decidimos hacernos algunas fotografías con nuestros trajes para conmemorar el momento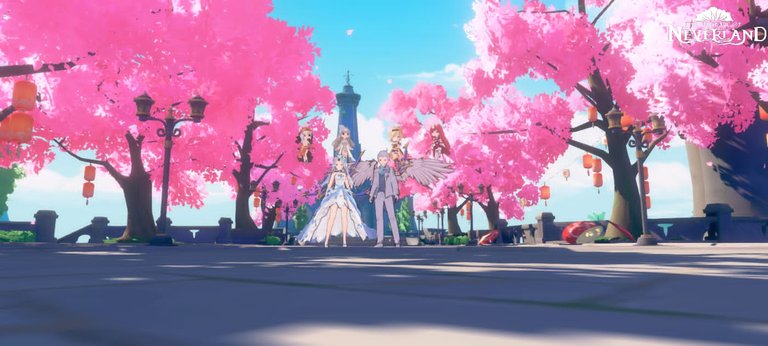 Typically, wedding attendants can give gifts to the bride and groom, and between the married couple, it unlocks a new element called "intimacy" that is filled as the married couple does missions together, which in turn increases the power level of the spouses.
Normalmente, los asistentes a una boda pueden hacer regalos a los novios y además entre la pareja casada, se desbloquea un nuevo elemento llamado "intimidad" que se va llenando a medida que la pareja de casados hace misiones juntos, esto a su vez incrementa el nivel de poder de los cónyuges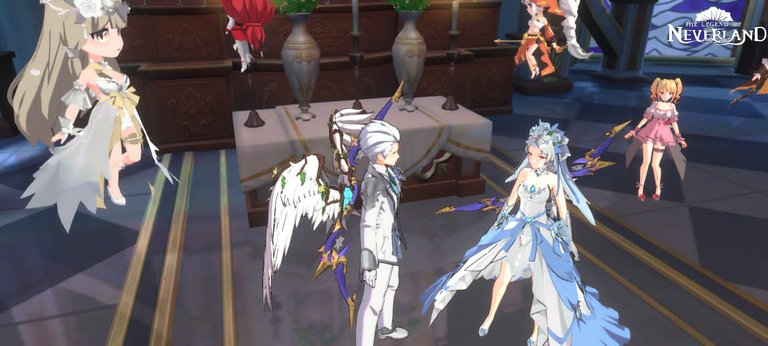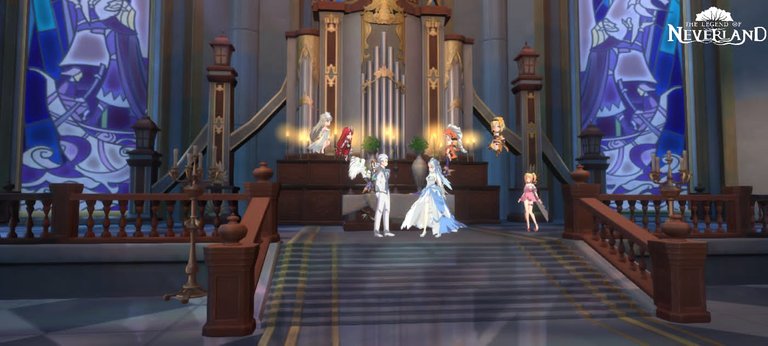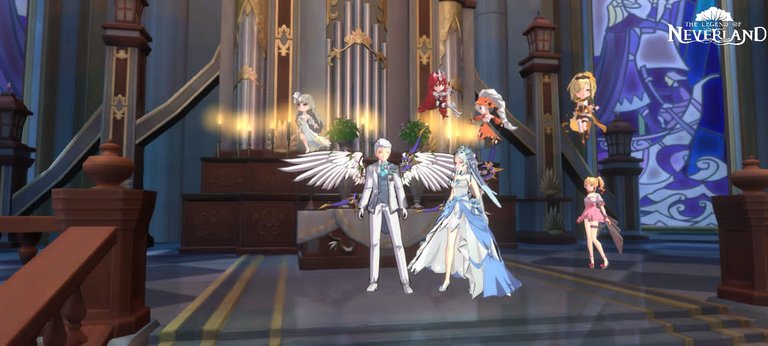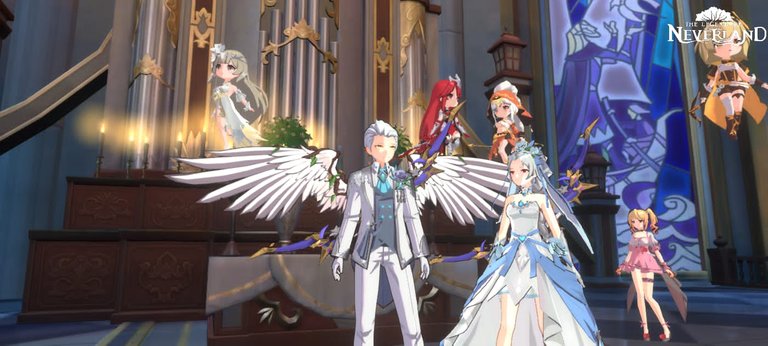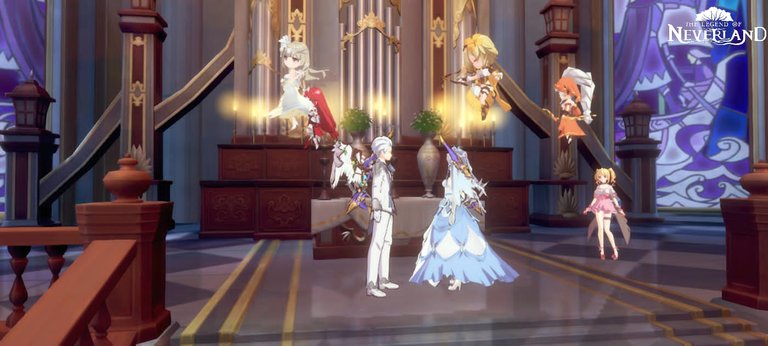 Our wedding was not attended by as many of our guild friends as we had hoped, this was due to the time we got married (it was quite late) but we were glad that those who were connected made the time to attend and it was quite fun. Below is the ceremony:
A nuestra boda no asistieron tantos amigos de nuestro gremio como esperábamos, esto debido a la hora a la que nos casamos (fue bastante tarde) pero nos sentimos contentos que los que estaban conectados se hicieran el tiempo de asistir y fue bastante divertido. A continuación la ceremonia:
▶️ 3Speak
The funniest thing is that with the final photo is that with the wings of my husband and his other friend, the other guests were not in the photo, as the wings covered their faces and they got angry. If there is a next time, we all learned that you have to get married without wings.
Lo más gracioso es que con la foto final es que con las alas de mi esposo y su otro amigo, los demás invitados no salieron en la foto, ya que las alas taparon sus rostros y se enfadaron. Si hay una próxima vez, todos aprendimos que hay que casarse sin alas.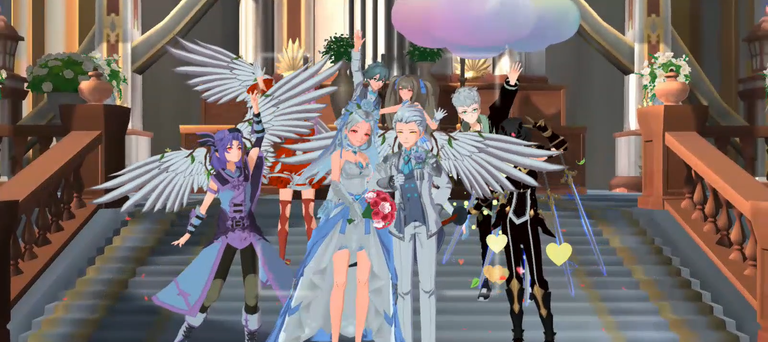 While Fhelipe (my tutor) and I used to do the missions together (to help me with the growth of my skills and experience) now we do them as spouses to increase our intimacy and get even more benefits. While our marriage is for convenience (because we are not real-life boyfriends and girlfriends) it's funny that there are real boyfriends and girlfriends in the game who can get married in-game, and even though my marriage was for the convenience of both of us, I'm glad it was with my mentor because we get along quite well and he's very nice and kind.
Si bien antes ya Fhelipe (mi tutor) y yo, hacíamos las misiones juntos (para ayudarme con el crecimiento de mis habilidades y experiencia) ahora las hacemos como esposos para incrementar también nuestra intimidad y obtener aún más beneficios. Si bien nuestro casamiento es por conveniencia (porque no somos novios en la vida real) es divertido que sí que hay en el juego novios reales que pueden casarse dentro del juego, además, aunque mi casamiento fue para la conveniencia de ambos, me alegra que haya sido con mi tutor porque nos lo llevamos bastante bien y es muy amable y agradable.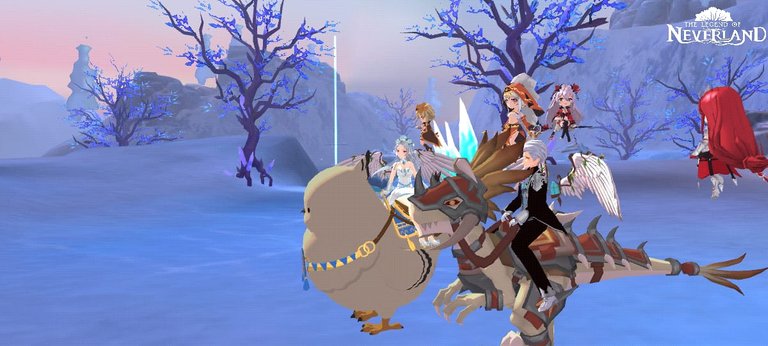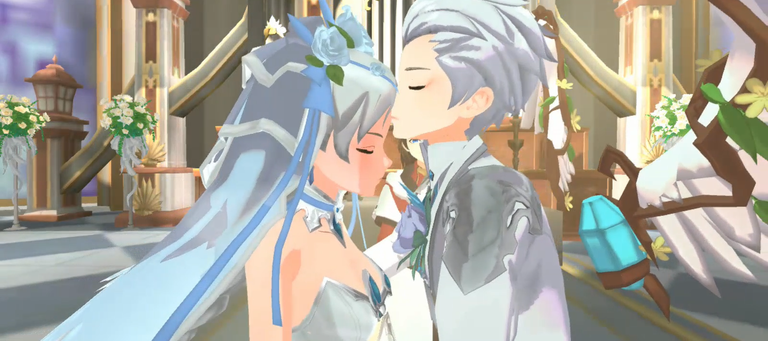 And well, people, that's all for today's post, I hope you liked it. Thank you very much as always for supporting my work, I welcome new readers, I love you all very much, I send you a hug and I'll see you in another post.
Y bueno, gente, esto ha sido todo por el post de hoy, espero que les haya gustado. Muchas gracias como siempre por apoyar mi trabajo, le doy la bienvenida a los nuevos lectores, les quiero mucho a todos, les envío un abrazo y ya nos encontraremos en otro post
The farewell image was made in Canva. The rest of the images are pictures from the game taken by me and courtesy of my tutor.
La imagen de despedida la realice en Canva. El resto de las imágenes son fotografías sacadas del juego hechas por mí y cortesía de mi tutor
---
---