Pros and Cons of Diesel pools
This story started from a disvantage of placing orders in an exchange. For exanple You have 1 Bitcoin and you place a sell order 1000$ above current market price. But because of the current price spike of bitcoin, bitcoin prices increased form $50000 to $60000. So you got 1000$ profit but acutally you lost 9000$. If you sell with current price you can get up to 60000$. So people don't want to place a buy/sell order. This problem happens because of the low volume of bitcoin and other alt coins.
So exchanges created Diesel pools to give incentive to the seller. Normally exchange collects fees for to swap alt coins.

Because Swapping a token from a Diesel pool can effect the Diesel pool itself. If you withdrawl too much Dec from Swap.hive:dec Diesel pool there will only be hive in the diesel pool. So this is not good for the Diesel pool. Diesel pools are needed to be balanced. So exchangs prevent from Diesel pools from drying by increasing the swap rate based on the current situation of the Diesel pool. So it can substain longer.
Tribaldex.com will not give you incentive for adding liquidity in a Diesel pool but other people do.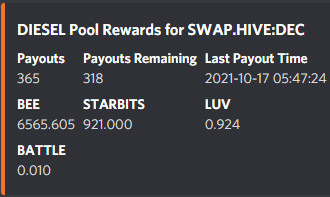 In above image you will see BEE, Starbits and LUV are given out as a pool rewards. I think BEE comes from @aggroed, Starbits from @Risingstargame and to be honest I don't know about LUV.
Another incentive for the Diesel pool is SPS airdrop. DEC Diesel pools are also as part of the SPS airdrop. You DEC points will be doubled if you add you DEC in the Diesel pool. I am not sure that all DEC rewards pools are counting or not. There are total of 5 DEC Diesel pools.
I am only interesting Swap.hive:DEC and DEC:SPS Diesel pools. The are many advantages to add you tokens into the liquidity pools but there will always be disadvantages.
First disadvantage is it is very passive and you can not get the advantage of holding a token. For example consider you add 10000 DEC at the price of 0.008$. You are adding 80$ worths of DEC into the Diesel pool. With this current price if you hold your DEC you will get 50$ profit if you sell right now. But in the diesel pool you will not get this price because your DEC are shrinking. I think you will get around 5000 DEC back if you remove from liquidity. But it is really not much that bad as I said because it is also depend on the price of Hive in this case. If Hive price is more than 100x higher than DEC price you will get more DEC than Hive. If both of tokens prices are increasing you will get the most out of it.
But I still have a problem increasing price of DEC is not a favour for me. I added my Hive and DEC in the Swap.hive:DEC Diesel pool to double my DEC points for SPS airdrop. If DEC price increase My airdrop points will also be dropped. This is undesireable situation. I don't want to buy DEC to increase my airdrops points so I mixed them with Hive and put into the Diesel pool. But people are doing opposite to me. They bought DEC and keep it to get more airdrop points I think. They may have other used cases but even if they want to buy cards and potions. they should use credits instead.
This post is a bit long so I will stop it here. I want to write more. Discussions are welcome. Increasing DEC price also has an advantage you only need to use fewer DEC to buy cards and potions.
Posted Using LeoFinance Beta
---
---