Why I keep staking oneup


My staking oneup amount reach 525 in number. I am keep staking oneup because I don't want to left behind too much. It is a good opportunity to earn oneup in early stage. If people are using oneup more upvotes will be diverged and rewards will be lesser and lesser.
Another thing is related to the second layered tokens. I prefer to use second layered tokens than hive.
---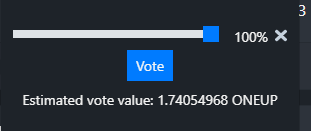 ---
As you see in the above image my upvote worths around 1.7 oneup. It worths 0.05 in USD. It is much higher than my Hive upvote value which only worths 0.002 USD. I need to spend only a few days to get this amount.
---

---
Price may change anytime and but It will not decrease 25 times I believe. Hive are very hard to get. I can only get 1 to 2 hive per day. But for oneup I can get up to 100.
Who knows what will happen in the future?
You may hate it. You may love it. But you can not ignore oneup one day. This one day will arrive sooner than you expected.
Thanks for reading my post.
Please write your thoughts in the comment section.
Posted Using LeoFinance Beta
---
---