Celebrating 3 Years of Hive: Reflections, Gratitude, and Future Plans
Wow, how time flies we don't even realize, it's been 3 years in the hive. So many things have been done here and so much more to do. With new projects emerging on Hive, it is making hive more strong for sure. Special thanks to all the developers and huge investors they are the only reason why hive is working smoothly.
I used to be the kind of guy who doesn't even post that much on other social media platforms now see I am posting daily, without a single break. For more than 2 years, it did feel kind of great. I am here from the day of steemit , not an early bird but I did catch the train in the mid-journey you can say. I do remember clearly that I did learn most of the things that are being aware of now in the hive.
---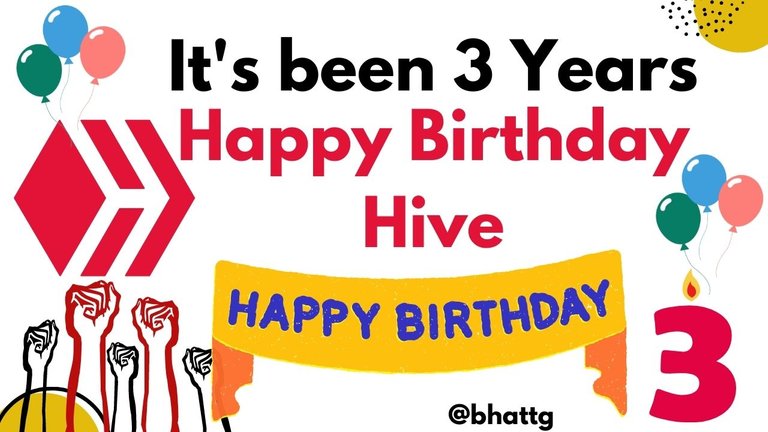 ---
Made via canva Pro
Hive seems to be way better than other web 3.0 platforms thus far. Hive is surely making a difference and hive is been used by many users to solve their real-life issues and that is the beauty of hive. I am grateful to the hive I did withdraw a few times and did invest in the hive too when I was capable of that. But now things are kind of out of hand right now still I am trying to invest monthly on hive (this month's investment is pending though).
I did invest in many tribe tokens thus far but none of them seems to be a good investment for me. I am not selling them for that, I did have plans for that too. For now, staking them and delegating that seems to be a good idea for now. In the last few months, I am more focusing on my hive power and trying my best to increase it as much as I can I am planning to reach at least 15k by the end of the year.
Today I powered up a total of 54.94 Hive power today is the hive's 3rd birthday and special thanks to Mr. theycallmedan for the opportunity. Maybe this is a coincidence but today hive pumped 25 % last night which is really a good single for the hive user. Hive did touch .54 USD today (highest ) and now it is at .46 USD. The price seems to be decent now. I am sure those who are holding liquid hive they sure di earned a good profit from today's pump no doubt about that.
---

---

---
Screenshots from peakd.com
It feels great when you have more power to support more users around you special to those who are not getting that much support. Special thanks to all the communities and whales who are supporting users on the hive and making the hive a better place for all the users here.
Now there are so many ways to support others if you don't even have enough power to vote you can use @ecency points to boost others' posts if you like that (there is no guarantee that they will get a vote but still you do have an option ) if you a curator or you know someone you can request them to support them (don't start spamming with tons of posts daily. and keep don't thing in mind never ever beg for votes if your content is worth of votes then you will get votes). So, in the end, be here in the hive for the long term and help others to grow and we all will be rich together for sure.
Really grateful to the users here who do support me daily, really appreciate that without that I am not able to achieve this much for sure. "Thank you so much". One thing if you are here for long-term use you should start focusing on your hive power and try to grow it whenever you get a chance to do. I do retreat that I did waste a lot (not in millions 😅) of money in hive engine tokens and none of them are giving that many returns. Now nothing can be done lesson learned. If you have enough power to support the community that is lack power (only which is good and active ), I am going to make a separate post on that soon.
Hive is different from another crypto in many ways, the best thing about life is it is along real-life issues that are surely making hive way more better than others. Keep staking your tokens and Hive power.
see you in the next post, till then keep learning and keep exploring...
---
If you are new to the splinterlands game then feel free to join my referral 😁
few posts from my past that might be helpful for you.

10 daily comments ✅
Ecency Boost ✅
Help others✅
wish me luck 😅
Thanks a lot for staying till the end 😃🙏, let me know what you think.
Never forget one thing you should be grateful for because what you have someone has a dream of that. So learn to be grateful. Be Thankful.🙏😀
Thanks a lot for being here, let me know what you think.


Thanks & Regards
@bhattg
-----Together we will make this a better place-----
---
---