curation ,me and other work 😅
Namaskar / Hello to all hive users, who will reach this post. I hope you are doing great and having fun in your life and enjoying it with your loved ones.
It's been more than 2 years I am an active curation in a few communities and still struggling to be a curator at a few more communities I am sure how much time it will take but I am planning to be a full-time curator and just relax and chill 😎.
To be a curator first I have accomplished a good hive power and sure be an active hive user too. It seems to be an easy job but it is not sure those who know know. 😉what about you are you a curator or a content creator? I do think that both things at the same time are possible for sure we just have to manage our time the curation is more tough job than making a post for sure what do you think?
Most of the time that I do spend on the hive is gone on curation in different communities and I do love my job in the early days I used to be afraid to vote and vote do curate less m post but now as the time has passed I did learned many new things, to be honest, still learning and many more things to learn but now my curation speed has increased for sure 😅
---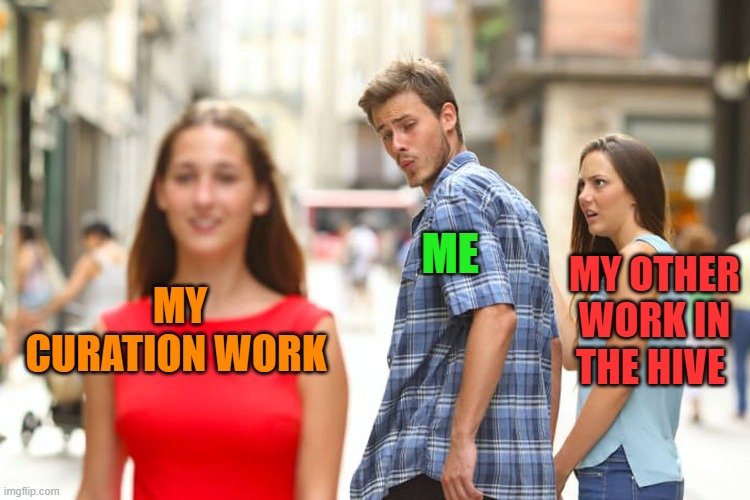 ---
We all do learn from our mistakes and if we doing the same work for years then automatically our speed did get increased on that. we did get perfect in a few years and it really feels great for sure what do you think?
I do think you have a good hp then you can earn a good hive power daily even if you are not posting and that is what many curators do here on hive I can't accumulate that much power all of sudden but my primary goal is to be a curator at the end for sure.
It is not an easy job to write daily but I have to increase my hive power so I do think this is the best, fast, and easy (for now) way to do it and I am trying my best to do that. I am not sure when the day will come but it will be soon for sure, I do believe that deep down in my heart.
what do you love to do curation or posting?
where did you spend most of the time in the hive?
The image is captioned by me on the website imgflip, have a look,
This is just made for fun, I am not really making fun of anyone.
I have made this meme on the website imgflip, feel free to join that amazing platform and make your own meme for free 😁
Thanks a lot for staying till the end 😃🙏, let me know what you think.
Never forget one thing you should be grateful for because what you have someone has a dream of that. So learn to be grateful. Be Thankful. 🙏😀
Thanks a lot for being here, let me know what you think.

If you are new to the splinterlands game then feel free to join my referral 😁
My splinterlands referral
few posts from my past that might be helpful for you.
How To convert HIVE to Real Money (USD/INR) Part -1
How To convert HIVE to Real Money (USD/INR) Part -2
Why new users should use Ecency application 🧐
few important tips for new users
Are you Using Brave Browser ?
The scammer and the downvotes 🔽🔻
The HBD interest and hive power
Best ways to earn money in the hive while you sleep 💰
What To Do With Your Hive Power [HP] / Hive. 🧠
Where To Delegate Your Hive Power [HP]
Where to delegate your hive power (Part-2)
Tokens to Buy on Hive- Engine
How to earn LEO tokens without posting 🤩
Do you want to save some hive ? 🤨
Passive income tokens 💰
Best why to Invest 💰🏦
The SIP Investment 💰💹
The best use of your Hive-engine/Tribe tokens you can 💰🚀
How to convert HBD to HIVE 3 ways to do that








Thanks & Regards
@bhattg
-----Together we will make this a better place-----
---
---