Hive Growth Importance...
It is tough to raise your voice If you are not that much stronger it can be financially or you do know some popular people around you. It is not an easy task to raise your voice sure there are so many platforms available where you can raise your voice. But still, you need a spotlight. If You are a common person then no one is gonna listen to you (it is really hard to get noticed by others). If you want to raise your voice all over the world then you have to promote yourself, yes you can say that is a type of self-promotion. if you don't have that much power, one more thing if you do have points then sooner or later your voice is gonna reach all over the world.
On Hive the best way to do that is to grow your power and I am sure you all know how to do that right? yes, you get that right by growing your hive power. Growing your hive power is gonna help you and others in many ways. even if you are not gonna post anymore in the hive you can still support and encourage new users with your votes. Every single votes do counts in the early days.
---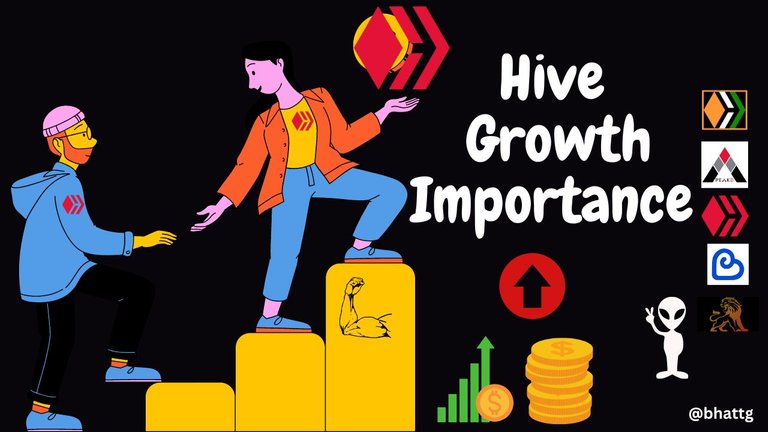 ---
Made Via Canva
In the beginning, we all do motivation to stay here in the hive, if you will not get any support and encouragement on your posts then it is really hard to keep that up for more time. Thanks to all the active communities and active whales who are doing that job very nicely, that is good to see. sometimes I do see there is some kind of monopoly going on. I am sure that in the belong term it is gonna no more be a problem. There will be a solution for that too, there is an option of downvoting to show that you don't agree or don't like if that particular user is getting that many votes.
This is a decentralized (not totally though ) world you can do what you want to and remember that others can do the same :p. So, don't be reckless if you do have power, you are doing that then sooner or later you are gonna face the consequences. Keep this in mind "हर बाप का एक बाप होता है " (every father has a father).
So, be ready XD, there are so many benefits to increasing your Hive power.
You will start getting more followers (this is true) if you use your votes to support the users who are not getting that much support then sooner or later others will see that maybe they will start following your curation trail. Or maybe you will get a big delegation (who knows), this is an open world nothing is hidden here literally nothing (I am sure you do know about that too).
At present my voting power is around.154 USD at my 100 % vote, My effective hive power is around 9.2 k I have set all my posts to 100 % power for now (This is helping me a lot). I think this is really a good time to increase your hive power more and with more hive power you can support others. I did convert around 500 HBD into the hive and powered that up if I have done that now I did have powered up with more hive power, this is the life we do regret so many things. what are your plans with your hive power and HBD? If you not taking out your hive then 100 % power these days is really a great idea. If your hive power will grow you are gonna contribute to the hive platform as an individual. what do you think?
see you in the next post, till then keep learning and keep exploring...
---
If you are not playing the splinterlands and Golem Overlord games then feel free to join my referral 😁
My splinterlands referral
My Golem Overlord referral
few posts from my past that might be helpful for you.

10 daily comments ✅
Ecency Boost ✅
Help others ✅
wish me luck 😅
Thanks a lot for staying till the end 😃🙏, let me know what you think.
Never forget one thing you should be grateful for because what you have someone has a dream of that. So learn to be grateful. Be Thankful.🙏😀
Thanks a lot for being here, let me know what you think.


Thanks & Regards
@bhattg
-----Together we will make this a better place-----
---
---