777 Charlie - A Movie Everyone Living Soul Must Watch No Matter What!

Source
This is by far one of the best movies to come out from Indian Cinemas namely the South Indian Cinema Industry 777 Charlie directed by Kiranraj K had its worldwide release on the 10th of June 2022. Now this is Kannada Movie but it's also available in Malayalam, Hindi, Telugu And Tamil and for those of you who don't really know any Indian languages you have English Subtitles as well.

If You Are Lucky,
A Dog Will Come Into Your Life And Steal Your Heart And
Change Everything.




The above quote is mentioned during the start of the movie and you it hits you hard especially if you've ever had a dog in your life ❤️
I did a mistake of not taking a handkerchief to this movie 🥲 I had to buy a bucket of popcorn just so I could ask them for a big packet of tissues, Towards the end the movie got so emotional that I had a breakdown, So I suggest animal lovers to see this movie in the comfort of your homes rather than be an emotional wreck like me at the movies 😂
Few Spoilers Are Included In The Following Review.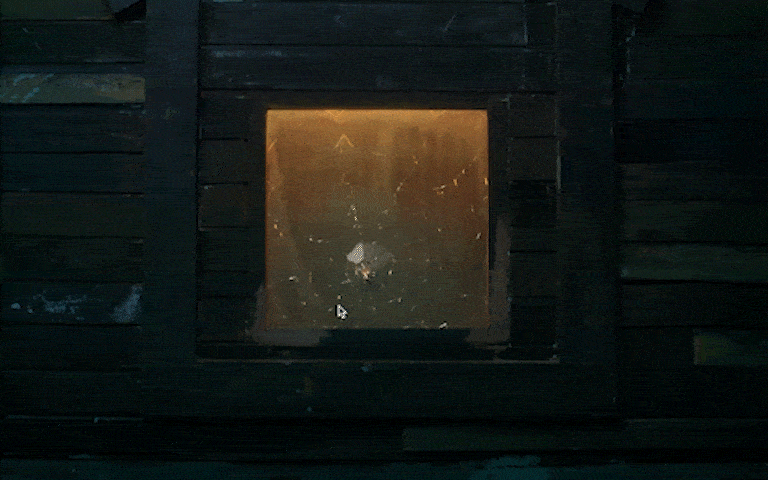 Source
The movie starts off where yo the most adorable Labrador pup named Keaton escape from the home of an evil breeder where you see many dogs being caged and tortured. So you have this scene where the pup break out from the place while diving through a window, this scene here is completely VFX for the obvious reason. Since this movie features quite a bit of animals they had to get the script approved first by the Animal Welfare Board Of India before they could get into production.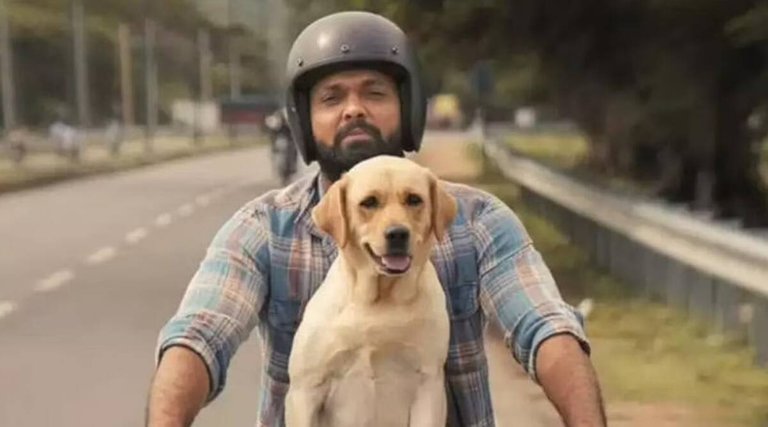 Source
The main protagonist Dharma played by Rakshit Shetty is a total loner in the film, He's also a quite regular in drinking beer and smoking and lives in a totally messed up home all by himself. The point is pretty much that he doesn't care enough to make any changes in life whatsoever. He is a welder by profession, and he makes you think he'd rather be with metal than men. There are many colleagues at work, but his only companion during lunchtime is himself. He looses his parents and his little sister at a young age and life hasn't been the same for him since then. He also has recurring nightmares about the incident every night. The movie doesn't really cover his entire childhood it rather gives you a quick glimpse into his early life.
This little pupper somehow makes her way into a colony in the city of Mysore where Dharma happens to reside and took shelter in a dustbin outside his home feasting on leftover Idly's dumped in the trash by Dharma who is currently unaware of the little ones existence.
Eventually one day the pupper tries to get his attention by following him around and he being an antisocial person barely even cares, this this goes on for quite a few days and one day the puppy meets with a bike accident. Feeling pity Dharma rushes Keaton to a vet and is advised to let Keaton stay with him (Which He's Totally Against), till someone who's ready to adopt her comes forward and is advices to take dog license (0777 Happens To Be The License Number).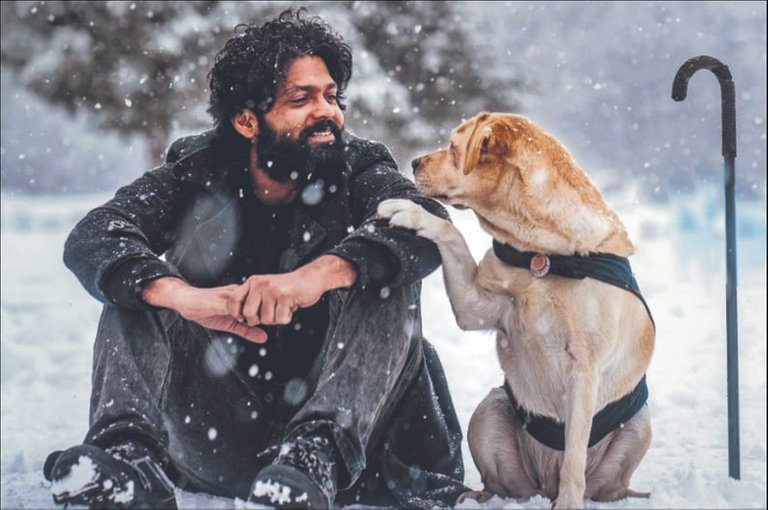 Source
Day by day the bond between Keaton and Dharma grew and eventually he renames Keaton as Charlie as in Charlie Chaplin who happens to be one of his favourite characters and his ideal choice of show since childhood. This bond between them grew to such an extent that it made Dharma review his lifestyle choices and becomes a better man by the end of it all thanks to Charlie.
One day Charlie becomes so sick that she loses consciousness and Dharma had her rushed to the Vet and find out that he has a Cancer called Hemangiosarcoma which is a genetic defect caused due to unwanted breeding methods to female dogs. This scene was heart breaking and almost everyone broke into tears during the film.

Source
The now distressed Dharma decides to fulfil all of Charlies wishes before his final demise and he noticed that Charlie gets excited every singe time she'd happen to see snowfall in an advertisement being played on tv. This is where he decides to take her on a road trip to Himachal Pradesh and this journey involves a lot of amazing visuals packed whit love, laughter and sorrow.
This is where i'll be leaving you with this review so do see this movie and don't let language be a barrier for you to watch a great piece of film. P.S I don't know Kannada as well, I could have gone and seen it in Hindi/Tamil but you know it wouldn't be the same as the original language.
The main message of this film is promote more adoption of animals rather than shopping for them and in India most of these fancy animals are not bread properly which eventually leads to a shorter life span for them. The Karnataka state government last week has also announced that there will be a 100% tax exemption for this film and will last upto the next 6 months.
Hope You Folks Enjoyed The Review
See Y'all Next Time!
Questions About Photography Are Welcome!
Upvote, Comment, Repost And Follow If You Like My Work!
Have A Great Day!


---
---