Exploring Thailand Part 1
Damn, i've Been AWOL for ages haven't I LOL, The Last one month went into planning and curating my trip To Thailand. Phew now that was such a task because I had to juggle between my day job and travel research.
I started of with getting the best guide you can find at the moment in the market and that is The Lonely Planet Guide Book I also got a Lonely Planet Fast Talk Thai Pocket Book as well to get a hang of some basic conversations in Thai.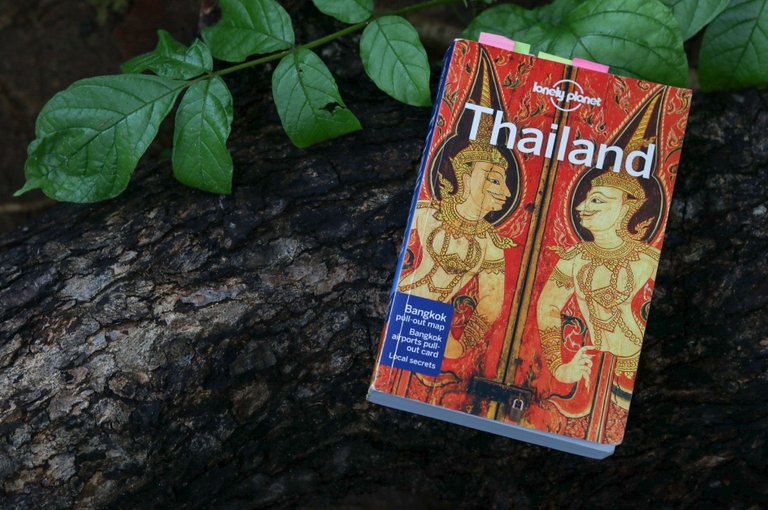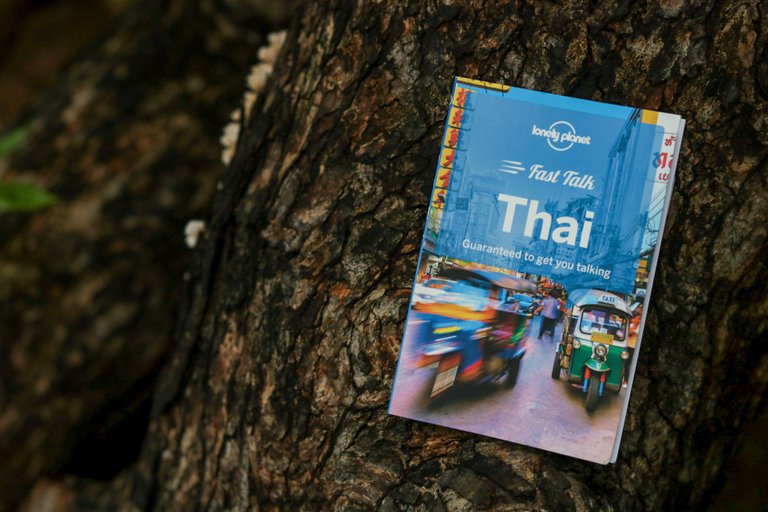 The Thailand Guide was about Rs 1600 (20.14 $) and the Fast Talk Thai Pocket Book was about Rs 250 (3.15 $)
I made a kick ass 9 day itinerary of Thailand which covered Bangkok (4 Days), Pattaya (1 Day), Chiang Mai (2 Days) & Phuket (2 Days)
This post will be a 4 part extensive travel guide based on the itinerary I've made and my personal travel experience.
Part 1 will cover Day's 1 & 2 of my Itinerary which is two day's in Bangkok
Part 2 will cover Day's 3 & 4 of my itinerary which is one day in Bangkok and one day in Pattaya.
Part 3 will cover Day's 5 & 6 of my itinerary which is two day's in Chiang Mai.
Part 4 will cover Day's 8,9 & 10 of my itinerary which is two days in Phuket and one last day of Bangkok.
Please note the following colour codes for the itinerary I've mentioned below (The Itinerary Is Made Using Google Maps)

Map Legend

Light Green - Budget Hostels For Backpackers
Dark Green - Airport & Ferry
Blue - Markets/Places To Visit
Black - Cafés/Restaurant/Pub (Anything & Everything Food)
Purple - Buddhist Temples
Pink - Adventure/Activities
Some places will have a small description mentioned so please do keep an eye on them as they contain some useful information which may come in handy.
Currency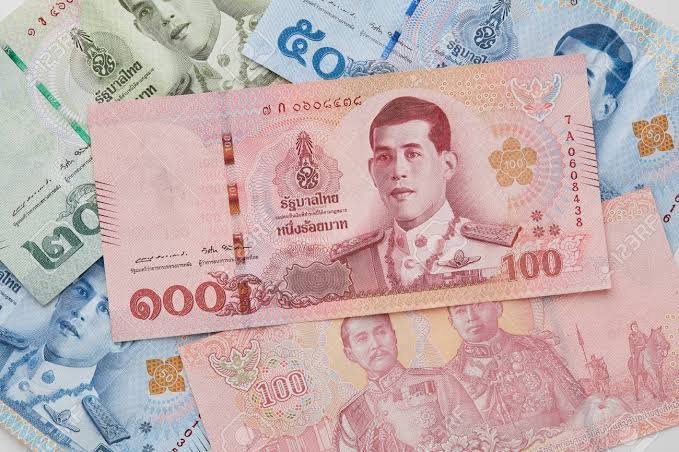 Source
Exchange INR (Indian Rupees) To THB (Thai Baht) in Thailand itself and not in india as the exchange rates are much cheaper in Thailand. The same goes for USD and other currencies as well.
Both Subarnabhumi International Airport (BKK) and Don Mueang International Airport (DMK) have exchanges which would be ideal to exchange your INR to pay for your On-Arrival Visa.
NOTE: Convenience Fee charged at airport exchange kiosks Will be high.
Best bet would be to visit an authorised forex dealer or a local bank outside the airport.
Visa On Arrival Is Available For The Following Countries Only: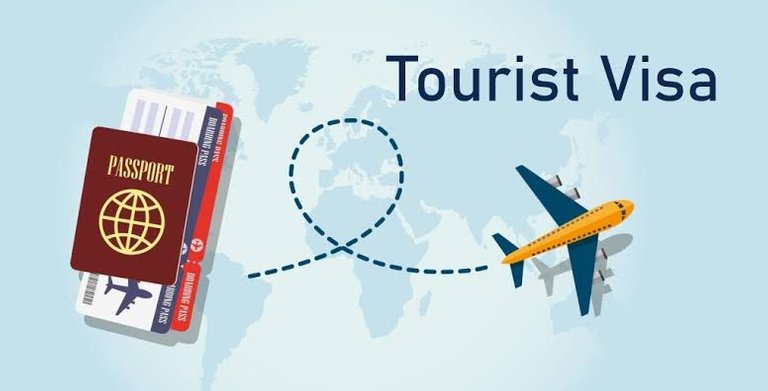 Bulgaria
Bhutan
People's Republic of China
Cyprus
Ethiopia
Fiji
Georgia
India (2,400 THB = 5,210 INR)
Kazakhstan
Malta
Mexico
Nauru
Papua New Guinea
Romania
Russia
Saudi Arabia
Taiwan
Uzbekistan
Vanuatu
Note: Carry 1 Passport Size Photograph With A White Background For Your Visa Application.
Flights


Source
Air Asia Will Be The Cheapest Flights You Get Provided Your Traveling In The Off Season, Only Make The Booking Via www.airasia.co.in As They Give You The Best Possible Price.
I've Checked On Sky Scanner As Well, But Air Asia Was Offering An Even Better Price So I Went Ahead With It.
Your ticket will only include a 7kg cabin luggage at times, if so then you will have to opt for an Add On Baggage Option Of 20kg Checked Baggage or select a value pack which would include the standard seat selection fare, 20kg checked luggage and 1 meal.
Sim Card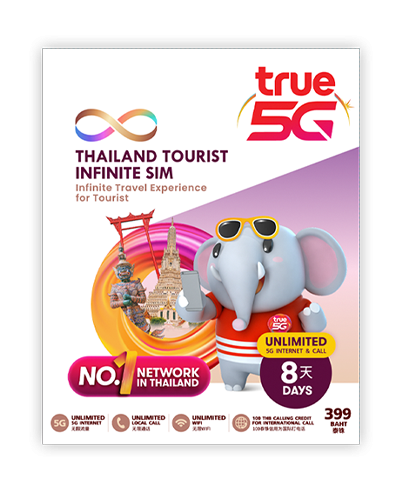 I bought the True Move H Tourist Sim Card from an airport kisok near the baggage claim counter for 399 THB which is valid for 8 days. You have Sim which has 15 and 30 days validity as well. They will set up the Sim on your phone as well.
The Sim Includes Unlimited 5G Internet & Calls, Upto 14 Social Media Apps Have Free Access (NO DATA CHARGE) Which Includes Whatsapp, Instagram, Fabebook, Snapchat etc, 100 THB Calling Credit For International Calls, You can Top Up Your Sim At The Nearest 7/11 If Required

Food to avoid in Thailand




Luu Moo (Raw Pigs Blood With Spices)
Larb Leuat Neua (Raw Beef With Uncooked Blood)
Avoid drinking tap water in Thailand, use only bottled water for your own safety.
Medicines To Carry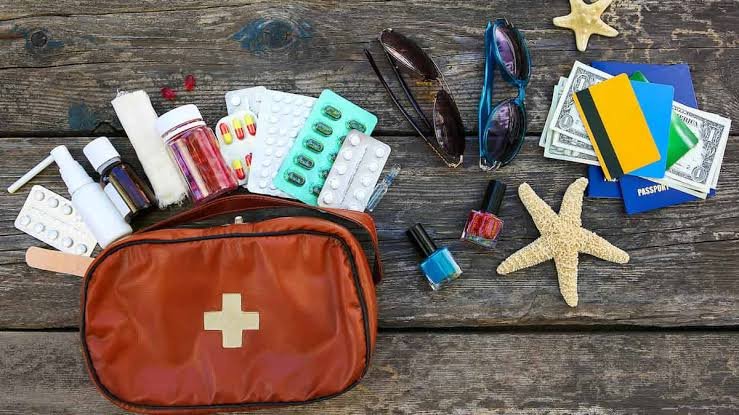 Diarrhoea Medication
Aspirin
Seasickness/Motion Sickness Medicine
Antiseptics
Painkillers
Band Aid
Mosquito Repellent
Please carry a prescription as well if you have any personal medication that you might need
Miscellaneous Things To Carry
Waterproof Phone Case
Universal Travel Adapter
Dry Bag
Poncho (For Monsoon Season)
Physical Prints Of Your Tickets, Vaccination Certificate, Aadhar, Passport, Pan Card, Travel Insurance.

Travel Insurance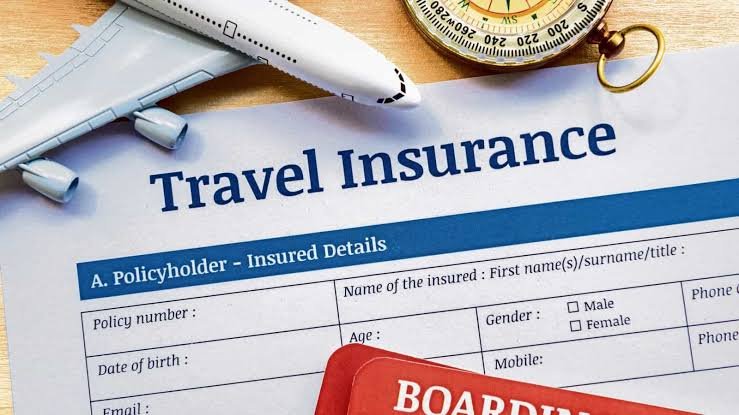 It's not mandatory but it's good to have one just in case, I've taken my travel insurance from HDFC ERGO and opted for the premium option which cost 1089 INR
Now that that's out of the way, let's get started with Bangkok, Day 1 of the Itinerary i've kept it mainly focused on visiting Buddhist temples in the area. Day 2 I've added in some fun activities that will keep you on your toes for about half a day. Also a quick note, all the flights that I have taken are morning flights so that I arrive as early as possible to start the day.
I always stay in Backpacker Hostels to make sure the budget is as low as possible and a plus point of hostels is that you get to meet a lot of like-minded people and lot of travellers from across the world.

Day 1
In Bangkok i've booked my stay at Mind Day Hostel Khaosan which cost Rs 585 ( $) per person per day also all my hostel bookings were made through Hostel World

NOTE: Hostel Check In Time Throughout The Country Is 2 PM, So Plan Accordingly, also some hostels might have a refundable security deposit on the room key or locker key that they may provide you with.
I was travelling with 2 of my friends one is @foodiechique and the other was Adil, a friend from college. We reached the airport early in the morning and got our on arrival visa completed and we picked up our Tourist Sim Card as well and got to the taxi counter to book an airport taxi to the first place on our Itinerary which was Breakfast at Ink & Lion which cost 350 THB (9.56 $)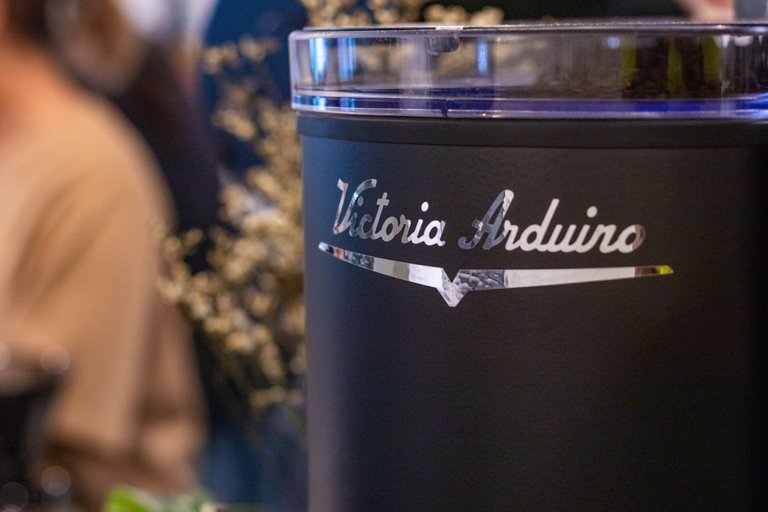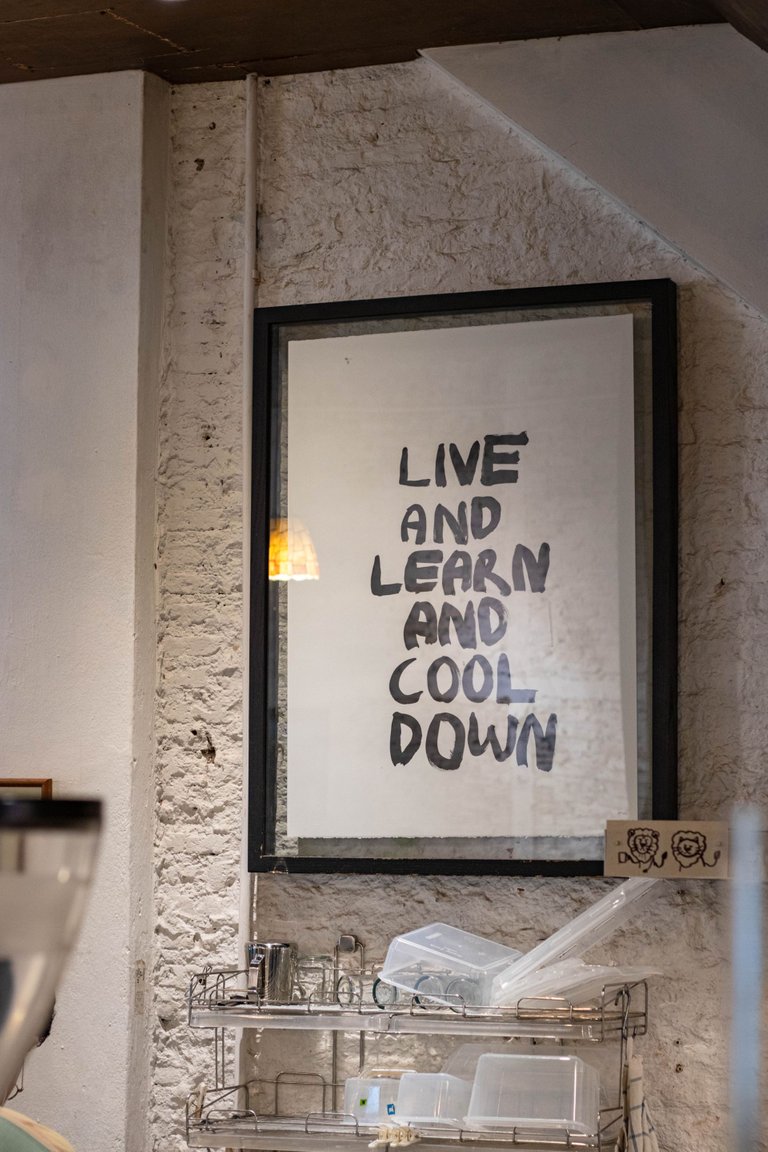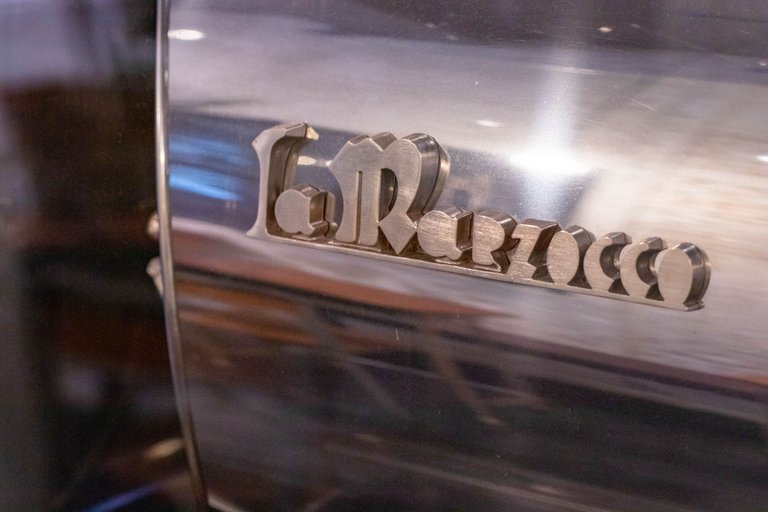 Since Ink & Lion didn't really have anything filling, we went to the next place which was called S & P อาคาร Big C (Translates To S & P Big C Building) and is just a 5 minute walk away and we had this delicious English Breakfast.
Post breakfast we got a GRAB taxi and went straight to the hostel. Grab Taxis are your best bet to travel around the country as they are safe and reliable, it's pretty much like the Uber of Thailand, just download the grab app, Sign Up using your new Sim and start booking your rides right away, they even have a food delivery option available on the app and if you are a solo traveller opt for the Grab Bike Taxi option as those are even more cheaper.
We reached the hostel called Mind Day Khaosan at 11 AM and since check-in is only at 2 PM we were allowed to leave our luggage at the hostel and freshen up. All hostels have a policy of leaving your luggage behind and freshening up at the property if you arrive way before your check-in time. we quickly freshened up left our luggage behind and headed out to the next place in our itinerary which is Wat Saket The Golden Mount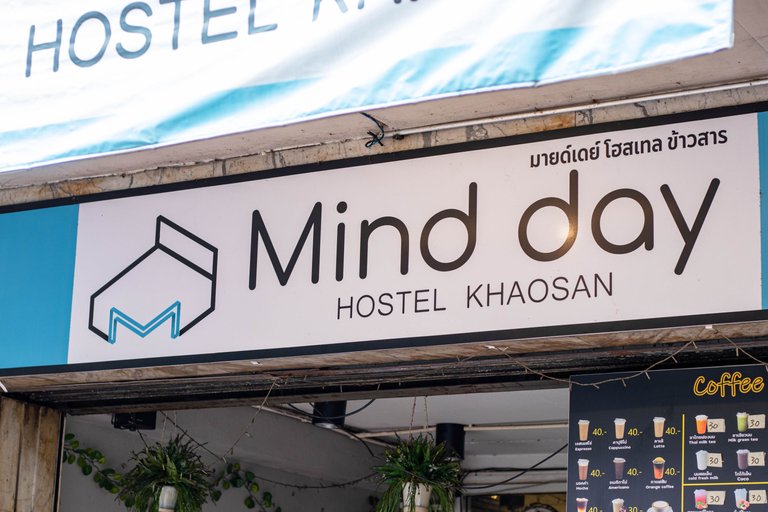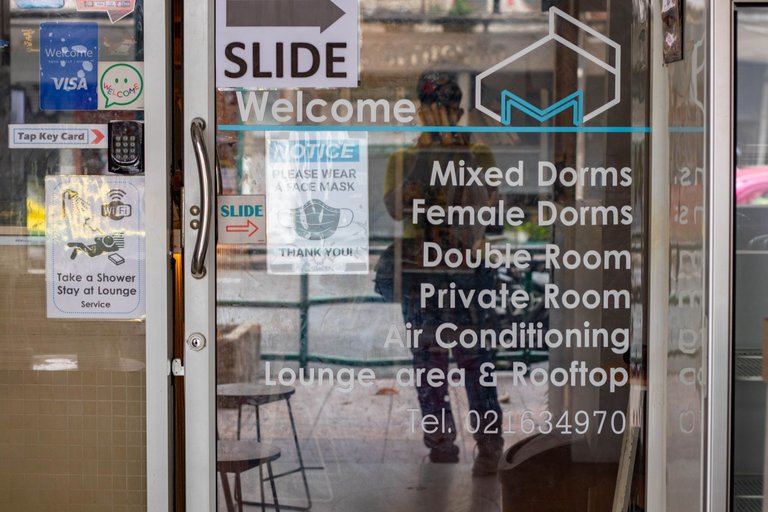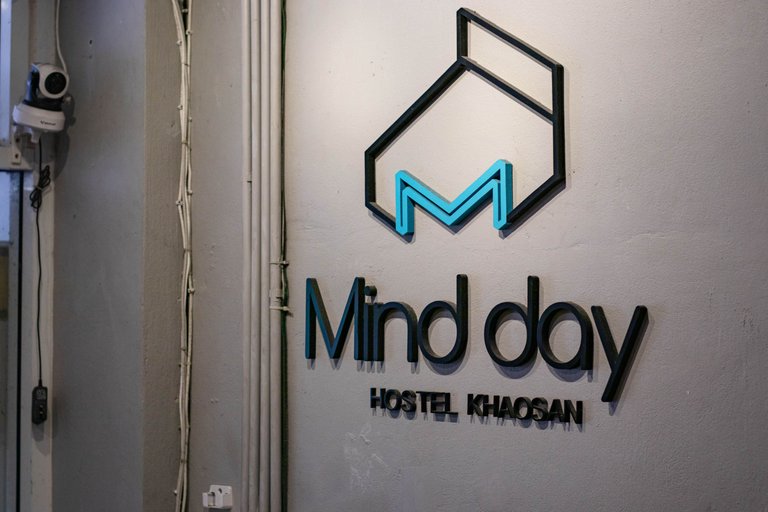 Wat In Thai Means Buddhist Temple
So once we arrived at the temple we had to buy an entry ticket of 50 THB ( $) Per Head and then climb up 344 steps to reach the temple which rest on a Hilltop.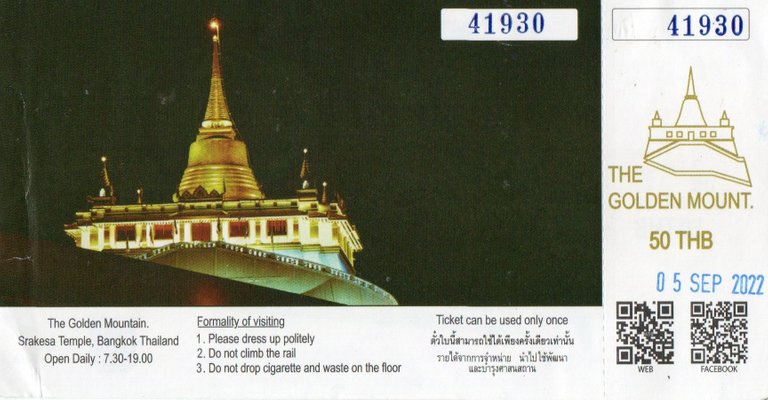 Now as you climb up the steps you get to see some really great views of the city and it's just marvellous and if I am not wrong it's a 180° view of the city that you get to see and inside the shrine if your thirsty you have a beverage vending machine which has some really nice drinks that you could try out.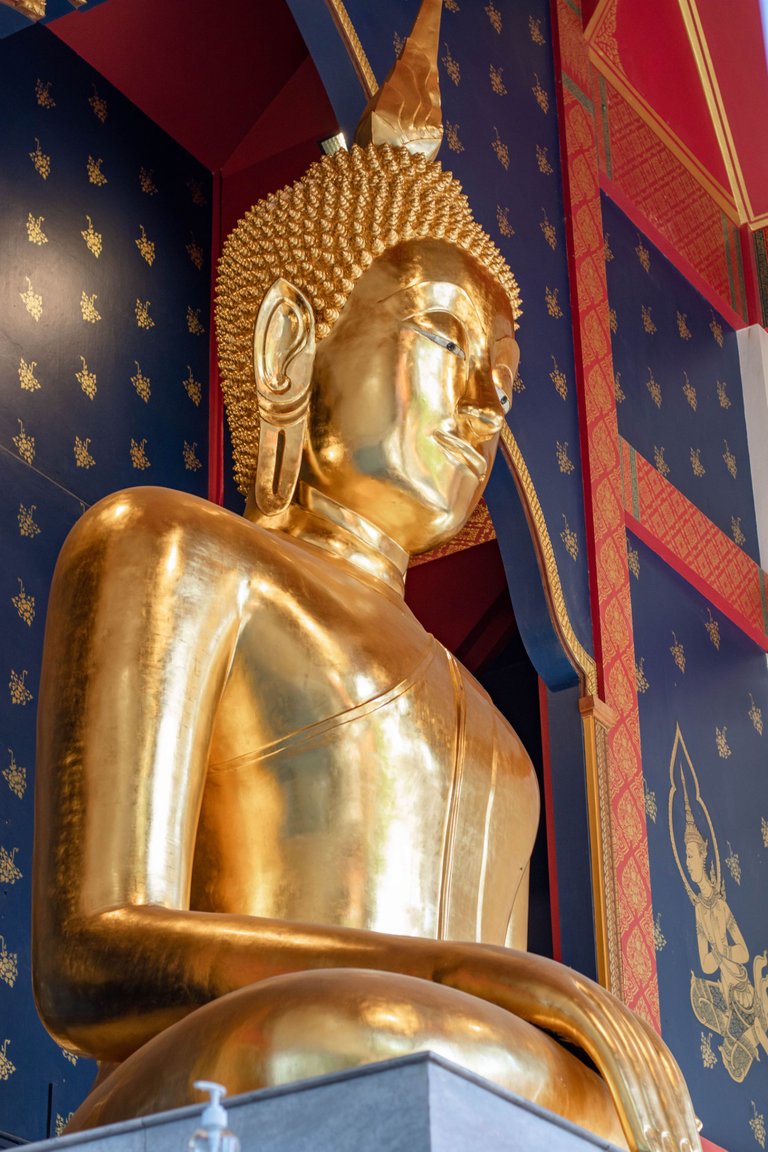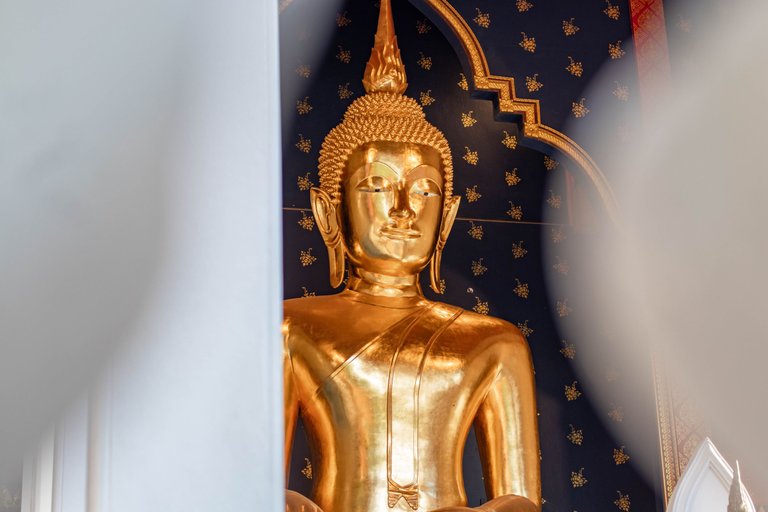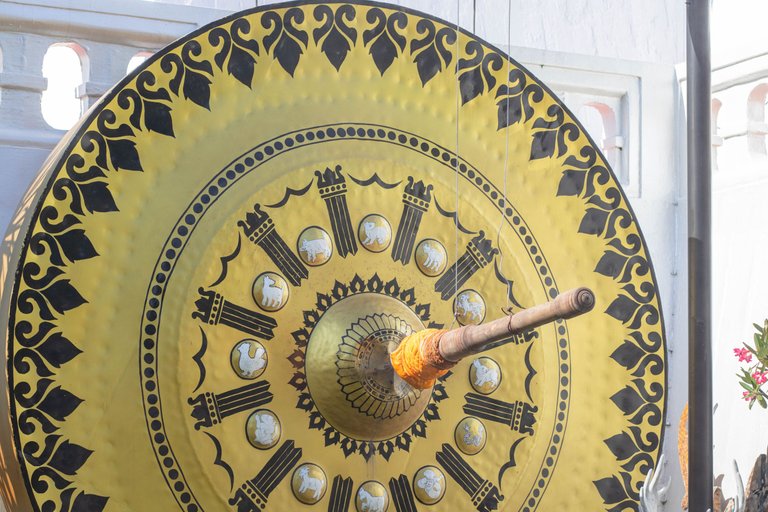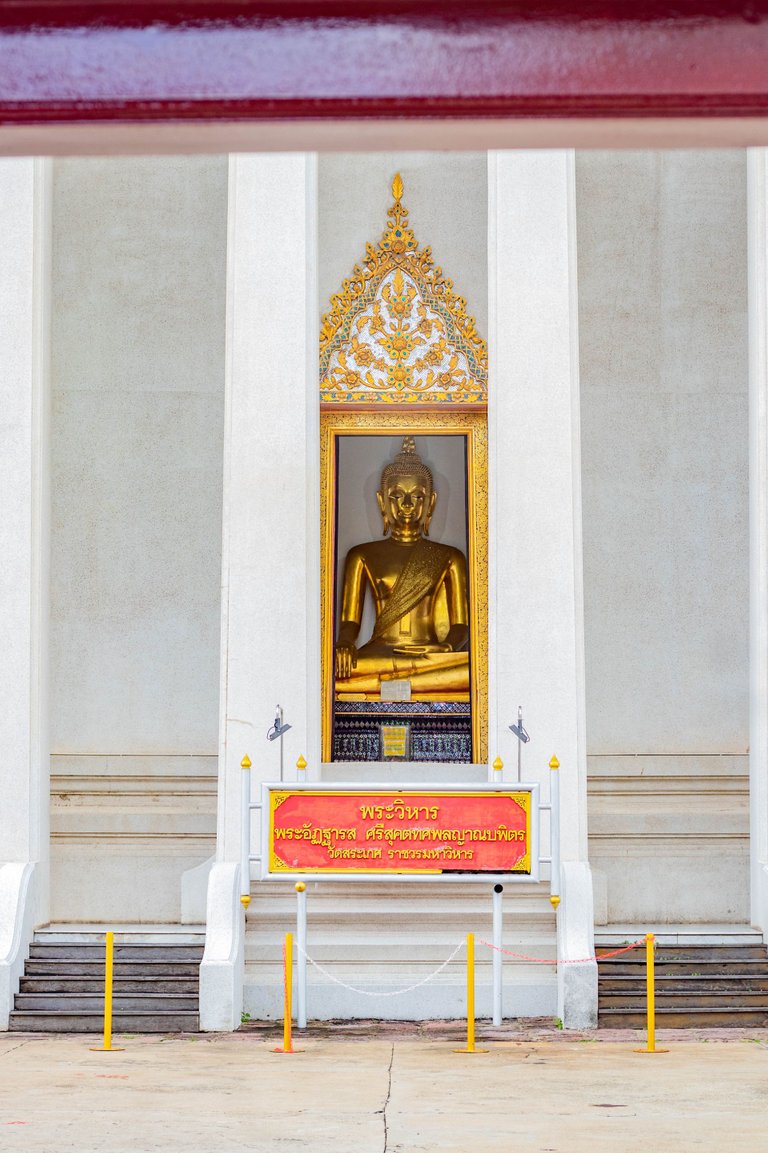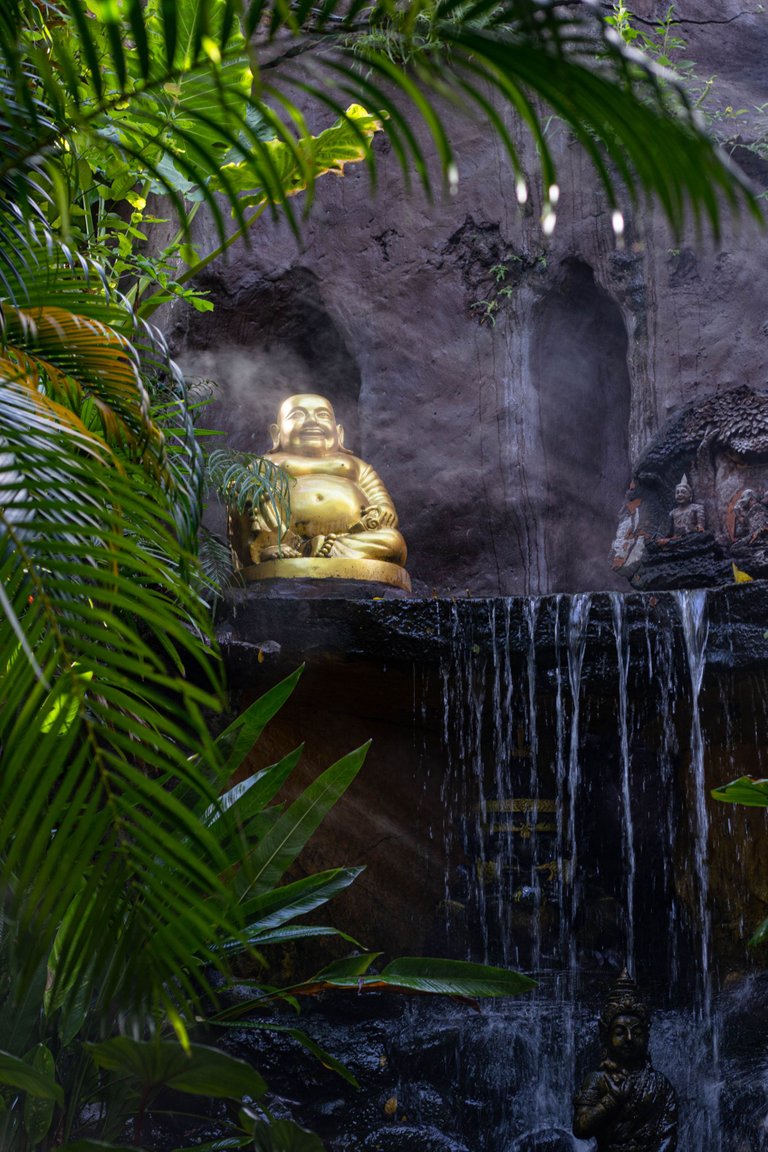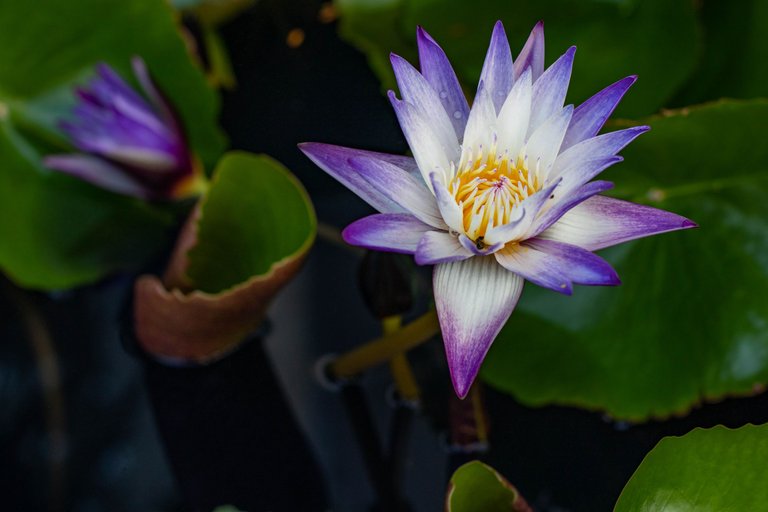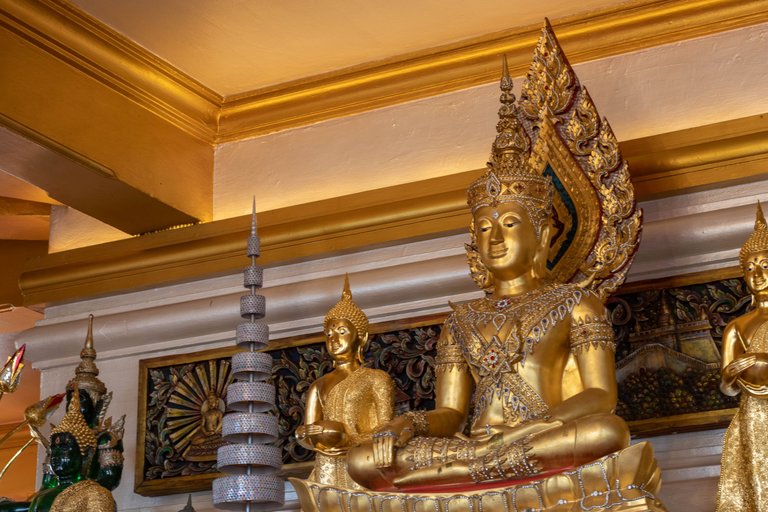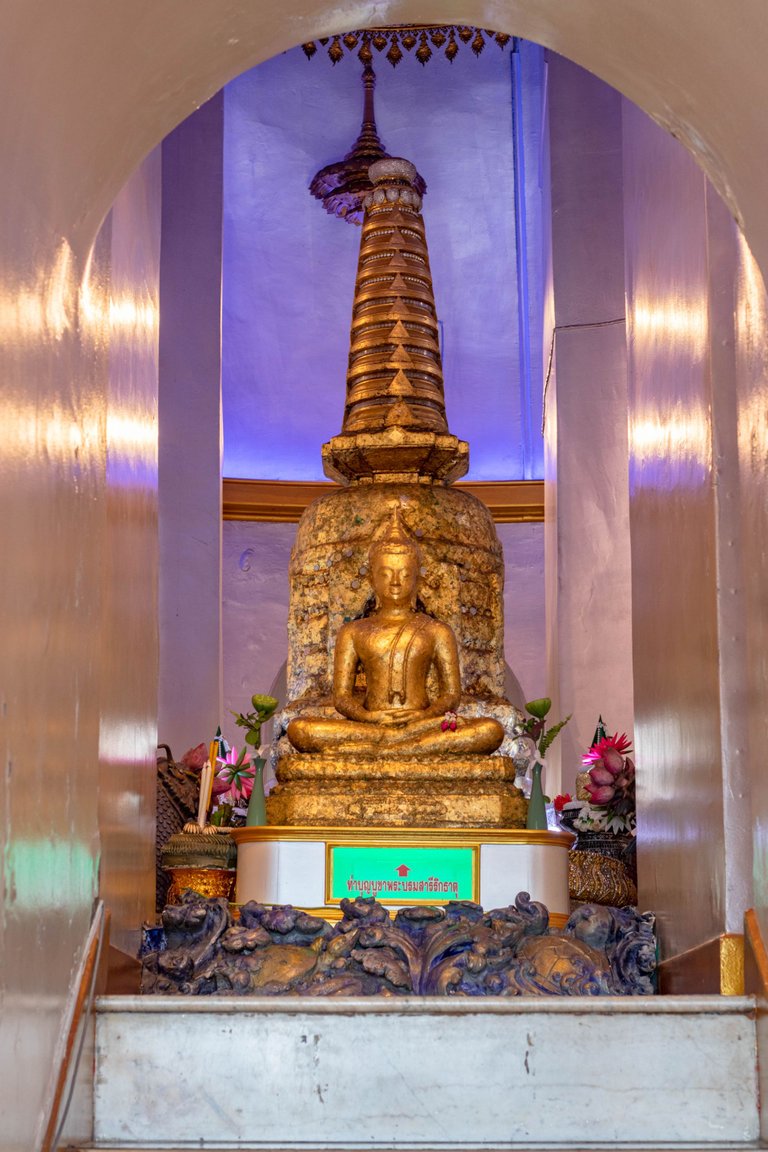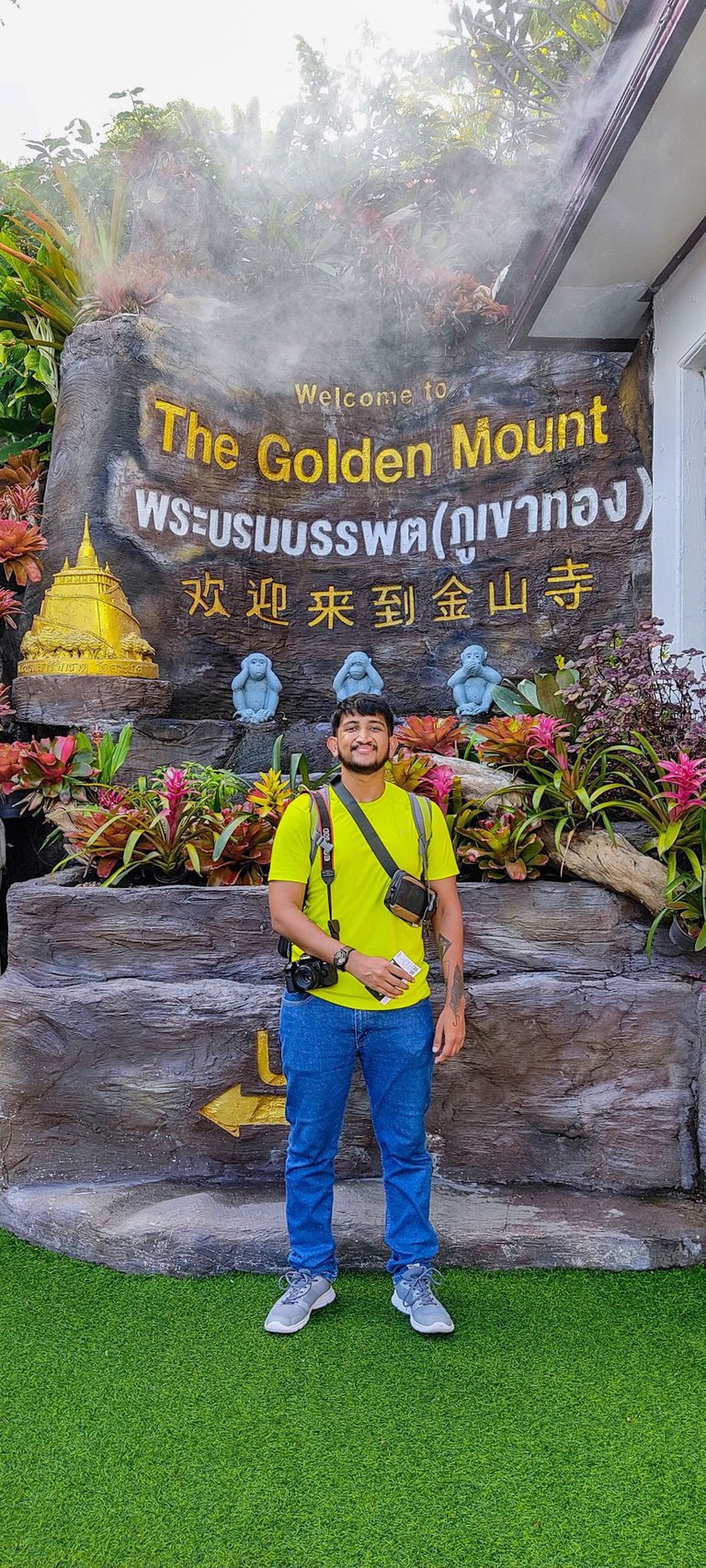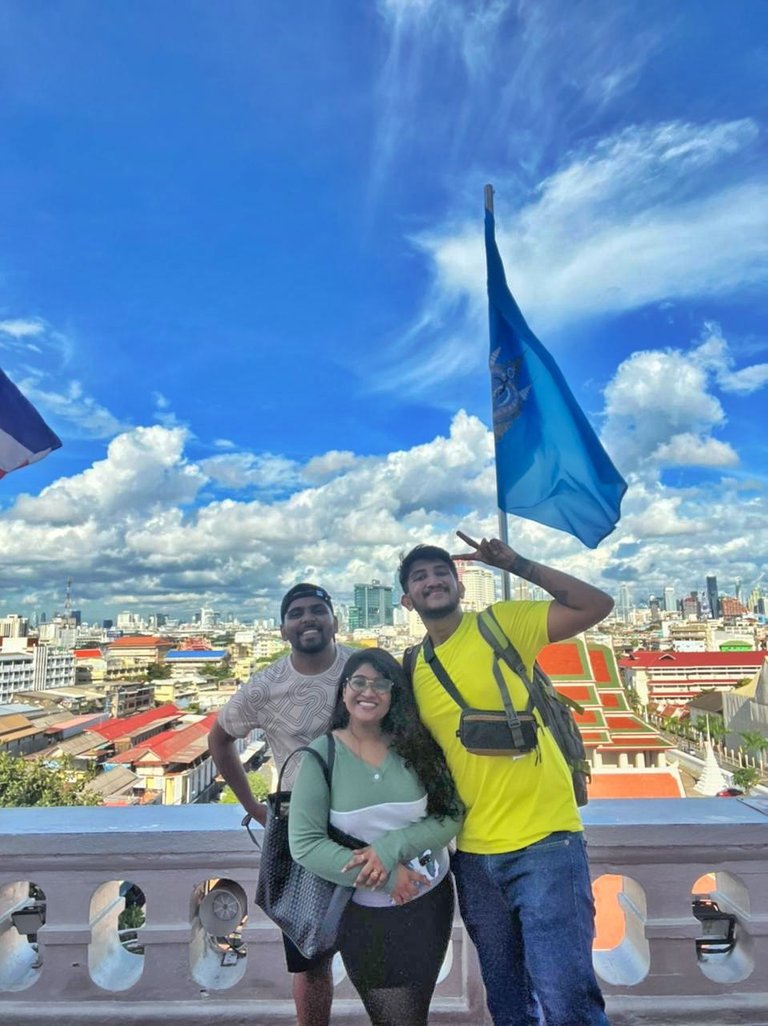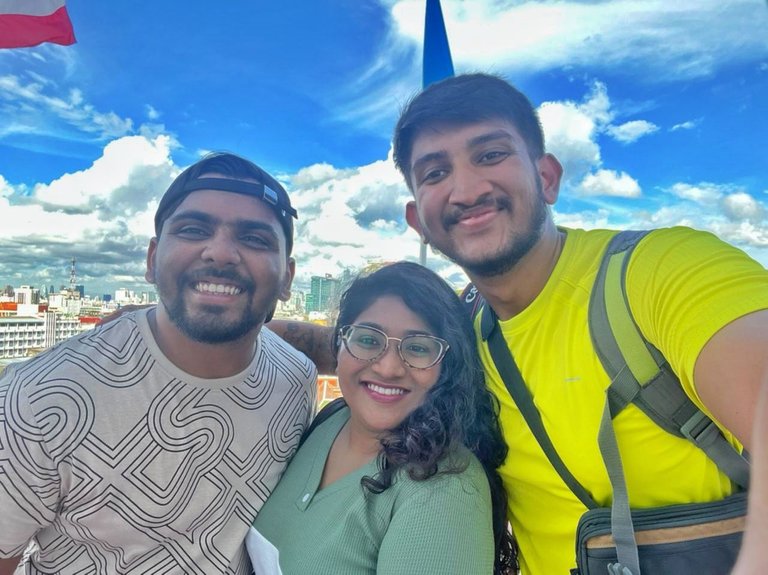 It took us about an hour to cover this Temple and soon after we grabbed or tuktuk to visit another nearby Temple called Wat Traimit.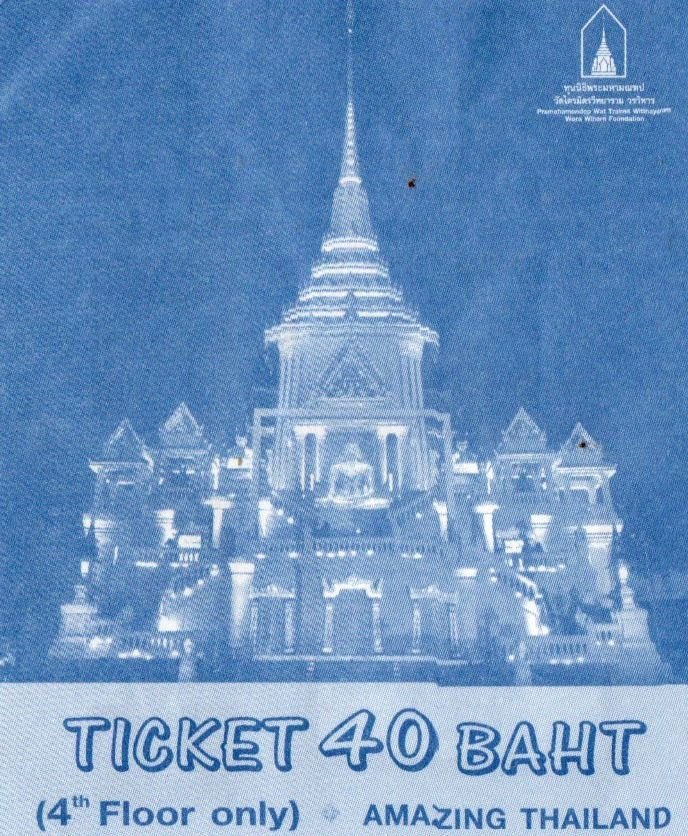 So this Buddhist temple has two types of ticket, one is to visit either the Exhibition (Opens At 10 AM) for 100 THB and the other to visit the Golden Buddha for 40 THB or you can buy a Combo ticket which offers you to visit both the Golden Buddha as well as the Exhibition for 140 THB, but we just opted to visit the Golden Buddha.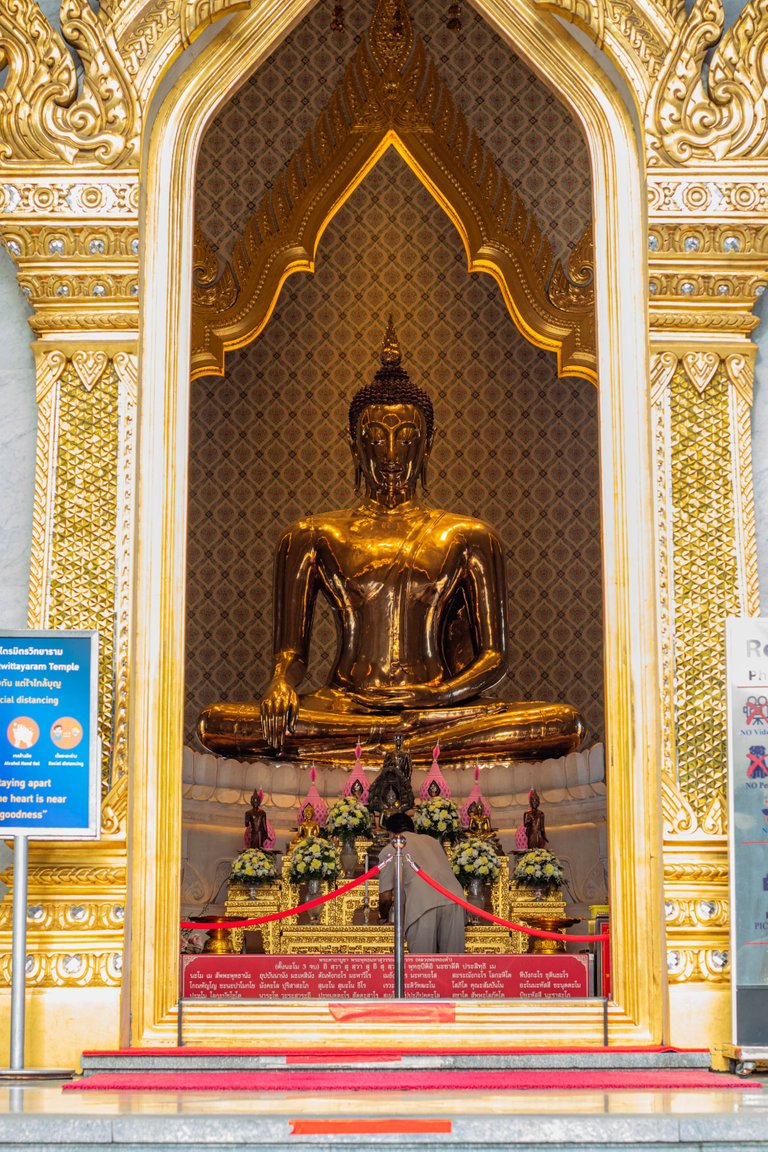 My O My the Golden Buddha was a delight to watch and it's just so peaceful in this area and this Temple offers you 360 degree view of the nearby surrounding which is again a delight to see. We paid our respects and we headed of to a Noodle Shop near by called เป็นหนึ่ง ก๋วยเตี๋ยวต้มยำ เย็นตาโฟ (This Is Literally How It's Mentioned In Google 😂🥲) Google translated it to Nueng, Tom Yum Noodles, Yentafo.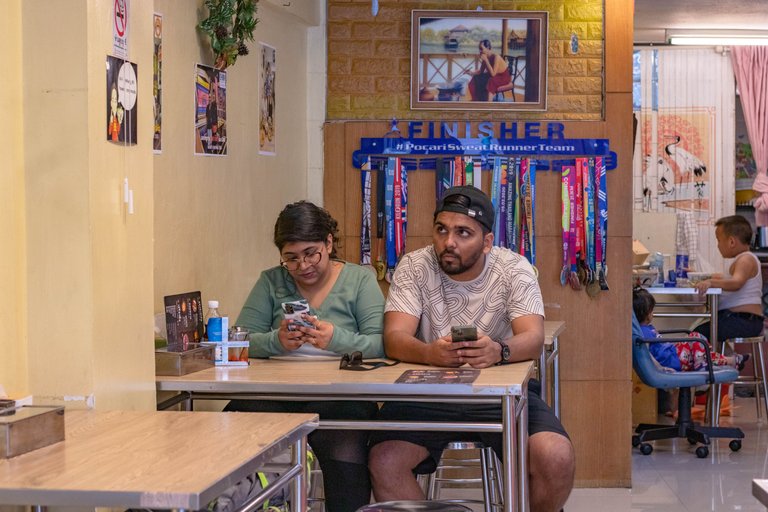 @foodiechique & Adil waiting for their food to come 😂 whilst I was
busy taking photographs of the food preparations.

Post that quick Noodle break 🙈 we called a Grab and visited the next Temple called Wat Pho or Wat Phra Chetuphon.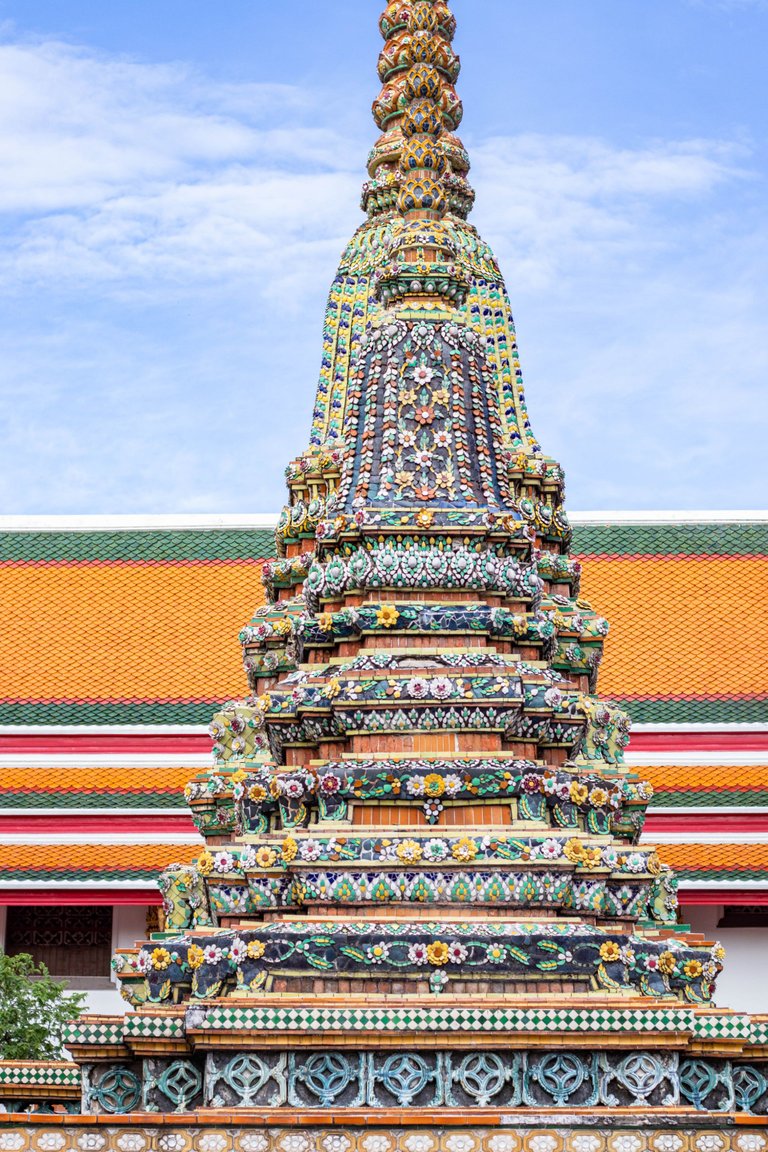 This temple has an entry fee of 200 THB which includes a chilled water bottle as well, which you can later collect at the vending machine inside by scanning your tickets QR Code on the machine. As you walk past the various structures, the details of the temple architecture will just mesmerized you, there are so many tiny details that look incredibly fascinating to the viewers eye.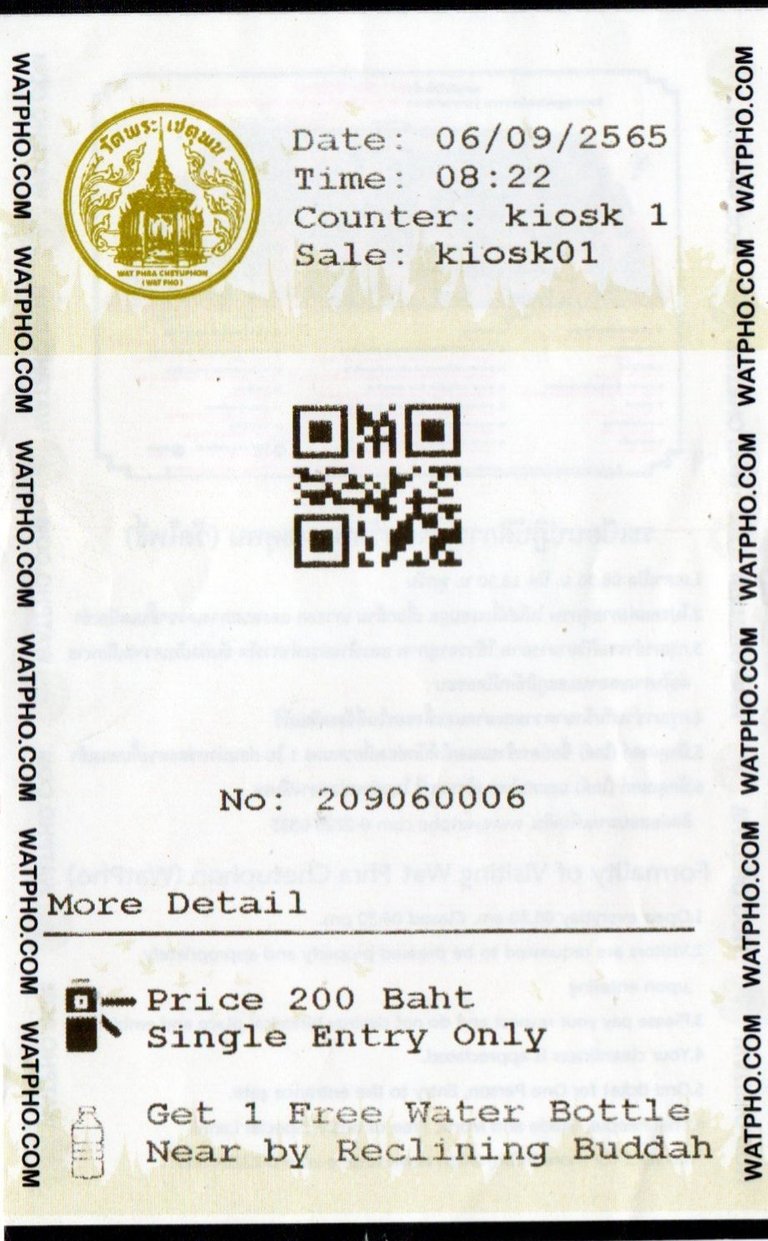 Wat Pho is also home to the largest gold plated reclining Buddha in the whole of Thailand. The statue is about 15 metres tall, 46 metres long and it's feet is about 5 metres long.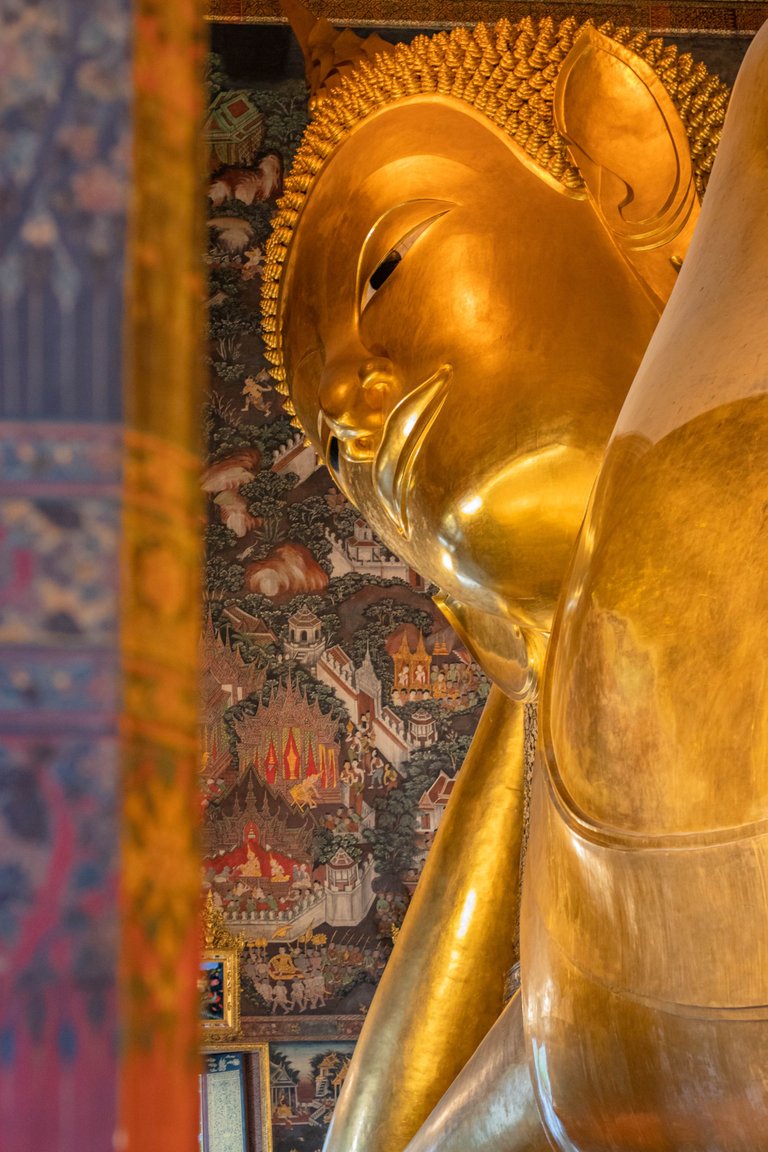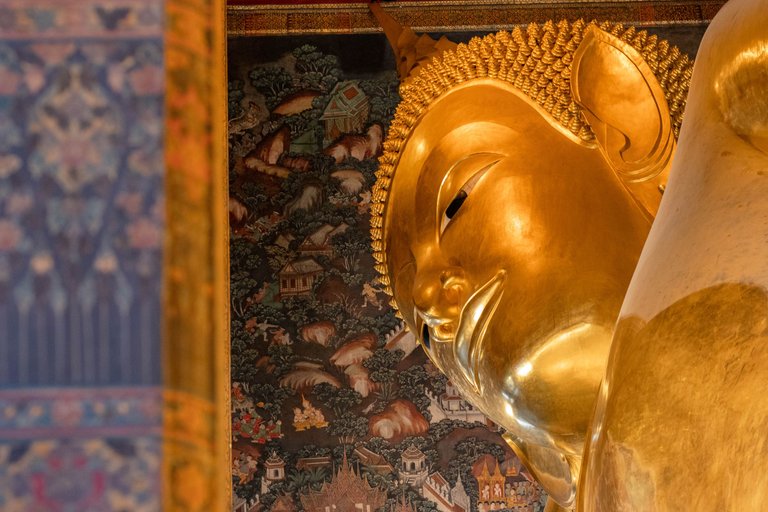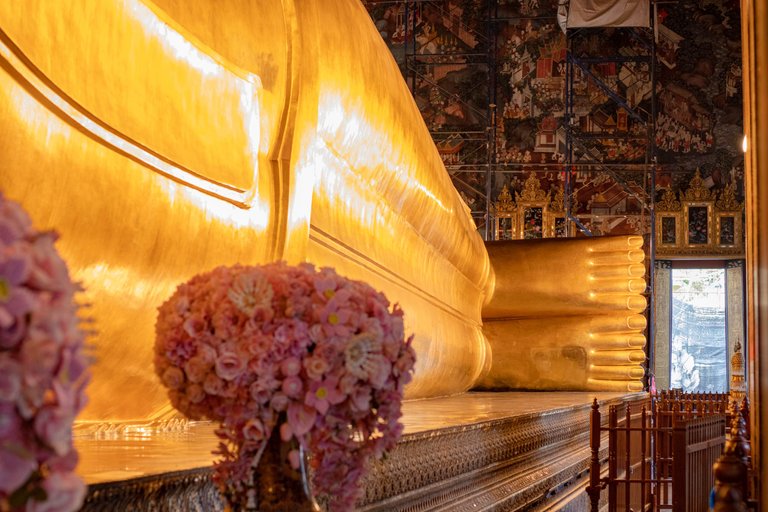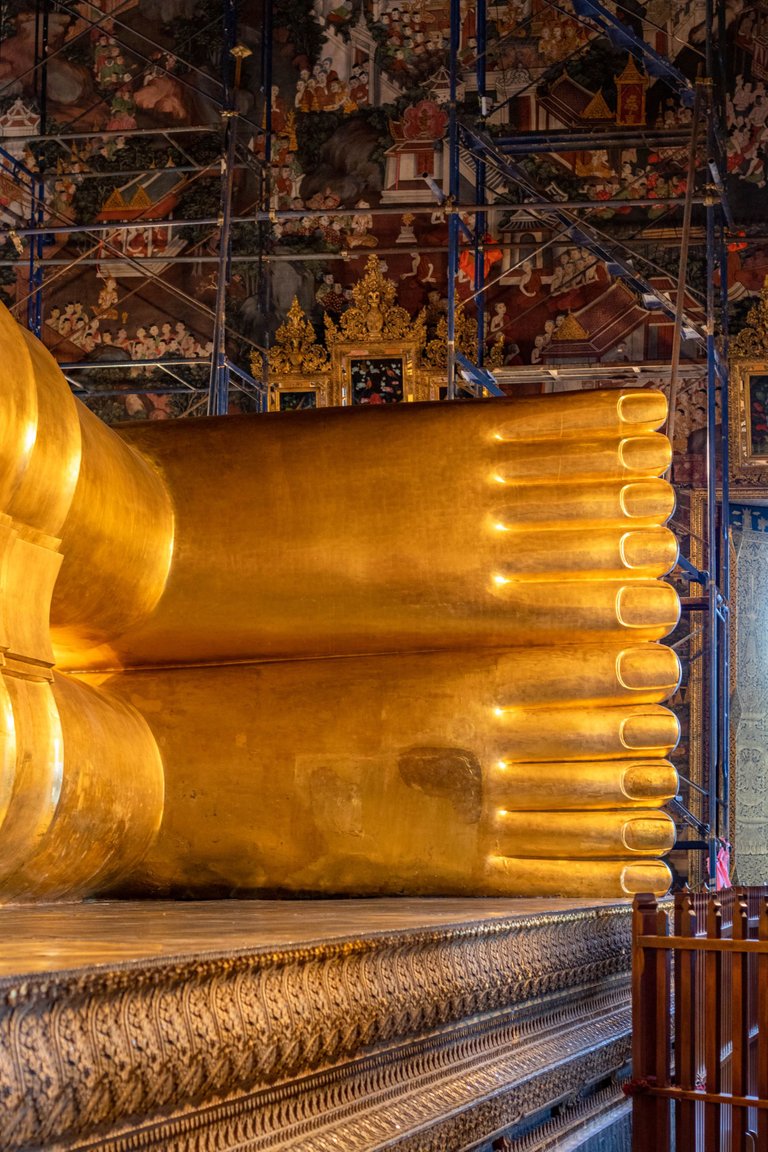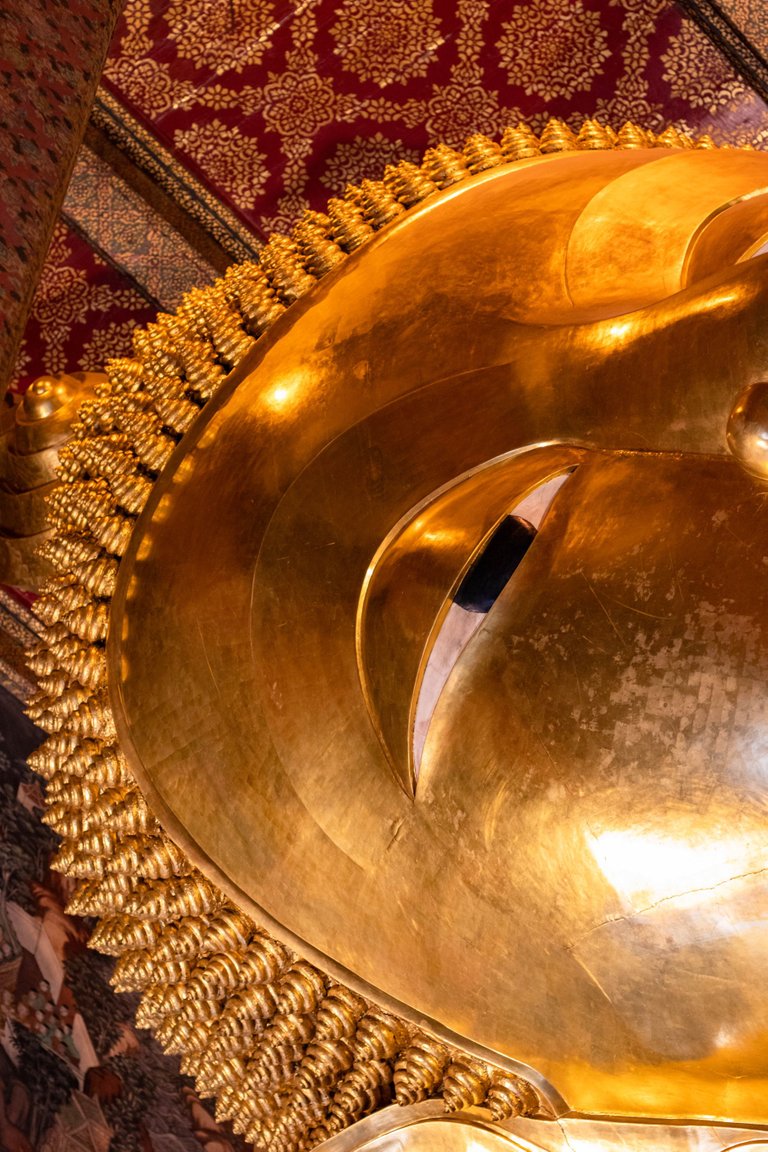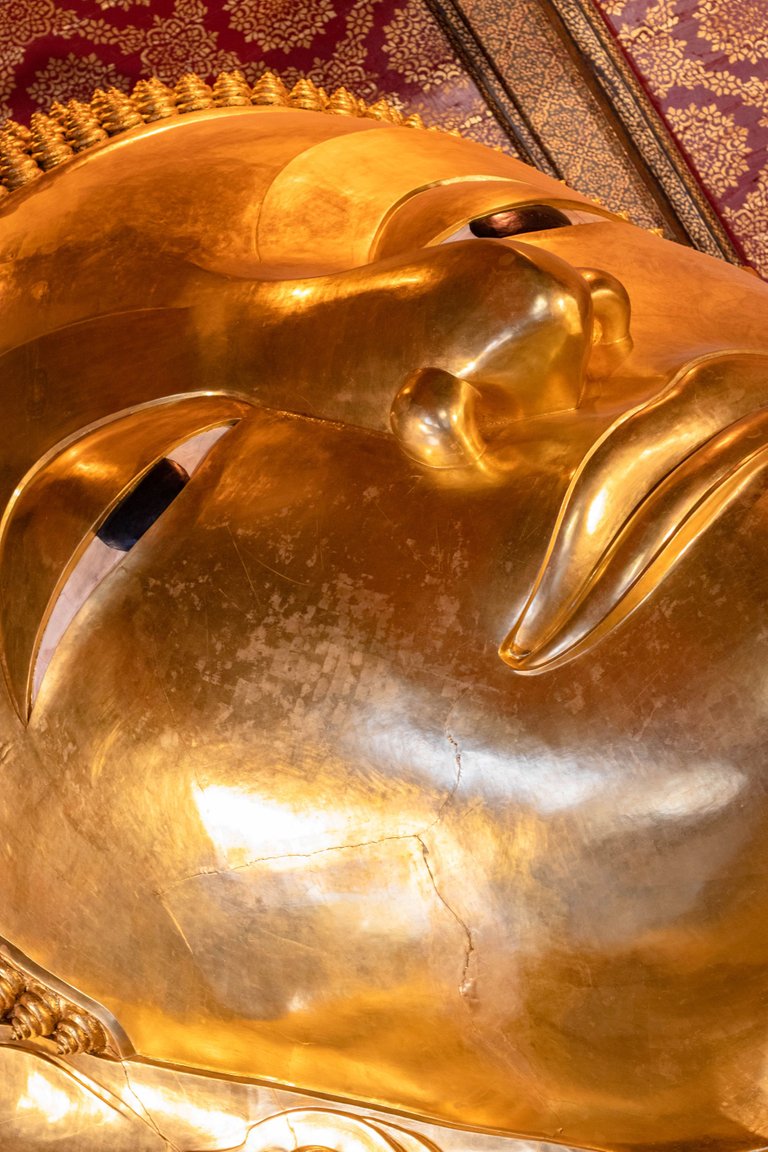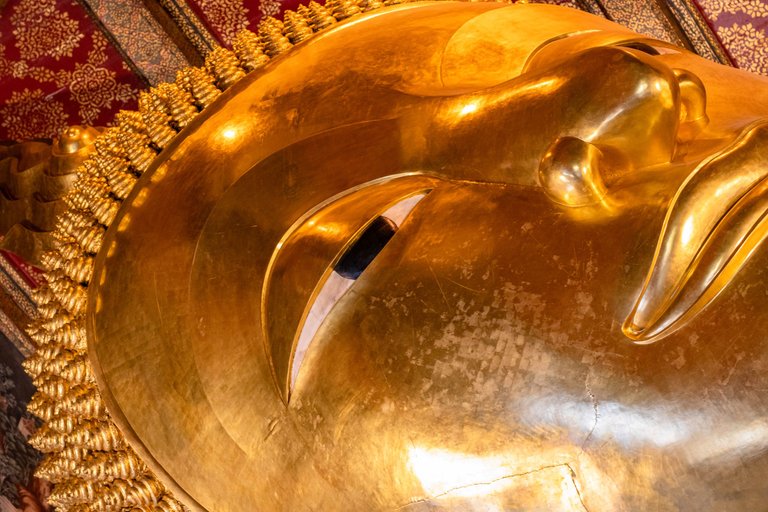 Standing in front of such a big statue was just amazing and the time we went in at there was literally no one there, so it was really peaceful. We took about an hour to complete this place and post that we went to the near by pier called Tah Tian Pier to catch a ferry which cost 15 THB to get to the other side of the river where the next Temple resides, which is called Wat Arun Ratchawararam Ratchawaramahawihan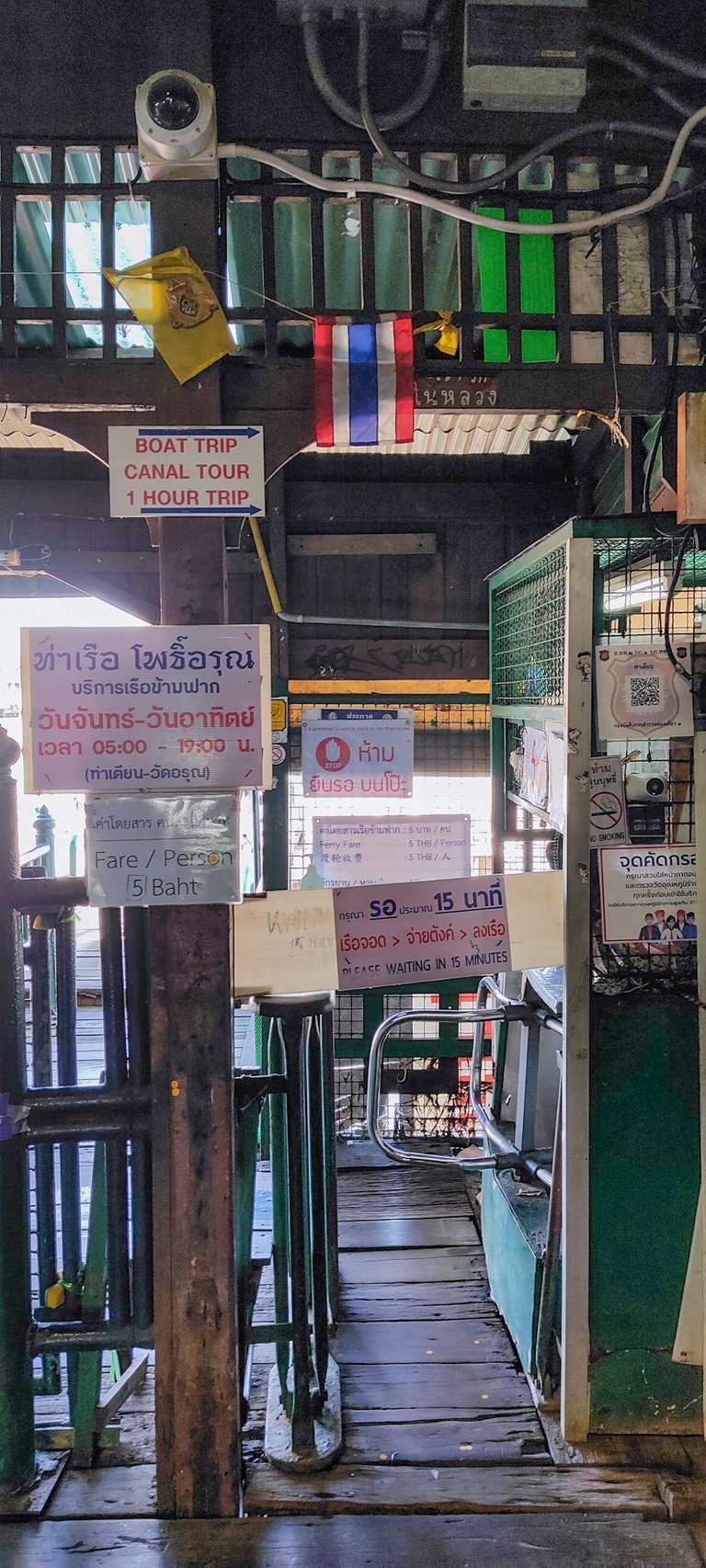 The ferry takes about 5 minutes to reach the other side of the pier and once you cross over you will find the ticket counter for Wat Arun where you will have to pay 100 THB for entry.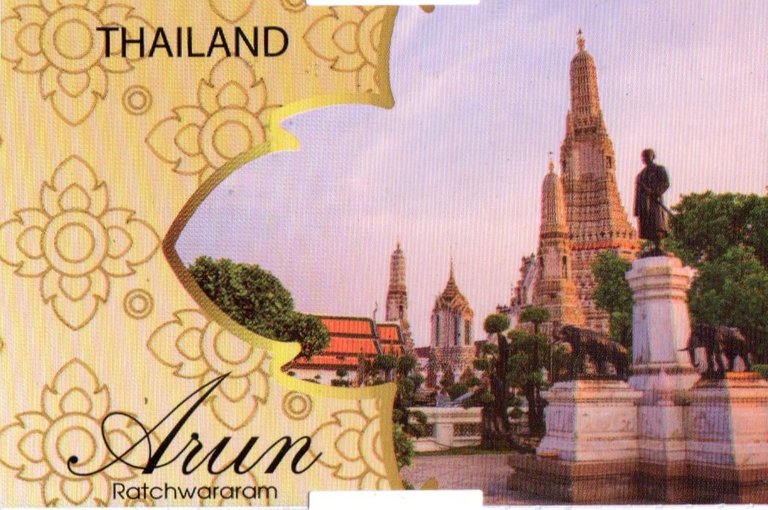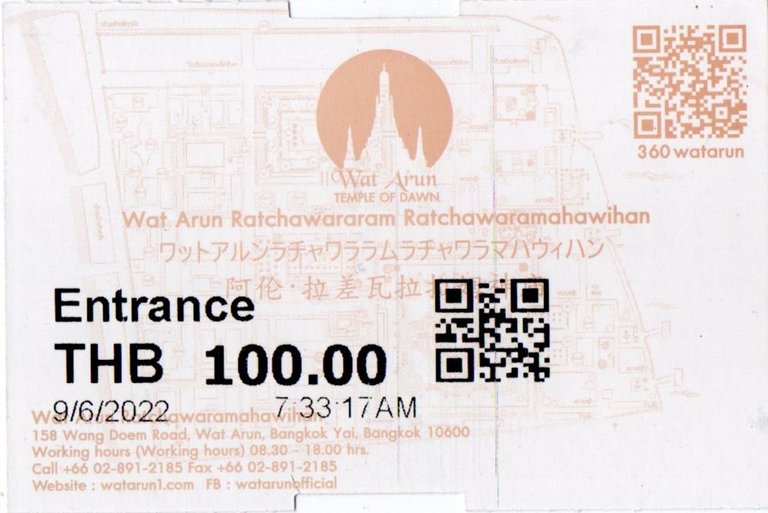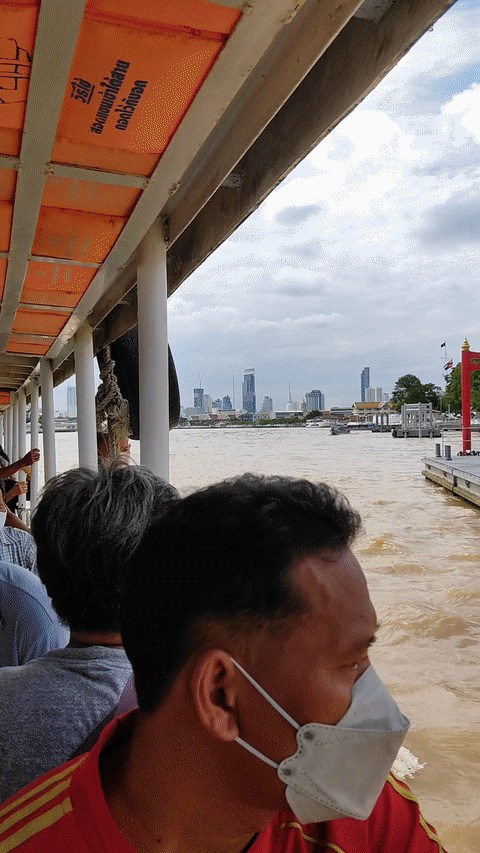 There is not really much to do here apart from admire the garden and the temple architecture and take pictures so this is one place you can skip if you'd like to, for me I enjoyed basking in the sun at the garden near the entrance.
All Buddhist Temple Are Open From 8 AM To 5 PM
(Some Temple Timings May Vary About 30 Minutes)
Post our Temple exploration in Bangkok we were pretty much tired so we decided to head back to the hostel to freshen up. The two of them went off to sleep and I really didn't want to waste my time so I decided to take quick stroll around the area and I ran into a beautiful cafe around the corner called Patonggo Cafe.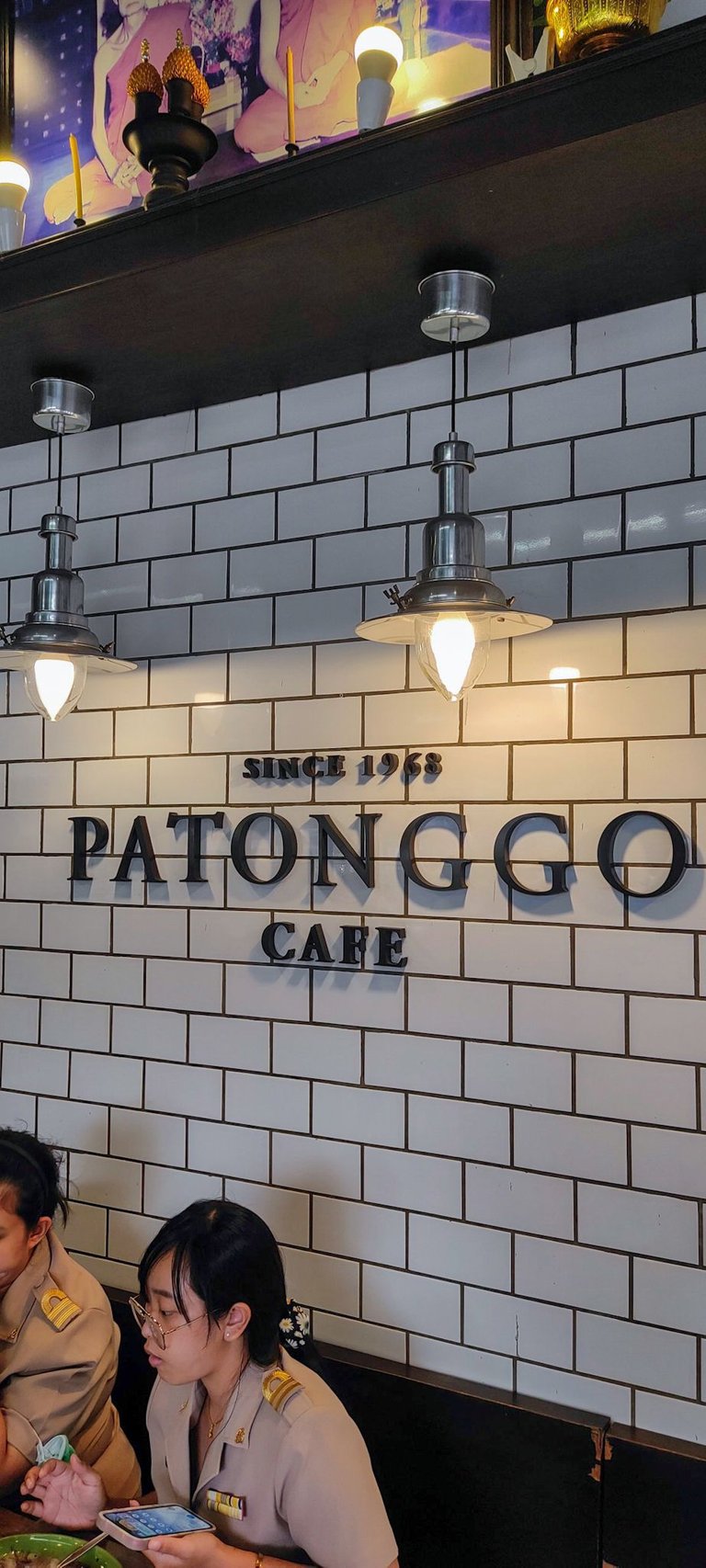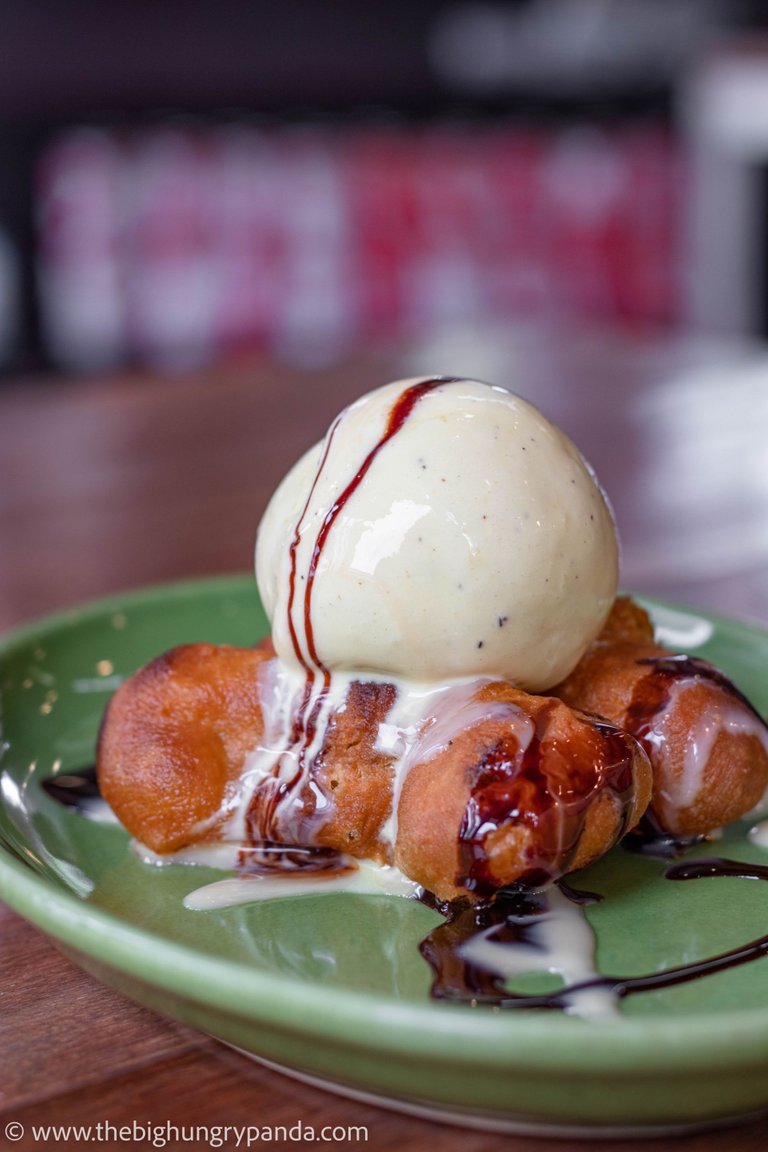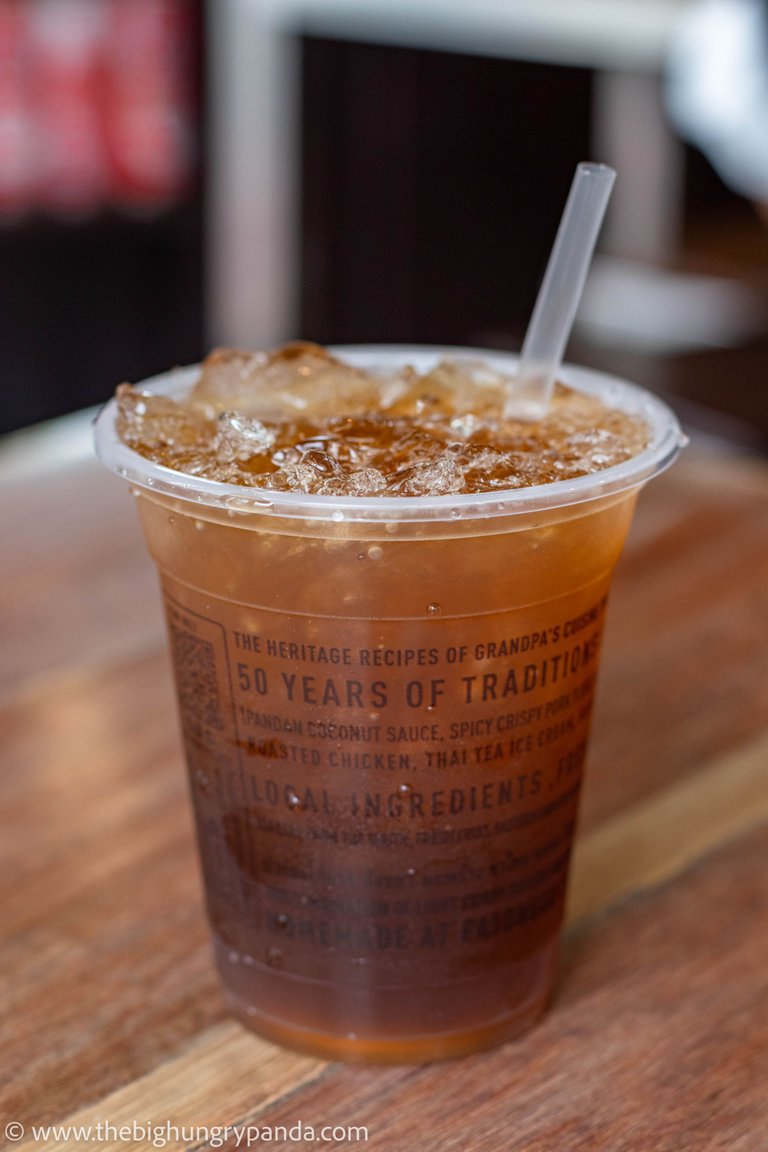 So before getting into the cafe I decided to read about it a bit and that's when I got to know that this cafe has received a Bib Gourmand recommendation by Michelin Guide for 2 years in a row in 2018 and 2019. Yeah I bloody knew I had to go in, I wasn't really hungry so I tried one of their most recommended item, which is the Patonggo Ice Cream and I took a glass of Ice Tea to quench my thirst.
Post this quick stop I was just walking around taking random pictures of the streets and decided to give the other two a call and figured out that they were still fast asleep 🙂 and it was pretty much dinner time by then so I wandered of a bit more and found a great bar and cafe of sorts called There Bar and Garden.
Ordered my self some food and finally tried out Chang Beer which is a product of Thailand and man that cold bottle of beer was just blissful. Post dinner I walked back to the hostel in the rain (Mild Drizzle Of Sorts) to get some shut eye and get refuel myself for the coming Day.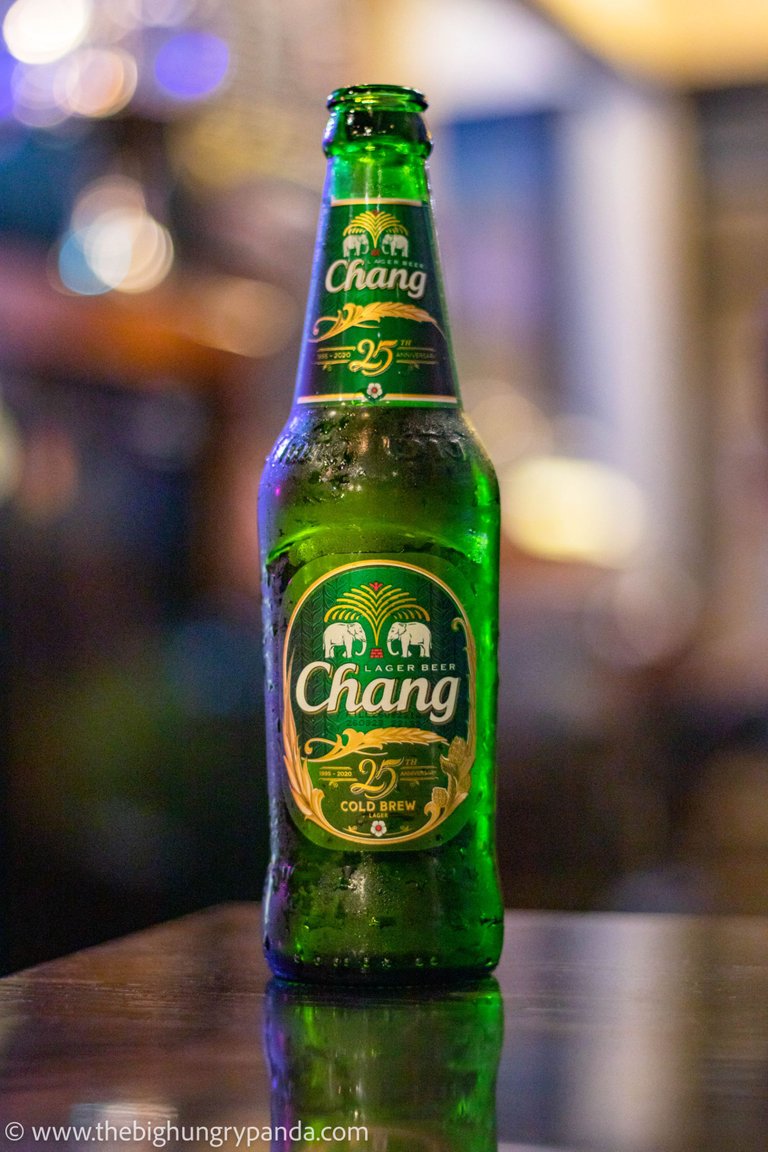 Day 2
So I made it habit to not waste any time whatsoever during any of my trips, my day start at 5 AM where I quickly freshen up, pick my outfit for the day, make sure my camera is fully charged and review my itinerary for the day.
Once everyone was ready I decided to first take them to Patonggo Cafe for breakfast.
We had a quick breakfast and some refreshments and immediately booked the cab to the first place in our itinerary which is Sea Life Ocean World Bangkok at Siam Paragon.
Sea Life Ocean World Has Two Different Types Of Tickets:
Type 1: Entry To Sea Life Ocean World And Madam Tussauds Bangkok
Type 2: Cluster Combo Package which cost 1590 THB (43.65 $), includes a digital photo, refreshments, Entry to Sea Life Bangkok, 4D Cinema (Which Is An Absolute Waste), Glass Bottom Boat and Entry to Madame Tussauds Bangkok.
Admission to Sea Life Bangkok is only valid on the date selected during purchase.
Admission to Madame Tussauds Bangkok will need to be within the 7 days from the day of visit to Sea Life Bangkok (We Covered It On The Same Day Itself)
We opted for the cluster combo which Cost us THB. The overall time that we took to cover both Ocean World and Madame Tussauds was about 3-4 hours. Down below is the layout of where both the places are located.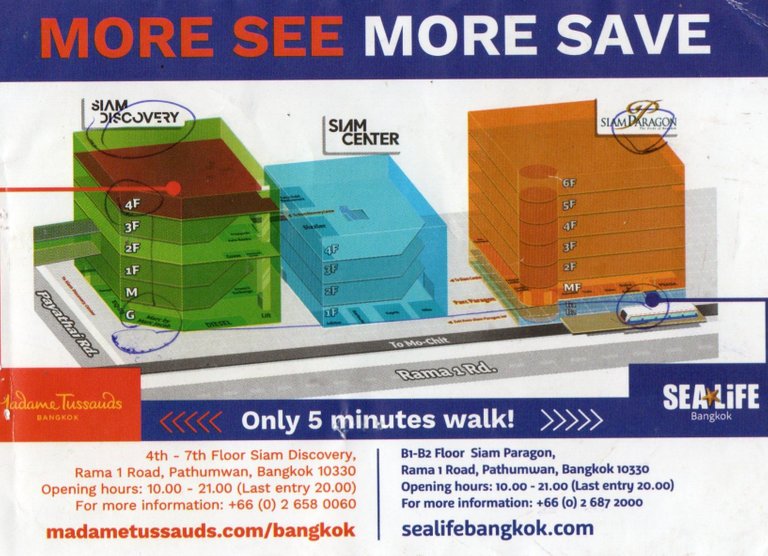 They have a wide variety of sea creatures and many of their creatures are on the endangered list, they have been rescued and cannot be released into the wild or have been born and bred as part of their conservation projects.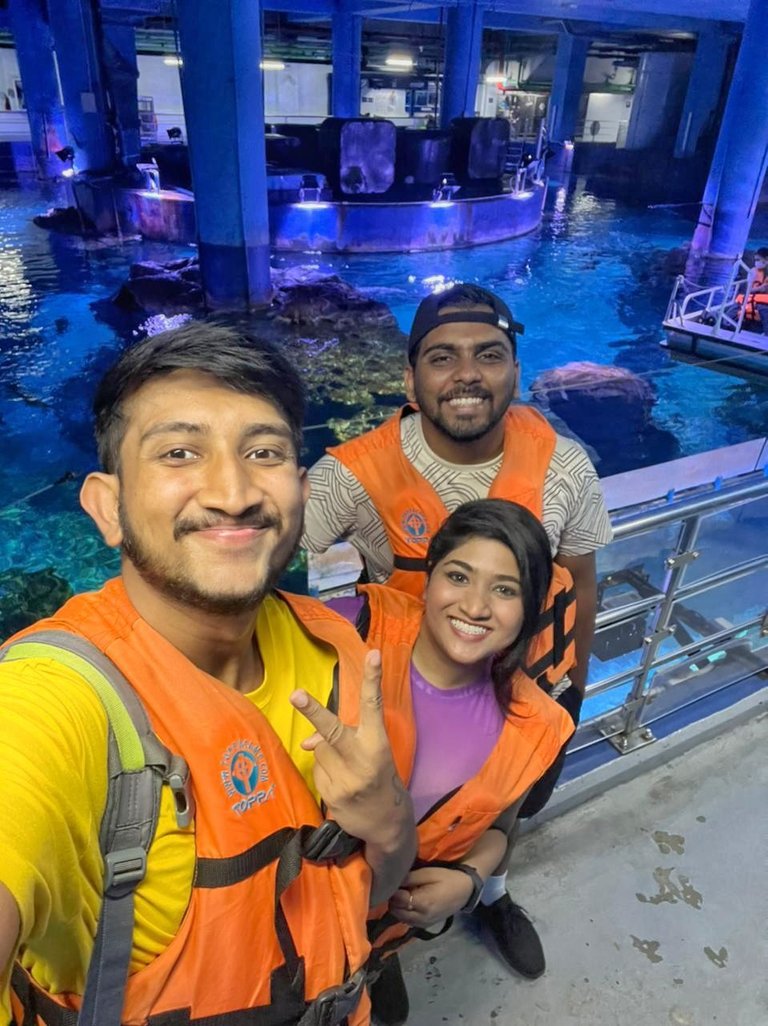 The Glass Bottom Boat was really fun, we had a guide take us around the large tank where you could witness various aquatic species moving beneath the boat. They have the only living Sawfish in Thailand here in this tank and if your lucky enough it'll pass right beneath the boat.
Here are the Feeding Time's, We got to witness the sharks & manta rays being fed by two divers at 1:30pm which was just bloody insane. This was pretty much a great experience and it's quite informative as well.

P.S this Entire Place Is Right Beneath A Mall




Once we got out of that area, we had to go to a 4D Cinema as well which was included in the ticket. They play Aquaman for you whilst being seated on hydraulic moving seats that move based on the action sequences of the film. It was just a 15 minute clip of Aquaman which wasn't really worth it. Kid's would enjoy this ride, but it's definitely a big NO if you're a grown up.
Next up on our list is Madame Tussauds which is located in another mall altogether located 5 minutes away by walk called Siam Discovery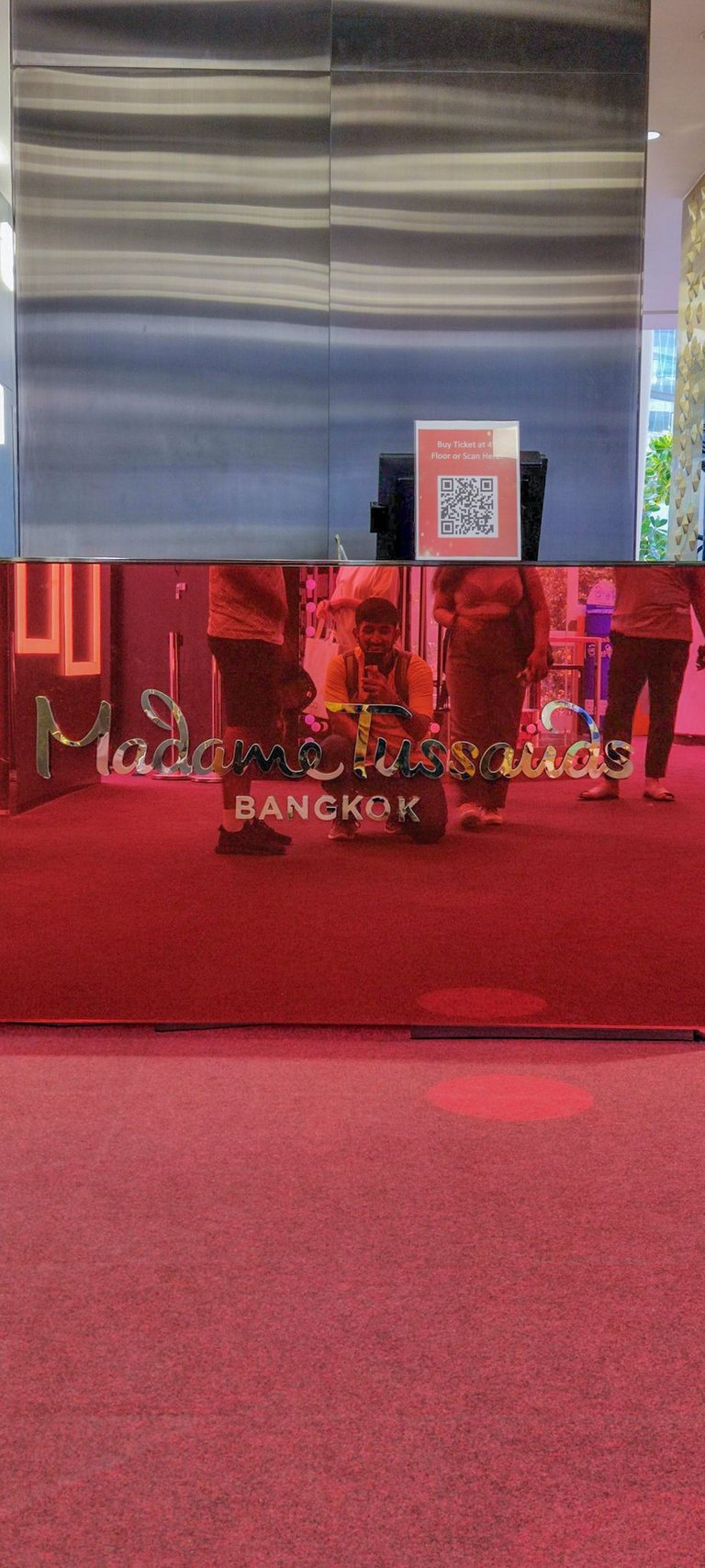 Pretty sure almost everyone knows what Madame Tussauds is famous for, and if you didn't know this already then this Museum displays worldwide celebrities made out of wax, which makes them the most famous wax museum due to its quality and skills in innovation. P.S There are about 26 Museums Worldwide.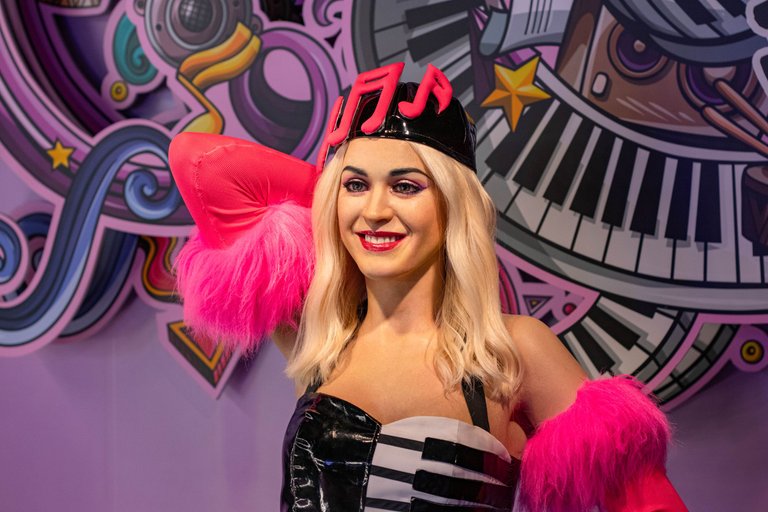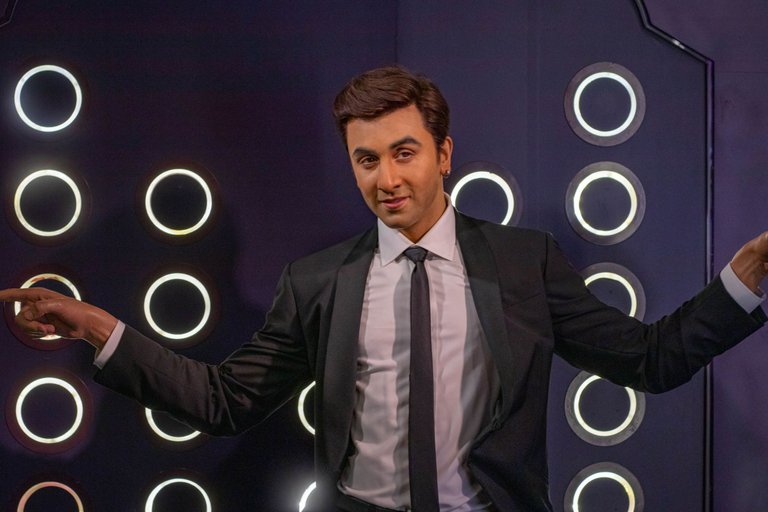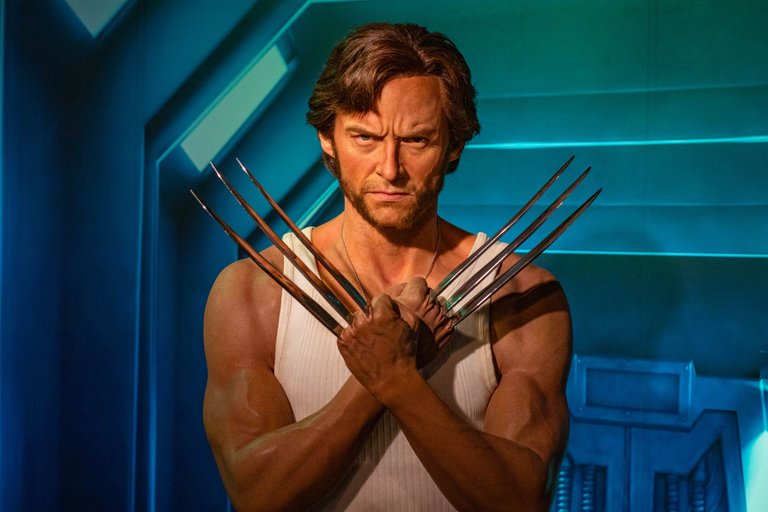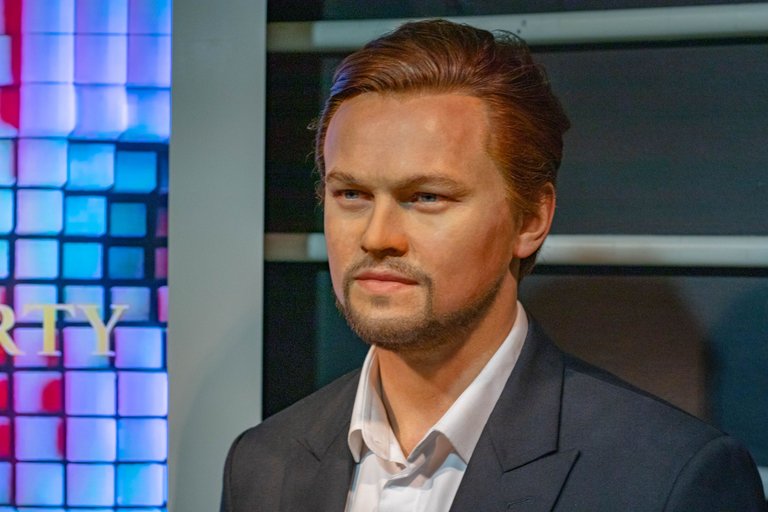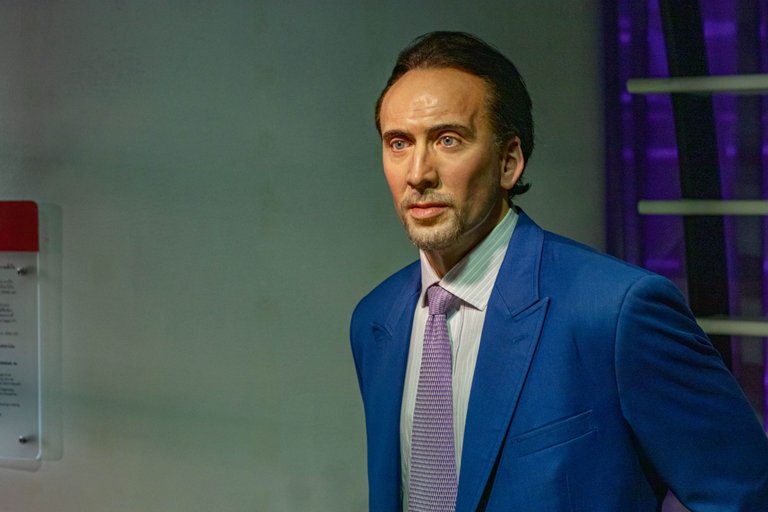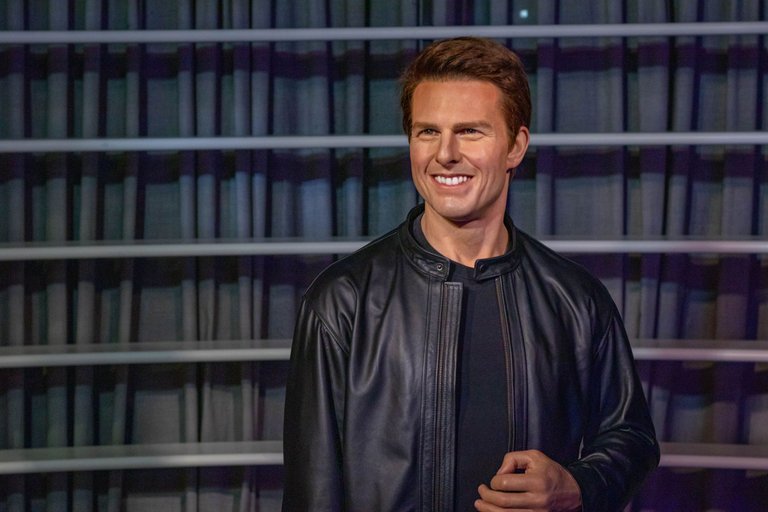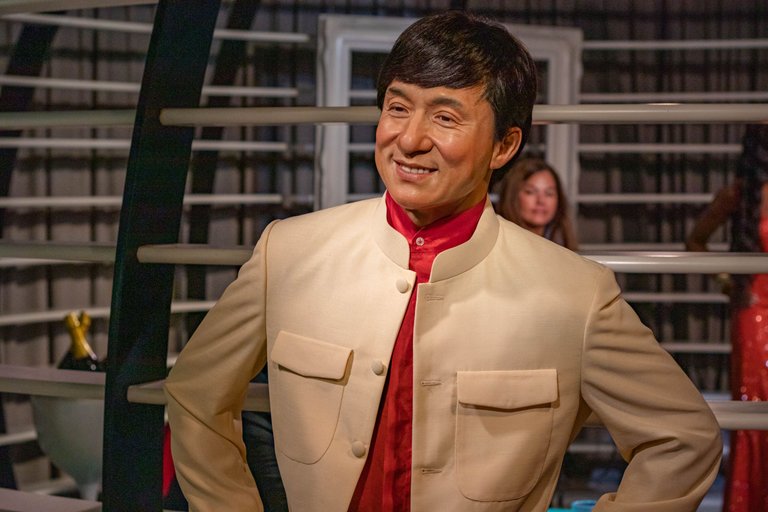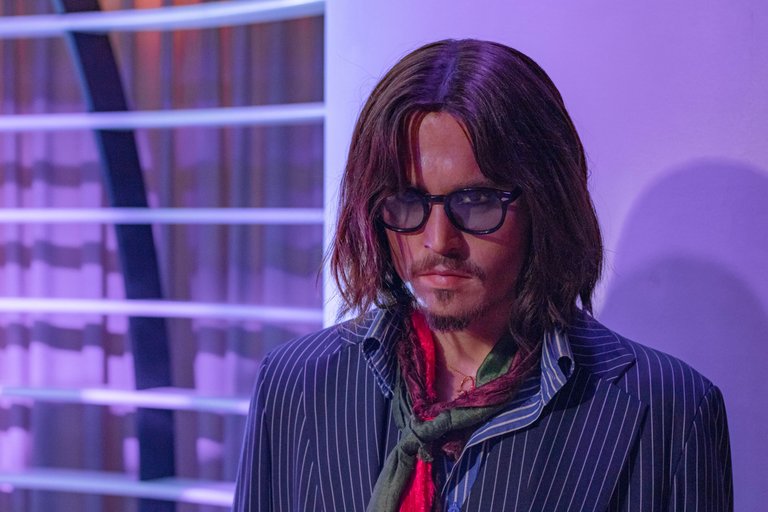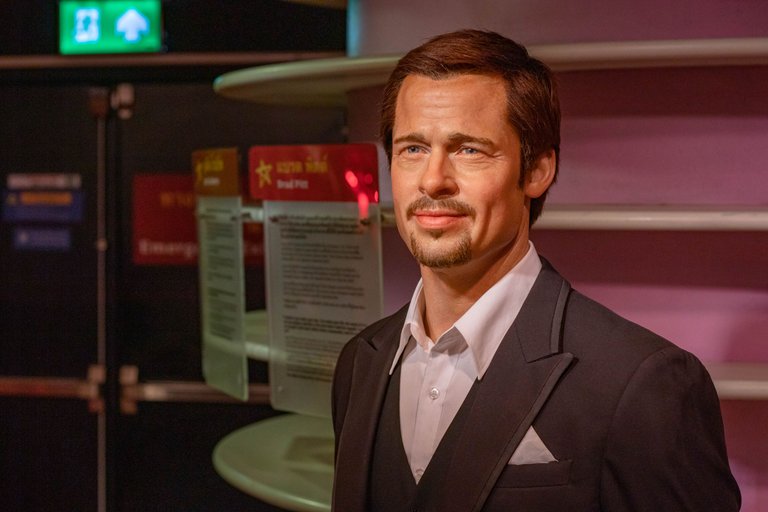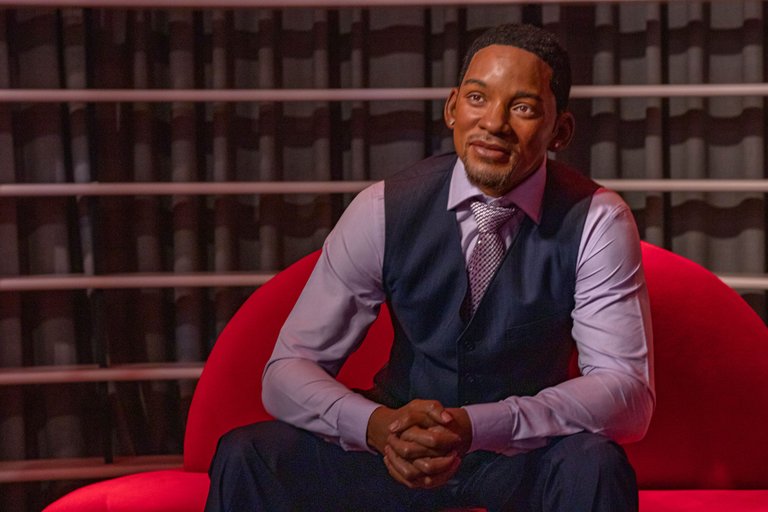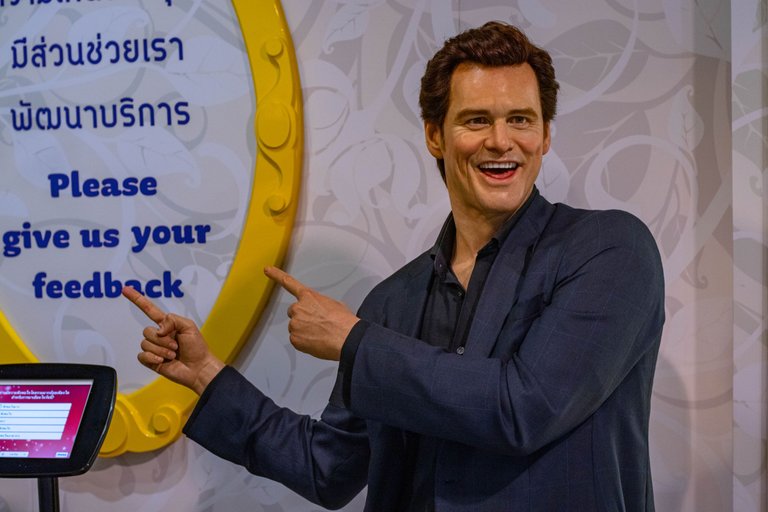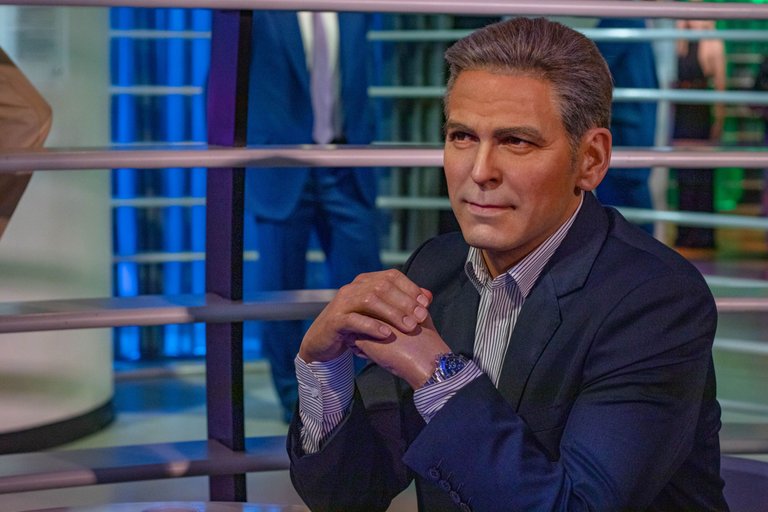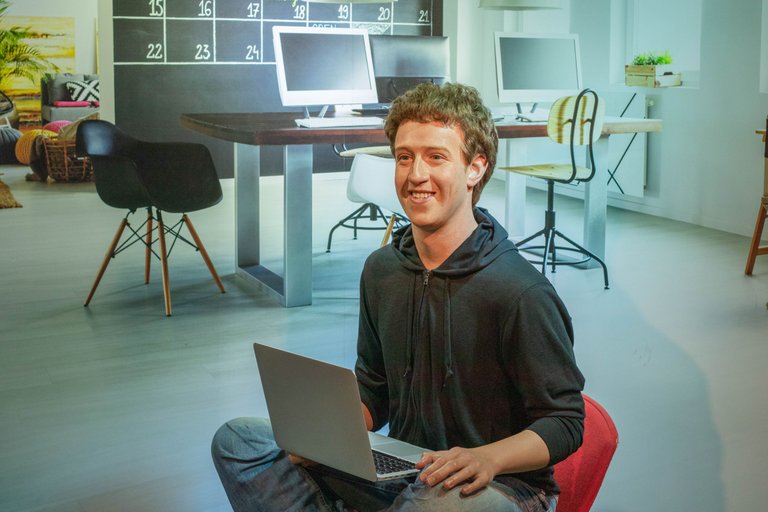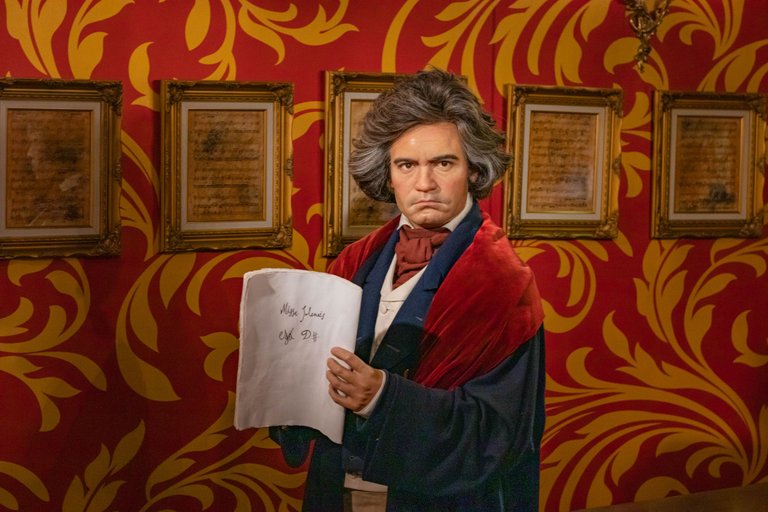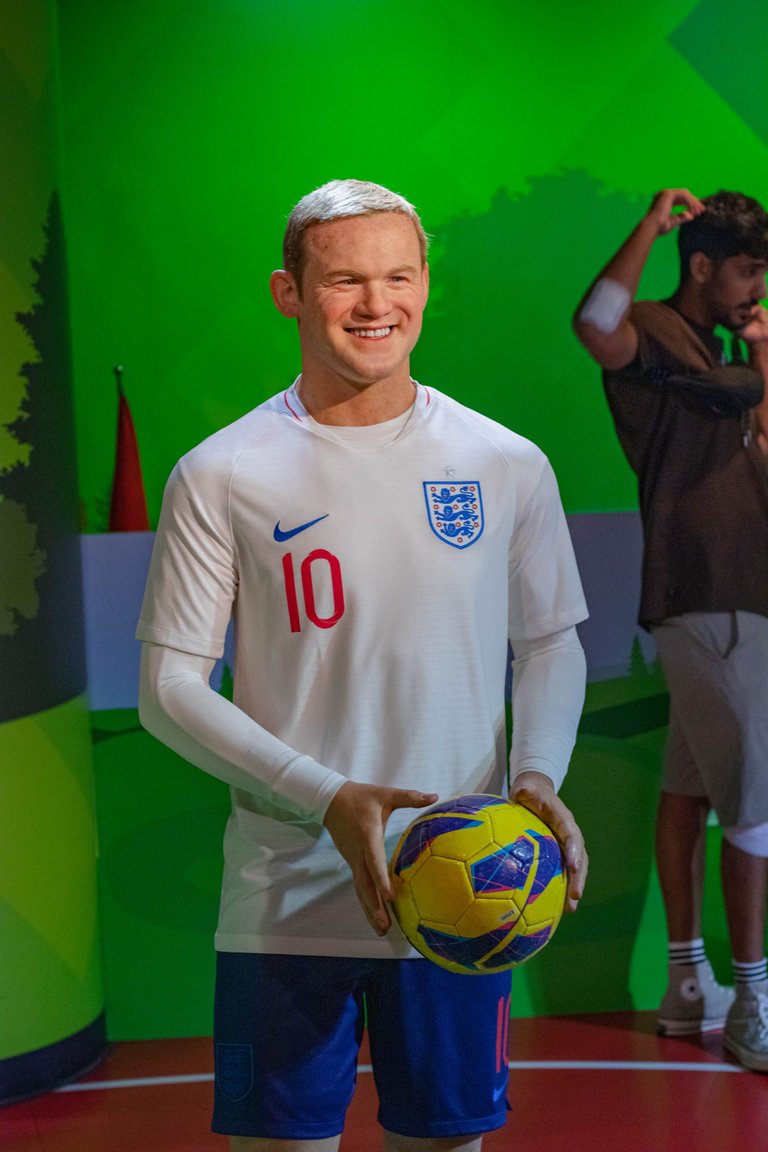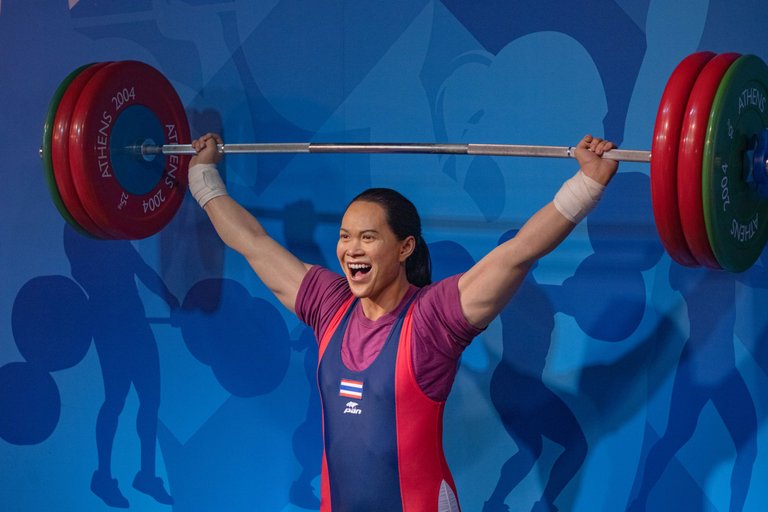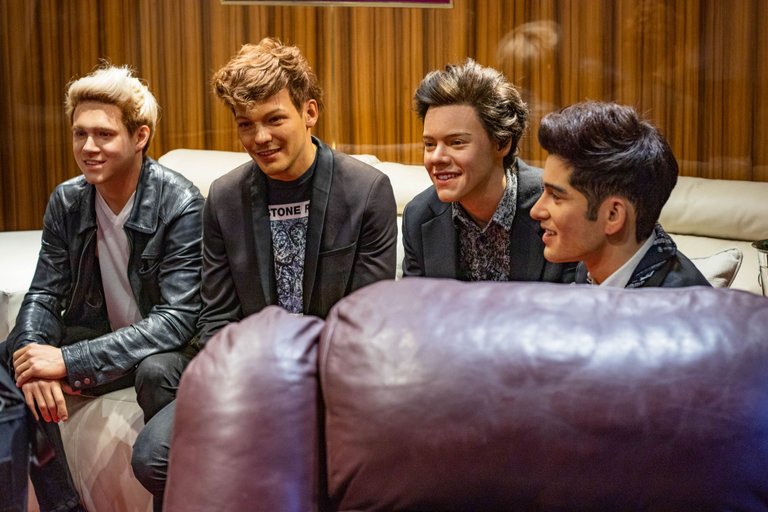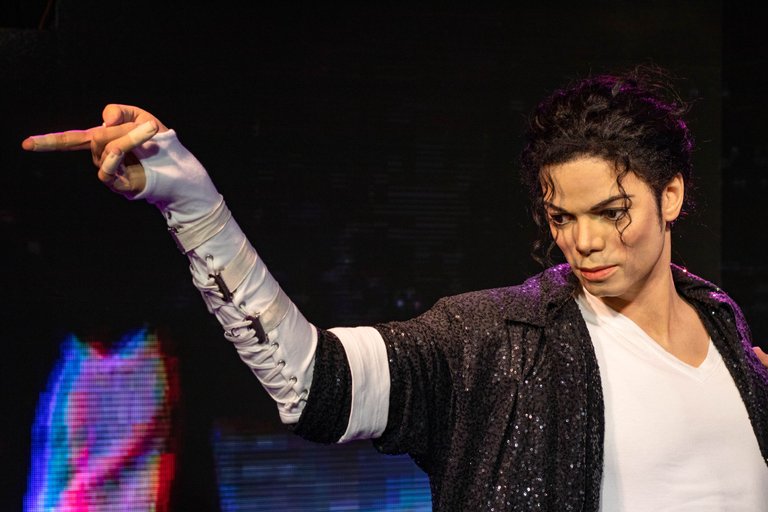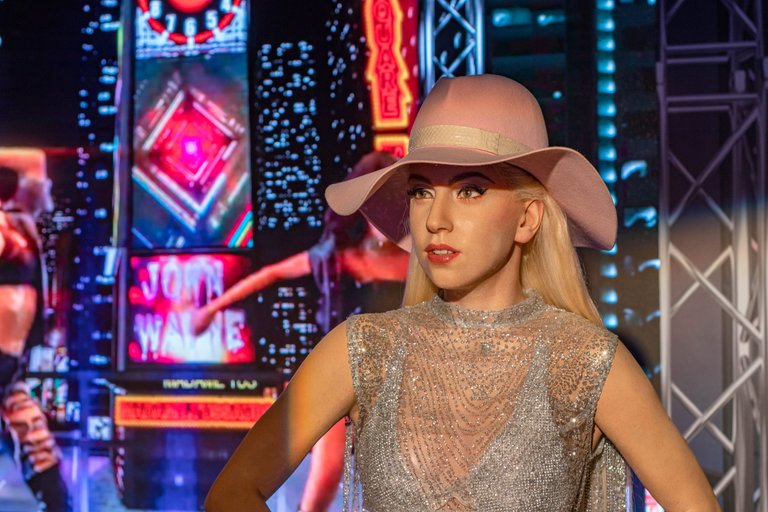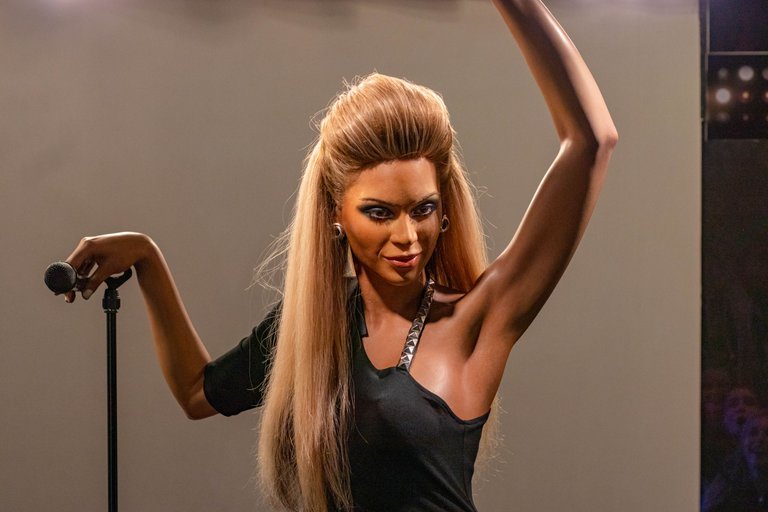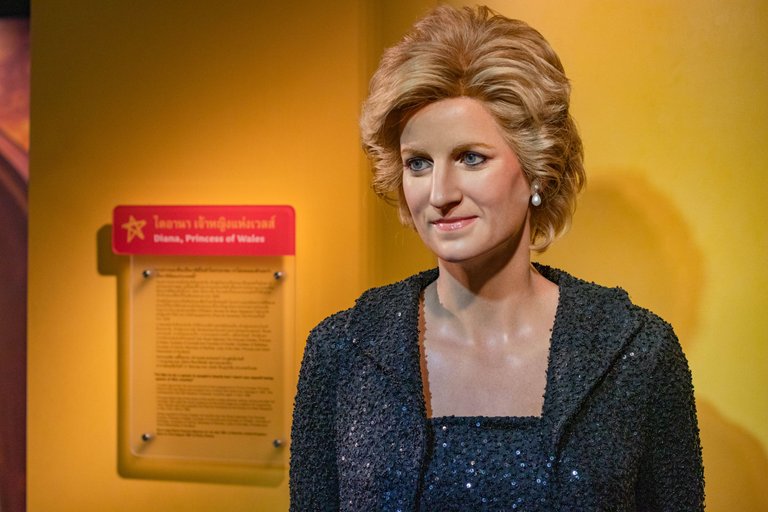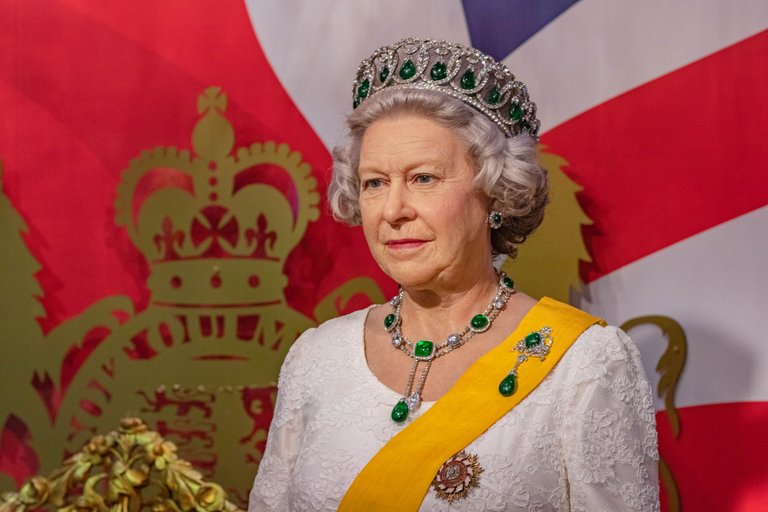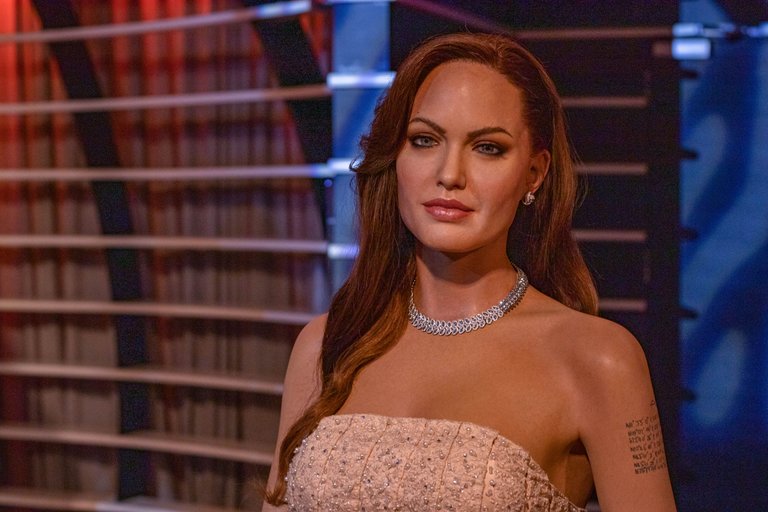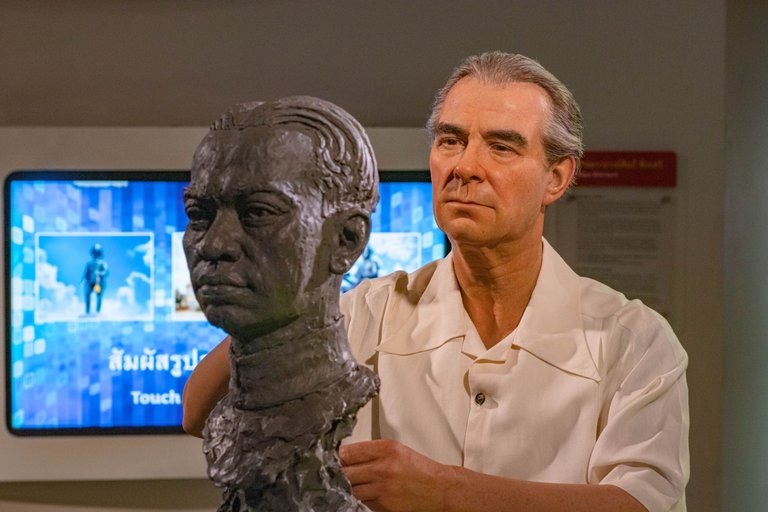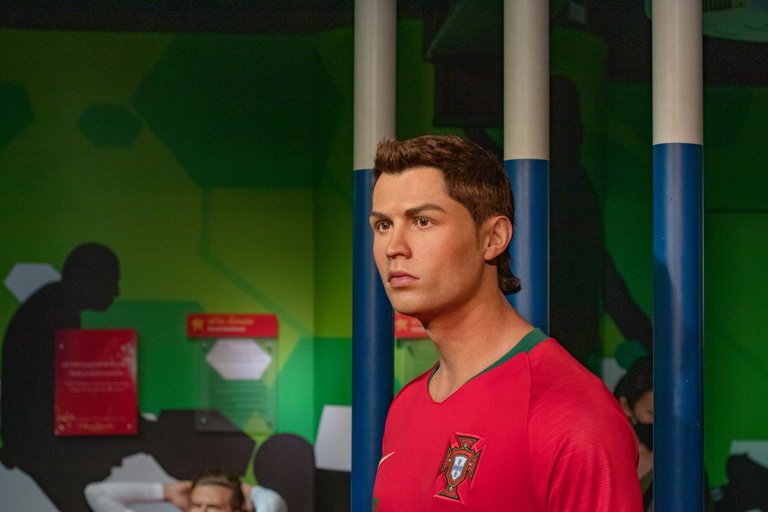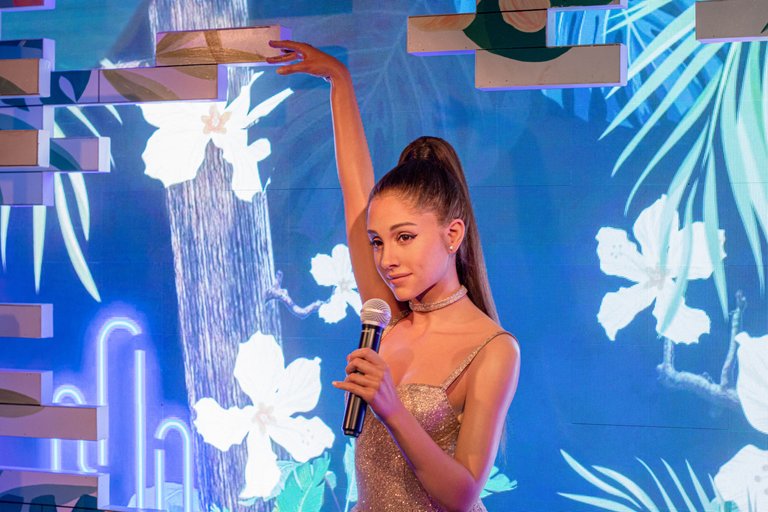 Madame Tussauds in Bangkok has about 90 life sized various personalities and here or some of them that I found worth capturing, Well there's nothing much you can do here apart from taking pictures with various wax celebrities and admiring the painstaking attention to details. Once we were done, we got out of the museum and took a breather for about 15 to 20 minutes because we were dead tired.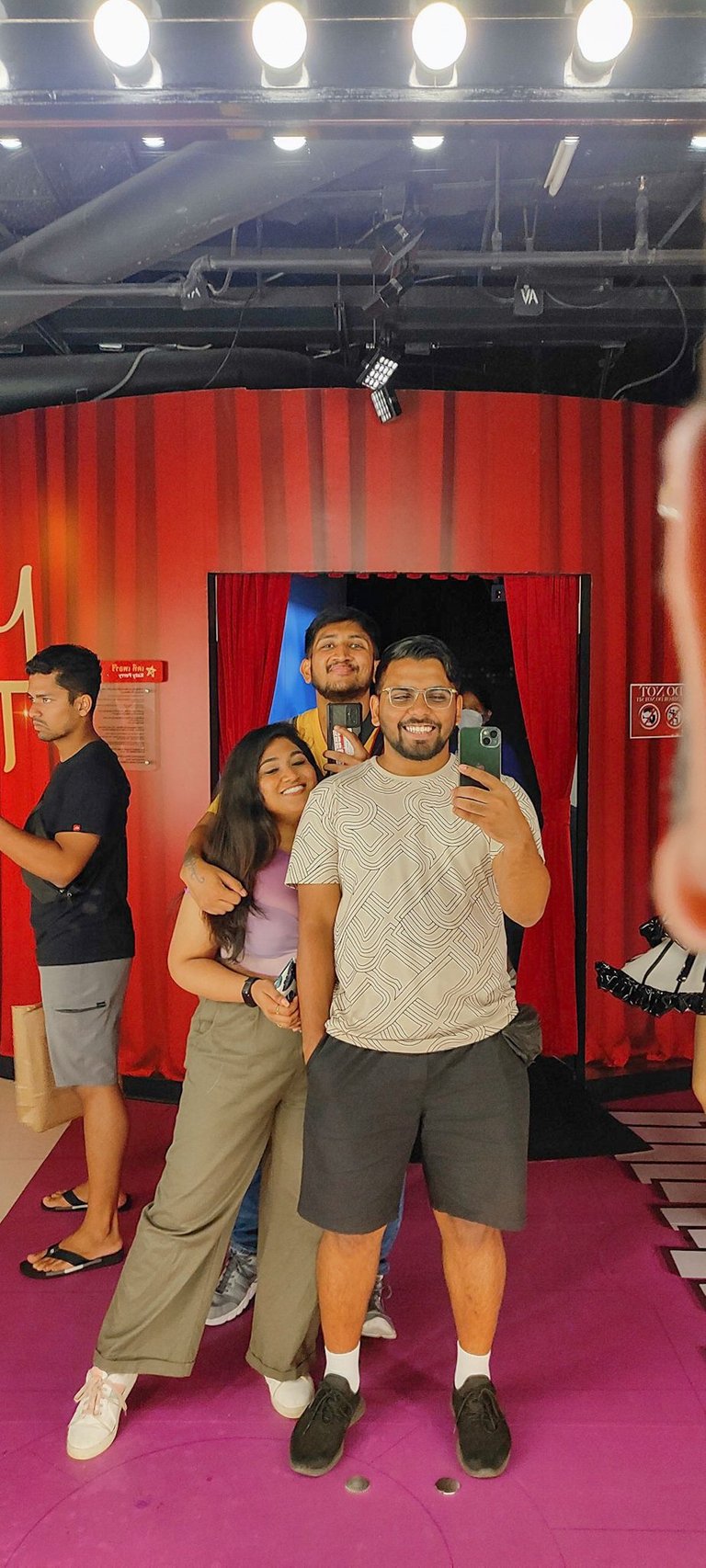 We then booked a Grab to head to Cabbages and Condom Restaurant YEAH you read that right 😂 pretty much half of the restaurant is covered in various objects made out of Condoms, from life sized Santa Clause, to their lanterns and wall hangings everything is made of Condoms.
This restaurant has a powerful concept which is to promote better understanding and acceptance of family planning and also to generate income to support various development activities of the Population and Community Development Association (PDA) of Thailand and of course SAFE SEX.
They start getting crowded post 5 PM also the indoor seating has a fine dining setup and the outdoors look pretty much like an all American cafe (We Had To Go Indoors Because It Was Pouring Heavily Outside)
@foodiechique and Adil didn't really like the food because it was on the sweeter side (P.S Most Thai Foods Are On The Sweeter Side Which Quite A Few People Wouldn't Like So Choose Wisely)
Usually in restaurants when you ask for the bill you get some mints or a mouth freshener with the bill, but in this restaurant they bring you a bowl filled with condoms 😂 We laughed our asses off, All 3 of grabbed some as souvenirs 🤣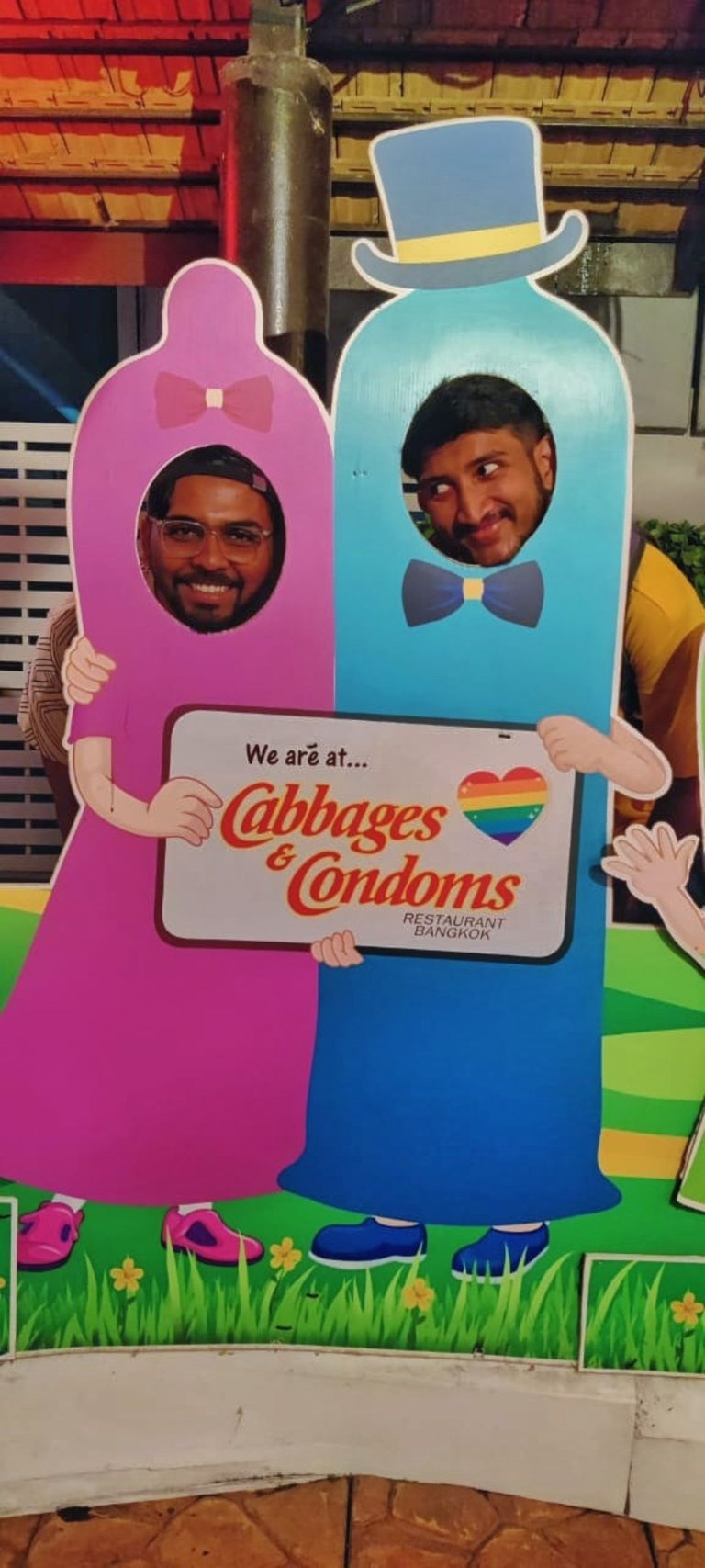 What Happens In Bangkok, Stays In Bangkok 🤣




We quickly wrapped up with this place and I later took them to There Bar & Garden which I had visited for dinner last night because I knew they'd love it. We had a couple of beers and a bottle of peach Soju, some calamari before we had a nice walk to the hostel to call it a day.
That's about it for this post, more to come in part 2 of exploring Thailand. I know this post is quite lengthy but if your ever planning a trip to Thailand this is going to be damn helpful for you.
Also I'd just like to put it out there that the folks of Thailand are just so bloody adorable and so polite. I kid you not crossing a highway or a main road in this country is so easy 😭 they just stop for you. In India you'd probably get run over 😂 also everyone follows the traffic rules here diligently. Thru maintain adequate space between other vehicles while driving and people barely overtake as well. The streets are so clean you could probably eat off them (But Don't 😂). Everyone is so kind and helpful as well. Conversation is a bit if a pain because people hardly understand them but it's still manageable.
Hope you guy's enjoyed this post, See y'all soon ❤
Questions About Photography Are Welcome!
Upvote, Comment, Repost And Follow If You Like My Work!
Have A Great Day!


---
---