Exploring Thailand Part 3

Wooohooo You've Made It To Part 3 Of This Post 🥳

This post here is going to cover Day's 5 & 6 of my Itinerary, which would be 2 bloody glorious day's in the
Mountainous Northern City of Thailand 🇹🇭 called Chiang Mai.




Day 4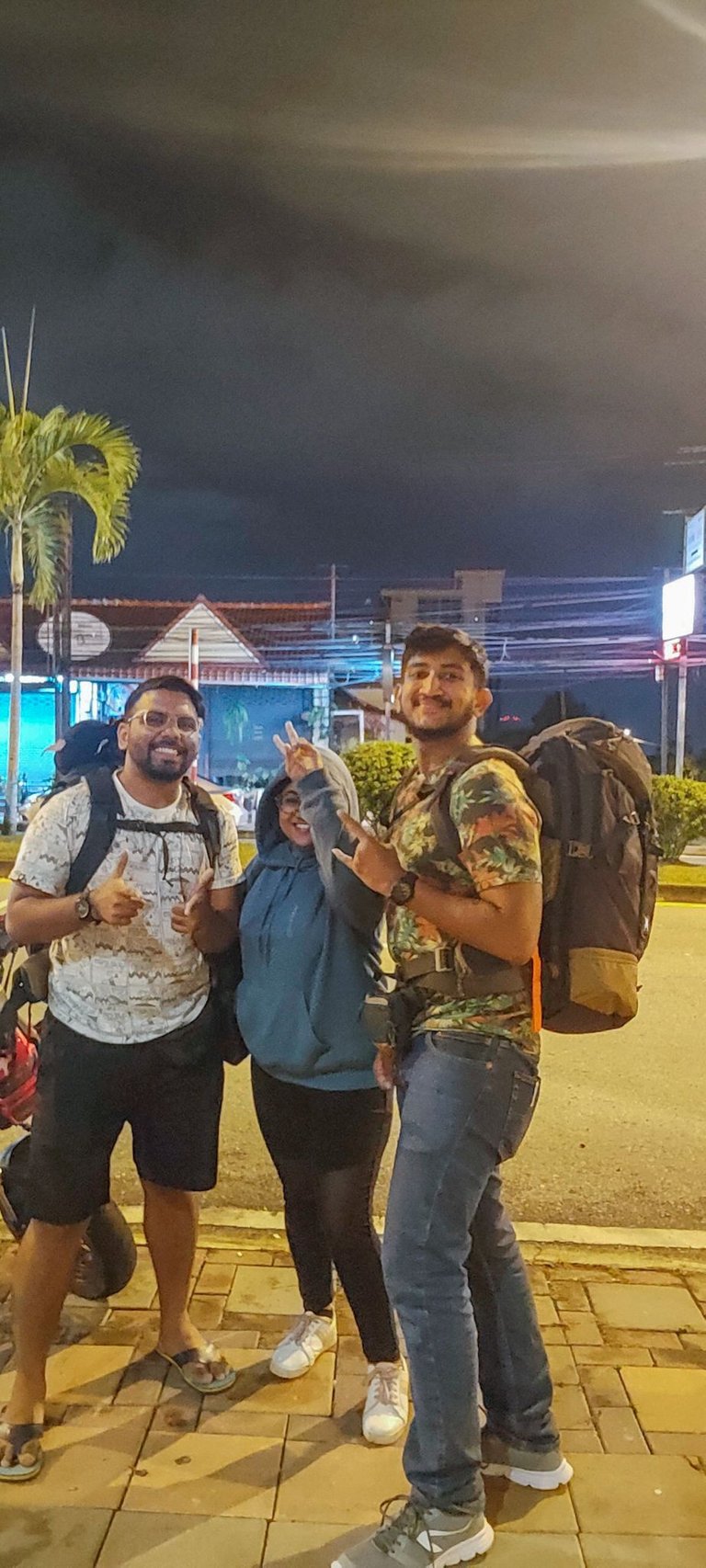 Ah so we had a super early start to the day, had to wake up at 2 AM to get a Grab taxi to travel from Pattaya To Bangkok's Don Mueang International Airport which cost us about 2100 THB (55.56 $) to catch our 6:50 AM flight to Chiang Mai, By car it would take about 2 hours & 15 minutes to reach Bangkok from Pattaya.
Both Adil & @foodiechique went back to sleep in the cab and I was wide awke enjoying the quite nights ride and I've noticed a couple of really neat things during this ride.
The first ting what I've noticed is that the highways are almost empty and people drive way over 130 KMPH 😂 I started to panic when she started going above 150 🥲
The next thing what I've noticed is accidents 😂 well if you're driving at those speeds your bound to crash into something or someone 🥲 I noticed 2 major accident one after the other and damn that was terrifying, the vehicle pretty much looked like it was crushed by the Incredible Hulk 🙂 definitely wasn't something pleasant to see.
We reached the airport at about 4:30 AM and we proceeded through to get our luggages checked in. During our baggage check we ran into a really annoying issue. So this was something we didn't know as well, apparently you cannot take more than 100ml of any liquid in your cabin luggage 🙂 the took my perfume bottle and @foodiechique body mist and asked us to dispose it. I lost my shit because I very well wasn't going to dump a 65 $ perfume 😤 after 15 minutes of argument with the officials Adil figured out to send his spare bag as a checked luggage in which we could put our perfumes. We had to go all the back to the main counter and send this back in and once again pass through security.
Well that finally got done 😂 and we went and sat right next to our boarding gate. I was famished so I went to a nearby shop at the airport and picked up a cold sandwich and a drink.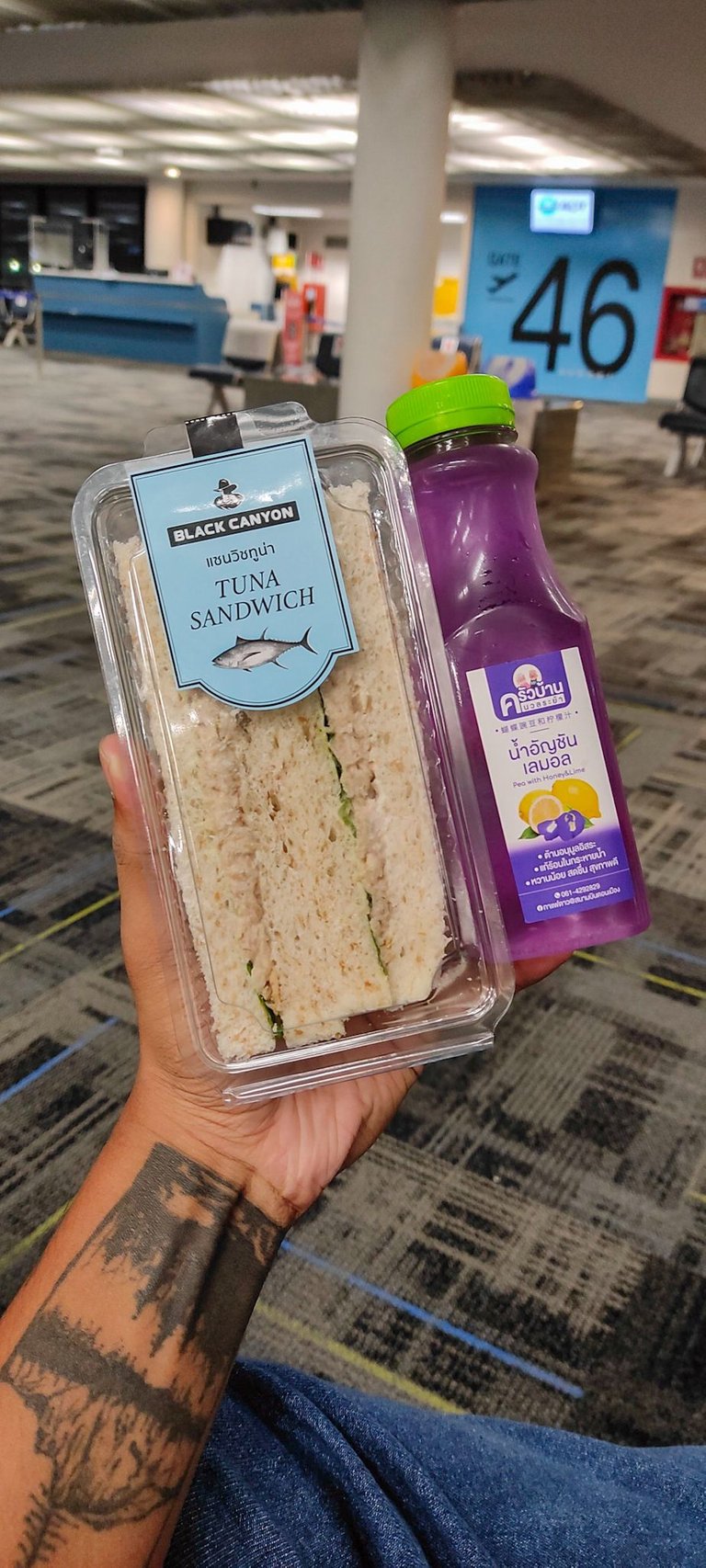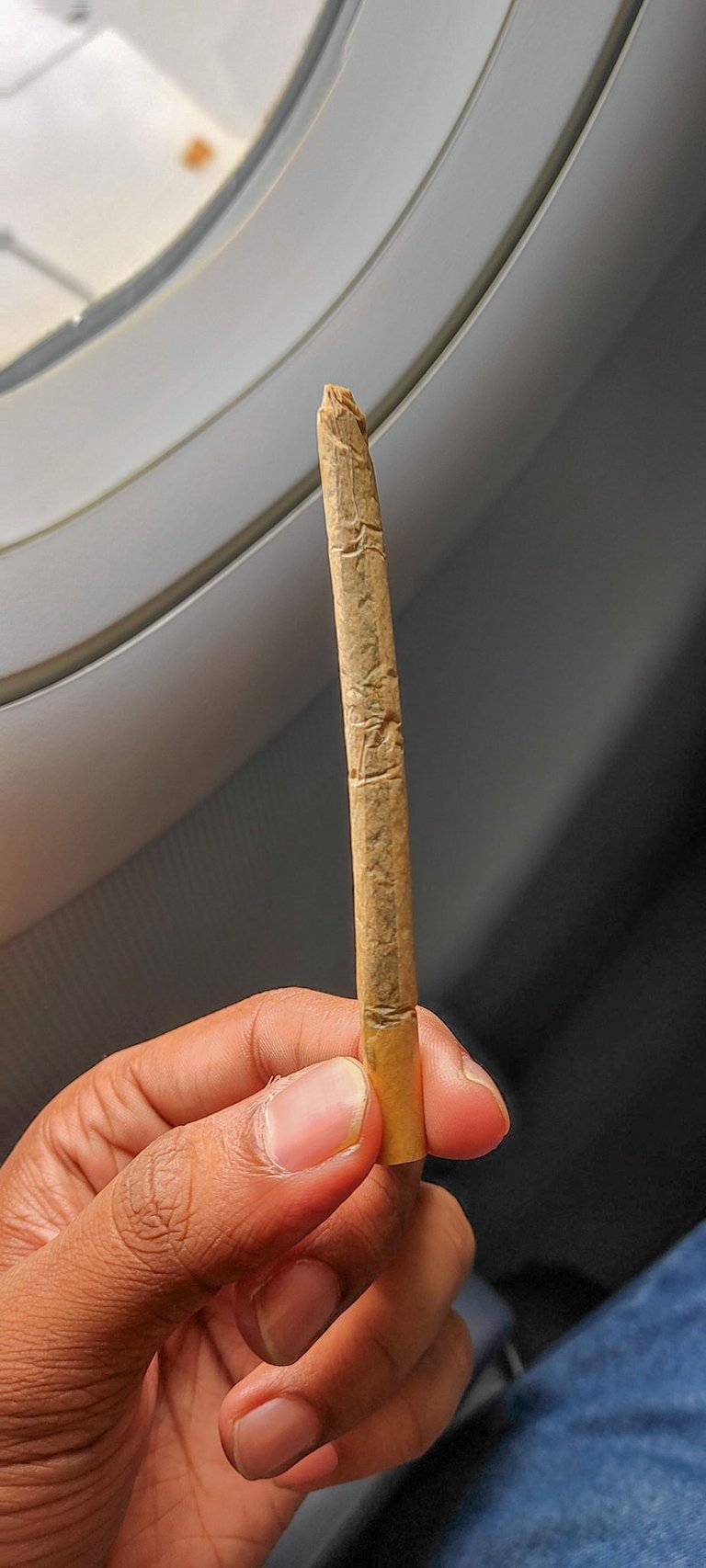 And guess what 😂 YOU CAN CARRY CANNABIS WITH YOU IN THE FLIGHTS ❤
Gotta Love Thailand Manh 😂
1 hour 20 minutes later we arrived at Chiang Mai. This serene city totally has my heart, the weather here was just perfect and it's just so peaceful in this place and you feel like being outdoors quite often and oh what a scenic city this is ❤
We took a Grab taxi from the airport (Don't Forget To Used The 30% Airport Discount On The Grab App While Traveling To/From The Airport) to our first Destination in town which is Breakfast At Baan Bakery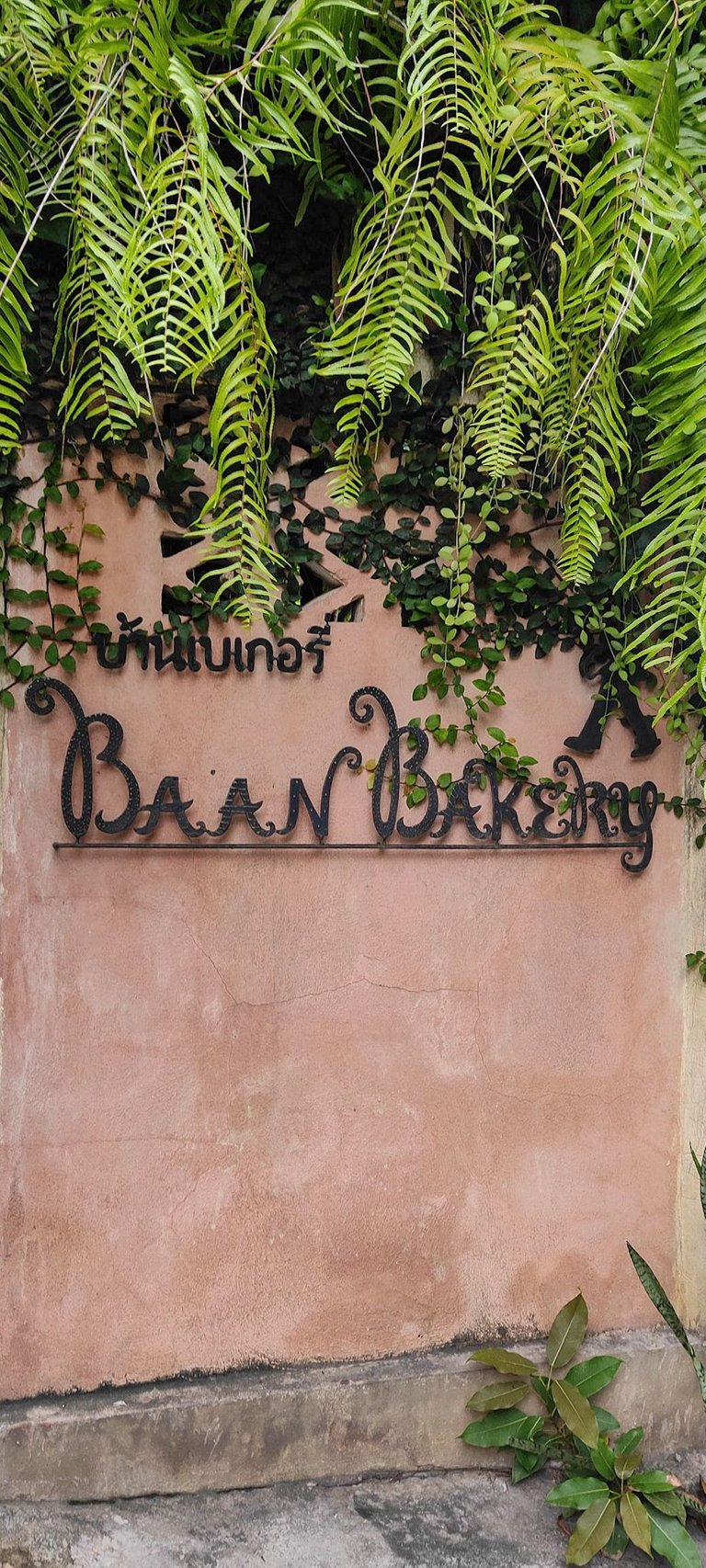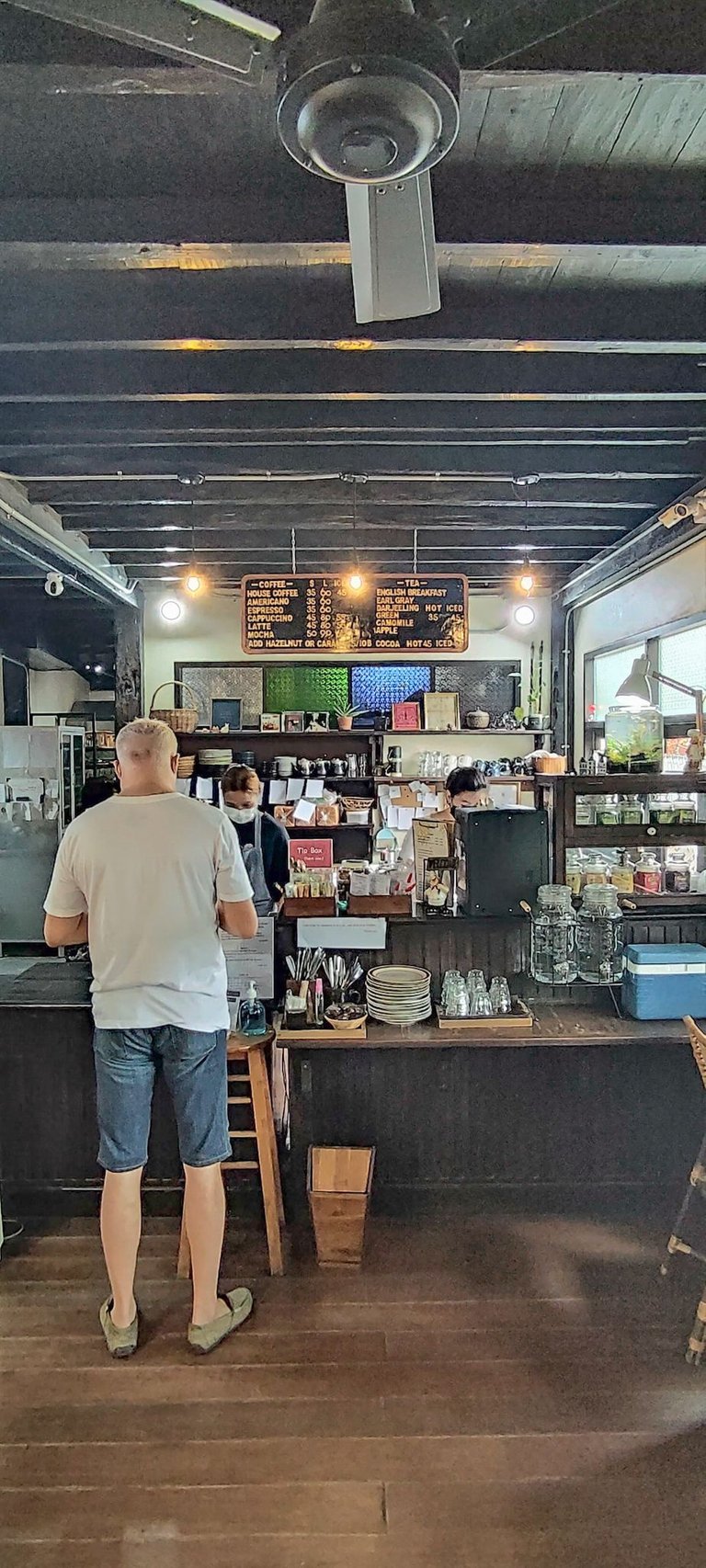 This is a quaint and cosy little cafe that serves some really delicious baked goods, sandwiches and some excellent coffee as well. We were here for about an hour enjoying our lovely breakfast.
Since our hostel was nearby we decided have a nice walk from the breakfast place, and a pretty nice walk it was in deed. For the next two nights we would be staying at Stamps Backpacker Hostel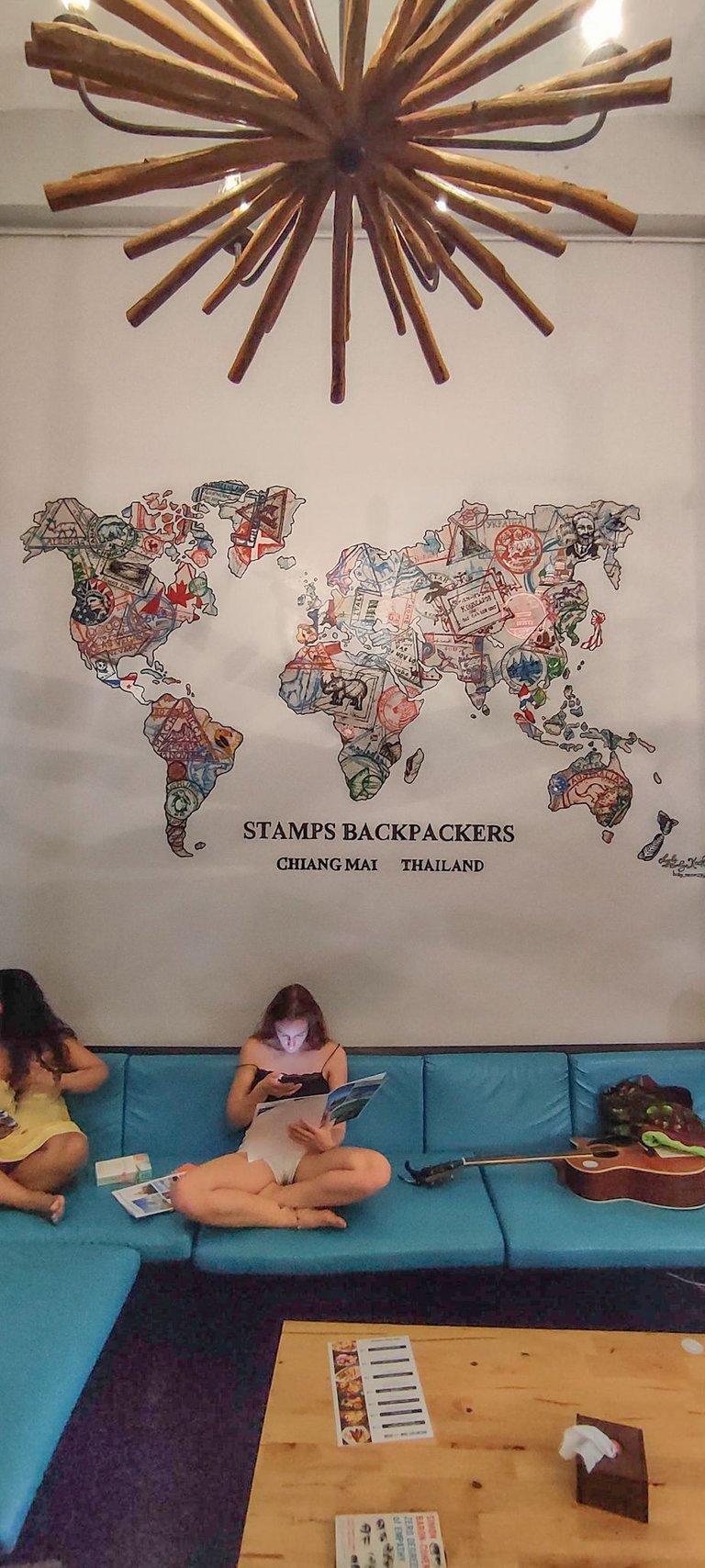 Now this hostel is a definite must try if you are a backpacker and if you are in Chiang Mai, this place is definitely the best hostel that we went to in Thailand, the vibe here, the people and the bar just makes this place amazing.
So our check in was at 1:30 PM and be were there by three much 11 AM, this hostel is very interactive with it's guest's as well and the host a white variety of activities for the guests which includes certain tours around the area.
They also have a dedicated area in the hostel lobby where you can find a lot of tour operator brochures and these brochure cover a wide variety of activities around Chiang Mai which includes various elephant camps, National Park visit and things like that and you can contact the front desk to make a booking for these activities.
As we were deciding where to head out for lunch, the Bartender of the hostel struck a conversation with us and oh my god was he hilarious I'm pretty sure half the people stay there because of him 😂 and he was really helpful as well, he told us to go visit Khao Soi Khun Yai for the best Khao Soi in the city and that's exactly what we did although @foodiechique couldn't join us as her foot was hurting quit terribly at that moment.
Since this place was nearby me and Adil decided to walk to the location which was about 15 minutes away from the hostel by foot. As we were walking towards our destination, I realised that this city has a lot of beautiful Cafe's and quite a lot of hostels as well but what I did also notice was that almost all of them were empty and when you compare the rest of the place with the hostel we were staying in, I mean like wow I definitely picked the right place to stay in 😂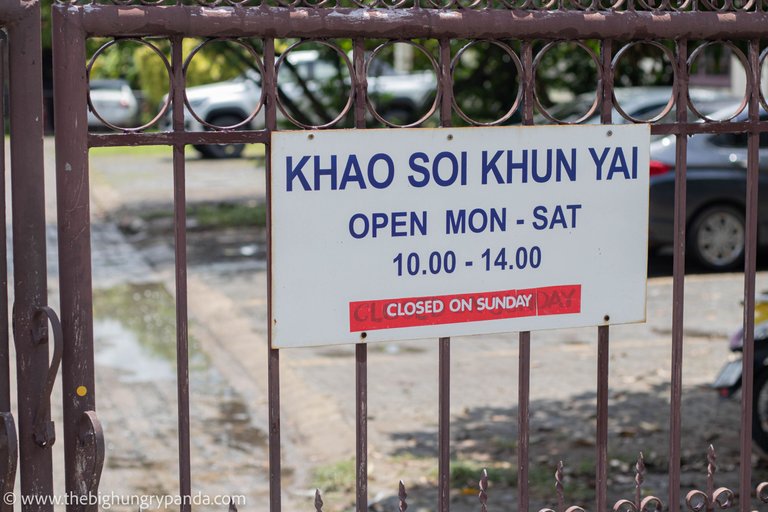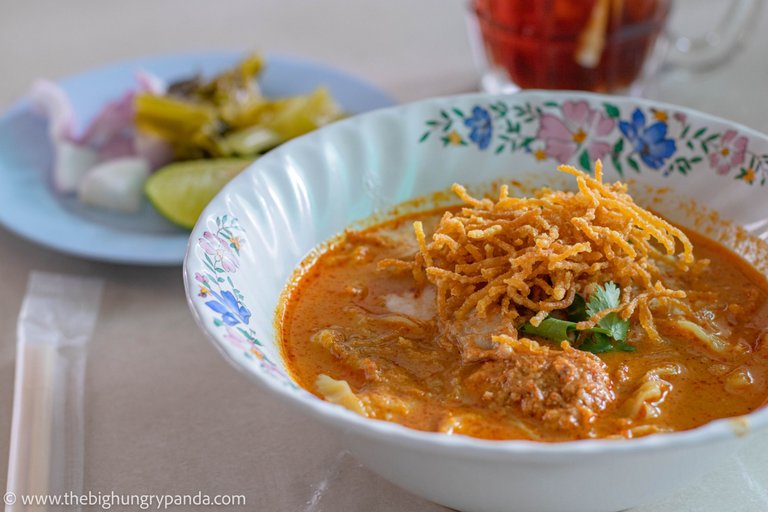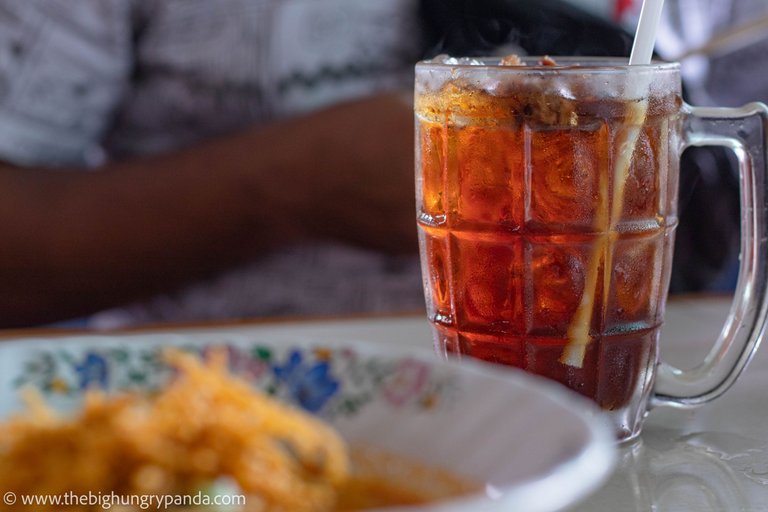 As we reached the place it was quite crowded, but eventually we did manage to find a seat, Ordered 2 bowls of Pork Khao Soi which only costed us 50 THB (1.33 $) each and a glass of Longan Juice which was for 20 THB (0.53 $). The Khao Soi was truly remarkable, Trust me just have your lunch here, It's cheap and filling and also delicious. Oh and this place is only open till 2 PM (We Got There Right In The Nick Of Time 😂). We got back a takeout for Fiona and went back walking to the hostel.

You have a lot of graffiti covered walls as well around the area
which look quite interesting.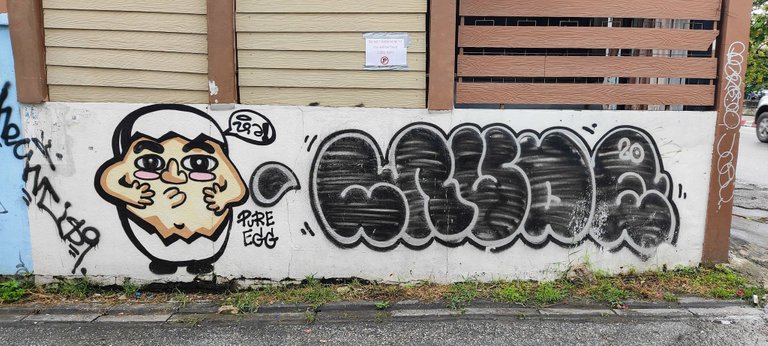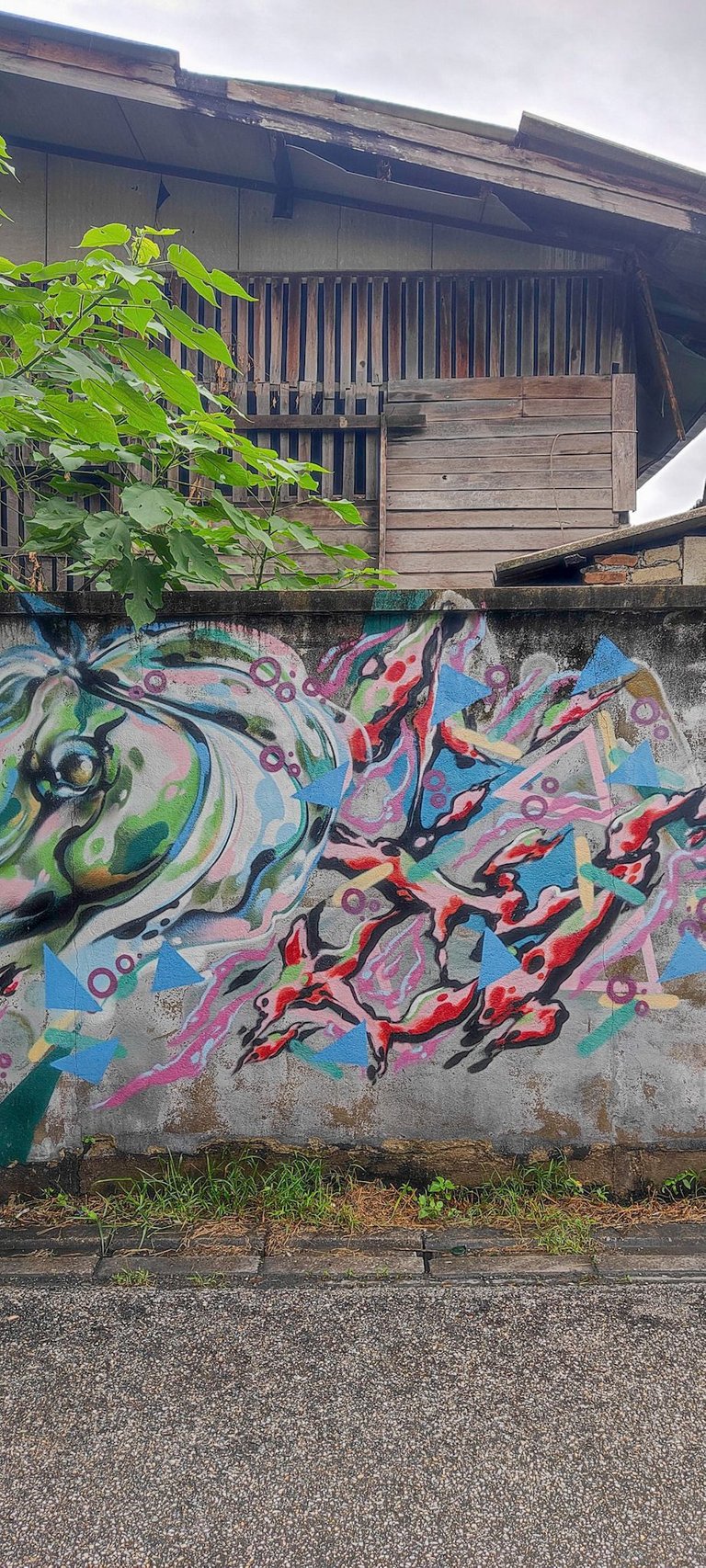 As soon as we got back, we got our keycards to check into the dorms and the two of them quickly freshened up as I was unpacking my bags and going through the itinerary. Our next stop was Wat Phra That Doi Kham also known as Temple of the Golden Mountain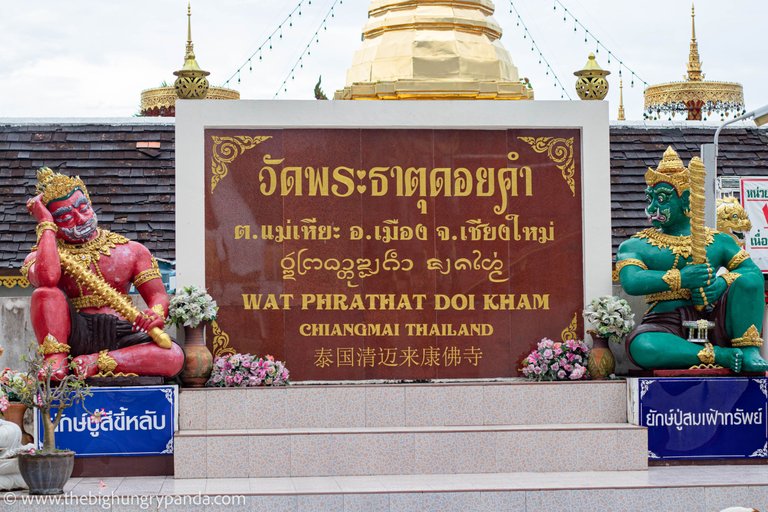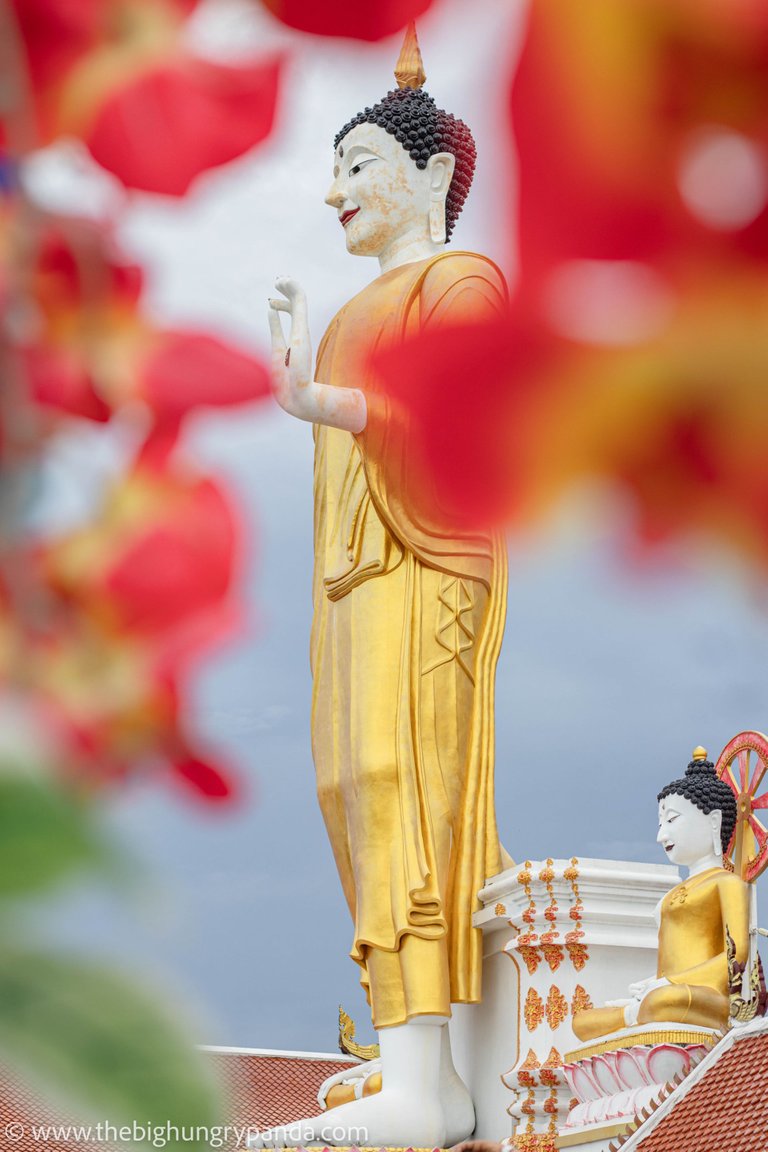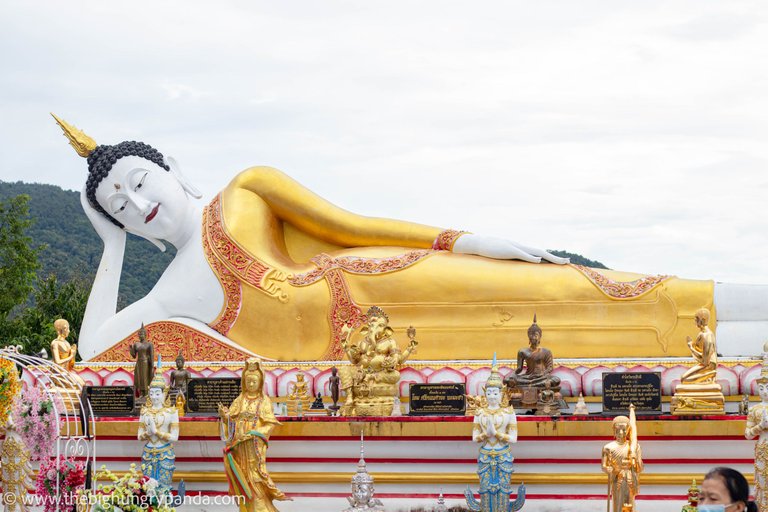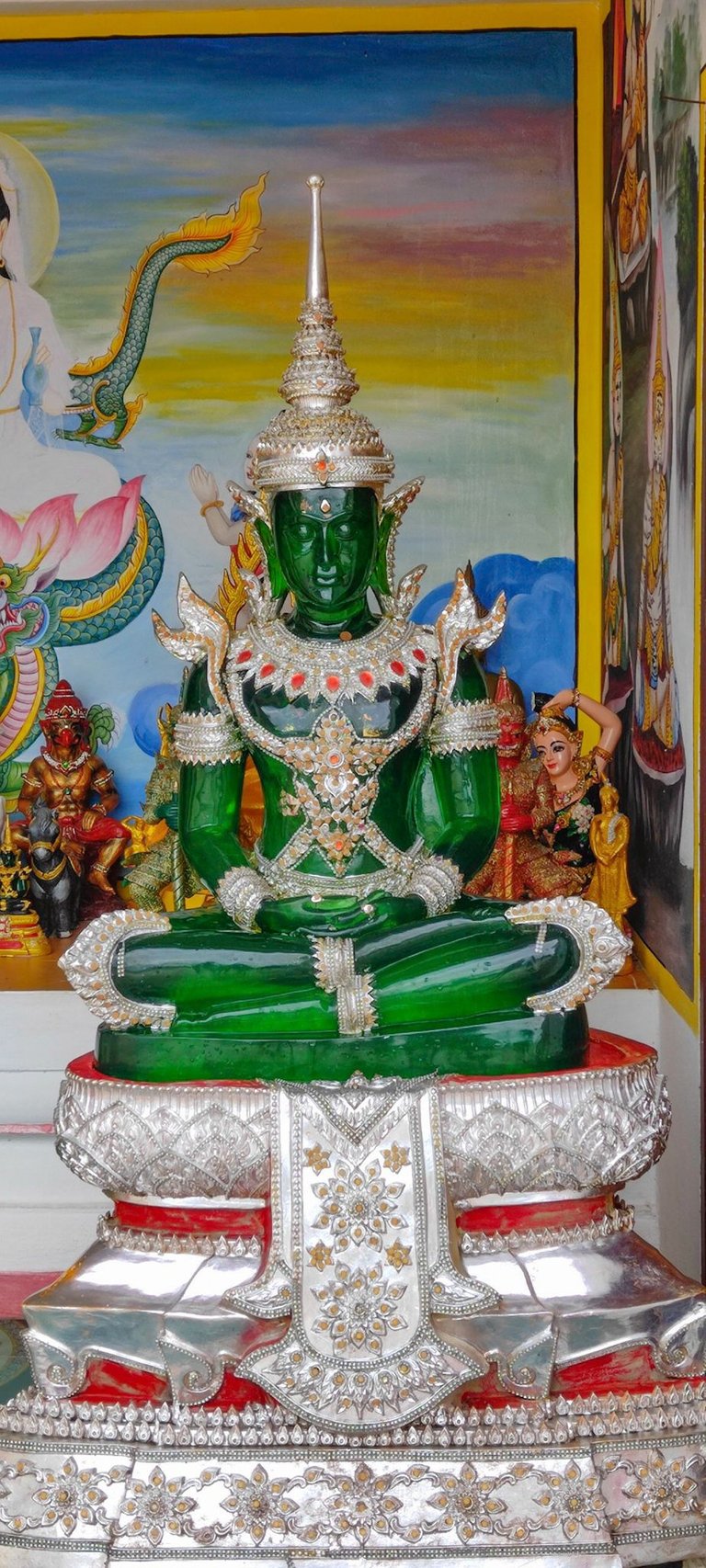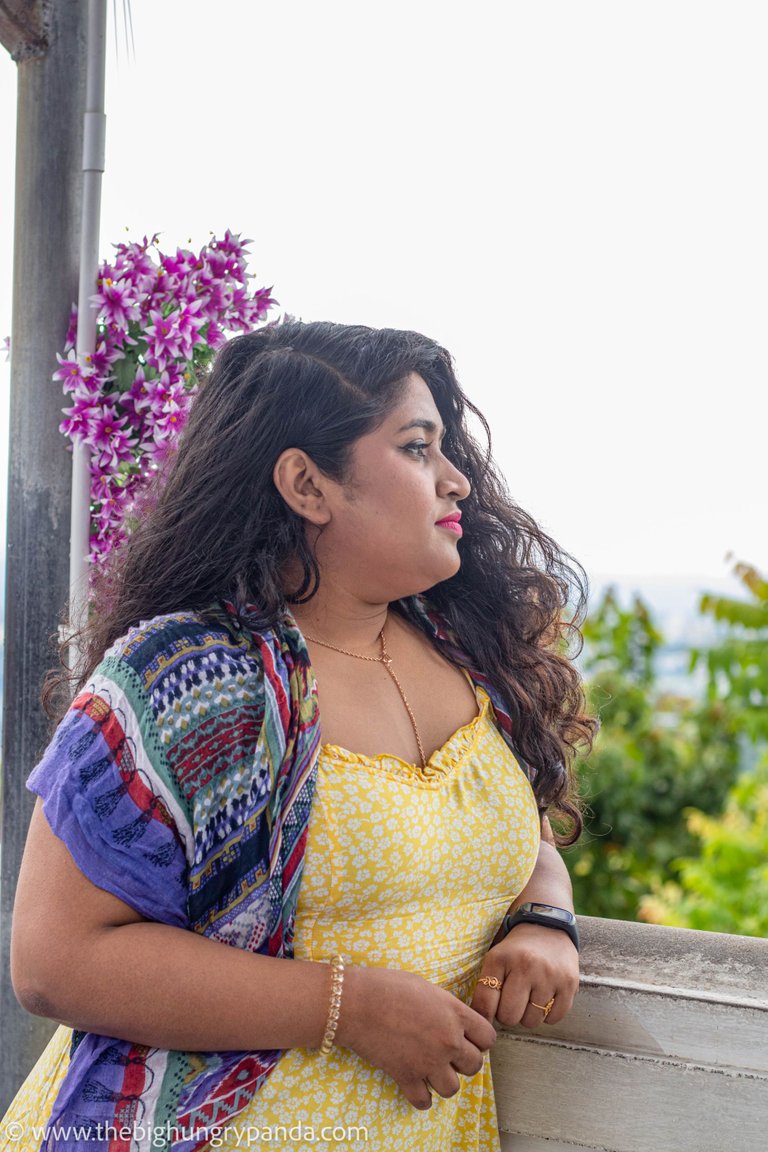 Now this lovely temple is situated atop a mountain that surround some really picturesque landscapes which also holds a beautiful 17 Meter tall Buddha Statue. Also this isn't a much visited place which makes it an ideal place to go to because you have very less people here, they don't charge for admission as well. The other side of the temple is just amazing, the view from there is remarkable, a really nice location to capture some good landscapes.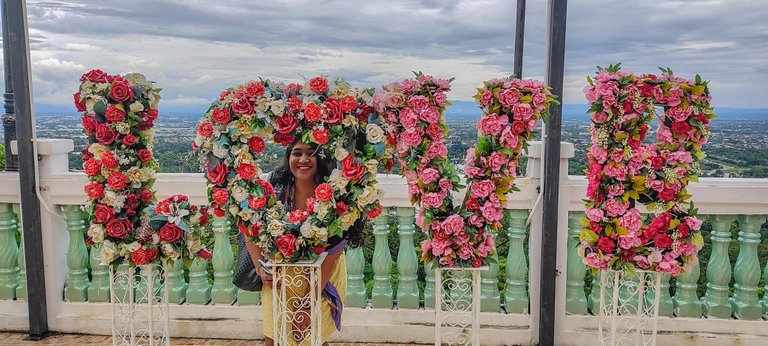 We were here for about an hour or so and then we got a Grab taxi back to the hostel and the reason why we left so soon was because the hostel was hosting a speed meeting event Not Speed Dating 😂 but speed meeting where you sit with a random bunch of people from the hostel and you are given one minute each person to talk and get to know each other.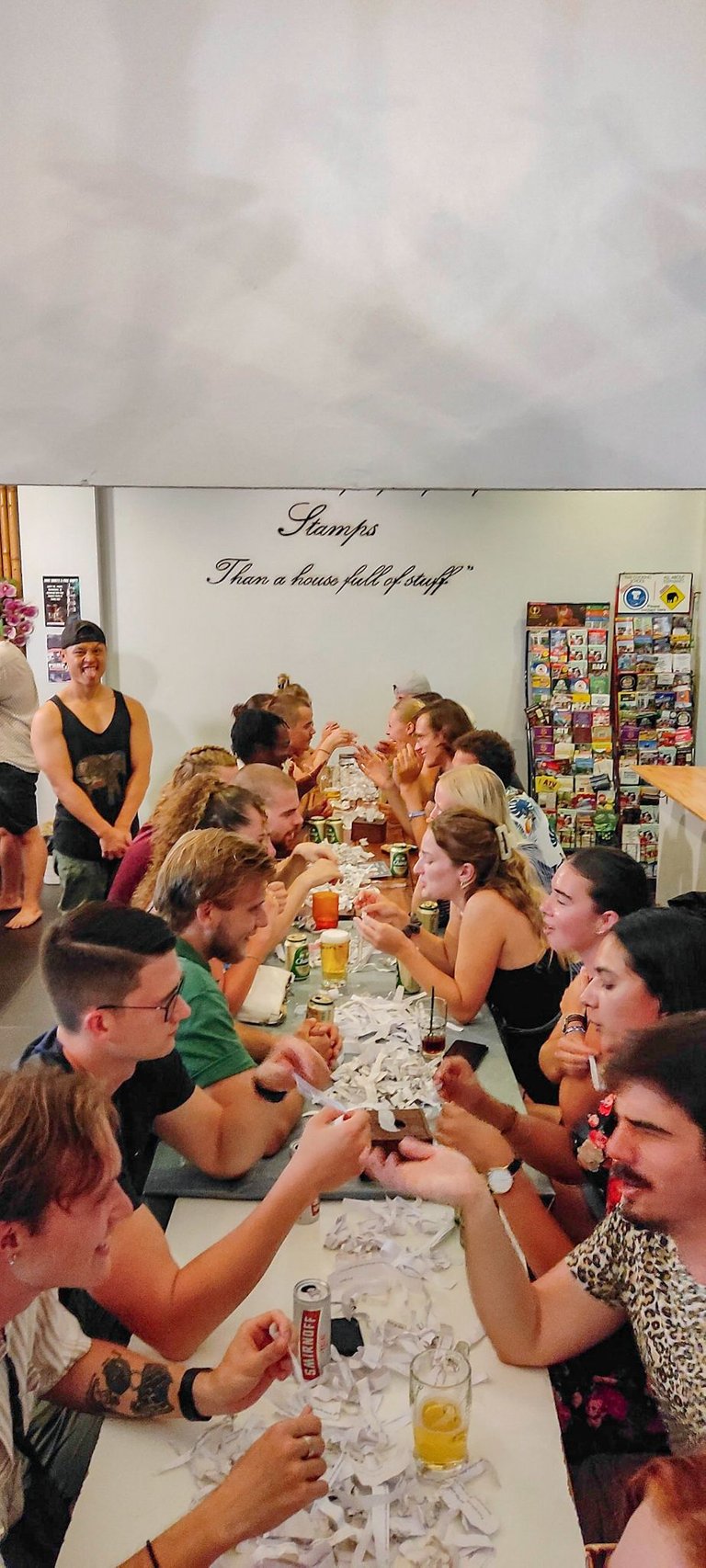 The Guy With His Tongue Sticking Out, Yeah He Be The Fun Bartender
I Was Talking About 😂


My introverted ass called it quits after meeting 4 people out of 26 🤣 I got @foodiechique to go and complete the rest of the round and madam happily got through all of them.
They also organized a Neon Party at a small club near by called Blacklight CNX which was at a walkable distance. The hostel had reserved the entire club 🥺 it was so much fun. We had a blast playing beer pong without the beer 🤣 me and Adil were a team taking out the rest of the competition and we did pretty well, Adil turned out to be a bloody prodigy at beer-less pong 😂
@foodiechique even got both of our faces painted in neon paints, they looked pretty cool ✨ ahh the night was going pretty damn good so far, also this lane that we were in is I suppose the only place where you can party in Chiang Mai and it get's pretty crowded.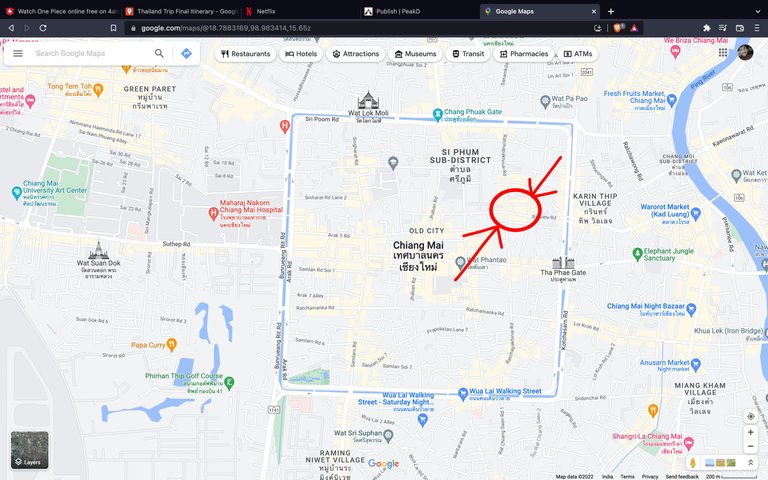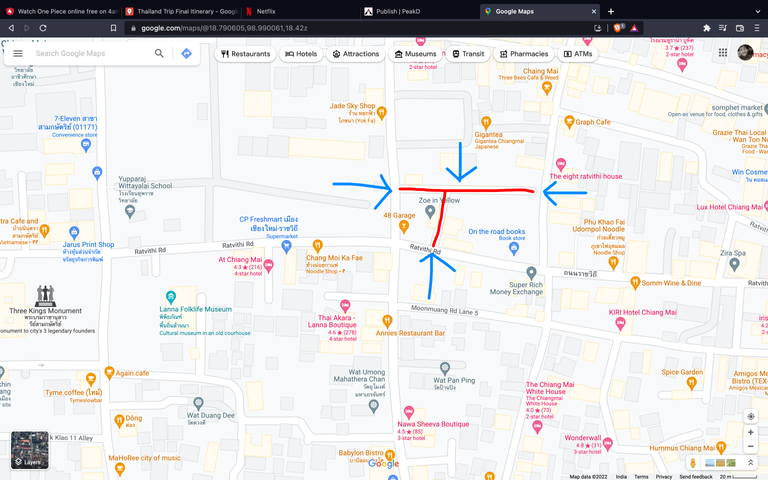 We were there for about 2 hours and then we decided to call it a night and head back to the hostel, on a way back we visited 7/11 to pick up some tuna sandwiches and grilled Ham sandwiches for a budget friendly dinner which is pretty much what we did for most of the time during the trip 😂
Day 6
Ah what a lovely day indeed it was, it was slightly chilly as there was a light drizzle as well, it was about 5 AM I freshened up and went down stairs for a beer and a quick smoke because the weather was just ughhh 🥺 I woke them up a bit later so that I could plan out the day a bit better but I kinda goofed up by not checking the Weather report 🥲

Our first stop for the day was Breakfast At Cafe De Thaan Aoan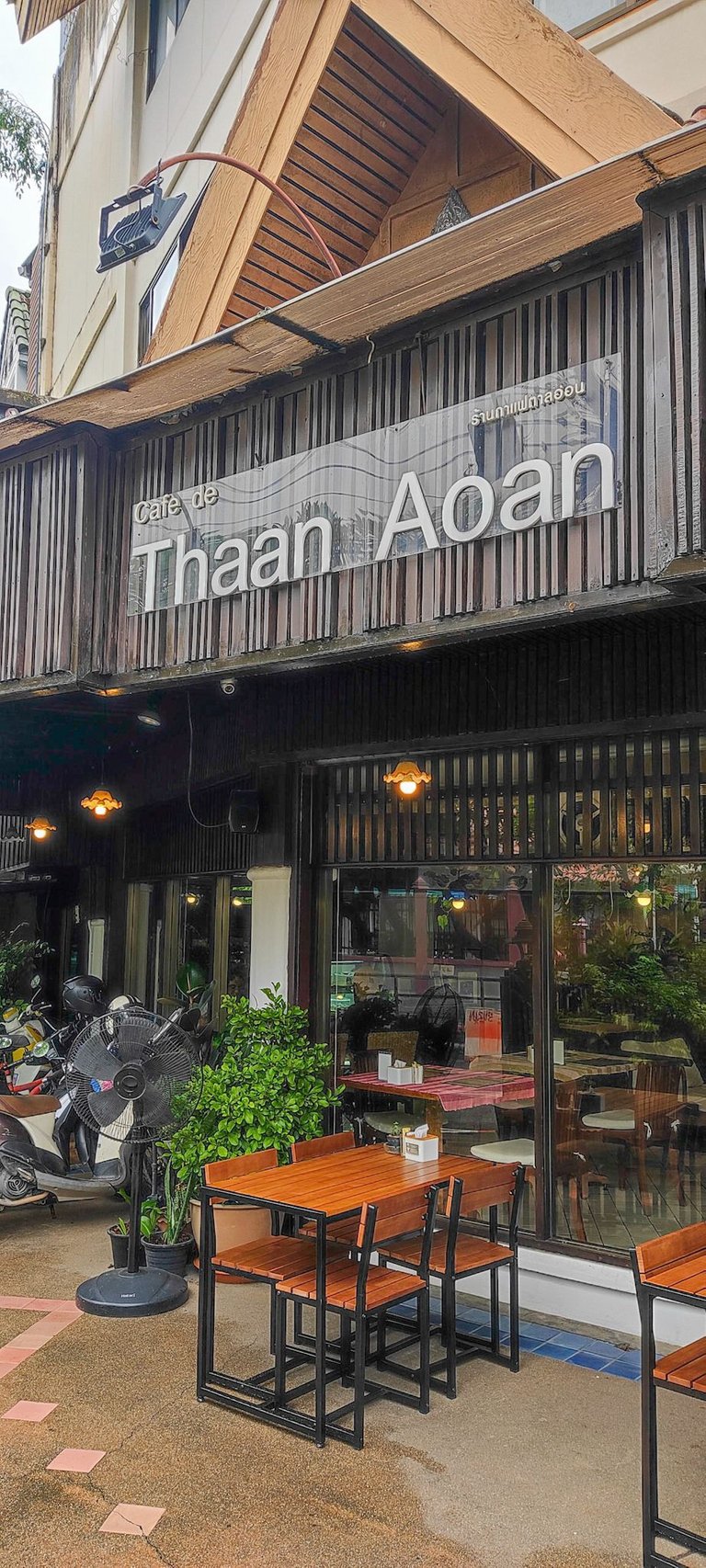 Now this place had proper breakfast 😂 finally we get to have proper food in the morning, It was good for a change.
So once we got done with breakfast we called for a grab taxi to head out to the next location which was Phutawan Cafe we weren't going here for food, this place is the starting point for something called as Bamboo Rafting, where about 3 to 4 people would be taken on a bamboo raft made using 5-6 bamboos tied together through the Wang River.
As the cab arrived our driver mentioned to us that the location was a bit far and that he had to come back from that place without any other fare, he further said that he would get us back and drop us off at the hostel for an additional charge, which meant that once he would drop us of at the bamboo rafting zone he would wait there until we finished our program and then drop us back at our hostel and what he quoted us was 1200 THB (31.68 $) which was a good deal because Grab quoted 950 THB (25.08 $) for a one way ride.
We were all excited and we were on our way and then suddenly that light drizzle started to pour like cats and dogs, and then Adil was like oh yeah the weather report said that it would be stormy for the next 2 days 🥲🤦🏼‍♂️ and well stormy weather calls for strong currents, by the time we reached Phutawan Cafe they informed us that white water rafting and bamboo rafting would be closed until the storm has passed 😭 I was really disappointed and this was a really fun activity that I hand picked for the itinerary.
The cafe staff told us that we could walk across the river through a narrow bridge right next to the cafe and head to the other side to see some elephants nearby and since we were already there and had nothing at all to do we decided to go for it.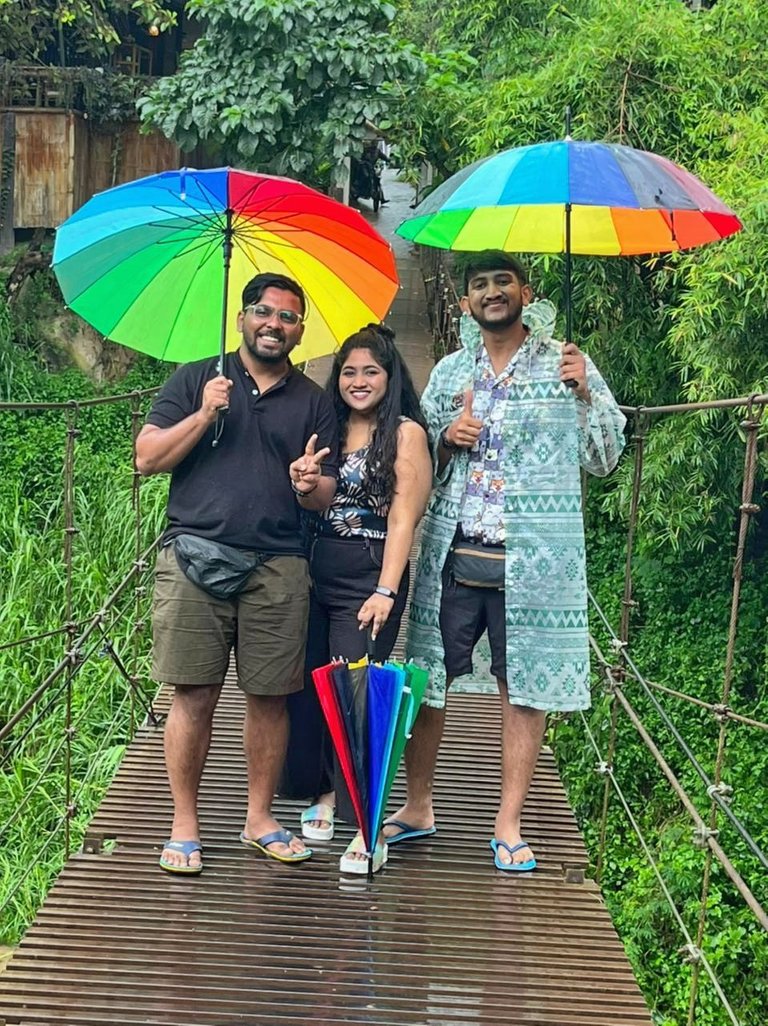 One thing we didn't know about this narrow ass bridge is that even 2 Wheelers are allowed on it 😂 half way through we had a bikes coming in from both sides 🥲 somehow we managed to get through the other side of the wobbling bridge 😂
Across the bridge they have a small area where you have about a single family of elephants and it was just wonderful being around them, so you had one elephant which was the grandmother and then you had her daughter and the daughter's hubby and their two kids 😂 it was a really cute family and they were playing around with the visitors there. We were there for about 45 minutes and then we decided to head back to the hostel as we didn't have anything else to do due to the storm.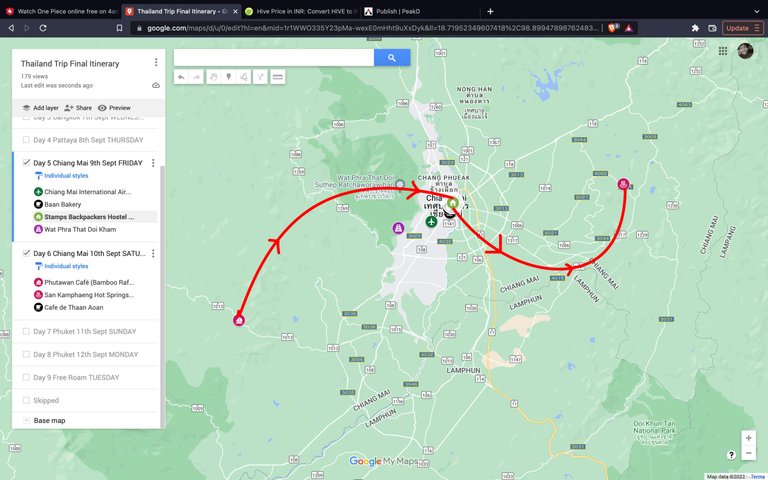 On our way back to the hostel @foodiechique suggested that why don't we head down to the hot springs if it is possible (I Had The Hot Springs Removed From The Itinerary As It Was A Bit Far Away And It Would Take Quite Some Time To Go And Come Back) the driver was listening to our conversation and interrupted us and told us that he could take us to the Hot Spring and wait for an hour or two at that get us back to the hostel but now he would up the charges to 1600 THB (42.24 $) (As You Can See In The Map Above That Was Quite The Journey That We Had)
Well we obviously decided that for this rate skipping out on the hot springs would really suck so we decided to go ahead with it and an hour later we arrived at San Kamphaeng Hot Springs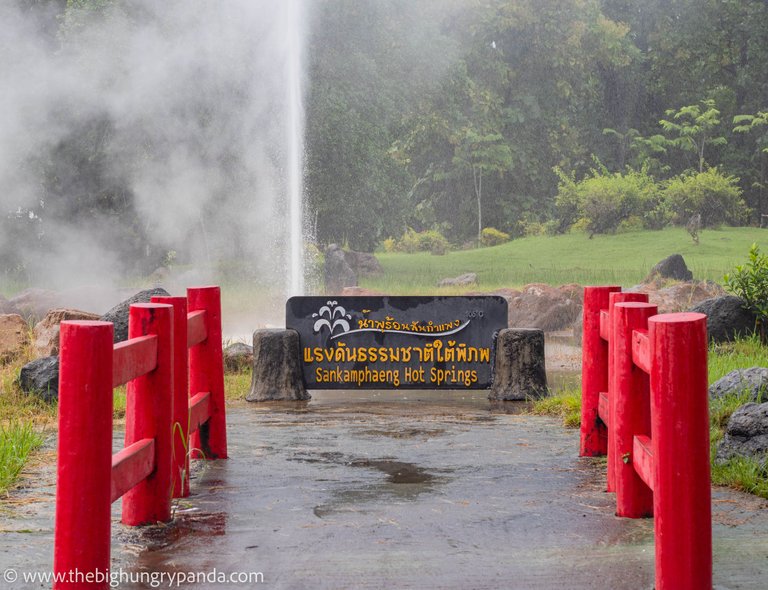 I was glad that we got to do this because visiting a mineral hot Spring has always been in my bucket list, this Hot Spring is almost 36 km away from the city and is set amidst natural surroundings of trees and verdant hills. They charge an entry fee of 100 THB to access this place, It's a bit of a walk but it was fun to view the lush green surroundings.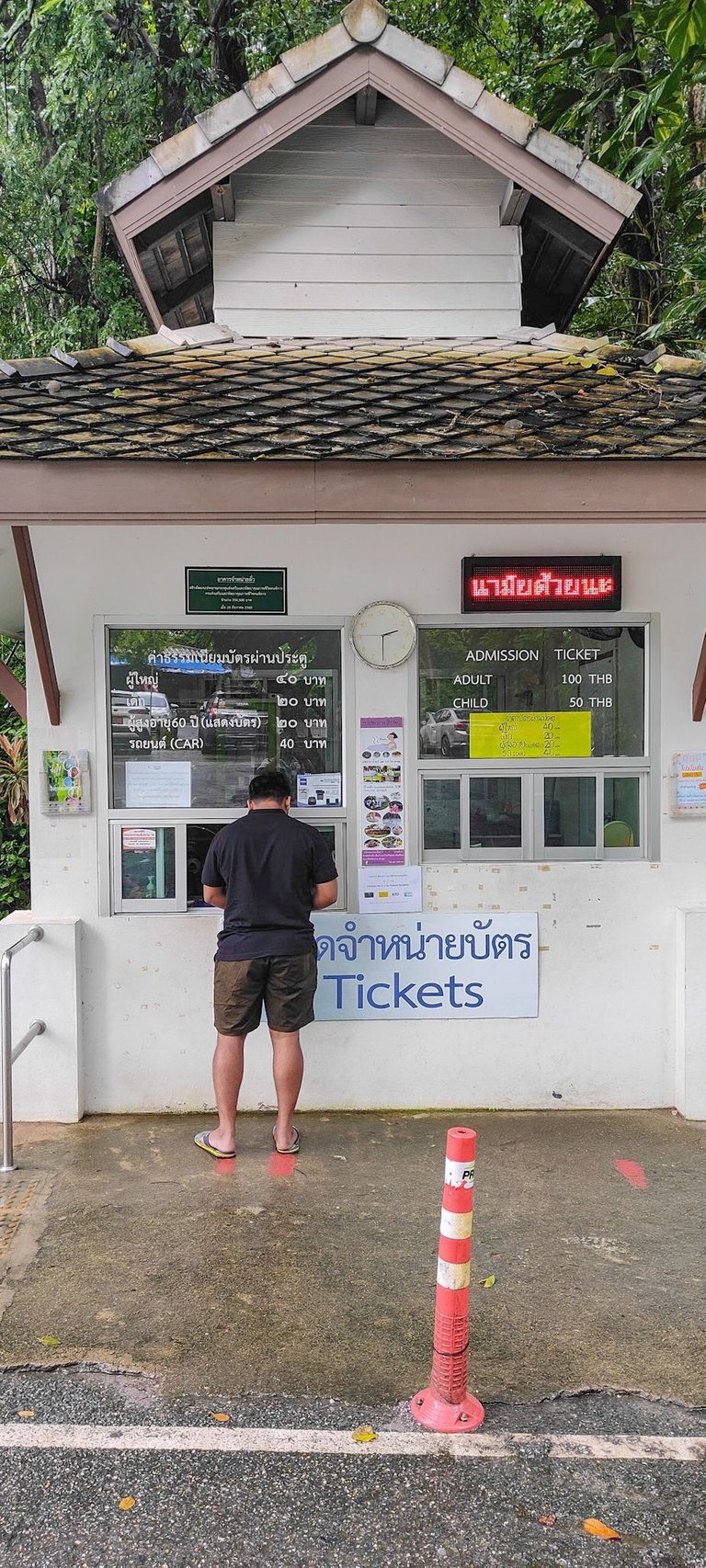 The water is about 100°C, you can literally see smoke coming out of everywhere and you can smell the sulphur as well in this place and it's just so nice and warm in here while the weather outside is nice and chilly. This part of the area is not where you can soak into the hot springs pretty much because you could die 😂 so all you can do here is buy a couple of eggs and literally boil them in water, they give you a small basket and a hook of sorts where you can dunk the eggs into the Hot Spring and they also tell you for how many minutes you would need to dunk your eggs to get a perfectly cooked egg 😂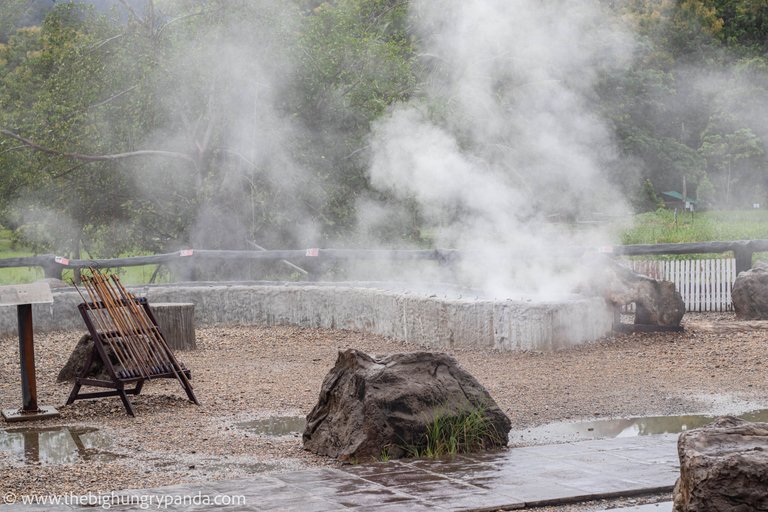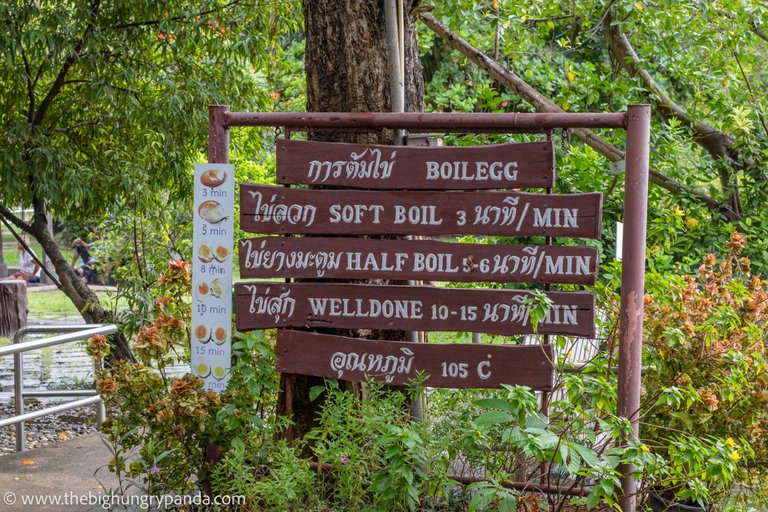 As we moved further into the area we found a place where you could dip your legs in the warm waters and oh my God was it so relaxing and it was just the right temperature, It was so perfect that I could Netflix and chill all day in this place LOL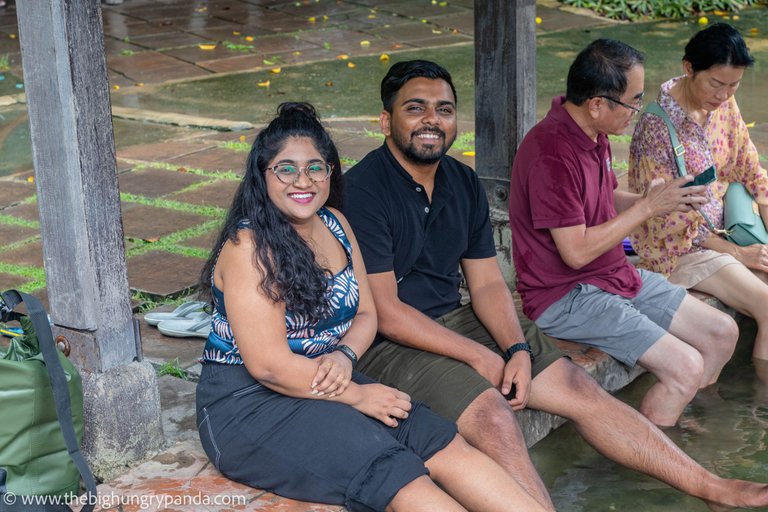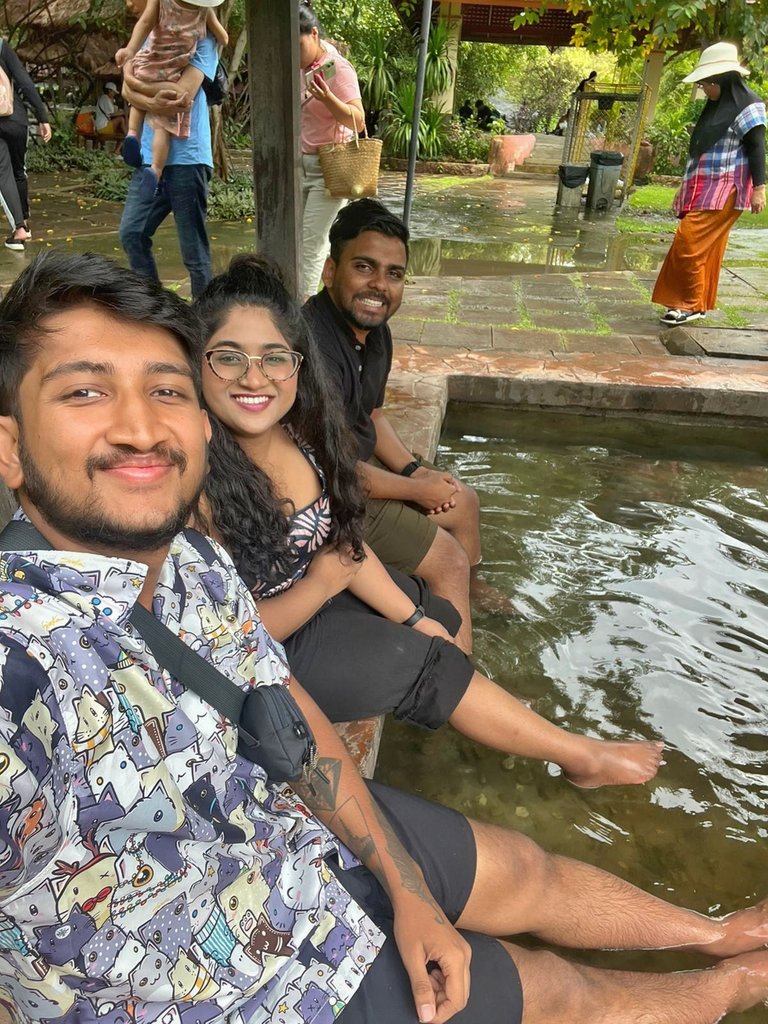 And there's just so much more to this place, if you keep going further inside, you will find a mineral bath, oh yes a place where you can take a really nice relaxing bath in this natural hot spring water. We wanted to go for the large bath soak which was like a tub but later what we figure out was this was in an open area, I mean under direct sunlight and this wasn't what we really wanted at the moment so we picked the swimming pool option which was about 100 THB Per Person.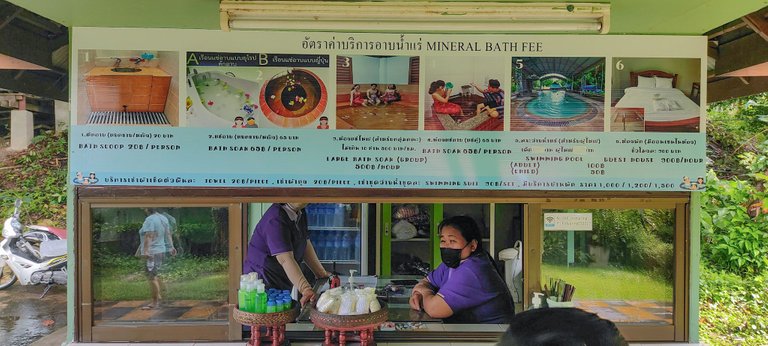 The pool was definitely the best option that we picked and the water was about 38 - 40° C, also this is not a deep pool it's maximum depth it's about 4 to 5 feet only, Sucks but it's actually relaxing in the watch over here. We were here for about 40 minutes in the pool I suppose and then we decided to head back because we didn't really want to keep our driver waiting for a long time.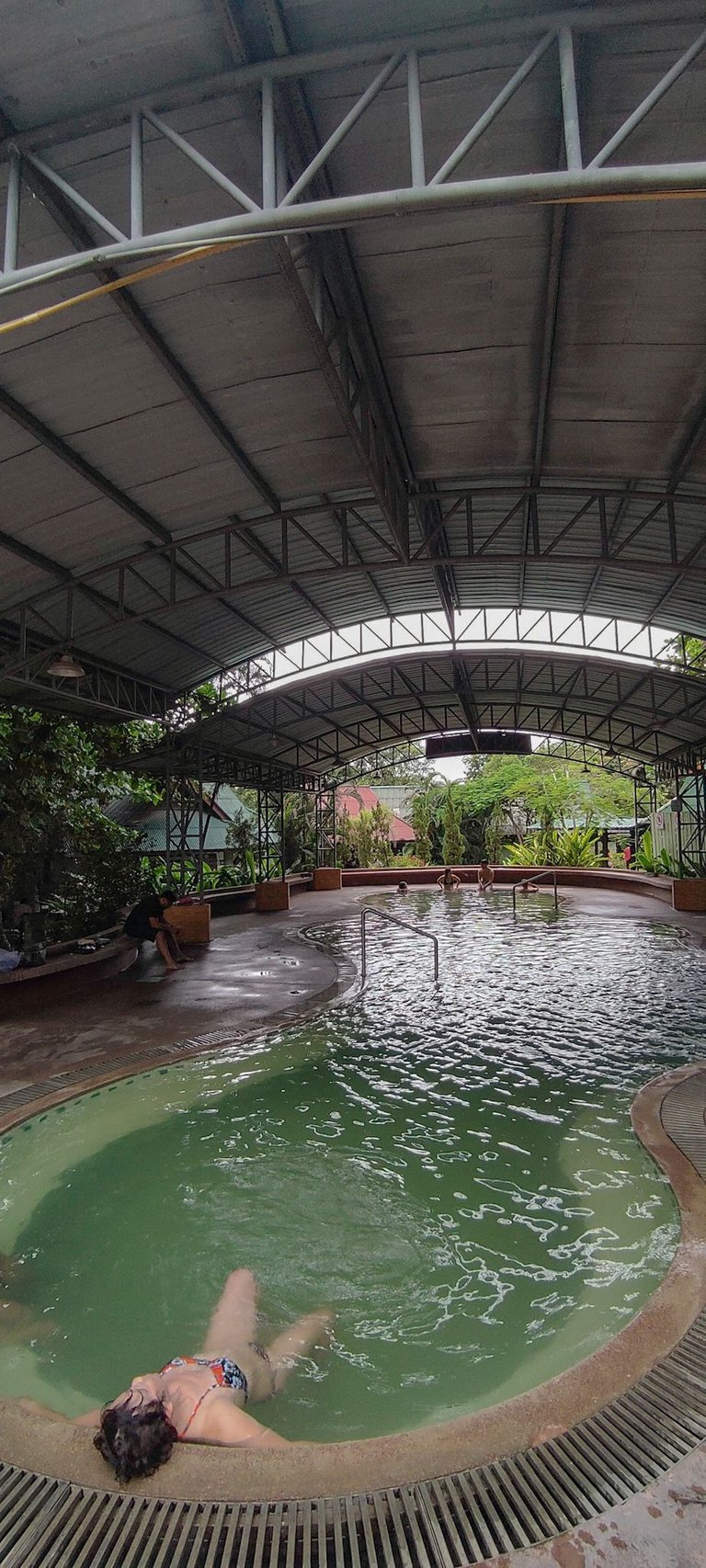 We were on our way back to the hostel and I'm pretty sure we all fell asleep in the cab because we were so relaxed from that hot spring pool 😂, Fiona straight off went to sleep when we got back to the rooms whereas me and Adil went down to 7/11 to grab a quick lunch. I took a tuna sandwich and a Daifuku Mochi with Chocolate Paste, We went outside 7/11 and across the road we sat on a bench which faces the canal and had our late lunch.
We got back after that delicious snack and took some cans of Chang beer and just relaxed for a while in the lobby, as soon as the sun went down Me and Adil went walking to a nearby Night Market called Kalare Night Market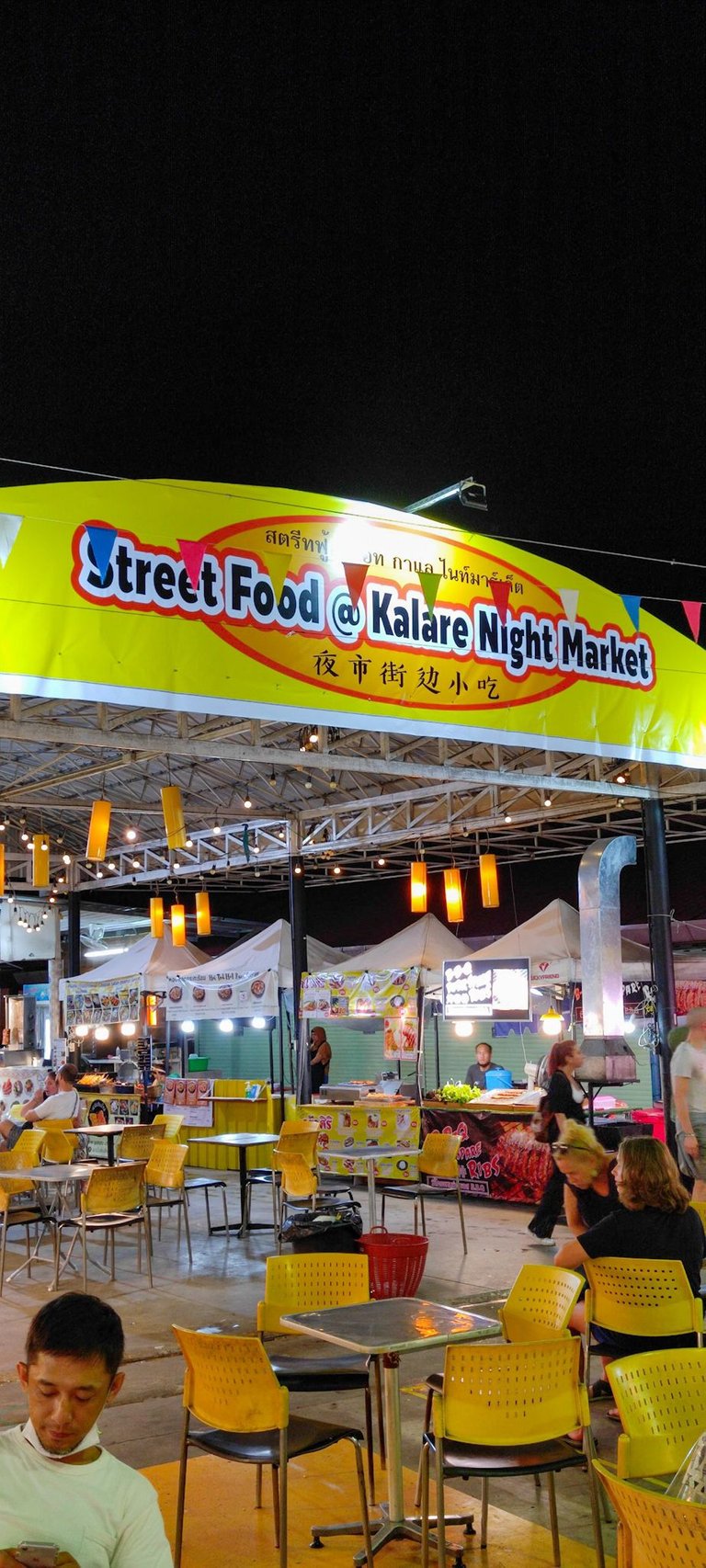 It took us about 15 minutes to get there by foot as we entered the market you had quite a few shops selling various paintings, arts and crafts and the best part was that they had a local street food market and they had a lot of options to choose from. My Ex-Boss recommended to try Chiang Mai Sausages as they are super delicious are a really popular street food as well, Hands down the best Pork Sausages i've had in Thailand.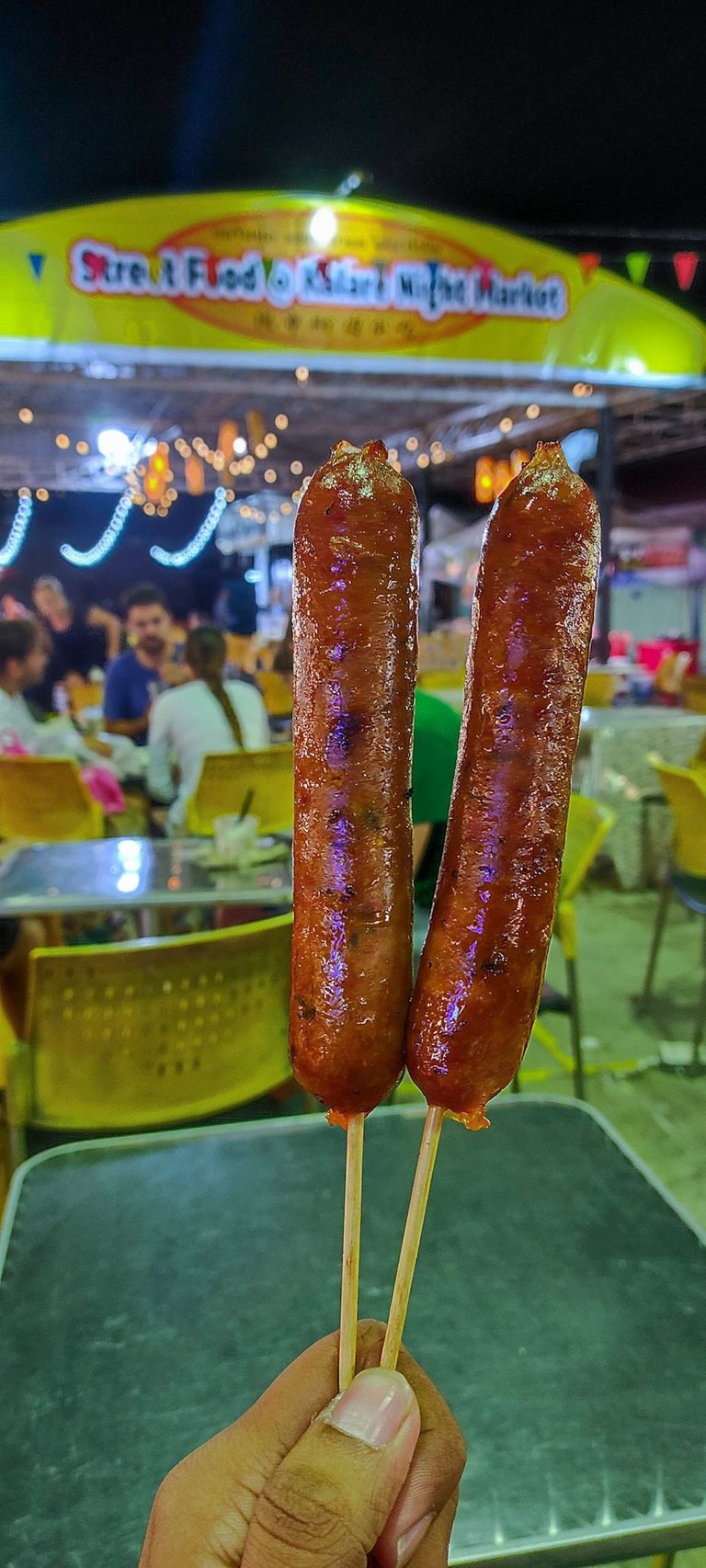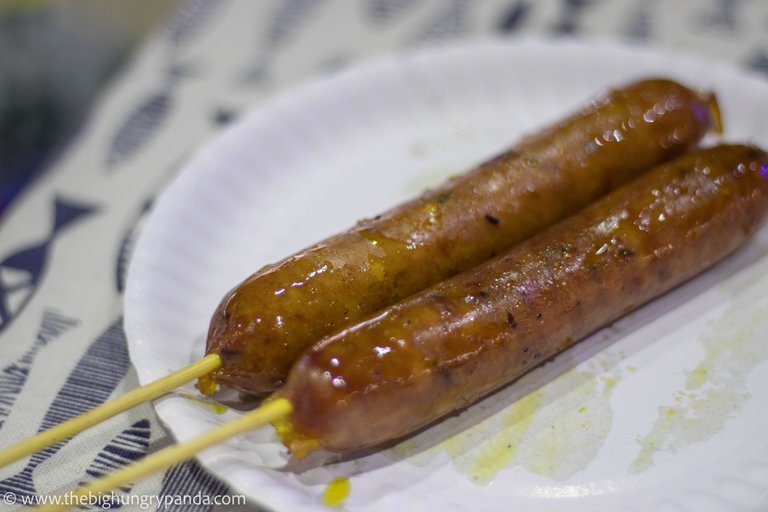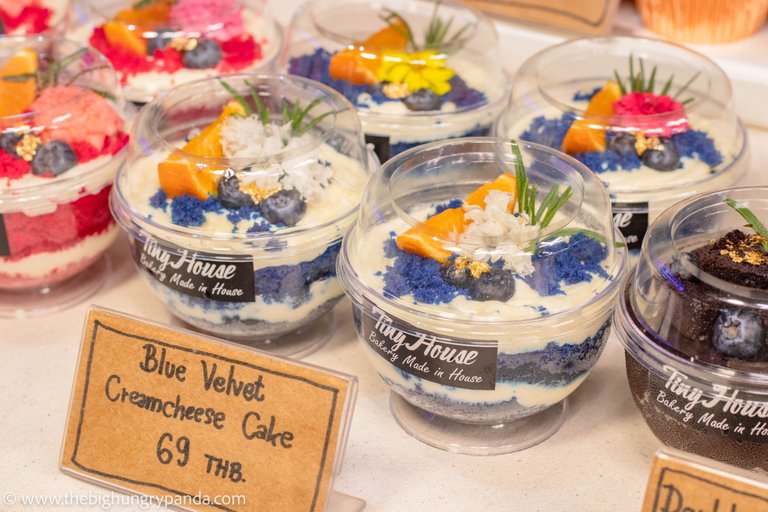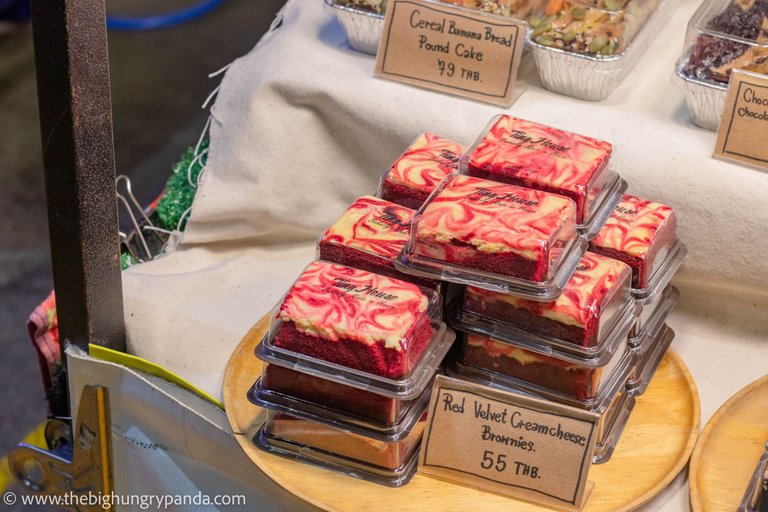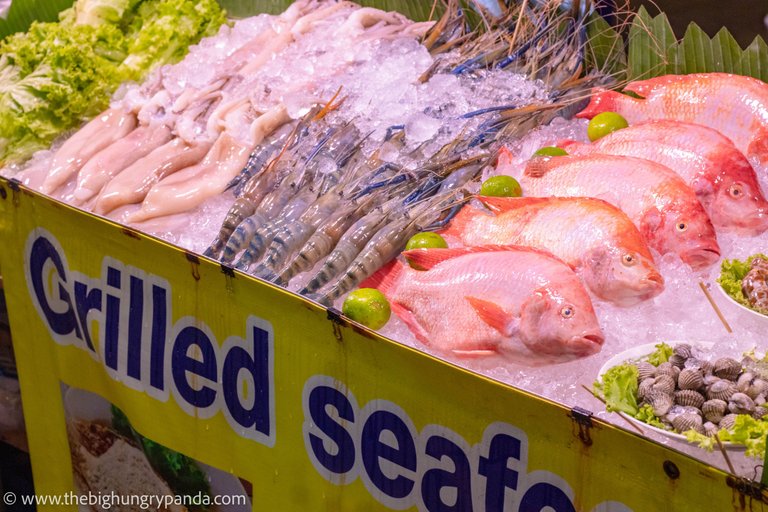 You could hear some amazing live music playing somewhere around the area and I really wanted to listen to them as they were playing some really good old school blues and that's where we ran into Boy Blues Bar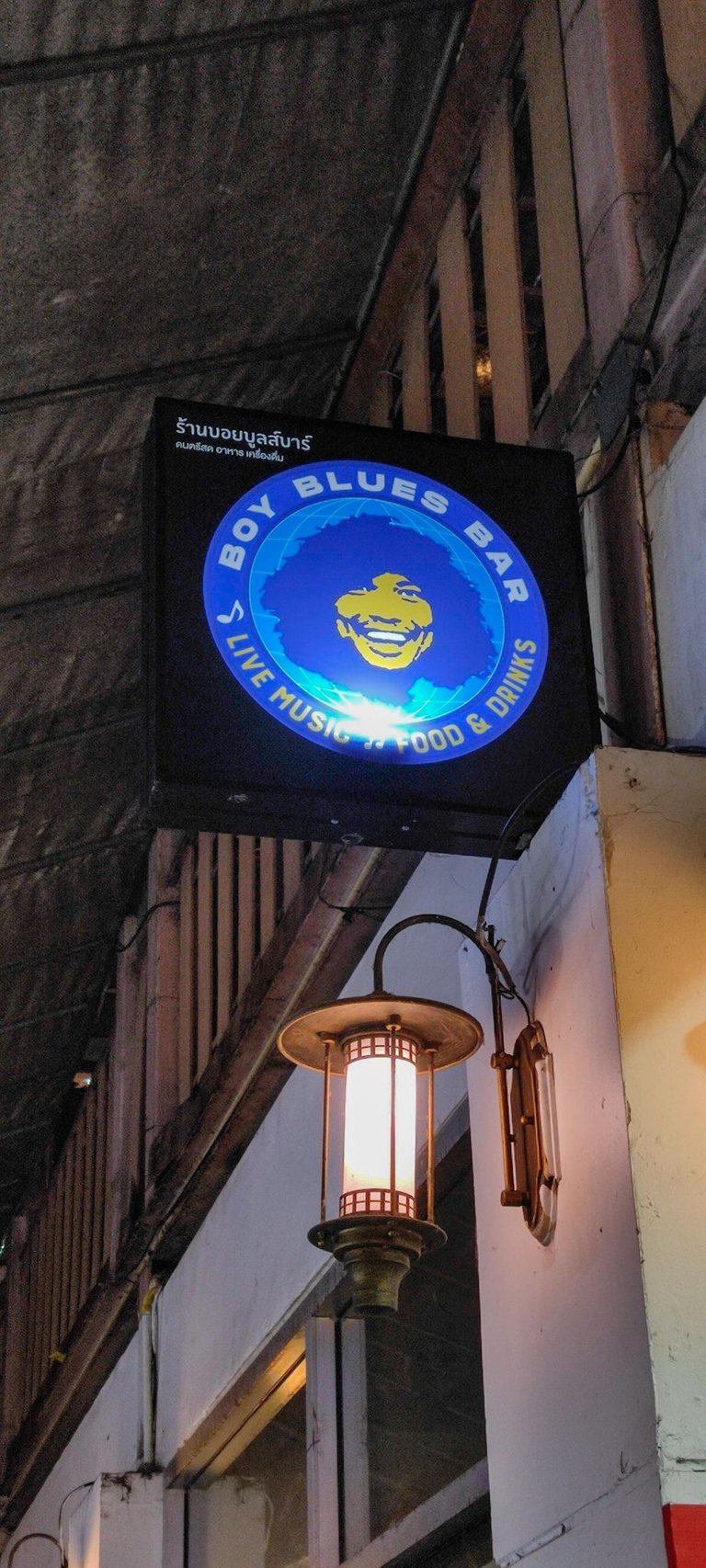 As the two of us walked to the bar and climbed up the stairs, well in my mind I was expecting Americans playing this amazing blues music and to my surprise it was a Thai band and oh my God were they so good. Go ahead and listen to them to video is down below.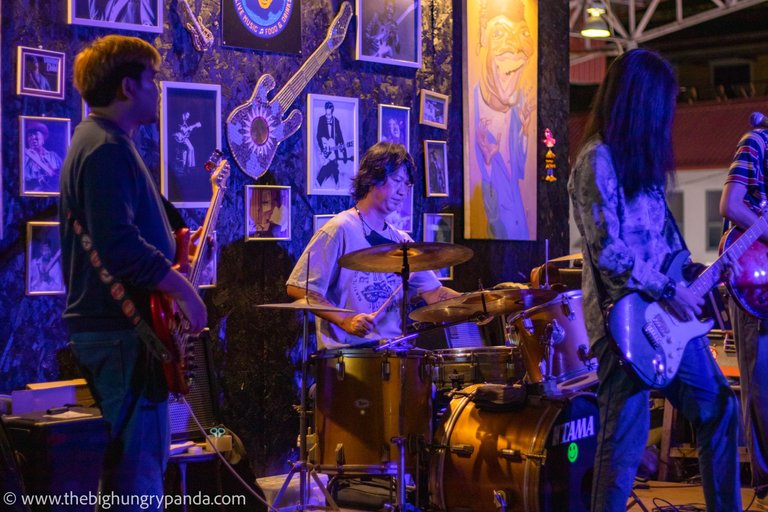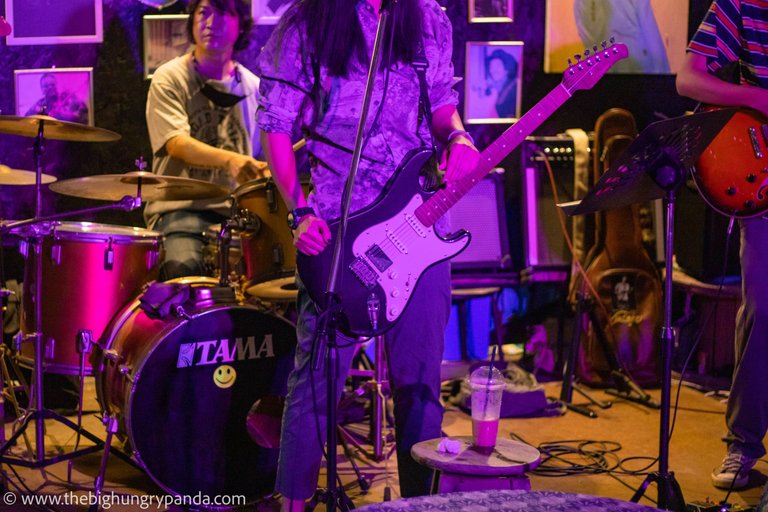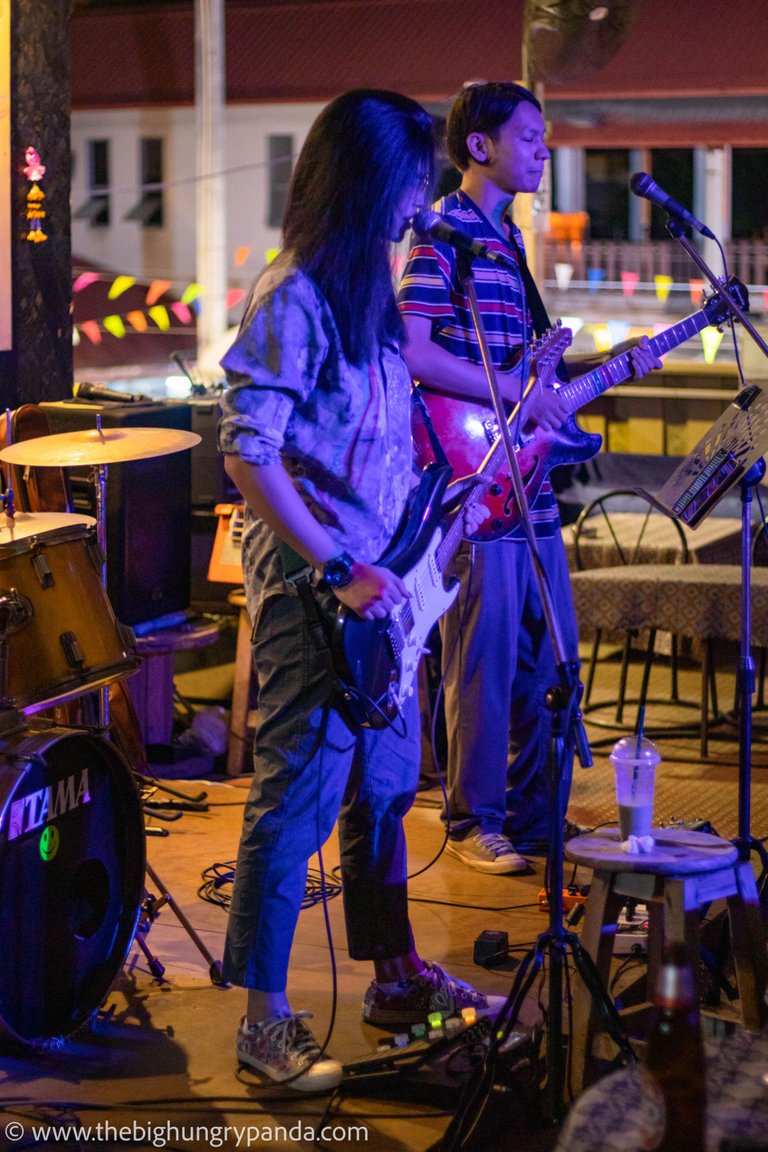 We were there for about four songs, we even had a bottle of Leo beer before we left. Now outside the bar, near the entrance of the Food Street there was a Toy Claw Arcade Machine which certainly bought back a few memories so I decided to try my luck and get back something for @foodiechique from it and it cost 10 THB for each try. So first coin in and I almost had the bugger but it fell a bit away from the slot 😂 it was hilarious and now even Adil was tempted to try, We ended up spending 130 THB trying to get them dolls 🤣 it was just madness, for some odd reason the two of us were gambling all of our loose change and I kid you not we had shit ton of change 😂
Eventually Adil did end up getting a Doraemon doll and a Nobita doll but only because I made it easier for him in positioning them a good angle 😤 anyways we found an Indian food stall and picked up some Indian food for Fiona because she was missing home food 🙄
Our way back to the hostel, we saw a Raw Honey store go up in flames due to an electric short circuit and it was just crazy. The fire department, the police, medics and more officials got to the scene in a matter of minutes and dowsed the flames away, I mean their response time was just impeccable, the whole incident got wrapped in under 10 minutes or so. What a wild night this has been.
Sadly this is going to be our last night in Chiang Mai, Tomorrow 12 PM we would flying to Phuket where we'll be spending our next two day's. This place has just been a phenomenal experience and the next time around when I come back, Chiang Mai will definitely be my first stop and i'll be spending a lot more time here as well.
Well that's it for Part 3 Of Exploring Thailand, Hope ya'll enjoyed this one, In the last and final part which is Part 4, we'll be covering 2 day's in Phuket and one last day back in Bangkok

Still can't get over the fact that i've written over 9000+ words in total so far for the Exploring Thailand Series 🇹🇭 , Thanks a million for all the love and appreciation for the last two posts ❤️
Questions About Photography Are Welcome!
Upvote, Comment, Repost And Follow If You Like My Work!
Have A Great Day!


---
---