Harry Potter And The Philosopher's Stone - Book Review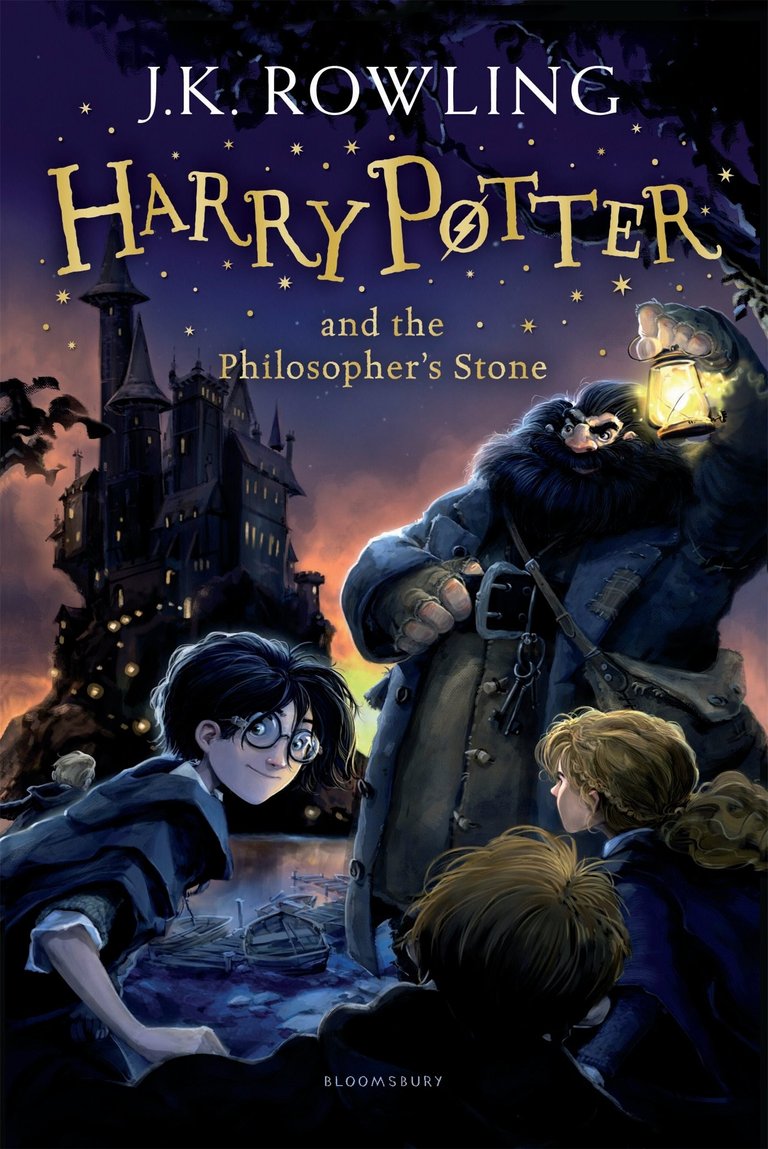 Source
A lot off people still find it hard to believe that I hadn't read or watched Harry Potter 😂 i've been recommended a million times by various people to see it but i'm not why I never had that interest to get into it. A month back when I moved to a new state, I pretty much had nothing to do literally except hitting the gym in the early morning post that my day was bland and uneventful.
I don't know know for sure what hit me but I suddenly had the thought of seeing The entire Harry Potter movie series, I'm a big movie buff and i've pretty much seen everything good out there, It was just this one series that I haven't watched. Well the next hour or two went in downloading the entire collection and over the next entire week I found myself completing it and IT WAS BLOODY AMAZING, I felt like a bum for not watching it for so long 😂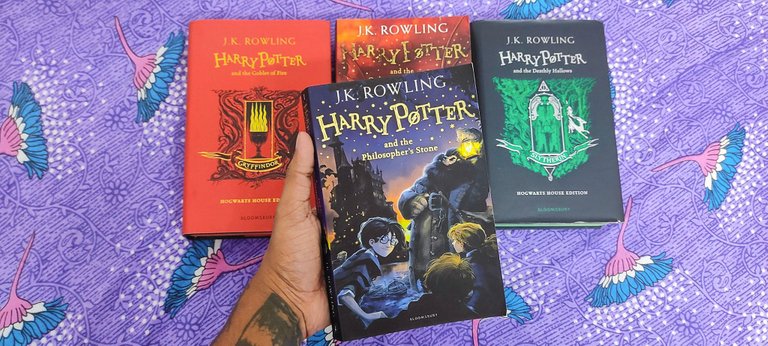 My cousin brother noticed that I was enjoying the movie so he decided to give me his collection of books as well, So I got Philosophers Stone, Goblet Of Fire (House Edition), Deathly Hallows (House Edition), Order Of The Phoenix. Since Chamber Of Secrets is the next part and I don't currently have it, I ordered a Hardcover House Edition of it on Amazon.

Harry Potter And The Philosopher's Stone
(Few Spoilers Included)




In J.K. Rowling's Harry Potter series of seven novels, The Philosopher's Stone is the first in it's wonderful and thrilling journey to come in the following years from the book release. I knew that I was in for something more amazing as the books have a more detailed description than the movie.
The book was hands down way better than the movie!
Harry Potter a mere ol young boy abandoned at a fairly young age with his nasty Uncle and Aunt who made him live in a closet space under the stairs. On one fine stormy night he is visited by a beastly hefty looking man named Hagrid who tells him he's a famous wizard and takes him away to Hogwarts School Of Witchcraft And Wizardry which happens to be the most famous school in the wizarding world's. Harry then makes some wonderful friends and saves the world on multiple occasions and comes up against the darkest, most evil wizards to ever live.
When Harry was just a baby, his parents were killed by a powerful and the most feared Dark Arts wizard named Voldemort. He tried to kill Harry as well but failed, leaving Harry with a scar in the shape of a lightning bolt on his forehead, Harry is said to be the only person who has lived and since then he was popularly known as The Boy Who Lived in the wizarding world. This young boy now lives with his cruel aunt and uncle whom he despises so much (They Were Total Assholes, Even Their Disaster Child Was A Spoilt Piece Of Shit). They treat him like peasant, having him cook for them, clean for them and he also lives in a cupboard underneath the stairs.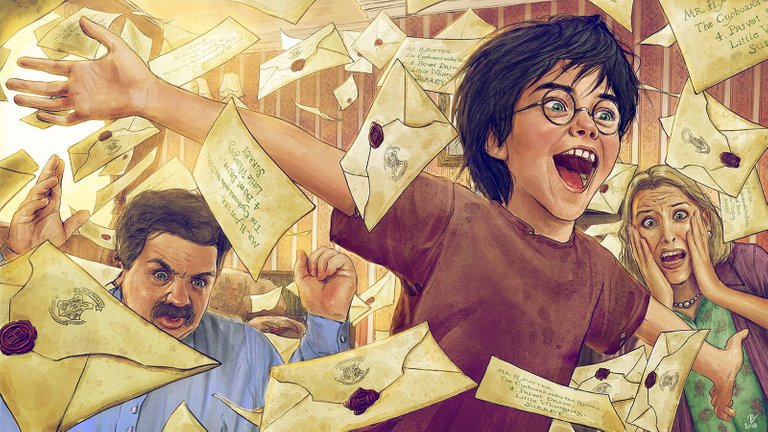 Source
One very fine day young Harry receives a letter which says that he has been accepted into Hogwarts School of Witchcraft and Wizardry. His Aunt and Uncle quickly dismiss this and move far away to an abandoned cabin out on a rock in the ocean (Lilly Potter Happens To Be Aunt Petunia's Younger Sister Who Always Despised Lilly Especially After She Got Married To James Potter). He's then visited by a large man, Rubeus Hagrid who happens to be groundskeeper at Hogwarts School and tells him that he must immediately come with him to Hogwarts.
During the journey Hagrid tells Harry the actual truth about his parants and how they died (The Dursley Have Told Harry A Lie That His Parents Died In A Car Accident) and he also gets to know about how incredibly famous he is due to the scar on his head and also the fact that only he had survived from Lord Voldemort.


Source
At Hogwarts students are divided into 4 houses namely Gryffindor, Slytherin, Ravenclaw & Hufflepuff. (All The Good Guys Are Pretty Much In Gryffindor & all The Jackasses Are In Slytherin) Gryffindor and Slytherin are the most popular houses among the four in the series.
Students are divided into their houses using a Sorting Hat which happens to be magical hat at Hogwarts which is used determine which of the four school Houses each new student belonged most to.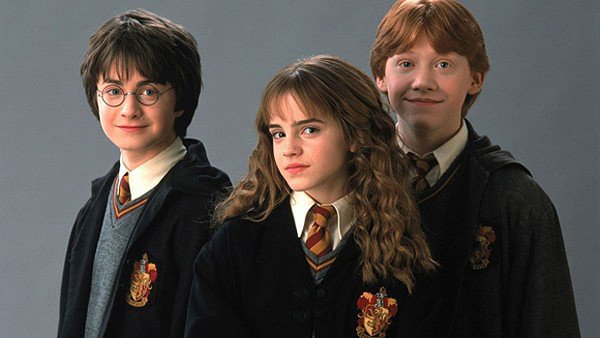 During Harrys time at Hogwarts, he makes two very important friends Hermione Jean Granger and Ronald Bilius Weasley. The two of them come to the realisation once Harry pointed it out that someone is plotting to steal something valuable from Hogwarts and people may very well be in danger if they don't figure it out at the earliest and put a stop to it.
Harry, Ron and Hermione discover that in a room in the Forbidden Corridor on the third floor at Hogwarts, covered by spells and curses, lays the one and only Philosopher's Stone – a stone that can transform any metal into pure gold and also produces the Elixir of Life, which will make the drinker immortal. During his time at Hogwarts, Harry develops the feeling that his potions teacher Professor Snape hates him, and has a gut feeling that Snape will try and steal the stone. One night, Harry, Ron and Hermione sneak up to the Forbidden Corridor to get the stone before Snape does. The trio pass through challenging obstacles. In the end, Harry has to finish the mission on his own and to his surprise, it's not at all what he expected.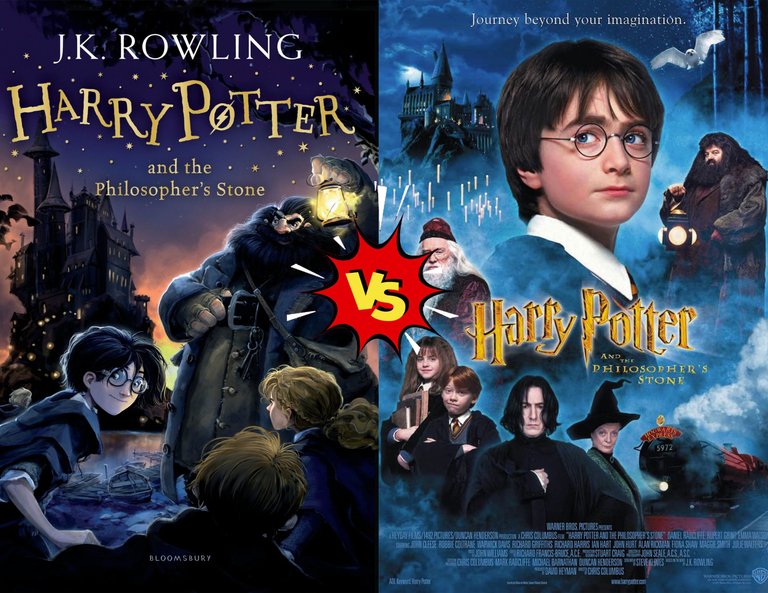 Source Tweaked The Image On Photoshop A Bit And Added A Comic Based Versus Logo

Book V/S Movie




Starting out with the obvious differences such as his eyes, In the book they were described green but in the movies it was blue.

Peeves the Poltergeist never made it to the movies sadly he was such a fun character, annoying and troublesome at times but fun. He was only mentioned in the book.

In the book Harry first meets Draco at Madame Malkin's Robes For All Occasions when Harry & Hagrid were out acquiring things needed for school but in the movie they met Entrance Hall at Hogwarts fort the first time.

In the book First, the Sorting Hat decides to sings a song and only then the first years are sorted into their houses and that too in an alphabetic order, Post that Dumbledore's gives a quick speech now in the movie the sorting hat never sings and he displays a certain amount of humour too and most importantly the students were sorted in a random order and not alphabetically and Dumbledore's never gave a speech.

In the book the forest grounds were referred to as The Forbidden Forest and in the movie it was referred to as The Dark Forest.
I will be leaving you here with only so many differences but FYI there are a butt load of difference and I am so not going to list them out 😂 That's just too much information. Well to keep things interesting here's one last difference 🙈
There's one detail in the movie that does not exist in the book whatsoever which is about Hermione knowing all about James Potter and that he was a seeker for Gryffindor. In the book his dad's position in quidditch was never mentioned at all.
That'll Be All For Today Folks,
Hope You've Enjoyed This Review
See Ya'll Next Time ❤️
Questions About Photography Are Welcome!
Upvote, Comment, Repost And Follow If You Like My Work!
Have A Great Day!


---
---